Even if you've got no interest whatsoever in football or footballers, there are a few players – former and current – that transcend the boundaries of the game itself and become faces that pretty much everyone would recognise were they to ever cross paths with them in the street. You'd recognise David Beckham, for instance, just as your average Brazilian would pick out Neymar in a crowd.
Gary Lineker is one such footballer. You might know him for his long and storied England career. You might be a fan of one of the clubs he played for – his native Leicester City, Everton, Barcelona, Tottenham Hotspur or Nagoya Grampus Eight in Japan.
But even if you don't, you'll probably know him for being the longest-running presenter of Match of the Day since it first aired in 1964. And even if you've never watched a game of football (or a highlights programme), you'll probably know him from regularly popping up in ads for Walkers crisps. And even if you don't even own a TV (bloody millennials), you've almost certainly got Twitter.
What you might not know about the very well-known Gary Lineker, however, is that when he's not hosting Match of the Day, he's probably hitting up some of London's hottest restaurants. And if he's not doing that, he's probably at Dinerama, the food market owned and operated by his close friend Jonathan Downey under the London Union banner – in which Lineker, along with food luminaries like Nigella Lawson, Yotam Ottolenghi, Giles Coren and more, is an investor. And if he's not there, he's probably at home, cooking. Or at Stanley Tucci's house.
Intrigued? You should be. And we were, too, which is why we met him at Dinerama ahead of a night of eating and drinking to talk about his favourite London spots, his interest in street food, his new-found love of cooking, and a bit of football, too. Gary Lineker, the (not-so) secret foodie. Who knew?
Were you interested in food as a footballer or did you become more so once you hung up your boots?
I think we're all interested in food, aren't we? But I've always enjoyed good food. I suppose your taste buds change as you get older. I lived abroad a little bit as well; in my mid-twenties I was in Barcelona – I still love Spanish food to this day, and it's great now that we've got some good Spanish restaurants in London, places like Barrafina. And I lived in Japan as well, for a couple of years. It's an art form out there, cooking. There are so many different varieties of food to eat. The food there was amazing.
How much did you have to think about and measure what you were eating when you were a footballer?
Not at all in my day. I remember when I first started we used to have steak and chips as a pre-match meal three hours before we played – nobody seemed to know any different; it was a chance for a free meal.
I think things have changed somewhat in terms of the diet. But I think it's about the right things – the right time to eat pasta, the right time to eat carbs, the right time to eat loads of protein. The diet is much more thought-out these days.
Weight-wise I'm pretty lucky – fast metabolism, good genes – my battle is to keep my weight up, which I do in the gym. I'm lucky, I can pretty much eat what I want.
How did the opportunity to invest in London Union come up?
JD [Jonathan Downey] and I met at a mutual friend's birthday party, about three years ago. We got chatting, we share an interest in food, we share an interest in wine, we share an interest in football.
He brought me over to see these places [Street Feast's markets], I experienced them with a couple of mates, and they're just really great places to come. I wasn't asked to invest; I asked to do it. I've invested a bit – not enough to end a friendship if it doesn't work. It's a nice little interest as well.
Was it as much a personal interest as a business decision?
It's just a really cool place. Everyone I speak to that comes here, they love it. You get past 7, 8 o'clock and it's always pretty packed. It's a really good business that satisfies everyone. It's just a "good vibe", as JD likes to call it.
You can also have good beer, good cocktails and good wine, which isn't always the case at food markets…
Yes. And the other thing nowadays is that it's not easy to find that many really good bars, especially after you've had dinner – where do you go? People like me, you get too old – you don't want to go to a club where you can't hear yourself think and you can't have a conversation. So something like this is different – yes, there's music, but you can still have a conversation, have a meal or just have a drink – it gives you options. It definitely fills a bit of a void in that area.
How often do you come to Dinerama?
It's the other end of town for me, but once every month or two.
What are some of your favourite things to eat when you're here?
Prawnography – I always like the prawns there. Breddos used to be here, and I love them. They've got a couple of restaurants now, which we go to and we're really keen on. And obviously Smokestak started here, and they've since opened a restaurant around the corner which is excellent as well.
That's the thing that sets it apart – the food's exceptional. I also like the fact that it gives young, talented chefs who specialise in one thing the opportunity to have their own business without having the mad expense and pressures of opening a restaurant. So it kind of works on all fronts.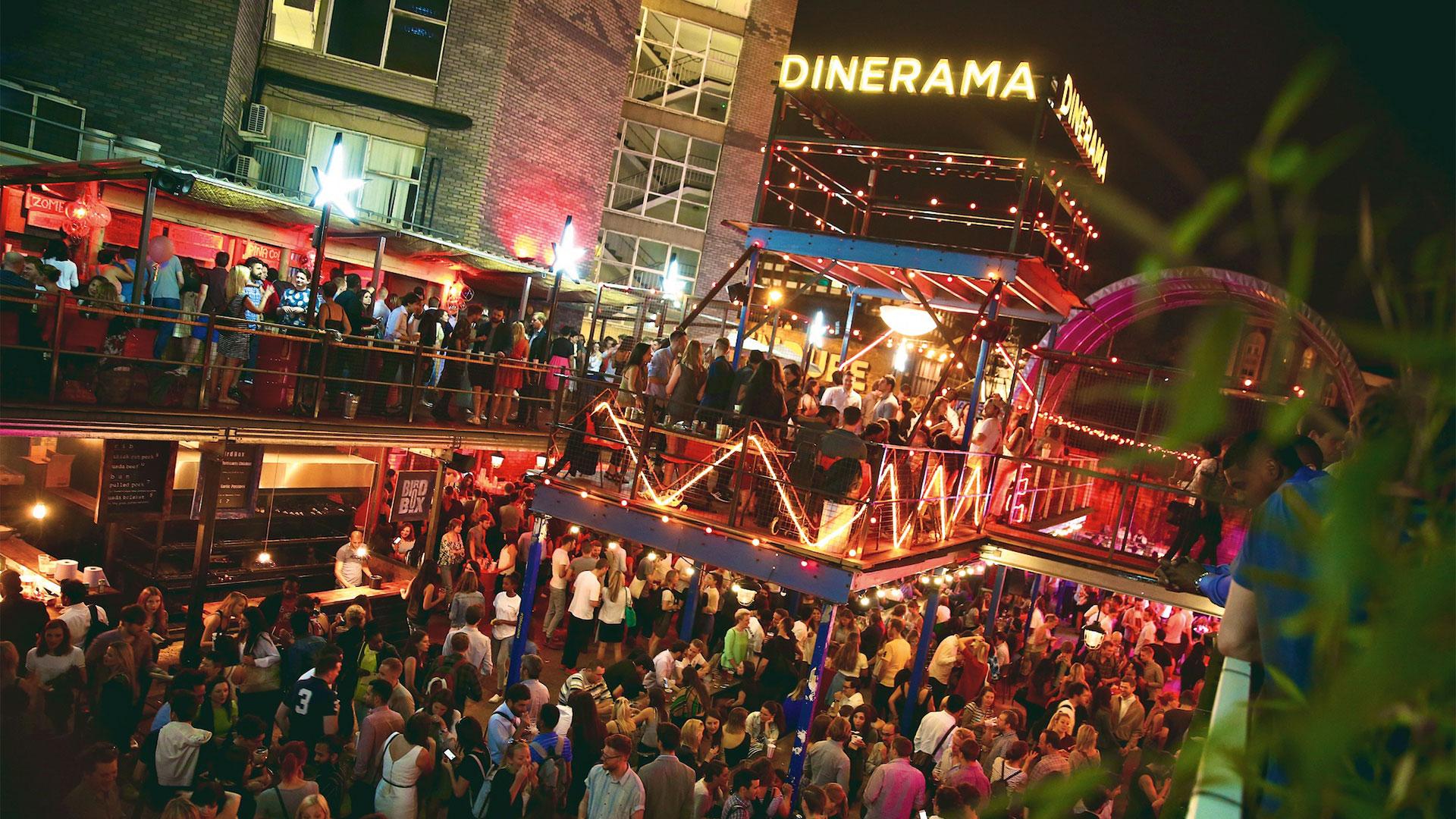 How often to you tend to go out for a proper meal with a few mates?
A couple of times a week. I cook a lot as well now because I was going out every night. It's a new passion, cooking – I've been doing it for about two years – but I love it, and I'm getting into it. If I do something, I have to do it well. I'm a bit of a perfectionist – not that it's perfection, but I'm doing alright.
My boys come round a lot and I cook, especially on Sundays. But I've always gone out a lot, always gone to restaurants, and always really enjoyed food and wine.
How long would you say you've been pursuing restaurants as a passion?
I think it's just grown gradually. Realistically it would have started in my mid-twenties around Barcelona. I started collecting a little bit of wine then as well.
Then, having had that experience, I came back and lived in London, so there were all different kinds of restaurants open to me. And then I moved to Japan. So I think it's just gradually evolved, and now it's turned into a real passion, and also with cooking as well. So the two things combine.
Do you have an ideal kind of restaurant that you like to eat in?
No. I've got a very varied taste. That's the joy of being in London, isn't it? We've got so much spectacular choice. We've got the best of every country.
I've got a lot of favourite restaurants, but they're all different. I don't have an absolute favourite. If you pushed me for my last meal, it would probably be a mixture of Spanish, a bit of Japanese, and then something like a jam sponge and custard. I'd start with a bit of jamón jabugo, maybe a really beautiful piece of sashimi, and then a really brilliant paella. And then treacle sponge if I had room.
That's pretty much your footballing career in microcosm, isn't it?
I guess so. But that's life, isn't it?
Is there any restaurant in particular that you think you've gone to more than any other one?
There's one in particular, it's my local – Riva in Barnes. I absolutely love Riva.
Stanley Tucci also talked to us about that restaurant. Have you seen him there?
I know Stanley. He lives just around the corner from me. He's a top guy, and he's a proper chef. He's got books out. I've been to his house loads of times – he's always cooking something. But I love Riva – I've done lots of evenings there, with Andrea, the owner. So that's kind of my favourite.
Then I've got Clipstone, which I love, Breddos and Smokestak. Luca, that's quite good. Lyle's is good. We did a thing recently, a restaurant crawl – we had tacos at Breddos; Luca was second, we had a pasta course; then we went to Smokestak and had brisket and ribs, and then we went to Lyle's for dessert and coffee, and wine. It was really fun – I've never done that before.
If you could go to dinner with anyone in football, who would it be?
Messi. He's a bit of a hero of mine.
For more information on Street Feast and London Union, go to streetfeast.com and londonunion.com