Ah, Clapham. Home of Gordon Ramsay, Infernos and more avo-slathered toast brunch spots than you can shake a stick (or some chilli flakes) at.
Sure, the majority of its residents may be Lululemon-loving yummy mummies and City boys, but don't let that put you off the many brunch, lunch and dinner spots it has to offer.
Whether you're keen to tuck in to crispy pig trotters complete with salty sweet sauce gribiche at Michelin-star winning Trinity, smoked bone marrow butter and truffled Baron Bigod cheese at forever-favourite The Dairy or cheap as chips spiced chickpea curry wrapped in warm, fluffy Roti Joupa flatbread, Clapham has something to fill everyone's plate—and tummies.
Keep scrolling for Foodism's guide to where to eat (and drink) in Clapham—and remember to share your favourite photos with us on Instagram using the hashtag #foodismuk.
Best brunches in Clapham:
1. Minnow
Where? Minnow, 21 The Pavement, SW4 0HY
Rose-adjourned arches and flower covered ceilings are more the vibe of central London's most 'grammed cafes than Clapham's slightly subtler offerings—apart from, that is, Minnow.
Impossible not to notice in the Old Town as silk flowers burst out of the doorframe, it's kitsch but cute, and a subtle reminder that it's not just another corporate—owned chain—quite the opposite.
Minnow was opened by husband and wife duo Chris Frichot and Saba Tsegaye in 2017, formerly front of house at Hawksmoor and Caravan. Rather like the fish its named after, it's petite in both physical size and menu options. Head for the ambience, not audacious food: think avocado toast, full English brekkies featuring all the baked bean-slathered sides, or stacks of maple-soaked French toast piled high. Fun fact: a handful of the cocktails are named after famous Clapham figureheads, such as composer Edward Grieg and author Natsume Sōseki.

2. Megan's
Where? 55-57 The Pavement, Clapham, SW4 0JQ
Far from its original nesting ground in Fulham is Megan's, one of London's most talked about brunch spots thanks to its Mediterranean inspired interior (there's a real life olive tree centre stage in the Clapham joint) and dog-friendly policy.
Fear not—it may be a long way from home, but it's holding its own on Clapham's busy brunch scene nonetheless. For the veg-loving among you, try the earth bowl, made up of avo, kale, chilli, spinach, harissa hummus and quinoa with a pomegranate reduction, or if you've got a sweet tooth, get ordering their famous Nutella and pistachio cookie dough skillet. Worth the sugar high and every damn diabetes-inducing calorie.
Best coffees in Clapham:
3. Doctor Espresso Mama V's
Where? 30 Voltaire Rd, Clapham, SW4 6DH
Weekends—and most weekdays, come to think of it—just aren't complete without a good (strong) cup of joe. Clapham has several options for you, but Doctor Espresso Mama V's, nestled under a disused railway arch in Clapham North, is, in our humble opinion, the reigning champion.
They've got the second oldest coffee machine in London, their 1957 Gaggia Tipo America lever espresso machine pride of place as you enter, coffee beans roasted in Italy and cannoli baked daily to match. Need we say more?
4. The Common Espresso Bar
Where? 10 Clapham Park Rd, Clapham, SW4 7BB
For an even more intimate coffee spot, head down to The Common Espresso Bar. It's tiny, only seating around eight or so people, but what it lacks in size it makes up for in cake selection and fresh juices. Opt for the lemon drizzle, if there are still slices left (they go fast), their freshly blitzed green juice, and a steaming americano. Perfection.

Best lunches in Clapham:
5. No. 32 The Old Town
Where? 32 The Pavement, Clapham, SW4 0JE
Formerly a run-of-the-mill gastropub, No. 32 The Old Town could easily be mistaken for an über-modern, super-sleek, granite and marble touting joint with more style than substance. But really: both the interior and the food here are top notch.
The price points are high - this isn't a casual pop in for a sarnie and be back at your desk in 40 minutes jobbie - but if you're looking for a classy lunch spot for creamy beetroot and barley risotto, tangy fried rice with five kinds of veg and kimchi pickled in house or mussels steamed in Cornish Orchard cider, cream, garlic and chives, head to 32. Dine on the first-floor terrace for gorgeous green views of the common even on the greyest of days.

6. Roti Joupa
Where? 12 Clapham High St, Clapham, London SW4 7UT
Stroll along Clapham High Street and we'd forgive you for passing Roti Joupa off as another kebab house or chicken shop. But beneath the shabby decor and unassuming exterior is, hands down, one of the tastiest dishes in South London.
It's Trinidadian at its best, and we're yet to delight our taste buds with a better roti. They're warm and fluffy, generously stuffed with oodles of aromatic curry just bursting to break through its bready-captor and trickle delightfully down your hungry hands. Our forever-favourite is the double, a cumin-roasted chickpea curry sandwiched between two rotis and the ultimate street snack in Trinidad (and now Clapham, fyi). Messy never looked so good.
7. Barsito
Where? 57 Venn St, Clapham, SW4 0BD
Tapas is best enjoyed in the most intimate and traditional of settings and, although Clapham doesn't quite offer the same intoxicating heat and locally sourced produce as, say, Barcelona, it does have Barsito.
Bursting with loud waiters, wines by the barrel and small plates of juicy, garlic-covered gambas, spicy, chorizo laden tortilla and not one but two types of Manchego cheese, it's a slice of Spain in South London. Don't miss the daily specials, often offering the best of seasonal British produce with a Spanish twist, the fruity, rich Andalucian red wines and the itty bitty breadsticks you normally only find in the most authentic of Spanish bars.

8. Sorella
Where? 148 Clapham Manor St, Clapham, SW4 6BX
Grace Dent called Sorella a "little corner of the Amalfi coast", and she wasn't wrong. Again, this isn't a casual lunch affair, but it is an unforgettable one. Stroll down on a lazy Sunday to pick on (read: devour) crispy, crunchy Nocellara olives, rich truffle arancini balls and energetic bowls of homemade linguine perfectly paired with flaky turbot, chilli and pepper. Plus, anywhere that lets you pimp your dish with extra truffle is a winner in our eyes. Don't leave without a house negroni—a true Italian treat.
9. M. Moen & Sons
Where? 24 The Pavement, SW4 0JA
They're something wonderfully British about a good old butchers, meat hanging from the ceilings and rows of pungent cheese ready to be wrapped in paper and weighed for you. Authenticity wise, M. Moen doesn't disappoint—it's been open and family-run since 1971, serving Clapham locals and Londoners from further afield ever since. Pop in for fresh focaccia, locally grown tomatoes, cones of chorizo and creamy slices of Sainte Maurede Touraine goats cheese. You'll never look at a supermarket picnic in the same way again.
10. Joe Public
Where? 4 The Pavement, Clapham, SW4 0HY
Nothing quite beats gooey, buttery mozzarella melted on rich, tangy tomato puree all atop a thick (but not too thick), crunchy (but not too crunchy) pizza crust. Right? Right. We've all tried the fit-one-more-bite-in trick where said last mouthful pushes you over the brink into food coma insanity and you end up resembling, well, pizza.
Save yourself from that hell, opt for pizza by-the-slice at Joe Public. They serve generous but not overly generous portions, plus you can soak up the sunshine overlooking the Common as you crunch through crispy sourdough base slathered in spicy pepperoni, salty parmesan and biting chilli. Dough, dough good.
Best restaurants in Clapham:
11. Tsunami
Where? 5 -7 Voltaire Rd, Clapham, SW4 6DQ
Japanese in Clapham needn't consist of soggy edamame and mediocre sashimi — not if you head to Tsunami, where the tuna tataki, gyoza and nigiri are in plentiful abundance.
Try the special, delicately rolled tuna, snow crab, salmon, yellowtail, shrimp, avocado, kampyo, tamago, tobiko, cucumber and scallion encased in crunchy, salty nori, and the soft shell crab tempura, complete with umami dipping sauce.
Plus, they offer all you can eat brunch at the weekend for just £20 a head. Ready, set… sashimi.

12. Trinity
Where? 4 The Polygon, Clapham, SW4 0JG
As Clapham's only Michelin-star offering, you might expect Trinity to be a tad on the stuffy side, but there's a friendly neighbourhood feel about this fine dining that's difficult to discover elsewhere.
Enjoy the best of British produce from Adam Byatt, serving simple starters and more complex mains (spiced pigeon and jowl, we're looking at you). His crispy pig trotters, paired with salty, rich crackling and impossibly light sauce Gribiche, are the stuff of legend on the Clapham food scene, and the buttery, flaky sea trout is delicious, too.

13. The Rookery
Where? 69 Clapham Common South Side, SW4 9DA
For reasonably priced and generously portioned bar food best enjoyed in cosy candle lit alcoves, The Rookery is the place to be. It's run by Aussies and the chef, Carl, has the art of cooking a spectacularly good buttermilk chicken down to a tee. Plus, they serve deliciously crisp local ales and British bubbles. Bring your pup—all are welcome.
14. The Dairy
Where? 15 The Pavement, Clapham, SW4 0HY
Walk just 300 foot from Clapham Common tube station and you'll meet The Dairy. Dishes change pretty much weekly according to what produce is in season and readily available in the UK. It's a truly independent delight.
The details make The Dairy a dining experience with a difference, but such perfection is to be expected from chefs who used to work at Le Manoir. Indulge in applewood chip smoked butter, adding the creamiest, smokiest touch to your warm home baked sourdough to start, and follow with other-worldly bone marrow agnolotti perfectly paired with Jerusalem artichoke and wild garlic. It's decadent and really, really decent.
Not hungry? We think you may be on the wrong website… but The Dairy also has one of the only late night liquor licenses in the area, so you can chat (and drink) to your heart's content (or closing time, come 2am).
15. Pizza on the Green
Where? 4 Cavendish Rd, Clapham, SW4 9DW
Authentic pizzerias are surprisingly hard to come by in London nowadays thanks to the resurgence of hipster joints such as Pizza Pilgrims and Franco Manca. Bar Ciao Bella in Holborn, dough and pastas that genuinely make you go "Mamma Mia" are few and far between.
But family-run Pizza on the Green is unassuming and of similarly brilliant ilk, with chilli oil that actually gives your thick, crusty, anchovy-slathered Napoli a kick and thick pasta spirals garnished with fresh basil, delicate buffalo mozzarella and sun blushed tomatoes that'll make you blush. A must-try.
16. Honest Burgers
Where? 75 Venn St, Clapham, SW4 0BD
The original Honest Burger came from a van in Bristol, but fast forward nine years, and they've got 33 patty-serving restaurants spanning London, Cambridge, Manchester and more.
Fun fact: despite going mass market and opening many a shop across the UK, every Honest Burger is unique. They have specials in each joint, including craft beers and buns produced in collaboration with local businesses, so each and every visit is slightly different. Our current favourite is the all-new fritter recipe, offering a genuinely flavourful, bean-free vegetarian patty covered in buttery cheddar, chipotle mayo, slaw, red onion and pickles. Drool.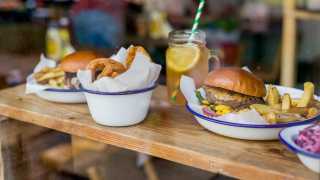 17. Mama Lan
Where? 8 The Pavement, Clapham Common, SW4 0HY
Two words: smacked cucumber. Oh, would we smack someone for that garlicky, spicy, tangy cucumber. Who knew an all-too-often forgotten vegetable could be so darn delicious? Other than, well, us… and everyone reading this article...
For a taste of Beijing in, well, central Clapham, the dumplings at Mama Lan are a must-try. They're one of the few Chinese restaurants where the veggie options on offer are as tasty, if not better, than the meat. Go for dumplings stuffed with sweet, umami wood ear mushrooms, bitter spinach and vermicelli, and to watch Mama Lan herself hand make noodles in front of you.

Best desserts in Clapham:
18. Nardulli
Where? 29 The Pavement, SW4 0JE
You may think proper Italian ice cream has to come from—yep, you guessed it—Italy, but there, you'd be quite wrong. The seemingly never-ending queue for Nardulli's, come rain or shine, proves as much. Though, we do warn you: step foot in the door and you won't be able to leave without a waffle cone, piled high with smooth, clean, creamy gelato. Classics include hazelnut and pistachio, whilst more adventurous menu options span pear, white peach and a ricotta cheese, fig purée, acacia and walnut combo.
Best drinks in Clapham:
19. WC
Where? Clapham Common South Side, Clapham, SW4 7AA
Yes, as the name suggests, this is the one under the loo sign. Word about WC has become somewhat of an urban legend in London, and it's housed in an 100 year old former water closest nestled deep under Clapham Common tube.
It's the perfect date night setting, being both dimly lit and a little bit different, plus they frequently have live soul music. Enjoy your fill of cheese and charcuterie boards and a selection of 23 eclectic wines, including our current favourite, the 2013 Three Monkeys Grenache Shiraz Marato from Australia. It's bright, juicy and with a touch of spice — perfect for with cheese and chorizo.

20. The Old Town Tavern
Where? 29 North St, Clapham, London SW4 0HJ
If you've scrolled this whole article on the hunt of where to get a good pint, fear not. The newest pub to Clapham, though not the longest established, is The Old Town Tavern. It offers a fierce selection of twenty beers on tap, plus a whole heap of delicious wines. Pop down after work or to while away a weekend afternoon snuggled by the fire.