Event Details
At The O2
Wednesday 1 May 2019 - Friday 31 May 2019
View map
Ever been high in the sky? This summer saw London in the Sky return to the capital with a spot right next to The O2. The Sky Tables (or floating restaurant to you and us) seated up to 22 people and gave countless Londoners the summer of a lifetime thanks to its numerous flights everyday, raising dinners up to 100ft over the London skyline.
Experiences available included everything from Breakfast through to Tea, Lunch, Dinner. Guests were well-catered for on the drinks front, too, thanks to cocktails and ice-cold bottles of refreshing pilsner from Pravha beer – the official beer partner of the event. It really was the ultimate alfresco dining experience, and one of the most thrilling ways to dine in London. Just look at the video below – the selfie opportunities are ripe and if you book now, you can make sure that you don't miss out on some quality Instagram content in summer 2020.
Breakfast
What better way to start your day than with a sky-high breakfast? Guests enjoyed a delicious hot meal with a range of accompaniments while the city stirs into life beneath you.
Afternoon Tea
A quintessential British experience with a twist... sky-high diners were treated to prosecco, light bites, sweet treats and a breathtaking backdrop to go with it.
Lunch
Plucky lunch-time customers were able to sit back, relax and enjoy a delicious three-course lunch and two glasses of sommelier-selected wines, all while overlooking the city in the afternoon sun.
Dinner
Dinner guests made most of the last dregs of the evening summer sun with beautiful city views and a spectacular three-course dinner, served with two glasses of sommelier-selected wines.
Cocktails
Everyone enjoyed a range of exciting cocktail experiences with some of London's top drinks brands, from gin and whiskey tastings through to cocktail making masterclasses - all savoured 100ft in the sky with views of the London skyline you'll never forget.
Sunday Sessions
Roasts on a Sunday? Been there, done that. Sunday Sessions at London in the Sky changed everyone's weekend plans for the better with a range of buzzing cocktail flights on Sunday featuring live music and DJs.
The Pravha bar at London in the Sky
This year, London in the Sky welcomed Pravha as the official – and exclusive – beer partner, featuring a bar stocked with Pravha, the new lighter pilsner from the makers of iconic Czech beer Staropramen. There's not many ways you can improve a dining experience with a view, but having that experience while you've got an icy cold bottle of Pravha's light, refreshing pilsner in your hand? That only makes it that much sweeter.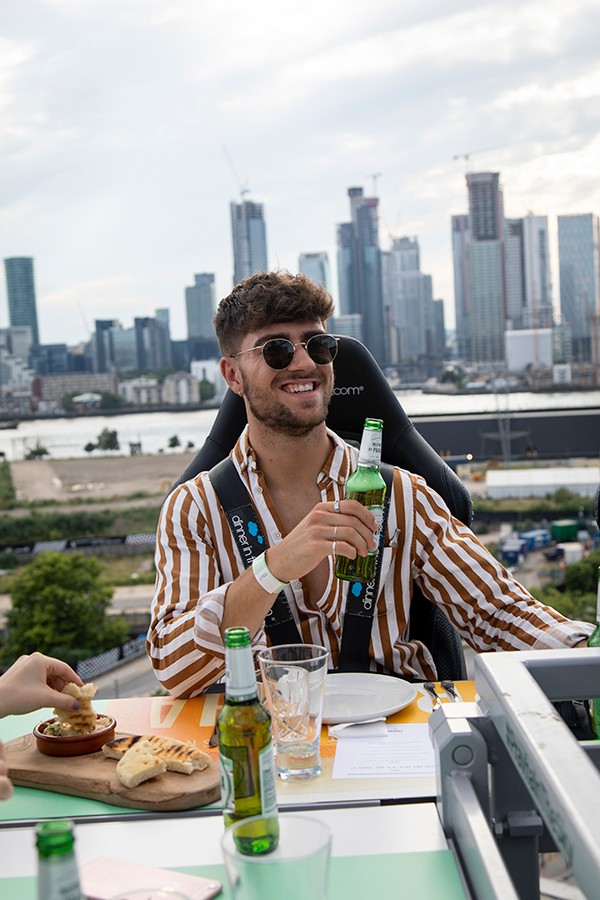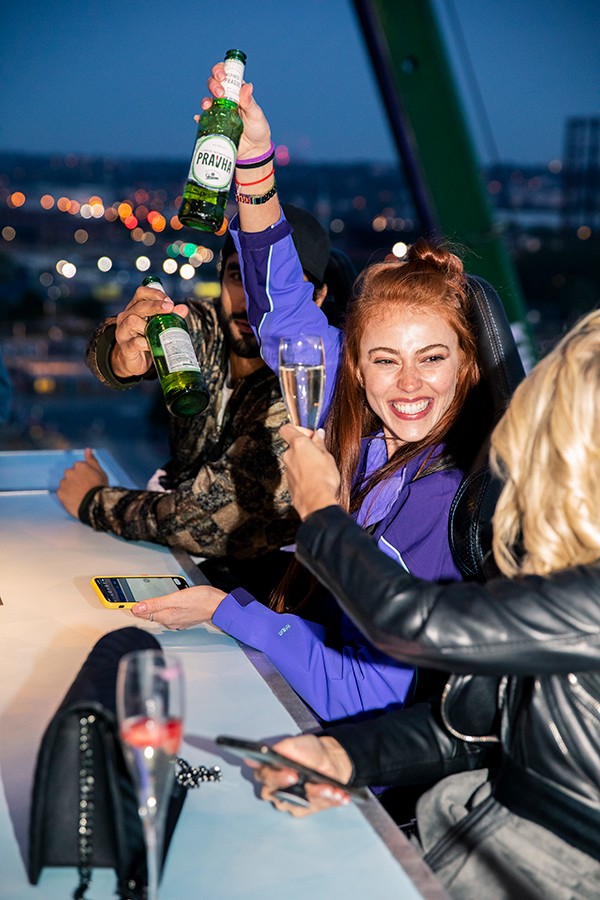 Pravha, the official beer sponsor of London in the Sky, hosted a two-day takeover, bringing the bold flavour and light taste of its beer to life, 100ft in the sky. Pravha's on-board beer sommeliers took diners through a 3-course beer & food pairing and finished off with a Pravha beer cocktail for the ultimate dining experience.
Check out what last year's cohort were eating and drinking here for an idea of what you can expect next year.
How to claim discounted tickets
To claim a 30% discount off tickets for weekday flights in May 2020, simply book via the website today.