There's so much to enjoy when you visit a restaurant: a friendly welcome, the convivial atmosphere, catching up with friends… then some smiling bastard hands you the wine list. Pages and pages of wines that you've never heard of, at prices you'd baulk at in any shop, and it's your job to pick the one that will please yourself and your guests. Some wine lists offer tasting notes, but others give no such clues. There are some useful points worth remembering, however, that can lead you to a smart choice when handed even the weightiest of leather-bound tomes.
Plotting a course
If the head chef writes the menu, then who writes the wine list? It could just be the salesman the restaurant buys their wine from. It might be a wine-savvy restaurant manager – or an indifferent one. It's hard to tell how seriously a restaurant takes their wine offering just by looking at the list. The name of a sommelier or wine consultant within tends to be a good sign – like Martin Lam, consultant to Brindisa, the Zetter Group and Grain Store in King's Cross.
If there are no tasting notes, where does he suggest you begin when choosing a wine? "They should at least be grouped in some kind of useful way," says Lam, "hopefully by style. This should steer you towards the wine that you're looking for or at least put you in contact with something you don't know but that you might like." A list laid out by country or region he thinks is "next to useless – it presupposes knowledge."
Choosing a wine by sticking to a grape variety or region that you know and love can be a safe option, but you risk getting stuck in a rut. Jade Koch is an independent wine adviser to restaurants such as Trullo in Highbury and Padella in London Bridge, and she recommends trying "something new to you from a region you have heard little about. The wine will normally be pretty good because it has had to earn its place on the list among the more well-known names that sell themselves, and generally you will find that it's priced more competitively."
Famous names such as bordeaux, burgundy and chablis rarely offer the best value – these wines can be glorious, but the best always come with a hefty price tag, so beware of buying cheaper examples blind. For reliable quality at sensible prices in red wine, consider Côtes du Rhône, Languedoc, southern Italy, Portugal and Chile; in white, look to the Loire, Germany, Greece, northwest Spain and South Africa.
Famous names such as bordeaux and burgundy rarely offer the best value
House swap
When it comes to house wine, it's completely impossible to generalise. Lam explains: "I know some people that would swear by their house wine, but it can go the other way; it can be deplorable, just the cheapest option." As for the urban myth about the second cheapest wine on the list having the most inflated price, he says "I've never met anyone who's admitted to that."
The house wine tends to be the cheapest, but the sweet spot for value is generally between £30 and £100. The grander the restaurant, the higher its running costs, so the steeper their mark-ups need to be; as such, wines in restaurants tend to be pitched anywhere between twice and four times their retail price. Consequently, you'll be hard pushed to find a genuinely exciting wine in most London restaurants for less than £18 a bottle, or less than £30 a bottle if you're at a more exclusive address.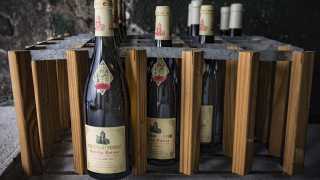 Koch points out that the house wine "is often also available by the glass, so feel free to ask for a taste and then you start a discussion from there… do they have anything lighter, fruitier, etc." Asking your server which wines they personally enjoy is worthwhile, even if they're not qualified sommeliers.
Lead by the nose
If there is a sommelier on hand, so much the better. Sommeliers are sometimes unfairly maligned, but their advice can be invaluable – particularly at restaurants like The Greenhouse in Mayfair where there are 3,700 wines to choose from. Elvis Ziakos is their head sommelier. The Greenhouse opened in 1977, so he inherited the wine list from his predecessors, and has since built on it. "Always have a conversation with the sommelier," he says.
"Wine is like food," he continues, "always having the same wine is like always having the same food… trying something different is the only way to develop your knowledge, palate and experience."
If you have a budget in mind, spell it out – sommeliers might resemble magicians in their monochrome liveries, but they aren't mind readers. If you're worried about sounding stingy in front of your date, just state a broad price band and choose one of the less expensive suggestions. Some of the rarest wines at The Greenhouse are worth thousands of pounds, but "good value, even for me, is exciting," says Ziakos.
Orange is the new white
As with food, wine also follows trends and enjoys new innovations. Two new developments that you might encounter are Coravin and orange wine. Coravin is a wine dispensing system that extracts a small measure from a bottle of wine while keeping the remaining liquid fresh. This means restaurants can offer a broader range by the glass or small serving. It's a relatively affordable way of experiencing rare wines without shelling out for a whole bottle.
Wine lists dos and don'ts
Decide on what you're eating first. You might wish you'd ordered a bottle of red wine rather than white if everyone around the table then orders a steak.
Ask questions. There's no reason anyone should know anything about wine, no question is stupid.
Try something new. Unusual regions and grape varieties tend to offer better value compared with famous names. You'll expand your repertoire and discover new favourites if you always try something different.
Don't feel under pressure. Advice can be useful, but you're under no obligation to follow it; only you know what you feel like drinking.
Spend as much as you can afford. Unlike some luxuries, with wine, you tend to get what you pay for.
Orange wines are white wines that are made more like red wines. Normally the skins are quickly removed from the juice when making a white wine, but with orange wine the skins are macerated for a period of time (like in red wine production) to extract more texture, flavour and colour. The resulting wines are varied in style, but they do tend to be more powerful and notably more tannic – dry and textural – than white wines. Some can be quite challenging but a shared glass can be a real mind opener.
Another trend we can all be thankful for is that wine lists are getting shorter, making wine selection quicker and easier. In respectable restaurants at least, the house wine should usually be a safe choice; but for better value and a more entertaining night, skip over the famous names and try something off the beaten track. If it's available by the glass ask for a small sample first. And don't forget to state your budget and ask for advice – your waiting staff have probably tried enough to give you a steer even if there's no sommelier. Keep trying different wines and soon enough the wine list will read more like a novel than a telephone directory.