Grab your glitter, hoist your flags and don your rainbow leggings: it's Pride weekend. The main events take place this Saturday 7 July, while the Black Pride parade – Europe's largest celebration for African, Asian, Middle Eastern, Latin American and Caribbean-heritage LGBTQ people – will happen on Sunday 8 July, starting at Vauxhall Pleasure Gardens.
Saturday's festivities kick off at 12pm, when the annual Pride parade will take you from Portland Place, down Oxford Circus, through Piccadilly Circus then on to Trafalgar Square before drawing to a close at Whitehall around 5. As always, it's going to be loud and it's going to be proud, but that, obviously, is just the beginning.
This year, it feels like the whole of London is joining in, with shedloads of city-wide goings-on over the course of the weekend, from all-night parties to rainbow-hued sandwiches. Loads of our favourite restaurants have pulled out all the stops to create special dishes, menus and events in honour of the calendar's biggest celebration of the LGBTQ+ community.
Here are some of the best places to celebrate, featuring everything from East London karaoke to outrageously good bottomless brunches. And, of course, because Pride isn't just about flying the rainbow flag and being, well, proud of who you are, most of these places are also giving a portion of the money raised from their Pride specials to LGBTQ+ charities and schemes. Yaas to that, friends. Yaas to that.
Now then, ready to blow, er, we mean GO? Time you get your mouth 'round this fabulous lot…
By Chloe
Various locations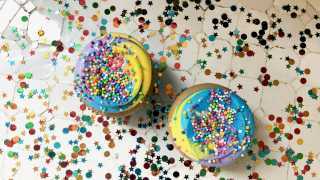 Keep things colourful by stoping in at vegan junk food joint by CHLOE. (with sites in Covent Garden and One Tower Bridge), where there's an ultra-bright, ultra-beautiful and ultra-fabulous cupcake on offer over the weekend. 50% of the proceeds from the sale of each cupcake will go to Stonewall, the UK's leading charity for lesbian, gay, bi and trans equality.
Corazon
29 Poland St, W1F 8QR
Corazon means 'heart' in Spanish, so it's fitting that this warm and welcoming Soho favourite is getting stuck into the Pride action with a special edition of its brunch dishes this Saturday. There'll be free-flowing tequila, one-off cocktails, your favourite camp tunes and pink tacos topped with grilled king prawns, pico de gallo, epazote mayo, crunchy pumpkin seeds and radishes.
Le Bab
Top Floor, Kingly Court, W1B 5PW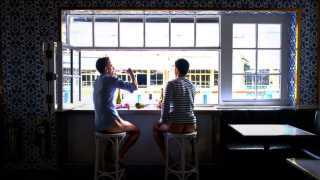 Bottomless takes on a whole new meaning for Pride weekend at Le Bab, where the kebab renaissance champions are joining in the fun with their bottomless* weekender. You can chow down on their brunch dishes and and glug bottomless bloody marys and prosecco when you order a main for just £18. Bottoms up. *N.B. Make sure you have some bottoms on those bottoms. Despite what you see above, clothing is required.
The Karaoke Hole
95 Kingsland High Street, E8 2PB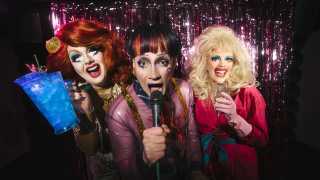 Get ready to lose yourself (and your voice) at Karaoke Hole's Pride celebrations. On Thursday 5 July, the bar will host Queer Karaoke Speed Dating for all those single kings and queens who are ready to mingle. Grab your mic, it's time to see if we can get it on. Then on Friday – for those whose school night partying days are behind them – Karaoke Hole (which comes from the folks behind Dalston Superstore) are taking things up a notch with its outrageously camp celebration of history's favourite queer idols with a "Their Eyes-style" competition hosted by Miss Craig. Want to enter? Make sure to come as your favourite artist for your chance to win a £50 bar tab. If you make it to Saturday, it's all about lady love. Karaoke Hole will be putting on a Female Trouble Lesbian Pride with a line-up of London's hottest drag king stars with a soundtrack of female divas, legendary songstresses and girl power classics. Yaas queen to that.
Neptune
Russell Square, WC1B 5BE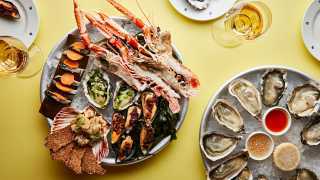 When you were a teenager, The Little Mermaid's Sebastian might have induced some giggles when he sang "darling it's better down where it's wetter" – and maybe you still do find yourself chuckling over it time to time – but this weekend, it's also happens to be the theme for Neptune's Pride fundraiser brunch. Bloomsbury's new seafood-forward restaurant has teamed up with Fantastic Man magazine and gender fluid-clothing brand Blouse to put on a fantastic menu and raffle to raise money for London Friend, the UK's oldest lesbian, gay, bisexual and trans charity. Brunch costs £35pp or £45pp (with free-flowing cocktails) and £10 from each ticket goes to the charity.