THE FOOD WORLD has kept a close eye on Selin Kiazim since she left Peter Gordon's The Providores to set out on her own, and, after following her from supperclub to sell-out supperclub, we've finally been rewarded: last month she opened her long-awaited restaurant, Oklava, in Shoreditch. The food is inspired by her Turkish-Cypriot heritage, but you won't find greasy kebabs on the menu. Instead, you can expect delicate, inventive flavour pairings in dishes that are meant for sharing – if you can bear it. We chat with the chef in a rare moment of calm just after Oklava's launch.
The restaurant launched mid-November. How's it all going?
It's going well! The feedback from all the customers seems to be amazing, and the team's getting on really well. I'm exhausted but it's worth it.
What do you first remember cooking?
We didn't have a lot of cookbooks at home, but one of my older sisters had a really old-school Italian one. When I was 12, I used to make beef olives quite a lot, the ones where you bash out the beef, stuff it and make a sauce. I also remember bashing out chicken. There used to be quite a bit of baking as well. When mum had cleared out of the kitchen, I used to try and create some sort of steamed sponge that I could cook in the microwave. My parents didn't mind – it was like having dessert every night.
When did you realise that you wanted to become a chef?
I got really into cooking programs and reading cookery books. I used to cook for my friends and throw little dinner parties. I originally went down the art and design route, and then when I was 19 I decided I should finally go for it and stick what I really love doing, so I enrolled at Westminster Kingsway College. I was there for three years, and straight afterwards I got the job with Peter Gordon at The Providores. I met him through a competition that he was running earlier in the year, and it was a good opportunity so I snapped it up.
What did you learn from Peter Gordon and what have you brought with you into your new restaurant?
The main thing that rubbed off on me was his ability to mix different textures and flavours. I like dishes that are full of big flavours, and he taught me about ingredients from all around the world and how to use them, to not be afraid of combining ingredients and just go for it. I also learned how to create a happy kitchen environment to work in, both for the chefs and for front-of-house. He's been a great mentor.
He's a renowned fusion chef; has that influenced the way you cook?
Definitely. The food that I do is inspired by my heritage, but I've modernised it and distorted the recipes. I always remember Peter teaching us about the history of where ingredients came from. For example, you might think of fish sauce as a very Asian ingredient, but in fact it was being used all down the Spice Route, where it was known as garum, and that's still relevant to the food that I'm cooking. At the end of the day, I think most chefs are doing fusion, and I guess you could label my cooking the same way – it's inspired by my Turkish heritage but it's certainly not traditional Turkish stuff.
How long is it since you decided you wanted to open your own restaurant?
I started thinking it at college and I remember wanting to have a restaurant where I cooked everything over charcoal. I'm obsessed with it! At around 19, I definitely realised that this was the career that I wanted and that I really wanted to have my own space. So it's been the goal from day one, since I first started learning to be a chef in a professional kitchen. I paid careful attention to what it takes to try and create my own successful business.
I've always had a lot of my own ideas, and for the past five or six years, I've known that this the sort of restaurant that I wanted. I knew I was going in this direction and that no one else was doing this sort of thing. There are people doing similar things, but there's no one exactly like me, who's using their Turkish-Cypriot heritage as their direct inspiration, and I really wanted to work on that. I guess I always wanted to run my own business that way I wanted to.
Is there anything in particular that you were worried about?
I was definitely worried about not getting customers through the door! There's a lot of money involved in setting up a restaurant and we have to the deliver the things that we promised, but at the same time I'm just enjoying cooking in my own kitchen and developing our offering and trying to get it to the best it can be so that people keep coming back.
Where do you source your ingredients?
I've got different sets of suppliers, but one of my favourites is Mr Olive Oil. He's a Turkish guy who's got a little electrical shop in Clerkenwell, but his family have olive groves and farms in northern Cyprus and in Turkey, and they produce olive oil and pomegranate molasses, as well as herbs and spices, candied fruits and wild oregano. I like that I've been able to find an amazing producer with the same roots as me.
You've worked in quite a few pop-ups. What's the main difference between that and working in a restaurant?
The food. You're always cooking the same sort of thing – for me it was always a sharing or tasting menu – and it's a lot easier than creating a full menu, where each dish has to be as good as the last.
The other difference is that you're doing it day in, day out, whereas with a pop-up, you've only got to do it for that period and then you're doing something else. I prefer having my own restaurant, it's been my life's goal. I loved doing pop-ups and I think they were a fantastic platform for me; they allowed me to start developing my name and get my food out there and start testing it on people. Now I've done that, it's definitely really good to be settled into my own kitchen, because moving all the time and lugging things about is a lot of hard work.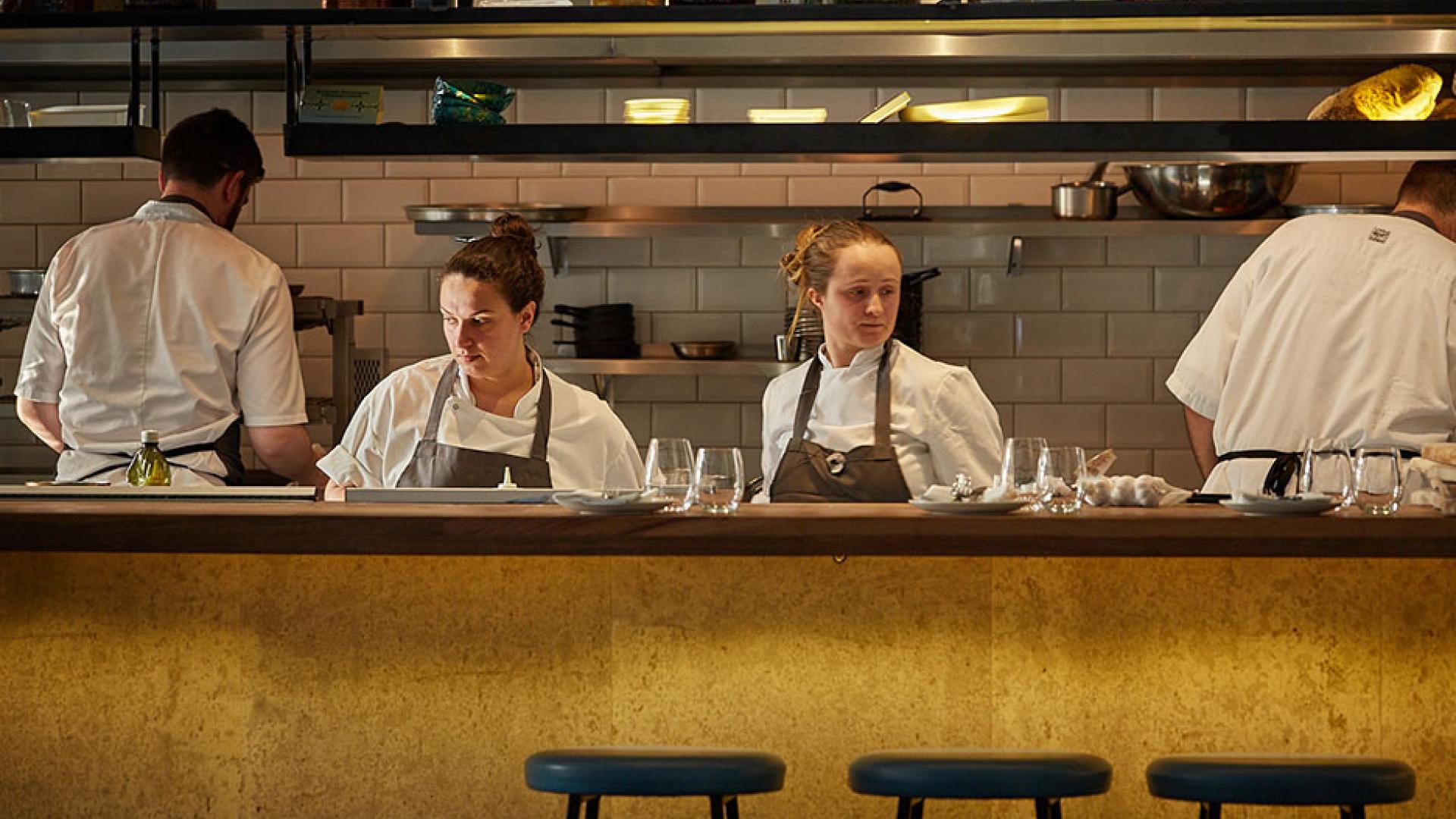 What's your favourite dish on the menu?
It has to be one of the meat dishes, because I'm a meat lover. I can't pick out a single favourite, but probably one of them has to be the pomegranate-glazed lamb breast with yoghurt and fresh herbs. It's a dish that I've done at various pop-ups, so I've been doing it for quite a few years. It's probably winning as the most popular out of the five meat dishes on the menu. The reason why I think that's me on a plate is because lamb is my favourite meat and I love it when you use the lamb breast. You get the layers of fat running through it and it develops an amazing flavour when you cook it down and crisp it up to order, and the liquid that you've brazed it with is used to make a jus with pomegranate molasses and spices. It's got all my favourite things in it.
There's already quite a strong tradition of Turkish-Cypriot cuisine in London. How different is your approach going to be to the places in Green Lanes?
As I understand it, a lot of those families are from Turkey and there are fewer people who are doing the Turkish-Cypriot thing. I love the restaurants on Green Lane and I go when I can. I think my food is more modern, and it's all about the sharing, it's not about sitting and eating big piles of meat and feeling stuffed at the end. I try to balance the menu so it's got the richer dishes like the pomegranate lamb alongside fresher flavours. The idea is that you can make up your own meal. I like people to be able to go from one plate to the other and it's all harmonised. I was inspired by my mum's home cooking for some dishes, so some things aren't Turkish, I just thought I'd like to base a dish around a certain ingredient and put a Turkish spin on it.
Are your parents very into food and cooking?
My mum has always been the cook at home. She's always critiquing my dishes! It's always quite hilarious, when I was still living at home and learning the proper way to do things I'd be trying to fry something on a high heat. I'd turn away and she'd turn the heat down because she didn't want to make a mess. It was a constant war.
Other than Green Lanes, where do you like to eat in London?
When I go out, it's not just about Turkish food – I do like a kebab though! I like Asian and Indian food, I like to try all sorts of different things and occasionally I will treat myself and go somewhere more refined, which I really enjoy. One of my favourite things to do is to go for lunch in a fine dining restaurant and spend all afternoon there. In a few weeks' time my business partner, my sous chef, my assistant manager and I are going to go the Clove Club as a treat. I've never been before and I'm really excited to try it. ■
For more information visit: oklava.co.uk.