We like beer. We really like beer. We like beer so much that we started our own Foodism Beer Club. But drinking a lot of beer on a regular basis isn't always the best, is it? Hangovers aren't fun, alcohol isn't exactly beneficial for your bodily health, and texting your ex after you've had three NEIPAs is never – we repeat, never – a good idea.
If you're looking to still enjoy the occasional cold one without any of those previously mentioned detriments, we'd recommend doing it with a low or no alcohol beer. While they might be something that your dad scoffs at over a pint of bitter, a lot of the alcohol-free beers on the market nowadays are actually pretty damn close to the real thing. No, they're not exactly the same, but as a booze-free alternative they really aren't bad. Many are even very nice.
Maybe you're looking for the best non alcoholic beers London has got because you're taking part in Dry January. Maybe it's for ethical purposes or religious purposes. Maybe your liver just needs a bloody break. Whatever your reasoning is, we support you in your endeavour and wish you nothing but restraint in the face of your mates getting in a round of hazy ones at the pub. To help you avoid getting a case of ale-related FOMO, we've scoured the aisles (and pubs) to bring you best no-to-low alcohol beers that are worth a punt when you want a pint that won't get you tiddly.
From big guns in the beer game like Mikkeller and BrewDog to purely alcohol-free breweries such as Lucky Saint and Coast Beer Co, this list of the best non alcoholic beers in London should help you separate the wheat from the chaff. Or, y'know, the malt from the hops or whatever. 
Yes, these are the very best non alcoholic beers London can offer you, presented in no particular order. Because alcohol-free doesn't have to mean taste free. 
20 of the best non alcoholic beers London
1. Lucky Saint's Unfiltered Lager – 0.5% ABV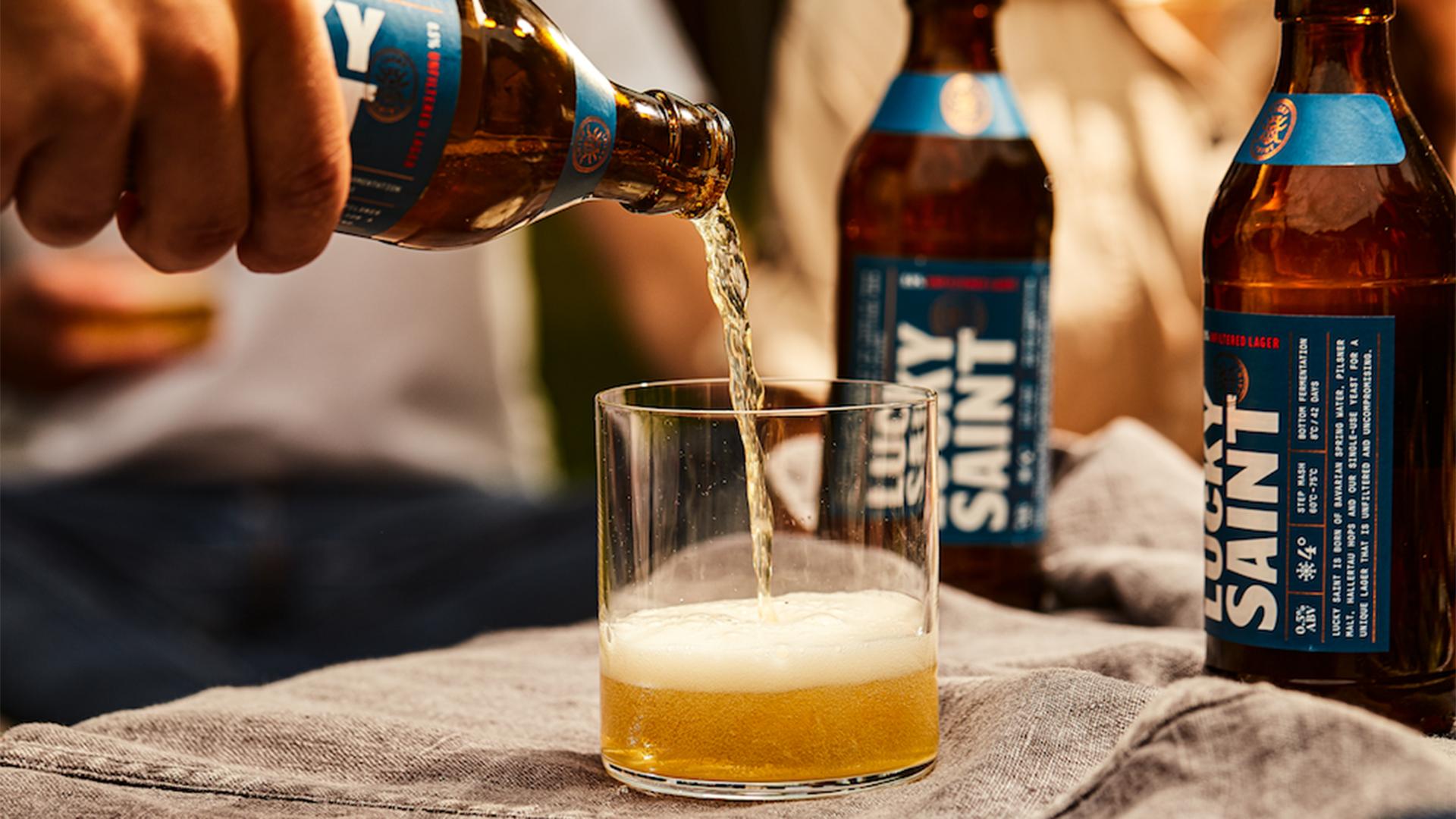 Made from Bavarian spring water, pilsner malt, hallertau hops and Lucky Saint's own single-use yeast, this lager has got all the biscuity flavour you'd want from a brew along with a refreshingly smooth and citrussy hop finish. A bottle or two in your fridge should help you through Dry Jan but if you don't fancy limiting your alcohol-free fun to your living room, Lucky Saint is also the first independent alcohol-free lager available on draught. It's available across all Market Halls venues, Mother Kelly's, all Hippo Inn pubs, Smoking Goat, and even at Michel Roux Jr.'s The Wigmore.
2. Mikkeller's Weird Weather – 0.3% ABV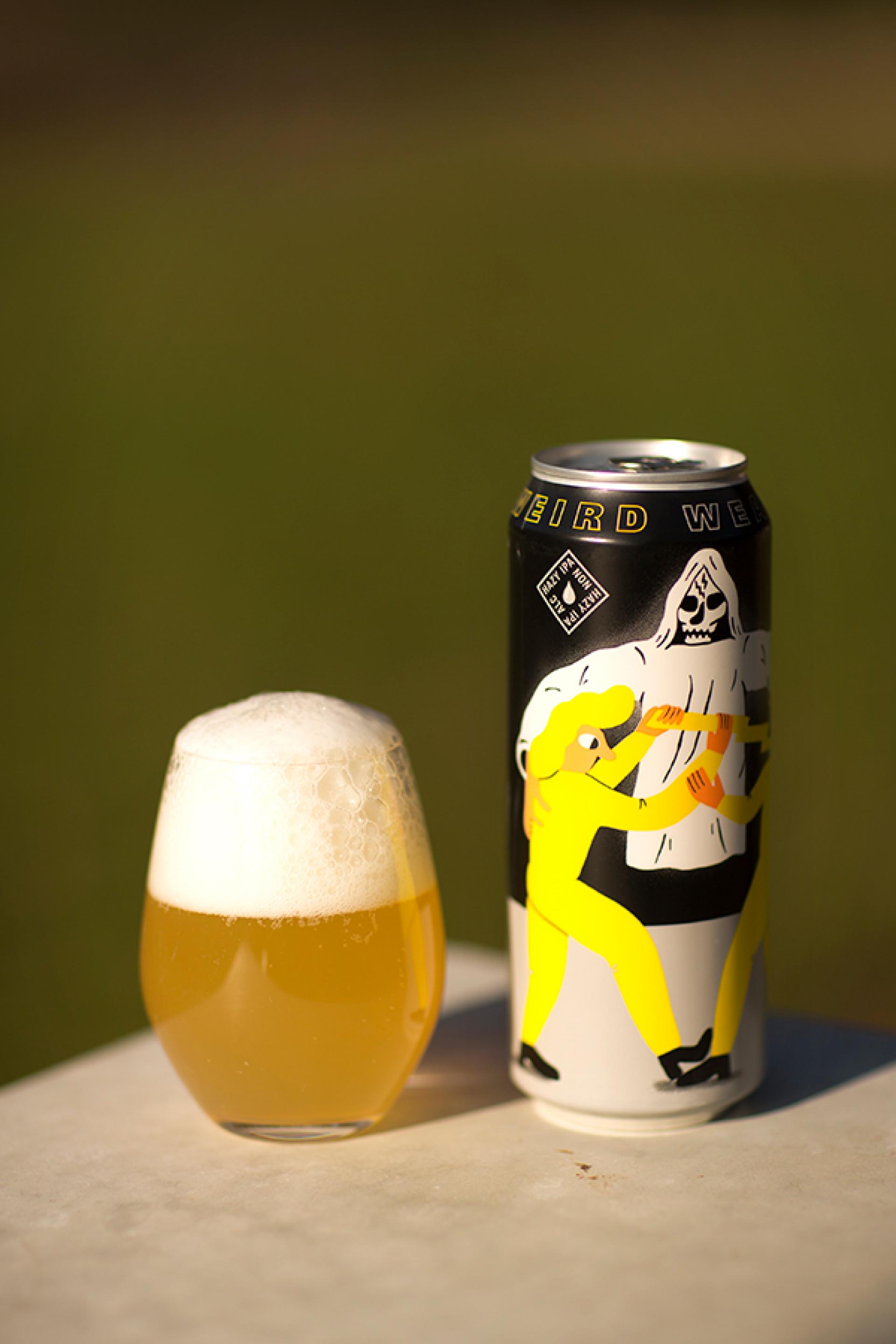 Mikkeller's Weird Weather is a hazy, tasty New England style IPA for the beerheads out there who are looking to cut down on their alcohol intake without sacrificing on flavour. Brewed out of De Proef Brouwerij in Belgium, this beer is one of the best examples of why Mikkeller is so popular among the craft beer community. Weird Weather could easily fool even the most refined palates in a blind taste test and if Mikkeller is capable of producing a low-alcohol beer that tastes this good? Well, just imagine what they can do when alcohol does get involved.
3. Small Beer Brew Co.'s Dark Lager – 1.0% ABV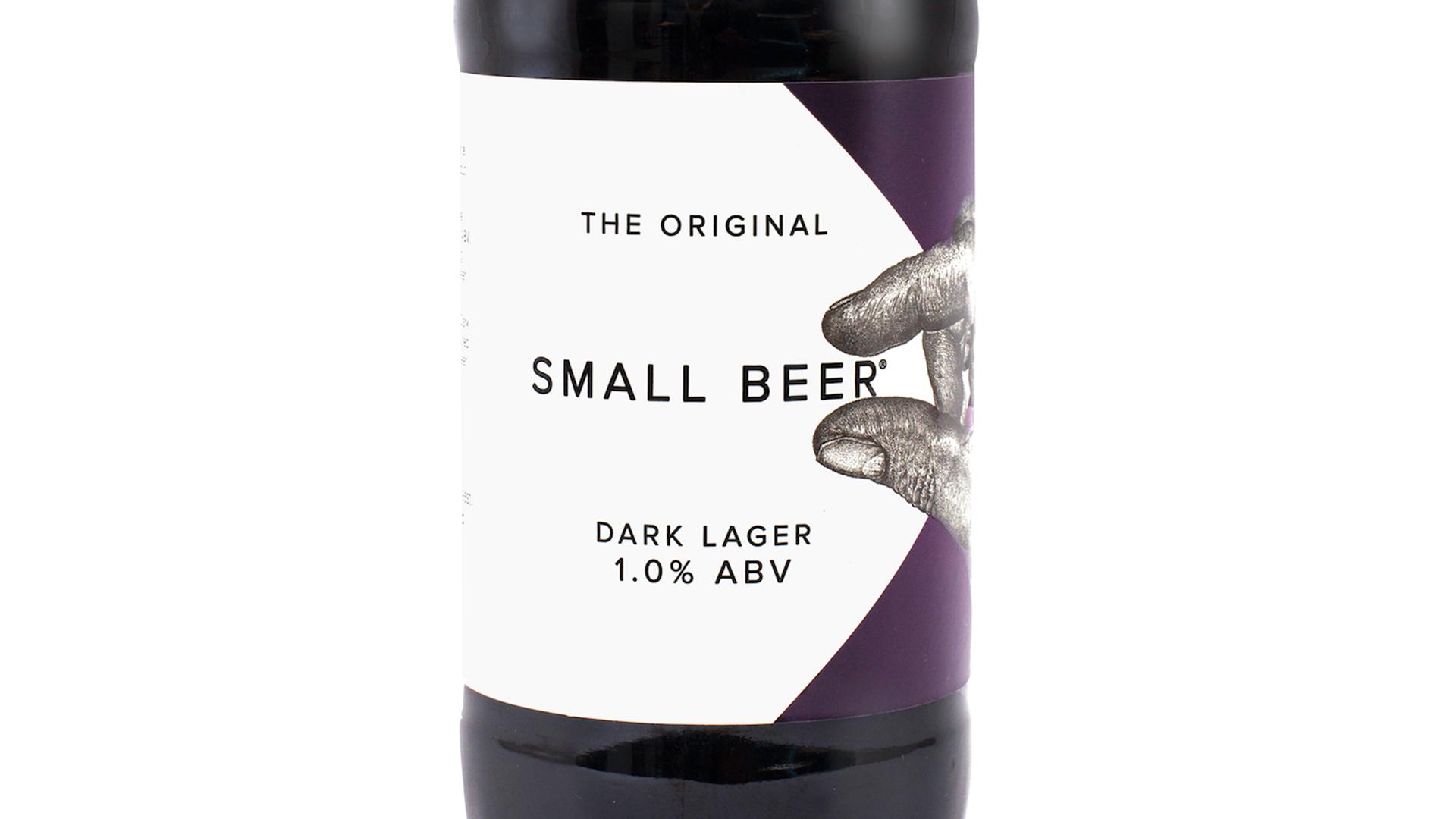 If you're in the market for a dark and delicious lager, this stubby little fella is the one for you. Notes of coffee, toast and chocolate make this a dessert-y serve that'll appeal to anyone who's partial to the occasional stout or heavier lager. The difference, of course, being that this beer is only 1.0% ABV. Small Beer Brew Co. recommends pairing this bad boy with hearty British dishes involving hard cheese, pies or game. You don't need to tell us twice.
4. BrewDog's Punk AF – 0.5% ABV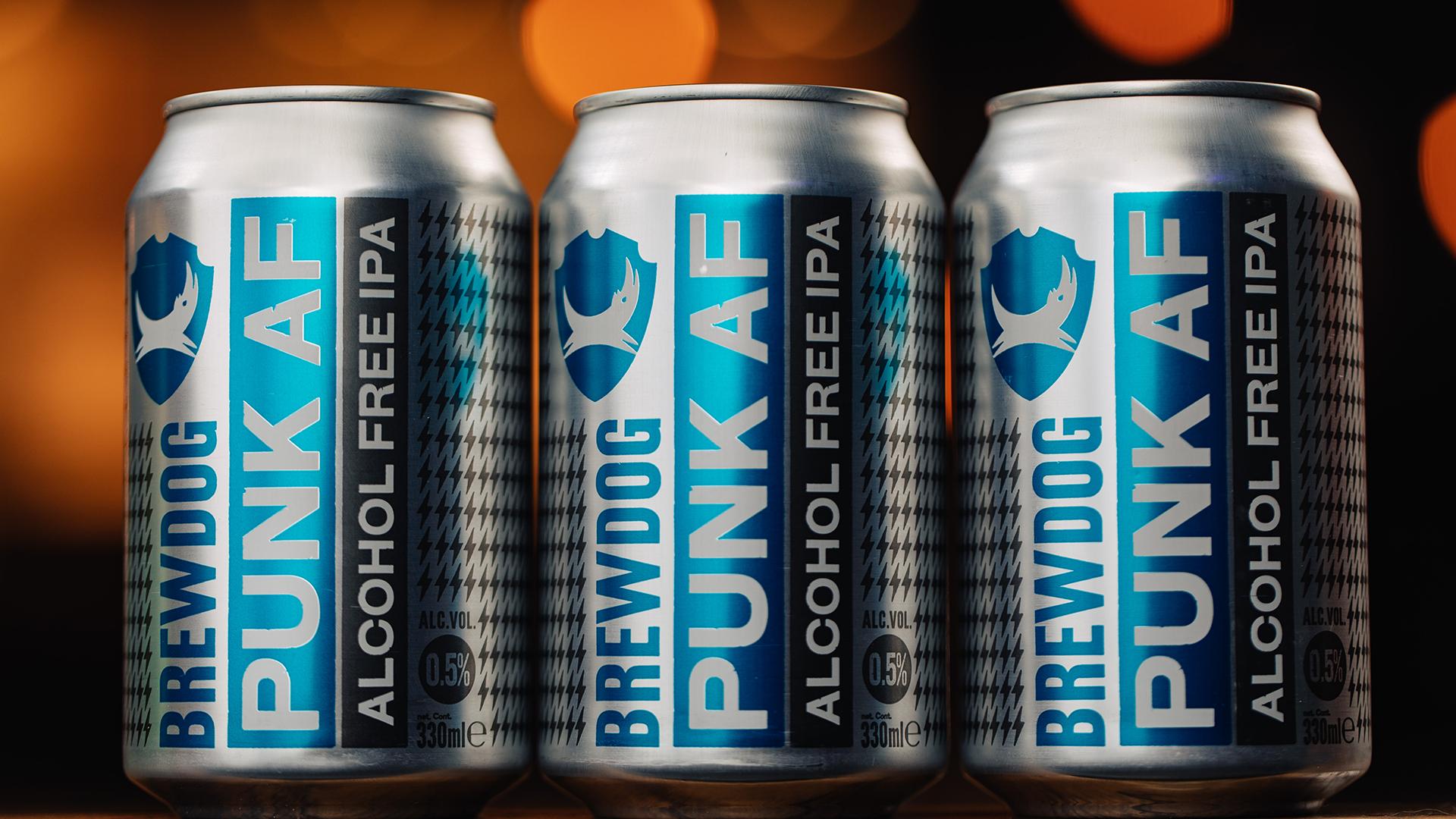 Juicy tropical fruit mixes it up with grassy and pine notes, all of which sit on a sturdier bedrock of four different malts, in BrewDog's alcohol-free IPA. It's the unique medley of hops (including citra, chinook, mosaic, cascade and others) that gives this beer all the punch of BrewDog's regular Punk IPA without any of that hangover potential. Alcohol-free doesn't mean taste-free.
5. Freestar Premium Alcohol Free Beer – 0.0% ABV
Freestar is the first ever alcohol-free beer to be made using a completely alcohol-free process. What that also means is that it uses 80% less water and creates 70% less waste in its production than the industry standard. Malted barley and perle hops are blended with pomelo and bergamot to create what turns out to be a fairly nifty drink. Yes, it's gluten-free, low in sugar, vegan-friendly but it's also – crucially – full of flavour.
6. Nirvana Brewery's Organic Pale Ale – 0.5% ABV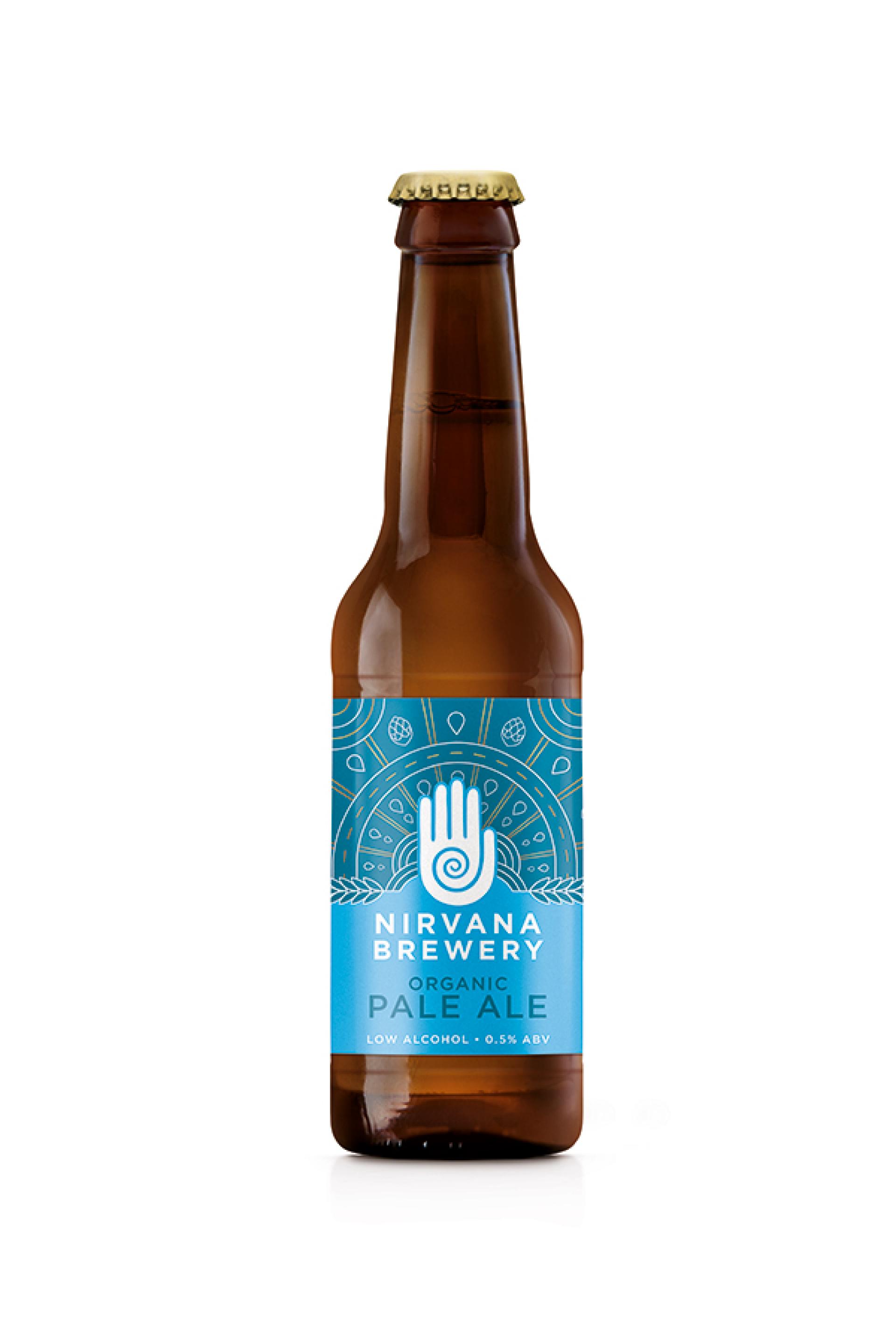 Blessed with a seal of approval from the Soil Association, this certified organic beer is a friend to the earth and your palate. Gold hops and British malts combine for a balanced beer that goes down very easily. Hints of spice and tangerine add a complexity to the proceedings while the gentle toffee finish makes for a moreish end to any bottle. But hey: at just 0.5% ABV, what's wrong with cracking open another?
7. Lowlander's Wit – 0.0% ABV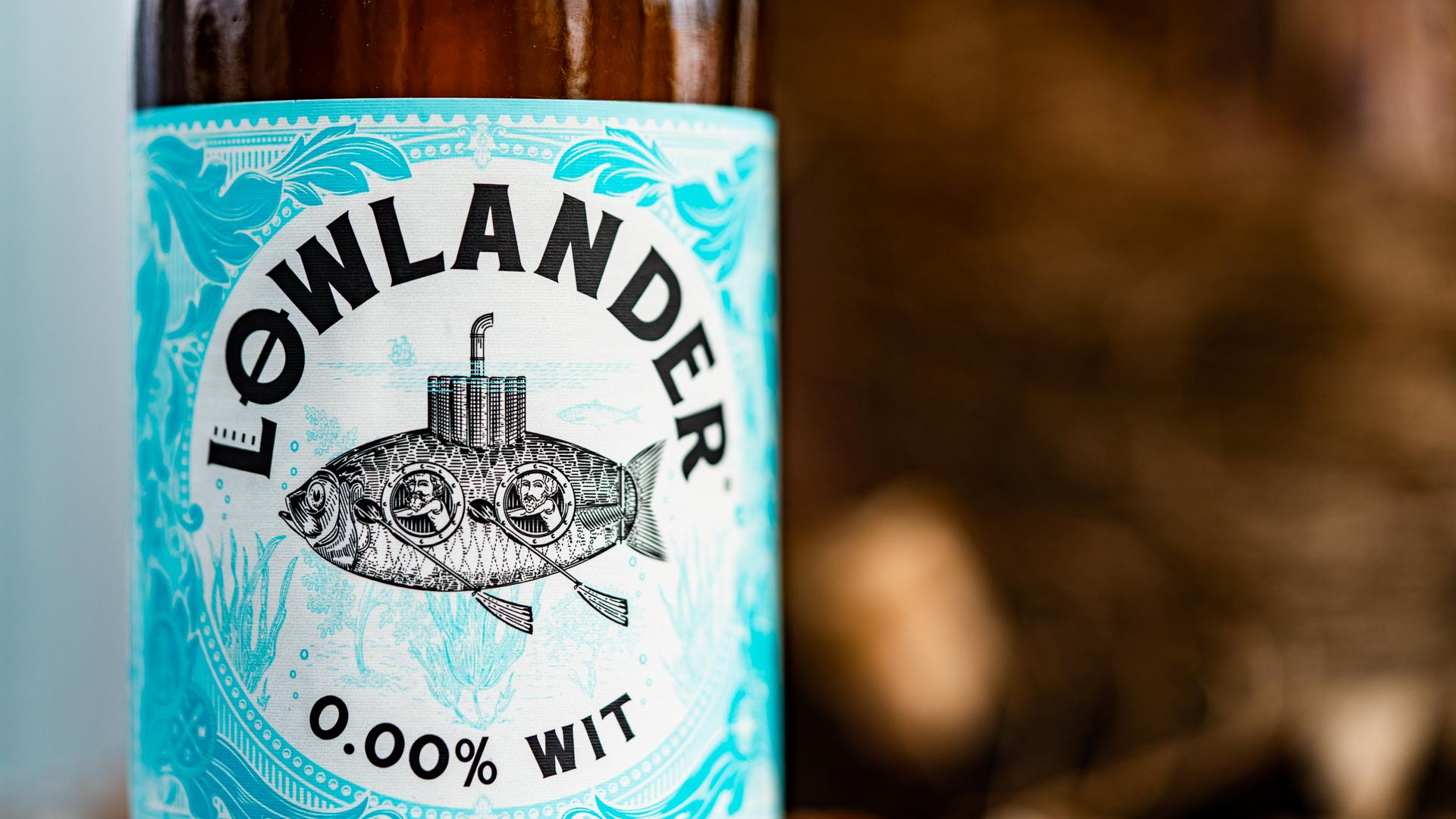 This beer is Lowlander's (very successful) attempt to brew a true 0.00% ABV wit beer. Working together with PeelPioneers, Lowlander collect discarded orange and lemon peels from bars and restaurants and use those botanicals to brew its citrus-forward beverage. The result is as delicious and refreshing as it is sustainable and one of the finest non alcoholic beers London can offer you.
8. Big Drop Brewing Co.'s Stout – 0.5%
We easily could have included any of Big Drop Brewing Co.'s range of low-to-no alcohol beers on this list but we decided on the Stout in the end. Why? Because it's just that good. A non alcoholic beer is never exactly identical to its alcoholic counterpart and a low alcohol stout will never have the same thickness or mouthfeel as the real deal, but this is about as close as you're going to get. Notes of coffee, cocoa nibs and a lingering kiss of vanilla make this a dark and indulgent brew that's suitable for any occasion. Except a piss-up.
9. Infinite Session's Pils – 0.5% ABV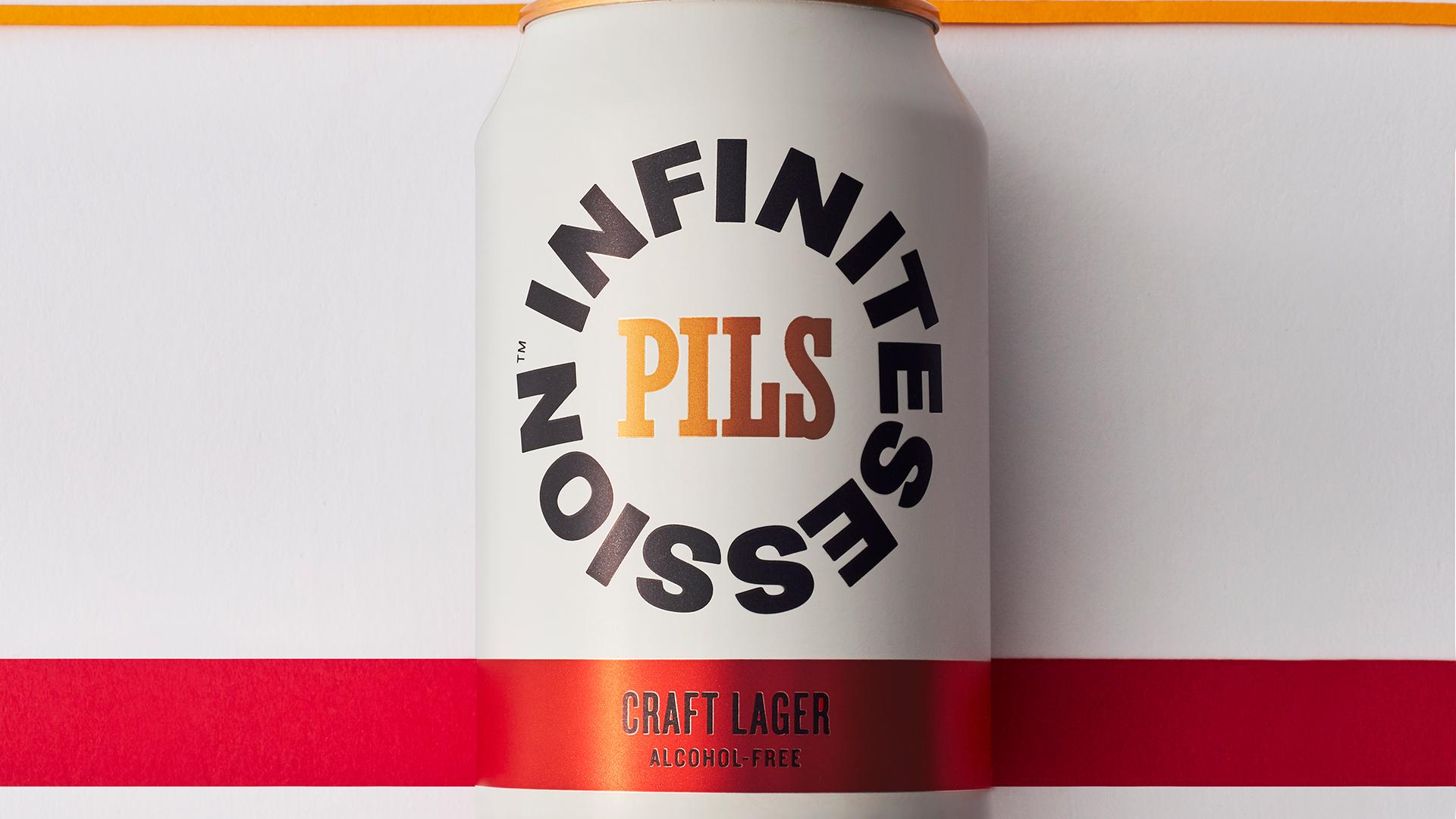 This craft lager from Infinite Sessions is crisp, refreshing, yet still packs a decent amount of flavour for an alcohol-scant concoction. An original pilsner made using hallertau and saaz hops, this bev has been brewed to give you everything you'd want from a lager. Apart from two beer charm you might get from an alcoholic beer, of course. You're going to have to make up for your own lack of personality with this one, mate.
10. Brooklyn Brewery's Special Effects – 0.4% ABV
Brooklyn Special Effects is a hoppy alcohol-free lager with an unexpected zesty aroma (think of a freshly cut grapefruit) and a pleasantly bitter finish. The beer gets its bready sweetness from a blend of specialty malts, and its nose from the fact that Brooklyn Brewery dry-hop the mixture with citrus-forward hops. It's hard to describe Special Effects without admitting that it tastes like… beer. It's one of the beeriest non-alcoholic beers knocking about and that's nothing but a good thing in our books. Brooklyn Brewery recommends pairing the drink with everything from spinach salads to BLT sandwiches. So do we.
11. Hop & Hemp Brewing Co.'s Easy Times IPA – 0.5% ABV
Ever had the desire to drink a CBD-infused, low-ABV craft beer? No? Well, you will once you've heard about Hop & Hemp Brewing Co.'s Easy Times IPA – the UK's first of its kind. Easy Times IPA is a full-on IPA that hits you with heady aromas of grapefruit and lemonade thanks to the triple addition of American hops. It's all a bit fruit and honey and the 8mg of CBD in every 330ml serve of the stuff should help take the edge off an evening.
12. Northern Monk's Striding Edge Light IPA – 2.8%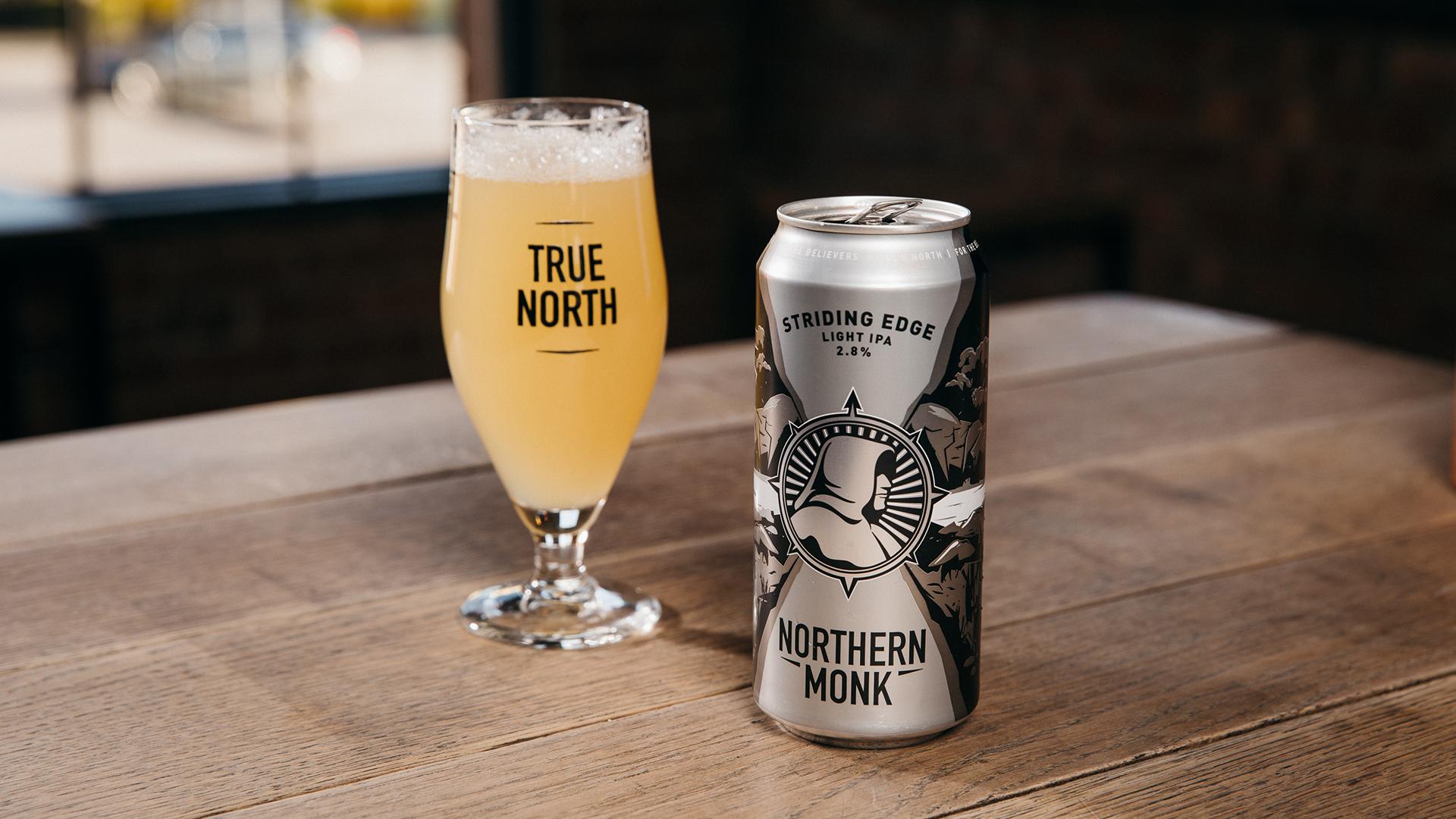 This low alcohol beer from cult favourites Northern Monk is inspired by one of the North's highest peaks. Piney, citrusy and fresh, this is a light and sessionable IPA that doesn't feel like a cop out. Conceived in collaboration with Cumbrian fell runner, Ricky Lightfoot, and featuring photography from Leeds-based photographer Tom Joy, Striding Edge is a daring beer that's smooth and soft on the palate and punches well above its weight when it comes to replicating the taste of a full alcohol beer. This is the standard bearer when it comes to low ABV beer.
13. The Kernel Brewery's Table Beer – 3.2% ABV
As a cornerstone of the London beer scene, The Kernel Brewery brews a range of tasty beers out of its rail arch home in Bermondsey. Table Beer is an easy drinker that's ABV fluctuates around the 3% mark, making it a great low-alcohol option that doesn't sacrifice any of the flavour or satisfaction of a regular beer. It's super light, goes down a treat, and you should definitely look out for it on the drinks list the next time you're out for a meal.
14. Cloudwater's Small Pale Ale – 2.9% ABV
This small and punchy pale is designed to pack the quality you'd expect from a Cloudwater beer into an efficient little low-strength package. Unlike other inferior low-alcoholic beers, this tin has enough body to balance with its bold hop notes of mandarin and grapefruit. It's fruity, it's fierce, and it should definitely be in your fridge.
15. Erdinger's Alkoholfrei – 0.5% ABV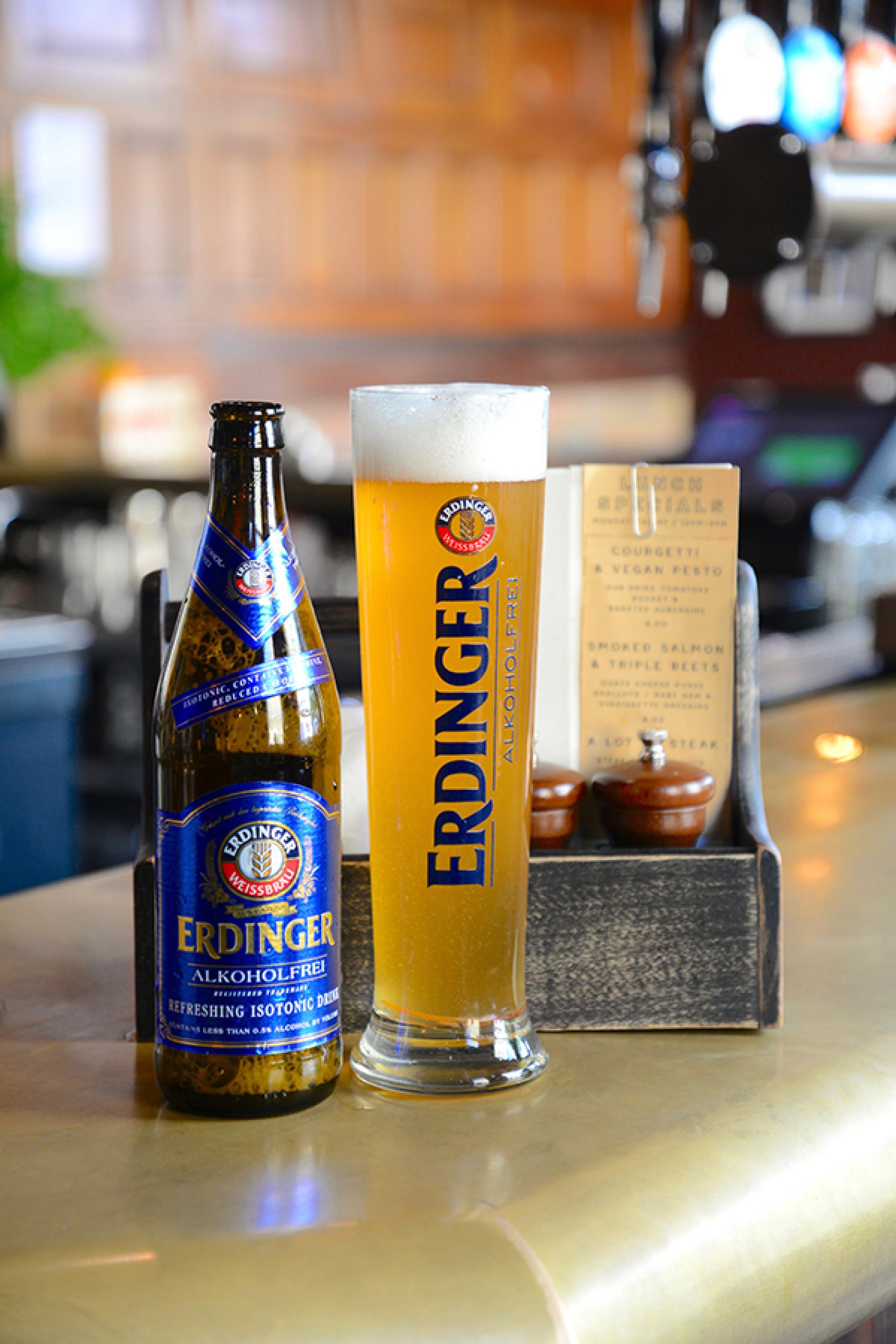 A cool glass of Erdinger Alkoholfrei doesn't just taste fantastic, but it's actually pretty healthy, too – thanks to the vitamins B12 and folic acid, as well as the polyphenols it contains. Allegedly, at least. This non-alcoholic drink from Erding funnily enough seems to brand itself as a sports drink and while we're not partial to a pint after five-a-side, we can't say that it's guaranteed to have a positive impact on your performance. It tastes pretty nice though, with just enough hint of banana to separate it from the crowd of generic low ABV lagers out there.
16. Adnams' Ghost Ship – 0.5% ABV
Containing all the same flavours and aromas as the regular Ghost Ship beer (which clocks in around 4.5% ABV), this alcohol scarce liquid has a lot going on inside its pretty glass exterior. In fact, we'd go as far as to say that this pale ale has pretty much all the taste of a proper beer despite its paltry 0.5% ABV content. It's almost… spooky. Balancing the right amount of bitter and fruit, Adnams' low-alc Ghost Ship is more than just a Dry January substitute.
17. Pistonhead Lager's Flat Tire Alcohol Free – 0.5% ABV
Pistonhead's Flat Tire Alcohol Free beer has a balanced and crisp malt body and a slightly marked bitterness that make it a worthy inclusion on this list of the best non alcoholic beers London can boast of. Centennial and mosaic varieties of American hops give the brew a fresh floral aroma with hints of tropical fruit and citrus. It doesn't exactly hurt that this straw yellow liquid also pours very, very smoothly.
18. Coast Beer Co's Hazy IPA – 0.0% ABV
Coast Beer Co's Hazy IPA is a loose and juicy craft IPA from an excellent Scottish brewery. Pale in colour, this mouth-watering beer has a mellow bitterness and is thankfully not too over-the-top in the hops department. It's light, it's lemony, what else do you need to know?
19. Harvey's Brewery's Low Alcohol Sussex Best Bitter – 0.5% ABV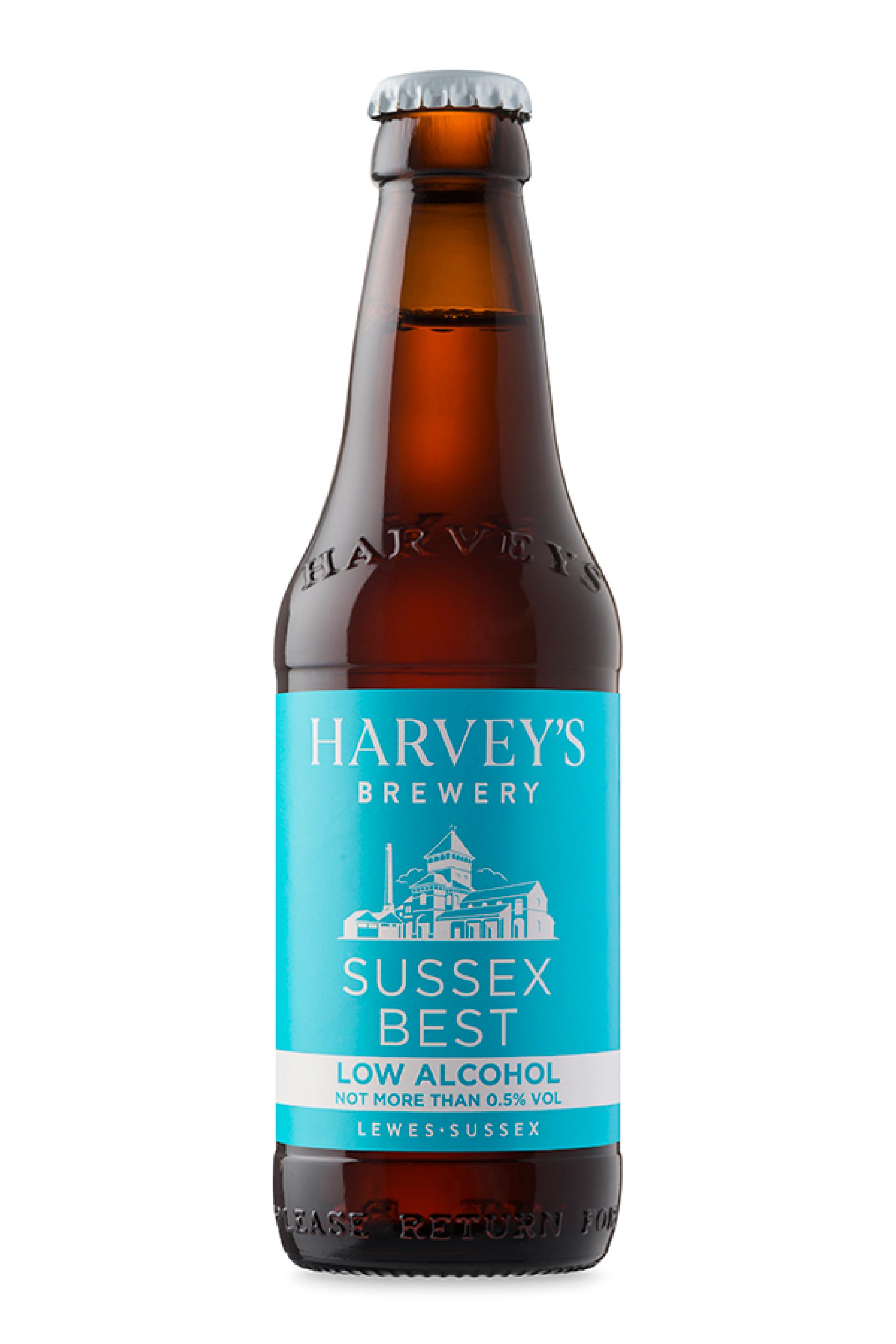 The low alcohol version of Harvey's flagship beer Sussex Best Bitter is a superbly balanced bitter with prominent character from four hop varieties. It's a light, malt forward and refreshing beer that's produced identically to its parent product (with the alcohol removed prior to bottling, of course), and it even won itself a shiny gold medal at the British Bottler's Institute Drinks Competition 2019. This is the good stuff, alright. 
20. Thornbridge Brewery's Zero Five – 0.5% ABV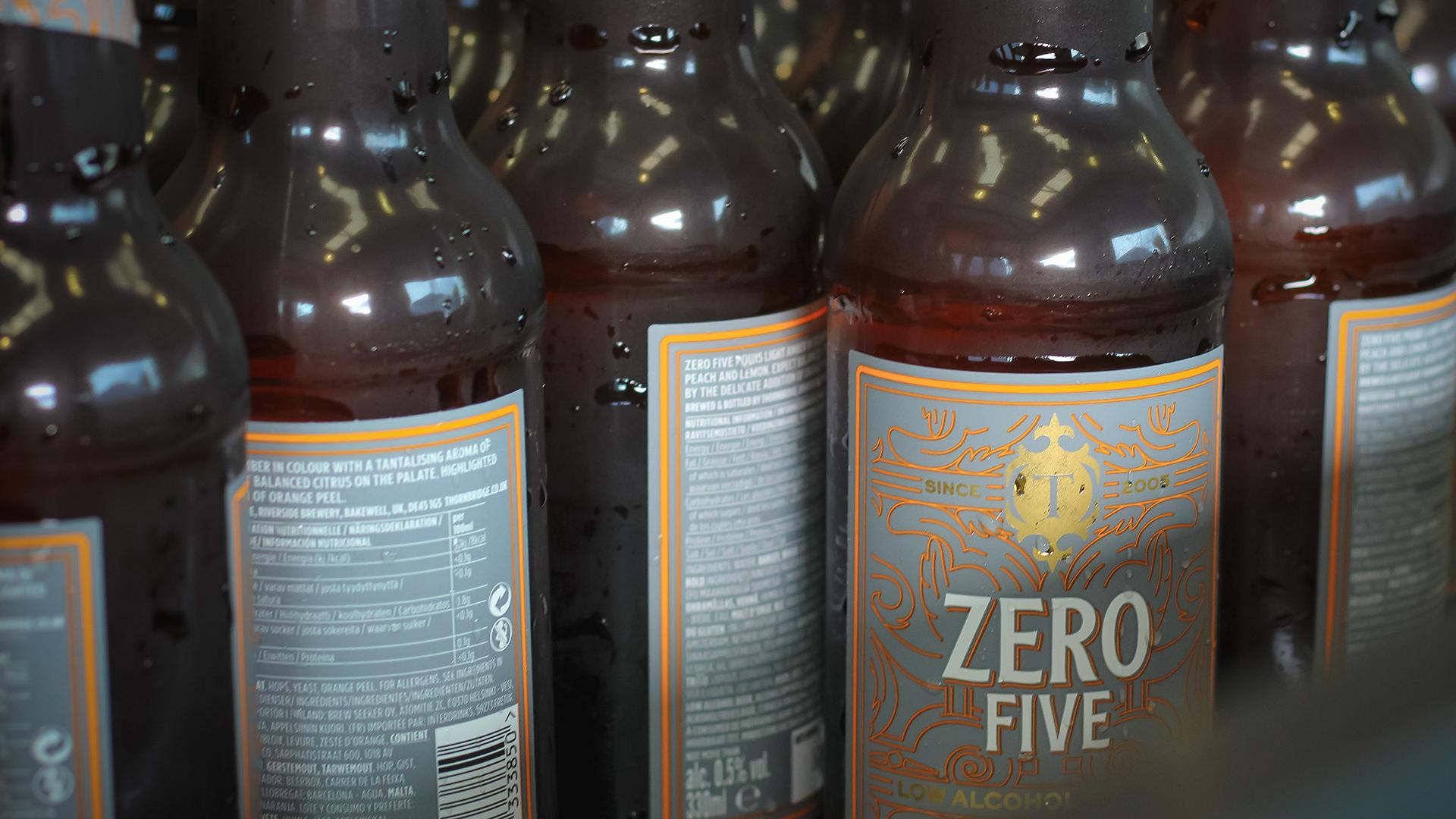 Thornbridge Brewery's Zero Five (which has a 0.5% ABV, wouldn't you know) pours light amber in colour with a delicate bouquet of peach, lemon and apricot. It's practically bursting at the seams with American hops like amarillo and cascade. Expect to experience a zesty lick of citrus on your tongue as you take sip after luscious sip. That's thanks in no small part to the addition of range peel in the brewing process. Simply put: it's pretty damned good.