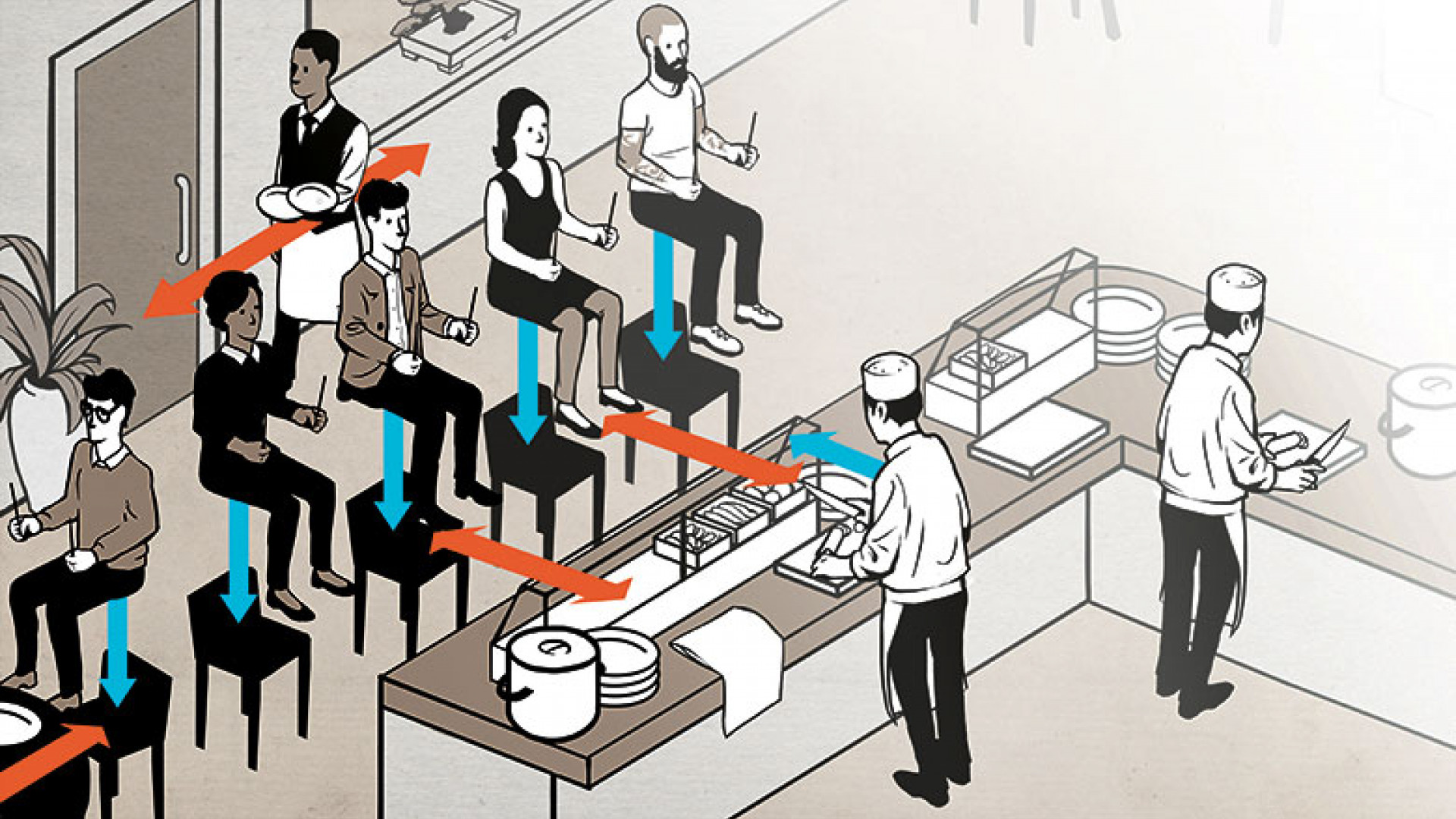 Illustrations by Mark Boardman
POOR BOOZE, EH? For years our old friend had the monopoly at all London bars. But when a posse of smart bar snacks arrived wanting a piece of the happy-hour action, it began to panic. Pork scratchings and peanuts smartened up, vegetables found themselves being pickled by London chefs everywhere from Parsons Green to Dalston, and hunks of charred bread elbowed their way onto plates. And then, recently, the bar war intensified, the panic increased, and booze had to accept equal status to food. Bar snacks aside, these days the only way to eat a full lunch or dinner in London is sitting on high stools at what used to be the drinking area. Introducing the bar diner.
Russell Norman, co-founder of the Polpo group and star of BBC 2 series The Restaurant Man, likes eating at bars and thinks the rise of this is partly down to a shift in attitudes "but also that there are more bar dining options – as the restaurant property market hots up, operators have to make small places work, and bars are perfect space-savers."
But it isn't always the small places that champion bar-style seating. If you're a glitzy-chef's-table-only kind of guest, now is the time to change your approach to dining, because the kitchen-side bar seat is the best around. Let's take Michelin-starred Barrafina on Adelaide Street as an example. As the more sophisticated sister of the Spanish tapas joint in Soho, diners eat their herb-crusted rabbit shoulder or milk-fed lamb's brain while sitting at a long, central marble counter. At celebrity-packed Chiltern Firehouse the middle area may be taken up with seats and tables – so 2014 – but one of the hottest spots in the place is around the kitchen, a shiny bar area from which you can try the famous crab doughnuts.
Being in full view of the customers makes you more focused, you want to make sure their experience is perfect
And, since we're talking stylish, the Sea Containers restaurant at the spanking new Mondrian Hotel on the Southbank offers people the chance to come for the full à la carte menu or simply a kale salad and flatbread while sitting on high stools around a stainless-steel bar; it may double up as a cocktail bar but it also overlooks the expansive open kitchen.
"Chefs and diners alike are becoming more aware of the importance of all of the factors that make up the 'meal experience'. If all of the factors such as ambient noise, visual stimulus – fire, ovens, chopping and things – crockery, staffing, lighting, smell and the food of course are all working in harmony, this can actually elevate the food, making the whole process more experiential," says Charles Banks, co-founder of food trends company The Food People.
In fact Banks believes this new movement drives down the barriers between the chef and the diner. "Chefs by their nature are performers and this is now a stage for them on which to perform. Add to this mix the fact that consumers have a thirst for knowledge; we know more about food than ever before, we love the transparency of food and feeling like we know who's been involved."
Barrafina's new head chef Nieves Barragán Mohacho certainly enjoys the theatrical aspect of her work, but also says that having a bar means she can serve her food to the customer immediately, and exactly how she wants it to be.
"It's so much fun! They ask you everything, they want to know what you are doing, how you are preparing the ingredients, how you are cooking them... It's like a theatre," she agrees. This style of cooking "raises everyone's game. Being in full view of the customers makes you more focused, you want to make sure their experience is perfect."
For some solo bar diners, such as Zeren Wilson, writer at website Bitten & Written, grabbing the last bar seat becomes a thrill: "In bar seating-only establishments, the solo diner is king, traipsing past groups of three and four. The bar at the Palomar is the only place I want to sit, and the chefs put on a little bit of theatre every time. Smoking Goat in Soho is a fine place to prop up the bar, with their fish sauce wings and a glass of dry German riesling." His other favourites include Merchants Tavern, The Clove Club, the now-closed Fino, where he always chooses a bar seat over a table, and A. Wong in Victoria where he can watch the chefs making dumplings.
But as with every new trend, there are rules. Don't make friends with the people around you unless you're alone, advises Wilson, "or after everyone is on their fourth glass of wine. It's great to ogle what people are eating right next to you, and often this can dictate your own choices, as well as spark up conversation."
Don't be fussy about your bar stool, either. "A swivelling stool is a luxury and pleasantly diverting, but as long as there is a perch at the bar, that's enough for me. Footrests are unnecessary."
London bar dining – in pictures
Things get political where the food is concerned. While Wilson thinks it's best suited to "anything you can pick up with your hands – arancini, jamón croquettes, dumplings, fried chicken and sausage rolls," other establishments are prepared to give the full fine-dining treatment regardless of the choice of seat.
Norman, however, is most annoyed when bars are badly designed. "There's a brilliant London restaurant where the bar is simply too high. I'm over six foot tall but I feel like a child when I'm sat at it. There's another good Soho restaurant where the bar doesn't overhang by nearly enough, so your knees crash and bruise – it's incredibly uncomfortable. The bars in our restaurants all have the same dimensions and are designed for ideal counter dining." Norman's ideal measurements are a bar at 109cm high, a stool at 75cm, and a 30cm overhang "so that your knees have somewhere to go".
In places that offer bar seating only, the solo diner is king
Let's hope the new informal European brasserie Blixen gets it right, then. Co-owned by Riding House Café proprietor Clive Watson, it opened in January in Spitalfields and its new bar seats face the open kitchen – so chefs will be cooking right in front of you.
One does wonder if anyone wants to reserve an actual table these days; Banks certainly doesn't. "Eating at the bar is no longer the poor relation… You can sit and watch your food being prepared, cooked and served, then there's the anticipation of 'is that one mine?' It's addictive."
So all together now: what do you call a new restaurant opening in London that doesn't have a decent bar to eat your dinner at? Missing a trick, that's what. ■
Follow Victoria on Twitter @vicstewart