Le Swine
Spitalfields (Thursdays); Broadgate Circle (Fridays)
When James Packman set up Le Swine, his mission was simple: to 'take the bacon butty to exciting new heights'. With a little bit of help from his former employer, Bruno Loubet, it's fair to say that mission has been accomplished, with Le Swine serving up a killer combo of thick-cut middle bacon in a milk and onion bap with bacon butter, swinez tomato sauce and mushroom ketchup to throngs of dedicated fans on a weekly basis.
Marksman
254 Hackney Road, E2 7SJ
If you think the concept of a sealed bun filled with chopped bacon is a good one, you'd be right: not only are they easily portable, but they're unfathomably delicious and low maintenance when you're feeling delicate. The Marksman only serves these perfectly porky morsels on Sundays, and it's just as well – daily availability could lead to dependency.
Coal Rooms
11a Station Way, SE15 4RX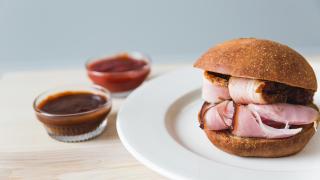 The bacon at this Peckham newcomer is home-cured in Old Spike coffee, then carved to order (choose from fatty, back or both) and stuffed into a brioche bun made from butter and custard powder, before being slathered in homemade ketchup or brown sauce. Sounds too good to be true but it's not: it's very real, and it's very, very good.
Cabmen's Shelter
Hanover Square, W1S 1HL
For a bacon sarnie that will secure your status as a true Londoner, head to this shed-like building that you'll probably have seen, but never considered stopping at. Although predominantly intended for use by cabbies (for whom the seating inside is reserved), anyone can grab a buttie for a few quid from the takeaway hatch, as well as a mug of proper tea, and watch the world go by…
Dishoom
King's Cross/Covent Garden/Shoreditch/Carnaby
You can't speak about eating bacon in London without mentioning Dishoom. If you've had one of its bacon naan rolls, you'll understand exactly why that is, and if you've yet to try one, you can thank us when you have – the fluffy naan is filled with bacon from the Ginger Pig and finished with a fried egg, and has basically reached cult status.