Christmas time, mistletoe and, well, quite a hell of a lot of stress trying to figure out what on earth you're meant to get your Mum, Dad, dog and work colleague you barely know but got in the office Secret Santa draw.
Enter stage right, Foodism's top picks of the christmas hampers 2019 you really won't want to scroll past. Sure, they may not quite fit the Secret Santa budget, but there are a whole host of deals and packages on offer ranging from really reasonable to the slightly more high end for every human in your life. From a Doves Farm bread making kit for the wannabe sourdough-aficionado in your life, to a Goodness Project hamper fit to burst with plant-based treats for your vegan sibling, to the ultimate luxury of a Harvey Nicks box overflowing with goodies to thank you Mum for all those hours of helping you move in, there's something for everyone.
Ready, set, shop. Grab your advent calendar for 2019, whilst you're here, and merry christmas, one and all.
12 Christmas hampers 2019 you'll love
1. Doves Farm Bread Making Starter Kit
£30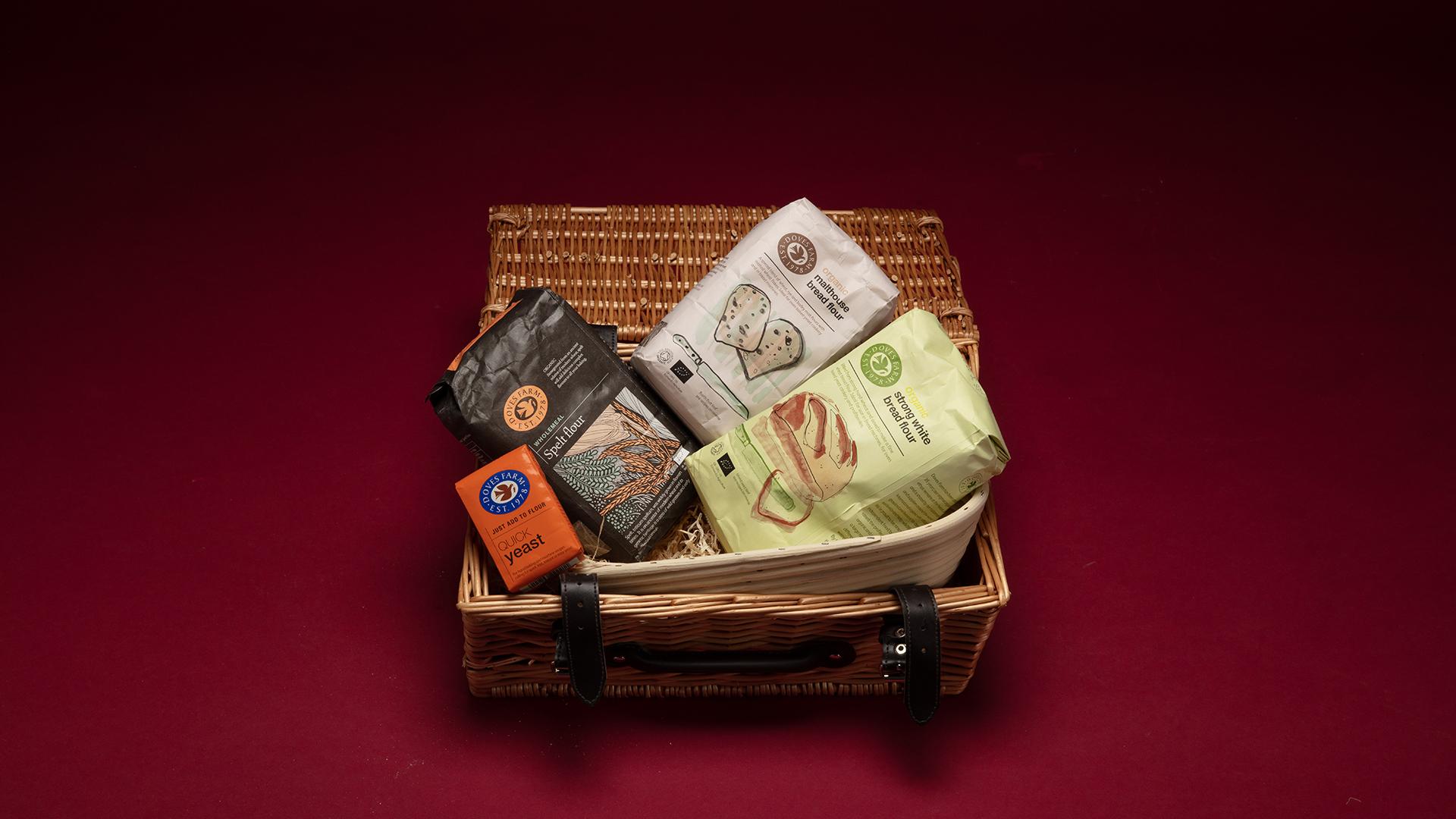 A great way to get into baking bread yourself – or a perfect gift for someone that you want to start making you fresh loaves of bread every day – this bread making starter kit from Doves Farm does exactly what it says on the tin. Which is give you a selection of Doves Farm's finest and most popular organic bread flours and just about everything you need to make fresh bread. That includes a 14" wicker hamper, a Doves Farm plastic dough scraper, 1.5kg of strong white flour, 1kg of wholemeal spelt flour, 1 kg of Malthouse flour, 125g of quick yeast, a bread proving banneton and an organic bread recipe booklet. What better Christmas gift could there be than a lifelong skill?
2. Honey & Co: Food From The Middle East Hamper
£75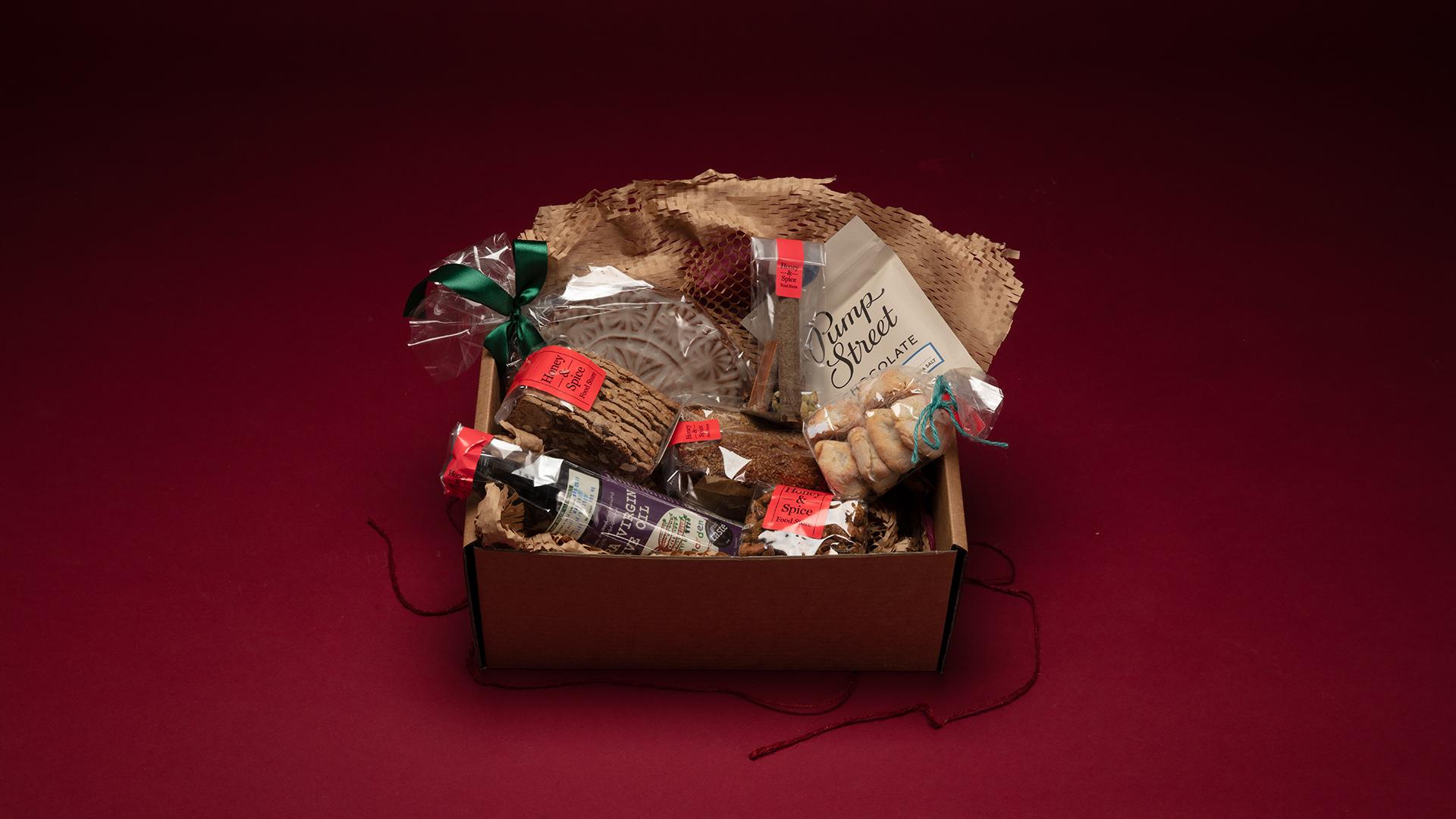 Christmas food is boring. There, we said it! Roast turkey and all the trimmings is fine and dandy and there's objectively nothing wrong with a Terry's Chocolate Orange but we refuse to sit here and say that there's not a cold and miserable day over the winter break where we wouldn't rather be eating the vibrant flavours of the Middle East instead. This hamper from hummus dons Honey & Co. is stocked with just about everything you need to make your Christmas dinner actually, well, exciting. It includes: a signed copy of 'Honey & Co: Food from the Middle East', giant couscous, Lebanese tahini, pomegranate paste, orange blossom water, rose water, ground mahleb, baharat spice mix, and 500ml of Iliada olive oil. It's obviously down to you what you do with all of that but whack down a spiced turkey on the Christmas dinner table and we certainly wouldn't complain.
3. Arabica's Sweet Treats hamper
£45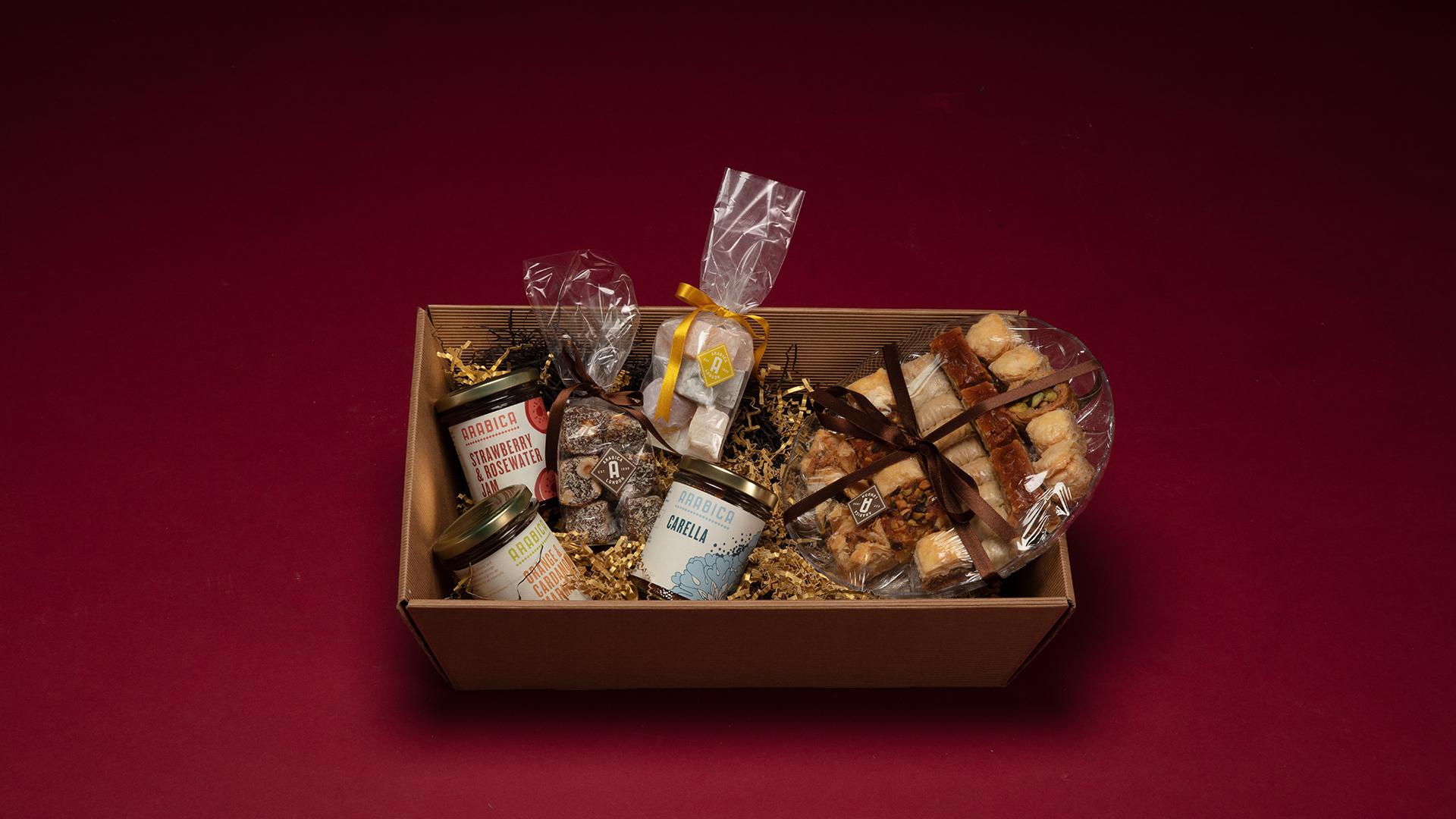 Looking for something to get that person in your life who always has room for something sweet? Arabica's classic hamper of Middle-eastern sweet treats makes for the perfect edible gift hamper. This handsome box includes: melt in the mouth baklava pastries, a moreish helping of all-natural Turkish delights, a bag of carrot, hazelnut and coconut delights, a jar of sweet and nutty carella, English strawberry and rosewater jam and a jar of coarse cut Seville orange marmalade jazzed up with green cardamom and orange blossom water.
4. Harvey Nichols Boxing Day hamper
£150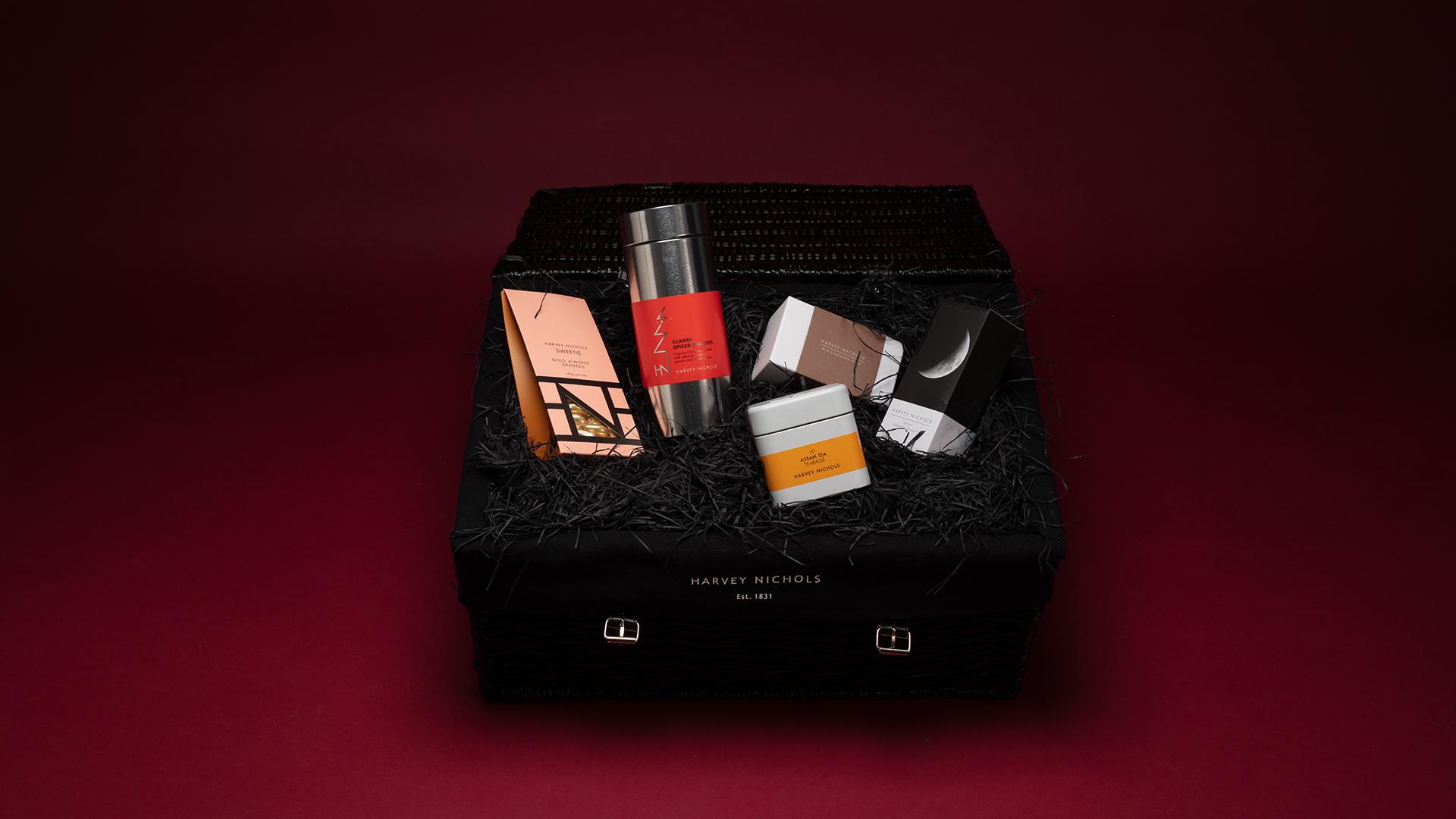 It's Boxing Day, your mouth is dry, you're hanging out of your arse, and you're in need of something to make you forget about the abhorrent political views your uncle spewed the night before. Well, my disgruntled friend, Harvey Nichols have got the hamper to save your family's December 26th. Give the gift of Boxing Day bliss with this hamper that includes everything you'd ever want – or need – to lift your spirits throughout the day. Christmas pudding with brandy butter for breakfast? Check. Cheeky Damson gin and tonic as a midday pick-me-up? Check. Scand-spiced biscuits to keep the late afternoon headache at bay? Check. A New World wine to ensure you get a pleasant night's sleep before the looming figure of 2020 ruins your mood entirely? Check. Great Christmas hamper? Check.
5. Paxton & Whitfield – The Piccadilly Hamper
£100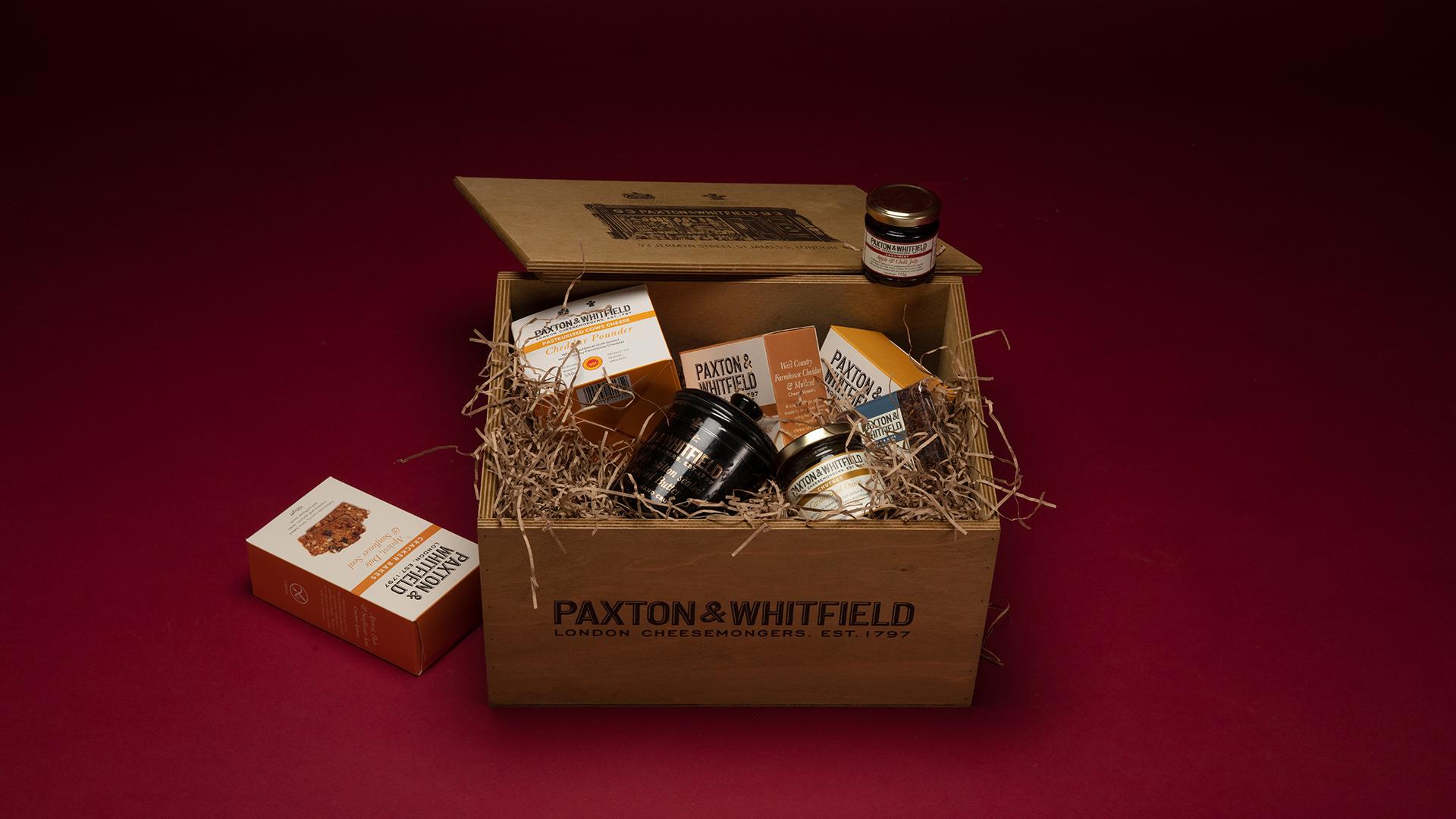 Paxton & Whitfield has created an enticing range of cheesy gift hampers this year. Bursting with exceptional artisan cheese, the finest foods and stylish accessories, P&W has created a range of hampers in a variety of price points, making them suitable for any budget. As Paxton & Whitfield's best-selling hamper, The Piccadilly contains a selection of house range cheeses, accompanied by a sumptuous collection of accompanying preserves, biscuits and sweet treats. All of which come presented in a traditional wooden hamper box, ideal for gifting to your most fromage-mad friends and family. Sweet dreams are made of cheese hampers.
6. Brindisa Christmas Hamper
£150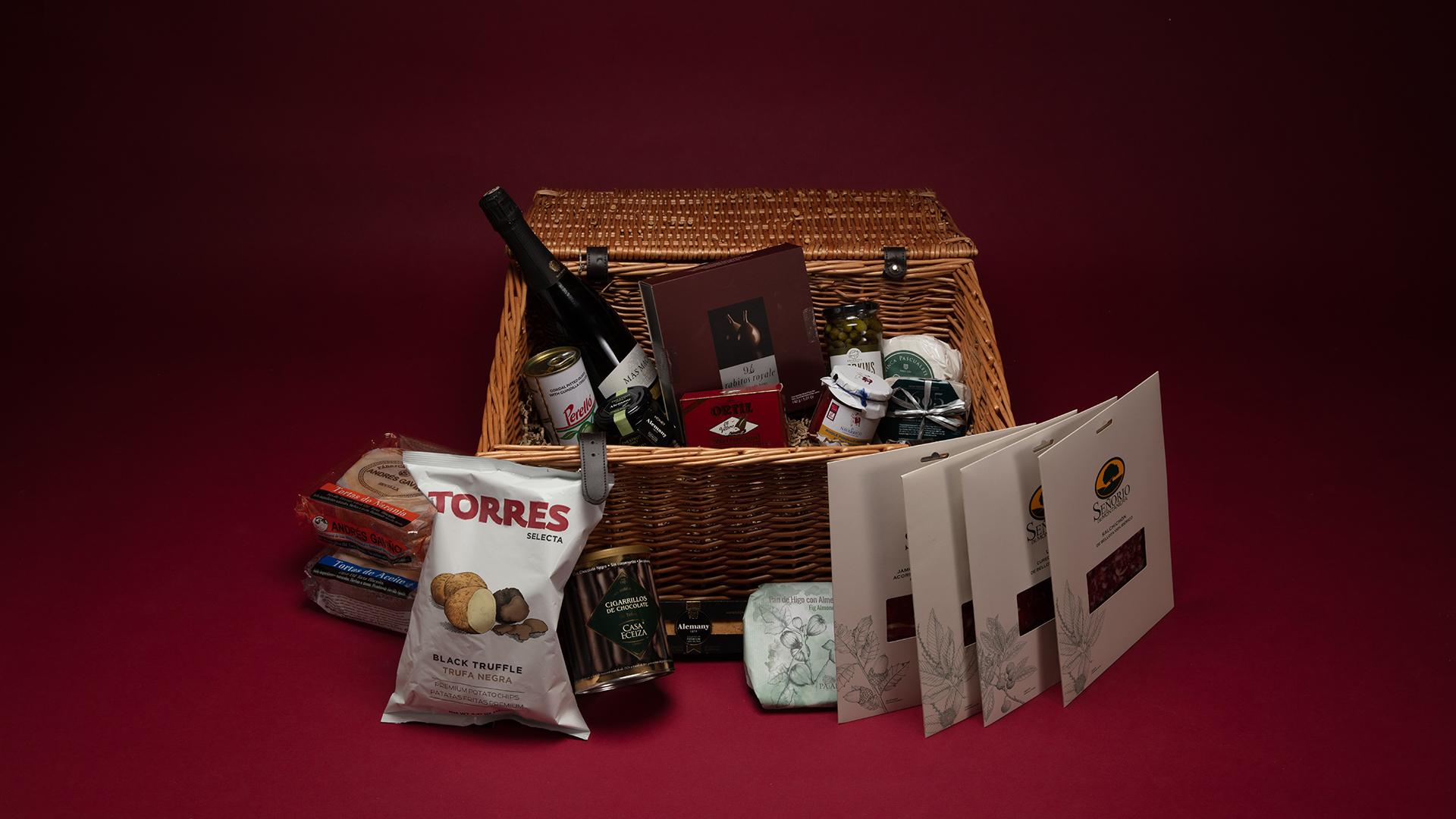 Nothing says Christmas like excellent charcuterie. This Christmas hamper from Borough Market legends Brindisa is pretty much ideal for feasting your way through the entire month of December right on into the new year. What's in that handsome hamper, you ask? Expect mad amounts of manchego, plenty of acorn-fed ham (we're talking amon, salchichon, lomo, and chorizo here), tinned bonito fillets, Gordal olives and almonds complemented by delicious Spanish sweets and a bottle of bomb brut cava. If opening up a wicker basket filled with chocolate covered figs and truffle flavoured crisps doesn't get you excited, then you are 100% on the wrong website, my friend.
7. Darts Farm Luxury West Country Hamper
£99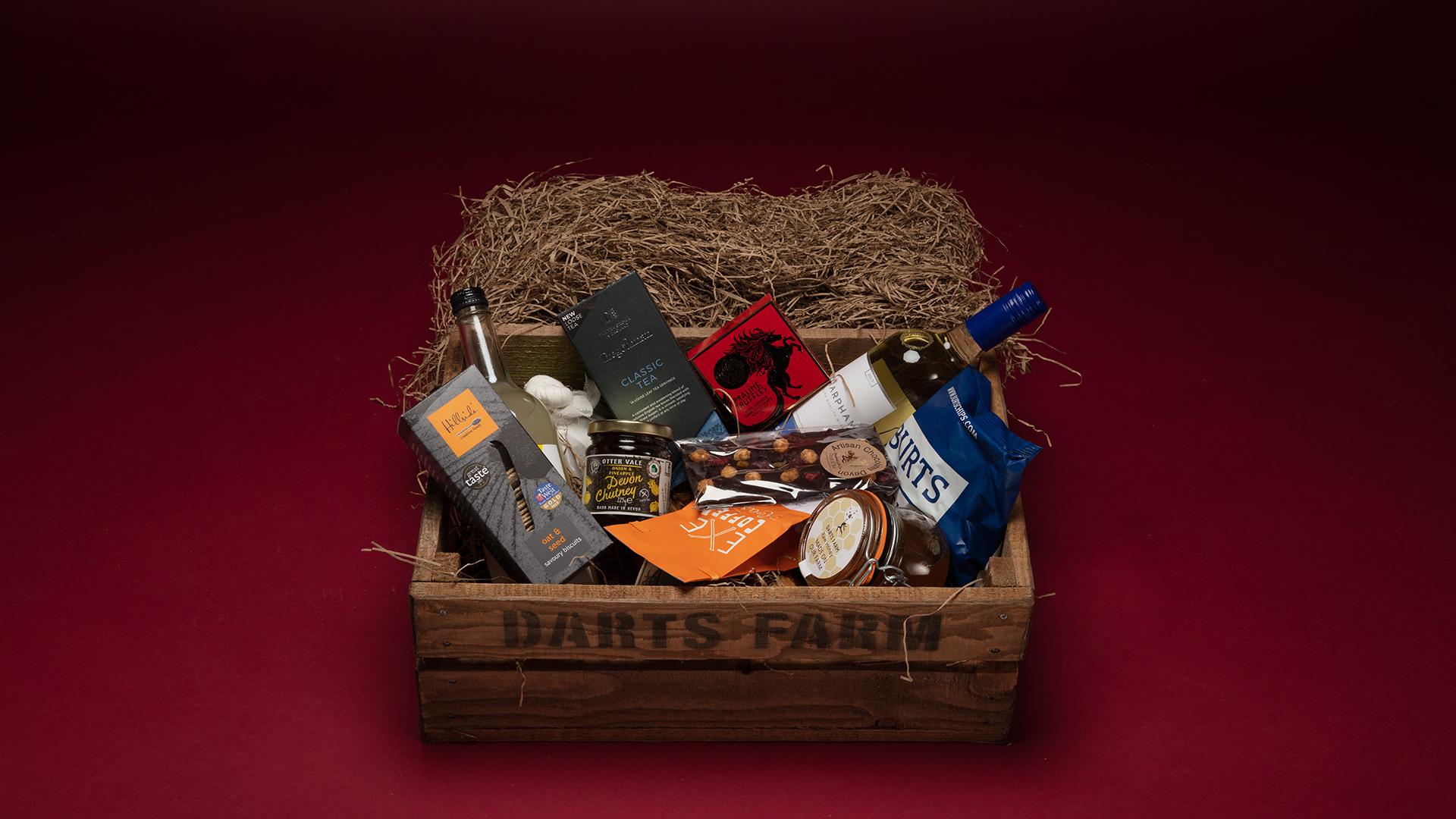 This indulgent West Country hamper from Darts Farm arrives in a neat wooden crate and comes fully stocked with the best products from that some of that region's very best producers. A handmade Georgie Porgie Christmas pudding, Teoni's butter cookies, Darts Farm honey, Burts Crisps, Hillside crackers, and Sharpham Estate white wine are just a few of the excellent food and drink purveyors you'll be able to get your hands on. We've never been the sort to turn down gurt lush produce and we're not going to start this festive season now, are we?
8. The Swaledale Luxury Christmas Wooden Crate Hamper
£125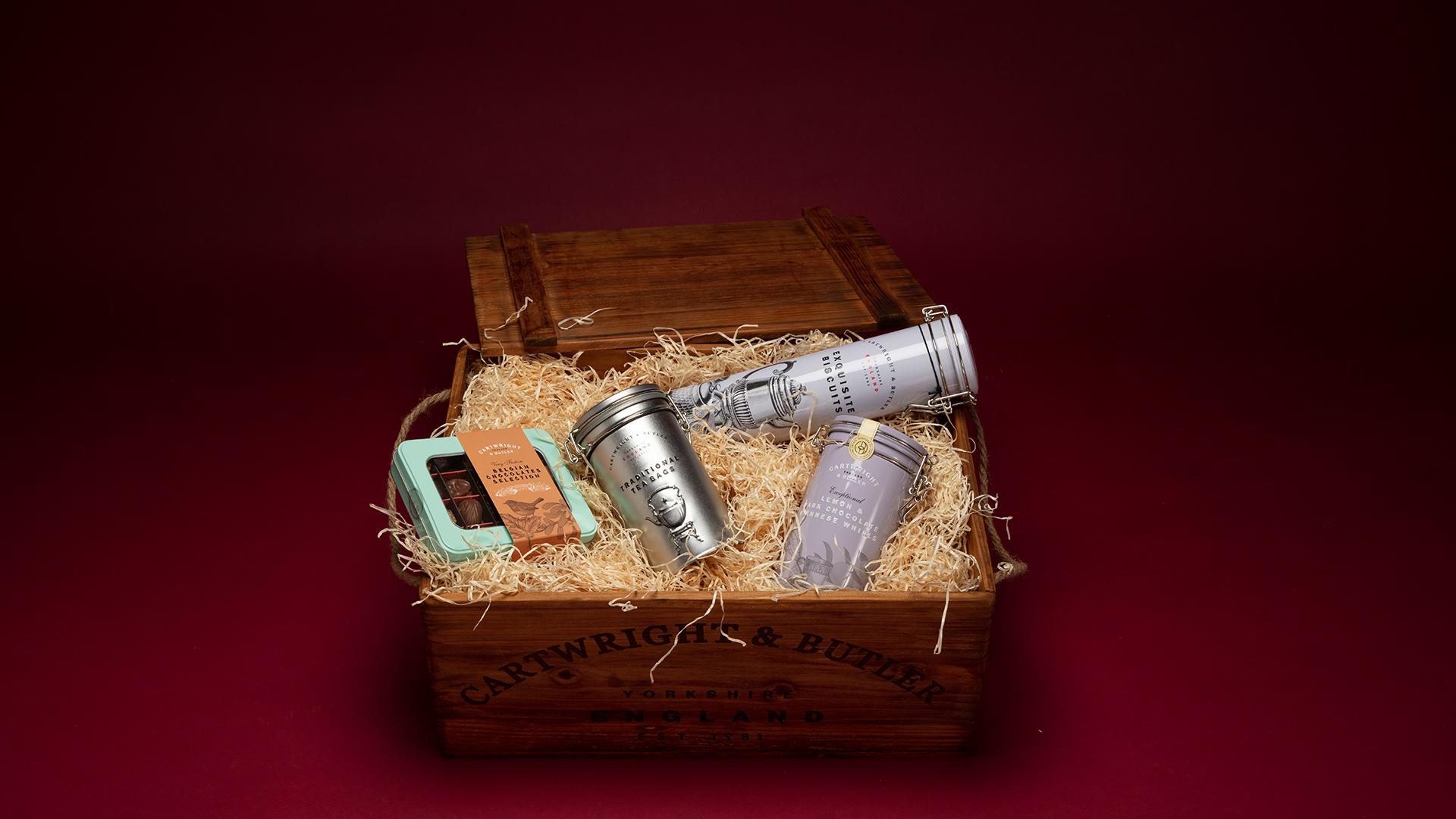 Luxury and Christmas go hand-in-hand like really good chums. And this The Swaledale Luxury Christmas Wooden Crate Hamper from the sophisticated people at Cartwright & Butler should go in your hand just as affably. This particular hamper is one of the brand's most popular and includes a huge range of Cartwright and Butler treats. A tin of 100% black English breakfast tea and a box of rich after-dinner blend coffee? That's your morning brew sorted, for sure. A selection of fine preserve (think acacia honey with fresh honeycomb, fine cut three fruit marmalade made with a balance of orange, grapefruit and lemon, as well as a red onion marmalade preserve) make excellent bedfellows for cheese and crackers. As for dessert, cherry and almond loaf cake, creamy all-butter fudge, lemon and dark chocolate Viennese and a selection of Belgian chocolates easily outperform any mundane choc box you've got in the cupboard.
9. The Goodness Project Vegan Hamper
£75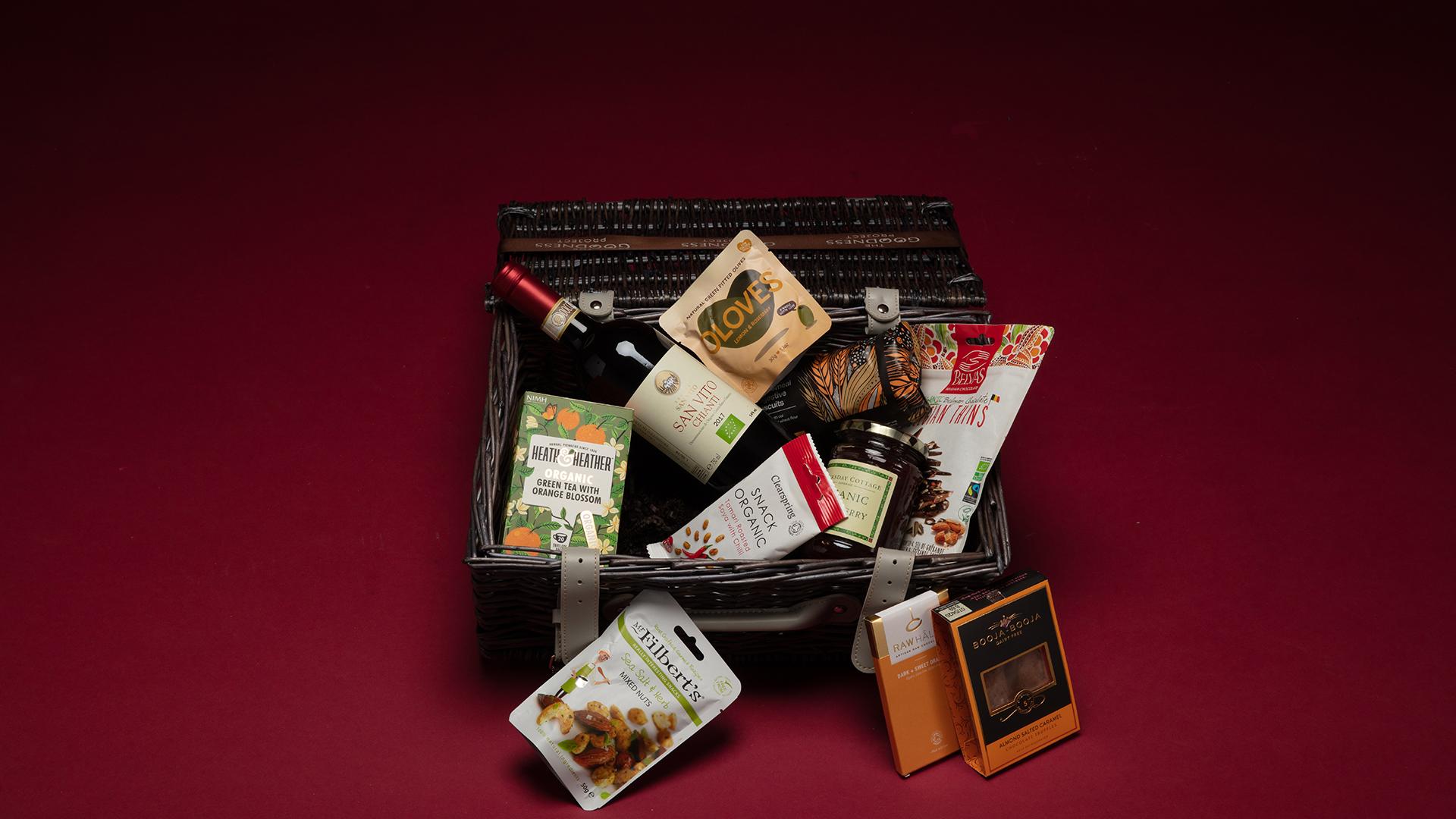 Having yourself a plant-based Christmas this year? Worried it's not going to be the same as the meat and dairy heavy dinners of your childhood? Don't stress, baby. This stylish wicker hamper from the folks at The Goodness Project is full of top quality favourites that'll make you forget that it's completely vegan. Featuring an award-winning organic, vegan Chianti red wine from Tuscany alongside a selection of organic sweet and savoury delights including chocolate truffles, tea, biscuits, jam and a load more delicious products, you really won't have to do without this Christmas just because you're trying to reduce your animal intake. Order this hamper and happily thumb your nose at anyone who says vegans don't get to enjoy chocolate and wine.
10. Selfridges Classic Christmas Hamper
£100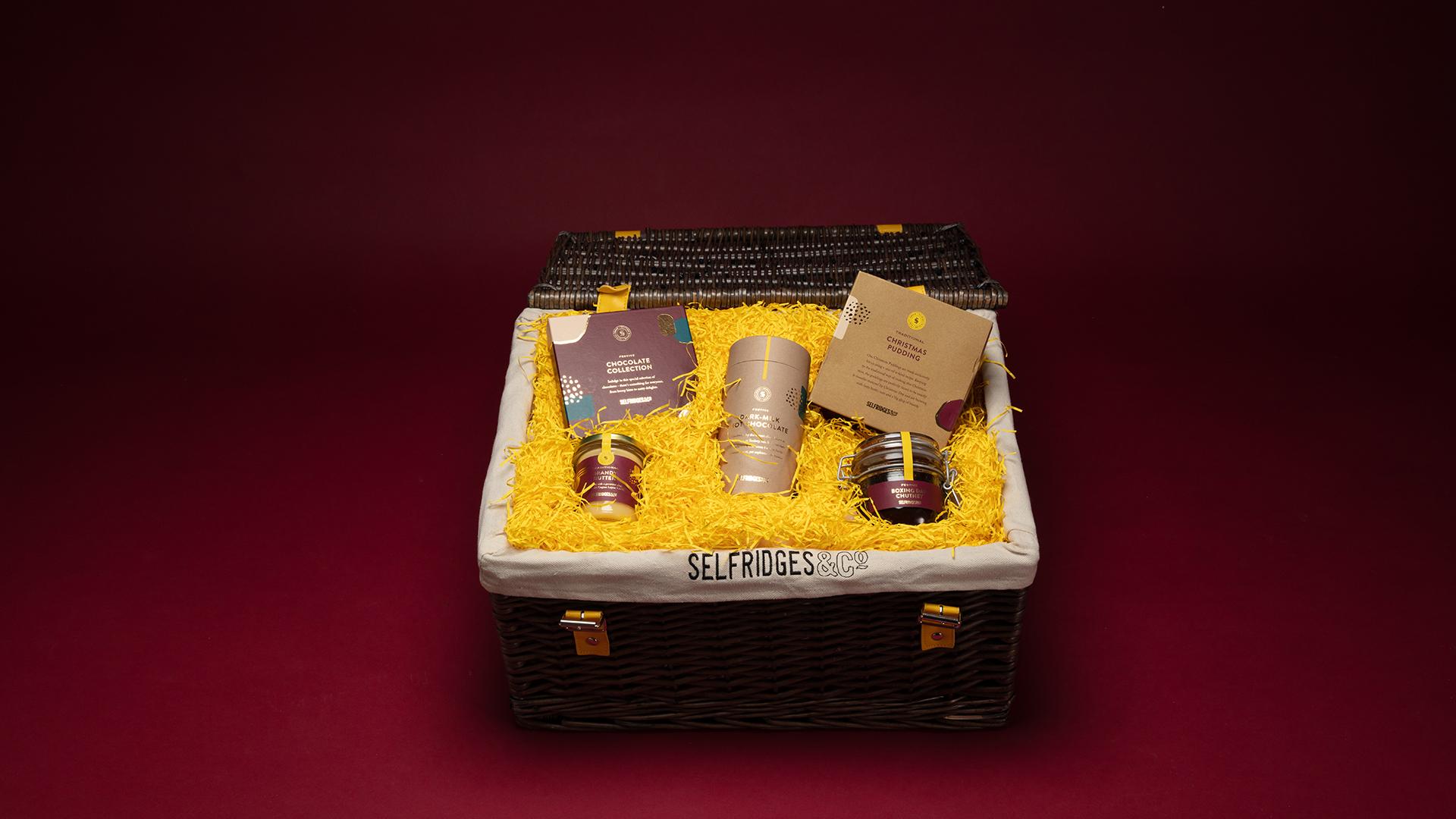 There are some things you just can't do without over the festive period – we know that, you know that, and Selfridges knows that. Which is exactly why they've put together this Classic Christmas Hamper with everything you could possibly need to kick start the season. Christmas pudding (soaked in a generous glug of cognac); brandy butter; fruit chutney; a festive chocolate collection; Dark-Milk hot chocolate; a bottle of chianti; and a bottle of sancerre. How does all of that sound? Good? Yeah, just a bit. Deck the dining table with that enormous hamper and really let the festivities begin this Christmas.
11. All I Want For Christmas Hamper
£40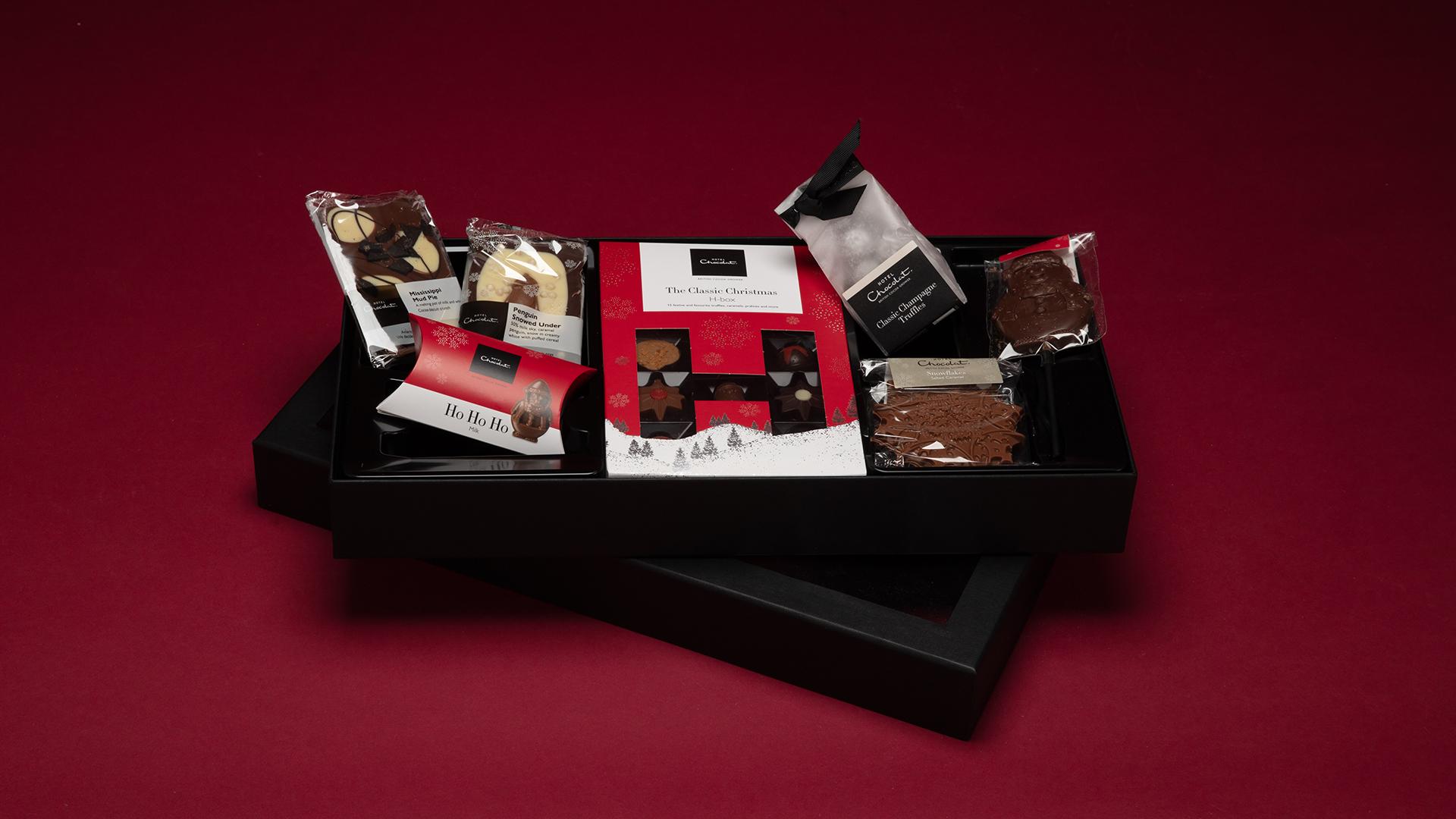 Christmas was practically created for chocolate over-consumption, wasn't it? Yes, it's got something to do with Jesus but there's no other holiday where you can get away with that much chocolate. Aside from Easter. Which also involves Jesus. We're seeing a pattern here…Putting way an entire Milk Tray in one sitting during the thick of festive season is a human right in our opinion, and long may that hallowed tradition continue. If you do, however, want to upgrade the quality of the unholy amount of chocolate you rifle into yourself this year, we'd suggest doing it with this. This hamper from Hotel Chocolat is full of the chocolatiers best-loved products: Penguin Snowed Under Slab, Classic Christmas H-box, Ho Ho Ho – Milk Chocolate, Santa Lick, Salted Caramel Snowflakes, Champagne Truffles Ribbon Bag and Mississippi Mud Pie Slab. Do Mariah proud and make your 25 December 'One Sweet Day'.
12. Angela Hartnett's No. 2 Northern Italian Hamper
£65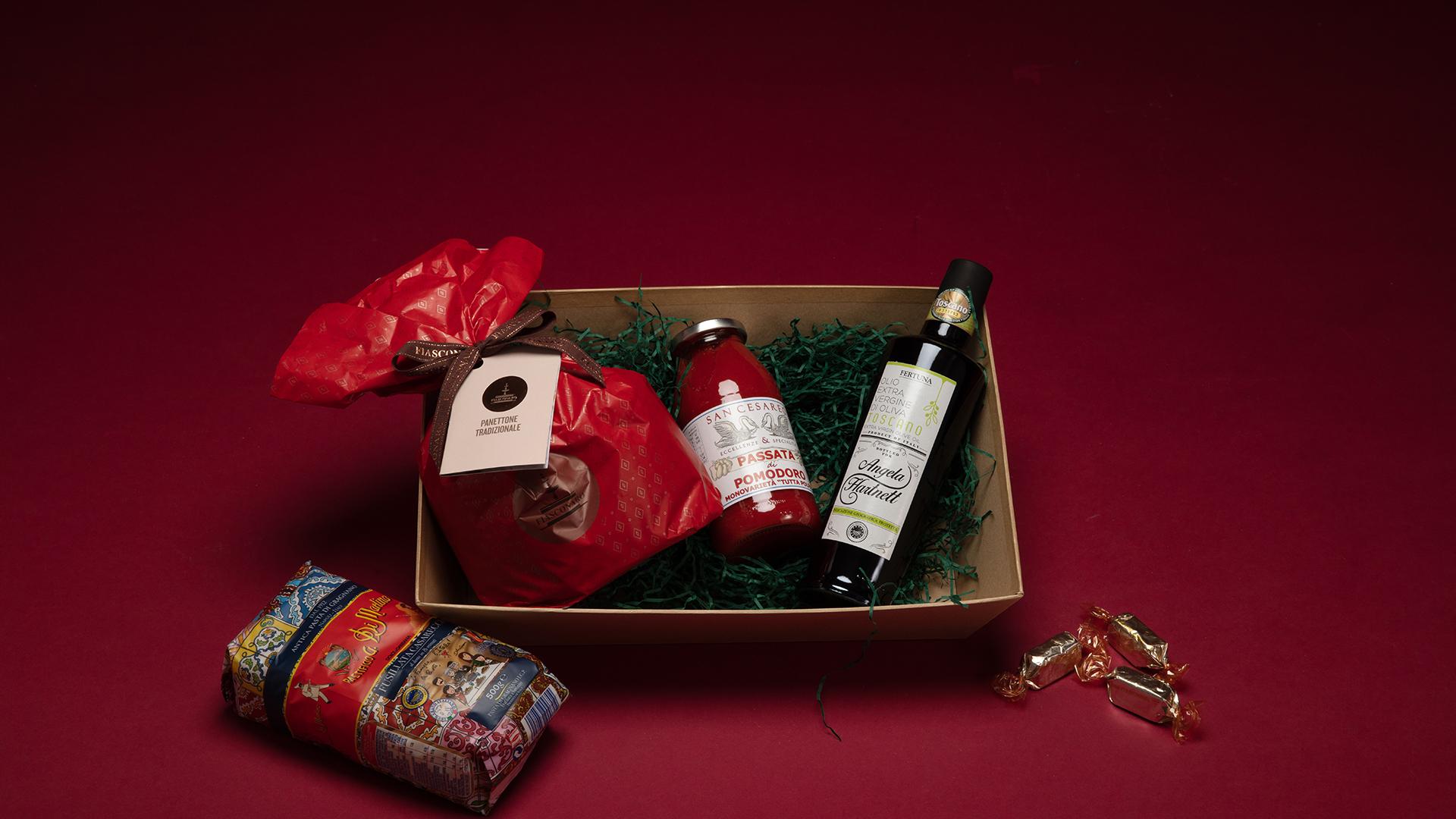 Chef Angela Hartnett's restaurant and Italian haven Murano is one of the places in London to dine for seriously sexy Italian fare. If you're feeling inspired and want to bring a bit of the magic of Christmas cooking into your own home or gift it to someone else, this hamper includes a bottle of 2018 Lambrusco Solco, Paltrinieri, a Giuseppe Guisti Aceto 12 year old balsamic vinegar, a Le Tamerici pear mustard, Mario Fongo grissini breadsticks, Monograno Felicetti pasta, Don Antonio piemontese sauce and a Belazu genovese basil pesto. Time for a true Italian feast with all the best products.
Christmas only comes once a year... Check out our favourite winter pop ups in London and advent calendar 2019 recommendations, whilst you're here.