Baby, it's cold outside, and the best way to warm up is with some festive cheer. And this year it certainly won't be hard to find: London is heading into the Christmas season with even more gusto than normal.
Stick on Mariah Carey and get ready to snuggle up, buttercup. We've got all the festive pop-ups that'll even get Scrooge into the spirit, from smash hit Miracle at Henrietta to the cockle-warming King's Ginger terrace at the Mitre Hotel in Hampton Court. 
Elsewhere, you'll find us taking on turkey in all its glorious forms thanks to creative Christmas menus that put a spin on your usual festive traditions, like jerk roast turkey; venison and cranberry kothu rolls; mince pie love cakes; and plenty more besides.
And just because it wouldn't be Christmas without it, we've got all the best festive sandwiches from some of London's top sando-slingers, too. 
Whether you're all about the carols and mulled wine or prefer to keep things quiet, here's how to celebrate Christmas in London.
Christmas in London: the best festive pop-ups
The King's Ginger terrace at The Mitre Hotel [pictured above]
Hampton Ct Rd, Molesey, East Molesey, KT8 9BN
'Tis the season for a winter warmer, and a gently spiced ginger cocktail is just the ticket. For a sparkling way to start celebrating Christmas in London, head to the ice skating rink at Hampton Court, then warm up with a King's Ginger hot chocolate at the Mitre Hotel's winter terrace. Fancy something a bit stiffer? The King's Ginger Penicillin will put a spring in your step – as will one of the special King's Ginger mince pies.
Alice in Winterland at The Queen of Hoxton
1 Curtain Rd, EC2A 3JX

The Queen of Hoxton's winter terrace is a classic when it comes to Christmas in London, and this year is no exception. The theme for 2021 is Alice in Winterland, complete with grinning Cheshire cat, and the food and cocktails are designed to match: the Alice Always Awake Potion is a twist on an espresso martini designed to pep you up; there's the minty Always Late After 8 cocktail; and, as for food, the Queen of Hearts katsu burger to soak it all up with.
Miracle at Henrietta
Henrietta Hotel, 14-15 Henrietta Street, WC2E 8QH

Miracle at Henrietta is possibly the Christmas popup to end all popups. Think tinsel, nutcrackers, nostalgia, candy canes and plenty of cocktails from the lauded Experimental Group of Experimental Cocktail Club fame – which means you know they're going to be good. Wear your best Christmas jumper, sip a Jingle Balls Nog, with Seignette cognac, Cream Sherry, almond milk, vanilla and nutmeg and we challenge you not to feel festive.
The Berkeley's winter cabins
The Berkeley, Wilton Pl, SW1X 7RL

If the mountain won't come to Mohammed, Mohammed will go to the mountain. Or in this case, we'll go to The Berkeley's chic winter cabins to get a taste of mountain-inspired food, like veal schnitzel, spätzle and a generous helping of fondue. Settle in with seven pals and hunker down for a night of charcuterie, cheese and flambéed baked Alaska, followed by a decadent, whisky-laced hot chocolate. Who needs snow-covered alps now?
​​Deck The Halls at Pergola Paddington
4 Kingdom St, W2 6PY

Deck the halls with gin and tonic… That's how the Christmas carol goes, right? Or at least it does at Pergola Paddington's Deck The Halls popup, a six-week celebration of the winter season. Escape the city for a winter wonderland forest bedecked with Christmas trees, a million twinkling lights, a Christmas gospel choir, alpine chalets, log fires and loads of cocktails including the Tanqueray Royale Spiced G&T. Christmas in London just doesn't get better than this.
Willows on the Roof
John Lewis, 300 Oxford St, W1C 1DX

Take a rooftop, add some fairy lights and you've got all the trappings of a good time – but throw in the fact that the rooftop is on Oxford Street, there's food from Gizzi Erskine and Professor Green's smash-hit pizza pop-up Giz'n'Green, and there's a festive cocktail menu with the likes of gingerbread sours and we're totally and utterly sold. Brave the crowds for your last-minute Christmas shopping, then escape to Willows for a stuffed crust meatball marinara pizza. 
Duck & Waffle
110 Bishopsgate, EC2N 4AY

A trip to Duck & Waffle in the run-up to Christmas is your ticket to getting into the festive spirit – and hands up if you're feeling like you need a bit of that right now? The iconic sky-high restaurants has been converted into a magical Polar Express that'll take you straight to boozy hot chocolate, mulled wine, and The Grand Budapest Hotel-style trappings. Santa, here we come!
Sushisamba
110 Bishopsgate, EC2N 4AY

Oh Christmas tree, oh Christmas tree, how lovely are thy branches, especially when you're silhouetted against the London skyline on Sushisamba's 38th-floor terrace? In true South American-meets Japanese-inspired fashion, Sushisamba is going all-out for the festive season thanks its decor (including 6,200 lights on the iconic terrace tree) and party vibe, and we're all here for it. 
Christmas in London: the best festive menus
The Farrier
Camden Stables Market, 87/88 North Yard, NW1 8AH

Tucked away in Camden Market, The Farrier opened this year to plenty of fanfare – aided by the cooking of three Michelin star trained head chef Ash Finch. On Mondays, Finch turns the leftover Sunday roast into his legendary Monday Roastie Toastie – all the Sunday roast leftovers served in house-baked focaccia – and in the run-up to Christmas it'll be getting a festive makeover. Either turkey or beef will be served with all the festive trimmings (parsnips, roast potatoes, red cabbage, stuffing, pigs in blankets) smother it in cheese béchamel sauce and sandwiched in focaccia, and then served with a generous pot of gravy for liberal dunking. The Sunday roast will also be getting a Christmassy twist, with goose, cote de boeuf and whole lobster to choose from – best washed down with a mulled negroni, natch.
Hackney Coterie
230B Dalston Lane, E8 1LA

When you're celebrating Christmas in London, you need to make sure things go off with a bang, and sitting down to a gorgeous meal of artful small plates in a magnificent old warehouse in Hackney should check all the boxes. Hackney Coterie is the second restaurant from Anthony Lyon, founder of Lyon's in Crouch End, with former Hide and Scully chef Dominic Auger heading up the kitchen. His festive feasts – meat, pescetarian and vegetarian – read like everything we want to eat at this time of year: roasted scallop with jerusalem artichoke, nashi pear and lapsang and mushroom tea; Brussels sprouts with XO sauce; and delica pumpkin with a sage crust, pecan praline and buttermilk and martini sauce. Just. Don't. Stop.

Rudie's Jerk Kitchen
Unit 10, Market Row, Brixton, SW9 8LB

If you're going to open a modern Jamaican restaurant in London, you've got to do it well, do it authentically, and do it affordably. That's exactly what Rudie's has done, using techniques gleaned from travels around Jamaica and the Caribbean, and serving up jerk chicken and other Jamaican classics with a firm appreciation of where they come from. This know-how extends to Rudie's Christmas menu, dishing up festive plates of roast jerk turkey with johnny cakes and yam, slow-roasted leg of lamb with sweet potato mash and scotch bonnet jam, and the jah love platter, with sauteed ackee, plantain, rice'n'peas. This twisted take on a festive feast is what Christmas in London is all about.
KDP
Top Floor, Kingly Court, W1B 5PW

New Kingly Court arrival Korean Dinner Party is a glorious amalgamation of everything we want to eat: inspired by LA's Koreatown, it nods to Korean, Californian and Mexican-style eating, all wrapped in one hella fun package. Think Korean hip hop, punchy cocktails, fried chicken topped with parmesan (yes!) and enormous taco platters. It's ideal for meeting mates, so grab your pals and bed in for KDP's festive menu, with two minute noodles, the signature corn dogs, kimchi, slaw and plenty more…
Hoppers
Unit 3, 4 Pancras Square, King's Cross, N1C 4AG

No matter what Hoppers does it seems to be delicious, and the festive feasting menu at the King's Cross outpost is no exception. Jaffna soft shell crab cutlets? Yep, we'd eat that. Devilled pheasant breast? Yeah, that too. Venison and cranberry kothu roll… Well, you get the picture. And we'll be damned if we don't stuff our gobs with hoppers and rotis full to bursting while we're there, and we're pretty sure we'd manage a mince pie love cake, too. What are you looking at? It's Christmas!
Vinegar Yard's Skylights
72-82 St Thomas St, SE1 3QX

Head to the mezzanine at Vinegar Yard for some après without the ski in the six skylight domes in partnership with Grey Goose, where you'll be greeted with a mistletoe martini on arrival. Make your way through the cocktail list, then soak it all up with the festive street food from the market's traders, like the Fairy Tale of Naples pizza from Bad Boys Pizza Society, a gravy base topped with mozzarella, garlic butter fried Brussels sprouts and a pig-in-blanket inspired crumbled sausage and pancetta topping. Yu-um. 
Christmas in London: the best Christmas sandwiches
Larry's
Unit 5, 12-16 Blenheim Grove, SE15 4QL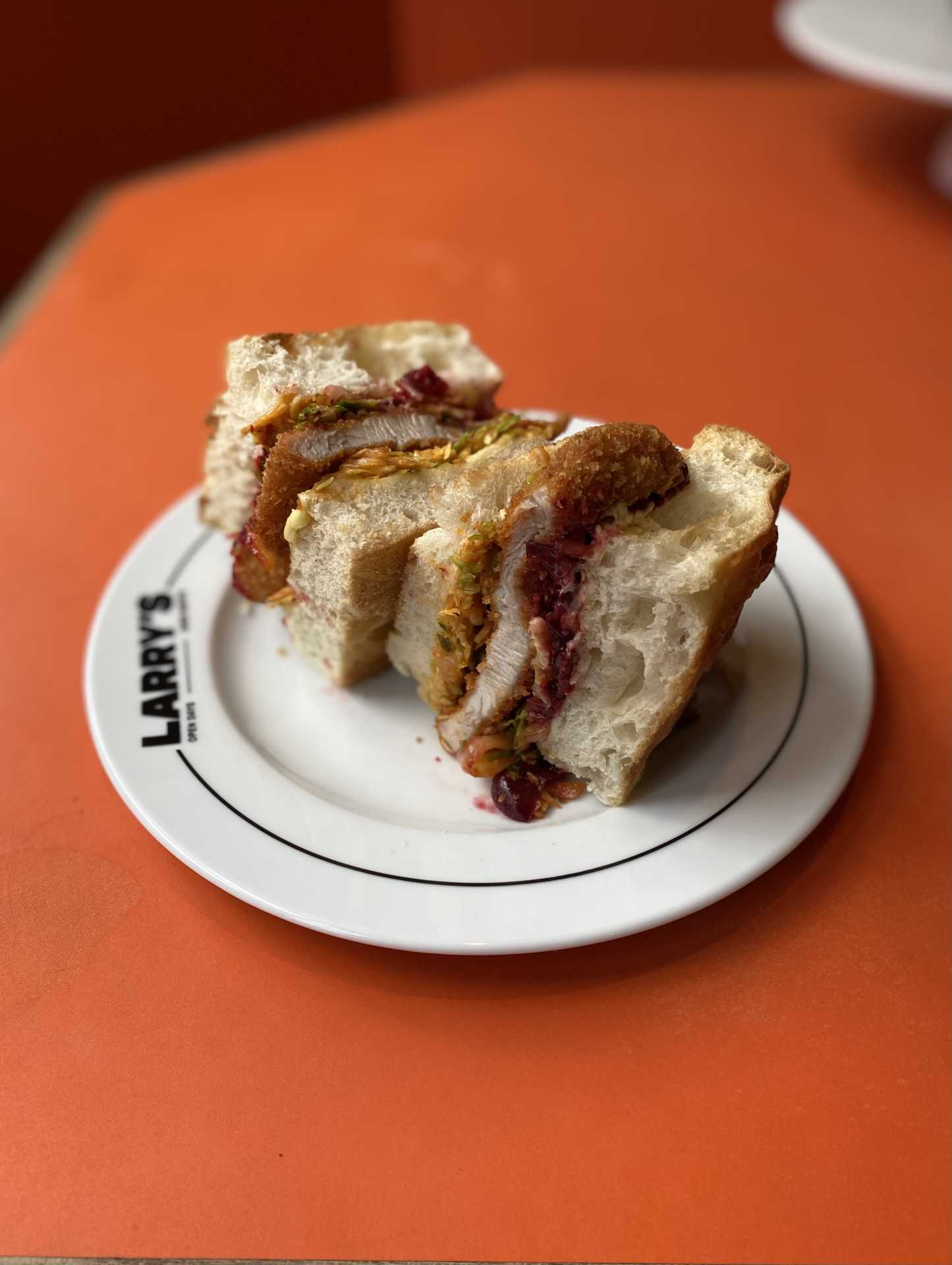 Schnitzel! In a sandwich! Yes! Please! Larry's, the Peckham sibling to Brixton favourite Salon, has created a sarnie to knock your Christmas socks off, with a deep-fried turkey escalope (brined then fried, natch), crunchy red cabbage kraut, sweet, tangy, spiced cranberry compote, plenty of fermented chilli mayo and a big ol' slice of Emmental cheese. It's available from 17 December, and we'll see you in the queue outside.
Snackbar
20 Dalston Lane, E8 3AZ

One of the hallmarks of Christmas in London is when the festive sandwiches start to appear – and we're not just talking about the sandos in the big-name supermarkets. At Snackbar, the restaurant belonging to sandwich royalty Freddie Janssen, you can get your mitts on a Monte Cristo-style creation, made with brioche, stuffed with Ogleshield, slow-cooked, black-treacle-glazed gammon, cranberry sauce and honey mustard mayo. This epic dish is then dipped in batter, fried and dusted with icing sugar. Heart attack incoming.
The Black Pig
Borough Market Kitchen, Winchester Walk, SE1 9AG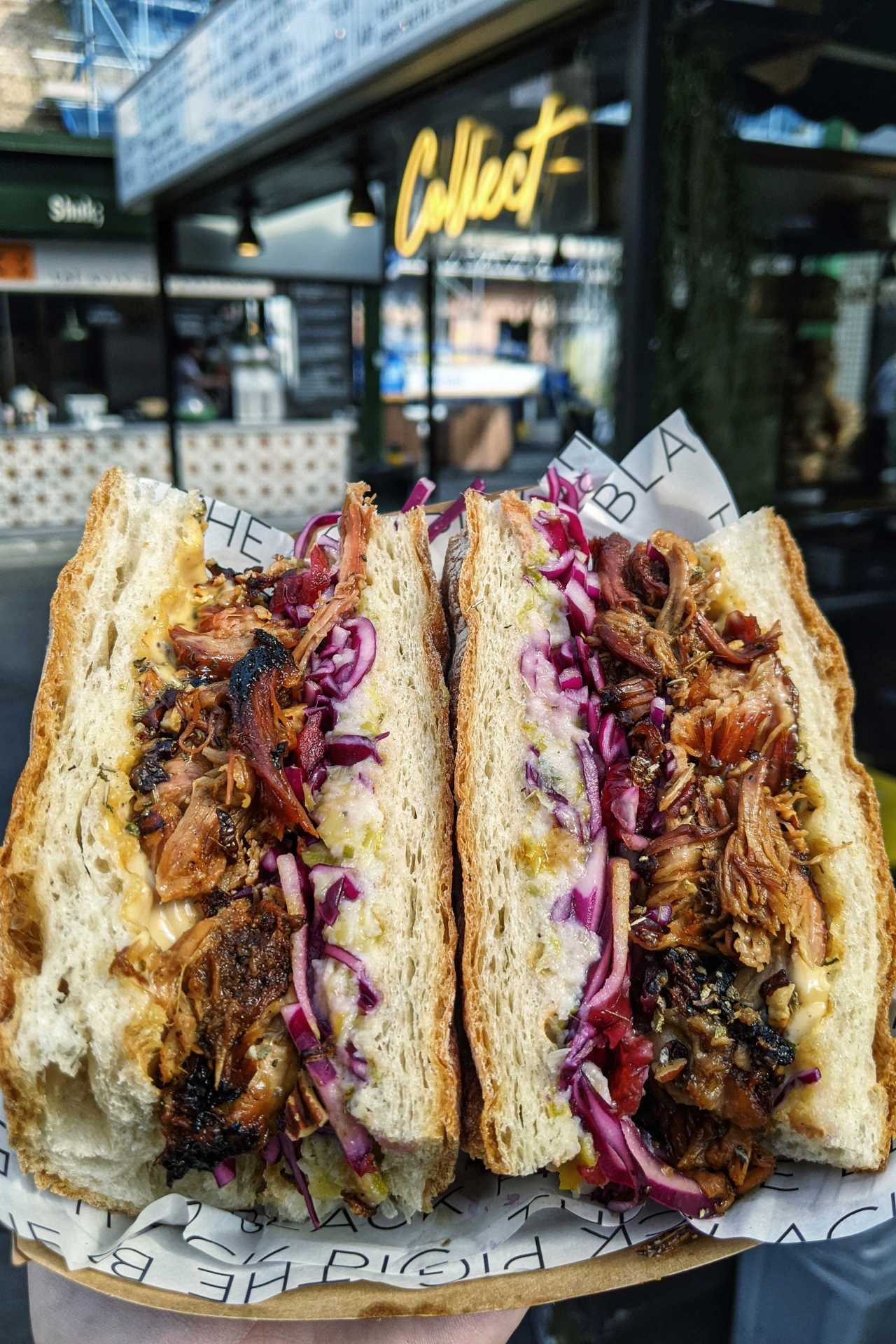 If you want a Christmas sandwich packed with the best produce London has to offer, The Black Pig's is the one to get. Paying tribute to the cult sandwich shop's home in Borough Market, the festive sarnie is made using ingredients from its fellow traders: creamy bread sauce, sautéed leeks, crunchy spiced red cabbage, apple & cranberry slaw, slow-roast pork, thick gravy mayo, and crispy onion, sage and toasted pecan crumble, all impossibly wedged inside a toasted ciabatta. We'll take two.