In a world of uncertainties, one thing's for sure: we're seriously looking forward to Christmas and the festive season.
We're going into December swinging (and quite probably singing): we're going to get our gladrags on, we're going to listen to Slade on full volume, and we're going to drink sparkling wine at breakfast. We won't argue with family if we're lucky enough to see them; we won't whine about lengthy phone calls with relatives on the other side of the world. We're going to embrace every little ritual and tradition that makes things feel a little bit normal. Or better than normal, because come on, it's Christmas.
One of the things that's really special about Christmas is giving brilliant gifts – not to mention receiving them. And with this in mind, we've tracked down the best food-forward gifts for friends and family.
And when it comes to ways to make things feel better than normal, we've spoken to a few friends in the industry about how they'll be celebrating this year, from how to maximise the Christmas spirit and how to share our festive feasts, even when we're miles apart, and even how to turn your leftovers into condiments you'll want to use throughout the year.
Go on – spread a little festive cheer…
26 food and drink Christmas gifts for 2020
Stocking fillers
FALLOW'S HOUSEMADE SRIRACHA, £8.50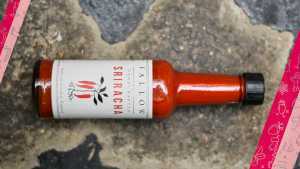 Nothing says 'festive' like blow-your-face-off spice, and this house-made take on the iconic Thai hot sauce from nose-to-tail restaurant Fallow definitely packs a punch. The restaurant – which opened on Heddon Street just before Lockdown Mark One – had buckets of chillis and garlic in its larder that would have gone off, so sustainably minded founders Will Murray and Jack Croft decided to ferment the ingredients and turn them into sriracha. The flavours will be at their peak around Christmas, which sounds like perfect timing to us.
LAKRIDS BY BÜLOW BLACK BOX, £33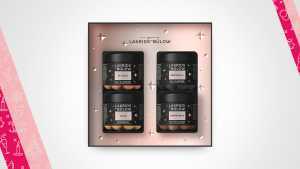 You might think these little spheres of joy are just ordinary chocolates. But you'd be very wrong. Each ball consists of a thin, crisp outer shell of flavoured chocolate encasing a chunk of salty liquorice, for a morsel that's salty, sweet, full of texture and just a little bit weird – in a very good way. Danish flavour genius Johan Bülow comes out with new flavours every year, and this year's are Classic (salt and caramel); Snowball (salt and pepper); Gold (raspberry); and Christmas (Butter Cookie). We promise you they won't last past Christmas Day.
COCKTAIL CANDIES, £3.49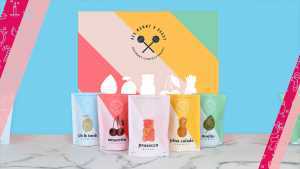 Why drink a cocktail when you can… eat it? Swap cocktail glasses for gummy bears in these new candies, which come in prosecco, G&T, tropical pina colada, mojito, and amaretto cherry flavour. And no, they don't contain alcohol – go wild, kids.

Cookbooks
THE PIE ROOM BY CALUM FRANKLIN, £26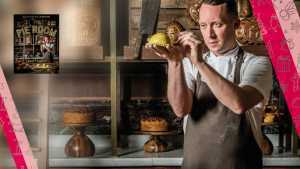 Pie might seem like a humble dish, but in the hands of Calum Franklin, executive chef at Holborn Dining Room, they become a thing of beauty, something to be marvelled at and exclaimed over. And now you can try your hand at 80 of his pie recipes at home thanks to his new cookbook, which will talk you through everything from sausage rolls to beef wellington to rhubarb and custard tarts – and even shows you how to make the perfect pastry. Disclaimer: you might not be able to recreate his legendary clock face pies just yet...
PIZZA BY THOM AND JAMES ELLIOT, £20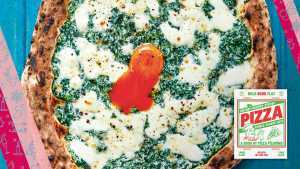 Whether you're more margherita or 'nudja, pizza is a universal language – and a seriously delicious one at that. Brothers Thom and James Elliot were among those leading the charge when it came to revolutionising pizza in London, which means this book – which features both recipes and their stories – is very welcome indeed. Readers will learn how to master pizza dough, get insider info on where to eat pizza around the world and much more.
TOWPATH CAFÉ: RECIPES & STORIES, £27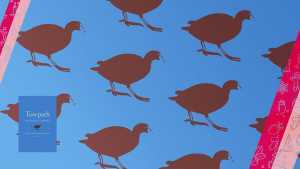 The Towpath Café is one of the city's best not-so-hidden gems. It's loved and lauded by serious foodies (not to mention Kiera Knightley) for its super-seasonal cooking and community feel, both of which are encapsulated in this cookbook.
Kitchen Kit
THE WOOD LIFE PROJECT, FROM £7.50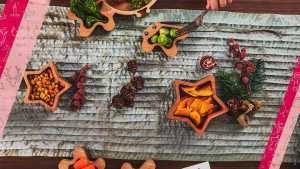 Whether for chopping or serving, this beautifully crafted range of wooden kitchen gear will make for a beautiful gift. Made with sustainably farmed trees from the UK and fully FSC-certified, the items – from boards and lunchboxes to pet bowls – are as sustainably minded as they are eye-catching.
SAVERNAKE LE GRAND FROMAGE CHEESE KNIFE, £750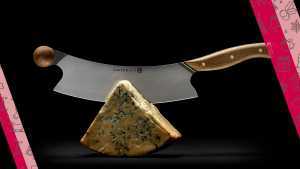 This gorgeous knife was made in partnership with cheesemonger Ed Goodman of The Cheese Stall, Winchester, and was specially designed to cut through any cheese in one smooth, clean slice.
FALCON LOAF TIN, £29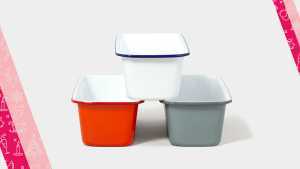 For the baking enthusiast in your life – there's always one, isn't there? This narrower tin from iconic British brand Falcon is ideal for loaves of bread (banana bread, we're looking at you), making it the perfect addition to any kitchen's lockdown arsenal. Like the rest of Falcon's range, it's ovenproof, dishwasher proof and basically life proof. You can even stick it in the freezer, should you be so inclined. Available in three colours: classic white and blue; red; and grey. 
MICROPLANE ZESTER, £17.99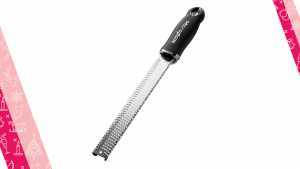 You might not think you or anyone else needs this grater. But you most certainly do, and we'll tell you for why. You know when a recipe asks you to zest a lemon, grate ginger, garlic or a chilli, and when you go to do it on your normal tool it's wildly ineffective? Well, this grater makes short work of these difficult to grate items and, to put it lightly, has revolutionised our cooking. Oh, and you can use it to grate parmesan, too.
Gift Boxes & Hampers
ABEL & COLE ARTISAN CHRISTMAS HAMPER, £125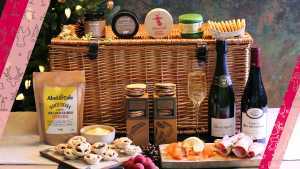 This hamper is a treasure chest of produce from some of the best independent makers out there, all of whom all share the same high ethical standards as Abel & Cole. From Severn & Wye smokery salmon to Red Label goat cheese from Spain, every little treat in this box of tricks is organic – and it's all the more delicious for it.
KARIBU LELLA GIFT BOX, £25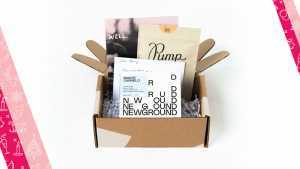 Coffee and chocolate. Need we say more? This beautiful box from new gifting website Karibu combines just that: roasted beans from social enterprise New Ground Coffee and rich, delicious chocolate from the excellent Pump Street, all in a cool-looking box.
PIQUE X PERRIER-JOUËT CHRISTMAS HAMPER, £95 OR £115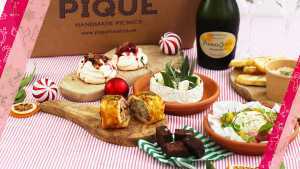 Whatever happens, there's no doubt this time of year can be exhausting. So why not reward yourself with a hamper of goodies from London picnic provisioner Pique? Snacks like onion and apricot sausage roll bites, and a beetroot burrata salad are all created to pair perfectly with a half or full-sized bottle of Perrier-Jouët Grand Brut champagne.
Belazu vegan bundle, £30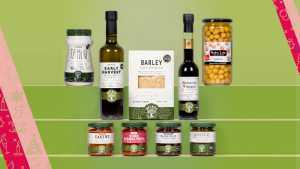 Being vegan shouldn't mean you miss out on your favourite spices and marinades, which is why this dedicated bundle from Belazu makes the ideal gift for keen plant-based cooks. The much-loved Mediterranean ingredient company has put together a selection of its best vegan pastes and dried goods that maximises flavour while keeping things free from animal products. The pack contains Belazu's rose harissa paste, too… We promise you, you'll never look back.
THE CHEESE GEEK FRANKIE BOX, £50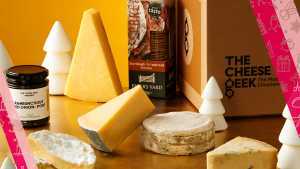 There's no better time than Christmas to stock up on cheese, and this box from cheese subscription service partners some knockout British cheeses, preserves and crackers with a beautifully designed instruction manual to guide you through tasting and pairing them.
ARABICA SPICE SET, £34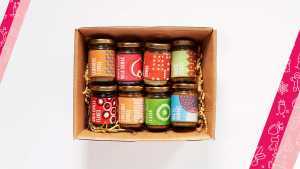 Not all spices blends were created equal, and you can be sure these from Arabica will beat the dusty old supermarket jars you have knocking around. This set brings together some of the harder-to-find spices that are essential to Middle Eastern cooking, and looks gorgeous on the shelf, too.
PECKHAM CELLARS CHRISTMAS DINNER WINE BOX SET, £92.70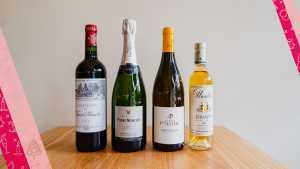 This wine box has everything you need to make sure your festive feast goes off with a bang… Or is that a pop? Get the party started with a grand cru champagne from family-run winery Pierre Moncuit; wash down all that juicy turkey with a modern take on burgundy from forwarding thinking winemaker Alexis Pollier in France's Maconnais region; settle in with a rare biodynamic bordeaux; then sip a jurançon dessert wine by Charles Hours that goes well with both sweets and cheese.
KOLD sauce gift box, £18.50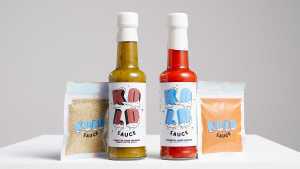 Minimising waste, maximising flavour: the cheekily named Kold Sauce is the latest London hot sauce to spice things up – and let's face it, we all need a bit of that right now. It's naturally fermented and aged in barrels, and is raw and cold pressed in small batches (which means it's basically a superfood, right?). Get the gift box and it comes with Kold Dust, made from dehydrating the waste chilli pulp leftover from the sauce-making process that would otherwise go to waste. Nice.
Drinks
Nc'Nean Organic Whisky, £49.95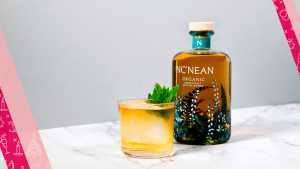 Nc'Nean's whisky is the epitome of easy drinking, whether it's in a cocktail or on the rocks. Depth of flavour is offset by peach and citrus notes, and the spirit is matured in red wine and American oak barrels to accentuate body and sweetness. And if we didn't like it enough already, it's organic – which means it's made in a way that's best for both people and planet. We'll raise a glass to that.
Lanson Le Black Reserve, £54.99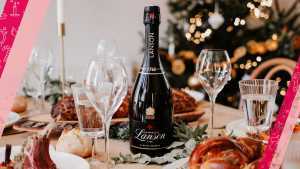 A special occasion deserves special champagne, and one of the world's oldest champagne houses should do the trick. Lanson has been supplying the royal family for more than 100 years, and if it's good enough for Liz and Phil, it's good enough for us. Every last one of Lanson's wines is outstanding, but Le Black Reserve is a timeless classic – made with reserve wines and cellar-aged for more than five years, it boasts a refined texture worthy of a toast.
NO.3 GIN, £47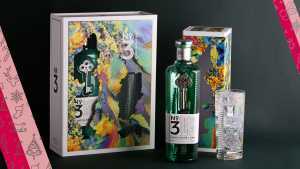 If you know your gin, we don't need to tell you how good the award-winning No.3 Gin is. But what we do need to tell you is that the quintessential British spirit is now available in a beautiful gift set that includes a bespoke highball glass.
HATTINGLEY VALLEY CLASSIC RESERVE, £30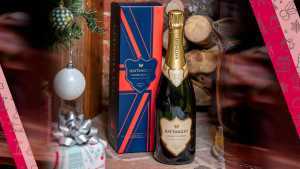 A good bottle of fizz is sure to please anyone – this beautiful Classic Reserve non-vintage cuvée from Hampshire-based sparkling wine producer Hattingley Valley celebrates the brand's British heritage with a striking box design.
DISCARDED BANANA PEEL RUM, £25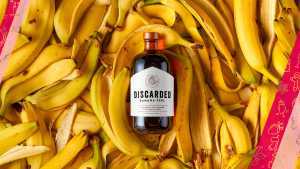 This sustainable spirit is no gimmick: a blend of Caribbean rums matured in ex-whisky casks, it's then flavoured with banana peel that would otherwise be thrown away, resulting in a flavour that's as distinctive as it is delicious, and a gift that combats food waste, too.
BELVEDERE HERITAGE 176 VODKA, £42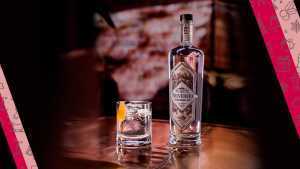 It's vodka, but not as you know it: Belvedere's newest bottling is made according to an age-old technique that heats rye grain to 176°C, showcasing a depth of flavour and richness uncommon in vodkas, and making it just as suited to a vodka martini as to stirred drinks normally be made with dark spirits.
ZEO SPICED OAK, £27

Award-winning bartender Simone Caporale is a man who seriously knows his drink, and he's spent three years working on ZEO, with a real focus on recreating the mouthfeel and flavour of hard liquor in a zero-alcohol spirit – so you know it's going to be good. This Christmas Spiced Oak is a great dark-spirit alternative with botanicals like cocoa husk and nutmeg, ideal for cocktails like the classic old fashioned.
East London Liquor Company x Kew gin, £29.50

We celebrate the distillers making brilliant gins, but what about the plants and pollinators that actually enable us to distill the spirit in the first place? East London Liquor Company's head distiller Tom Hills pays tribute to the flora and fauna behind the botanicals with this latest release, made in partnership with Kew Gardens. Think Douglas fir, lavender, orange peel and fennel seed – a veritable bouquet of botanicals in your glass.
Della Vite prosecco, from £20

The three Delevingne sisters are known for their style and their flair, so you know that everything they do is going to be good. We're very much here for Chloe, Poppy and Cara's new Della Vite prosecco. The two sparkling wines are sustainably sourced and organic, made in collaboration with a third-generation wine-making family in Italy's Valdobbiadene region. There are two expressions: the Della Vite Prosecco Superiore DOCG, with aromas of citrus blossom and olive; and the Della Vite Treviso Prosecco DOC, made with natural yeasts and notes of jasmine and lavender. No matter which one you choose, it's bound to bring some sophistication to your festive drinks.