We're guessing you've tried a glass of rosé before, but how much do you really know about the way it's made? What give it its unique colour and flavour profile? And is it made with white grapes, red grapes, or both?
Well, we know someone who knows the answers to all those questions. Enter Jason Phillips, head honcho at Franco's restaurant in Jermyn Street. Phillips presides over the largest list of rosés in the capital at Franco's and, as such, is probably the perfect person to fill in some gaps in your knowledge. Check out his guide to rosé below, featuring some little-known information on the history, manufacture and characteristics of this unique wine style.
Why rosé wine?
There are so many things that we can look forward to in the summer, one of which must be a chilled bottle of rosé wine over a lazy lunch in the summer sun.
This has not always been the case in England, though: the popularity of rosé is quite a recent thing. For many years it was considered a cheap wine that could not be taken seriously – certainly not by a wine connoisseur. The claim was not entirely unfounded, as many early rosé wines were simply made by mixing a red wine with white – which, naturally, did not often produce an enjoyable drink.
So what's changed? Firstly, we are travelling far more than we did 30 or 40 years ago. The number of British people making an annual pilgrimage to the south of France and across the Mediterranean is increasing, and we have been seduced by the crisp and fragrant rosé wines of the Côtes de Provence, Amalfi Coast and Sardinia. The second (and perhaps more important) reason is that wine producers have realised they've been missing a trick, and this style of wine, often an afterthought, was actually in demand – if made properly and marketed correctly.
The beginnings
Rosé wine originally came from Bordeaux, which has been known as one of the world's best winemaking regions for many years. Rosé wine first started becoming popular just as World War II was coming to an end and there was a demand for a medium-sweet drink. Although at this time it was fairly common to make rosé wines by simply taking a white wine and adding a bit of red wine to it, this practice is now unfashionable – even in Champagne, where it was once quite respected.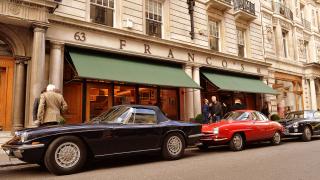 How is it made?
It is not commonly known that pulp and therefore the juice of all grapes – both white and red – is clear and has no colour. The colour of the wine is uniquely dependent on the colour of the grape skin. This means that it is possible to produce a white wine from a red grape variety, but not a red wine from a white grape variety. A good example of this can be found in champagne: it's made from a blend of three grape varieties – pinot meunier (a white grape), chardonnay (a white grape) and pinot noir (a red grape). The grape juice from the pinot noir is separated from the skins of the grape as it is being pressed, so no colour from the grape skins can transfer to the grape juice.
There are two main methods for making rosé wine in France. The first, which is often used to make what is referred to in France as vin gris (grey wine), is to remove the skins from the grape must as little as 4 hours after pressing. The second method is called saignée in France, which translates to 'bleeding'. This is where the winemaker 'bleeds' some of the must (the freshly pressed juice that contains the skins, seeds and stems of the grapes) from the red wine vats to make rosé wine. The wine left in the vats will go on to be made into red wine. The wine that is 'bled' from the vats will be made into rosé wine.
Blush or rosé?
Across the Atlantic in America during the early 1970s, there was such a demand for white wine after a succession of hot summers that winemakers in California started making white wine from red grapes. It was in the year 1976 that Charlie Kreck of Mill Creek Vineyards in California started to offer a drink that appeared pale pink in colour, made uniquely from cabernet sauvignon, a red grape. Unfortunately, the winemakers could not call this a 'white wine' as the grapes used were from red varieties. Nor could it be called red wine, as the wine was not entirely red in appearance. Through want of a name to call this new drink, 'blush wine' was established and to this day, Americans usually refer to their rosé wine varieties as blush. It should be noted that this style of wine is much sweeter in style than its European cousins.
Rosé wine and food
The tannins found in the skin and stalks of red grapes add structure and complexity. Rosé wines are most popular in the summer months, when a white wine is often not complex enough and a red wine is just a little too heavy. Because of their fresh crispness, rosé wines are served at the same temperature as white wines but still retain much of the aromas of reds. Compared to white wines, rosé is usually less acidic, more rounded, less astringent and lower in alcohol. Rosé wine matches well with salads, pasta, pizza, mushrooms, cheeses and meats. What could be more enjoyable than a chilled crisp rosé wine, a selection of antipasto and the afternoon to do nothing but watch the world go by?
Jason Phillips is director of Franco's, home to the largest selection of rosé wine in London. For more information: francoslondon.com