Make Alex Head's smoked squash dip
This clever recipes uses the flesh of the squash to form the base of the rich dip, as well as its seeds as a garnish that provides crunchy contrast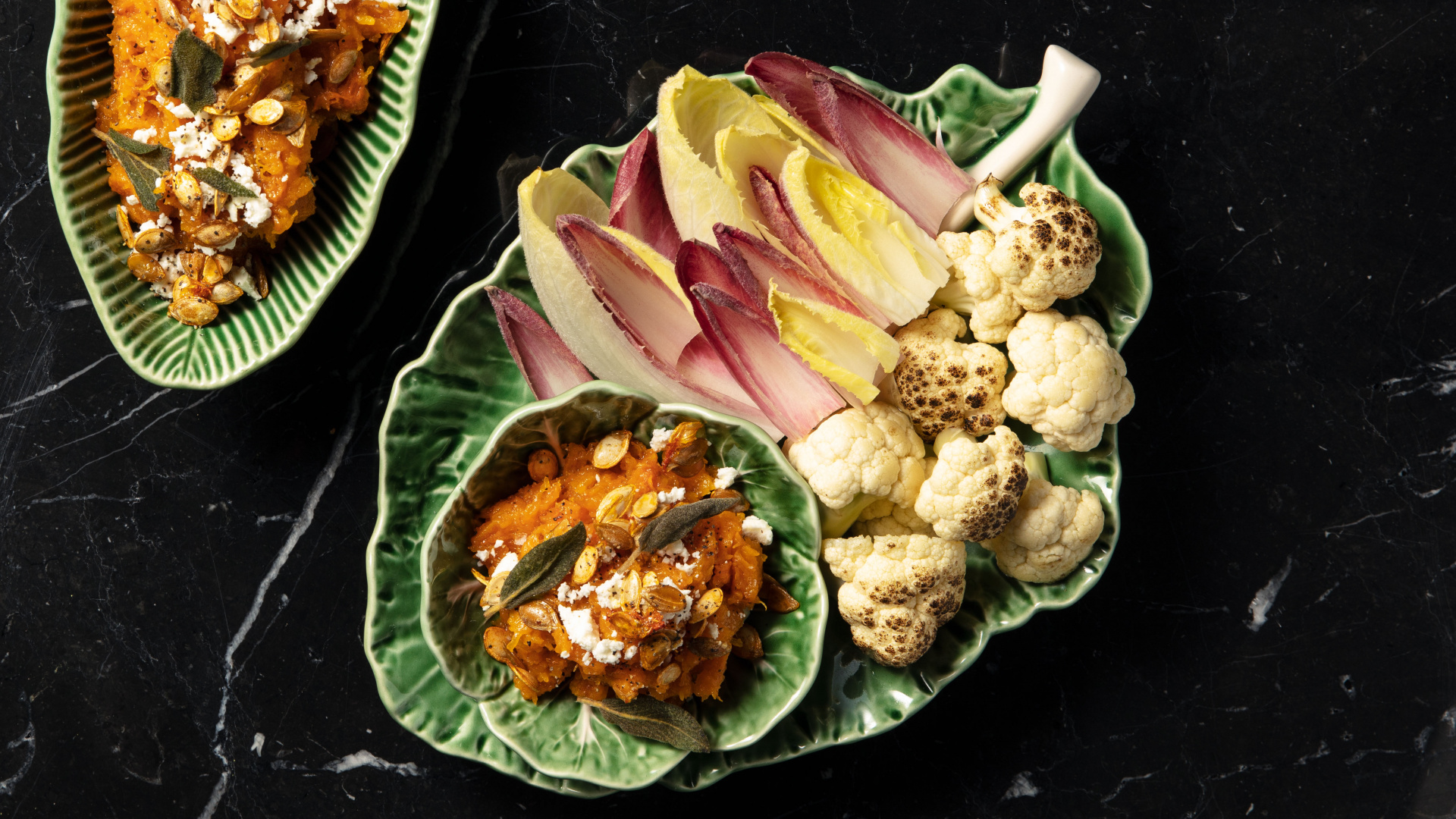 4-6
Preparation time 15 mins
Cooking time 10 mins
Ingredients
1 pumpkin (or butternut squash)
250g wood smoking chips
2 tbsp Ealing honey
100g feta
6 sage leaves
Rapeseed oil
Maldon sea salt
4 red and white chicory
1 cauliflower, broken into florets (keep the leaves to roast and serve with the main)
Method
Keeping the skin on, cut the pumpkin into chunky cubes. Save the seeds and set aside.
Next, set up your smoker. Line a baking tray with foil and place a baking/cooling rack inside which sits far enough off the bottom of the tray in order to burn your wood chips.
Cover the bottom of the pan in wood chips. Place on a high heat, let the chips catch fire and once burning, cover with a tray and put pumpkin inside. Seal with a few layers of foil and allow to smoke for 15 minutes.
Pre-heat your oven to 160°C fan, dress the pumpkin seeds in oil and Maldon salt and roast in the oven until crisp (10-12 minutes).
Remove the pumpkin from the smoker, place on a baking tray and coat with olive oil, salt and drizzle with Ealing honey. Finish cooking in the oven until soft (15-20 minutes). Remove and allow to cool completely.
Heat a little veg oil in the bottom of a small sauce pan and shallow fry a few sage leaves. Once crispy, allow to drain on kitchen paper. Prepare the crudités and crackers.