Make Melissa Cole's cheesy pasta pumpkin bowls
A bowl that you can eat has to be the ultimate in greedy delight, and these pumpkins look so pretty when baked and bubbling with cheesy pasta goodness, they're almost irresistible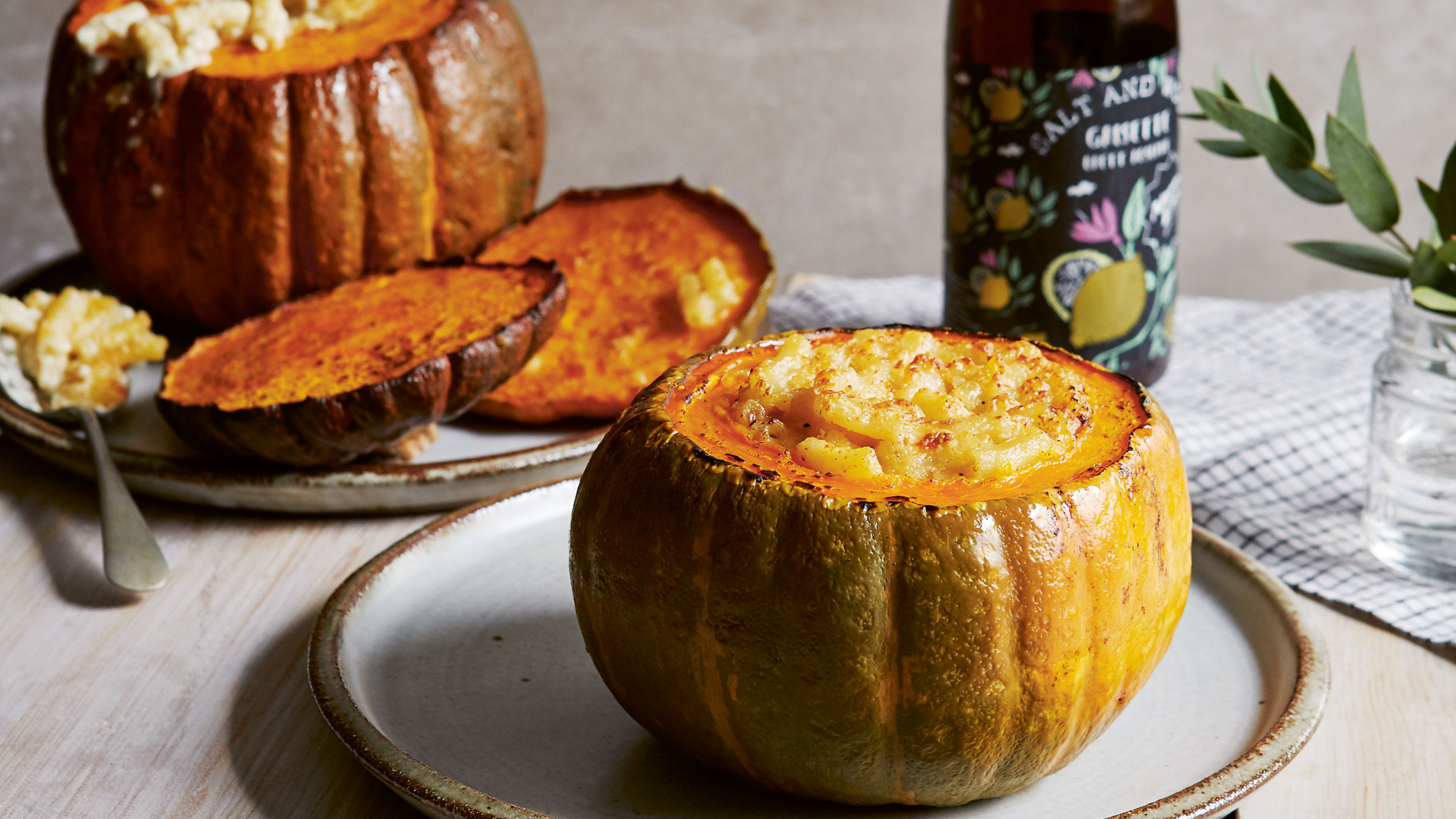 Serves 2
Preparation time 35 mins
Cooking time 1hr20
Ingredients
2 soup-bowl-sized edible squashes as equally sized as you can find
A pinch of fine sea salt
A pinch of smoked sea salt (optional)
80g cauliflower, grated or pulsed in the food processor to look like breadcrumbs
225ml double cream
150ml farmhouse ale
1 bouquet garni made up of: 6 sage leaves, 2 bay leaves, 4 squashed garlic cloves, 4 sprigs of thyme and 2 sprigs of rosemary, tied together
200g macaroni or chifferi rigati
1 tablespoons cornflour
Knob of butter
A splash of basic olive oil
10 grinds of freshly ground black pepper
150 g good-quality mature cheddar, grated
175g gouda or emmental, finely chopped
40g stinking bishop or tallegio, finely chopped
100g chorizo picante, finely diced and fried until crispy
Chilli flakes
20g parmesan, grated
You can interchange any of the beers from cooking to pairing here:
North End Botanicole – New Zealand
Burning Sky Saison à la Provision – UK
La Sirene Saison – Australia
Saison Dupont – Belgium
Boulevard Brewing Saison Brett – US
Two Brothers Domaine DuPage – US
St Armand French Country Ale – France
Brewery Ommegang Hennepin – USA
St Feuillien Saison – Belgium
Crooked Stave Surette – USA
Method
Preheat the oven to 170°C and heat a baking tray.
Cut the top 5cm off the squashes, horizontally and set the 'lid' aside. Scoop out the innards (reserving the seeds), season the inside of the squash lightly with fine salt and pepper. Repeat with the inside of the 'lids'. If needed, take a very thin slice off the bottom of the squash to ensure it sits stably.
Take an arms' length of kitchen foil and fold it lengthways three times to create a long, thin 'belt'. Wrap around the squashes and gently tie to help prevent splitting. Put the lids back on the squashes, leaving a small gap to allow steam inside to escape, place on the heated baking tray in the oven for 30 minutes to soften and cook. Meanwhile, put the cauliflower, cream and ale in a saucepan with the bouquet garni over a low heat. Don't allow to boil.
Put a saucepan of well-salted water on to boil. Add the pasta, stirring after a few minutes. After 5 minutes, take 2 tablespoons of the starchy water and mix it with the cornflour to make a paste.
After 7 minutes, the pasta should be quite al dente, so drain (reserving some more of the pasta water in case you need it for the sauce) then put back in the pan and mix with the knob of butter and a tiny splash of olive oil to stop it sticking together. Toss so it distributes evenly.
Take the bouquet garni out of the cream mixture, add the cornflour and the black pepper.
Mix in all but a few handfuls of the different cheeses with the cream.
Blitz the sauce with a handheld blender. It should start to thicken quite quickly but if it gets too thick, just add a bit more pasta water. Check for seasoning and adjust accordingly.
Mix the cheese sauce and pasta and spoon into the squashes, pop the lids back on, turn the oven down to 150°C and cook for 20 minutes. Take the lids off, top with the reserved cheese, sprinkle with chorizo and chilli flakes, if using, and grated parmesan. Remove the foil 'belts' and turn the oven up to
170°C and bake for another 10–15 minutes until golden and bubbly. Leave to rest for 8–10 minutes before serving.