Conventional, candlelit date nights are all very well and good, but you can do that kind of couply stuff any day, any time. Mix things up and get stuck in at these funky suggestions.
If you're looking for something a little different, get beved with your boo on the Bermondsey Beer Mile or put your relationship (and your wallet) to the test at Four Thieves games bar. Better yet, reenact that scene from the 2013 rom-com About Time with Rachel McAdams and Domhnall Gleeson at dating-in-the-dark restaurant Dans Le Noir.
Whether you're looking to impress or just have a little fun, there's something for every kind of adventurous dater in this romantic round-up of the best date night venues in London.
Not convinced? Keep scrolling, you'll see...
Vagabond
Various locations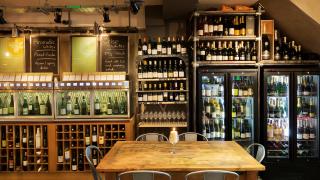 There's nothing worse than when the conversation – or the wine – runs dry on a first date. Make sure that doesn't happen by taking them to Vagabond, where instead of a drinks menu, the walls are lined with tasting machines. You can try hundreds of different wines by the glass at the touch of the button – plus, tasting notes are helpfully provided, so you can pretend to know what you're talking about even when you definitely don't.
@vagabondwines; vagabondwines.co.uk
Dans Le Noir
30-31 Clerkenwell Green, EC1R 0DU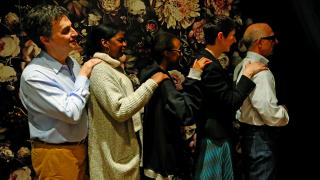 Save yourself some time when getting ready for your next date by booking a table at Dans Le Noir. You won't have to worry about your hair or your suit sitting right, because you'll be dining in the dark, served by visually impaired waiters. Warning: this date night venue might not be particularly suitable for messy eaters, unless you pack a bib. Don't let anyone ever tell you you're not sexy, OK?
@danslenoirldn; london.danslenoir.com
Four Thieves
51 Lavender Gardens, SW11 1DL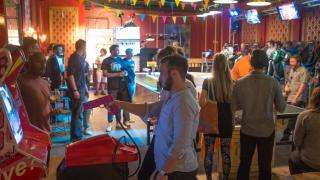 There's nothing like a little friendly rivalry to get the heart racing, whether it's pumping from excitement or intense rage when that competitive streak rears its ugly head. Your skills, your bank balance, and maybe even your relationship will be put to the test after a night at the Four Thieves' game bar – but we'll be damned if you don't have a great time while you're at it. Good luck, play nice and remember: it's just a game…
Secret Cinema
Various (secret) locations
Falling for a film buff? Secret Cinema's immersive movie nights might just be the one for you. Each showing takes place in a different undisclosed location – think abandoned warehouses full of purpose-built sets. You don't know what's showing before you get there, and food and drink is tailored to what's on. Don't forget to dress up (costume inspo provided in the invite) – you'll want to look the part when you get involved.
Bermondsey Beer Mile
Bermondsey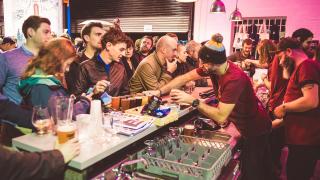 You might not think it, but Bermondsey's railway arches are home to a number of top-notch independent craft breweries. And on certain days these breweries transform into stripped-back, no nonsense bars and taprooms. Tick off as many of them as you can – from the zesty saisons of Partizan to the US-inspired goodness of Fourpure – and if you're still standing at the end of it, soak it all up with grub from Maltby Street Market.
Boxcar's butchery school
23 New Quebec Street, W1H 7SD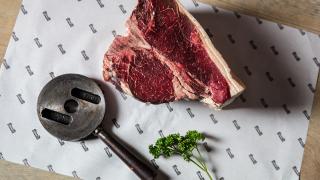 A butchery class might not seem like the most romantic thing in the whole world, but hear us out, after you're done learning about all the different cuts, everyone sits down for a three course meal with matching wine or beer. If you want to raise the steaks next time it's your turn to organise date night, then a lesson in how to handle your meat at Boxcar's cosy Marylebone restaurant and deli is a great idea for anyone who's partner loves a good steak, but needs a refresh in the difference between rump, flank and brisket.
Action-packed date nights not for you? Check out some of London's most romantic restaurants instead.