The capital's mixology scene has flourished in the last decade. From subterranean speakeasies in Central London hidden far below the throning hordes at Oxford Circus, to neighbourhood drinking dens that may just be a stone's throw from your doorstep, the opportunity to find a great drink around every corner has never been so high. 
Here at Foodism, we believe there is no greater joy than perching at the bar, bugging your bartender for information on the incredible concoctions they're putting in front of you. Whether it's reinvented classics infused with South Asian flavour profiles at Soma, the cocktail bar below Kricket's Soho location, or ingenious new tipples from famed mixologist Mr Lyan at his new venture Seed Library in Shoreditch, the ingenuity going into drinks in London right now is possibly the best it's ever been. 
So, round up your mates – or go solo with a good book in hand – and make a beeline for the next bar stool with our list of London's best cocktail bars. 
18 best cocktail bars in London
Swift Soho
12 Old Compton Street, W1D 4TQ
Founded by bar-industry royalty, having originally been a joint venture between the owners of London's Nightjar and New York's The Dead Rabbit, this two-storey bar combines many of the best things about London's bar scene in one place. On the ground floor the bar is a light, marble-clad bar that's great for an aperitif, while the basement is home to an altogether more loungy and decadent bar. The Cobblestone is a beautiful manhattan-style drink that's been on the menu for years, while the Irish Coffee – which takes inspiration from the famous one served at The Dead Rabbit, but with a recipe all of its own – is the absolute must-order for anyone coming for the first time. As close to life-changing as a drink gets.
Discount Suit Company
29A Wentworth Street, E1 7TB 
The excellent Discount Suit Company may have been knocking around for a while, but newness isn't everything, and anyone who's been there recently can attest to the fact it's still at the top of its game when it comes to good drinks and good vibes. Its name comes from the business that occupied the business for a lot of its history, and down the unmarked door you'll find a bubbly little den of iniquity, with a party atmosphere (especially on weekend nights) and a range of excellent stirred and shaken drinks all at incredibly reasonable prices.
Three Sheets
510b Kingsland Road, E8 4AB
Three Sheets is a slender little bolthole that you could easily stroll past without noticing on Kingsland Road. The compact size and unassuming frontage, however, hide a sense of real craft that goes into the drinks. With a menu separated into one sheet, two sheets and three sheets depending on the strength of the drink, the constantly rotating nine options feature a few mainstays – the French 75 has been perfected – alongside interesting additions that hint at serious creativity that goes on behind the scenes. The Dalston locale means that while Three Sheets may be churning out some of the capital's best cocktails, it's doing so in decidedly unfussy surroundings.
Tayer + Elementary
152 Old Street, EC1V 9BW
Tayer + Elementary co-founders Alex Kratena and Monica Berg were both well respected in bar circles before opening this Old Street bar, with experience at bars including Artesian in London and Himkok in Oslo to name a few, but their endeavours here have been recognised as not only creating a great place to drink, but also quietly ushering in some quite revolutionary practices – among them their acclaimed ready-to-drink selection that came into its own during the pandemic. Like Swift Soho, this is really two venues in one: Elementary is a sparse, pared-back space that makes use of excellent batched cocktails, while Tayer is the more experimental back room that serves beautiful drinks alongside tasting menus.
Silverleaf
80 Houndsditch, EC3A 7AB
The brainchild of a team of creatives including interior designer Tom Dixon, former director of bars at Milroy's Chris Tanner and former bar manager at Callooh Callay Liam Broom, Silverleaf seems to sit far above the world, both literally and figuratively. Occupying a space three floors above Liverpool Street in the 144-year-old Devonshire House, the bar utilises symbols to indicate tasting notes on the menu, and assigns each cocktail with an artwork that aims to depict its overall flavour profile. All the grand designs, innovative menus and immense creativity would be simply smoke and mirrors, however, if the drinks didn't match up. Thankfully they do and then some. The verbena olive oil sips like the lovechild of a martini and gimlet. Watermelon sake has, yes, a fruity undertone, but also a mouth-watering savoury note courtesy of umami vermouth. Silverleaf is exactly what this corner of London was missing.
Lyaness
Sea Containers London, 20 Upper Ground, SE1 9PD
Formerly known as Dandelyan, this venue has long been at the pinnacle of the London bar scene. From bartender Mr Lyan (aka Ryan Chetiyawardana) with a longstanding influence by both him and Mr Lyan group's director of bars Alex Lawrence, its overtly philosophy-led, heavily conceptual approach to cocktails see the team creating inventive menus that often hinge as much around bespoke distillates as they do around high-quality spirits, and its this constant invention that's meant it's so often found near the very top of the World's 50 Best Bars list, year on year. Drinks are still delicious and easy to drink, though, and together with a sumptuous room means it's a no-brainer of a destination whether you're a drinks nerd or a casual visitor.
Nightjar
129 City Road, EC1V 1JB 
Voracious readers of this magazine might remember a feature in our first ever issue on an Old Street speakeasy that was shaking up the cocktail scene. By now you know the deal – a staircase leading to an underground room, accessed via an unmarked door, with a drinks list inspired by the golden era of cocktails and the spectre of Prohibition – but back then it was new and incredibly exciting, and the speakeasy's rise to prominence in London over the following years owes a huge amount to the cultural footprint of this excellent bar from husband and wife Edmund Weil and Rosie Stimpson. Amid the opening of a new location, the original's still going strong, with beautiful drinks, live music and a Prohibition-party vibe
Connaught Bar
The Connaught Hotel, Carlos Place, W1K 2AL
For those in the know, this bar needs no introduction, having clinched the top gong at the World's 50 Best Bars awards in both 2020 and 2021. And it's with good reason – director of mixology Ago Perrone has quietly turned it into a hall-of-famer, serving beautiful drinks in a lush, velvet-clad room that's built to while away the hours, whether you're a hotel guest or just passing through. The Connaught Martini has become the signature serving, created from a trolley at the table with the bar's whitelabeled gin, and if you're in the mood for dinner, it doesn't hurt to have the three-Michelin-starred Hélène Darroze at the Connaught and the newly reopened Connaught Grill a few steps away. This is hotel-bar drinking at its finest.
Satan's Whiskers
343 Cambridge Heath Road, E2 9RA
Bethnal Green is home to quite a few great places to drink – Coupette, for example, has long been one of the best bars in London, while The Sun Tavern combines a classic boozer setting with a great list of mixed drinks – but the true neighbourhood bar in this neck of the woods is without doubt Satan's. Known for a lively crowd (many of them from the bar industry), late nights and a banging soundtrack, it turns out fantastic drinks that are still well priced and reliably well made, despite a low-key reputation for being one of the best drinking destinations in an area known for its wealth of bar talent.
Seed Library
One Hundred Shoreditch, 100 Shoreditch High Street, E1 6HU
Bartender and operator Mr Lyan may have made his name with the kind of overtly conceptual approaches he and his teams put into practice at White Lyan, Dandelyan and Lyaness, but his most recent opening at the One Hundred Shoreditch hotel is a different beast. Focusing on an 'analogue, lo-fi' approach to both the drinks and the atmosphere, Seed Library is a vibey cocktail bar in something of a classic post-pandemic mould, where good times and accessible flavours are pushed to the fore, menus are easy to understand and a vinyl playlist and décor dripping in 1970s chic makes the underground spot feel a million miles from the concrete jungle above it. There's a great selection of non-alcoholic cocktails, too, including a boozeless take on the signature Coriander Seed Gimlet.
High Water
23 Stoke Newington Road, N16 8BJ
There are a few valid reasons not to know anything about Dalston's High Water – an unassuming frontage, its placement in a part of town not known for cocktail bars and its lack of PR or lobbying for industry awards all among them – but to overlook this excellent neighbourhood bar would be folly. A compact interior is always full of good vibes, whether you're popping in for a pre-dinner drink when it's just getting going or heading there post-dinner when the bar's in full flow. Drinks are largely excellent, not overtly conceptual and with a focus on classy, elegant stirred drinks over fruity long ones, although you'll find something for almost all dates. It's a great date spot, too.
Disrepute
4 Kingly Court, W1F 9RR
While the West End jostles with East London for the claim of being arguably the centre of bar culture in London, the area around Oxford Circus between the heart of Soho and Mayfair is something of a hinterland for great bars. However, there's always something for those who know where to look, and Disrepute in Kingly Court is one of the capital's great speakeasies. Go down the unassuming staircase and you'll be greeted by a resplendent room with a classy, laid-back vibe and some beautiful drinks to be found. What's more, there's a happy hour from 4-6pm on weekdays – a dedicated menu serving cocktails at £7 – ideal for an aperitif if you're booked in for dinner nearby.
Funkidory
42 Peckham Rye, SE15 4JR 
A clear mission statement to sell cocktails, natural wine and vinyl has made Funkidory a quiet success story in an area that's spent the last half-decade cultivating some excellent places to eat and drink just north of Peckham Rye park. And while the vibe is very East or South East London at a quick glance, it's nonetheless underpinned by an ambition in drinks more similar to leading London cocktail bars like Swift, or even some of the more well-heeled bars at some of the capital's best hotels. Along with regular record sales at weekends, it's a formula that has turned this bar into a genuine neighbourhood gem.
Soma
14 Denman Street, W1D 7HJ
Recent opening Soma is not a speakeasy with a bolted-on gimmick to make sure it stands out from the crowd; it's a sumptuous, genuine speakeasy whose drinks' flair for South Asian spices is a natural follow-on from the contemporary dishes served at sister restaurant Kricket upstairs, all of which is inspired by regional Indian street food. That accent makes itself known gently in a list of drinks that are largely considered riffs on bona fide classics, and the room's even better: down the near-pitch-black staircase the bar itself is exquisite, all PVC-black surfaces, salaciously draped curtains and the low light only just punctuated by lights hung to resemble glowing orbs.
Heads + Tails
175 West End Lane, NW6 2LH 
Leafy West Hampstead has a deserved reputation for lovely things: upmarket pubs, beautiful green spaces, posh delis and some of the best dog-spotting to be had in London. But for too long before Heads + Tails' arrival, cocktail drinkers had to venture outside of their postcode for elegant shaken and stirred drinks. The bar was founded in 2018 with a mission statement of just that, and combines an elegant interior – marble bar counter bathed in sunlight in the daytime, and a more vibey and intimate feel after dark – with a great drinks list. Gentle twists on classic formulas dominate, as you'd expect for an easygoing neighbourhood joint in a part of town not known for out-there mixology, while there's also a great selection of batched and bottled cocktails to take away for Hampstead residents looking for an aperitif in the comfort of their own home.
The Clubhouse
The Coachmakers Arms, 88 Marylebone Lane, W1U 2PZ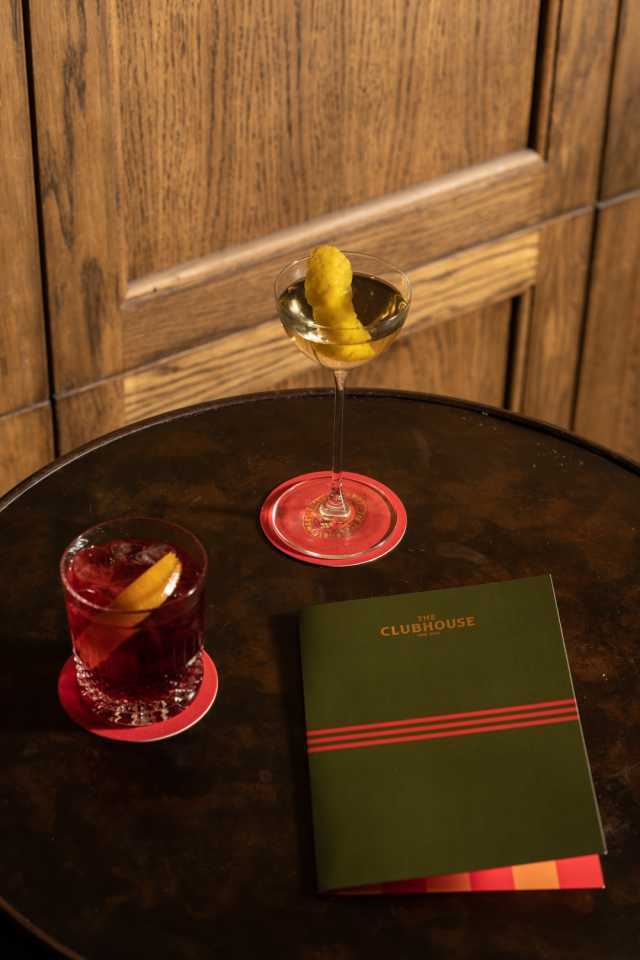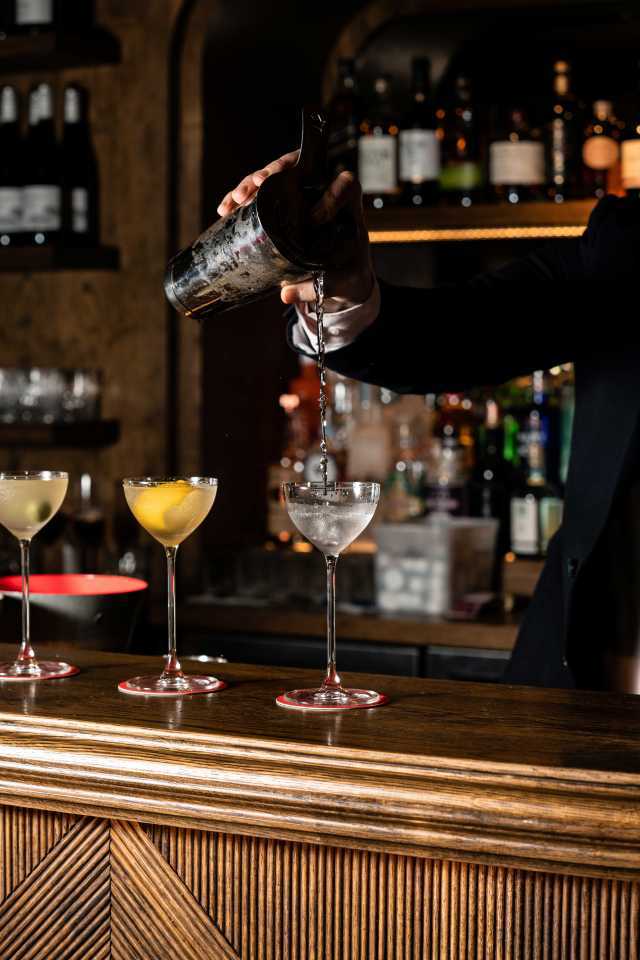 The Coachmakers Arms sits proudly on the corner of Marylebone Lane, attracting post-work boozers like moths to a flame. But it's not just the pint-pulling to visit for, but a secret little cocktail bar squirrelled away downstairs. The Clubhouse is a recently opened, speakeasy-style bar helmed by the former general manager of Soho's Disrepute. A focus on putting producers central means there will be a rotating menu that spotlights different spirits brands every couple of months, kicking off with East London Liquor Co. Choose from a great list, or ask the bar team for a recommendation – either way, some innovative flavour combinations and unique, often off-kilter combinations are sure to result in a beverage worth talking about.
Nocturne
158 Old Brompton Road, SW5 0BA
Located directly underneath Steve Pineau and Xavier Rousset's Old Brompton bar, Nocturne sees a menu of creative cocktails overseen by head bartender Luca Gilmozzi. The three are really leaning into the speakeasy theme, with the menu divided into Vintage, Pre-prohibition and Prohibition drinks, and there'll also be an excellent list of largely French wines curated by master sommelier Rousset, as well as more than 70 artisanal cheeses and charcuterie. Alongside the vintage decor and regular piano evenings, it'll have you feeling like you're in 1925.
Homeboy
108 Essex Road, N1 8LX
Homeboy has something of a speakeasy air about it. Stroll past on a brisk winter evening and you'll likely be unable to see in, so misty the windows will be with condensation from the warm bodies and soul-warming drinks inside. It's not exactly where you would expect to find one of the city's best bars either – sitting along an unassuming section of Islington's Essex Road – but as soon as you step past the threshold you'll know this place is the real deal. A lengthy cocktail list highlights drinks by their three primary flavour profiles (or, in the case of cheekily named 'sex advice', simply outlined as 'It's - a - cosmo') and has an unsurprising Irish lilt, thanks to the owners' affinity for home(boy).