So you're metaphorically kicking the sensible part of your brain that told you to stay at home for this year's World Cup. You were sceptical about Russia's hosting capability, the potentially hostile atmosphere of the games and the likelihood of England making it past the group stages. Now you're eyeing those jubilant fans in their red and white face paint with a mixture of envy and and disgust. The smell of hot dogs and the sound of those oh-so-familiar chants has you scowling at the TV. Well, cheer up! This list of London's best sports bars will grant you access to the camaraderie you've been craving – or at least unite you with fellow sulkers – and there may even be a compensatory ramen bowl, whole roast chicken or pizza in sight.
Alright, you might not be that fazed by England's run of two whole wins. You may even be wishing they'd get knocked out already so football could stop dominating our screens. But whatever your sport of choice, this list is here to rescue you from a summer of social isolation and point you towards the ideal venues for drowning your sorrows when those inevitable defeats start rolling in...
Brigadiers
1-5 Bloomberg Arcade, EC4N 8AR
If your typical evening of sport often involves an Indian takeaway in front of the TV, then Brigadiers won't push you too far out of the cushy safety of your comfort zone. This central bar and restaurant, from the brains behind Hoppers, Gymkhana and more, offers an assortment of chargrilled South Asian delights from its Indian barbecue-style menu, bringing adventurous Asian twists to classic pub favourites and serving them alongside three TVs showing the World Cup.
The chaat masala pork scratchings make ideal viewing snacks or a light appetiser before you take on the full rack of tandoori lamb chops or the slightly more adventurous guinea fowl Reshmi kebabs. But if the idea of swapping the quiet privacy of your living room for the rowdy atmosphere of a bar imitating India's military mess bars is all-too-much, you can rent your very own dining room for a private screening and feast with your nearest and dearest.
Caravan King's Cross
1 Granary Square, N1C 4AA
If you've been lulled into a false sense of security by the recent bout of warm weather and are seeking an outdoor venue that can rival Henman Hill, Caravan Kings Cross is calling you. Granary Square will be boasting a large, outdoor screen again this year for all your Wimbledon needs, and on its terrace you can enjoy an excellent viewing spot, a cup of freshly roasted coffee and a wealth of culinary treats from the all-day menu. If you're willing to swap extortionately priced champagne and strawberries for a macchiato and a stone-baked pizza, this could the ideal al fresco setting to feed your appetites, both sporting and culinary.
Famous Three Kings
171 North End Road, W14 9NL
If your pubbing companions are a mixed bunch with taste buds more selective than Gareth Southgate, the Famous Three Kings is here to solve all of your problems. The eclectic menu offers everything from tapas and sharing platters to traditional pub grub and the obligatory pizza and burger selection. If good food, potentially good football and an eight-pint beer tower is the stuff of your dreams, you won't be disappointed by this West London sports bar. What's more, if England's performance thus far hasn't left you feeling refreshed, the staff have designed a summer spritz menu, offering a selection of fruity beverages for your summer drink fix.
Café Kick
43 Exmouth Market, EC1R 4QL
The aptly named Café Kick claims to be the place to be at kick-off, and seeing as they're screening a match roughly every three hours, it's not an outrageous claim. Needless to say, its five screens are sure to rack up a hefty electricity bill this summer. Nothing quite screams "we love the World Cup" like this quirkily decorated café, walled from floor to ceiling with flags, international banknotes and football memorabilia. If that's not enough to get you in the international spirit, you can sip on a selection of beers from around the world before soaking it all up with lunch prepared by a Portuguese chef or something from the decidedly hispanic evening menu. Although, the sting of Spain's inevitable success this tournament may not be best eased by its equally formidable meat and cheese platters. Is there anything the Spanish can't do?
Flat Iron Square
Flat Iron Square, SE1 1TD
Torn between missing out on sun or sport? Fear not, in Flat Iron Square you can bask in the fleeting summer sun while catching all the sporting action on its 100-inch outdoor plasma screen. Tables at this desirable location are claimed on a first come first serve basis so don't dilly-dally. This reassuringly casual venue is every foodie's heaven. Home to a huge variety of food stalls, you can find everything from ramen to fried chicken and nutritious pancake stacks. The only real issue will be deciding what to have before the match and what to stuff in your bag for the journey home.
Belushi's, The Dugout Sports Bar
161-165 Borough High Street, SE1 1HR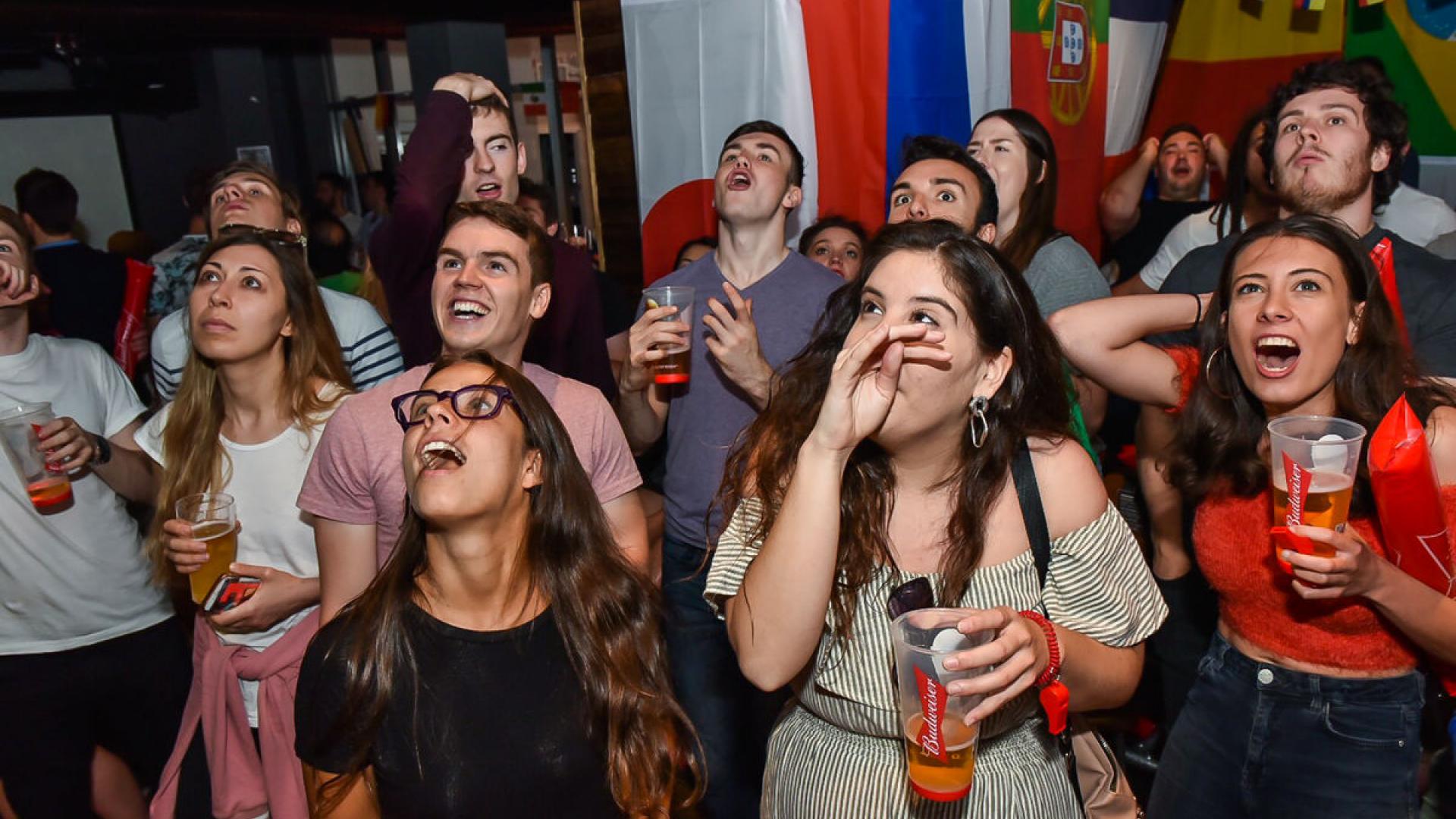 All this endless viewing is bound to have you itching to play, and what better way to indulge your competitive streak than with a little halftime beer pong? Or perhaps a quick game of FIFA 18 to reaffirm your faith in football? But whether it's viewing or playing, this central sports bar has all your sporting needs covered with 4K ultra HD screens, beer pong, gaming consoles and beer on tap. The Dugout Sports Bar at London Bridge screen all major sporting events from Rugby League to NBA basketball, so you'll returning long after the summer madness dissipates. Of course, none of this would be complete without an extensive snack menu complete with Belushi's house bacon-cheese burger. Anticipating a large turnout, its feasting platters are designed to be eaten in a slovenly manner, away from tables, cutlery and all forms of civilisation.
Nordic Bar
25 Newman Street, W1T 1PN
Positioned just off Oxford Street, this Nordic Bar reflects its bustling central location, especially with the atmosphere you'll find within it. As you'd expect, this venue offers a fine selection of vodkas and Scandinavian beers to quench the thirst worked up by those exhausting ping pong sessions. Dubbed a 'cocktail party bar', this venue promises to keep the alcohol flowing long after the final whistle has been blown. For those of us who don't quite know when to blow the whistle on a heavy session, this lively gem is open until 2am Thursday-Saturday. But if you do intend to go the distance, make sure you leave room for some stomach-lining delights from the food menu, which gently encourages you to dip your toes in Nordic cuisine, without throwing you in head-first minus a pair of armbands.