Make Lanes of London's beef brisket sliders
If you thought sliders were a 20-minute meal, think again. These from Lanes of London are made of beef brisket covered in panko breadcrumbs – not one for the time-poor, but well worth the effort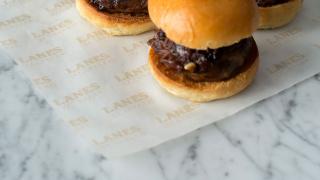 Makes 3
Preparation time 60 mins
Cooking time 30 mins
Ingredients
300g beef shin, rolled and boned
10g mirepoix (mixture of chopped celery, onion and carrot) for braising
50g chopped mirepoix for beef balls
100ml red wine
25g garlic
5g rosemary
5g thyme
8 2" pieces cut beef bone marrow
12 mini brioche burger
¼ fresh horseradish
50ml double cream
100ml mayonnaise
¼ bunch parsley
1 lemon
5g sea salt
50g panko bread crumb
10g chopped chives
100ml red wine jus
50g pork caul fat
Method
Beef brisket balls
Sauté mire poix, add rosemary, thyme, garlic, sauté until nicely golden brown. Add red wine and reduce, add beef stock and simmer. Sear the beef, add it to stock and simmer it till completely cooked. Remove it from stock and flake all the meat.
Sauté finely chopped mire poix and mix it with beef, add red wine jus and chopped parsley. Mix properly and check the seasoning and make 20g balls each. Wrap the balls with caul fat.
Bone marrow
Marinate the bone marrow and cook it in the oven for 10 min at 170°C. Chill and reserve for service.
Horseradish cream sauce
Grate the horseradish and mix it with whipped cream. Add mayonnaise, parsley and lemon juice. Check seasoning.
Panko breadcrumbs
Lightly sauté bread crumb in butter till golden brown. When cold add chopped chives.
Service
Pan-sear beef balls and add them in the jus to make them hot. Pan sear bone marrow and finish them in the oven till hot inside. Slice and toast mini beef burger bun 3 per portion. Place the beef balls on buns and on side place beef bone marrow, on top of bone marrow put toasted panko bread crumb (as shown in the picture above). Serve the horseradish cream on side.