Christmas can be a testing time for beer lovers: everyone has their two cents on what drink you should pair with your turkey, you don't leave stout out for Santa and it's pretty rare that your grandfolks ask you to crack out a tallboy can of New England IPA as a preprandial before lunch. Yep, for most, Christmas beer means slinking off the pub for a couple of drinks when the family game of Cranium gets a little… heated.
But it doesn't have to be that way. For me, nothing quite beats the popped cork of an extra-special bottle of beer on Christmas Day – especially one you've searched far and wide for, and kept out of reach at the back of the cupboard for a special occasion like this one.
For beer lovers, Christmas is a time to dust off aged sours and big stouts, have a go at food pairing and find a few unexpected new favourites along the way. While wine, brandy, sherry and, er, eggnog rule the festive drinks world, there's nothing stopping you elevating your Christmas drinks game with a select few bottles of great beer.
This guide's not just about finding nice Christmas beers, though – although we do have a soft spot for special annual brews like Anspach & Hobday's Pfeffernse Saison and Anchor's Christmas Ale. No, this is about finding the bottles that are going to make a beer lover's Christmas that little bit more bearable, and maybe even convert your auntie Pam while you're at it, too. From your bucks fizz at brekkie right through to your cheeseboard come Christmas night, here's the Christmas beer to enjoy this festive season.
The best beers for Christmas Day, from breakfast to dessert
1. Breakfast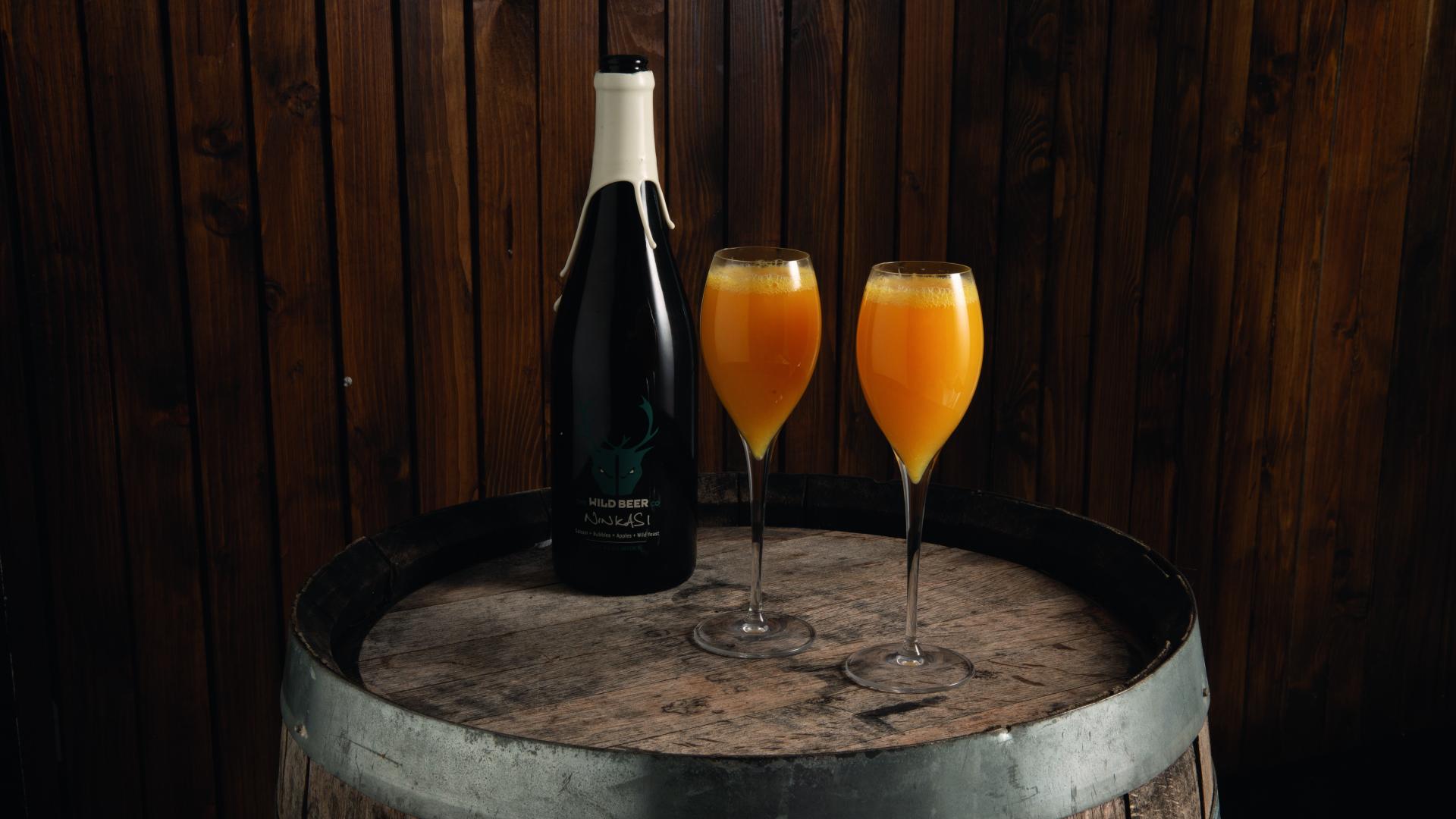 Whether you wake up to a full English, a plateful of kedgeree, a stack of pancakes or an unfussy bowl of porridge on Christmas morning, one thing's for sure: breakfast is buck's fizz time, and we'll be drinking a beery twist on one this year. Grab a champagne flute and half fill it with Wild Beer Co's Ninkasi saison (available by the 750ml bottle at Waitrose), then top up with fresh OJ like you would a mimosa. The beer is aged on apple juice and fermented with champagne yeast, so it's got plenty of spritziness and a nice dry finish that makes it stand up well in place of champagne. At 9%, it's less strong than bubbly, too, which is great if you've got a ton of lunch prep to do.
2. The champagne moment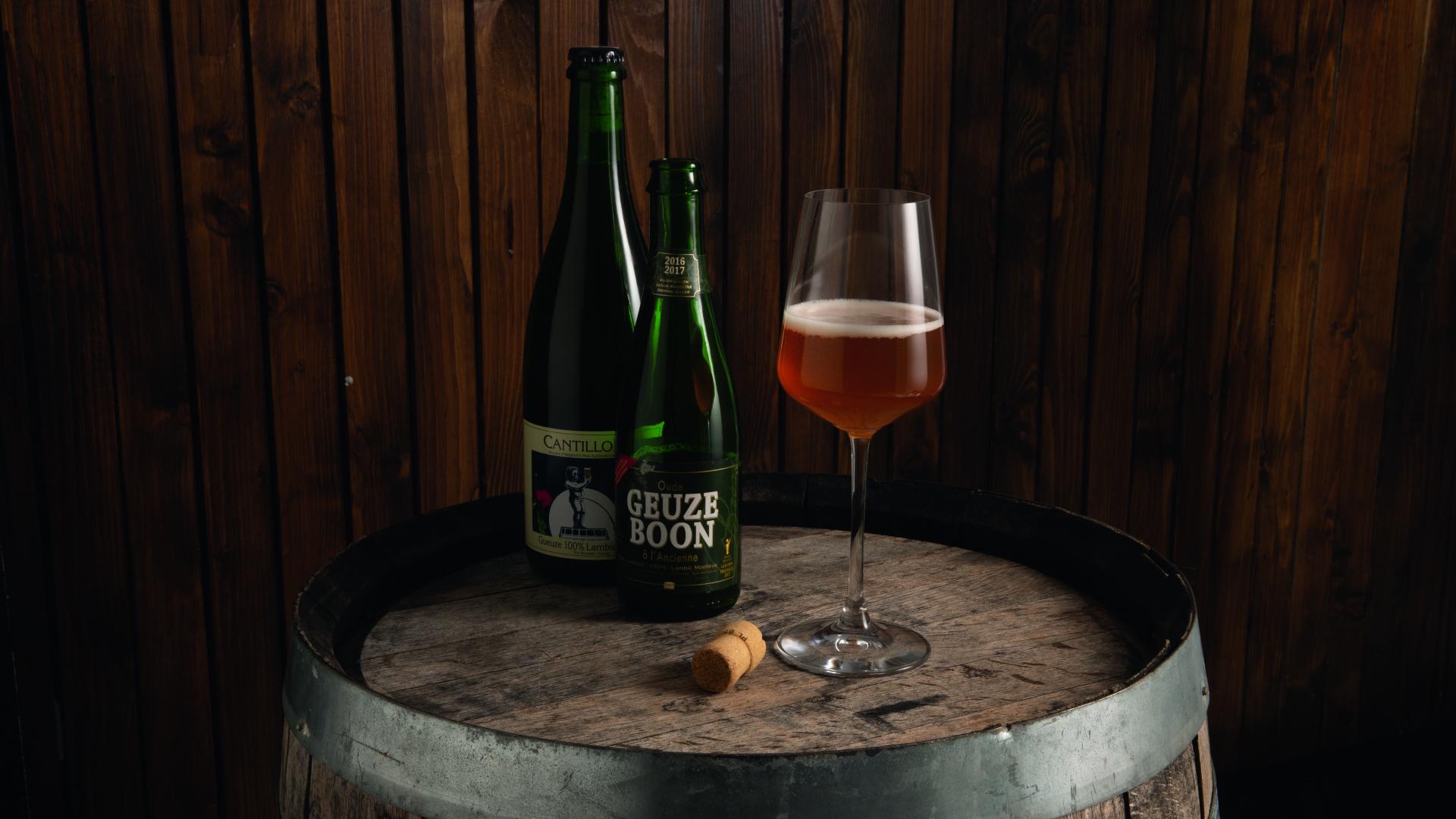 Here's a little secret for you: great quality sharing bottles of beer come in at about the same price as entry-level supermarket champagne, and blended sours like lambic do a great job at mimicking the momentousness of bubbly with their acidity, depth of flavour and satisfyingly poppable corks. If you have time, scour bottle shops for Cantillon, or just grab a bottle of Boon Gueuze in Waitrose.
Alternatively (much like in the world of sparkling wine) there are English versions on the market that are fast closing the gap, too. Our recommendation? Grab yourself a bottle of Burning Sky Cuvée.
3. The main event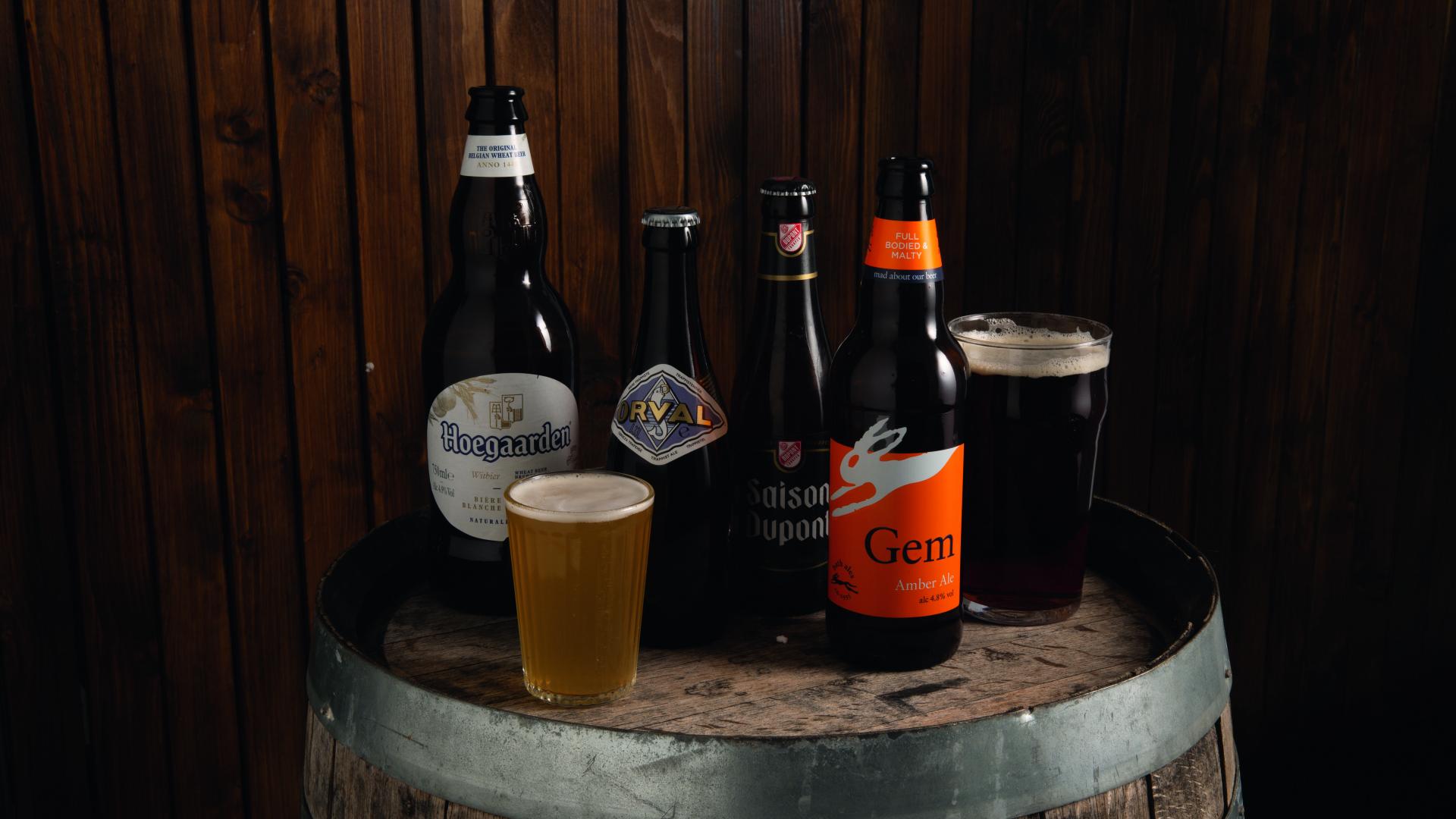 The million dollar question doesn't necessarily need a million dollar answer, and plenty of easy to get, affordable beers will pair perfectly with Christmas dinner. Dry stout like Guinness or the White Hag's Black Pig are great with oysters, while seafood starters like prawn cocktail or smoked salmon are great paired with a Belgian wit like Hoegaarden. It'll cut through the oiliness and has complementary notes of coriander and peel, as well.
Stay Belgian for the turkey: mainstays like Orval and Saison Dupont will do a great job of scrubbing your palate clean with their dryness while complementing gravy, meat and herby stuffing with their earthiness and spice. For something a little bit simpler, swap red wine for a red ale. The West Coast US hops and rye used to brew Brick Brewery's Peckham Rye Red Ale give you a beer that's plenty dry, citrusy and peppery enough to cut through the fat of a Christmas roast without overpowering anything.
And if you're playing it safe, here's a little Christmas miracle for you. Kernel's Table Beer is a low-ABV pale ale that packs way more flavour than any beer around 3% has any right to – but won't make you feel the way Christmas drinking can make you feel. Honestly, we've tasted 5% pales with much less flavour than this. A wonderful beer for a wonderful time of the year. 
4. Christmas pudding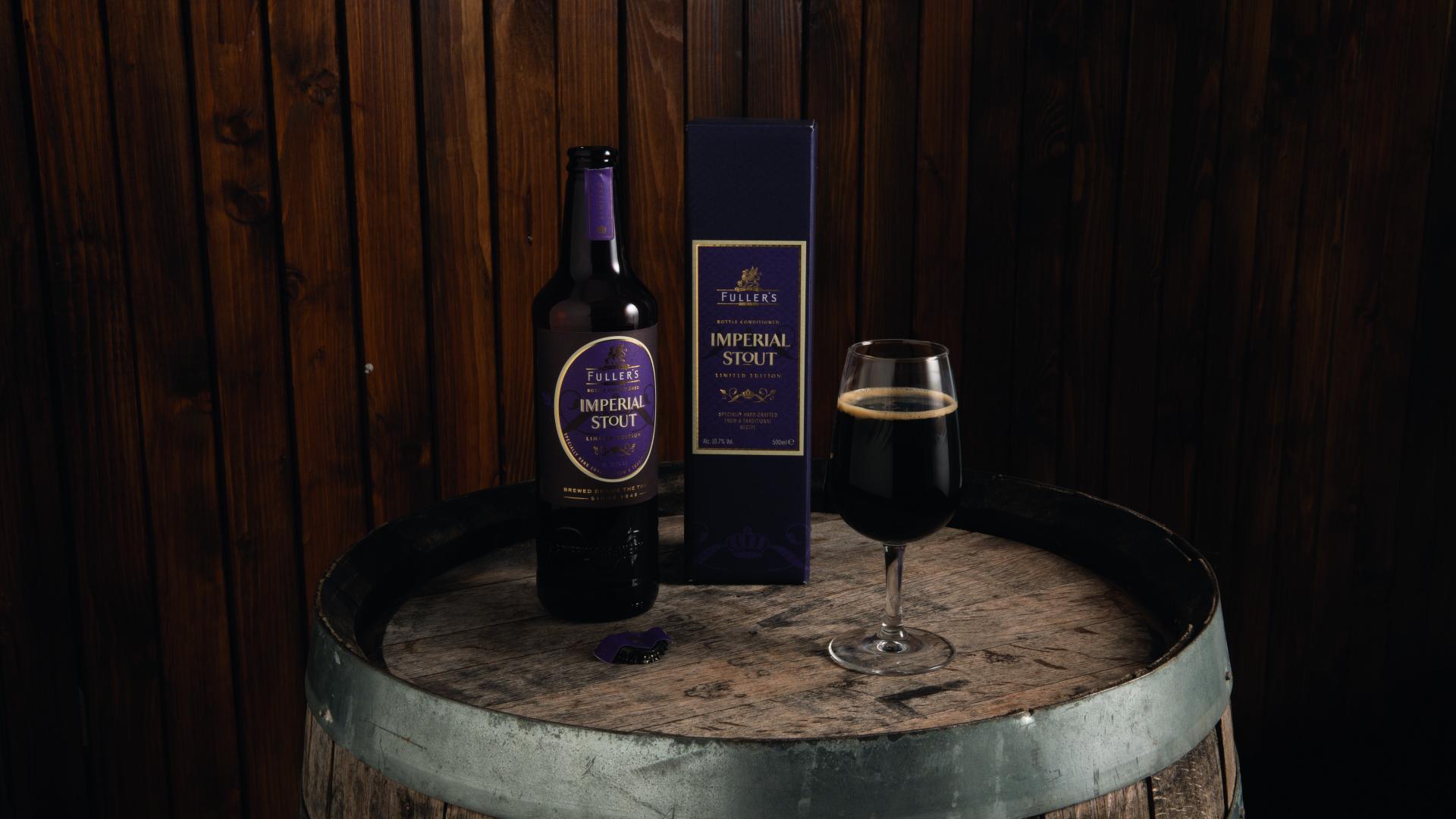 When it comes to Christmas pudding, you're going to want to pair that rich, decadent, fruity booziness with something equally bold. Stouts and porters are the name of the game here – particularly ones with coffee, chocolate or spice notes that'll help dig out the peel, brandy and dried fruit in the pudding itself. Fullers' Imperial Stout is a great one for this, with notes of cherry, chocolate and Turkish delight.
Then again, if you're still too full for actual dessert, you could just have your dessert in a bottle. There are tons of breweries making adjunct-laden stouts that are full of puddingy flavours, but there are few quite as popular as Siren's Caribbean Chocolate Cake series. Grab it if you see it this side of the big day.
5. Cheese and cold cuts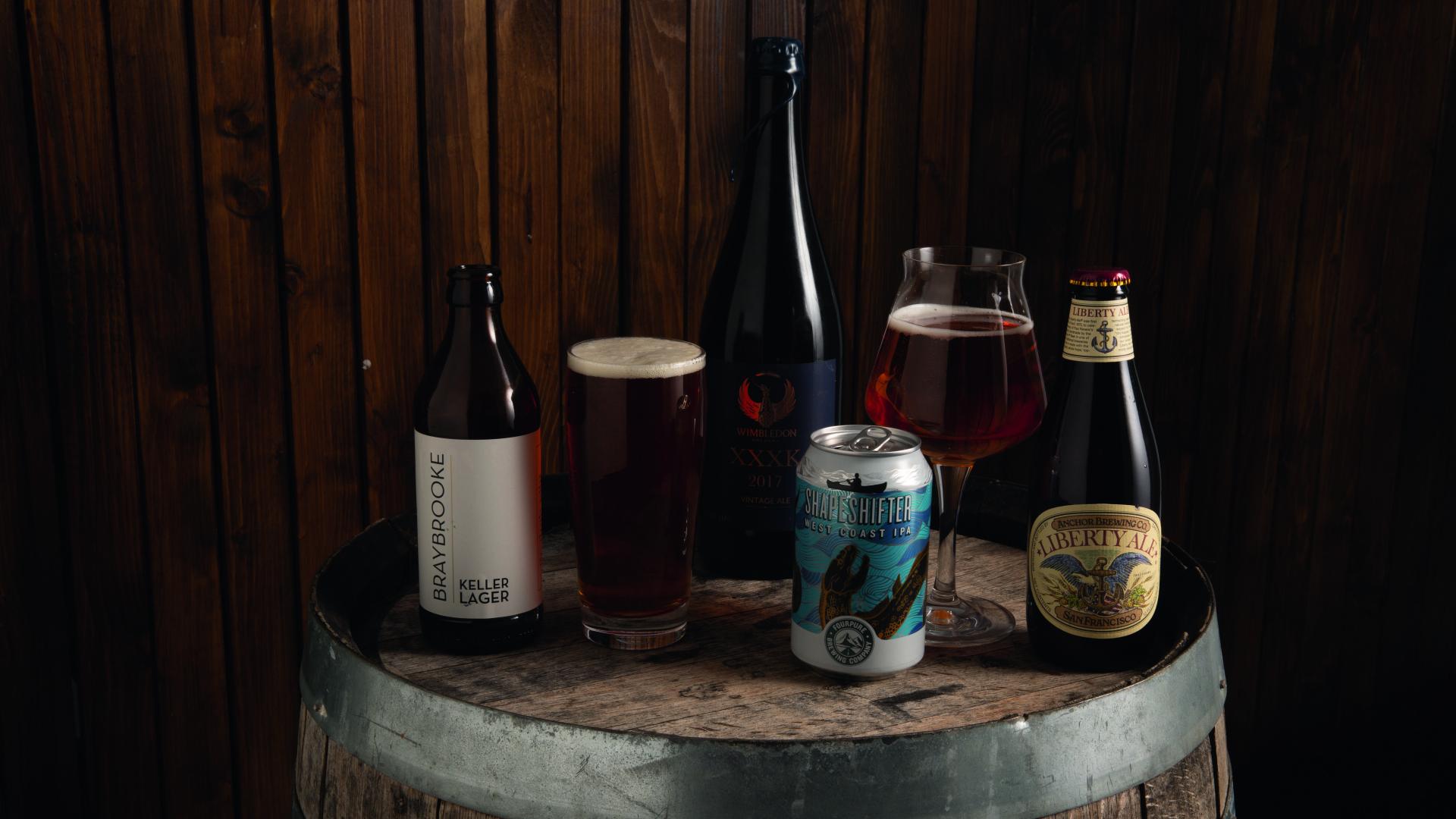 Come cheeseboard o'clock, most people turn to port or sherry as a side note to fatty brie or nutty goat's cheese, particularly if fig or date chutneys are on the table, too. In the beer world, you want to be subbing in a bière de garde, vintage ale or barley wine for those nutty, dried-fruit notes. A big, bitter West Coast IPA will stand up to the stingy tang of mature hard cheeses like cheddar, too.
Another option is barley wine, which makes for a great centrepiece with a cheese board – think of it as a beer lover's answer to port. Old Greg's Barley Wine, based on a homebrew recipe by Five Points' head brewer Greg, has been aged in red and white burgundy barrels for three years with brettanomyces yeast, giving it incredible complexity, richness and depth.
Meanwhile, if your palate's completely knackered (and at this point, we don't blame you), make sure you've got a couple of cans of a lager like Donzoko Northern Helles or Braybrooke Keller Lager hanging around. They'll go really well with some ham or leftover turkey in a sandwich.