I'm writing this column from a little tapas bar in Barcelona, my belly full of jamón croquetas and pan con tomate. I'm in town for the World's 50 Best Bar awards, the first time the event has taken place outside of London.
My whirlwind first 24 hours in the city featured a lot of bar hopping – an easy task in a place that has become famous for its plethora of incredible places to drink featuring some of the world's most influential mixological minds. It got me thinking about the cocktail scene in London: it's an ever-changing, ever-growing beast that sees Londoners remain some of the luckiest people when it comes to exciting concoctions in a glass. But where is serving up the city's best cocktails?
After Milk & Honey exploded onto the scene in the early Noughties, London's drinking culture rapidly moved on from the frothy pints and fishbowl-sized, cloying gin and tonics that had defined alcohol in the city for so long.
Londoners got a taste for good cocktails and decided that, actually, they liked them very much, thank you. Two decades later, The Connaught bar topped The World's 50 Best Bars list, so this seems like as best a place as any to start.
Famed for its roaming martini trolley and silver service, The Connaught Bar is the definition of a glamorous night out. Just one cocktail here will set you back £20, and according to most Londoners, it's worth it. Despite the hoops one must jump through to get a table – or the fact that said martini trolley has a tendency to take its time making its way to you – when one of The Connaught's friendly, adept bartenders are whipping up a martini in front of you, you'll quickly feel the rest of the world slip away (even if the bill brings it roaring back).
When one of The Connaught's bartenders are whipping up a martini from the trolley, you'll feel the rest of the world slip away
But London's best cocktails aren't simply found in the confines of gilded hotels where rooms go for multiple thousands a pop. Underneath the new One Hundred Shoreditch hotel, which rose in the ashes of the Ace Hotel, sits Seed Library, the pared-back endeavour from decorated bartender Mr Lyan. A more simple approach than his previous set ups, Seed Library celebrates the power in simplicity. It takes a real genius to make Marmite in a cocktail desirable, and yet the team here do it effortlessly. The subterranean, 1970s-style space has something of the air of a den of inequity.
Also in Shoreditch, the newly opened Silverleaf feels like exactly the kind of space you could sidle into at 5pm and stumble out of past midnight, a few new friends in tow. The cocktail menu is defined by its artwork and symbolism, making for something of an interesting experience deciphering it, but also an exercise in exploring the connection between taste and sight and sensory partnership. Take the Pineapple & Miso cocktail, for example. What sounds like it might overwhelm instead delights, the perfect sweet spot between sweet and salty.
Up the road in Bethnal Green sits a trio of incredible spots: Coupette, where the Champagne Piña Colada has quickly become a cult classic; The Sun Tavern; and Satan's Whiskers. Defined by their unique individuality, these cocktail bars all feel decidedly different despite their proximity to each other. Satan's Whiskers is never not buzzing, and the cocktails are criminally good value. This is a bar that celebrates drinks-making in its purest form, eschewing clarifications and foams in favour of great classics and new-recipes done expertly.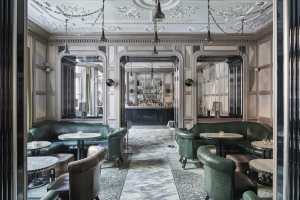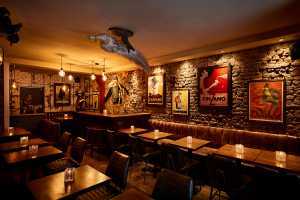 You've got Tayer + Elementary on the Old Street roundabout, a haven from the neverending roadworks outside. It's a dual-concept space, offering a bar within a bar. The front room is an accessible bar where pre-batched cocktails save on time and waste, while the back space allows them to flex their creative muscle, producing inventive cocktails that push the boundaries of what it means to drink alcohol. It's an approach that won them the second place spot on Tuesday night's 50 Best Bars. Other London outposts that featured include the perpetually delightful Swift, a bar that manages to feel both classic yet modern and forward-thinking, and A Bar with Shapes for a Name, an otherworldly, Bauhaus-inspired space that plays with colour and texture and inspires this funny feeling in you of being somewhere special.
Is right now the best time to be a cocktail drinker? I don't know. I think it is? In my first week at Foodism I went on our Five Drinks photoshoot and interview with Ryan Chetiyawardana (aka Mr Lyan). Listening to him speak about his creative process, the intention behind his drinks and mixology in general was one of the most educational experiences of my life. The thought and immense imagination that goes into his drinks was akin to a Michelin-starred chef. Cocktails have a tendency to be overlooked, overshadowed by food and 'academic' alcoholic drinks like wine. But thinking about the best cocktail bars in London – and the world – right now, it's fairly clear that mixology is something to take seriously.
Find out more at 50bestbars.com