"It's the one day when everyone and everything, from adverts to music to product labels, is telling you that you should be having a fab time, surrounded by friends and family," says Caroline Billington. A former community bus driver and the founder of charity Community Christmas, Billington is speaking to me in a snatched half-hour before her seasonal volunteers arrive, when they'll begin the logistical marathon that ensures 500-odd elderly people don't have to be on their own for Christmas Day.
We speak on the eve of the John Lewis Moz advert; the 'Boxing Day' of M&S's Paddington, and the clock is ticking for Community Christmas to spread the word about the various lunches and afternoon teas happening for the elderly around the country. "Christmas is different," Billington tells me. "No one says 'Right, this is the last 15th of November I spend by myself,' but people are far more likely to reach out come Christmas." It's in this spirit that she and thousands of others set out to share the comfort and joy so many of us take for granted, with those for whom such feelings are all too rare.
'Tis the season – not just to be jolly, but to be generous to the carol singers, the tin shakers and the Christmas sandwich makers. Charles Dickens had it right when he had Scrooge send the Cratchits a prize turkey at the end of A Christmas Carol: I might be (read: am) biased, but I would argue that nowhere is the festive spirit of generosity more obvious than in the world of food.
Maybe it's the late nights – it's harder to ignore those sleeping in doorways and bus shelters when you're walking home after the dinner shift. Or perhaps it's because "people from all walks of life end up in hospitality," says Glenn Pougnet, director of the charity StreetSmart, "and they get it." StreetSmart, too, capitalises on Christmas – if such a word can be used to describe a campaign that has, in 20 years, raised over £8.2m for homeless and vulnerable people and helped thousands into regular employment.
We meet in the House of St Barnabas: a private members' club and social enterprise tucked inside an unassuming townhouse on Greek Street, in the middle of Soho. Pougnet is characteristically generous with his commendation of the place: "This is a real social enterprise. It is a living, breathing club, which trains formerly homeless people in catering and hospitality, and employs them before finding them employment elsewhere." He smiles. "Obviously I'm here to talk to you about StreetSmart – but I wanted to bring you here because we support it, and it gets brilliant results."
In three years, out of 128 people enrolled in their programmes, 100 have gone on to full-time employment. It might not sound like a lot, but this is a comprehensive, holistic system – and, what's more, it's one of 50 that StreetSmart supports every year.
Nowhere is the festive spirit of generosity more obvious than in the food world
The StreetSmart premise is very simple. For every delicious meal you enjoy at participating restaurants between now and Christmas, you can opt to pay £1 on top of the bill. This money goes to StreetSmart – whose administration costs are fully covered by Deutsche Bank – which redirects it into projects in the surrounding area. "In Islington, the funds raised go to projects like Margins, a catering training programme which employs people in Union Chapel. In Hackney, it goes to Hackney Families Project; in Spitalfields, Cafe from Crisis." The causes StreetSmart supports are invariably grassroots ventures: small, targeted charities with low overheads and little centralised funding.
Homelessness is no easy sell. Of course, Pougnet and his peers don't begrudge places like Great Ormond Street Hospital and the RSPCA a penny, but they're realistic about who wins out when push comes to charitable-giving shove. What chance does a rough sleeping middle-aged man have against a sick child, or an abandoned puppy? "We are in competition with other good causes, and I think it's the simplicity of StreetSmart that has allowed us to last 20 years."
Come January, restaurants have other priorities: consumers tighten their belts (or try to), and they in turn slash prices to ride out the fallow period until February. "Of course, homelessness is a year-round problem – and the money raised by StreetSmart does go to year-round projects," says Pougnet. "But in December, we know we'll benefit from the indulgence and goodwill."
It's a rationale StreetSmart shares with many other social enterprises focused on homelessness and unemployment: restaurant and training centre Brigade in London Bridge, pop-up supper club Fat Macy's, and Kitchenette Karts, which help young people on low incomes into street food businesses. And no article about Christmas, social enterprise and food-led campaigns would be complete without mentioning the Pret Foundation Trust, social enterprise and architect of the very first charitable Christmas sandwich.
Pret A Manger's rapid proliferation over the years has sparked some criticism from those who lament the homogenisation of the high street and the death of the local deli. Yet the PFT is "fantastic," says Pougnet. Set up more than 20 years ago, it has used the sales of Christmas sandwiches to help homeless people into their shops and restaurants, as well as support related grassroots charities, ever since. "During this time, it's grown from a simple 5p donation on one sandwich to donating 50p on our three Christmas sandwiches. Every year, these donations help to raise over £500,000," says the foundation's head Nicki Fisher.
"To mark the launch of the Christmas sandwiches this year, Pret celebrated 'Christmas Sandwich Eve', which fell the day before launch, and delivered the first batch of Christmas sandwiches to three of our longest-standing homeless charity partners." Though more of a local deli man himself, Pougnet "can't speak highly enough of their ability to place people in employment and get people off the streets."
Naturally, other brands have joined in: M&S, Crussh, and Boots all now give a percentage of the sale of their festive sandwiches to charity. Social enterprise Kitchenette Karts in Tower Hamlets, however, takes things a step further. Its Christmas sandwich is directly inspired by the East End's rich culinary heritage. "Our pork belly is inspired by the British pork pie, the almond dukkah from Syria, the beetroot and orange salad from South India, and the slow-cooked apples from Sri Lanka," says co-director Nathalie Moukarzel.
This is no one-off occasion: every sandwich it sells is inspired by the East End, and every penny made goes towards Kitchenette Karts' work in giving unemployed Londoners the skills they need to survive in the food industry. "The food sector is thriving: 1.5 million people in the UK work in restaurants, cafés and other food services, and it provides a fantastic route for young people from low-income backgrounds to create self-sufficient businesses." In the new year, Kitchenette Karts will hit the food markets; for now it's doing private events, and working in partnership with Luardos, Only Jerkin, Morito and St. John Bread and Wine to give trainees the support and experience they need.
Fat Macy's takes a similar tack: using the recipes of its beneficiaries, who hail from all walks of life, not to mention cultural and social backgrounds. Under instruction, they prepare and serve home-cooked food: "We often get trainees suggesting recipes they used to cook with family members or recipes from their culture," says founder Meg Doherty – and receive training and deposit payments in return. This gives young Londoners, confined to unstable, temporary accommodation, an invaluable leg up. "The benefit system works against people living in temporary accommodation, as the more you work the less you get in benefits – and because the hostel rent is over £1,000 a month people are left unable to save any money."
Doherty was working in a YMCA hostel when she observed a cookery class and saw how much residents enjoyed it; now Fat Macy's Christmas supper clubs form a special part of a rolling roster of supper clubs, events and catering. "We're putting together a Christmas menu with a twist, and hosting it in the Luminary bakery. I think people want to give something back at this time of year."
Kitchenette Karts gives unemployed londoners the skills they need to survive in the food industry
The young people at Fat Macy's will cook the main course; Luminary Bakery, a social enterprise that helps vulnerable women get into baking and business, will do pudding. "It's a lovely way to work together. They are amazing," Doherty continues. Those who can't make the suppers will find the Luminaries at Borough Market throughout December, selling breads and festive pastries. Take one home, and as you share it, share the story of the bakery, and its mission to "break the generational cycles of abuse, prostitution, criminal activity and poverty through training, community and employment".
"Food unites people, and sharing a conversation over a new dish leads to new doors opening," continues Doherty. "We feel that we can remove certain stigmas through our food and events."
It's a sentiment chef Simon Boyle was wise to when he started selling Christmas puddings in aid of Brigade, his social enterprise restaurant near London Bridge. Profits from the puds will go towards providing six months of training and work experience for those who are at risk of, or who have experienced, homelessness. "It persuades people to talk about the cause. It sparks discussion at the lunch table." Nor is that all that will be sparked, to judge by the amount of malt whisky, French brandy, madeira, sherry and ale that goes into the puddings: "they are a bit boozy," he confirms, wryly, "in contrast to what the program they support sets out to do."
Therein lies the challenge of having a social conscience at Christmas time: we want to 'give back', but that impulse is confused by guilt at our festive gluttony. "There's a Stephen Fry quote about StreetSmart connecting the citizens who can dine out with the ones for whom dining out means queuing up at food banks," Pougnet tells me dryly. "We try not to use it too often" – StreetSmart prefers the carrot approach to charitable giving – "but it is true."
Before working at FareShare, director Alyson Walsh tells me she used to donate chocolates to the charity's Christmas collections. FareShare spends the year collecting surplus fresh food from the food industry and redistributing it to places like refuges, homeless hostels and children's clubs. At Christmas it seeks to build up a store of shelf-stable products, which suppliers don't consider surplus because they've such long shelf lives. They are not, she now realises, looking for chocolates. "I just thought it was a sweet thing to do – that they would like a treat – but chocolates aren't particularly nutritious, long life or useful."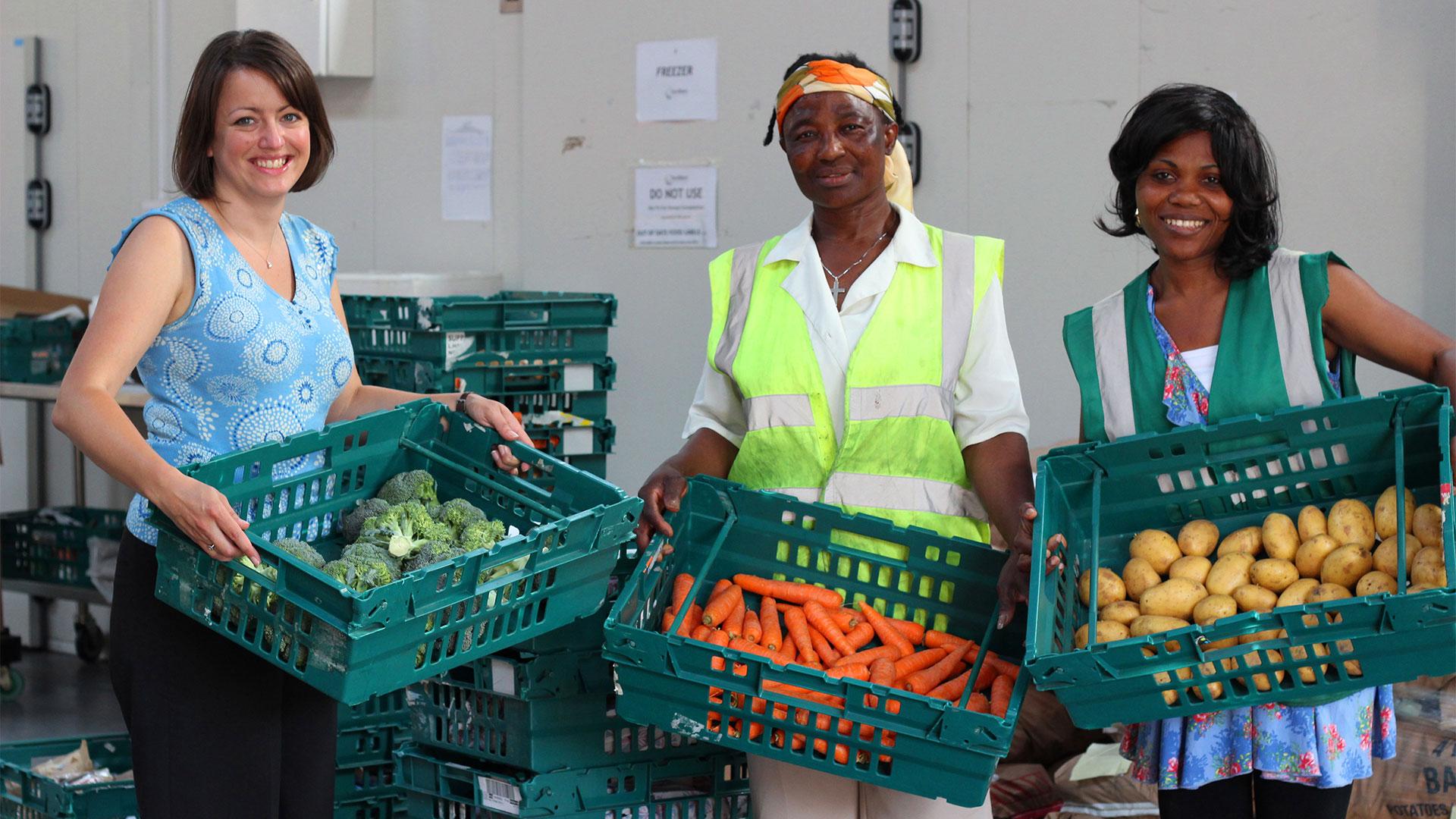 It's a common mistake – not that Walsh wants to discourage donations. Far from it: FareShare is in desperate need of both food and volunteers, but think nutrition. Think longevity. "Think about what you would get if you were stocking up your store cupboard: tinned tomatoes to make a sauce, pasta and rice to bulk out a meal – and if you are keen to get a dessert, tinned rice pudding or tinned fruit." In donating, you will be contributing toward the 28.6 million meals FareShare delivers around the country.
By volunteering three hours of your time in a supermarket this December, you could collect enough for 600 meals – and if that doesn't pique your interest, it's a fascinating social experiment, she laughs. "Some people will completely ignore you, then come back with two full baskets. Parents will try to slip past, but their kids will nag them all the way round the store and come to you with a tin in each hand." Nine times out of ten, she continues, the most generous people are those with the least to give.
I sign up as soon as I get home. Sure, it's partly to salve my conscience (I've eaten two mince pies, with brandy cream, in sub two minutes) but it's better than nothing. We can't all do Crisis at Christmas (the best-known, and most oversubscribed charity Christmas effort in London) but we can choose what and where we eat this December with compassion. We can, Billington points out toward the end of our chat, invite our elderly neighbour over for a mince pie and a cup of tea. "Christmas food is made for sharing," she says. "Turkey, mince pies, cake, potatoes – it's a great excuse to knock on the door and ask people over, under the pretext of inviting them over or asking for a recipe."
"It's around the table that the magic happens, for us. People who are well fed get on better and are more receptive to help," Walsh advises. Without FareShare's contributions, many of the charities it supports wouldn't work or exist.
It's easy to forget the end of A Christmas Carol – partly because the start is so arresting: who could forget Scrooge dismissing the ghost as a stomach complaint? "There's more of gravy than of grave about you, whatever you are!" Yet we do him an injustice: this, after all, is the character whose legacy in the story was "that he knew how to keep Christmas well, if any man alive possessed the knowledge" – and that food, from humbugs to goose, played an important role in marking his transformation from miser to altruist. Whether it's booking your Christmas do at a StreetSmart-supporting restaurant; giving to FareShare; or just making lunch a Pret or Kitchenette Karts Christmas sandwich, we could all do with aspiring to Scrooge a little bit this Christmas.