The line catches. From gazing into middle-distance at the mountains that surround us, I snap back to look into the freezing, stone-grey water below the boat; the top of my rod bends under the strain and it feels like I'm on to something big. Even for a complete novice like me, it's unmistakably not a rock – my first chance to catch a fish feels like an open goal. I focus my attention on pulling the line up steadily, and by the time the line nears the end of the spindle, I can make out a bronzey, blurred shape that crystallises as it reaches the surface. I grit my teeth. This is it.
As it breaks the water, I get a full view of the fish I've caught. I'm stony-faced, needing just to bring it level with the deck before it's helped aboard. But it squirms, somehow frees itself from the hook, and splashes back into the water. It's uncharacteristic – maybe it's my steely eyed determination not to come back from my first fishing trip empty-handed – but I don't panic; instead, like a claw machine in the bowels of a weathered British pier, I hold the line just above the fish, still thrashing no more than a metre under the water, and in a second that feels like it's going past in super slow-motion, I dip it in the water just underneath its mouth and manage to snare it again. This time I make no mistake – I reel it in quickly and haul it up onto the deck.
Bracing Arctic winds whip against my face, the sunlight just beginning to creep over the tops of the mountainous archipelagos that loom stoically around us, the boat's scythe and the churn of the sea the only things lending the serene landscape any movement. For someone who's never fished before, this is a beautiful place to start. My catch is huge and it looks like it'll taste delicious, but as quickly as my excitement comes, it's cut short – it's a beautiful fish, but Jack Robert Møller, the UK director of the Norwegian Seafood Council, can tell from a cursory glance from across the boat: it's not a Skrei.
I'm here in Sommarøy in northern Norway, an hour's drive north of Tromsø, with a troupe of chefs, among them Michel Roux Jr, Glynn Purnell, The Frog's Adam Handling, Barrafina's Nieves Barragán Mohacho and The Ritz's Young Chef of the Year, Ruth Hansom. We're on a mission to discover migratory Skrei cod, the jewel in the crown of Norway's vaunted, fruitful waters.
The country is famous for its fish and seafood, much of which is sustainably farmed, and it contributes around £8.6bn per year to Norway's famously healthy economy, providing 34 million meals around the world every day in the process. Chances are that you've had Norwegian cod before, whether it's wrapped in batter with chips or in an artful dish at Le Gavroche.
But Skrei is not a farmed fish, which is why we're bracing the winds to get a taste of the action for ourselves. To earn its title (Skrei is a classification, not a species), it must be caught in specific areas in northern Norway between January and April, when it's returning from the Barents Sea. It must also be bled quickly, and packed and processed within 12 hours of being caught, with no damage to its flesh, scales or fins. Only then is it imbued with its quality Skrei tag, elevating it from a simply beautiful product to a truly revered one.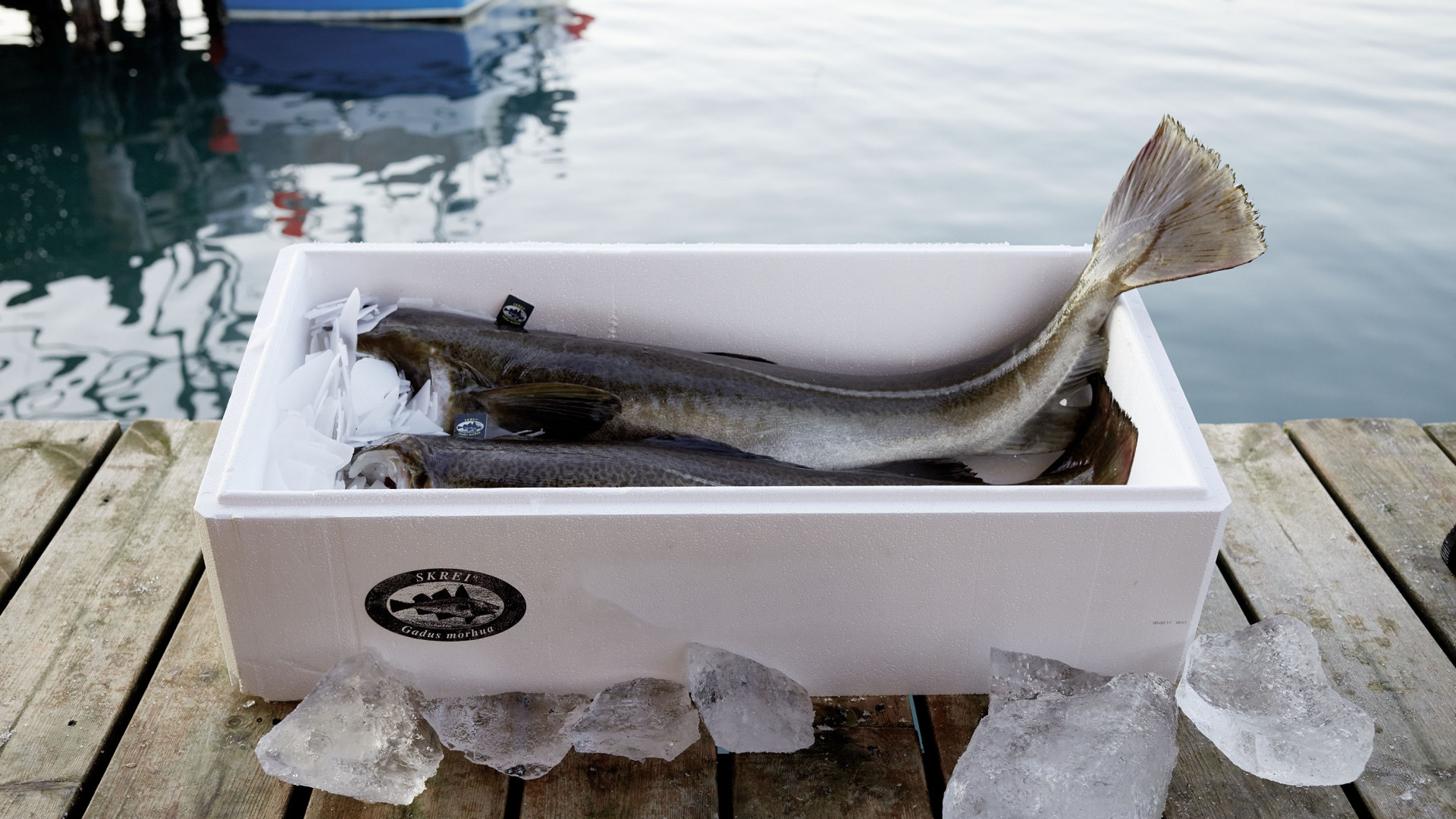 Over the course of the voyage, we hit a fair few deep-sea fish – some beautiful ling and tusk, as well as some non-migratory cod like my second-time-lucky catch earlier – but no one snares a Skrei. This is fairly standard: we're early on in the season, and it'll be a month or so before they become genuinely plentiful in these waters.
That's because, as well as being a cultural icon, Skrei is a truly seasonal product – something that's arguably still new to the British. I talk to Adam Handling when we take a break inside the deck, who asserts that "we're used to having fish all year 'round, but that's because we don't understand the sea. We don't understand fish."
It sounds crazy, given the undeniable quality of much of the British Isles' seafood. But, while restaurants are promoting the virtues of seasonal eating more than ever and consumers, too, are realising the benefits of putting sustainability and sourcing higher up the agenda when shopping, we're used to having reasonably unfettered access to the seafood we've grown accustomed to eating.
"There are certain times of the year when I don't think we should be serving certain kinds of fish," says Michel Roux Jr, who's leading the trip as an ambassador, having been cooking with Skrei for years. "Especially flat fish like sole and turbot, when they're full of roe – the actual flesh is small and not firm, because the energy of the fish has gone into producing eggs and spawning.
"Likewise with scallops," he continues. "In France, there's a scallop season, whereas here in Britain we eat scallops all year 'round. There are certain fish that spring to mind, like tuna from the Mediterranean – there's a very short window for that – which you should actually put on your menu as Mediterranean tuna. Chefs should be printing it on their menus to make people aware, and making sure their staff understand that it's a seasonal product, so that they can convey that to the customer."
He's right. For all the fuss we (rightfully) make over game season in the UK – and indeed over seasonal vegetables, too – it's all too easy to forget that fish and seafood, like anything with a life cycle, is a seasonal product. I ask Jose Souto, chef-lecturer at Westminster Kingsway College and author of the comprehensive game manual Venison: The Game Larder, to compare his experiences of game hunting with those of Skrei fishing: "It's not that different," he replies, when I catch a spare couple of minutes on board to ask how fishing in Norway compares to hunting game. "You're in an area of outstanding natural beauty," he says. "It's a natural harvest that happens at a certain time of the year, the same as with game: there's a similarity between Skrei and game. Skrei only happens at a short period in a certain time of the year, where it can be harvested, and there's a sustainable harvest of a small amount of that fish. It's all about managing the rate of consumption.
Norwegians want to manage the environment so future generations will still be able to fish for Skrei
"I always say, especially when it comes to deer management, that it's not about going out and taking every deer in the wild. It's about managing them to a state where my son and my son's sons will be able to go out there and see them. That's the same as these guys in Norway want to do: they want to manage the environment so future generations will still be able to take Skrei out of the sea."
That mentality is why the culture of Skrei – of catching the highest-quality cod at the point where it's migrating – has existed long before the era of buzzing London restaurants. In fact the villages around here have been hotbeds of Skrei fishermen since before the discovery of the New World, and dried Skrei was even used as currency on voyages. In 1816, regulations were placed on it; now, in 2017, they're working on a PGI (Protected Geographical Indicator) for Skrei.
The industry, and the culture that runs alongside it, could not have survived without an intrinsic understanding on the part of the people harvesting it that it cannot be an exhaustive practice. After the adrenaline of the boat, we go back to the Lorentzen Factory to see the packaging for ourselves. During our tour, the head of the factory – a family business since 1896 – explains that of Norway's 400,000-tonne annual quota for cod, only 10,000 tonnes were actually caught and sold as quality labeled Skrei in the January-April Skrei season. He also explains the ebb and flow of Skrei's pricing: it tends to be 20-30% more expensive than regular Norwegian cod in full season, but can be as much as 50% more depending on supply.
There are obvious parallels with the annual Almadraba harvest in Spain's Cadiz region, where, at the same point in the season every year, Atlantic bluefin tuna are redirected down a series of river estuaries before being caught in nets. It's a harvest that draws controversy because of the scarcity of bluefin tuna as a species, yet at the same time maps out a perfectly sustainable template for using the flow of the season – and centuries of know-how – to elicit the capture of a truly prized product. Thankfully, despite historical problems with cod quotas around Britain, they're not nearly as scarce as they have been; and Skrei has never had a problem coordinating supply and demand.
Considering the importance of processing and packaging to the classification, the factory has to run like a finely tuned machine. Diligent workers pack Skrei into polystyrene boxes covered in frosted shards of ice, and we see a long-standing tradition whereby children from the surrounding villages come to harvest the tongues from the heads of cod and, this being Norway, they earn a pretty tidy sum for doing so.
After our day's fishing, we head upstairs to a cosy apartment, decked out in plush sofas, and we're given woollen boots to stave off the residual cold of the factory. We partake in a traditional lunch of poached Skrei, with its unctuously fatty liver cooked the same way, cod roe 'sausages', and stomachs. Eating it is a transcendent moment; it's a chance to see the exalted fish in its purest form, and to taste a sense of its history. The Skrei's flesh flakes beautifully; the liver is nutty and buttery, more reminiscent of foie gras than irony liver.
That night, there's an assignment on the cards. We squeeze into the office canteen at the Norwegian Seafood Council's offices in Tromsø, which looks out across the city lights from panoramic windows, and the chefs are tasked with inventing a dish using Skrei and other Norwegian seafood, along with leg of reindeer and a host of fresh ingredients. Four keen students from the local culinary school are given an education in the process.
The trip – in pictures
There's a flurry of activity as the chefs set about designing and prepping dishes on the fly, and the small kitchen becomes a hive of activity. They grab products: Jose, the resident game expert, picks out the hulking reindeer leg to break down; nearly everyone else seeks out the star of the day and plans their dish around Skrei. I'll wager it's one of the only times I'll see a beautiful Norwegian king crab get upstaged, in the form of the resplendent, silvery cod. Nieves prepares cod cheeks with pil pil; Adam Handling and Ruth Hansom collaborate on a simple salt-crusted Skrei and salmon; Glyn Purnell and Luke Tipping set about making curry-spiced Skrei with fermented carrot and a prawn and crab velouté; Michel Roux Jr – with two Michelin stars, no less – takes on a salt cod omelette.
Despite the limitations of the kitchen, the dishes are as good as you'd expect from some of the country's top chefs using one of their favourite products. They're singularly delicious, inventive, and complex even when they're straightforward. They pay homage to the Skrei in a very different way to the simple, traditional dishes from earlier, playing their part in a system that elevates it from a Norwegian cultural icon to a mighty, super-premium export.
"I think it's fundamentally important that chefs understand where their food comes from," Jose Souto had told me on the boat earlier. "They shouldn't just see their produce as a 'thing'." And, after they've braved the elements to catch it, learnt its painstaking personal history, and seen for themselves how it's become a hugely important part of the very fabric of northern Norway's anthropology, it's abundantly clear that these chefs see Skrei as anything but.