Stay
The Pointer, Brill
Considering its location off the beaten track in the bucolic Buckinghamshire countryside, (as well as its close proximity to London), it'd be pretty easy to pass a gem like The Pointer by on your way to a weekend in Oxford, the Cotswolds or somewhere further afield. But here's why you absolutely shouldn't.
This intimate village boozer with rooms has recently been named Michelin Pub of the Year 2018, and a lot of that pedigree is earned by dint of the fact that its food comes straight from the farm of owners David and Fiona Howden, which is situated two miles away in the nearby village of Ludgershall.
Brill
Population: 1,141
Area: Aylesbury, Buckinghamshire It's only around an hour and a half away from London, but this pretty little village is a suitably scenic base for a weekend out of town, with a surrounding area that's ripe for exploring, too.
Getting there: The best way from London is by car, and it's around an hour-and-a-half drive. Alternatively, get the train to Haddenham then catch a bus.
Once you've been guided through the village pub frontage, ducking below beams and peering through the lively kitchen pass, you'll find yourself in a cosy converted barn out back, chomping your way through a carefully balanced menu that pushes pub grub to its absolute limit without making anything seem inaccessible.
From the local sourdough and beef dripping butter at the start of the meal to the foamy toffee sauce on the medjool date pudding, everything here is bold, simple, and executed to perfection. But before you galumph it all down your gullet at once, bear in mind that The Pointer Farm is most famous for its pork and longhorn beef. Do with that information what you will.
Rooms from £120 per night. 27 Church Street, Brill, HP18 9RT; thepointerbrill.co.uk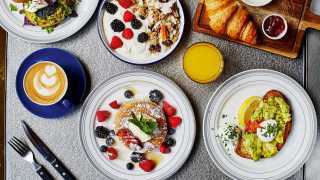 Eat
Farmshop Bicester
Here's a little game I like to play: say the words 'Bicester Village' to a Londoner, then look directly into their eyes and try to gauge the feelings the mere mention of the UK's biggest designer outlet centre conjures in their mind. In some, there's a glint of joy that can only be derived from bargains of the 40% discount variety; for others, it's a moment of hollow, grey-eyed horror as they're transported back to the queue for the Prada concession store at 10am on a Saturday two weeks before Christmas.
Nowadays, I get a lot less of that sullen, washed-out response, probably because Soho House has set up shop with a 240-seater café-restaurant right in the middle of things. Combining a menu of simple, hearty British pleasures and bringing £8 cocktails to the party, it's a more than adequate salve to an afternoon of elbows-out, eyes-on-the-prize Christmas shopping. Consider it an early gift from us to you.
50 Pingle Drive, Bicester, OX26 6WD; farmshopbicester.com
Shop
The Butchers
For the last 13 years, David Howden and rearing, farming and butchery whizz Jon Wilkins have been building up a thriving herd of English longhorn cattle and rare-breed British pigs at The Pointer Farm. So, not content with filling the pub's menu with the good stuff, they set up a butchers next door that sells joints of meat, locally sourced charcuterie and more, as well as supplying two local primary schools with lunches each day. You'll also find the very best of the rest of the Aylesbury area's farm produce in store, which means your home cooking game will be right, er, on point.
24 Church Street, Brill, HP18 9RT; thepointerbrill.co.uk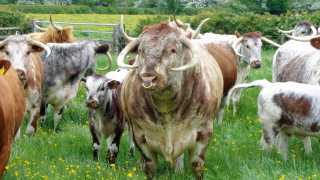 Brill Farmers' Market
Although it's home to only a few more than 1,000 people, the village of Brill has a thriving food scene. Head to the farmers' market outside The Pointer on a Saturday morning and you'll see it at its best. This hive of local suppliers selling seasonal, artisanal produce is the final piece of the farm-to-fork jigsaw set up by the Howden family since they got hold of the pub back in 2012. If you fancy a tipple to take home, meanwhile, there's also Vale Brewery a mile out of the village, which is rough, ready and home to a very well-stocked bottle shop with a distinct, pungent aroma of ale – which we've decided is probably a very good thing indeed.
Church Street, Brill, HP18 9RT
Want to explore more of the UK and beyond? Click here to read more of our food-led travel guides.