Your morning cup of joe is as essential to your daily routine as checking Instagram and brushing your teeth. Heck, that daily java juice pushes you through many a tedious work meeting, early start, gym session and seemingly-never-going-to-end afternoon.
You know that there's nothing worse, then, than a sub-par mug of coffee; than that steaming hot mug that promises hope, revival and happiness delivering disappointing, unduly upsetting, liquid. You know the sort: burnt beans, overly watery or seriously milky. Or, totally other end of the spectrum: eye-wateringly, up-the-nostrils and burn the oesophagus kind of strong.
Nobody has time for bad coffee. So, as coffee culture establishes itself within London more and more, Foodism brings you our guide to the best coffee in London to guarantee you never drink a bad brew again. That is, bar those desperate mornings when there's only time for instant granules. Cry.
Where to get the best coffee in London: 12 to try
1. Department of Coffee and Social Affairs
Where? Various locations, including Soho, Paddington and City
With most joints split into a brew bar and espresso bar, you can tell the Department of Coffee and Social Affairs team are serious about coffee. For a smooth and creamy flat white, built from espresso up, and a locally baked pastry, you can't go wrong, and the bare-bricked, minimalist cafes provide the perfect spot for working, relaxing or just taking five. Top tip: make sure to ask for your brew extra hot if you're particularly fussy about temperature - their coffee has been known to come on the cold side.
2. Tap Coffee
Where? Various locations, including Fitzrovia, Marylebone and Covent Garden
If latte art be the food of love… you'll want to try Tap Coffee. They now have various locations across the City ready to provide you with your caffeine high from their Probat roasters in the most ambient and relaxing of settings. Think plenty of exposed wood, hanging light bulbs and nooks to work away an afternoon in.
Plus, if you're a die hard coffee fan, they were one of the OG shops serving blends from a variety of different roasters and offering filter offerings, free house style. Best coffee in London? It could just be. Not to miss.
3. Kaffeine London
Where? Various locations, including Marylebone and Fitzrovia
In 2009, Kaffeine opened the doors to its first location with just three staff members and a vision: to become one of the pioneering coffee joints in the London.
And that they have: now with two bustlingly-busy cafes and nearly 15k Instagram followers, the joint has become iconic for its nutty coffee blends and iconic yellow neon signs. Be ready to elbow your way to a table, as the Kaffeine locations are always jam packed with punters enjoying flaky pastries, charcuterie-stuffed sandwiches and piping hot cortados.
4. Monmouth Coffee
Where? Various locations
You'll likely have heard of Monmouth Coffee as one of the longest established coffee spots in London. It opened its doors as the City's first independent roaster in 1978 and has been up there as a contender for the best coffee in London ever since.
To try Monmouth's single cone or espresso-based filter coffees, head to any of the three sites. The Covent Garden branch, albeit a little small, is its original stomping ground, and its Bermondsey roasters offers a truly immersive experience (the clue's in the name). Not got time to drink in? You can grab a bag of beans in their stores and enjoy that beautiful, beautiful coffee at home, too.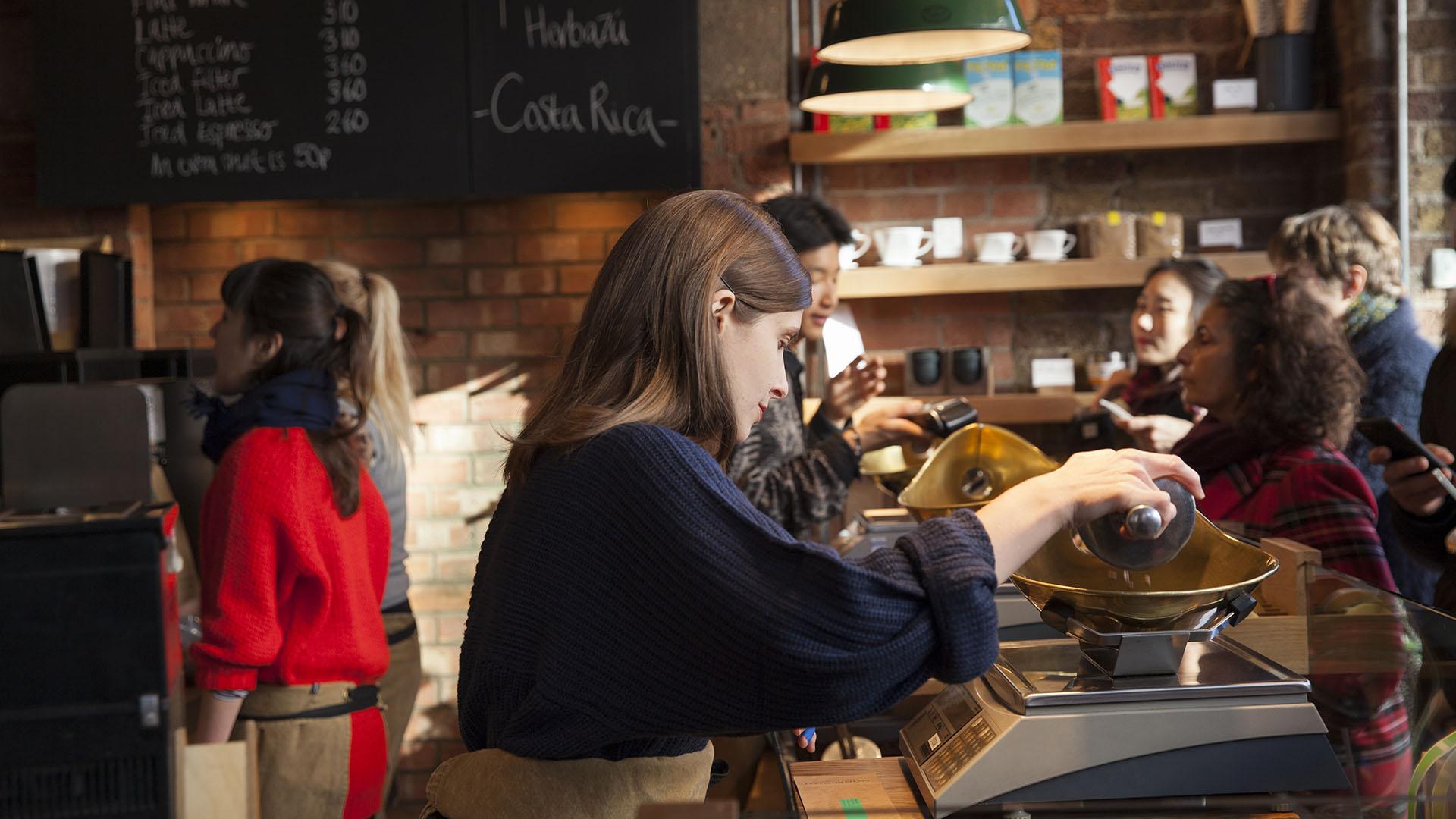 5. Workshop Coffee London
Where? Various locations, including Marylebone, Holborn and Fitzrovia
Proud baristas greet you with open arms at Workshop Coffee, where you can enjoy a deliciously smooth AeroPress blend in the sunshine at any of their four London locations. These guys are serious about the beans they source and serve; they constantly travel the world in search of the perfect find, frequently bringing new blends to London that have never been served before. Plus, they've got La Marzocco Linea PB machines for all your espresso dreams and a full fleet of Aeropresses ready to serve your morning mug in every store. Oh yeah.
6. London Grind
Where? Various locations, including Angel, London Bridge and Exmouth Market
You'd think that a coffee branch that serves 200 cups of coffee an hour may skimp on quality in some areas – you know, settle for sub-par roasts, slightly lukewarm serving temps or (god forbid) chipped mugs.
And sure, Grind chains across London seem to be popping up as frequently as Prets, but it's pretty good going for an independent chain that started life from a Crowdfunder campaign. Head to any of the (many) locations and you'll be greeted with neon signs, pastel pink walls and a creamy Mexican and Guatemalan roasted blend of coffee, exclusive to Grind – no chipped rims in sight. Plus, they do pretty neat after work cocktails, too. We'll drink to that.
7. The Wren Coffee
Where? 114 Queen Victoria Street, EC4V 4BJ
Fancy enjoying a cuppa in the soothing beauty of the Christopher Wren church? The Wren Coffee shop near St Paul's is pretty special – not only because it serves delicious Caravan roasters coffee, but because it's nestled inside St Nicholas Cole Abbey. Expect stained-glass windows, hanging chandeliers and delicious cake to accompany your brew. If that's not how to enjoy the best coffee in London, we don't know what is.
8. Four Corners
Where? 12 Lower Marsh, SE1 7RJ
You know those days where you just want to get away? Yeah, those ones. Rather than book a sporadic trip you can't afford or waste hours aimlessly scrolling Skyscanner, Foodism suggests you head to Four Corners. It's travel-themed, with maps of the world plastering the walls, guide books stacked high for you to read and 'passports' (read: loyalty cards) ready to be stamped for next time, meaning you can escape London without going further than Waterloo.
Aside from the funky theme, it's won many glowing reviews for the quality of its coffee over the years – they serve ozone coffee in big mugs that require two hands to pick up. For £2.50, in London? Alternatively, find Uncle Steve – a little plastic figure – and you win a free coffee. Now we're talking.
9. Whoa Coffee
Where? 124-126, The Cut, SE1 8LN
That coffee habit of yours can be awfully expensive – chug the best coffee in London everyday and, well, you do the maths. £2.80 every morning, five times a week, 52 weeks a year... But not at Whoa. Head to the former Llewellyn Alexander gallery to quite literally 'Whoa!' your way through their menu, where all drinks are priced at £1.50. Whoaaaaa, indeed.
10. Allpress Espresso Roastery and Café
Where? 55 Dalston Lane, E8 2NG
The OG Michael Allpress (yes, that is his actual name) launched his much-loved espresso cart in New Zealand thirty years ago, roasting coffee in the back of his garage and delivering it to locations around Auckland. Since then, they've expanded to launch over 1,000 independent cafés around the world, including a converted joiner's factory in Dalston location. Edgy? Check. Excellent coffee? Check. What's not to love?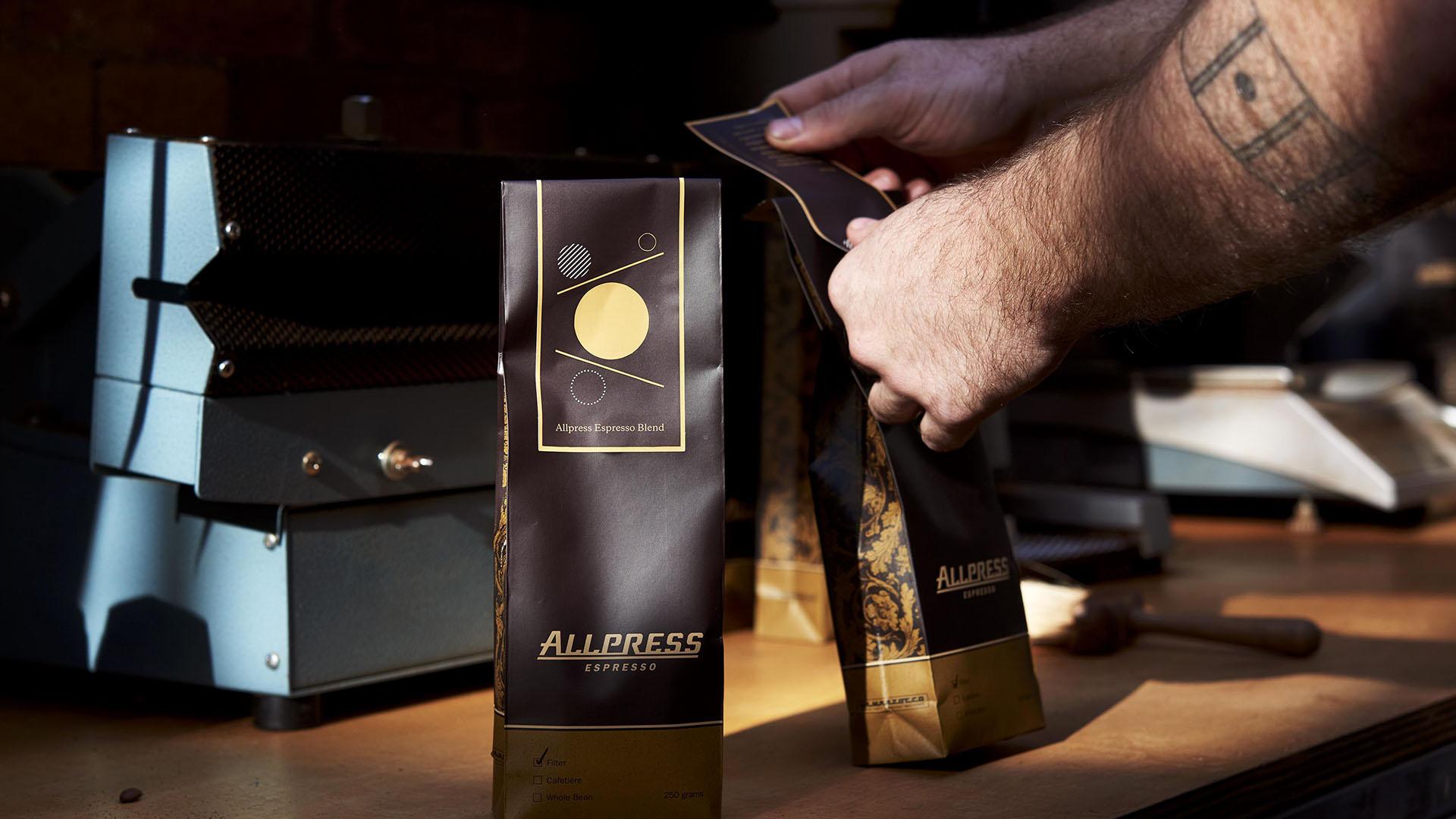 11. E5 Bakehouse, London Fields
Where? 395 Mentmore Terrace, E8 3PH
You may have guessed from the name that E5 Bakehouse is, first and foremost, a bakehouse – it doesn't take a genius to work that out. But alongside its baked-to-perfection sourdoughs, pastry swirls and cakes, the Hackney-based team serve their own small batch roasted coffee, E5 Roasthouse. No surprise, it's delicious, and the perfect compliment to warm, crunchy sourdough slathered in their homemade jam.
12. Caravan
Where? Various locations, including Kings Cross, Bank and City
They source, roast and supply the beans for many coffee spots across London, so you know Caravan roasters know their stuff. They may be another Kiwi-owned and run London coffee joint, but their daily special roasts are worth the visit alone.
And that's before we even go into their seriously good brunch and dinner offerings – buttermilk vanilla hotcakes smothered in date butter, maple syrup, double cream and thick-cut bacon, anyone? Head down to Granary Square for a damn good coffee overlooking the colourful houseboats of Regent's Canal and Central Saint Martins art school.