With fool's spring behind us, and proper spring in full swing, the whiff of outdoor dining season is finally in the air.
London is one of the greatest cities in the world, a place where destinations abound and it's hard to find a minute to be bored. But, it is a city still almost painfully built for winter weather, despite the fact that every year summer continues to prove that it offers us at least 3.5 sunny days.
All jokes aside, there is nothing better than pulling up a seat outdoors and enjoying your meal in the heat of the midday sun, or under the last, lingering rays as it sets. London is a joyous city to watch go by, and it's at its best in the summer, when the trees are full, the sky is blue and the pavements seem to be thrumming with an almost tangible energy. Even the slightest hint of sun seems to pull Londoners from their burrows, leaving no patch of grass, park bench or restaurant terrace empty.
When it comes to finding these terraces though, well, that can be a little more difficult. As a city that seems to continuously be thoroughly underprepared for the sun, it is often just your local pub or watering hole that has a capacious outside space, one that is probably packed full of your neighbours like sardines in a tin can as soon as the clouds pass. If you fancy sitting down for a meal in the sun, your options can run a little thin.
Never fear, though, we're here to run you through our pick of the best places to dine outdoors in London – no wobbly sidewalk table to be seen. Everywhere on this list has a sizable, dedicated outdoor dining space that will have you slipping away into that holiday feeling – cold beverage mandatory.
21 of the best outdoor restaurants in London
Seabird at The Hoxton
40 Blackfriars Road, SE1 8PB
If there ever were a space to escape the humdrum of daily life without, you know, actually being able to escape, the terrace at Seabird is it. Perched atop The Hoxton's Southwark outpost, the sun-drenched space is practically begging for a chilled glass of wine on a summer's day. We truly cannot think of a place more perfect to raise a toast to the beginning of the end of lockdown (and neither can the rest of London, it seems – if you manage to get a reservation any time soon, you better bloody take it). Spanish-Portuguese-inspired small plates add to the holiday vibes: octopus in a brioche roll, razor clams and London's longest list of oysters will transport you to a land far, far away.
Bentley's Oyster Bar & Grill
11-15 Swallow Street, W1B 4DG
Is there anything more likely to lull you into a false sense of holiday mode than a seafood feast al fresco? We think not. Sitting outside with a cold glass of white and a plate of crustaceans in front of you at Bentley's Oyster Bar is about as close as you can get to a holiday state of mind in the middle of the city. The staff will probably talk you into staying for at least two more drinks before you head off, and why not let them? Go on, you deserve it.
Sager + Wilde Paradise Row
250 Paradise Row, E2 9LE
Arguably one of London's largest outdoor dining spaces, the terrace at Sager + Wilde on Paradise Row is best during the day when the sun hits it at a perfect angle. Separated from the round and surrounding venues by a range of potted plants, it gives the effect of lounging in some Tuscan corner, if you can ignore the sirens and horns of Cambridge Heath Road and the chatter from other fairweather revellers. Sitting here, looking out at the gardens with a glass of natural wine and a plate of pasta is almost as good as it can possibly get in the heart of the city.
The Culpeper Rooftop
40 Commercial Street, E1 6LP
The Culpeper has a committed approach to sustainability, incorporating it into their dishes and ingredients alongside hosting a series of talks on regenerative agriculture throughout the winter. They're continuing this theme with their seasonal rooftop. Each year it has a different focus, and this year it's 'Regen Rooftop'. The entire menu aims to showcase farmers and suppliers who follow regenerative techniques, and the rooftop itself plays host to a garden that supplies ingredients for both the kitchen and bar. Oh – and it allows you to take full advantage of the balmy weather, its rooftop location meaning you won't lose any rays as the day goes on.
Parrillan
Coal Drops Yard, Stable Street, N1C 4AB
Anything the Hart Group does tends to turn to gold, and Parrillan is no exception. Focusing on fire-based cooking (the name comes from the Spanish word for grill, parrilla), the restaurant occupies an upper level at Coal Drops Yard in Kings Cross, with an enormous outdoor space perfect for soaking up the sun. The food seems designed for long, languorous al fresco meals, with a Spanish focus that will transfer you right to the country's golden shores.
The River Cafe
Thames Wharf, Rainville Road, W6 9HA
It would be hard to find a restaurant in London more synonymous with outdoor dining than The River Cafe. Sitting on the banks of the River Thames in Hammersmith, it's a restaurant that has as much outdoor space as it does in, and is perfectly suited to long Italian lunches under the sun. Although, it might be one to visit on pay day when the bank account is feeling flush – these are west London prices after all.
Luca
88 St John Street, EC1M 4EH
Luca serves up some of the city's best Italian food. Quietly holding its own in Clerkenwell amongst a frenzy of new openings and closings and the neverending cycle that is the restaurant industry, it is a restaurant that has more than earned its moniker as one of London's classic eateries. Experienced guests will know that it hides a little secret inside its unassuming frontage – no, not the Tardis-like space, but rather, the dinky internal courtyard, an glass-roofed cobblestone space rife with foliage that makes you feel like you could be hidden in the backstreets of Florence.
Towpath
42 De Beauvoir Crescent, N1 5SB
Ah, Towpath. Appearing along the Regent's Canal like an oasis on the desert, it's the kind of place that has to be seen to be believed, and dined at to be understood. A ramshackle set up quite literally operating out of a hole in the wall, Towpath is a prime example of how simplicity can be key to a good meal. Famed for its low-fuss, highly delicious meals, it's a cafe that punches way above its weight. Whether you stumble upon it while strolling the towpath or seek it out on purpose, you're likely to have one of the best meals in recent memory.
Ombra
1 Vyner Street, E2 9DG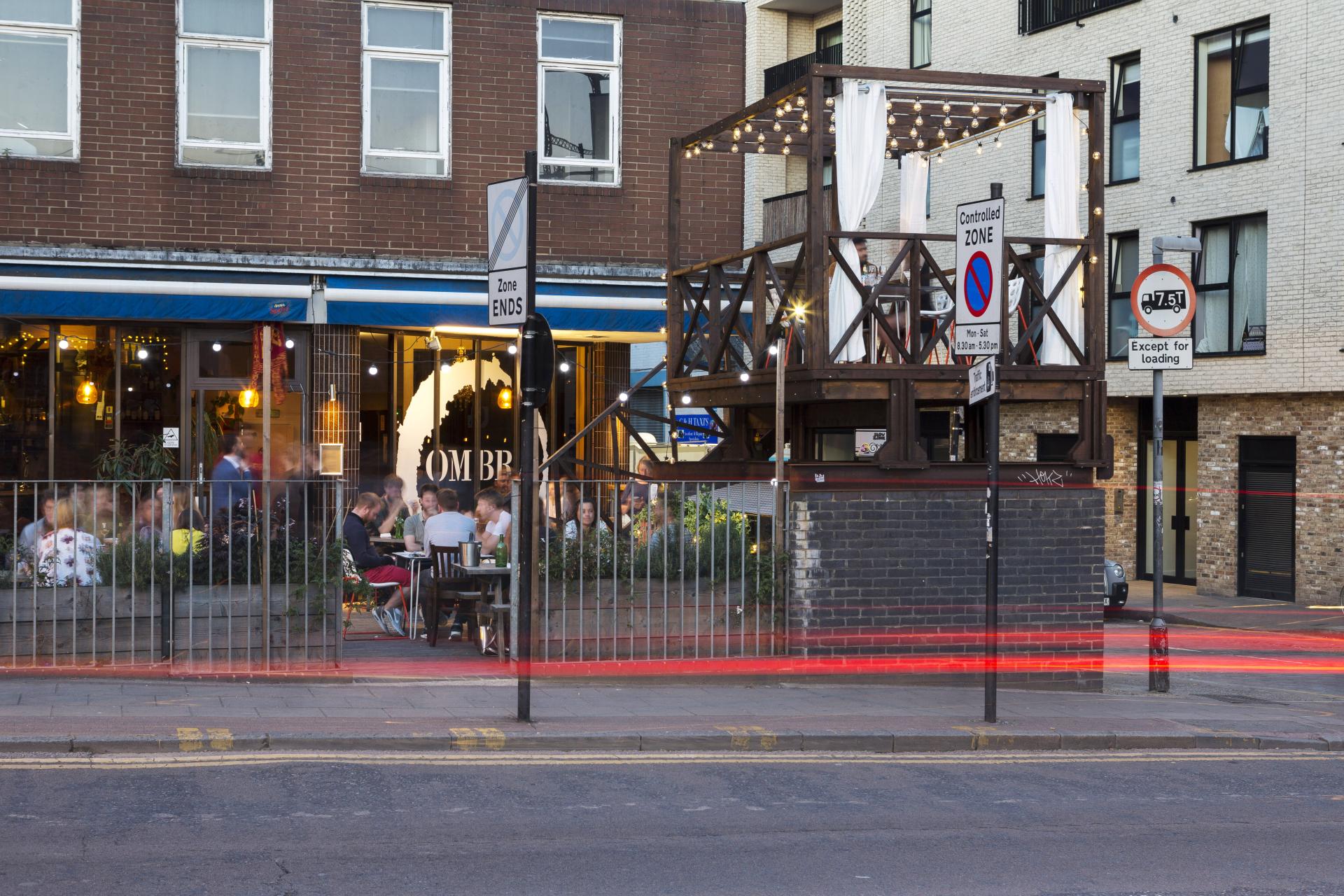 In our humble opinion, pasta is proof there is a god. If we could eat penne for every meal, we absolutely would. Breakfast bucatini anyone? Enter Ombra, Hackney's favourite Italian restaurant, pastificio and alimentari, which, for those of you who don't speak Italian, quite literally translates to pasta factory. Making full use of its riverfront location on the south side of Regents Canal, Ombra marries British produce with Mediterranean charm and will have room for more than 30 diners on its terrace. 
Crispin
Pavilion on The Corner, White's Row, E1 7NF
Sometimes when we're feeling hungry, or sad, or a bit of both, we head to Crispin's Instagram account. Scrolling through the feed of vibrant small plates and sourdough pizzas, chilled glasses of wine and baked goods reminds us that there's good in the world; there's delicious food out there to be eaten; and happier times were here before, and will be again. So it makes sense that one of our first ports of call when it's sunny would be the Spitalfields restaurant, to sit on the terrace and actually shove these elegant dishes right in our face. 
Pastaio
19 Ganton Street, W1F 9BN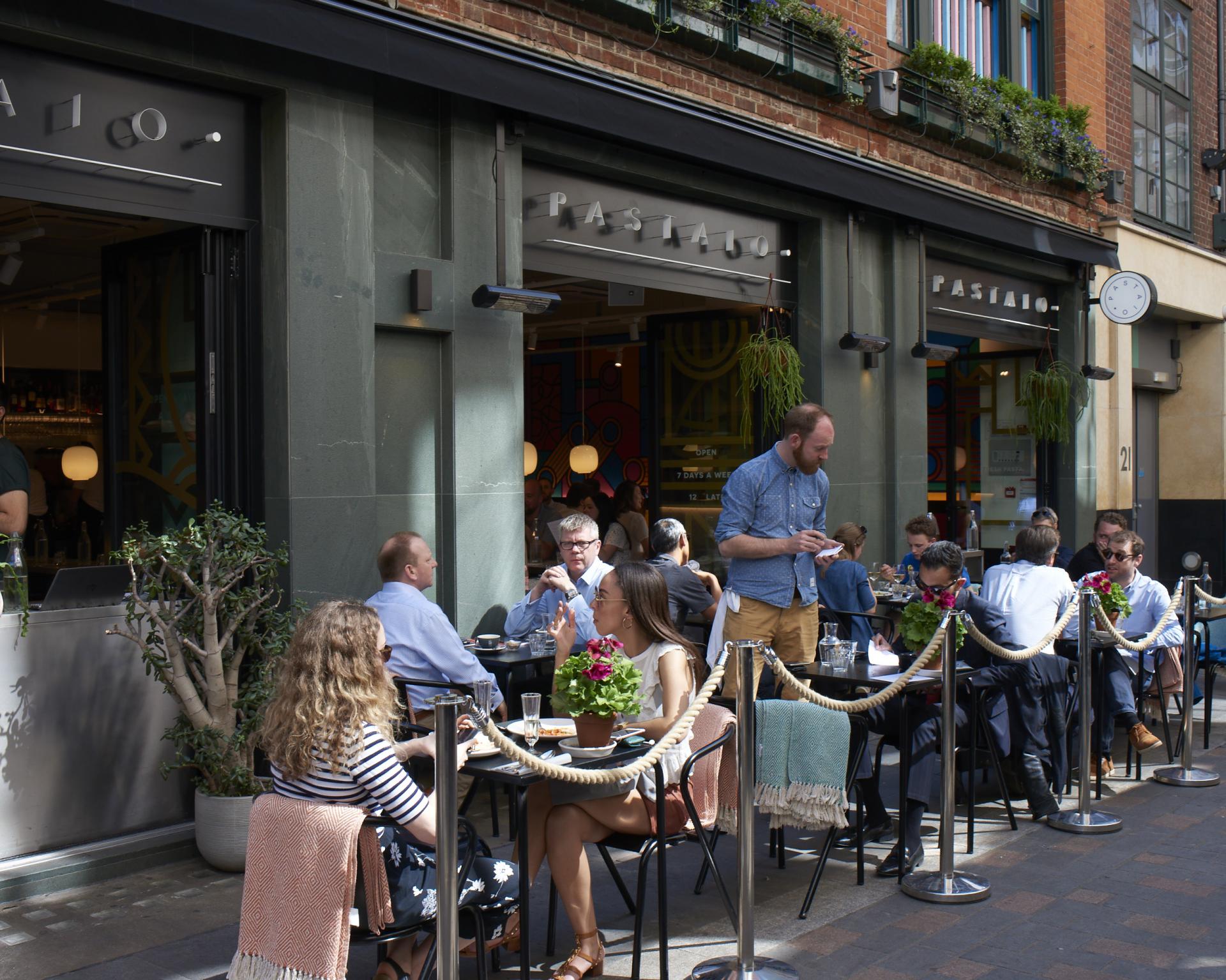 Let us guess: you're looking for a bookable alfresco space at a centrally located restaurant with reliably good, please-all food (including catering to various dietary requirements) that gives you seriously good bang for your buck. There's probably nowhere that fits the bill as well as Pastaio Soho, where you can hoover up 30 egg-yolk tagliolini pasta with five grams of fresh white truffle, or velvety agnoli folded over a gamey filling of pheasant, rabbit and pork. There's antipasti if pasta isn't quite going to cut it, plus prosecco slushies – seriously, don't knock 'em till you've tried 'em.
Smoking Goat
64 Shoreditch High Street, E1 6JJ
Smoking Goat gets its name from its unique mix of smoking and barbecuing techniques infused with Thai cooking. A 60-seater heated and covered terrace is the place to be in the coming months, made all the more tantalising thanks to a selection of new Northern Thai dishes: carnivores can expect aged mutton laab muang or prik laab of chicken, while those looking for fish should opt for the mouth-numbingly spicy and garlicky clam som tum, using critters locally sourced from Cornwall.
Smokestak
35 Sclater Street, E1 6LB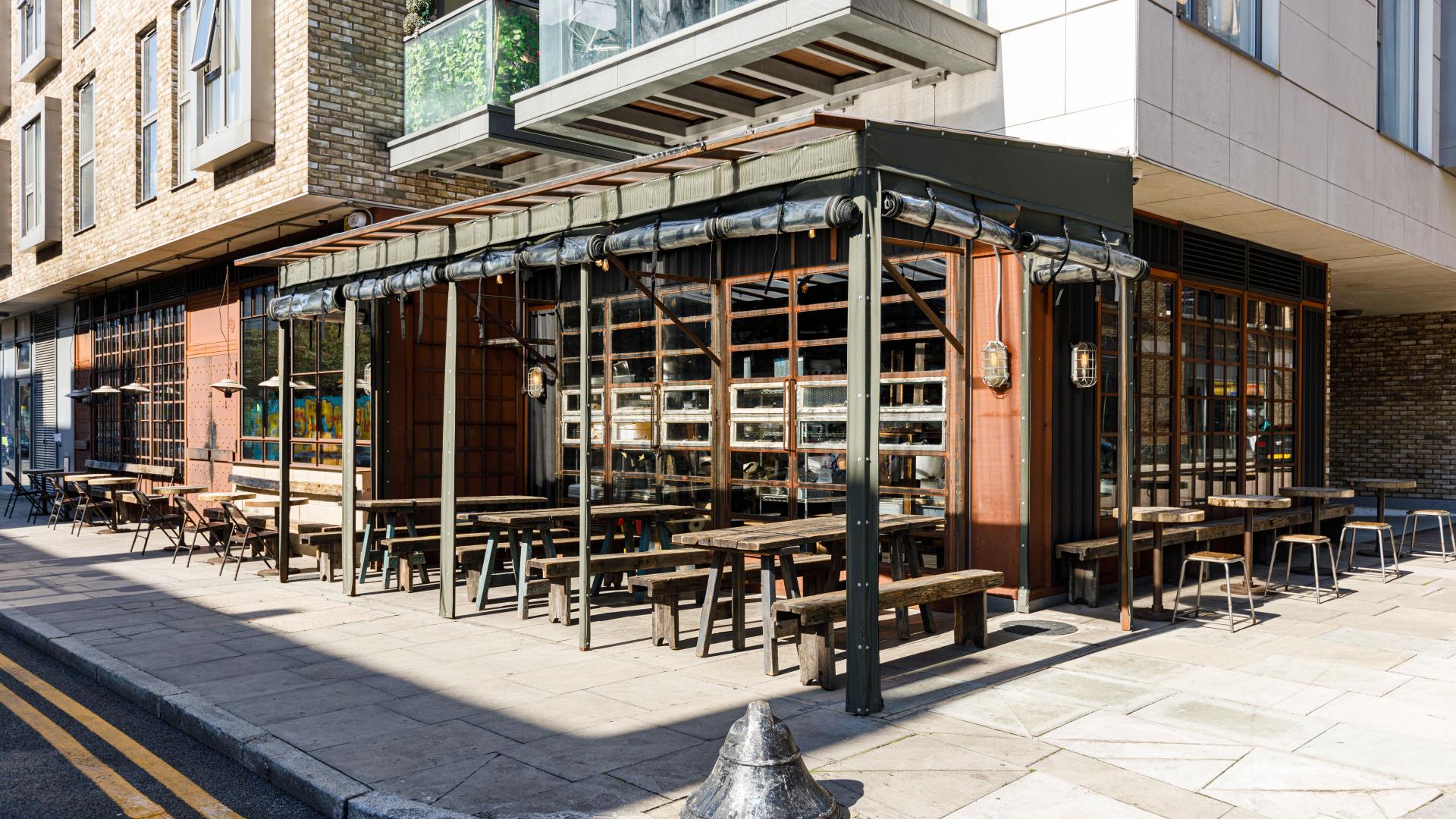 Why sweat over a hot barbecue when someone is willing to do it for you? As the name suggests everything at Smokestak is either barbecued or smoked, and quite frankly, it all looks smoking hot. Think brisket and pickled chilli buns, 30-day dry-aged beef, crispy ox cheek and coal roasted aubergine, amongst other finger-lickin' treats. These BBQ masters always have some terrace action on the go and now, it's covered and heated too, and even has space for walk-ins.
Petersham Nurseries
Richmond and Covent Garden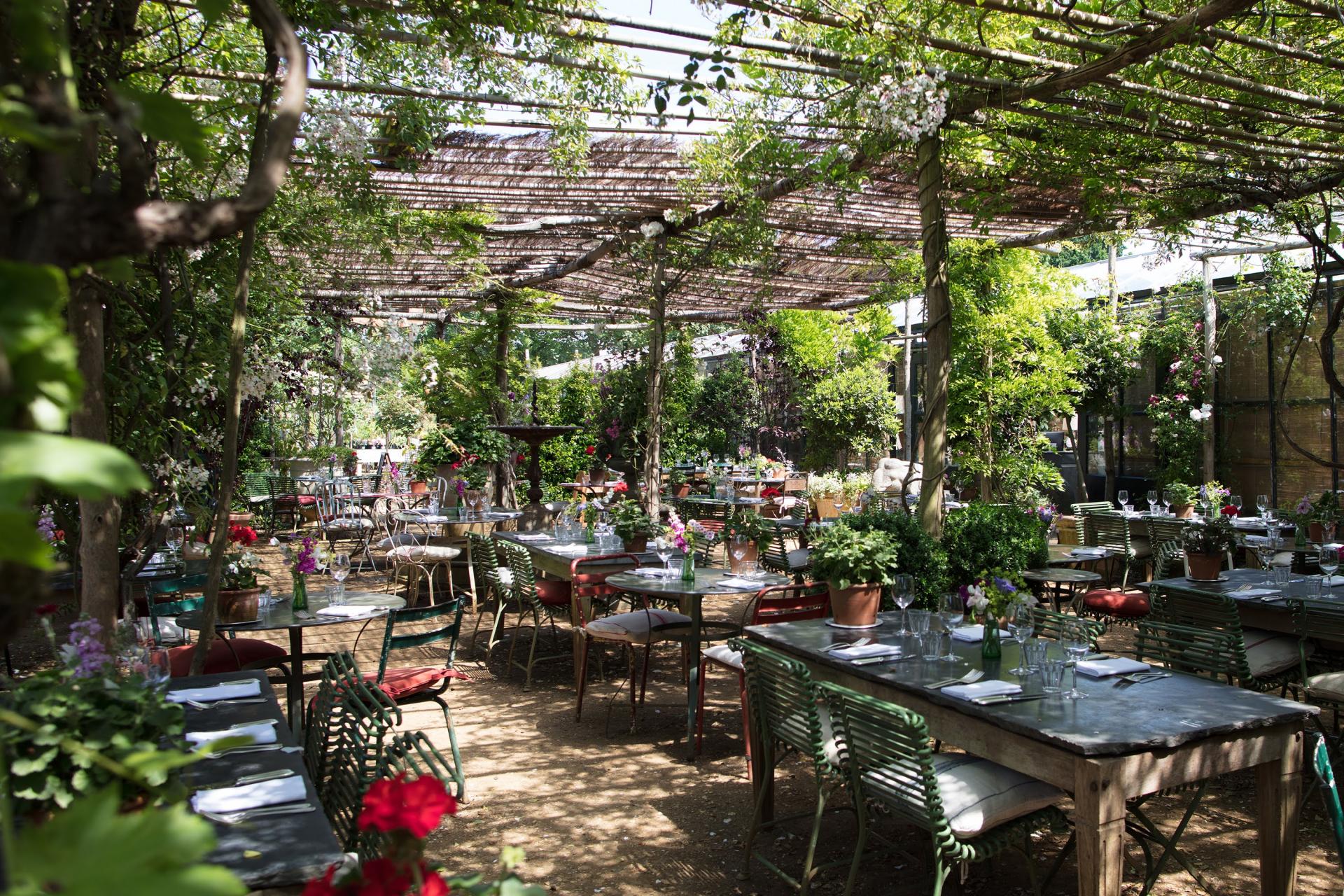 Step aside Kew Gardens, Petersham Nurseries is Richmond's favourite floral and fauna scene. Famous for its focus on provenance and seasonality, it's so bloody lovely that it's gone on to become an entire lifestyle brand – hence its second site in Covent Garden with a cafe, teahouse, wine merchants, florist, delicatessen and sun-dappled, flower-draped (of course) courtyard. If the heated, jasmine and bougainvillea festooned pergola in Richmond [pictured] seems a little bit too far away, make La Goccia in Covent Garden your go to aperitivo spot this summer. 
Allegra
The Stratford, 20 International Way, Queen Elizabeth Olympic Park, E20 1FD
There's not much we'd go to Stratford for, but chef Patrick Powell's pistachio choux filled with chicken liver parfait might just do it – especially when eaten on the rooftop terrace of his restaurant, Allegra. Come to think of it, Cornish plaice, coco bean and salt cod caldo verde would also do the trick, and so would the plum mille-feuille with almond ice cream. The menus are ever changing, depending on the season, but no matter what's being served, Powell's cooking is worth getting on the train for (besides, it's only three stops from Liverpool Street, so it's really not that far).
Brat at Climpson's Arch
374 Helmsley Place, E8 3SB
The opening of Brat at Climpson's Arch in 2020 made sense. The restaurant had outgrown its upstairs Shoreditch home and needed a second venue to cater to the never ending demand for bookings. The fact it's a predominantly outside space definitely doesn't hurt, either. Found on a side road just behind London Fields, the new location is a smoke-filled wonderland that does a pretty good job of whisking you out of the city, even if just for a moment. The larger space and open air style makes it perfect for parking up and stuffing your face with whole crab with hay butter, wood fired breads and roasted game rice.
bratrestaurant.com/climpsons-arch
Westerns Laundry
34 Drayton Park, N5 1PB
Westerns Laundry is the stuff foodie dreams are made of. How do we know? Because we've tried it. The ever changing menu has a focus on British ingredients, specifically seafood, and a wine list packed full of interesting drops. But the courtyard is the real draw here, especially in the warmer months. Perched at the front of the restaurant, it is festooned with fairy lights for the perfect summer evening ambience. 
Tacos Padre
The Borough Market Kitchen Padre, Winchester Walk, Jubilee Place, SE1 9AG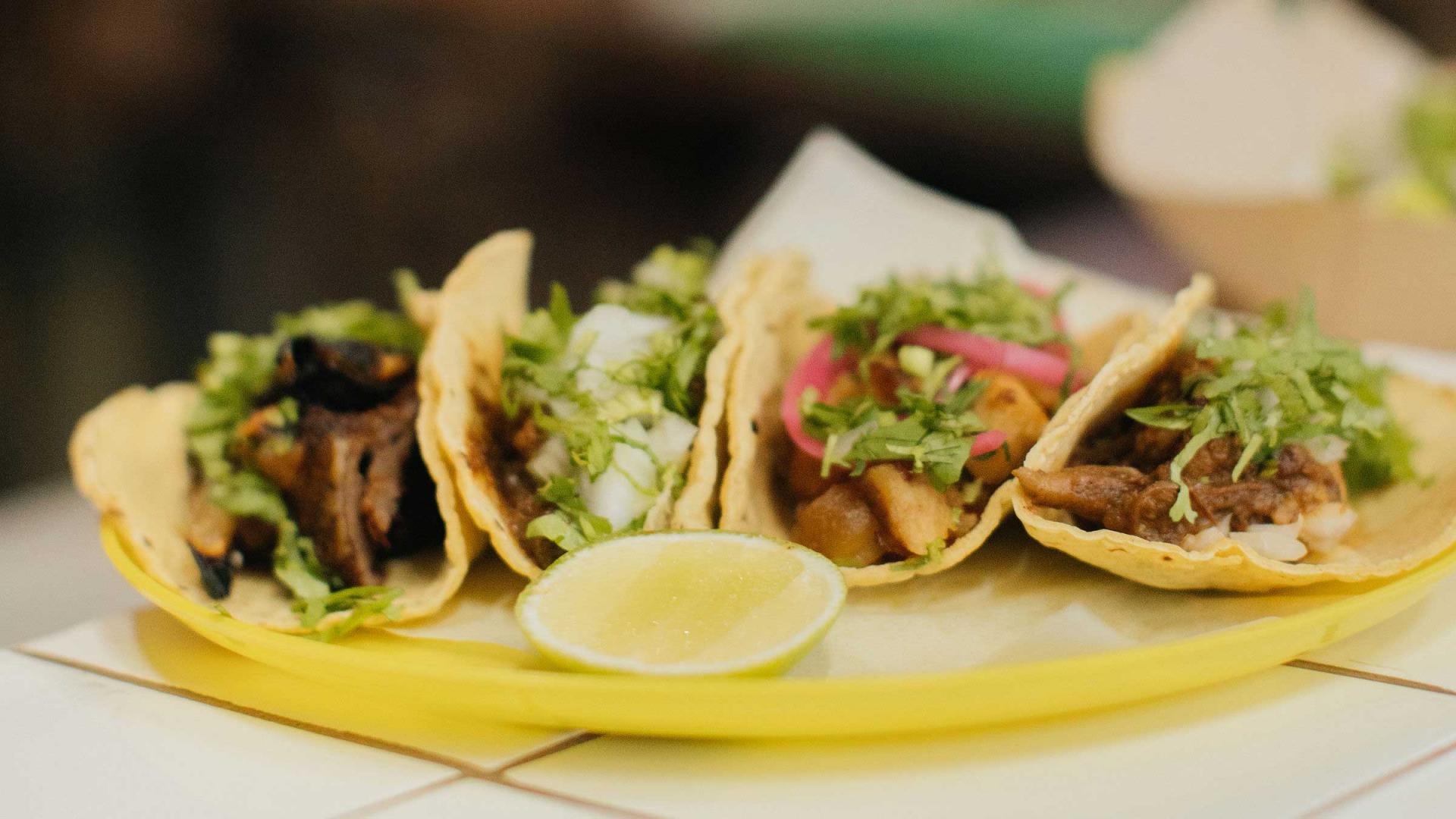 Was there ever a better meal to be eaten with friends than tacos? These moreish morsels are perfectly designed for grazing and slowly drinking margaritas for hours – especially when you're eating at taqueria Tacos Padre, where tacos are anything but fast food. Such care is taken over every bite that they actually ask you to have patience while they create your meal. Sure, we'll wait for beef short-rib suadero tacos with aged beef fat and morita salsa, but it definitely won't take us long to eat them...
Bright
1 Westgate Street, E8 3RL
First things first: Bright's terrace outside its London Fields restaurant is walk-in only. Be prepared to fight someone to the death for the last table. Risking potential murder is worth it though, because Bright's food is, quite frankly, gorgeous. Aged duck with beetroot and pickled elder berries; steamed brill with potato and whey butter sauce… Yep, it's good. It's very good. And you know what's also very, very good? The list of natural wines. 
Rochelle Canteen
16 Playground Gardens, E2 7FA
Rochelle Canteen's courtyard has got to be one of London's worst-kept secrets. And here's another not-secret-secret for you: it's now covered, which means you can keep eating their pecorino, girolle and onion tart, and rabbit liver, lardo and and radish salad no matter the weather.
The Laundry
374 Coldharbour Lane, SW9 8PL
Brixton restaurant The Laundry is owned by New Zealand wine doyenne Mel Brown, so expect some fairly decent beverages to go along with your wonderful food. Luckily for diners, the restaurant also has a capacious month to take advantage of on sunny days. Soft and fluffy blankets, patio heaters, Antipodean-inspired food and, yes, plenty of gorgeous wines make this a hard act to beat.
Scott's
20 Mount Street, W1K 2HE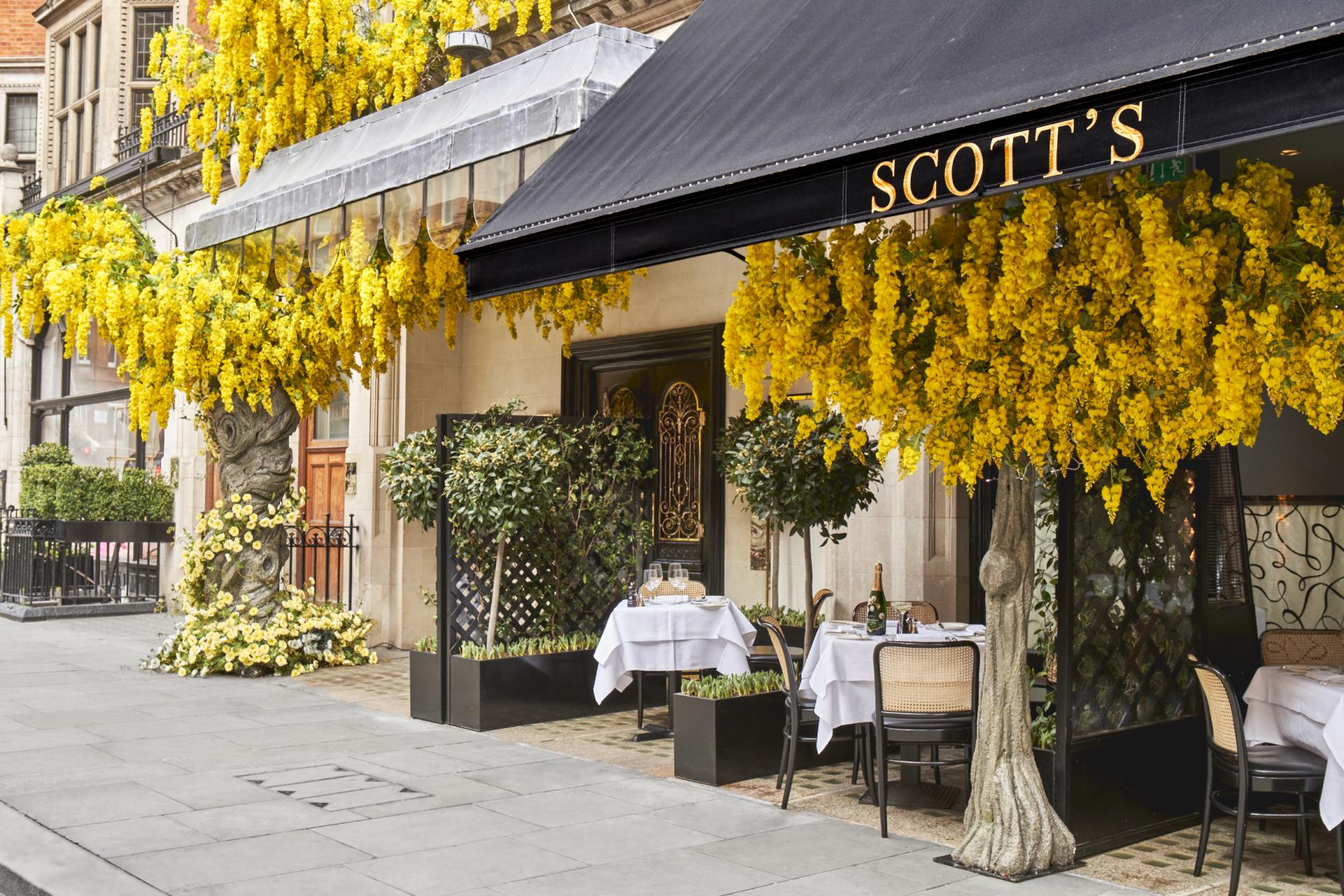 With a history spanning more than 150 years, Scott's is a modern relic that's remained a cornerstone of Mayfair drinking and dining for generations. Holing up in its comfy dining room for a long, boozy lunch is always a good idea, but it's lao got an ace up its sleeve in the form of a beautifully decked out terrace. The outside space, decked out in sumptuous yellow flowers, offers a menu of the restaurant's standard-bearing seafood, fish and game.