It's happened, it's actually happened! BoJo has confirmed that hospitality is able to reopen for outdoor dining from Monday 12 April.
So grab your stretchy pants and your favourite five people, because groups of up to six are allowed hang out together outdoors at restaurants, cafés  and bars.
Of course, throw in the UK's totally reliable weather, and things might get a little... chilly. Not to mention wet.
Thankfully, London's ever-creative restaurants have been (don't say pivoting, don't say pivoting) rolling with the punches, and have been preparing themselves with roofs and some much-needed outdoor heaters. 
Of course, if heading to a restaurant still isn't for you, there are plenty of mouthwatering meal kits to sink your teeth into; or if it's the mixed drinks you miss, London's bars have been creating awesome cocktails kits. And along with old favourites, there are plenty of new and exciting restaurants to check out, too – you just need to know where to look. 
From wine bars to laid-back pizza joints to finer-dining, here are some of the best outdoor restaurants to make sure you don't miss out on a spring of brilliant eating. And if you're struggling to get a booking, don't worry – many of these guys have space for walk-ins, too. 
30 of London's best outdoor restaurants
Seabird at The Hoxton
40 BLACKFRIARS ROAD, SE1 8PB
If there ever were a space to escape the humdrum of daily life without, you know, actually being able to escape, the terrace at Seabird is it. Perched atop The Hoxton's Southwark outpost, the sun-drenched space is practically begging for a chilled glass of wine on a summer's day. We truly cannot think of a place more perfect to raise a toast to the beginning of the end of lockdown (and neither can the rest of London, it seems – if you manage to get a reservation any time soon, you better bloody take it). Spanish-Portuguese-inspired small plates add to the holiday vibes: octopus in a brioche roll, razor clams and London's longest list of oysters will transport you to a land far, far away.
Hoppers
Soho, King's Cross and Marylebone
At Foodism, we're particularly missing the bright colours and vibrant flavours of Sri Lankan cooking, and although we can't import the warmer weather of our favourite teardrop-shaped isle, we can now get a taste of its cuisine thanks to Hoppers. All three of its locations – the Soho original, Marylebone and the new King's Cross site – are open for business with outdoor dining space galore. Swimmer crab kari, get in our face.
Wild by Tart
3-4 Eccleston Yards, Belgravia, SW1W 9AZ
Turns out there's more to Belgravia than Victoria Coach Station. Tucked away in the quaint Eccleston Yards in Pimlico, Wild By Tart's 24-seat alfresco terrace is the new place to be. With a strong ethical stance on the ingredients it uses, the farms it works with and the products it makes, the restaurant (from Tart London duo Jemima Jones and Lucy Carr-Ellison) has created a delicious seasonal and sustainable all-day dining menu. Expect big flavours sourced from the founders' own family farms: we're talking Tamworth pigs, hand reared Belted Galloway cattle and honey from their own beehives. 
Now taking bookings. wildbytart.com
Gunpowder Tower Bridge
4 Duchess Walk, SE1 2SD
In an enviable spot overlooking the iconic Tower Bridge, Indian restaurant Gunpowder dishes up flavours that are a guaranteed direct hit to the tastebuds – think a younger, more street-smart brother of Gymkhana, minus the price tag. This second site on Duchess Walk has a terrace with a series of individual dining pods that can accommodate groups of up to six – perfect for tasting its mustard malai broccoli, okra fries and kawari soft shell crab. What's more, it's home to the largest Portuguese wine list in London. Go hard or go home.
Now taking bookings. gunpowderlondon.com
OPSO
10 Paddington St, W1U 5QL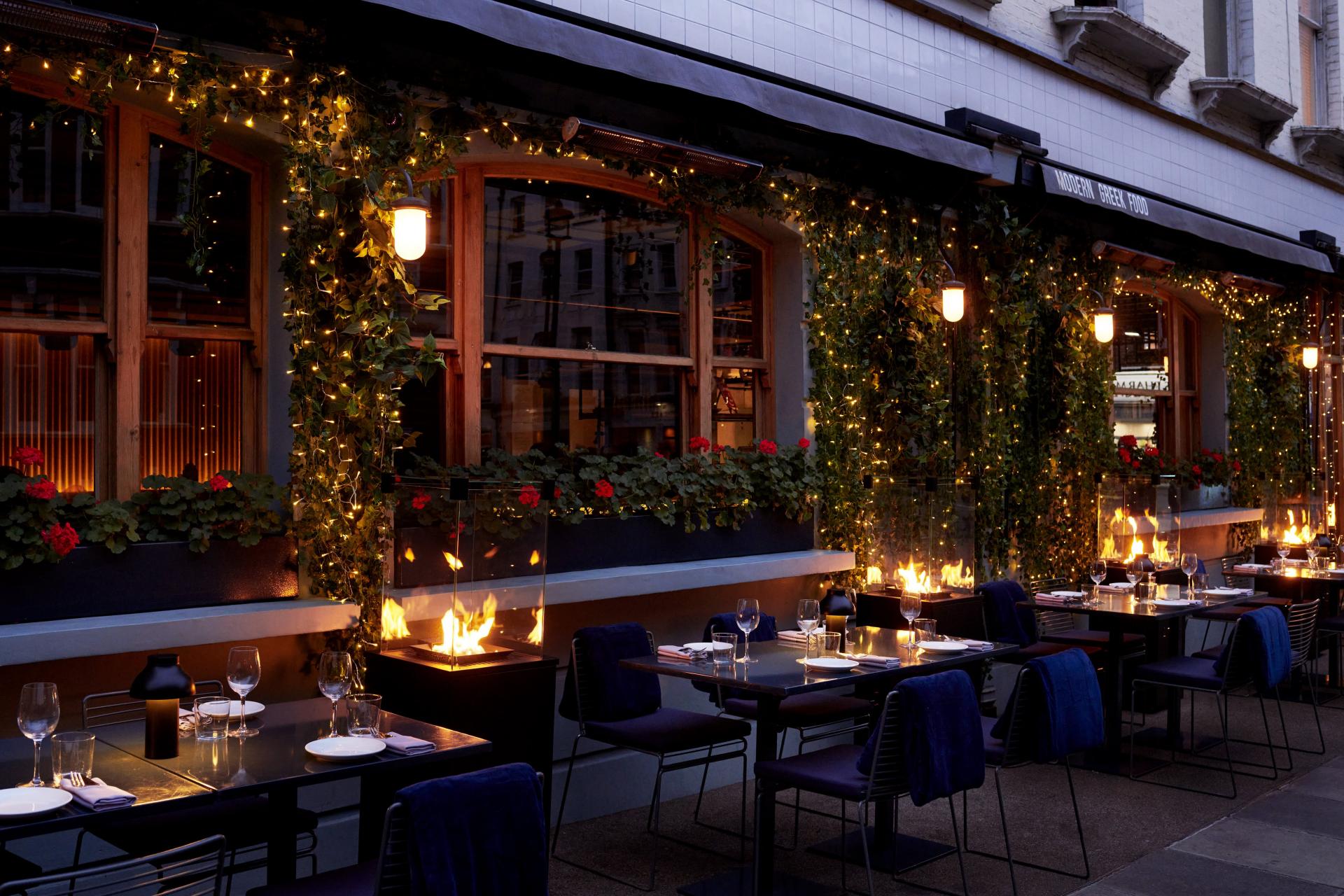 Whilst the sun-soaked volcanic beaches, white-washed walls and blue-domed churches of Santorini are still out of reach, newsflash folks: there's an easy way to get your feta and olive fix. Introducing OPSO's new terrace in Marylebone, opening in April and set to bring a slice of Athens to London. Expect a mix of modern Greek dishes, traditional recipes and homemade delicacies like smoked eel and fava. Can we get an "OPA"?
Now taking bookings. opso.co.uk
Darby's
No.3 Viaduct Gardens, Nine Elms, SW11 7AY
Darby's new terrace in Vauxhall works on a first come first serve basis, so prepare to sharpen your elbows to get that final coveted spot. You approach the terrace via stepping stones across ponds inspired by New York's High Line park, so be sure to not fall in (or accidentally push your opponent). Then there's a central oyster bar topped with extravagant green marble where you can sip on ice-cold Guinness paired with the finest Dooncastle oysters. Other seasonal highlights include native lobster brioche roll with roe mayo, pappardelle with veal ragu, and gildas made with smoked eel – listed on the menu as "little perverts" (yes, we heard you laugh). Better still, a highly Instagrammable completely transparent pool is set to open on the top floor this summer, to which Darby's will have its own (not so) secret entry. See you there...
Walk-in only. darbys-london.com
Ombra
1 Vyner Street, E2 9DG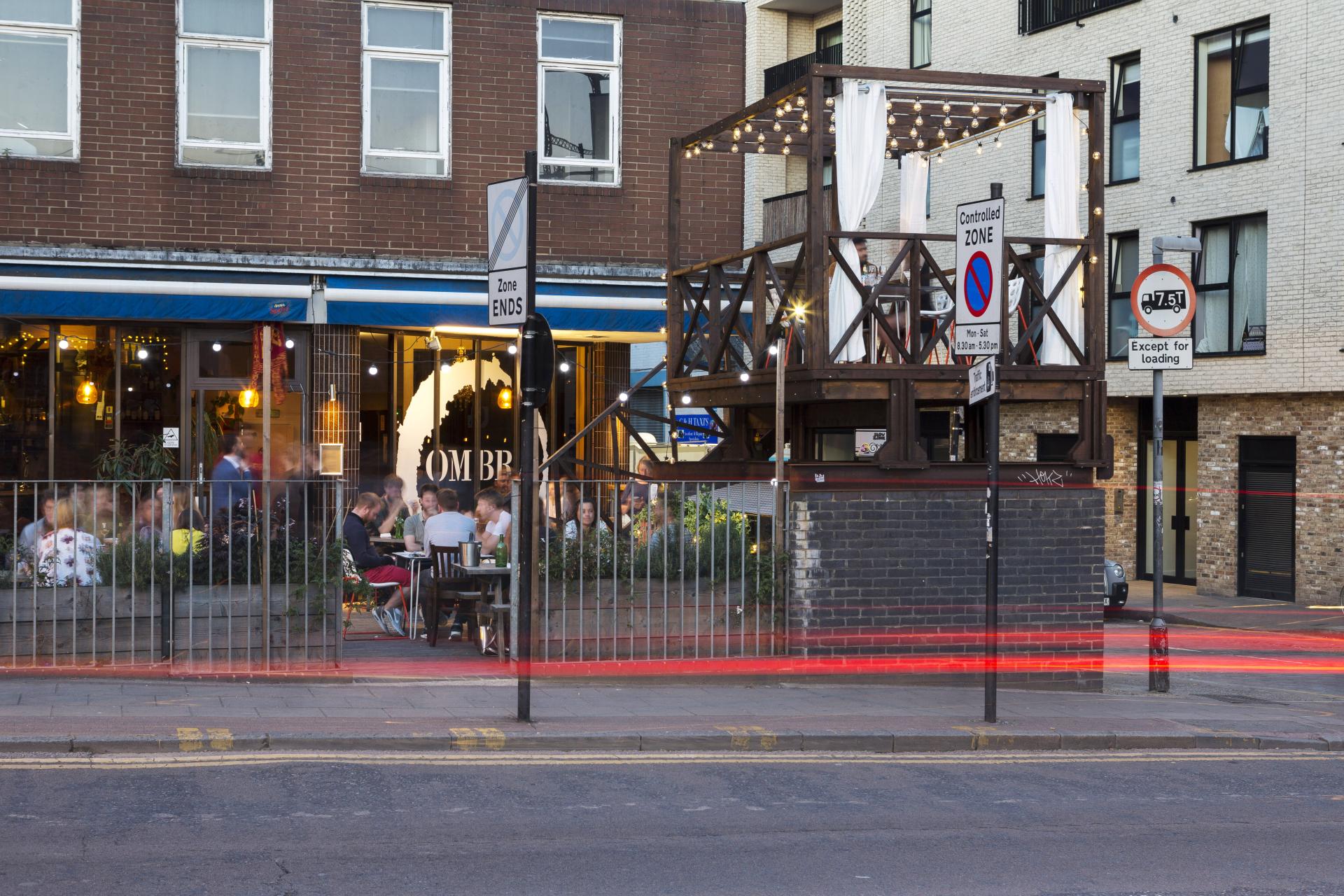 In our humble opinion, pasta is proof there is a god. If we could eat penne for every meal, we absolutely would. Breakfast bucatini anyone? Enter Ombra, Hackney's favourite Italian restaurant, pastificio and alimentari, which, for those of you who didn't take up Italian this lockdown, quite literally translates to pasta factory. Making full use of its riverfront location on the south side of Regents Canal, Ombra marries British produce with Mediterranean charm and will have room for more than 30 diners on its new terrace. Be sure to stop into the shop afterwards to bring a taste of Italy home with you.
Bookings now open. ombrabar.restaurant
Circolo Popolare
40-41 Rathbone Pl, Fitzrovia, W1T 1HX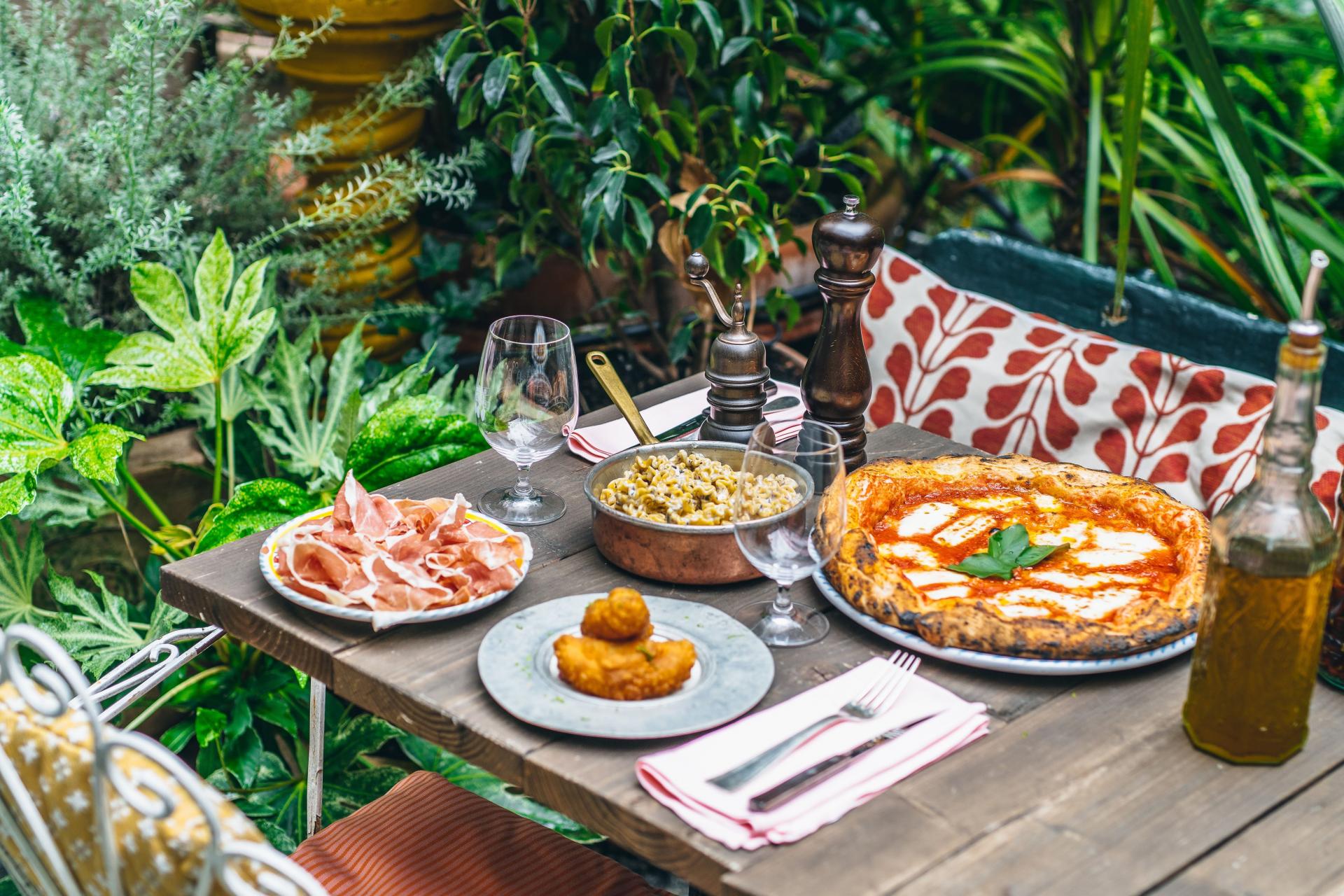 If you haven't visited Circolo Popolare or its sister chain Gloria Trattoria yet, you're in for a treat. Bookings are now open from 12 April for the new 60-seater sunny Sicilian terrace, strewn with fairy lights and furnished with tropical greenery. Expect all of the brand's signature Italian charm and flavour such as sexy carbonara pizzas by the meter, fritto misto and scandalous XXL desserts like zingy lemon meringue the size of your head. Mamma mia! 
Bookings now open, walk-ins also available. bigmammagroup.com
Burro e Salvia
52 Redchurch Street, E2 7DP
Our favourite pocket-sized pastificio is reopening with an equally pocket-sized patio. It'll be doing breakfast, lunch and aperitivo hour (complete with negronis and boulevardiers) on three tables on Redchurch Street. Come early – the pasta from this gem (now made using regenerative agriculture-focused flour company Wildfarmed Grain) is bound to be snapped up in seconds.
Crispin
Pavilion on The Corner, White's Row, E1 7NF
Sometimes when we're feeling hungry, or sad, or a bit of both, we head to Crispin's Instagram account. Scrolling through the feed of vibrant small plates and sourdough pizzas, chilled glasses of wine and baked goods reminds us that there's good in the world; there's delicious food out there to be eaten; and happier times were here before, and will be again. So it makes sense that one of our first ports of call would be the Spitalfields restaurant, to sit on the terrace and actually shove these elegant dishes right in our face. Even better news is that to celebrate the reopening, head chef Naz Hassan (formerly of the late Neo Bistro that we'll mourn forever more) has collaborated with Sam Ashton-Booth of Behind in London Fields. And pssst! Rumour has it there'll be another Crispin site opening this summer...
Koya City
10-12 Bloomberg Arcade, EC4N 8AR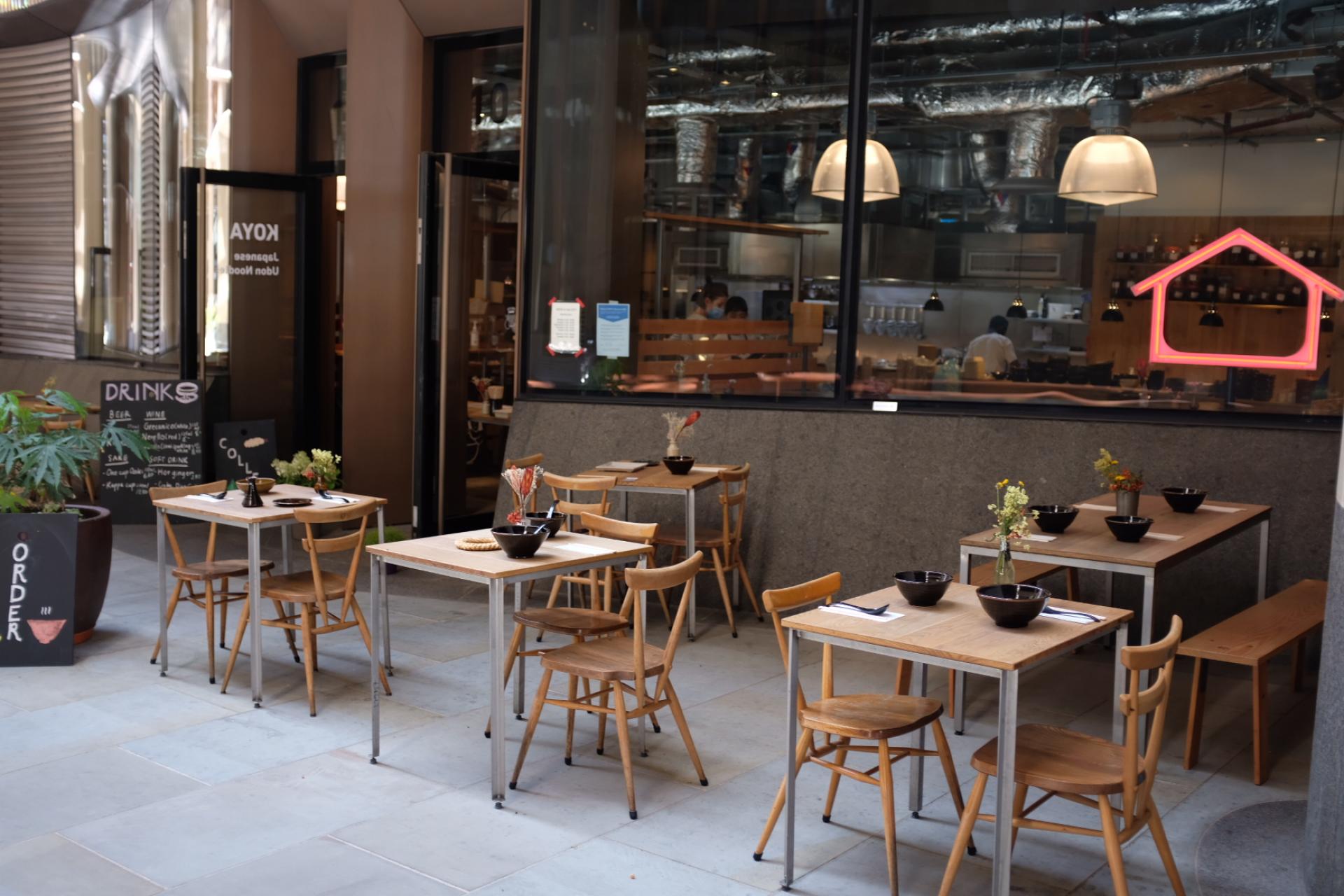 London's food scene has long lamented Koya Soho's small space, which made it all the harder to slurp up the restaurant's life-changing (and we mean life-changing) noodles. But thankfully a new site in the Bloomberg Arcade brings a bigger restaurant and a 50-seater terrace, so good news all round. Think kinoko and walnut miso broths, crispy donburi and crispy chicken karaage with pickles.
Reopening soon. koya.co.uk
Pastaio
19 Ganton St, W1F 9BN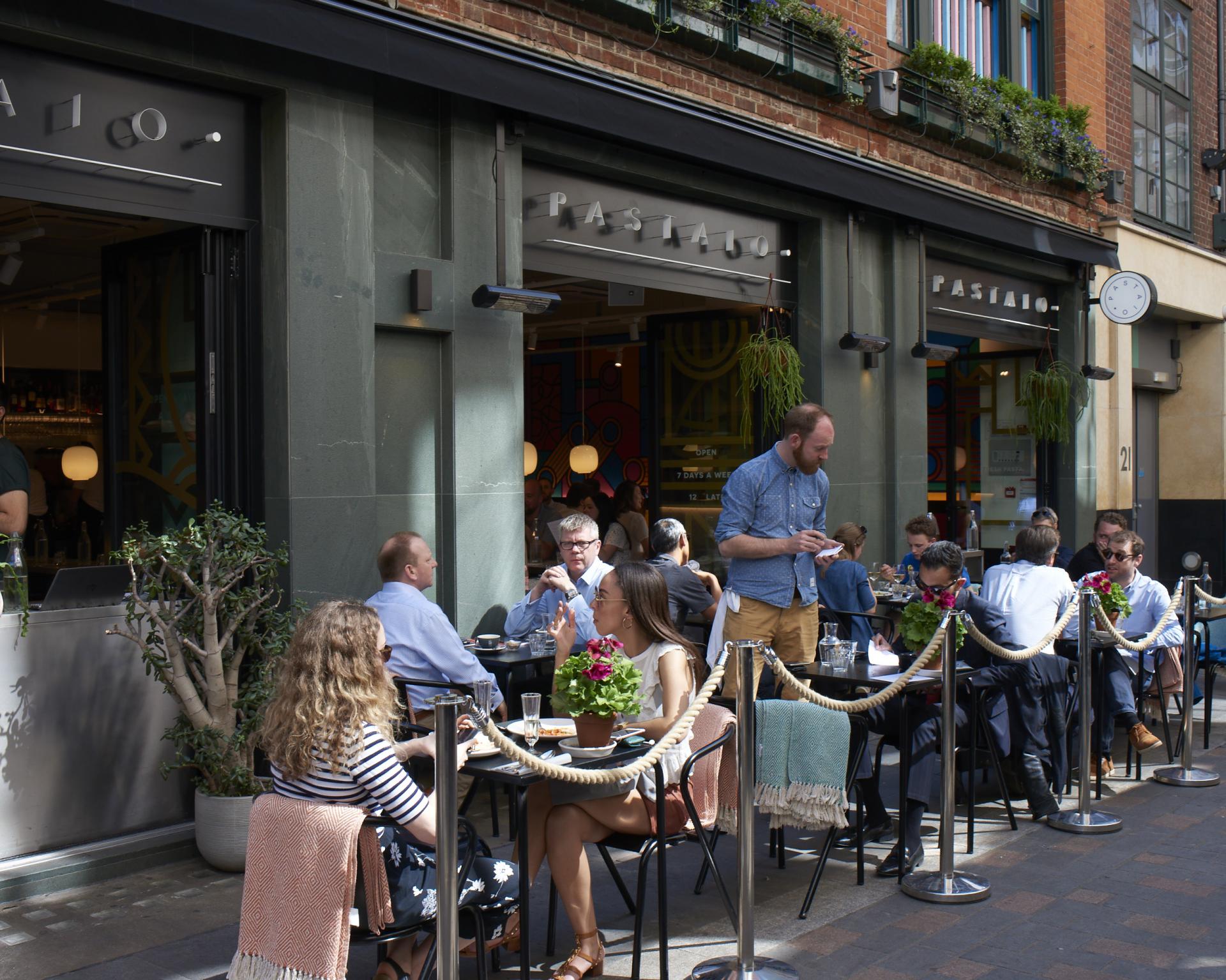 Let us guess: you're looking for a bookable alfresco space at a centrally located restaurant with reliably good, please-all food (including catering to various dietary requirements) that gives you seriously good bang for your buck. There's probably nowhere that fits the bill as well as Pastaio Soho, where you can hoover up 30 egg-yolk tagliolini pasta with five grams of fresh white truffle, or velvety agnoli folded over a gamey filling of pheasant, rabbit and pork. There's antipasti if pasta isn't quite going to cut it, plus prosecco slushies – seriously, don't knock 'em till you've tried 'em.
Bookings now open, walk-ins also available. pastaio.co.uk
Smoking Goat
64 Shoreditch High St, Shoreditch, E1 6JJ
Smoking Goat gets its name from its unique mix of smoking and barbecuing techniques infused with Thai cooking. A 60-seater heated and covered terrace is the place to be in the coming months, made all the more tantalising thanks to a selection of new Northern Thai dishes: carnivores can expect aged mutton laab muang or prik laab of chicken, while those looking for fish should opt for the mouth-numbingly spicy and garlicky Dorset clam som tum, using critters locally sourced from Cornwall.
Bookings now open, walk-ins also available. smokinggoatbar.com
Hicce
Unit 102, hicce x Wolf & Badger, Stable St, N1C 4DQ
Kings Cross looks to challenge Soho as a centrally located, easy-to-get-to area with a decent food offering and – somewhat crucially right now – has plenty of space for outdoor dining. Enter Hicce – meaning 'of the moment' and is pronounced 'ee-chay' (not hickey). It's chef Pip Lacey's first solo venture and has its own generous outdoor space ideal for a leisurely dinner of smoked and wood-fired seasonal sharing plates such as pickles, cured meats and fish, inventive vegetable dishes and plenty of home-baked rye bread. Mhmmm. If that's not enough, there's an extensive cocktail list perfect to catch that golden hour sunset from either the ground floor 70-seater terrace or the 80-seater balcony upstairs.
Bookings now open. hicce.co.uk
Smokestak
35 Sclater St, Shoreditch, London E1 6LB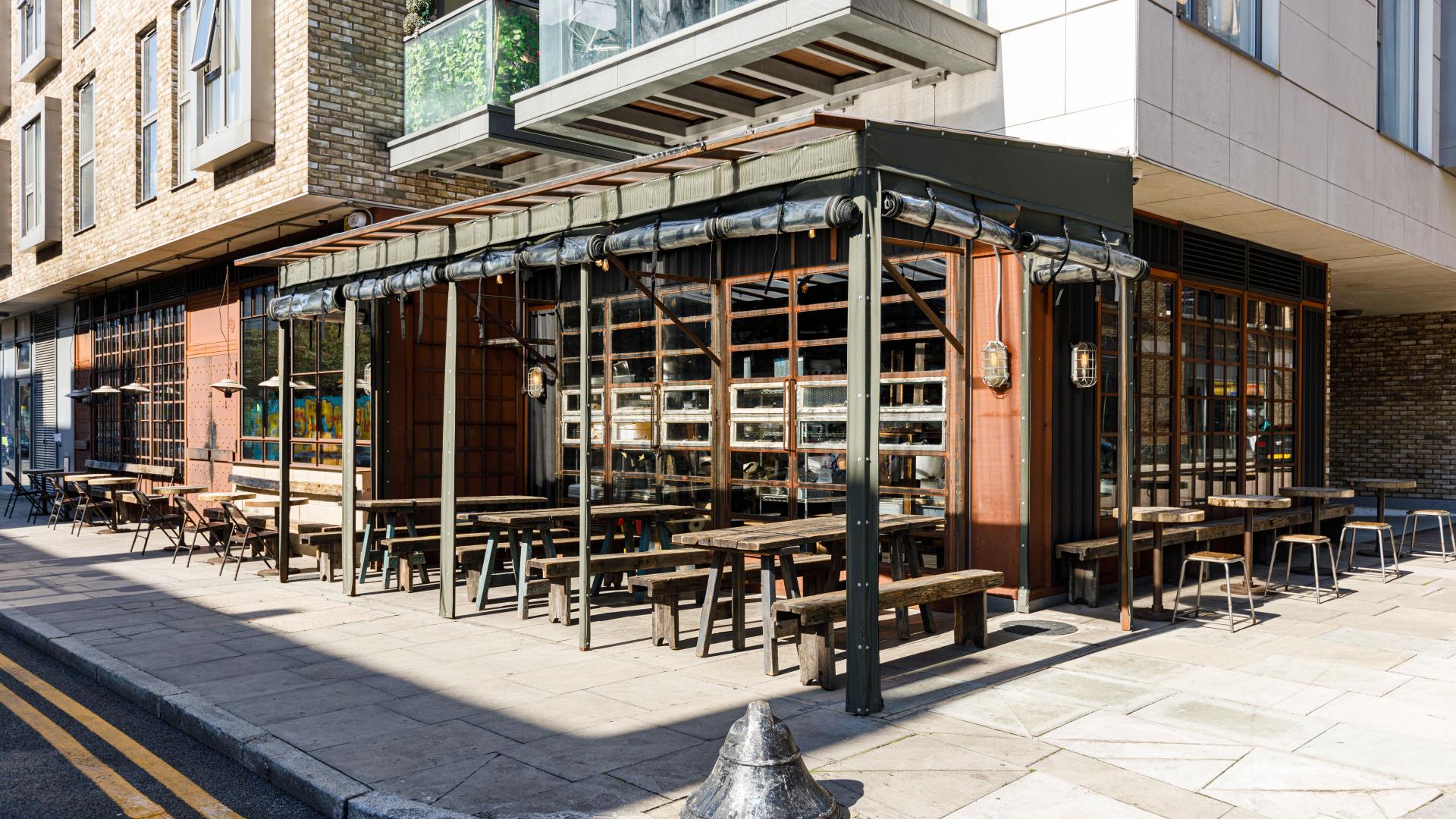 One of our biggest regrets this year (out of many, mind) is having not tried one of Smokestak's delicious DIY bun boxes. But that's OK, because their restaurant is back and besides, why sweat over a hot barbecue when someone is willing to do it for you? As the name suggests everything is either barbecued or smoked, and quite frankly, it all looks smoking hot. Think brisket and pickled chilli buns, 30-day dry-aged beef, crispy ox cheek and coal roasted aubergine, amongst other finger-lickin' treats. These BBQ masters always have some terrace action on the go and now, it's covered and heated too, and even has space for walk-ins.
Bookings available now. smokestak.co.uk
Petersham Nurseries and Petersham Covent Garden
Richmond and Covent Garden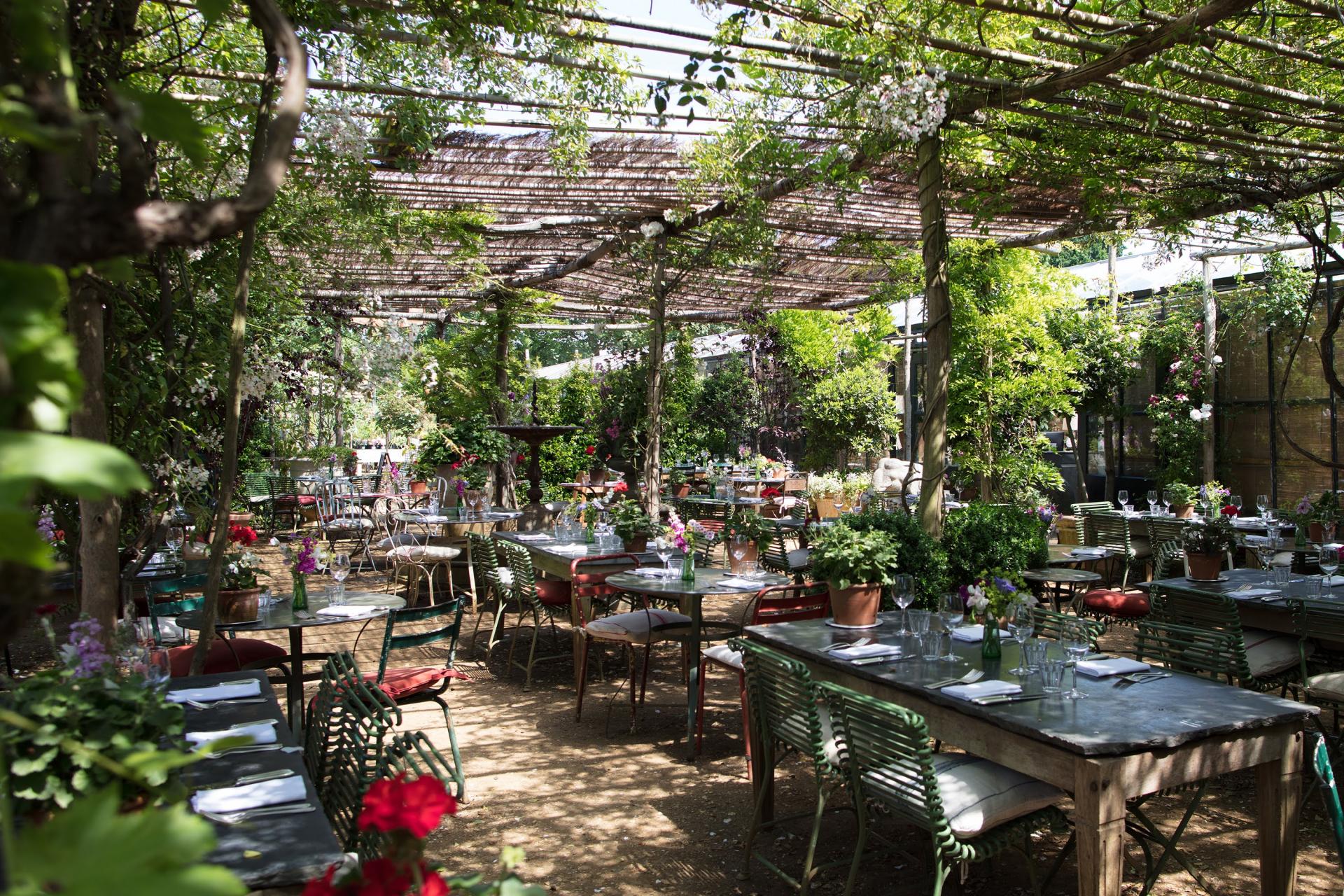 Step aside Kew Gardens, Petersham Nurseries is Richmond's favourite floral and fauna scene. Famous for its focus on provenance and seasonality, it's so bloody lovely that it's gone on to become an entire lifestyle brand – hence its second site in Covent Garden with a cafe, teahouse, wine merchants, florist, delicatessen and sun-dappled, flower-draped (of course) courtyard. Both will be opening up post-lockdown, so if the heated, jasmine and bougainvillea festooned pergola in Richmond [pictured] seems a little bit too far away, make La Goccia in Covent Garden your go to aperitivo spot this spring. 
Bookings now open. petershamnurseries.com
Bar Douro
Arch 35B, 85B Southwark Bridge Rd, London SE1 0NQ
It felt like everyone and their dog popped on over to Portugal for a little séjour last summer, drinking wine from the Douro Valley and eating delicious Portuguese seafood. Didn't manage to join them? Get yourself to Bar Douro in London Bridge's Flat Iron Square instead, where you can eat all the grilled octopus and presa Iberica your stomach could dream of – without the flight. An extended outdoor terrace means that it complies with the Covid restrictions, which means you'll find us there munching bifana sandwiches, sipping a vinho verde and ordering one (or several) pastels de nata to go.
Fallow
10 Heddon Street, Mayfair, W1B 4BX
With risk of sounding like the Oxford dictionary, to 'fallow' is to leave arable land for one or more vegetative cycles to restore its initial fertility. With such a moniker, it's unsurprising that this latest restaurant to take over the rolling residency at 10 Heddon Street has a sustainability focus. With their zero-waste philosophy, chefs Will Murry and Jack Croft are breathing new energy into ingredients that are typically destined for landfill: think chicken scratchings, veal tail and cod's head. Sounds weird? Tastes delicious. With a focus on British and Irish produce, and plenty of vegan/vegetarian options on its ever-changing menu, it's an outdoor terrace that will certainly warrant a regular revisit. P.S. The Fallow burger has near-legendary status, so it's well worth a try.
Allegra
The Stratford, 20 International Way, Queen Elizabeth Olympic Park, E20 1FD
There's not much we'd go to Stratford for, but chef Patrick Powell's pistachio choux filled with chicken liver parfait might just do it – especially when eaten on the rooftop terrace of his restaurant, Allegra. Come to think of it, Cornish plaice, coco bean and salt cod caldo verde would also do the trick, and so would the plum mille-feuille with almond ice cream. Allegra is actually running a more casual burger-themed takeover until it fully reopens in May, but no matter what's being served, is Powell's cooking it we'll be getting on the train for it. 
Homeslice Shoreditch and Marylebone
374-378 Old Street, Shoreditch, London EC1V 9LT
50 James Street, London, W1U 1HB
Homeslice's 20-inch pizzas feed a crowd, so it's just as well the group's Shoreditch and Marylebone sites have outdoor spaces. Although with toppings like fior di latte mozzarella straight from Naples, and ventricina salami from the Abruzzo region, it'll be harder to share than you might think…
Brat at Climpson's Arch
374 Helmsley Place, Hackney, E8 3SB
We've been Insta perving over Brat's residency at Climpson's Arch ever since it was announced. When last summer drew to a close, we began to panic: what if it finished and we didn't get a chance to go? Thankfully we'll still be able to stuff our face with whole crab with hay butter, wood fired breads and roasted game rice, because the residency has now been made permanent. Phew.
bratrestaurant.com/climpsons-arch
Flor
1 Bedale St, SE1 9AL
Borough Market resident Flor – a wine bar, bakery and restaurant from the acclaimed Lyle's team – hit the food headlines for a certain prawn dish way back when. During lockdown, Flor morphed into ASAP Pizza, slinging slices like the porco rosso, topped with red pesto, mortadella, stracciatella (the creamiest bit of burrata) and guindillas peppers, a photo of which did things to us we're almost too embarrassed to admit. ASAP is still taking over the space (now with outdoor seating) until Flor reopens in May, when you'll be able to sit under the roof of Borough Market, to nibble – nay, scoff – plates of mozzarella and 'nduja in carrozza (which basically means a fried cheese sandwich), Cornish mackerel with preserved tomatoes, or flatbread with guanciale, egg and chickpea.
Westerns Laundry
34 Drayton Park, N5 1PB
Westerns Laundry is the stuff foodie dreams are made of. It nailed Covid dining by offering a tasting menu for seriously good value last summer – although that being said, those in the know skip the tasting menu and perch themselves in the courtyard space overlooking the single elegant olive tree for nibbles that are even more delicious than the tasting menu itself. How do we know? Because we've tried it. We had lardo on toast and glass of chardonnay that were out-of-this-world good, but more other courtyard snacks include prosciutto (yum), jesus salame (yum) and fried hake and aioli (double yum).
Tacos Padre
The Borough Market Kitchen Padre, Winchester Walk, Jubilee Pl, London SE1 9AG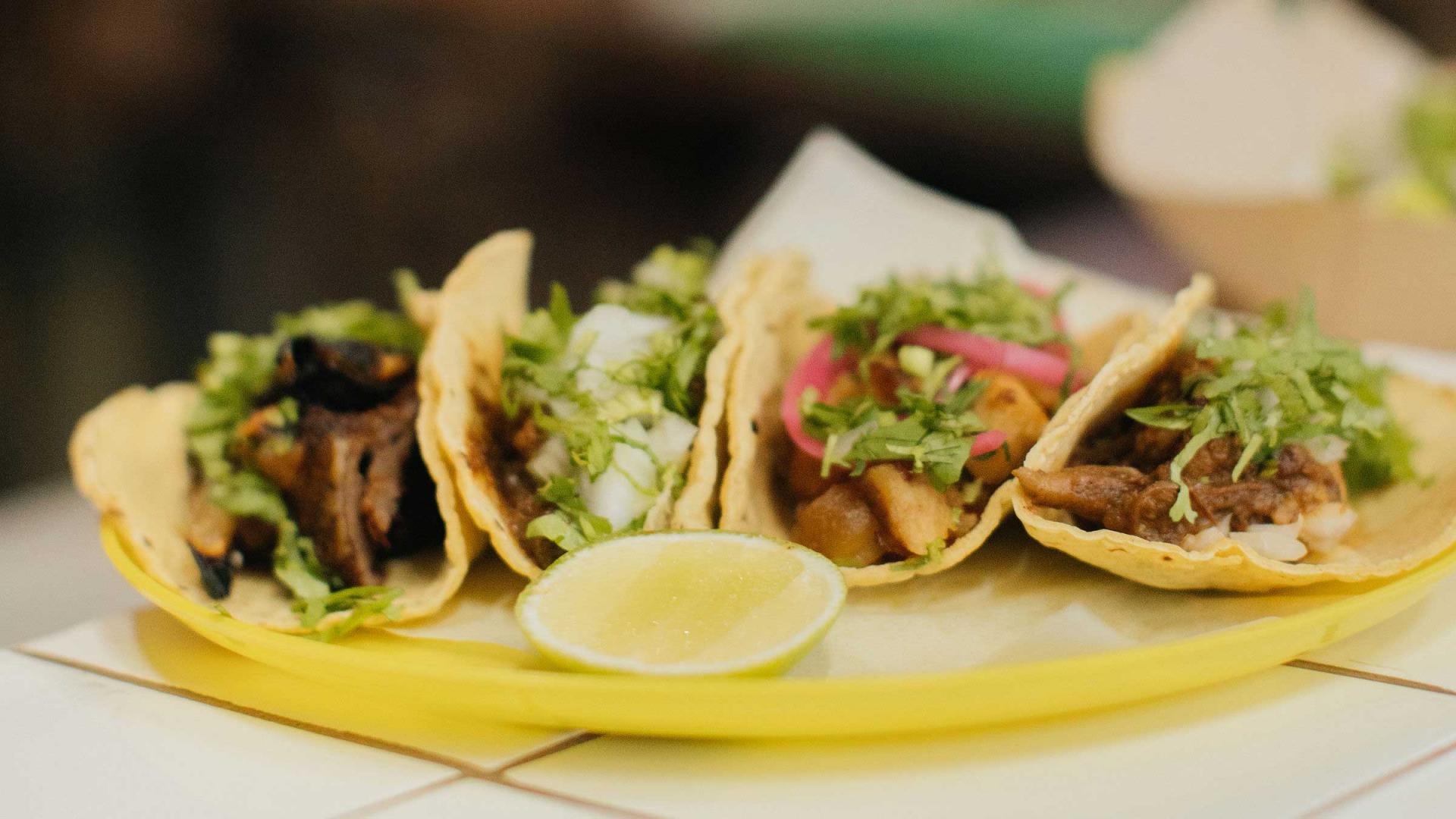 Was there ever a better meal to be eaten with friends than tacos? These moreish morsels are perfectly designed for grazing and slowly drinking margaritas for hours – especially when you're eating at new taqueria Tacos Padre, where tacos are anything but fast food. Such care is taken over every bite that they actually ask you to have patience while they create your meal. Sure, we'll wait for beef short-rib suadero tacos with aged beef fat and morita salsa, but it definitely won't take us long to eat them...
Bright
1 Westgate Street, E8 3RL
First things first: Bright's terrace outside its London Fields restaurant is walk-in only. Be prepared to fight someone to the death for the last table – without touching, obviously. Risking potential murder is worth it though, because Bright's food is, quite frankly, gorgeous. Aged duck with beetroot and pickled elder berries; steamed brill with potato and whey butter sauce… Yep, it's good. It's very good. And you know what's also very, very good? The list of natural wines. 
Rochelle Canteen
16 Playground Gardens, E2 7FA
Rochelle Canteen's courtyard has got to be one of London's worst-kept secrets. And here's another not-secret-secret for you: it's now covered, which means you can keep eating their pecorino, girolle and onion tart, and rabbit liver, lardo and and radish salad right through till summer.
Bedales Borough
5 Bedale Street, Borough Market, SE1 9AL
Outdoors, yet under the cover of the Borough Market roof, open seven days a week – so no matter what day you go, who you're with, you can get yourself a tiny plate of something delicious and a large glass of something even more delicious to go with it. Chicken liver mousse washed down with a glass of skin-contact garganega? Don't mind if we do.
The Laundry
374 Coldharbour Ln, Brixton, SW9 8PL
New Zealand has its Covid tactics nailed and so too does New Zealand wine doyenne Mel Brown, whose Brixton restaurant The Laundry has an outdoor space primed for spring eating. Soft and fluffy blankets, patio heaters, Antipodean-inspired food and, yes, plenty of gorgeous wines make this a hard act to beat.
Flora at JOY at Portobello Dock
344 Ladbroke Grove, W10 5BU
Joy by name and joy by nature at this al fresco market popup in Ladbroke Grove. At Flora, the site's restaurant, Stevie Parle (he of Rotorino and Pastaio) is bringing charcoal-grilled meats, Nyetimber sparkling wine, truffles and... flowers to the table. The absolutely gorgeous waterside space was one of the hits of last summer, and we're pleased to say it's still going strong thanks to the arrival of six weatherproof pavilions that can hold up to six people.
Bā at Mei Mei
Unit 52, Jubilee Place, Rochester Walk, SE1 9AF
Elizabeth Haigh is what we consider a foodie's chef. She sits just on the edge of the radar – you might not think of her straight away, but when she does something, boy do you sit up and take notice. Having left Pidgin to run her Kaizen House popup, Haigh finally opened Mei Mei in Borough Market late last year, drawing on her Singaporean background to introduce Londoners to dishes like Hainanese chicken, poached chicken atop a bed of rice, and nasi lemak, rice cooked in coconut milk, with peanuts, fried anchovies, sambal and a fried egg. So far, so delicious. Bookings are pending Borough Market's policies for after 12 April, but you can expect a full-ish return – plus keep an eye out for Mei Mei Lates, too... 
Scott's
20 Mount Street, W1K 2HE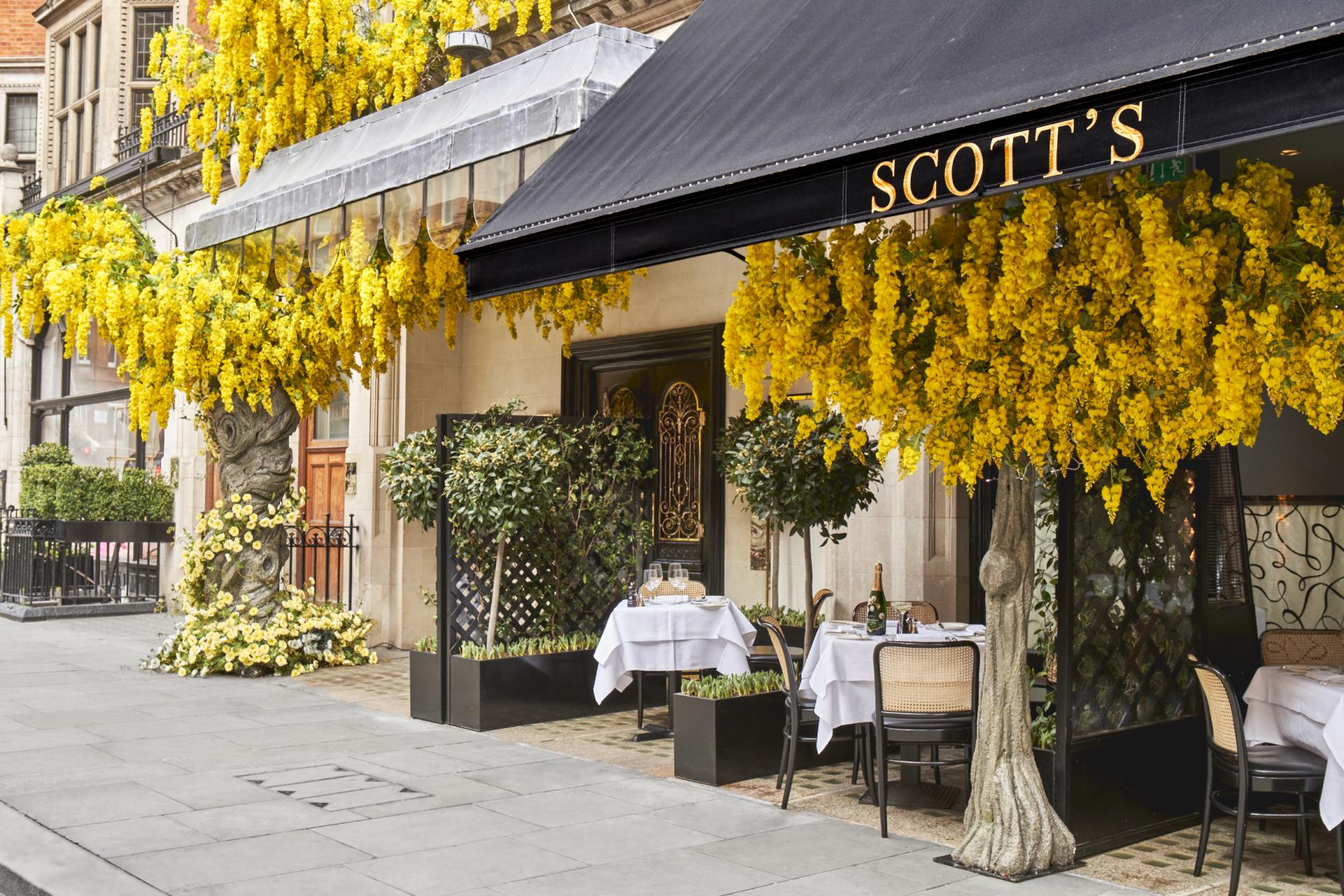 With a history spanning more than 150 years, Scott's is a modern relic that's remained a cornerstone of Mayfair drinking and dining for generations. Holing up in its comfy dining room for a long, boozy lunch is always a good idea when indoor dining returns, but for now, it's got an ace up its sleeve in the form of a beautifully decked out terrace in partnership with Perrier-Jouët. The outside space, decked out in sumptuous yellow flowers, will offer a menu of the restaurant's standard-bearing seafood, fish and game alongside some beautiful cuvées from the iconic champagne producer, which sounds like all the right elements for a long lunch to us.