If you're the kind of person that likes to indulge in quaint Christmas feels way before the first day of Advent, we've got some news for you: there's no judgement here. In fact, we're here to facilitate your insatiable desire for the smell of cinnamon, pine needles and a toasty log fire.
Despite being a long way away from your average countryside getaway, central London has a fair few places decked up for your wintry delight. At these five cosy winter hideaways, you'll be able to get warming whisky cocktails, tasty festive grub and a slice of alpine apres – all while cosied up under a lovely tartan blanket. And it that doesn't warm your cockles this festive season – well, nothing will.
So from high tea to cosy cocktails, here are a few of London's best winter warmers for festive season 2018. We'll see you at the bar.
The Prince
14 Lillie Road, SW6 1TT
In a world of cosy winter terraces, The Prince – a rambling woodland garden that extends across the rooftops of four buildings on the same street in Earl's Court – just about takes the prize. This winter, the mammoth, four-restaurant, three-bar covered terrace is fully heated, full of cosy blankets, and has food from four of the city's finest independent traders: Patty&Bun, Edu, Coqfighter and Foley's. Turn up and chow down.
Dalloway Terrace
16-22 Great Russell Street, WC1B 3NN
You know what elevates afternoon tea from pleasant day out to full-on winter warmer vibes? Chomping your way through tons of sumptuous sarnies, scones and cup after cup of tea at The Bloomsbury Hotel's Dalloway Terrace. Expect festive wreaths, snowy-white floral arrangements and – perhaps most importantly – seriously plush blankets to make yourself feel extra cosy. Yes.
Night Tales
14 Bohemia Place, E8 1DU
Hackney's Bohemia Place got a facelift thanks to fancy new lights last month, but that's not the only reason you should be heading to the hedonistic little alleyway full of bars and craft breweries this festive season. Night Tales has just received its winter makeover, and is now home to East London's biggest winter terrace, complete with Northern Lights-style illuminations on the roof, flickering candlelight on the tables and roaring fires everywhere else. In a word: snug.
Churchill's Highlands Hideaway
30 Portman Sqaure, W1H 7BH
Take an award-winning terrace, turn it into a Highland-themed hideaway with faux fur throws and pine trees, then ply your guests with hot whisky cocktails, pies and Scotch eggs. Yep, you've got Churchill's Highlands Hideaway, the new winter-themed bar at the Churchill Bar and Terrace, just off Oxford Street. We'll meet you at the bar: ours is a fig old fashioned – just saying.
Après London
Flat Iron Square, 64 Southwark Street, SE1 1RU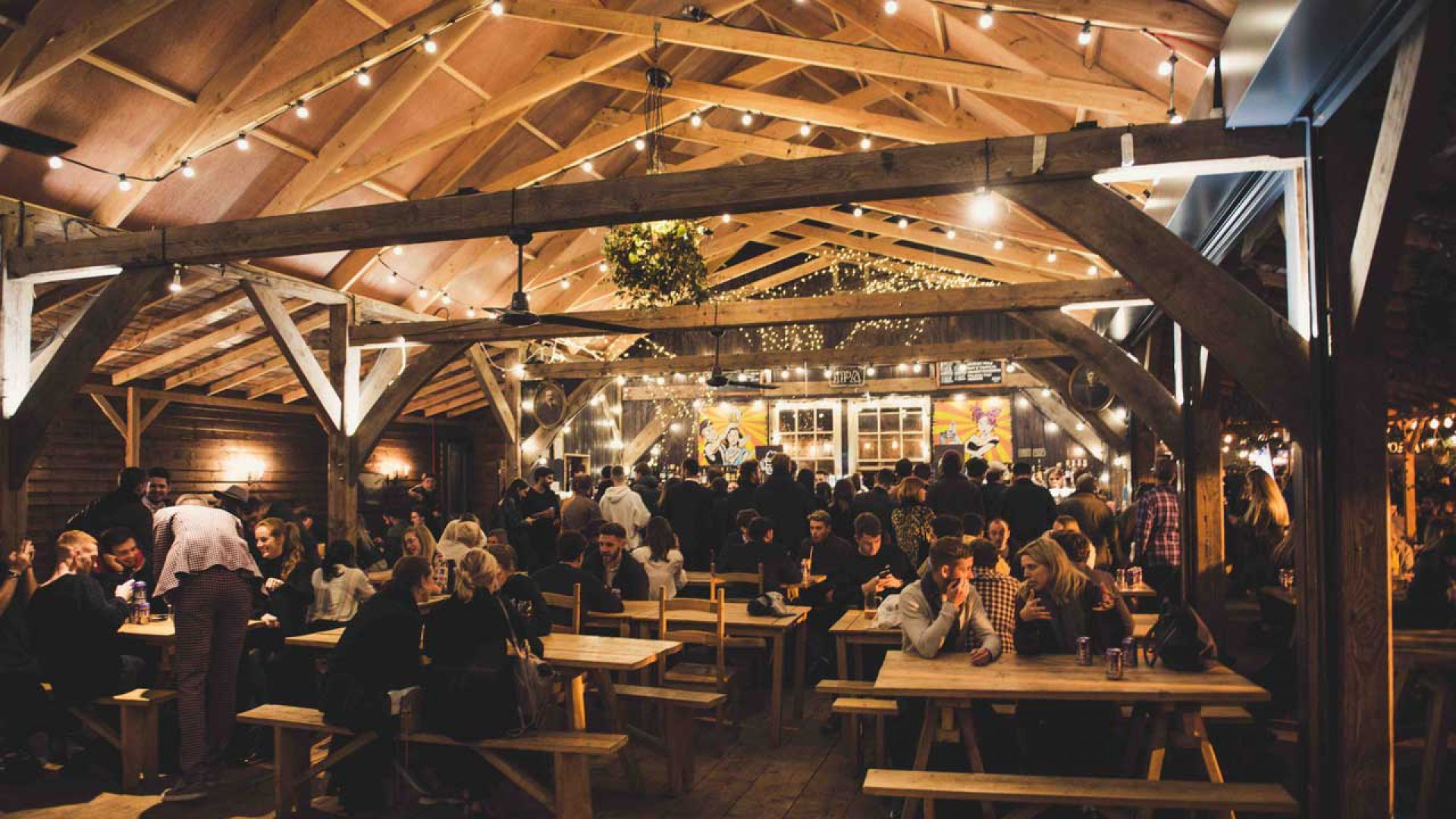 Christmas is coming, winter is here and the World Cup cheers (and tears) we all had at Flat Iron Square this summer feel like a very, very long time ago. And that's why the infamous Borough-based drinking and dining hangout has reimagined itself as an Austrian-style alpine village, complete with a wooden ski chalet serving winter cocktails, a mini version of the Shard and a ton of private booths inside a mock village street. Forget England, we support Austria now.