The best food markets in London span far and wide – you've got world-famous Borough Market, trading for over 1000 years; Venn Street Market, uniting Clapham residents every Saturday morning with fresh fruit and veg and arguably the best almond croissants in the south; and Market Halls, new on the scene but already making noise with its 'grammable brunch dishes and trendy vendors.
And that's not to mention the many independent farmers, fermenters and bakers selling their produce for you to pack up and take home, enjoy in front of Love Island or that six-hour binge of Stranger Things.
London's food markets are a large part of what makes the city's food community and things to do roster so special; seven days a week, 365 days of the year (almost), you'll be able to find a chirpy cockney serving steaming, battered, vinegar-sprinkled fish and chips (for our full guide to London's best fish and chips, look no further) independent vendors sharing tasty homemade fare with century-old recipes and dishes so delicious you need never dine in a restaurant again.
Keep scrolling for Foodism's guide to the best food markets in London. From the north to south, east to west, we only bring you the best.
24 food markets in London not to miss
1. Arcade Food Theatre
101-103 Oxford St, Soho, WC1A 1DD; Mon-Sat from 8am-11:30pm and Sun from 10am-10:30pm
Food markets are having a moment, but the newest is Arcade Food Theatre. Its USP? Well, apart from the fact it's situated in Tottenham Court Road's iconic grade II-listed Centre Point building, it's playing host to seven of the hottest up-and-coming restaurants in the city. Feast on next level tonka bean custard-stuffed flaky pastries from Pophams Bakery, that viral katsu-sando from TŌU by TĀ TĀ Eatery and seriously tasty Mexican fare from Pastorcito and the restaurant group who bought you El Pastor. Plus – shock horror – there's more to Arcade Food Theatre than just food. The team have worked hard to make it an immersive and design-led experience, too: expect brilliant music, ever-changing art installations and a digital take on Marcel Duchamp's work adjourning the walls, and, all food will be prepared in open kitchens for you to observe and enjoy. Not one to miss.
2. Borough Market
8 Southwark Street, SE1 1TL; Mon-Thurs 10am-5pm, Fri 10am-6pm, Sat 8am-5pm
It's hard to do Borough Market justice; as London's longest standing and most globally loved market, you can't quite sum it up in 200 characters. However, we can but try; opening initially for traders in 1014, Borough Market opened its doors for the public around 20 years ago, and the real magic began. Whether you want to fill your basket with buttery, flaky sausage rolls from much-loved Ginger Pig butchers, tuck into freshly baked balls of joy in the form of doughnuts from Bread Ahead bakery (for a complete guide to the best doughnuts in London, you're in luck) or feast on smoky aubergine and chargrilled halloumi wrapped in fluffy flatbread from Gourmet Goat, there's something for everyone. Even if you've just eaten elsewhere (fool), head for the hustle and bustle of hundreds of years of food history under Borough's railway arches. It's the perfect way to while away a touristy afternoon or lazy Saturday morning.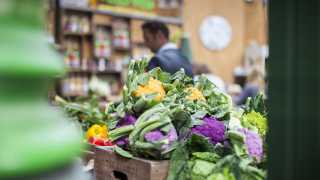 3. KERB
Various locations; Kings Cross 12pm to 2pm Wed to Fri, West India Quay 11.30am to 2pm Tues to Fri, Gherkin 12pm to 2pm Thurs and St. Kats Thurs to Fri 12pm to 2pm
You know those halloumi fries you've got bookmarked on Instagram but still haven't tried? You've got KERB to thank for them. Launching back in 2010 to unite the best street food sellers in London under one roof, they now have five markets, work with over 240 street food traders and serve over 10 thousand dishes a month (that's a lot). Plus, they provided the springboard for favourites like Bao, Pizza Pilgrims, Mother Clucker and Baba G's before they secured permanent locations. KERB is one of the coolest street food markets in the City; get down for crispy double-fried chicken, pomegranate and tahini-slathered halloumi fries and beef sandwiches complete with giant gherkins. Yum.
4. Mercato Metropolitano
42 Newington Causeway, SE1 6DR; 8am-11pm Mon-Fri, 11am-11pm Sat and 11am-10pm Sun
Once you've got your head around how on earth to pronounce the name (Mur-cah-toe, FYI), you'll want to head to Elephant and Castle. Not only is sustainability and environmentally-focused trading at the market's very core, they make a large majority of their ingredients on-site to ensure your dish is as far from processed as possible. There's a farmer's market shop, bursting with pickles, pastas and fresh bread, and more street food than you could possibly try in one sitting. Foodism favourites include the Tom Katsu sandwich – pork cutlet sandwiched in between soft bread with kewpie mayo, remoulade, shiso, mustard and tonkatsu sauce – and the authentic Italian charcuterie platters from Bottles and Battles. Too good to miss.
5. Street Feast
Various locations; Dinerama 5pm-12:30pm Wed-Sat; Giant Robot 11am-10pm Mon-Tues, 11am-11pm Wed and 11am-1am Thurs-Sat; Hawker House 5pm-12pm Fri-Sat and Model Market 5pm-1am Fri-Sat
Now spanning four locations across London, Street Feast – arguably the operator that helped street food into the mainstream in London – is the place to be for Friday-night drinks or Saturday morning catch-ups over banging food. In short, there's a bit of everything; burgers dripping with melted cheese and fried onions from Black Bear Burgers, some of the best dumplings in town – aptly named 'Yumplings' – from the team behind Yum Buns, and Chin Chin Labs' liquid nitrogen ice cream – a concoction that's smoother than Steve from Stranger Things. Hungry yet?
6. Market Halls
Various locations; Victoria 7am-11pm Mon-Fri, 9am-11pm Sat and 9am-10pm Sun; Fulham 7am-11pm Mon-Thurs, 7am-12am Fri, 8am-12am Sat and 10am-10pm Sun
It may be new on the street-food-market scene but it's still mighty; with two brand-new locations launched in 2019 comes Market Hall, turning old and abandoned warehouses into shiny food halls for all to enjoy. Head to their Victoria or Fulham locations for award-winning fish and chips from Kerbisher and Malt plus picture-perfect pink dumplings from BaoziInn and towering ice cream cones from Soft Serve Society (seriously good). Insider tip: their roof terrace in Victoria is the perfect spot for an Aperol Spritz when the British summer time finally decides to arrive, and its Fulham location hosts weekly yoga and sweat sessions. Nice.
7. Southbank Centre Food Market
Belvedere Road, SE1 8XX; 12pm-9pm, Fri, 11am-9pm Sat, 12pm-6pm Sun and 12pm-6pm bank holiday Mons
The strip of the river that hosts the Southbank, the BFI and the National Theatre is heaving with fun things to do. Year 'round, there are pop up street food stalls, skateboarders performing tricks in the long-established skatepark and stall owners selling cheap second hand classics for under a fiver. And that's before you've even got round to scouting out the food market. There are duck confit burgers from The Frenchie, India's famous vegetarian moong dal dosas from Horn OK and saccharine-sweet pasteis de nata and gluten-free salted caramel brownies from Galeta. Hungry yet?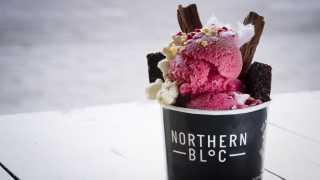 8. Boxpark
Various locations; Shoreditch 8am-11pm Mon to Sat, 10am-10pm Sun, Croydon 9am-11pm Mon-Sat and 9am-10pm Sat; Wembley 11am-11pm Mon-Sat and 11am-10pm Sun
Fancy dancing the night away in the world's first pop-up mall made from shipping containers? We thought you might. Even better: along with banging DJ acts, the four Boxpark venues also host a plethora of tasty street food and bar vendors for you to enjoy. The original Boxpark location, built on part of Shoreditch's old Bishops's Gate Goods Yard, has 19 restaurants, including Coqfighter fried chicken burgers, Voodoo Rays pizza and Eat Chay steamed seitan bao buns. Need we say more?
9. Pop Brixton
49 Brixton Station Road, SW9 8PQ; 9am-11pm Mon-Wed and Sun, 9am-12pm Thurs-Sat
Another one of the much-loved food markets in London is Pop Brixton, again hosting street food vendors, bars and clothes shops in old shipping containers. Working with Lambeth Council, the community run initiative aims to showcase the best of local and independent businesses, business ventures and street food stalls. Sure, it's eclectic, but the weird and wacky makes for a really immersive dining experience. Enjoy pickled everything from Smoke & Salt (trust us), oozey, gooey raclette from Alpes of the Raclette Brothers, and Venezuelan arepas – aka cornbread sandwiches – from Petare. All beneath the fairy lights adjourning Brixton's railway arches. Cute.
10. Venn Street Market
Clapham Common, SW4; Sat 10am-4pm
Clapham has a lot to choose from food wise - you need only read our guide to what to eat and drink in Clapham guide to scout what's on offer - but have you ever checked out Venn Street Market? Situated just metres from Clapham Common tube, every Saturday morning, local vendors bring their best fare for you to feast on. With weekly changing curated vegan options on offer from Fat Gay Vegan, some of the best almond croissants in London from Olivier's bakery and a sizzling herby hog roast from nearby butchers Moen & Sons, you're in for a treat.
11. Herne Hill City & Country Farmers Market
Herne Hill; Sun 10am-4pm
If you're starting to feel a little tired of London tubes, grumpy rush hour commuters and less-than-clean City air, take a trip down to Herne Hill. Not only will you feel like you're on holiday in the South of France (weather permitting), but you can try organic fairtrade coffee from Perks & White, buttery, veg-packed pasties from Aston's Bakery and deliciously creamy cheeses from the Bath Cheese Company. We're not the only ones who think Herne Hill City & Country Farmer's Market is great – its 50 plus stalls won the TimeOut Love London Award for best shop in Herne Hill last year. Buying local never looked so easy (or tasty).
12. Maltby Street Market
37 Maltby St, SE1 3PA; 10am-5pm Sat, 11am-4pm Sun
If you're a proper foodie – which we're guessing you might just be, if you've found yourself on Foodism, duh – you'll love Maltby Street Market. It's been compared to a more refined Borough Market, with only the best in local street food and vendors making the cut. Open now for nine years, it's seemingly still a tourist safe haven, unlike Borough. Wander along the Victorian railway arches in Bermondsey and you'll find everything from Little Bird G&Ts topped with fat, juicy slices of grapefruit, to dhan waffles, aka small waffle puffs soaked in Nutella, salted caramel, peanut butter, vanilla custard and Taiwanese honey. Drool.
13. Berwick Street Market
Berwick Street, W1F 0PH; 8am-6pm Mon-Sat
Do you work in Soho or the nearby area? Are you constantly on the hunt for a tasty lunch to replace the soggy meal deal you so often frequent as your go-to? Dating back as far as 1778, Berwick Street Market has several wallet-friendly lunch options for you to choose from; halloumi and hummus topped salad boxes from Savage Salads, pita sandwiches from Wow Shees, and chicken bao sandwiches the size of your face from Big Bao. You heard it here first – sad meal deal, be done.
14. Broadway Market
67 Broadway Market, London E8 4PH; 9am-4pm Sat
Hackney-dwellers, this one's for you. Originally a humble fruit and veg market back in the 1890s, Broadway Market had all-but-died come the 80s, and was on the brink of shut down. However, after a facelift in 2004, it's become one of the trendiest foodie locations in London. Head for a Saturday stroll, and to enjoy any of the 135 traders cooking up a storm – Casa Cannoli's almond ricotta and amaretti biscuit cannoli and Bokitla's Guadeloupian bokit, aka fried dough stuffed with chicken, salt-fish or aubergine, are not to miss. Plus, if you walk the length of the market, you'll segue delightfully into London Fields to lounge (read: enjoy an afternoon nap) after your brunch/lunch/feasting. Dreamy.
15. Brockley Market
Lewisham College Carpark, Lewisham Way, SE4 1UT; 10am to 2pm Sat
Fill your fridge with freshly caught fish, organic loaves and quality native bred meats from Brockley Market and we guarantee you'll be in for a week of delicious, tasty, easy meals – the dream, right? Brockley Market may be held in a car park, but that doesn't distract from the outstanding produce on offer. Foodism favourites include seasonal fruit and veg at its finest from Wild Country Organics, French and Swiss cheeses from Mon's cheesemongers and Crosstown doughnuts (included in our guide to the best doughnuts in London, duh) to satisfy your sweet tooth (vegan options available, too). Go, go, go.
16. Flat Iron Square
Bermondsey, SE1 1TD; 12pm-9pm Mon, 12pm-12am Tues-Fri, 11am-12am Sat and 10am-8pm Sun
London Bridge way and in need of a chill post-work drink or bite to eat away from the hubbub of Borough? Flat Iron Square has something for everyone; fresh pasta from La Nonna (ask for extra truffle), twice battered fried chicken from Mother Clucker and some of the best pancakes in the City from Where The Pancakes Are (seriously). There's normally live music or events being held on, too; it's a lively hive of entertainment you'd be sorry to miss.
17. Greenwich Market
Greenwich Peninsula, SE10 9HZ; all week 10am-5:30pm
For a side of history with your street food, Greenwich Market is one of the best food markets in London. First opening in the 16th century, it's an eclectic mix of war ships, olive stalls and fudge shops, chocolatiers, bakeries and Caribbean street food, but there's something for everyone. The vegan carrot cake from Ruby's of London is the best our staff writer (@allyyhead) has ever eaten – now that's saying something. The market is busy, but walk up to the park or down to the river side to enjoy your feast in the sunshine.
18. Netil Market
13-23 Westgate St, E8 3RL; 12pm to 7pm Tues and 10am to 10pm Wed to Sun
Most food markets in London pride themselves on sourcing and serving outstanding fare; so much so, that it can become quite overwhelming knowing where to start for your day out. Netil Market in Hackney is hands down one of the frontrunners for housing what have become some of London's most loved names, most notably Bao, who just opened their second site in Borough. These days, head to Hackney to enjoy tasty burgers with a Mexican twist from Club Mexicana, afro-tacos from Lemlem and vegan pizzas from Death by Pizza. Drool.
19. West Norwood Feast
West Norwood Leisure Centre 25 Devane Way, SE27 0DF; 10am to 4pm he first Sunday of ever month.
If you've felt like this article has been mainly mass-run and corporately-organised markets, then you'll love our final recommendation. West Norwood Feast is a people powered market in the very heart of South London with over 100 stalls and some seriously tasty grub. What makes West Norwood Feast unique? Well, it's run entirely by volunteers from the local community, encouraging others to shop, buy and eat local. The themes of the market hubs are ever-changing - think artisan's markets and fresh 'n' green farmers fare galore - plus, a sizeable discount if you bring your own reusable containers for buying street food.
20. Old Spitalfields Market
16 Horner Square, E1 6EW
There's been a market trading at the Old Spitalfields site for 350 years, but this East London institution is more delicious now than it's ever been. The likes of reuben sandwich specialists Monty's, Burmese restaurant Lahpet, and Taiwanese street food experts Jia Ba are all on the roster of traders that already includes Bleecker Burger, Berber & Q and Dumpling Shack. Here's to the next 350 years…
21. Victoria Park Market
56-57 Gore Road, E9 7HN
This weekly farmers' market is only young, but it's already a massive hit with locals, who head to the park to buy seasonal produce including fruit and veg, organic meat, fresh fish, raw milk and honey, and all sorts of street food. There's also live jazz, a children's drawing gallery, and brunches and lunches. Oh, and obviously there's craft beer available, too. And craft spirits. And natural wine. The weekly shop is certainly looking up…
Open Sundays, 10am-4pm; victoriaparkmarket.com
22. Brockley Market
Lewisham College, Lewisham Way, SE4 1UT
Don't let its unassuming location in a car park fool you – Brockley Market is a huge local success story, and has garnered much praise and legions of fans since it started almost seven years ago. The emphasis here is firmly on super-local producers and traders, who bring along everything from organic bread to locally roasted coffee, and there's the likes of Mother Flipper on hand to provide sustenance while you shop.
Open Saturdays 10am-2pm; brockleymarket.com
23. Brixton Village and Market Row
Atlantic Road, SW2
We know you know all about Brixton's markets, and how they've become one of London's top destinations for a food-fuelled night out. But what you might not know is that during the day, before many of the restaurants and bars open their doors, the stalls that have been in situ long before the likes of Honest, Bukowski and Federation Coffee moved in are still in full operation, selling some of the best fresh fish, fruit and veg in town. Get there early and grab a bargain.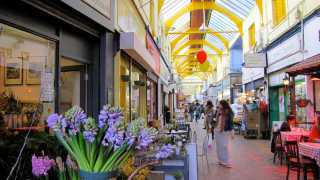 24. Tooting Market and Broadway Market
Tooting High Street, SW17
Much like Brixton, Tooting markets are a combination of new arrivals - We Brought Beer, Brickwood Coffee, The Tapas Room - and long-standing traders: Stannards butchers has been there decades, and remains at the heart of the operation. Add to that fruit and veg stalls where traders shout out the day's offers at top volume and you've got a market that perfectly blends the old with the new.