Stay
Watergate Bay Hotel, Cornwall
It's hard to know where to look when you're sitting in one of Watergate Bay's four restaurants. At the grey-green swell as it froths and pounds the long sandy beach? At the dark, jagged cliffs that frame the bay and stretch out into the distance in either direction? Or at the plate of ultra-fresh, locally caught fish in front of you, grabbing your attention with an unmistakable aroma of the Cornish seaside's finest produce?
The hotel sits right on the arc of sand that gives it its name, which means wherever you are – your room, the indoor infinity pool, each of the restaurants – there's a good chance you'll have stellar views of the North Cornwall coastline. You could (almost) forgive them for resting on their laurels when it comes to the food, then, but there's no danger of that.
Three of the bay's four restaurants are part of the hotel itself (Fifteen Cornwall is the other), and each offers something different: the loungey Living Space serves up neck-straining views of the coastline alongside classic modern-British dishes, while Zacry's is occasion dining with a focus on local produce.
The views from the latter aren't bad either but the food's undeniably the star turn. Our chargrilled octopus came on a pretty, zingy salad with nods to Vietnamese and Thai flavours. A whole Cornish plaice arrived dotted with small herby cubes of parmentier potato and little spears of samphire, and dripping with nutty brown butter – it tastes as good as you're imagining.
You can't be eating all the time (though god knows we try), so it's good to know there's plenty to keep you occupied in the hotel. Swim Club is where you'll find the aforementioned pool, and it's also home to treatment rooms and a tiny bar with a big spirits selection – both of which you might find yourself drawn to after surf lessons with the Bay's Extreme Academy.
And if you're bringing the kids, you'll be glad to know the hotel's set up to make your life as easy as possible, with a kids' zone, family suites and a big choice of kids' food. After all, why should the grown-ups have all the fun?
From £185 B&B based on two sharing. Watergate Bay, Cornwall, TR8 4AA; watergatebay.co.uk
Eat
Fifteen Cornwall
Stride across the car park from Watergate Bay Hotel and you'll find Jamie Oliver's Fifteen Cornwall. Set up by the chef/author/food crusader, and now run by Adam Banks, it's as much about social responsibility as it is about innovative-but-approachable cooking. All profits go to the Cornwall Food Foundation, which offers training and opportunities for young people in need, and the menu takes its influence from both Italy and the local area. Proof, if it were needed, that food can taste good and do good at the same time.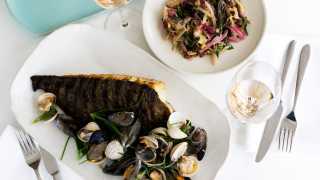 Drink
Trevibban Mill vineyard
You'll find this organic vineyard just 15 miles north east of Watergate Bay, not far from the harbour town of Padstow. The super-modern winery, set in bucolic North Cornish countryside, is the perfect place to find out more about the burgeoning English wine scene – not to mention a great spot for glugging back a glass or more of its award-winning produce. If you're there on a Sunday and feeling sprightly, join a two-three-hour tour of the vineyards, with a seven-glass wine tasting and light lunch. There's also an on-site restaurant, Appleton's at the Vineyard, run by Fifteen Cornwall alumnus Andy Appleton and his partner Lyndsey.
Nr Padstow, PL27 7SE; trevibbanmill.com
Sharp's brewery
You don't have to go all the way to North Cornwall for a taste of Sharp's Brewery's hugely popular beers, but for an insight into the people and philosophy behind the brand, you can't beat a trip to its headquarters in Rock. Pick up a bit of knowledge and a few bottles direct from the source, including Doom Bar (the best-selling cask beer in the UK), Atlantic pale ale and its excellent Pilsner. Alternatively, check out nearby The Mariners, a pub run in partnership with celebrated local chef Nathan Outlaw.
Rock, PL27 6NU; sharpsbrewery.co.uk
Visit
The Eden Project
Cornwall
Population: 553,700
Area: 3,546km2
Key city: Truro
Occupying most of the south-west tip of England and almost completely surrounded by coastline, Cornwall is both a tourism and foodie powerhouse – and with good reason.
If the Eden Project doesn't immediately strike you as a place for food lovers, perhaps you need to pay it a visit. The educational charity's hulking biomes and expansive gardens, tucked away in the crater of a former clay pit, aren't just pretty to look at – they're treasure troves of information about how we interact with the living world, particularly when it comes to growing and producing food. And once you're done educating yourself, stock up on the spectacular array of Cornish produce on sale in the centre's shop.
Bodelva, PL24 2SG; edenproject.com
Want to explore more of the UK and beyond? Click here to read more of our food-led travel guides.