Another scorching weekend is coming up and you know what that means: summer garden parties galore and the ultimate excuse to fire up the barbecue. This year, the Gordon's team has created a spate of unique cocktails guaranteed to make any event look and taste great. These one-of-a-kind pre-dinner cocktails have been designed to pair perfectly with food, and Gordon's have even done all the hard work and provided exciting food pairings to go along with each delicious drink.
Be prepared to be… well… prepared for whatever summer party you attend in the near future. Your drinks game just got a serious upgrade.
The perfect cocktail to celebrate vegetarian and vegan food:
Pre-dinner Gordon's Lemon & Grapefruit Cooler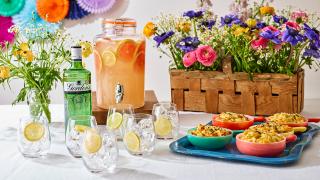 Impress your guests and get people talking with a DIY welcome drinks station on arrival. Gordon's London Dry Gin is accompanied by lemon and grapefruit juice, with sugar and soda water stirred through to give a light and lively taste. Simply add some lemon and grapefruit wheels to serve an ultra-aesthetic cocktail.
Recipe:
Makes 4 cocktails (0.9 units per cocktail)
Ingredients:
100ml Gordon's London Dry Gin
50ml Lemon Juice
100ml Grapefruit Juice
100ml Sugar Syrup
Top with soda water
Cubed ice
Method:
Mix together the ingredients, and then serve in a large sharing jar and garnish with wheels of lemons and grapefruits
Pair with: Mini vegan mac and cheese
The perfect cocktail to allow party guests to personalise their drink:
Pre-dinner Gordon's Tea Punch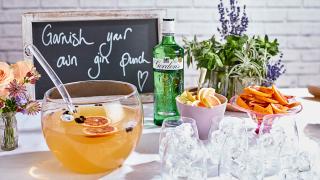 Use Gordon's London Dry Gin to give your guests the chance to make their own bespoke gin cocktail with their favourite garnishes. Combine Gordon's London Dry Gin with jasmine tea, high-quality apple juice and all-spice to create an impressive punch, served over a large block of ice in a punchbowl. For ultimate personalisation, go one step further and create a DIY garnish station for guests to have some fun with. We recommend citrus fruits, a choice of herbs, and even edible flowers.
Recipe:
Makes 12 cocktails (0.8 units per cocktails)
Ingredients:
250ml Gordon's London Dry Gin
1ltr Jasmine Tea infused with allspice berries
250ml Fresh Apple
100ml Lemon Juice
100ml Sugar Syrup
Big block of ice
Method:
Build, and then serve in a large punch bowl and garnish with dried fruit and berries
Pair with: Pork pies
The perfect minimalist boho cocktail:
Pre-dinner Gordon's Floral Rhubarb Fizz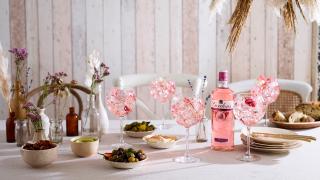 Fizzy, pink and floral, Gordon's Premium Pink Distilled Gin joins rhubarb syrup and tonic in a trend-hitting cocktail, ready to be batched into jugs with lots of ice and elegant, seasonal edible flowers. This cocktail will add a subtle pop of colour to the neutral tones of a minimalist summer garden party.
Recipe:
Makes a cocktail (1.9 units per cocktails)
Ingredients:
50ml Gordon's Premium Pink Distilled Gin
15ml Monin Rhubarb Syrup
Top with tonic water
Cubed ice
Method:
Build, and serve in a coppa glass and garnish with lots of edible flowers for the perfect boho look
Pair with: Antipasti sharing platter with bread, olives, sundried tomatoes