According to The Wall Street Journal, "Homemade pizza is, as they say, having a moment."
And it's definitely here to stay – there's been a surge in people taking up new hobbies over the past couple of years and lockdown saw many discover a new-found appetite for mastering the skills to level-up at-home cooking. Pizza enthusiasts are continuing to look for ways to replicate delicious, Neapolitan-style pizza from the comfort of their own gardens and have been investing in outdoor dining setups.
The world's number-one pizza oven company, Ooni Pizza Ovens, reported a substantial increase in online searches for "outdoor pizza oven" and has also experienced rapid growth in its own online community of pizza-makers. From top-of-the-range tools to high-quality groceries, making showstopping pizza whenever the mood strikes has never been easier thanks to Ooni, which provides all the tools and knowledge to aspiring pizzaiolos around the world to help make great pizza at home, regardless of where they are on their pizza making journey. Ooni Pizza Ovens was founded by husband-and-wife team Kristian Tapaninaho and Darina Garland in 2012 and has revolutionised the outdoor cooking landscape ever since.
Making show-stopping pizza whenever the mood strikes has never been easier, thanks to Ooni
Known for bringing portable pizza ovens to pizza lovers across the world, Ooni's goal is to help bring people together to make truly great pizza at home, while making memories with friends and family. Ooni has continued to define its category and be at the forefront of the global pizza making trend, with the release of further pizza oven models — currently including Ooni Fyra 12 Wood Pellet Pizza Oven, Ooni Karu 12 Multi-Fuel Pizza Oven, Ooni Koda 12 Gas Powered Pizza Oven and Ooni Koda 16 Gas Powered Pizza Oven. Ooni's recently launched Ooni Karu 16 Multi-Fuel Pizza Oven is its most innovative product to date. It can be wood-fired, gas-powered or charcoal-fuelled, and is suitable for year-round outdoor cooking, allowing pizza lovers to host perfect alfresco pizza parties. Better yet, the Karu 16 provides a large cooking area, amazing heat retention, a glass door to monitor the bake, and is the only domestic oven certified by the AVPN – the True Neapolitan Pizza Association, as being capable of baking authentic Neapolitan pizza.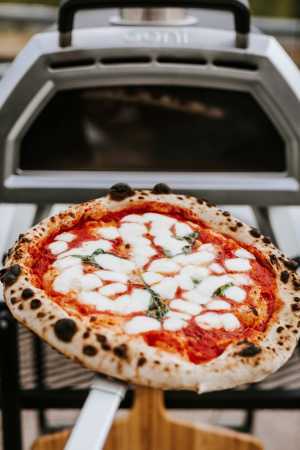 As well as providing top-of-the-range ovens, Ooni also has a comprehensive range of must-have accessories and carefully curated ingredients for pizza cooks. The recently launched grocery bundles, available on the Ooni website, consist of the very best, authentic pizza ingredient brands, and include everything from a 'spice lovers' bundle to a 'free from' bundle, making authentic, flame-cooked pizza even more accessible at home. Ooni's website is also home to a wealth of mouth-watering recipes, and top pizza tips, too. From an Ottolenghi-inspired mushroom ragu 'mince' pizza topping recipe to Ooni's expert advice on dough stretching, there's something to help everyone level up their pizza game.
To explore the full Ooni Pizza Ovens product range, recipes and top tips, visit uk.ooni.com