A good few years ago, heading underground at Clapham Common left me speechless.
Nope, not a particularly memorable jaunt up the Northern Line, but an urban farming project, Growing Underground, that had taken residence in Tube tunnels that had been unused since the war, and therefore provided the perfect environment for a forward-thinking new way of farming herbs and vegetables. In the years since then, hydroponic or 'vertical' farming has begun to knock on the door of the mainstream, as the conversation about how we continue to feed an urban populace largely separated from the land that produces its food has intensified.
And for good reason: the movement to bring the problems of biodiversity, widespread use of fossil-fuel-dependent fertilisers and continuing deterioration of soil health that blight the UK's farmland is a far bigger issue, but alleviating some pressure via tech-forward farming is nevertheless a great idea. The benefits are multi-layered, cutting out food miles, and in turn offering chefs a reliable supply chain for things like herbs, micro-vegetables, salad leaves and more. Growing Underground's effort continues at pace, and elsewhere the excellent Crate to Place, set up by Sebastien Sainsbury, grows produce under LED lights in a nutrient-rich water solution in storage containers in Kentish Town, Elephant & Castle and Canary Wharf. The brand works directly with restaurants like Chantelle Nicholson's Apricity and Ollie Dabbous's Hide, and can claim a carbon footprint of pretty much zero, as well as ingredients grown with significantly less water usage than industrial farming, and with no pesticides or herbicides used.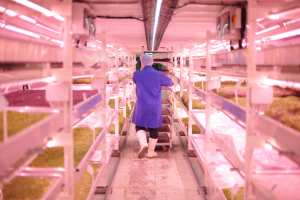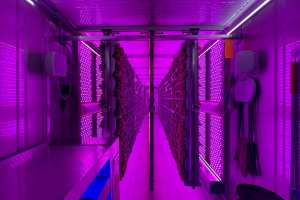 For a template of how far this could yet go in the UK, there's no better place than Italy's Agricola Moderna, one of the most ambitious hydroponic food farms in the world, set up in 2018 by co-founders Pierluigi Giuliani and Benjamin Franchetti, the latter of whom trained as a mechanical engineer and has a PhD and Masters from Imperial College in London. The two run the operation with an exacting, scientific approach, but are also learning as they go in what is a wild new frontier of food production. The team use highly specific data sets to continually improve the output of the operation, and are already looking for new headquarters after outgrowing their current site in Melzo, Lombardy.
It's important to reiterate that urban farms like Agricola Moderna, Crate to Plate and Growing Underground aren't necessarily the answer to all of our problems. At the moment, most focus on leafy vegetables and salad leaves, produce that doesn't form the majority of most people's diet. Moreover, a properly functioning agricultural system – one that includes plants and animals living together in harmonious, natural landscapes – is not only a net-zero operation, but removes more than it produces, owing to healthy soil's incredible ability to sequester carbon. The accepted science is that this requires natural biodiversity, acres of grasslands, crops grown in and around each other rather than monoculturally, and grazing ruminants to fertilise the soil – all things that hydroponic farms can't offer. But the route out of the industrial food system that's led to so many ecological problems won't be down to one solution alone, and as long as much of the country's population lives in cities, the reprieve offered by hydroponics can be a powerful ally.