Bentley's Oyster Bar and Grill may be a distinctly London restaurant, but its story begins about 80 miles east of Piccadilly, in Clacton-on-Sea, Essex. Bill Bentley came from a long line of ship chandlers, with a side business selling oysters out of a wheelbarrow on the shores of Clacton. After the First World War his wife convinced him to invest in oyster beds in West Mersea, a move that inspired the opening of Bentley's Oyster Bar and Grill.
This was not Bill Bentley's only passion. He helped found an open-air theatre in Clapton before the war, and would often spend his days after opening Bentley's working in the restaurant before heading back east to perform on stage that evening. It is this passion, perhaps, that continues to simmer throughout the walls of Bentley's, adding its intangibly jovial sheen. Nothing ever seems too serious at Bentley's, and life never seems too heavy. It's almost like the presence of Bill Bentley can be felt, permeating through every inch of this bright and giddy space.
"There's a lot of gaiety in the Bentley family," says Richard Corrigan. "Coming from oyster farmers to actors to coming in at the First World War because the oyster business had got so bad that they decided to take these stables of Piccadilly house and turn them into a bar. Times were very desperate indeed for them to do that. It wasn't some grand vision – it was survival."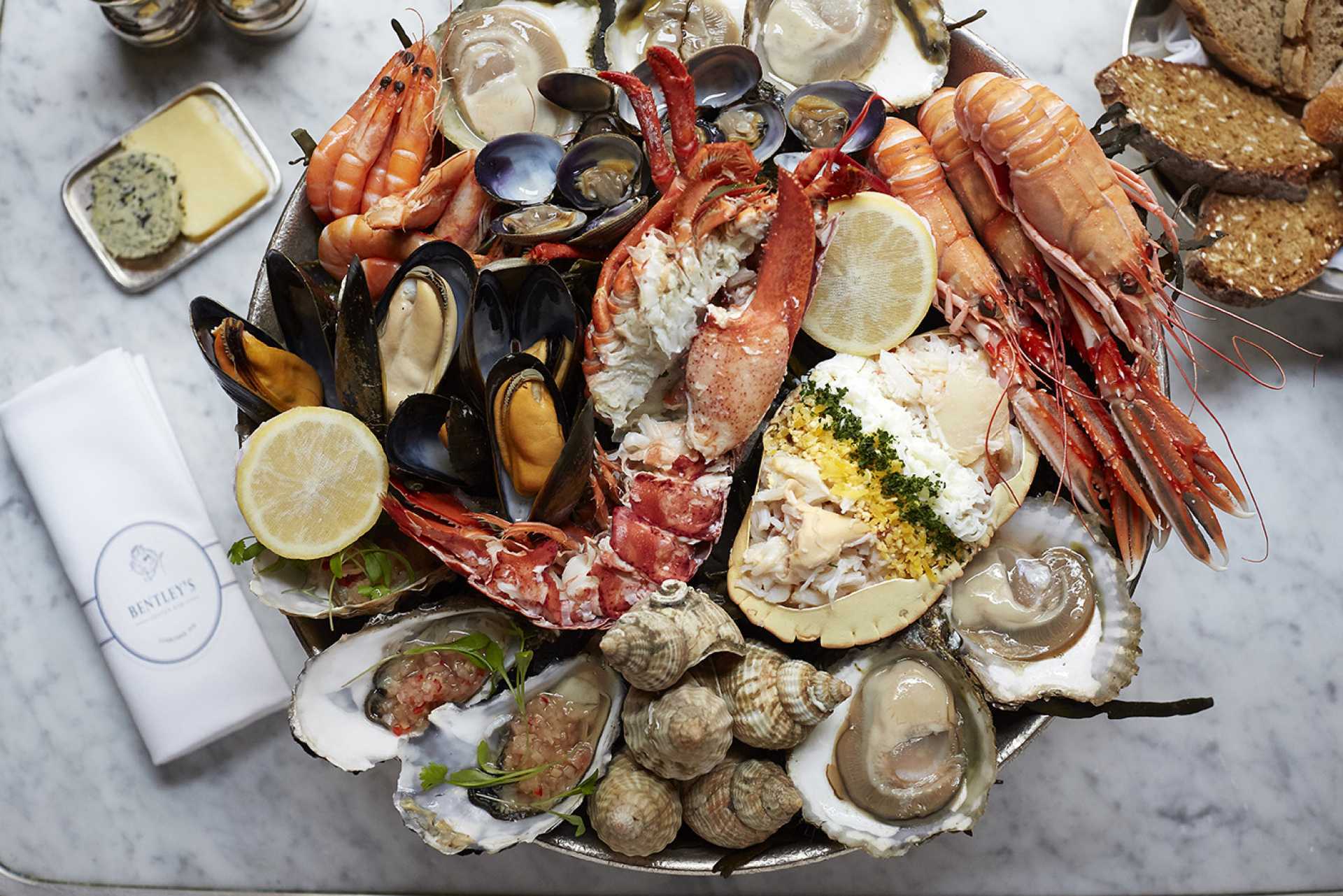 The restaurant saw something of a low period under the ownership of Oscar Owide, the disgraced British businessman and club owner who was once nicknamed "Britain's biggest pimp". Having been convicted multiple times throughout his years – including for VAT fraud in 1989, for which he spent a few weeks in jail and paid just £4,000 in fines – Owide managed to keep his sleazy business dealings going for far longer than anyone could anticipate, including a failed business endeavour with the chef Marco Pierre White and Piers Adam. Under Owide's ownership, Bentley's slumped into what the Evening Standard described as "a rather shabby place".
Having previously been head chef at Bentley's, Richard Corrigan bought the restaurant in 2005, committed to restoring it to its former glory. "When I first came here as head chef, I think I experienced a real awakening of what really great food is all about," Corrigan tells me. "The chef has his place in great food, but the name Bentley's and what it does comes before the chef. Once you understand the DNA of what Bentley's is and carry on the work of the great British institution, I feel very much a part of that carrying on. I think that is the main reason I felt I would love to be the custodian of this place for my life."
Corrigan talks distinctly about being a custodian of Bentley's, and is keen to reiterate this it's not another "chef-driven operation". "It really is not about Corrigan," he tells me. "It's about me just making sure I'm pulling the right levers here to keep it as Bentley's. It was never meant to be Corrigan's – it's Bentley's." It was, of course, not a small undertaking to restore the restaurant to its former glory. "You don't need to be a mathematician to add it all up and realise that it will take an awful lot of hard work and a lot of graft to bring it back to its glory years," says Corrigan. "And its glory years were probably up to 1978, when it was still owned by the Bentley family. After they sold the restaurant it fell a bit on hard times."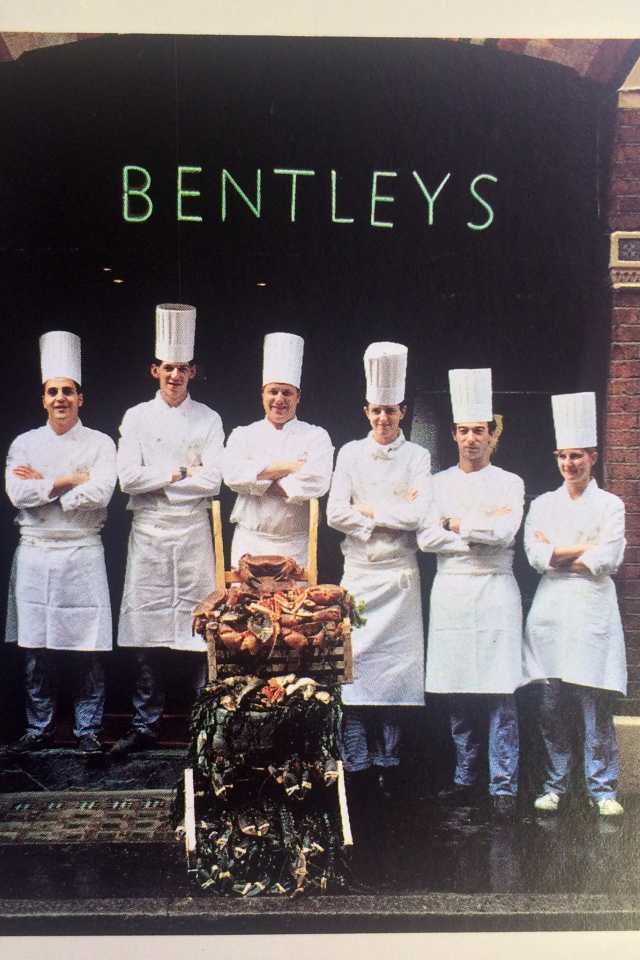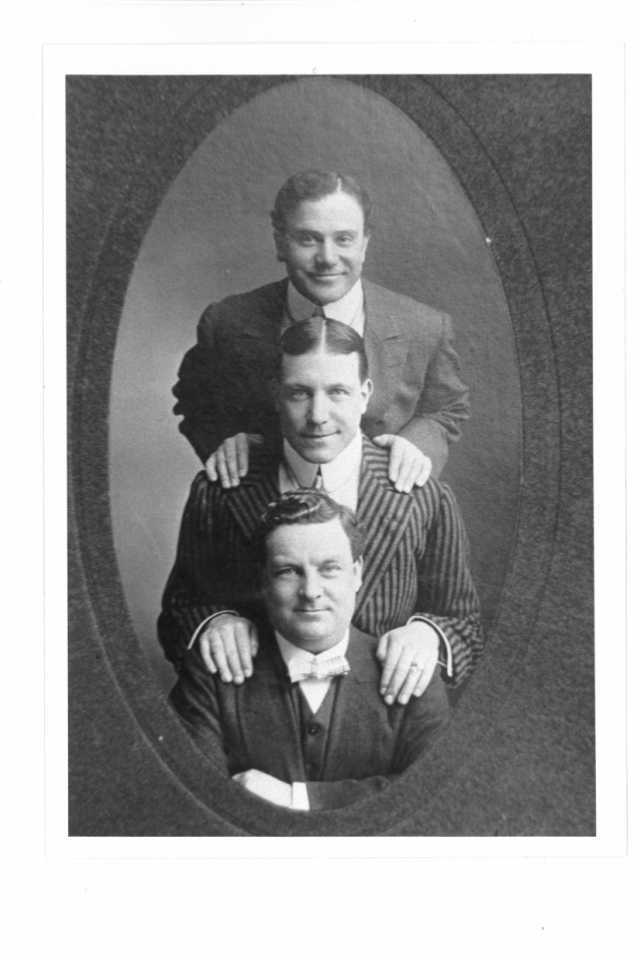 It may have been an enormous project ("It needed ten years of incredibly hard graft," admits Corrigan), but it is one Corrigan has absolutely succeeded in. Bentley's in the present day sits like a beacon on Swallow Street – the kind of place you can sidle into for an indulgent solo lunch at the bar – a plate of oysters accompanied by a glass of fizz, or maybe a seafood cocktail for one, the langoustine's head standing in as your temporary dining partner. You can swing by for a raucous group lunch outdoors on the terrace, the staff deftly catering for all manner of requests, and likely be talked into a dessert wine followed by an espresso martini because, well, why not? You are at Bentley's after all.
According to Corrigan, Bentley's can even be the place you sidle into simply for a creamy pint of Guinness and some soda bread. "Bentley's is a tavern," says Corrigan. "It's very unusual. It's not another old fish restaurant of London. You can have a pint of beer here. It was always where you could come in and have a beer or a glass of champagne. It was never supposed to be some old grand dame full of the genteel and the trust funds of society. It was a lovely collection of everyone visiting central London, from southern Germany to Scandinavia, from Ireland to the home counties and the East End Londoners coming in as well. Part of putting it back together was making them all feel that they're welcome again."
Whatever you're there for, there's no doubt you're going to be eating some of the finest seafood in London. And while Corrigan is quick to acknowledge that Bentley's is just "nature on the plate" rather than "chef tricksy", a lot of the restaurant's current era of beautiful food can be attributed to him and his team and the effort they have put into finding the right suppliers, approaching seafood in the right way and taking the greatest possible to care to ensure that what comes out to diners on the plate is of the highest quality.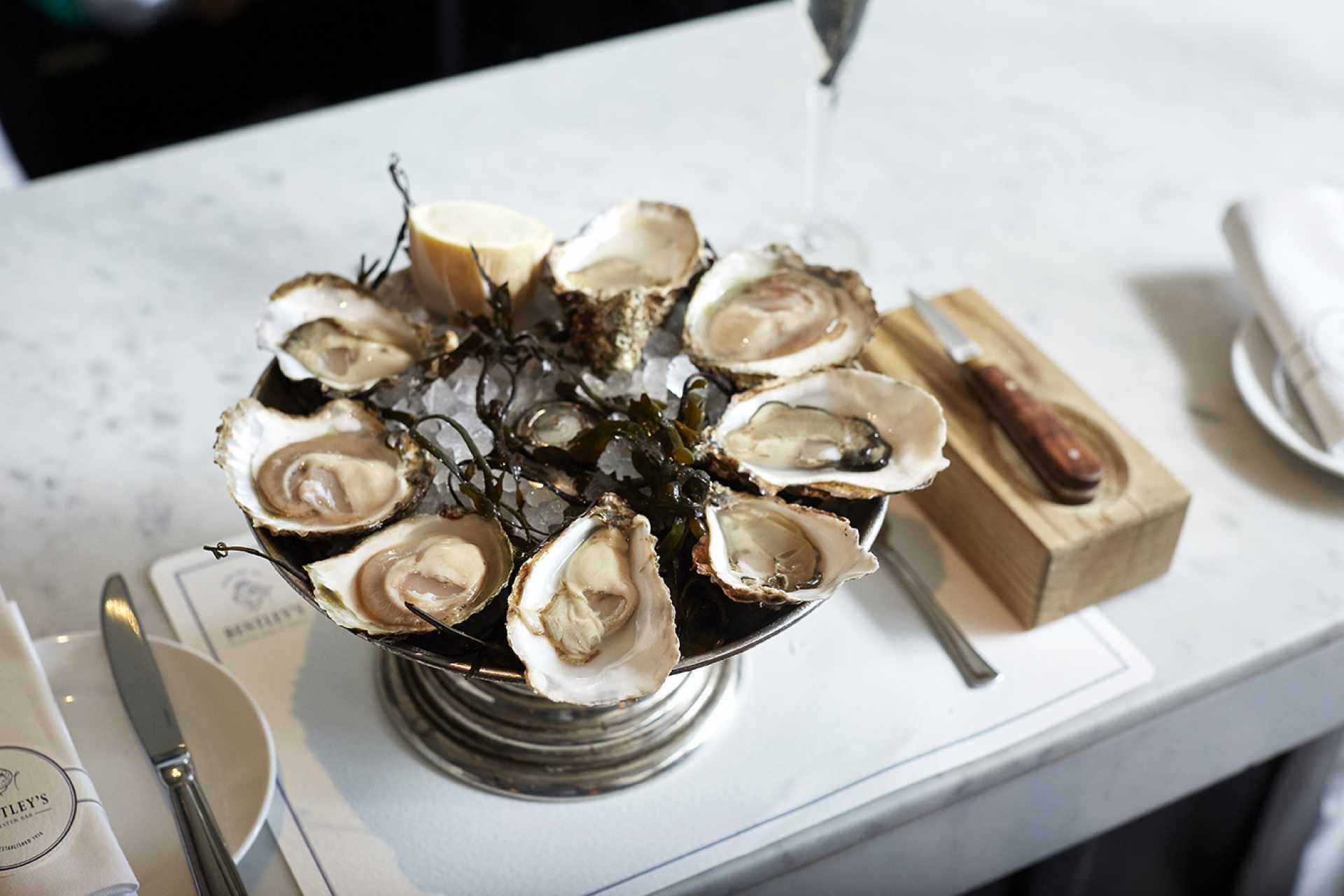 "Bentley's is really about turbot and sole on the bone. It's about native lobsters," Corrigan tells me. "It's about the absolute prime of the islands and the coast around Britain and Ireland. It's about the very best of wild fish. I mean look at the oyster bar," he says, gesturing to the capacious space in the centre of the dining room, where staff shuck oysters with care and precision in an almost machine-like manner. "I don't think there's anywhere else like it. Chefs don't touch oysters here. We do not allow a fucking chef to smell an oyster. Oyster barmen, that's all they do – open and serve. It would be one in a million for a bad oyster to be served at Bentley's, that's the effort we put in. And because of that effort, I feel very much we are carrying on the great tradition of the Bentley's family."
But, primarily, Bentley's is about dining at a place "full of laughter, gaiety, excess alcohol intake, fun and hospitality," as Corrigan so aptly puts it. "I mean it's where I want to come and eat my last meal, that's what Bentley's means to me," he continues. "The Bentley family has been back in here, and they hadn't been here in over 30 years. They come back here now and they say they are proud to be associated with Bentley's again."