Ask any chef – in London, New York, Singapore, Melbourne, or anywhere with a restaurant scene punctuated by fine-dining venues – to list some of the most influential chefs in the world, and chances are nine out of ten of them will put Alain Ducasse somewhere near the top.
The iconic Frenchman has bridged the gap between the wave of French fine-dining restaurants in the 1970s to the vibrant, flourishing restaurant scene we know today, hoovering up plaudits and a galaxy of Michelin stars along the way with his restaurants in Paris, Monaco, Hong Kong and more. This year marks a decade in London, with the three-Michelin-starred Alain Ducasse at the Dorchester turning ten. Under the expert guidance of Jean-Phillippe Blondet, the kitchen has consistently been rated as one of the best, if not the best, of its type in the capital.
Here, Alain Ducasse talks to us, through a translator, about the achievement, his thoughts on London's dining scene, and how in an industry as fast-paced as London's, you have to adapt to survive.
How does it feel to have completed 10 years in London?
It feels like yesterday. Those 10 years went very fast. What's been striking is witnessing the evolution of the London scene. It's been 10 years of astonishment, to look at the changes happening in London – new places opening, and everything that's on offer here. I like to see what's happening in the industry, and London has been very generous.
What do you think makes London such a destination for top-level chefs?
Years ago, I was maybe the only French chef in London, almost, and now it's crazy to see all these chefs coming from all over the world. But if there are so many chefs coming to London, it's because there's an audience for that.
Customers today have great knowledge and awareness, and they are not necessarily loyal
Customers today are more curious, and demanding – they travel a lot, so they have great knowledge and awareness, and they are not necessarily loyal, so you have to stay relevant for them. It's really important to demonstrate telling a story, but one that is is supported by a real offering. It's something that's very important – it's not only 'blah, blah'; there has to be substance and consistency.
Do you think there's a difference between a one-Michelin-starred restaurant and a three-Michelin-starred restaurant, or the reason you've been at such a high level for so long, is that it goes beyond just the food?
An experience in a three-Michelin-starred restaurant could be compared to haute-couture. It's not something that is common; it is unusual. It is about adding details to create that very delightful experience. So it's about the harmony between the food and the wine; it's about the tableware; it's about the design, the music, the service – all of these components coming together to create an experience that will become a memory that you will remember for the rest of your life. It is something that should be unusual and out-of-time and unique, and something that you cannot experience anywhere else. This what a three-Michelin-star is about.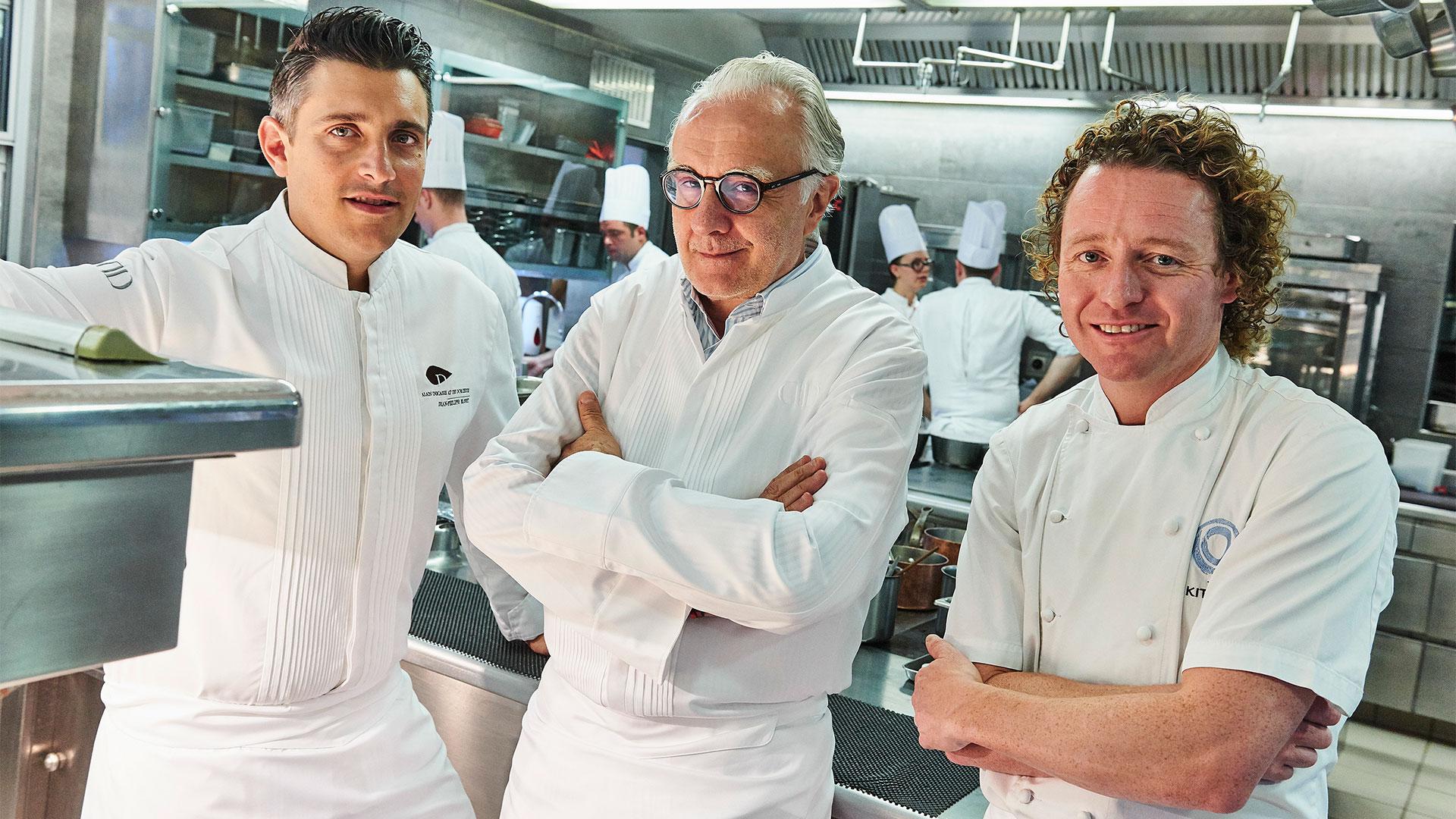 As an international restaurateur, is there a difference in the way that you run a restaurant in London compared to Paris, or Hong Kong, or elsewhere around the world?
It's about building a proposal to appeal to the local market. What we do here which is French contemporary cuisine, which is different from the three-Michelin-star in Monte Carlo, Louis XV, where we offer Mediterranean cuisine.
That is again different from what we do in Paris at La Place Athénée, where we have a concept that we translate in English as "naturalness": meat was removed from the menu to showcase a trilogy of fish, vegetables and grains – produce not commonly used for haute gastronomie. It's a way of breaking the rules of the three-Michelin-starred restaurant with little-used produce. You wouldn't find foie gras in Paris; it's using humble products. So we adapt according to the market, and none of the restaurants are the same.
Why do you think London has such a special relationship with French cuisine?
French cuisine influences other cuisines in terms of the technique and the skills that can be transferred. It won't influence the taste or the cuisine itself, but it's like a toolbox that many chefs can use.
At the moment I'm very interested in pies. Of course I use the French technique to change a little bit the way you would do it in the UK, but I learn a lot from the way you do it here as well. The influence goes both ways. You can't say French cuisine is the leader at the moment, or Spanish, There's no leader; it's about the chefs and what they do with what they've learned, and how they can express themselves. Everyone can try new things and master new techniques, but it's about knowing what to do with it after, and what sort of story you'll tell after that.
Keeping a restaurant open for 10 years in a city like London is an achievement in itself, but to do it at such a high level – what does that mean to you in a city with such high standards?
We are of course very pleased, but it makes us think that we'll have to work harder to maintain that, and to try to celebrate 20 years. It's about continuing to work hard, and for us, it's important not to be behind; to stay relevant for today's customer and what they're expecting, and to continue to surprise our guests. We have to stay awake.
Find out more at alainducasse-dorchester.com