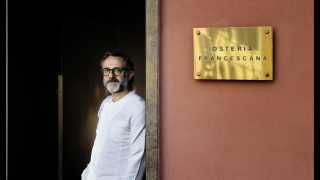 Photograph by Paolo Terzi
A good chef knows good ingredients, and that's particularly true for Massimo Bottura, the chef-patron of Modena's three Michelin-starred Osteria Francescana – this year's World's Best Restaurant. He's long championed the produce of his home region – especially parmigiano reggiano cheese – and he's now produced his own range of vinegars and olive oils, which are now available to buy at Harvey Nichols. This, he says, wasn't a decision that just came about – it's been years in the making. Bottura tells us about the importance of regional flavours, his love of Emilia Romagna and how to develop your palate.
How did the range of oils and vinegars come about?
I'm a chef from Modena, in the middle of Emilia Romagna. That's the area where balsamic vinegar comes from. When I say my muscles are made of parmigiano reggiano and my veins are made of balsamic vinegar, it's just defining who I am and where I come from.
Back in 1994, I was with Mario Batali [the well-established American chef] in Modena, and he and Alain Ducasse were exploring what balsamic vinegar is. They were in search of an amazing product. Immediately, a lamp went off in my head. I was seeing in all these restaurants reduction of balsamic vinegar. Reduction of balsamic vinegar? For us, reduction takes 50 years. You can put it in the pan and reduce it until it gets that viscosity and sweetness. But for vinegar, the most important characteristic should be acidity. I started thinking about making balsamic vinegar myself, always thinking about quality, and I took over the barrels at my parents house, Villa Manodori.
When I developed the cuisine of Osteria, I switched butter with extra virgin olive oil. In my mind I had this idea of cleanliness – you should be able to experience a thirteen-course meal and finish with a clear palate, and understand the range of the ingredients and the flavours. To do that, you don't need fat. Fat saturates the palate and you don't feel anything. So I started cooking just adding extra virgin olive oil and then, step by step, I started discovering the characteristics of a Tuscan olive oil, then a Ligurian one. These characteristics tell you what we are doing and where we are: we're in Modena, we're in the land of parmigiano reggiano, we are at Osteria Francescana and immediately you understand what I'm talking about.
A chef who has three Michelin stars is obsessed with perfection and quality
So it was step by step, I didn't just decide to make a line of products. Creativity isn't like that. It's inside you. It has to be your passion. A chef who has three Michelin stars has his own secrets, and is obsessed with perfection and quality. It's not just the quality of the ingredients, but the quality of the ideas, too. So step by step in the restaurant we developed all these flavours, but this is my baby. And then we started selling in the world.
How do you cook with the products?
Today I was thinking of two things that were very simple. One is a salad. Bacon, just sweat it in the pan, glaze it with balsamic vinegar, arugula, shaved parmigiano reggiano, and apple. That's a simple salad. You finish it with extra virgin olive oil.
The second one is going to be glazed blueberries with fresh raspberry, vanilla ice cream, dark cherry vinegar. Think about it – your mental palate is telling you that it's good.
When I use my vinegars, I don't have to do a reduction. I add it at t the last minute to a beef or pork sauce and it's going to be an amazing sauce. Sweet, savoury with a lot of acidity, that's very important.
There's a barolo vinegar. It's from Piedmonte, using just barolo grapes. That vinegar you have to use with salads. When you smell barolo you first get into the tobacco, then the back taste of raspberry.
Using in the pan, you have to use it with a lot of respect. Heat is something that is ruining a product that is so aged. It's very, very important. The cherry vinegar that we developed came about because I love cherry, because Modena is the place for sour cherry. So we used cherry barrels, it's amazing with fruit, for a pigeon, for game and very rich meats.
What do you eat when you're at home?
For a chef like me... I say 'ingredients'. Because I love ingredients. I love a snack with some parmigiano reggiano. I brought an apple with me today, and I'll have that with some parmigiano reggiano and some balsamic vinegar. That's the perfect snack. It could be pear, it could be raspberry, it could be blueberry. It's something that you feel inside. When you search for perfection, for flavours. Through simple, natural ingredients, that's how you develop your palate. That's the most important tool for a chef.
Where and how did you learn to cook?
Actually, I developed my palate under the table. Under the kitchen table was my safe place in the house. I grew up with older brothers. They were catching me all the time, and under the table was my safe place because my grandmother was defending me all the time with a big mattarello [rolling pin] for pasta. And from there I had flour on my nose, and I was eating raw tortellini.
That's my first memory of the kitchen. Then, step by step, I understood the culture of food, the seasons. I remember when my father was coming back from the countryside with the car full of lemons and watermelons in summer, or pumpkins in the winter, with truffles sometimes. The country was like that, we had land next to the river. I remember when they were bringing ham, and my father with the bones, and he'd be able to smell if the ham was perfectly aged or not.
Why balsamic vinegar, why the ham, why the parmigiano reggiano... Because it's from the same region. And why? The weather, there's a humidity all the time. It's so important for the aging process. It's something you can't explain, why Emilia Romagna is like that, but it has always been that way.
Would you ever open a restaurant here?
Here, yes. London, New York and Paris would be the best places for me to open a restaurant. But I would lose the pleasure of my ingredients from Emilia Romagna.
Villa Manodori balsamic vinegars and olive oils start at £9.95; harveynichols.com. To see Massimo Bottura's Christmas tips, read our feature on festive feasting tips from the experts.