This Easter it's not just about chocolate, you know. Although in this Easter egg round up, chocolate does, admittedly, feature quite heavily. So heavily in fact, that after all this testing, we're not entirely sure we ever want to eat another piece of Easter chocolate again... (We're only joking. Obviously that would never happen.)
But, aside from Abel & Cole's colossal marbled Easter egg, Waitrose's avocado egg (yep) or The Solid Chocolate Company's milk chocolate caramel stack, we've also put Blacksticks Blue's blue cheese Easter egg to the test. To find out what we thought of that little number, though, you're going to have to work your way through this deliciously sweet list until you hit that savoury end note (or bow out from second-hand sugar sickness).
So, without further ado, here are the tastiest, the quirkiest and the strangest luxury Easter eggs of 2018, from a golden pineapple to a giant bunny. If you can eat it, we've tested it. Well, someone had to, right?
Hotel Chocolat
Ostrich egg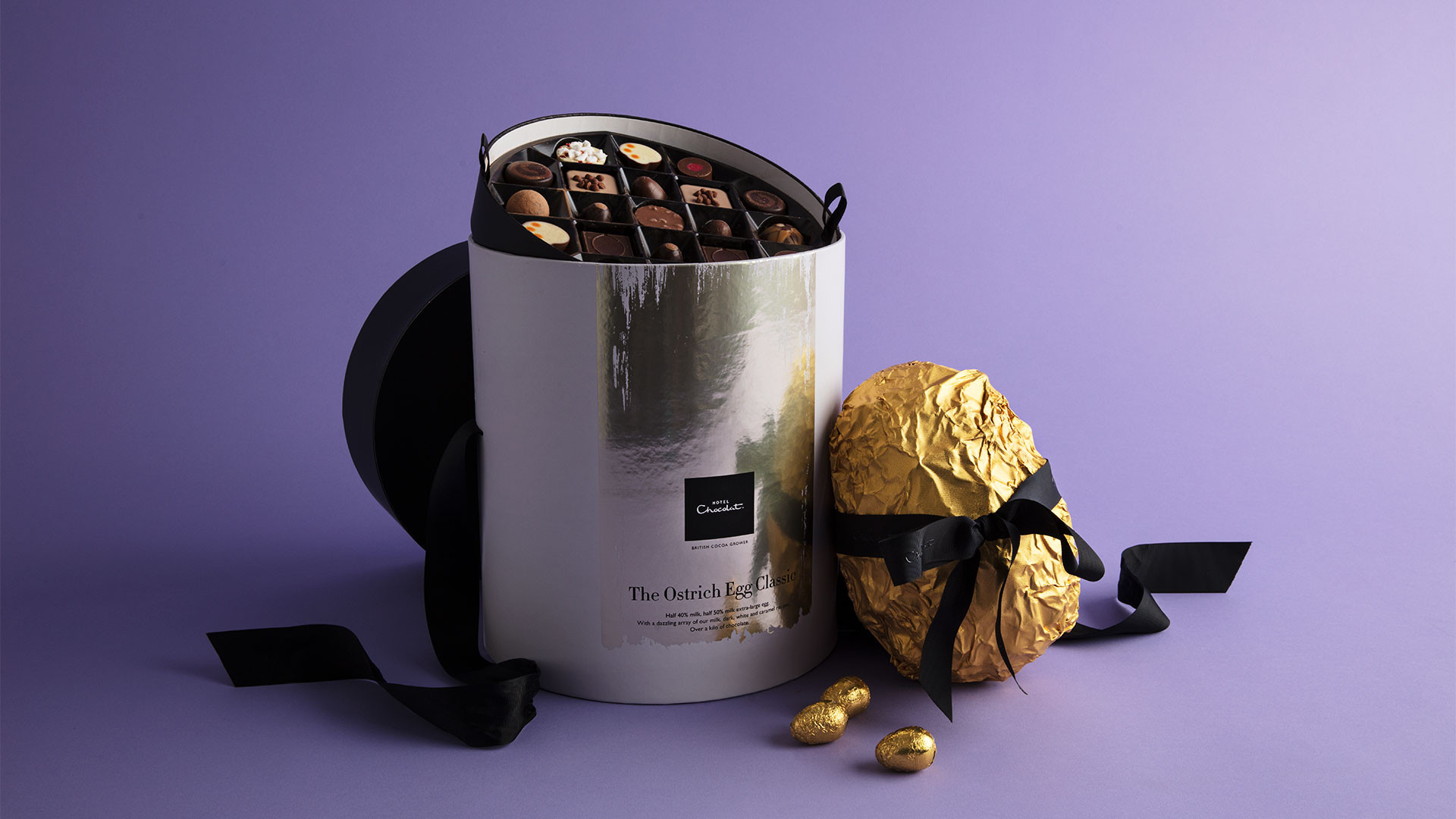 Hotel Chocolat's crunchy cookie and puffed-rice giant milk chocolate easter egg is modelled from a real life ostrich egg. No, we're not joking. It's so large and thick that even though each half is wrapped separately we had to take a hammer to it. What's more, if you combine the egg with the secret tray of 27 chocolates and six golden eggs hidden away in the box, you've got a whole 1kg of chocolate on your hands. Yes, one whole kilogram. You can't get better than that, which is why we gave it full marks for being the best in the business. Hats off to you, Hotel Chocolat – you've nailed the Easter egg game.
Score: 10/10
£80; hotelchocolat.com
Waitrose
Dark chocolate avocado Easter egg
Shaped like the most prolific brunch item of 2017, the avocado egg is a millennial's dream. But don't worry – no avocados were harmed in the making of this egg: the shell and textured stone is made from Belgian dark chocolate, while the 'flesh' gets its luminescent colour from creamy white chocolate that's been dyed bright green (with all-natural colourings, apparently). It's caster-sugar sweet, but we loved the novelty of smashing (geddit?) into ours. Rated: an affordable and fun 8/10.
Score: 8/10
£8; waitrose.com
Daylesford
Dairy-free Easter egg
Grab a solid, blunt object and take aim: Daylesford Organic's dairy-free Easter egg is a tough one and you're going to need to give it a good old crack to get through that thick, dark chocolate shell. Dusted with toasted almonds and fragrant edible rose petals, this handmade artisan egg wins big on texture. If you're a fan of sweet and floral dark chocolate (55% no less), this one is for you.
Score: 6/10
£20; daylesford.com
The Solid Chocolate Company
Caramel milk chocolate solid egg
Remember all the tension and strife that would come with playing Jenga with the family? Well, prepare yourselves, because you're about to feel those emotions once again when it comes to The Solid Chocolate Company's egg. The brand says it's the world's first solid chocolate egg, but what the team really mean is it's a collection of solid chunks of chocolate fitted together in such a way that, as soon as you pop open the packaging, all the chocolate will tumble out and you'll never be able to get the egg back into shape again. Guess that means you'll just have to eat it all, right? Shame. These guys come in four different flavours: caramel milk, dark chocolate, white chocolate, milk chocolate and Columbian dark. We went in for a cheeky salted caramel number. If we're being honest though, the taste of caramel wasn't that strong. Gnawing our way through the chunks did, however, make us think of a posh Yorkie – if a Yorkie was made of creamy, luxury chocolate, that is. It's a 7/10 for this one and, trust us when we say this, you won't have restock the chocolate cupboard for a good few weeks.
Score: 7/10
£24.99; solidchocolateco.com
Lindt
Giant 1kg gold bunny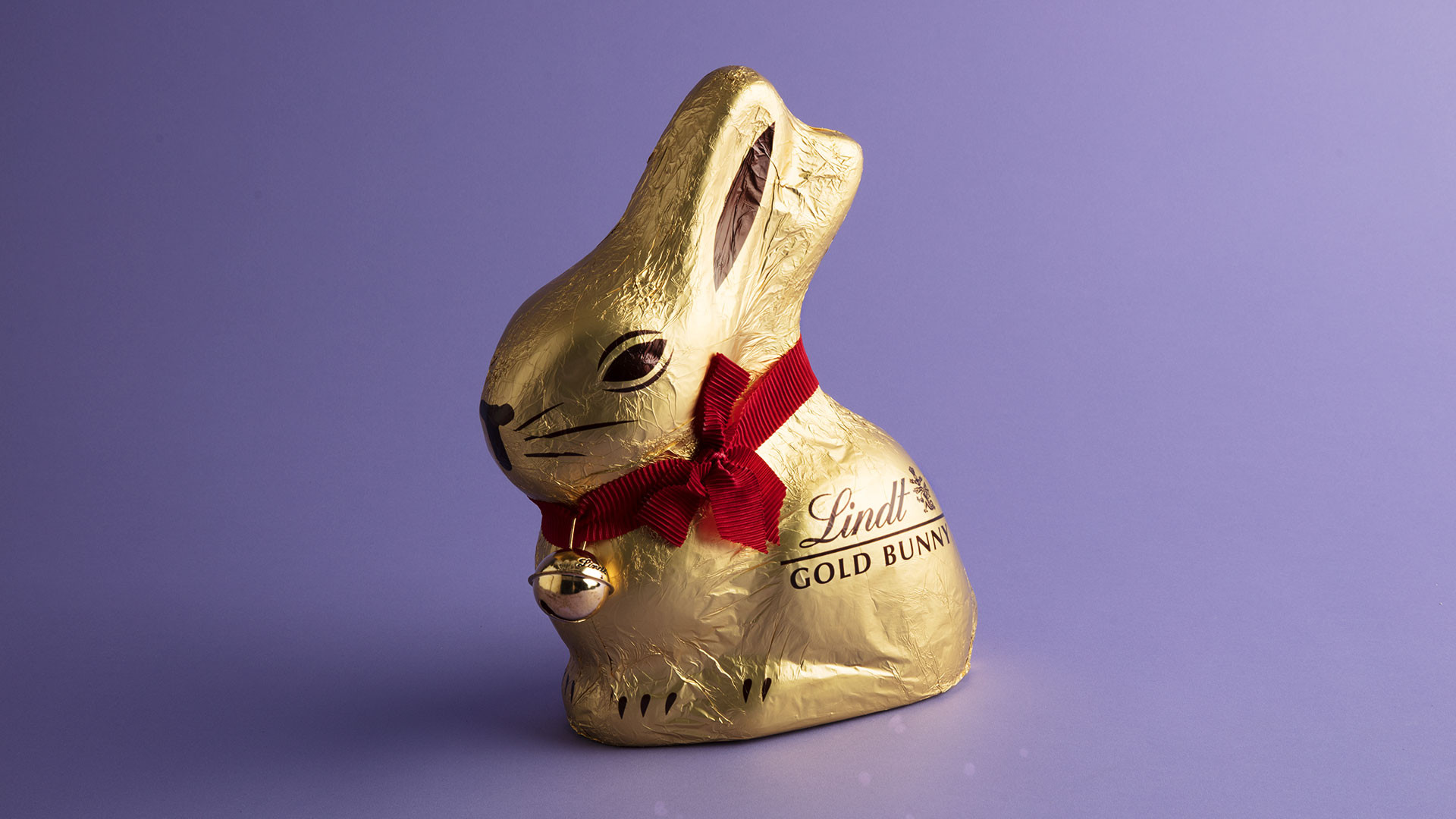 We're well aware that this Easter "egg" round up has gone south with all the rogue shapes and sizes, but when it comes to Easter chocolate, you can't pass up on a milk chocolate Lindt bunny. This giant rabbit tastes exactly as you'd expect: smooth and creamy with just a hint of nostalgic childish joy. And for that reason, we're going all in for a creature-comforts-kind-of 10/10. Plus, that big old bell gave a satisfying rattle when we smashed the rabbit up real good.
Score: 10/10
£39.99; lindt.co.uk
Prestat
Popping prosecco chocolate Easter egg
The queen might have gifted Prestat its Royal Warrant for producing some of London's finest chocolate truffles, but our team has given the chocolatiers a big Foodism thumbs up (that definitely carries the same weight, right?) for its Easter egg. Prestat have combined two of our favourite things in this gold-wrapped egg: chocolate and prosecco. As one of our writers poetically put it, "This tastes like a party in my mouth." While the rest of us are wondering where she gets her reference points from, we can't help but go back for another piece of it. Our thoughts? A shining 7/10. Our only woes? Size matters and this egg isn't packing – and if you commit, too, neither will your wallet.
Score: 7/10
£17.50; prestat.co.uk
Paul a Young
Colourful half egg
See those sprinkles? Yeah, they will go everywhere. The truffles? Hate to break it to you, but you will absolutely snaffle every single one of them in ten minutes or less (no regrets though). And that chunky Guittard chocolate base? Well, prepare to work your jaw on some of the most delicious, but solid-as-anything milk chocolate around. This half Easter egg is a little on the safe side – given it comes from the ever boundary-pushing chocolatier Paul A Young – but that just means it's a guaranteed family favourite. Some thought this little egg was a little too pricey, but one writer maintained it was worth it, likening this chocolate egg to a "luxury super yacht." Yeah… we're not sure either, so do with that information what you will.
Score: 7/10
£25 for the half egg; paulayoung.co.uk
Artisan du Chocolat
Pineapple egg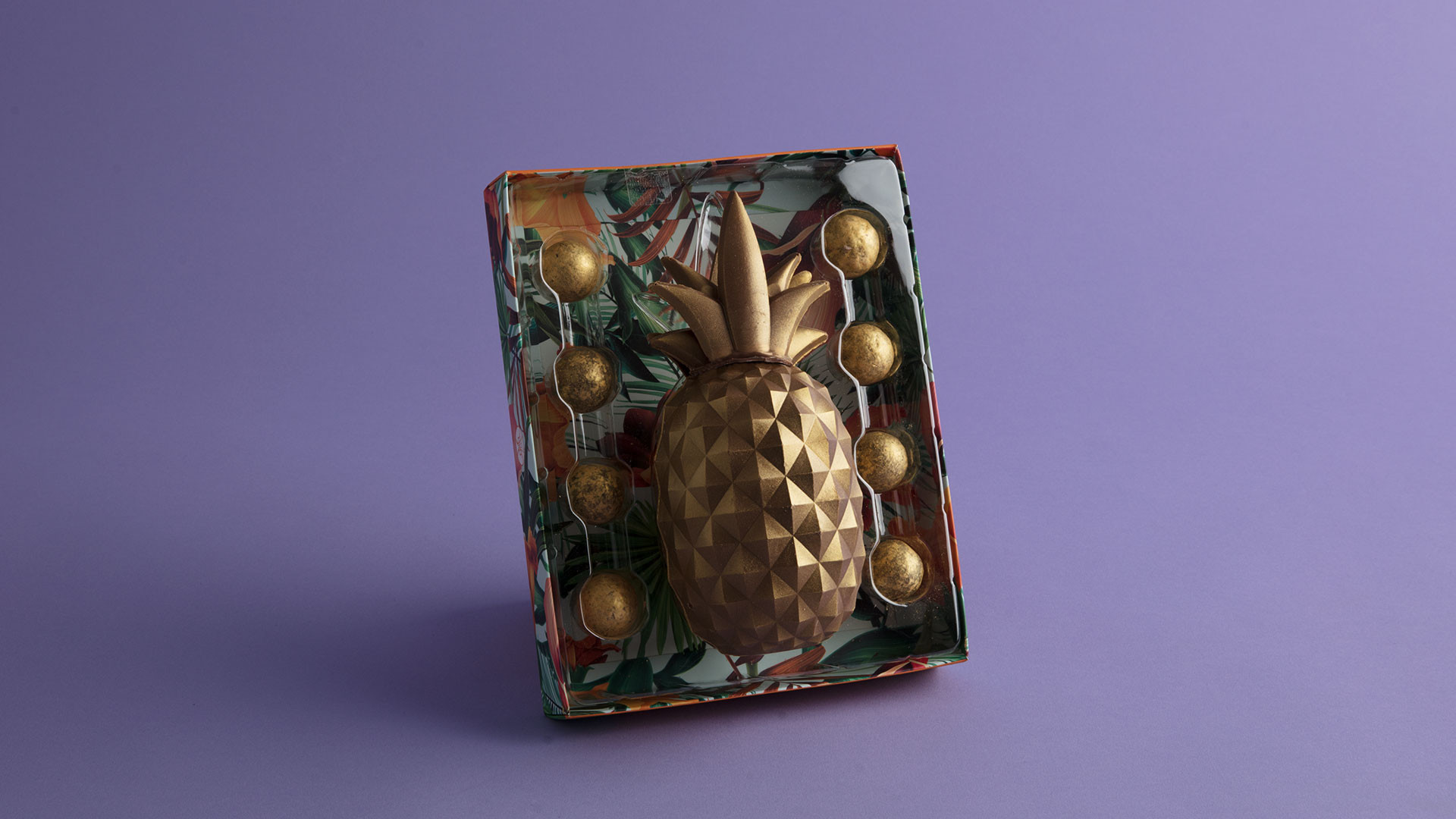 Yep, we're back again with an Easter egg that's not an egg. Say hello to Aritsan du Chocolat's Easter… er, pineapple. When it comes to this let's-just-call-it-an-Easter-egg egg we're all in for the novelty. For the flavour though? We're not too sure. The chocolate has an oh-so-satisfying snap to it, but left a chemically aftertaste in our mouths (maybe all gold everything wasn't the way to go?). We're of the opinion that Artisan du Chocolat are usually bang on the money with filled truffles, but here the glittering pina colada truffles taste overly boozy and slightly out of balance. One freelance Easter egg taster's thoughts kept this egg's rating bobbing around the middle mark because, as they scribbled, it reminded them of a "divine cocktail on the beach".
Score: 5/10
£26.95; harveynichols.com
Fortnum and Mason
White chocolate hand-decorated Easter egg
White chocolate is a tricky business to deal in: some say it's not real chocolate (hi, hello, you are wrong), some say it's too sweet (we hear you and can get on board with that, sometimes) others can't get enough of it (hmm). When it comes to Fortnum and Mason's white chocolate hand-decorated Easter egg, we're standing firmly in the middle ground. It's a bit too sweet for the Foodism team and we can't help but crave the nostalgic comfort of a Milky Bar as we chow down on a shard of this Easter egg. There is no denying, however, that the finishings are beautifully done, so we've given Fortnums' offering a solid 6.5.
Score: 6.5/10
£39.95; fortnumandmason.com
Abel & Cole
XXL marbled chocolate egg with milk chocolate buttons
You might not have any room in your box after adding one of Abel & Cole's giant organic and fairtrade Easter eggs to your weekly shop. Seriously. This colossal Easter egg comes in at 1.25kg and, speaking from experience, you're going to want to drop it from a height to get into it. If you can catch the moment the creamy milk chocolate buttons burst out of the shards of swirly whirly dark, milk and white choc on camera, even better. In terms of taste (and looks) we'd rank this a high as Hotel Chocolat's giant Easter offering. Go on Abel & Cole, take that 10/10. You've earned it.
Score: 10/10
£29.99; abelandcole.co.uk
Blacksticks Blue
Blue cheese Easter egg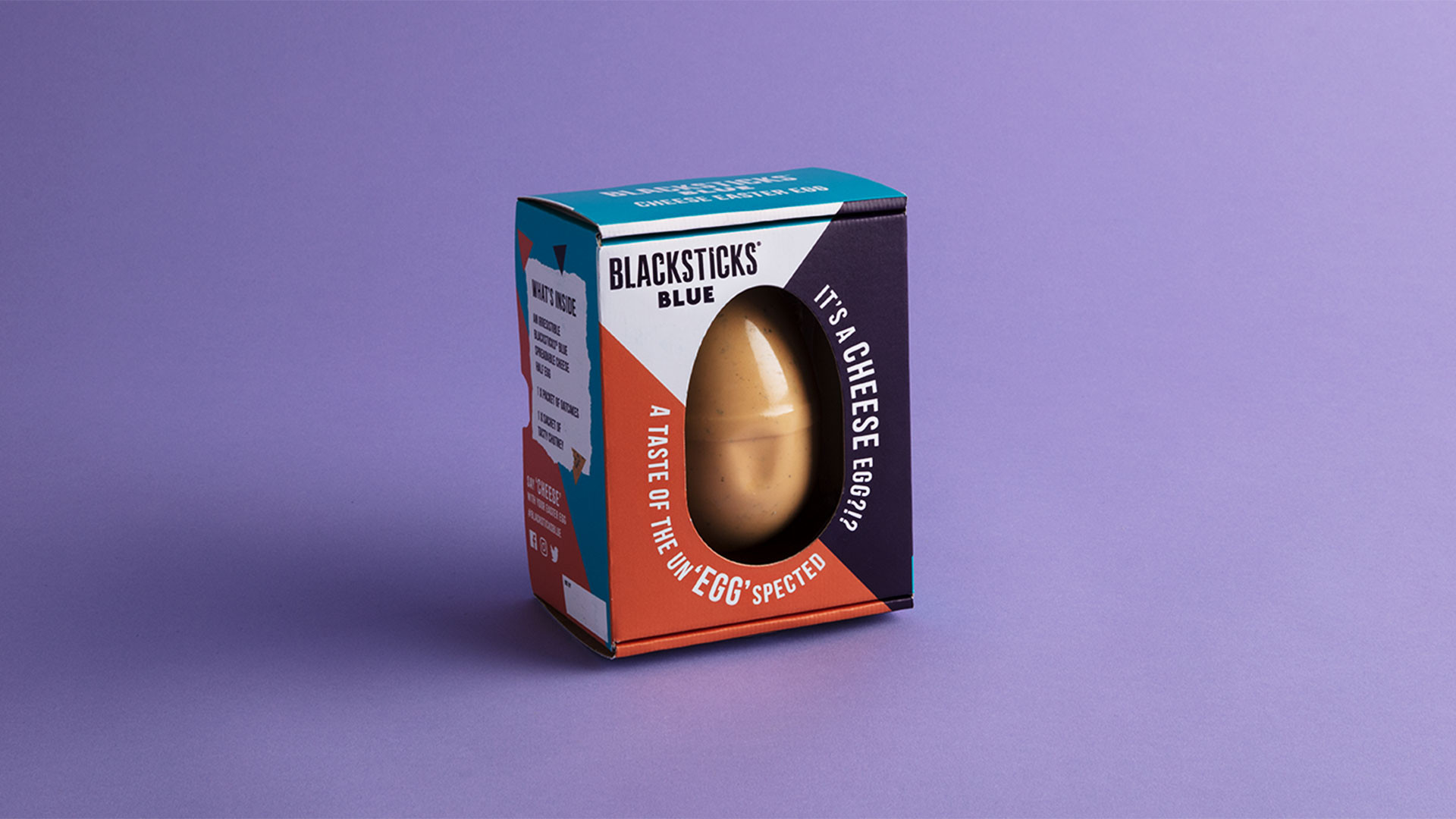 You know that age old phrase, 'if you don't ask, you don't get'? Well forget it. We're pretty sure no one asked for a spreadable blue cheese egg, but here we are, half-way through one, oaty crumbs rolling down our front and chutney smeared across our faces, Joker-face-paint-style. It looks so wrong, but tastes so good and we cannot stop ourselves from going back for more. It's a 7/10 for this one, losing ground only because the cheese is missing that traditional orange hue and moreish creaminess of Blacksticks' usual offering.
Score: 7/10
£12.99; butlerscheeses.co.uk
Chococo
Dinosaur egg
Ross Geller would have a field day with with Chococo's dinosaur egg. The shell is coated in white chocolate speckled with bright green natural colourings and hidden inside are a secret collection of chocolate dinosaurs. While some of us reckon the Venezuelan milk chocolate shell tasted a little waxy, we gave it a big thumbs up for originality – and for that reason we reckon this is a right and proper 7.
Score: 7/10
£12; chococo.co.uk
Now you're done with that, here's six different ways to eat those Easter eggs of yours