So you're on the hunt for the best chef's tables in London. Lucky for you, the city's restaurant scene is booming, but it's not often you get to see the cogs turning behind the scenes. With these chef's tables you can get up-close-and-personal with the kitchen, see the chefs at work and watch as your dinner gets plated up before your very eyes.
At any one of these restaurants you're in for a memorable evening, from posh pub grub at Jesse Dunford Wood's Parlour or James Knappett's Michelin-starred space hidden behind Bubbledogs on Charlotte Street.
And – despite how it might seem on Netflix's Chef's Table – it's not always about splashing the cash or pushing the boundaries of gastronomy.
Go for more casual vibes at Westerns Laundry's private table where you can snaffle up banging British seafood from the daily changing menu or get a taste of Italy at Artusi, a relaxed, no-fuss dining space in Peckham, south east London.
18 of the best chef's tables in London
Sakagura
8 Heddon Street, W1B 4BU
The 11-course tasting menu at Mayfair corker Sakagura sees you put your stomach in the hands of the trustworthy chef Delroy Simpson. Expect unctuous nigiri and sushi, delicate wagyu beef, and enough excellent food to fell a thoroughbred horse. Everything from the tempura'd lotus root to the muscular king prawn shout with flavour till their voices are hoarse. The additional option of having a flight of sake paired by Sakagura's sommelier, Mimi Tokumine, is also rather hard to pass up. Each sake adds a different dimension of flavour to the dishes they accompany. Simultaneously smoky and sweet – the rice wine brings out a depth to Simpson's food that would otherwise go unnoticed. It's the kind of evening that's inevitably going to inspire you to try (and fail) to replicate your own sake tastings from the comfort of your own kitchen. Which, of course, won't work. The very magic of the Sakagura chef's table is being in the thick of it as Delroy handcrafts sushi right in front of you. Come along for a culinary adventure you simply won't shut up about at the office the next day.
Wright Brothers Soho
13 Kingly Street, W1B 5PW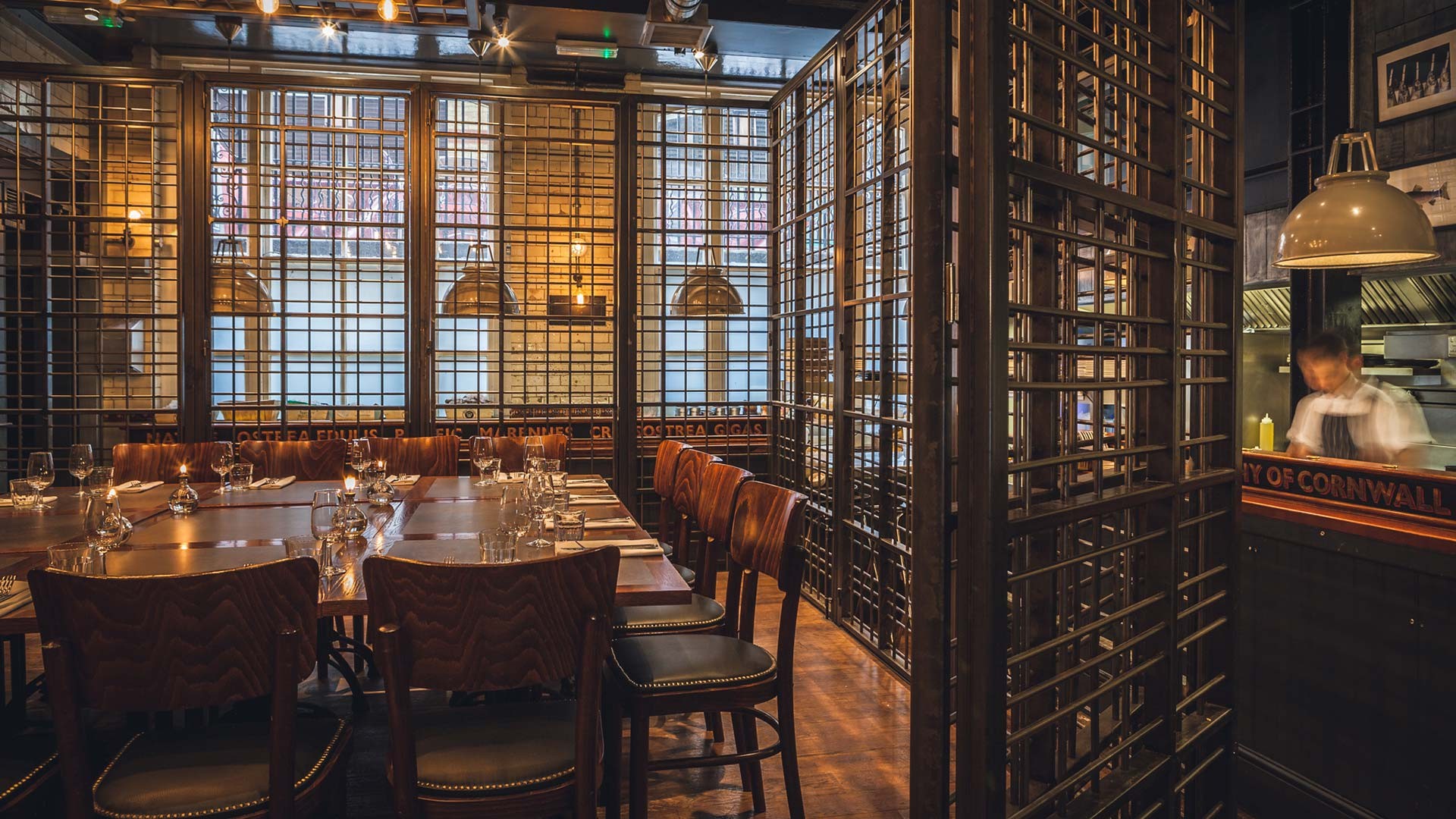 Ever wondered what it feels like to be a lobster? Now you can find out thanks to oyster specialist Wright Brothers' Lobster Cage at its Soho site – except this 'cage' involves a private table surrounded by an open kitchen rather than the, er, sea, and it's a lot harder to get a reservation. And even if oysters aren't your bag, you'll find plenty on the special menus to tempt and tantalise, from fresh fish to chargrilled hanger steak.
Hélène Darroze at the Connaught
Carlos Place, W1K 2AL
If you make a reservation at Hélène Darroze's eponymous restaurant at the Connaught hotel, you're probably entitled to expect some amazing wines – especially if you manage to get a reservation at the hallowed Sommelier's Table. Tucked away beneath the restaurant's famous kitchens, the cellars are home to more than 9,000 vintage bottles of top-notch wine, so you shouldn't have any trouble finding something to go with the two Michelin-starred food. We'll drink to that...
the-connaught.co.uk/helene-darroze
Akira
101-111 Kensington High Street, W8 5SA
Akira is located on the first floor of Kensington's busy Japan House London. The Robata and Sushi Omakase menu at this stylist Japanese restaurant give you the chance to watch Akira's talented chefs in action as you put your trust (and stomach) in their hands. Not only that, but all of the food is served on crockery made from artisans across Japan and drinks are poured into fine Japanese glassware. It's the little details that make the difference.
Native
32 Southwark Street, SE1 1TU
Native doesn't mess around when it comes to cooking food that allows for the quality of ingredients and provenance to shine through. Chefs Ivan and Imogen ensure that everything on the menu at this South London delight makes the most out of quality seasonal British produce. The full chef's tasting menu (which changes on a constant basis as per the seasons) only costs £60 and is more than a bargain when you consider the sheer amount of craftsmanship involved in creating each delicate and delicious dish. Even the bread is special; made of organic stone ground flour sourced from Whissendine that's been milled by one man alone in his windmill. Now, that's dedication.
Arros QD
64 Eastcastle Street, W1W 8NQ
The slings and arrows of outrageous fortune aren't exactly what you'll be felt you've been pelted by after a visit to Arros QD. More like the warm embrace of outrageously good fortune, really. Arros QD brings warmth and theatricality of Valencian gastronomy to Fitzrovia, allowing chef Quique Dacosta to treat punters with seasonal rice dishes cooked over wood fires and served with a correspondingly dramatic sense of aplomb. Cooked a la llama ("to the flame") on the restaurant's impressive six-metre stove, the tasting menu at Arros QD is an experience you simply won't want to miss out on.
Kebab Queen
4 Mercer Walk, WC2H 9FA
Kebab Queen, a restaurant-within-a-restaurant accessed by a secret door in the kitchen. Except this baby's come out swinging, taking the kebab and turning it on its head with its innovative tasting menu.This is London's dining scene at its cutting edge, taking a food that was previously under-appreciated and polishing it till it shines, with a forward-thinking attitude to flavours, ingredients and even the way it's served. Did we mention the counter is made out of a special material that you eat off directly, no plates and no cutlery? Because there's that, too.
Aulis
16a St Anne's Court, W1F 0BF
Simon Rogan's eight seater chef's table and development kitchen in London is truly like nothing else in the city. The L'Enclume icon has created a menu consisting of newly-developed dishes before they are potentially served at his sister restaurant, Roganic London. At the cost of £195 per person, Aulis' tasting menu ain't cheap. But it is spectacular. Wine pairings are, after all, included with your meal, each carefully chosen to complement the dishes, adding an extra dimension of excitement to the whole tantalisingly sordid affair. This is fine dining at its finest.
Westerns Laundry
34 Drayton Park, N5 1PB
Nope, it's not a place to take your washing – Westerns Laundry is in fact a second restaurant from the founders of the much-loved Primeur. Not bad going for a building that used to be a laundrette, especially when you check out the chef's table. Framed by large Victorian windows, it's a damned good place to hoover up dishes like pork belly with cabbage and apple while having the wine list explained to you by an expert.
Dinings SW3
Lennox Gardens Mews, SW3 2JH


If you're a sushi and sashimi fan, book yourself into Dinings SW3's chef's table – essentially a counter that's situated right in front of the kitchen – and you'll be in the prime position to appreciate all of that precise slicing and dicing as it happens. You'll also be in the perfect spot to nab all the best dishes as soon as they've been made. How incredibly convenient.
Artusi
161 Bellenden Road, SE15 4DH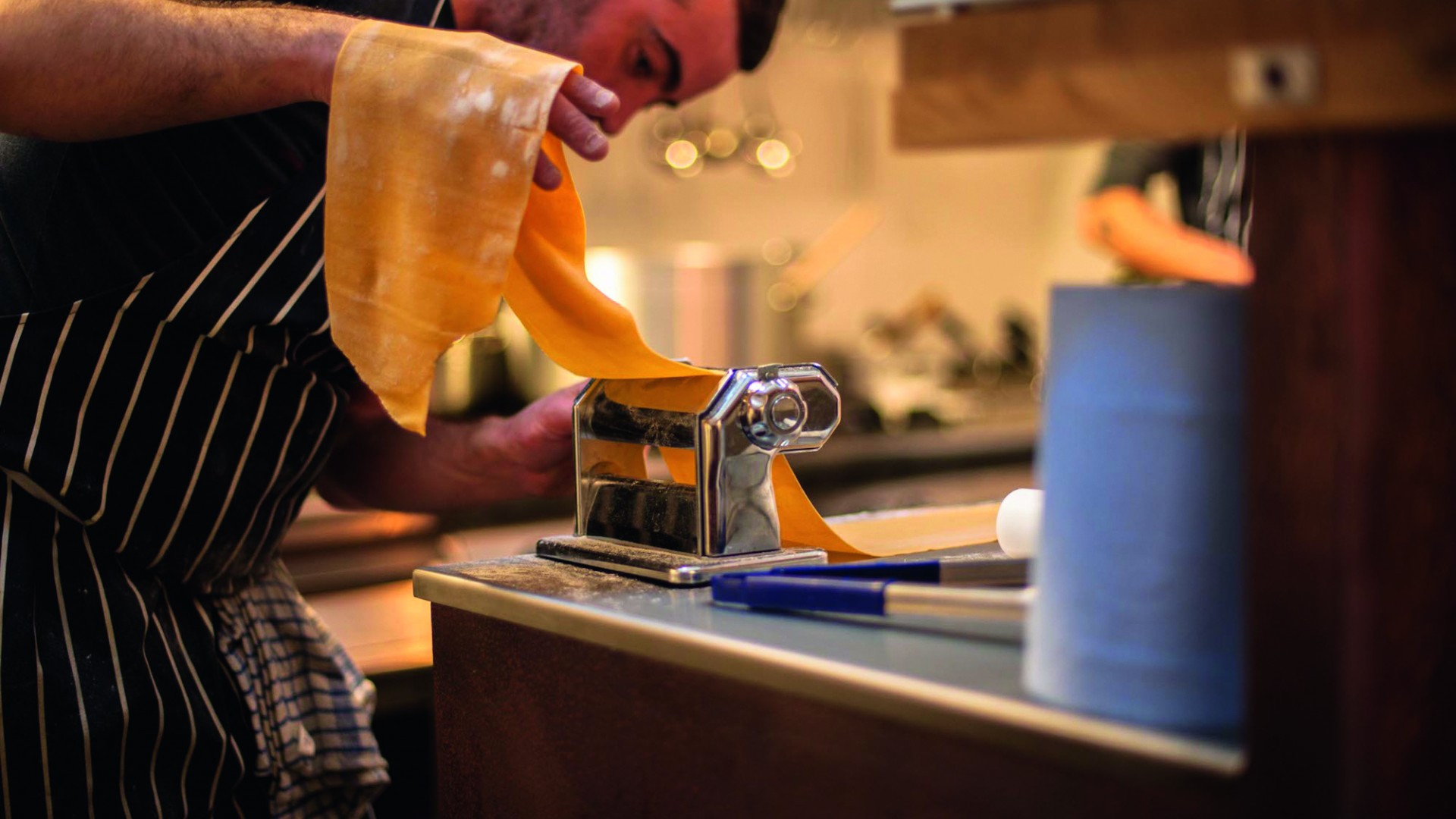 If you're expecting drama and high-concept design, you won't find it at Peckham's Artusi, where the small, sparse space – and the food – speak of no-nonsense dining. Which isn't to say the cooking lacks artistry or theatre – book the kitchen table, where up to 18 can watch Artusi's bold, modern Italian food being made.
Hawksmoor Borough
16 Winchester Walk, SE1 9AQ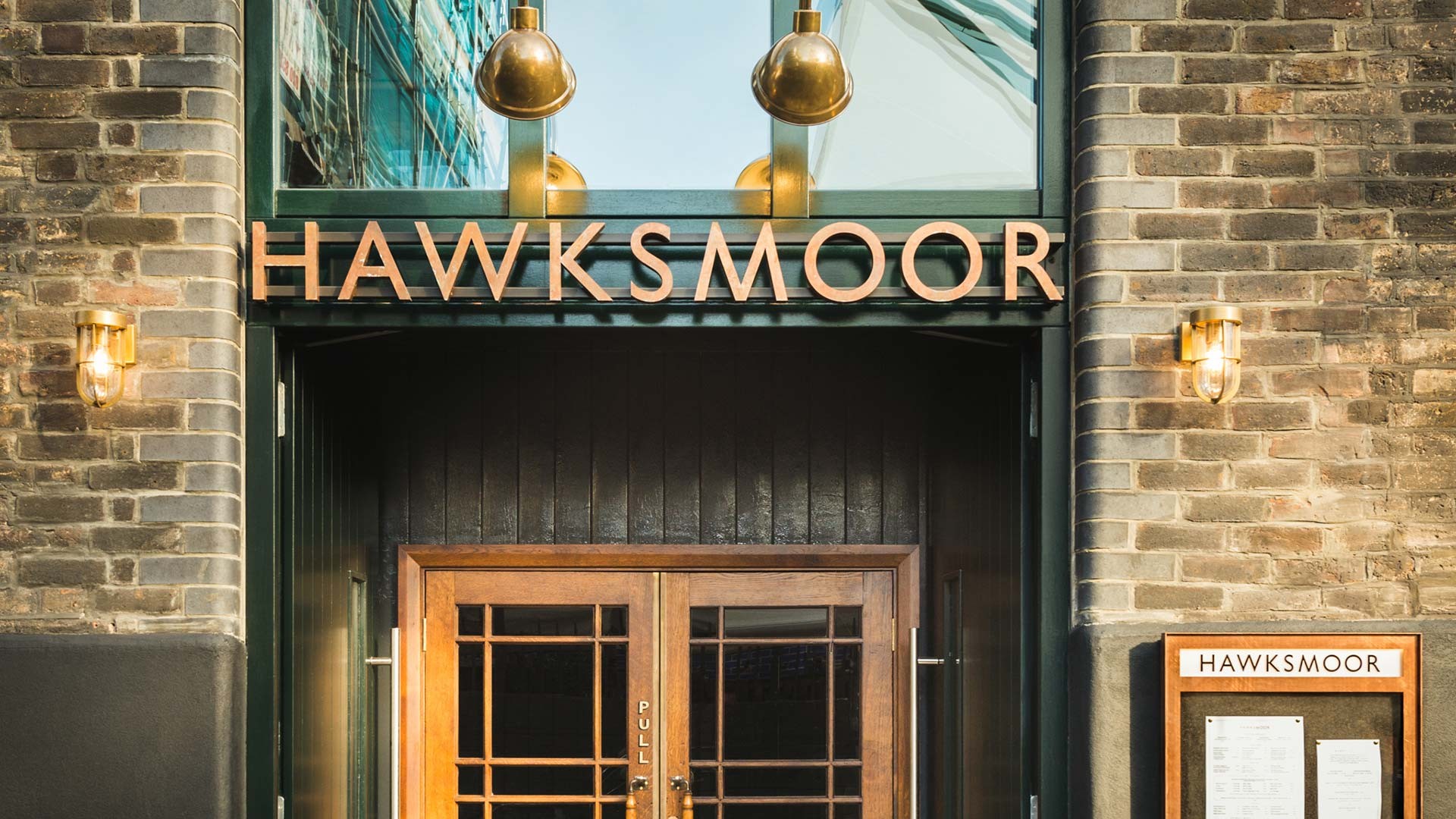 The 16-seater Cook's Room at Hawksmoor's latest site is a proper kitchen by day, when Richard Turner (the group's executive chef), Matt Brown (executive chef) and Carla Henriques (executive pastry chef) use it to cook up new ideas, but by night it becomes an events space with a menu that champions the restaurant's Borough Market neighbours, as well as playing host to regular producer-focused evenings. Yum.
Kitchen Table
70 Charlotte Street, W1T 4QQ
A restaurant within a restaurant? Yep, we'll admit we're intrigued – especially given the reputation of James Knappett's Michelin-starred space, where the seats are all positioned at a counter around an open kitchen. "We want people to feel like we're cooking for them at home," Knappett says. If we regularly cooked 12-14 courses of Michelin-starred food, it probably would.
Paladar
4-5 London Road, SE1 6JZ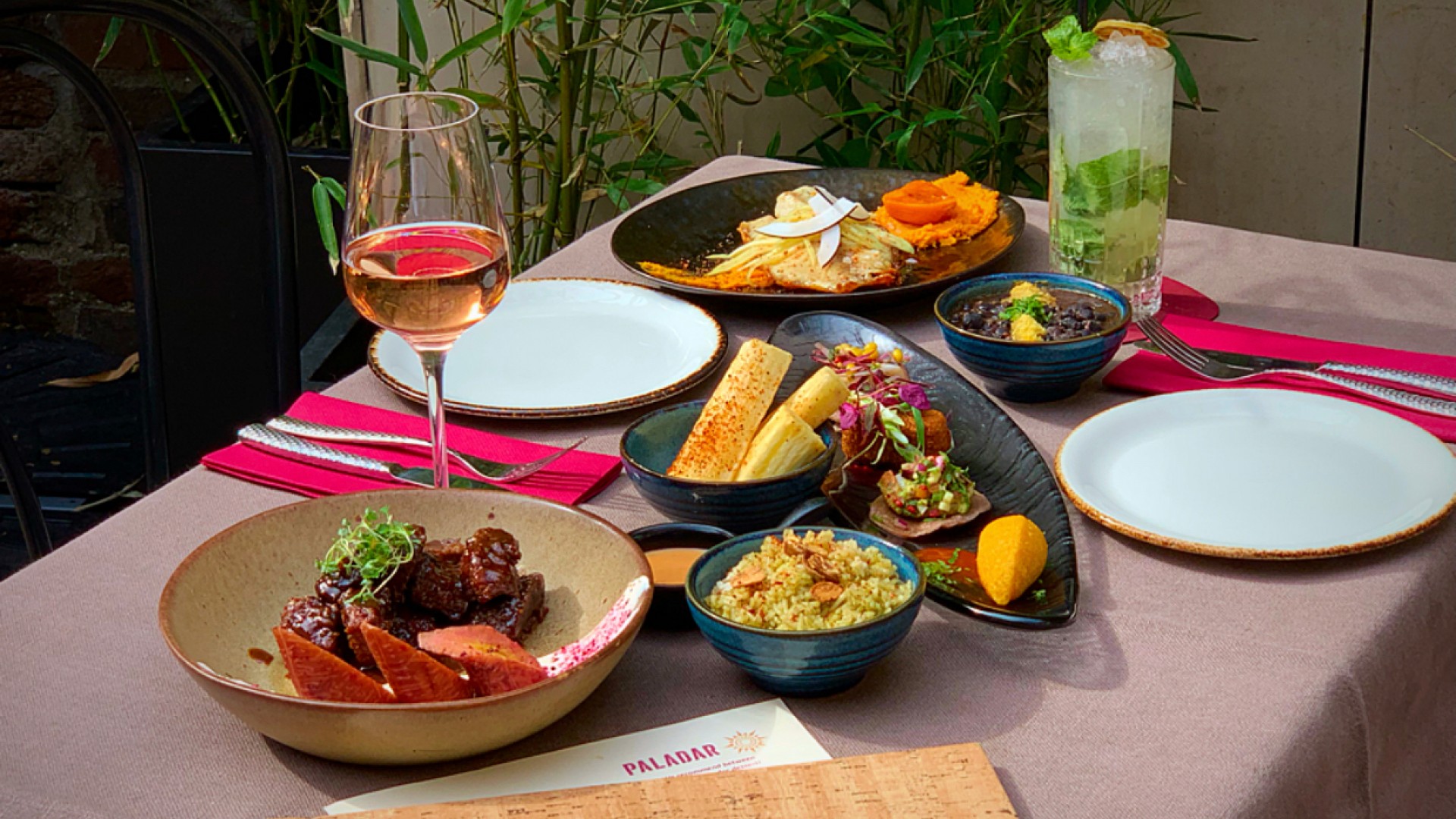 Elephant and Castle's Paladar comes with the fairly nifty option to dine in the restaurant's bodega for a unique (and unpretentious) chef's table. Ideal for smaller parties of between eight and ten, you can enjoy lunch or dinner right in front of the kitchen pass. It's a perfect gastronomic behind-the-scenes meal for any gourmand who's always wanted to have a proper nosey at how their food is actually made. Seating is on high stools and the amicable chef Jose Rubio-Guevara is happy to chat with guests throughout the course of the meal. But perhaps the best thing of all is that there's no extra charge to book this table – it's simply allocated on request. Give them a ring. Give them a ring right now.
Frog by Adam Handling
34-35 Southampton Street, WC2E 7HG
For a bit of a luxe dinner with your closest chums, you could do a lot worse than dining at Frog by Adam Handling's exclusive private dining room. Known as 'The Library', the intimate area seats 20 people and comes complete with its own kitchen, offering you unbridled access into the ins and outs of the kitchen with your own personal chefs on hand to ensure you're well fed. Joining the chefs are a crack team of waiting staff and sommeliers who will ensure that your every need is catered for. Well, your every need related to food, drink and outstanding service, that is.
108 Brasserie
108 Marylebone Lane, W1U 2QE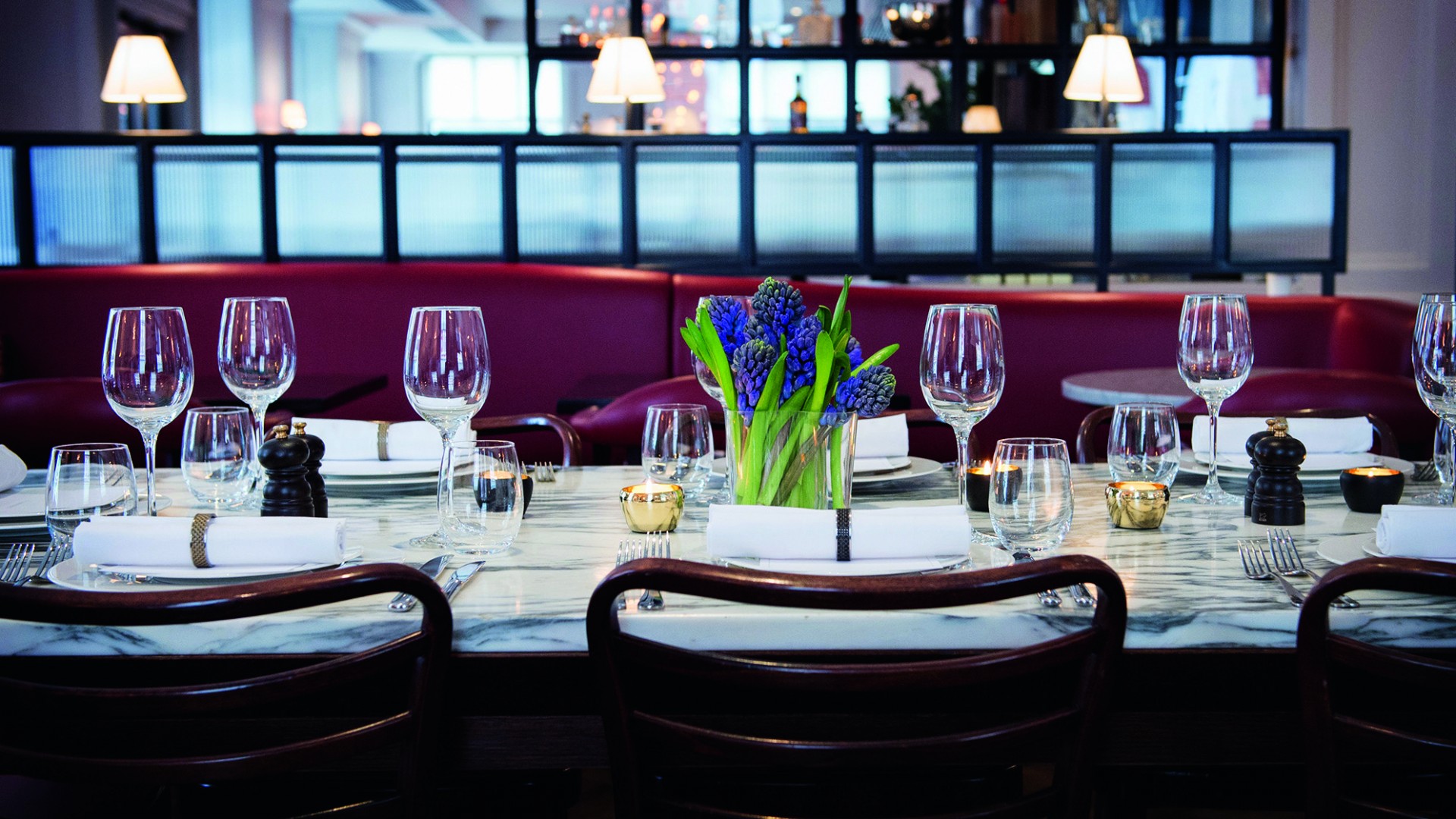 Marylebone Brasserie 108's menu doesn't restrict itself to one national cuisine – instead it takes influence from all over Europe and throws in some British favourites, with lobster tortellini, beef wellington and bakewell tart all on its tasting menu. The best way to enjoy it is at the chef's table, where head chef Russell Ford is on hand to talk you through the menu and tell you about the ingredients in, and thinking behind, each dish.
Parlour
5 Regent Street, NW10 5LG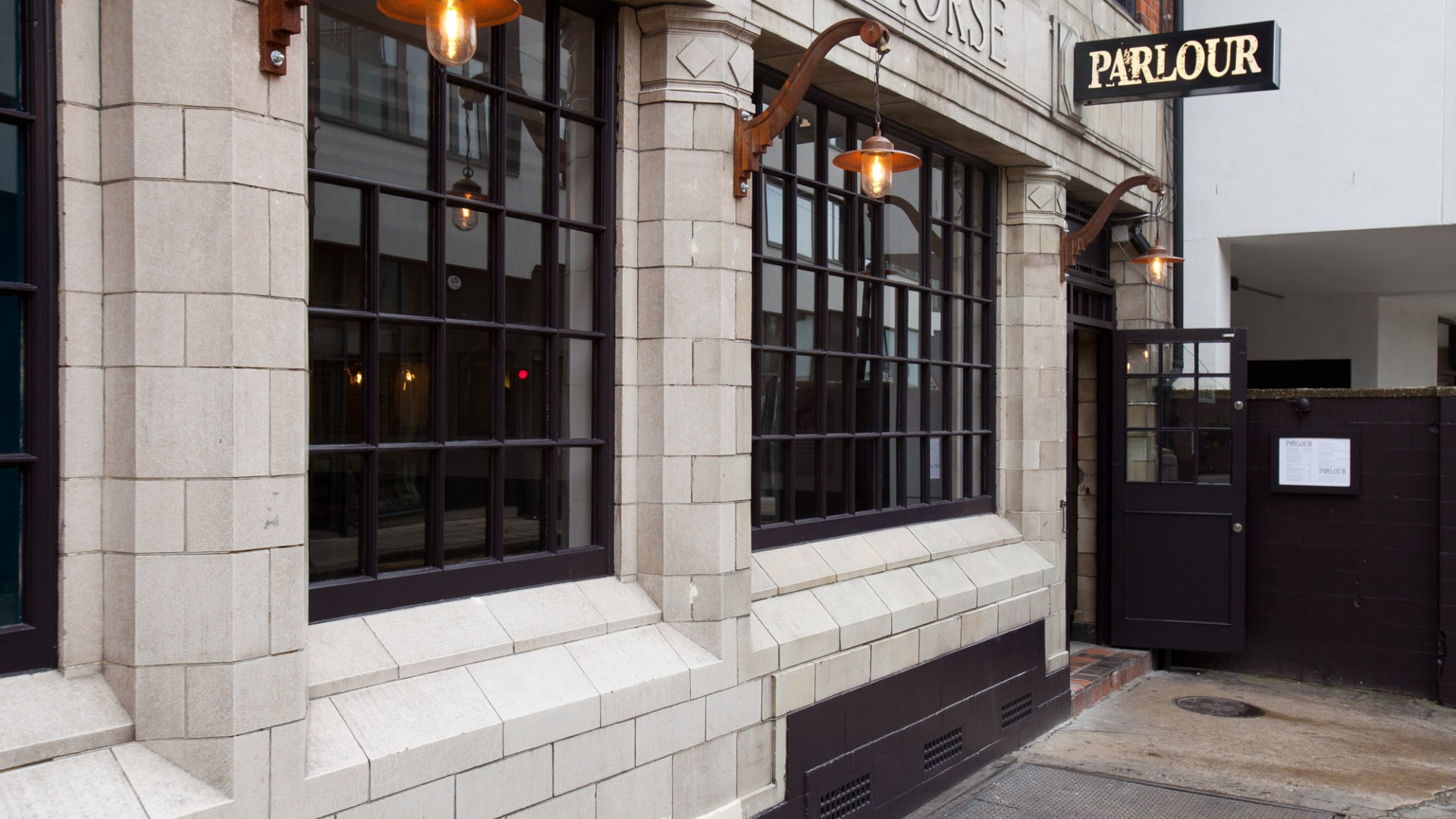 It's not just Michelin-star chefs who get to show off – just ask Jesse Dunford Wood, who can be found serving up posh pub grub at the chef's table at his restaurant, Parlour. Guests can watch him prepare signature dishes, including cow pie and chicken kyiv.
Murano
20 Queen Street, W1J 5PP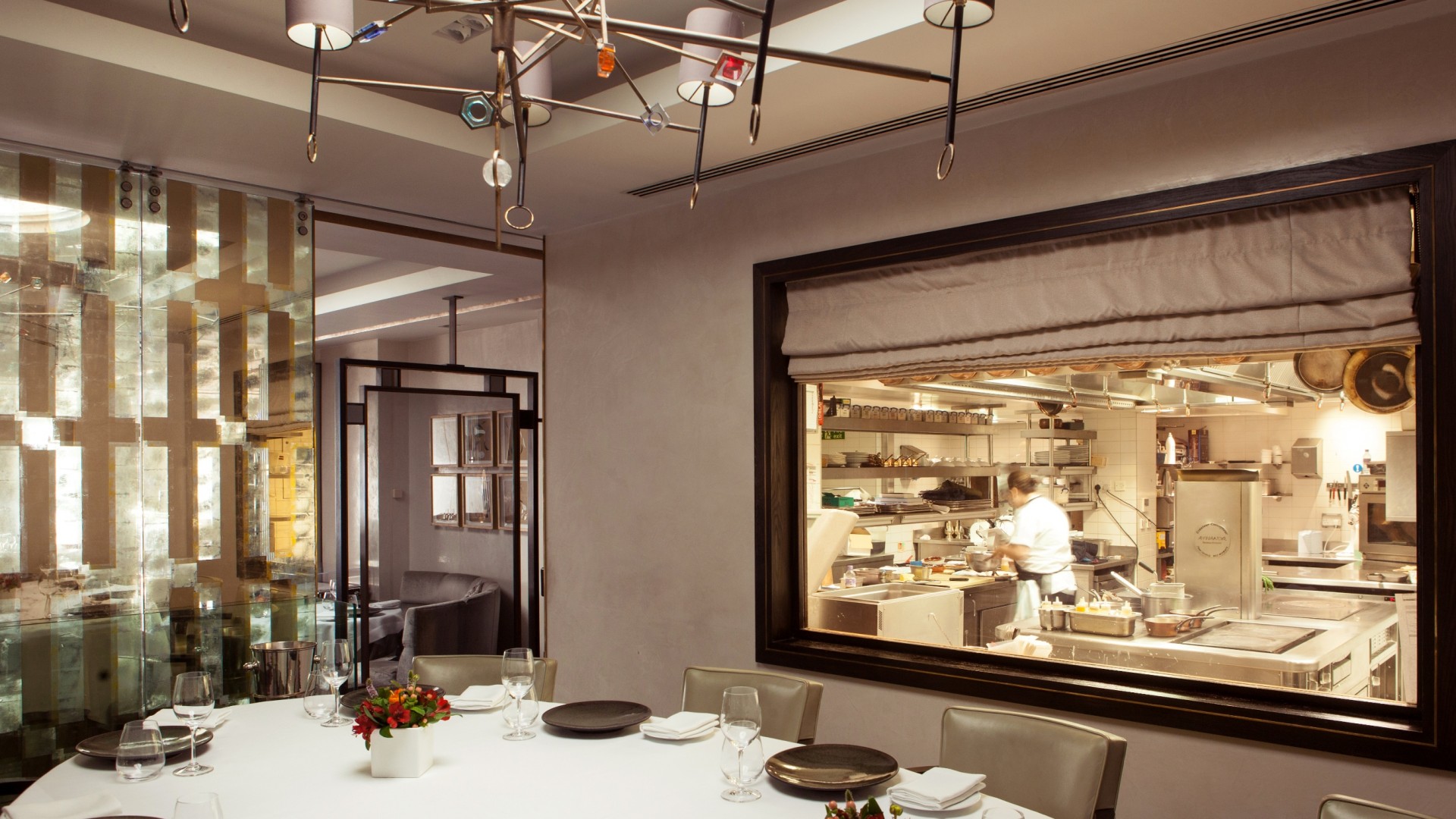 Murano, another Michelin-starred restaurant to add to the list, is the only one to feature a retractable glass wall and on entrance and a huge window into the kitchen, meaning you can take the space with the for a (somewhat voyeuristic) private dining experience and watch its highly skilled chefs at work. It seats up to 12 guests.