While we're the first people to say how much we love eating out, we also love eating in, whether that means putting together a simple meal just for us during the week, or a celebratory feast we're putting on for friends and family.
Of course, we know not everyone enjoys cooking as much as we do – the prospect of juggling times and ingredients and the risk of something going wrong can stop you from attempting anything more advanced than scrambling some eggs. But when it comes down to it, cooking is something that you do – in some shape or form – each and every day, so it makes sense to do it properly, and it can make a world of difference.
Whether your skill level is closer to toasting pita breads, slow-cooking a bolognese or serving five courses of beautifully plated modern British cuisine, there are loads of things you can do to elevate your next home-cooked meal. We've enlisted a group of chefs and cookbook writers to bring us their top home cooking tips for whipping up a delicious meal in your very own kitchen. They've shared their advice on trusting ingredients and treating them properly, making sure you're equipped with the right equipment, knowing the limits of your kitchen or your cooking – even something as simple as just giving a dish enough time for the flavours to develop.
From making an impressive dinner in just 30 minutes to getting started with sourdough, here's all the home cooking tips you need, fresh food delivery boxes aside, to take your evening meals and mid-day feasts one step further. Read on...
17 home cooking tips from professional chefs
1. The inimitable Fergus Henderson and Trevor Gulliver on letting raw materials do the work
At St. JOHN, we often say "simple isn't easy," by which we mean that it takes thoughtfulness to do simple things as there is nowhere to hide. Fear is a disaster when cooking – ingredients can sense your fear and misbehave. There are magical vibrations that shimmer back and forth between a cook and their ingredients, and tuning in to that magic is part of the joy of putting a meal together. Your dish will show the happiness, and your diners will sense that. It sounds like a hippy idea, but it's true. If all else fails, a little wine can help wash the fear away.
I am a great believer in genius loci – the spirit of place – by which I mean that things taste best when closest to the place from which they came. No one feels good after a long flight and the same is true for a tomato. Remember that nature writes our menu. Our short, sharp seasons are a miracle – just as we suffer a glut of one thing and begin to tire, whoosh! It's all change, and something new and exciting appears instead.
Tune in to your ingredients and work with their nature, rather than bullying them into submission. If the Great Chef in the Sky meant us to dice carrots, they would have made them square. When it comes to meat, hug your butcher! Butchers tend to look very huggable too, which helps. It is a mutually beneficial relationship, because you will be supporting someone who works hard and knows what they are doing, and can put bits aside for you. It's no good going to the supermarket for slimy pink slabs wrapped in plastic – where is the joy in that? Your butcher should know where their animals come from and, crucially, what kind of a life they've led. That's worth a hug, in our opinion.
The Book of St. JOHN by Fergus Henderson and Trevor Gulliver is published by Ebury (£30). Read our guide to London's most-loved nose-to-tail restaurants.
2. Know your limits
Dishoom's co-founder Naved Nasir on translating restaurant-quality meals to the home kitchen
When we first talked about publishing Dishoom: From Bombay with Love, I really thought we'd have the final book in our hands in a matter of months. I had a whole binder of recipes in the Dishoom kitchen that I thought were ready and waiting to be published. As it turns out, I then went on a long and complicated journey and learnt it actually takes rather a lot of work to translate restaurant favourites into something a home cook can easily recreate.
One of the biggest limitations we found is differences in equipment. Recreating breads proved to be a particularly tricky task when working with a domestic oven. The searing heat of the tandoor allows a restaurant naan to cook very quickly so it stays beautiful and soft while getting that deep, smoky flavour. Likewise, try as we might, it proved impossible to make our fluffy pau buns in a domestic oven.
The answers? We did include a naan recipe, though we had to admit that they wouldn't quite have the depth of flavour you'd get in Dishoom. However, if you happen to have a ceramic barbecue and a pizza stone (most lucky), you can use them to bake your naan – our home cooking tips cover making sure the barbecue is as hot as it can (safely!) be. As for the pau, we had to concede that a shop-bought roll was the best substitute for mopping up keema and enveloping the deep-fried patties of the vada pau. This was a sad moment for us, but in the end we had to concede on this.
Another important point for us was that the recipes should not only be achievable, but also enjoyable to cook at home. That meant ensuring the reader didn't need to do any extra homework. We worked with Nicola Swift, a most trusted taste-tester, kitchen critic and home economist, who had very little prior knowledge of Indian cooking, so she approached the recipes with a beginner's mind.
That said, a little preparation from the reader is most welcome and sincerely encouraged. I do have a few top tips for first-time users of the Dishoom cookery book, or indeed any other culinary tome. Most importantly, readers should familiarise themselves with preparatory recipes and cookery guidance before they begin. In the Dishoom book, for example, we recommend pre-preparing the likes of the garam masala, tomato-onion paste and curry sauces – these provide the key building blocks of flavour in many of the subsequent recipes.
In terms of ingredients, readers should hunt out the very best Indian spices they can find. Nowadays, there's a wealth of online spice specialists, and with ever-expanding supermarket ranges and excellent local Indian groceries, finding the staple spices for Indian cooking is no longer such a challenge. If I had to give one piece of advice on spices, I'd say getting hold of the vibrant, warm deghi mirch chilli powder that's in so many of our recipes is essential for the right flavour, and definitely try and find a reliable source of fresh curry leaves. They're far better than dry, and they freeze well. Wherever you find them, ensure you're not keeping your spices for too long – the flavours lose their vibrancy over time.
Dishoom: From Bombay with Love by Shamil Thakrar, Kavi Thakrar & Naved Nasir is published by Bloomsbury Publishing (£26). Or, whilst you're here, read our pick of the top 50 best Indian restaurants in London.
3. Recipes are king
Cutter & Squidge founders Annabel and Emily Lui on creating visually exciting bakes without compromising on flavour
If you've ever been to one of our stores, you'll know that baking amazing cakes and biskies (Is it a cake? Is it a cookie? No, it's better than both) is what we live for. Baking can be tricky but we've done our best to make it easy. Bear in mind that we're self-taught so we can also teach you. The only important thing to note right at the start is that we don't use masses of sugar in our cakes and also we only use natural flavourings. We use a lot of homemade jams, syrups and soaks, but don't worry, because these are easy to make and they keep in the fridge.
Anyone can bake, even in the tiniest London kitchen. It's such a pleasure seeing your results and watching you invite your mates over to share. But there are some key rules if you're going to make a good impression. First, you'll need to measure everything exactly; guessing doesn't cut it. Borrow some accurate kitchen scales if you don't have any. Secondly, you'll need the right kit, so if a recipe says you need a piping bag or a muffin pan, then that's what you need. Don't improvise!
Once you've got your kit, your ingredients and your scales, it's easy to make everything taste great and look fantastic. We use natural colourings like green spirulina, blueberry powder and beetroot to create vibrant colours, but you can use something simple like freeze-dried raspberry powder to make a pretty buttercream to top or surround your cake. Add a few fresh raspberries and you've got something amazing. 
Afternoon Tea at the Cutter & Squidge Bakery by Annabel and Emily Lui is published by Ryland Peters & Small (£16.99). Really struggling? Read Foodism's guide to where to grab the best doughnuts in London and pretend you hand baked them, instead.
4. Don't be afraid of sourdough
Sourdough specialist Michelle Eshkeri on why traditional baking is easier than you think
Baking sourdough bread can be woven into the rhythm of any schedule. It is more forgiving than the many different types of bread leavened with yeast, where the pace often demands action from beginning to end.
It's useful to find home cooking tips or, in this case, a specific recipe from a trusted source; a friend's recipe or one from a book or the internet, and make the same recipe several times. Read more about the stages and process as the dough is being made; it is a skill learnt with the senses, by touch, smell and feel and the words used to describe the process will make more sense with context. Making bread in order to learn about bread will help you practice techniques and adjust timings each time to find a preferred crumb, crust and flavour. It can be an addictive process as one never quite gets to the end, there is always something else to try.
A sourdough starter is not difficult to keep alive, but there are degrees of vitality. To bake with a neglected starter or one that has been in the fridge – a useful tool for those who don't bake daily – it is important to restore it to full vigor with several refreshments for 1-2 days before using. Once the yeasts and bacteria have exhausted the nutrients in the flour it is necessary to take a small portion of the starter containing just enough cells to ferment the next portion of flour and make them work hard again.
If the starter is ready, making the dough itself only takes a bit of time: to weigh the ingredients and mix it, perhaps some folds over several hours that take a minute or so each, and then some time to shape the loaf before it goes in the fridge until it is baked the next day. If called away, the dough can be popped in the fridge. If there's no time for folds, mix the dough more at the start and reduce them. It's as flexible as the baker needs it to be. No matter the skill level, it's uniquely satisfying to make bread and the results of even the least successful attempts are nearly always delicious. 
Modern Sourdough by Michelle Eshkeri is published by White Lion (£22). Keen to learn from scratch but not confident enough at home just yet? Read up on the best food masterclasses in the city.
5. Do it quickly
Chef and author Rukmini Iyer on how to make an impressive 30-minute meal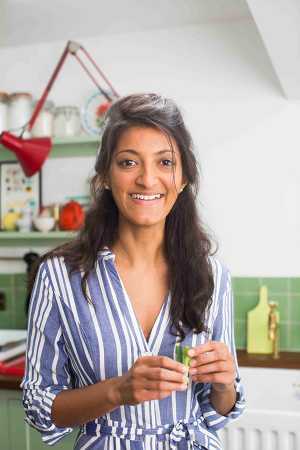 Timing is everything for a quick midweek dinner: what have you got in the fridge, what do you need to pick up on the way home – and most importantly, how quickly can you eat when you get in? My favourite home cooking tip involves chopping up a selection of healthy, fresh veg, and chuck it into a roasting tin along with grains, spices and perhaps a bit of salmon or chicken, because they'll cook in 25 minutes, with no more effort from you than a bit of light chopping. To really elevate the dish, I'd make a sharp lime- or lemon-spiked dressing with olive oil, maybe a tiny bit of honey and or dijon mustard, and every chef's secret, a tiny extra pinch of good sea salt flakes. Along with a handful of fresh herbs, it will lift whatever you're making.
My other home cooking tips involve essential store-cupboard items. For grains, orzo pasta or bulgur wheat cook in 25 minutes, uncovered, topped with stock and whatever fresh veg you have to hand. I always have lemons and limes for acidity, and garlic and ginger to finely grate into dressings or directly into your roasting tin for extra punches of flavour. Ideally a pot of creme fraiche should you need a more indulgent dinner, and packets of cooked puy lentils and tins of chickpeas or cannellini beans for extra protein in veggie dishes.
If you're having friends round, I think the most impressive thing you can do is pick an easy oven dish, but think about colour and texture as well as flavour, so when you bring your dish to the table it has real wow factor – without any more effort from you than chucking a tub of pomegranate seeds and fresh mint leaves over a Middle Eastern dish, finely sliced spring onions, coriander and peanuts over an East Asian dish, or finely chopped parsley, garlic, lemon zest & olive oil through a soup or casserole. And you'll only have one dish to wash up.
The Quick Roasting Tin by Rukmini Iyer is published by Vintage Publishing (£16.99)
6. Get the kids involved
Nutritionist Amanda Grant on how kids' food doesn't have to be childish
Cooking vibrant meals for kids without dumbing them down can seem hard. Lucky for you, the team at The Silver Spoon have been tasting and testing to compile trusted Italian recipes in that are adapted for transforming children into budding cooks. Most love eating Italian food so it's an easy place to start. These traditional Italian recipes have been handed down from generation to generation, so kids can imagine that they're in a kitchen in Italy, learning how to cook the Italian way.
Over the centuries, Italians have discovered exactly how to mix a few simple, good-quality ingredients to make meals that are full of flavour – an ethos it's worth highlighting. For instance, you can make a delicious sauce for pasta with just a few basic items such as good-quality canned tomatoes, fresh basil, garlic, and a good olive oil. These recipes will help kids to learn the key home cooking tips, skills and techniques used in any kitchen, and not just Italian ones: for example, they'll learn how to use a small sharp knife (essential for doing some proper cooking), how to prepare vegetables, how to cook pasta, and even how to make their own pizza dough from scratch.
Cooking isn't just about making something good to eat: by following the recipes, children will practise some maths (measuring, sharing), reading (the recipes as well as lots of fun bits of information along the way), and geography, learning interesting facts about Italy.
All the recipes in this book have been tested by children, so if your child is nine or ten or older, they should be able to follow most of the recipes by themselves. Then you can sit down and enjoy sharing the meal with family and friends – just the way they do it in Italy.
The Silver Spoon for Children by Amanda Grant by Amanda Grant is published by Phaidon (£14.95)
7. Give it time
Food writer and chef Jenny Linford on how timing can be a help, not a hindrance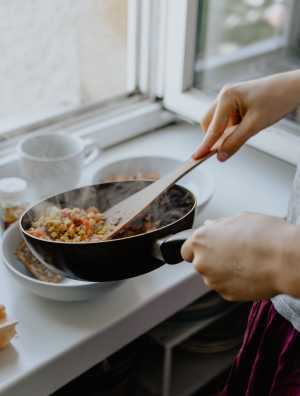 Time really is the universal, invisible ingredient in cooking. Using the right amount of time is key to a dish's success. Some ingredients are all too easy to overcook – eggs, fish and pasta all leap to mind; an eye on the clock and precision are required for these. Other foods like home-made mayonnaise call for patience and not rushing. Cuts of meat such as ox cheeks or lamb shanks require long, slow, gentle cooking to transform the connective tissues and collagen into gelatine, adding a succulent richness. And time, of course, plays a vital transformative part in creating flavour during the process of creating fermented foods and drinks. One of the satisfactions of making your own kefir or kimchi at home is that you can adjust the time spent to produce the flavours and textures you prefer.
One of my biggest home cooking tips involves being careful to take enough time over certain cooking processes can make all the difference. When it comes to browning meat for a stew, for example, allow the meat to take on a good brown crust before turning it to colour another side – that magical Maillard reaction. Time spent at this stage – before simmering the stew for an hour or two – brings taste benefits. It's not just meat that one should brown well. Frying onions is the first step for so many dishes and time spent doing this properly, stirring over a low heat until the onions have reached the required level of browning, enhances the flavour of the final dish.
If you're planning a dinner party, then it's useful to know that dishes like curries or braises benefit from being made the day before, cooled, chilled and stored in the fridge overnight, allowing the flavours time to meld together. Rather than always looking for short-cuts, let's embrace time in cooking and see it as a positive element which, used correctly, produces delicious results.
The Missing Ingredient by Jenny Linford is published by Penguin (£10)
8. How to master the non-alcoholic serve
Founders of Redemption Bar Catherine Salway and Andrea Waters on ways to get imaginative with non-alcoholic drinks
Being creative with booze-free drinks is our speciality. After all, why should socialising with friends always involves copious amounts of alcohol? We tend to use complex flavours to create non-alcoholic drinks for grown-ups inspired by our travels across the globe. Yuzu is a wonderful, distinctive Japanese citrus fruit with an aromatic rind, which we pair with fresh lychees (plus mint, ginger and coconut water) to make our lychee and yuzu 'martini'. Another idea is to pair rosemary and pomegranate and add alcohol-free sparkling wine (yes, it's a thing) to create a classy but booze-free version of a kir royale.
Our philosophy is 'spoil yourself without spoiling yourself', and we think it's really important that the experience delivers this in every way: gorgeous vintage glassware; colourful garnishes; copper barware; wonderful fragrances and even great music to go alongside your serves. When all this comes together, your brain's reward centre is enticed and satiated without the lows: no banging headaches or wondering what happened when morning rolls around.
Andrea Waters and Catherine Salway's book 'Redemption Bar' is out now
9. Easy ways to throw a flexi-friendly dinner party
Chef and writer Sabrina Ghayour tells us how to embrace a flexitarian lifestyle
Cutting meat out of a meal is never an easy thing for a Persian or Middle Eastern cook to have to do. In many Eastern cultures, absence of meat represented times of poverty, war or famine, so when times had improved, being able to afford meat represented a turning point in life and meant that life was good.
I am no vegetarian and nor do I ever see myself as one – however, as I get older I find myself struggling when eating too much meat. We are globally guilty of meat-overload and that is why I try and cook less of it at home and only really eat meat when I crave it (and usually, when I can get well-reared meat).
People tend to get quite stressed if there is a vegetarian around and panic about what they should prepare. Instead of making something simple, they go out of their way to create something that is totally different to what the other guests are eating. I just think – why make your repertoire harder?
When faced with a group of diners who have mixed dietary preferences, to make life easier for myself, I put together a menu that everyone can eat so that nobody is singled out or feels like a burden. This is a really cultural thing for me: I feel that every individual guest must always be cared for and catered to with the same generosity as everyone else.
I like to serve up colourful, seasonal salads, adding nuts and fresh fruit into them for substance; spice-roasted vegetables finished with warm dressings and perhaps crumbled with feta; stews made with pulses and spiced sauces, frittatas of any and every description; lovely grains such as rice, bulgar wheat or freekeh (smoked young green wheat) tossed with olive oil, herbs, spices and dried chopped fruit, nuts and even pomegranate seeds... I mean, come on – even the most die-hard carnivores wouldn't be left wanting with a menu like that.
The one piece of advice that I would give you would be to not announce that your menu is meatless in advance. Sometimes telling meat-eaters up front that there is no meat on the menu can sow the seeds that perhaps they won't be satisfied. Instead, do what I do, and make 'good food' instead of 'vegan food' or 'vegetarian food', choose simple things with lovely fresh flavours, and do multiple dishes so there is colour and variety.
'Bazaar: Fresh, Flavourful & Deeply Satisfying Vegetarian Recipes for Every Occasion' is out now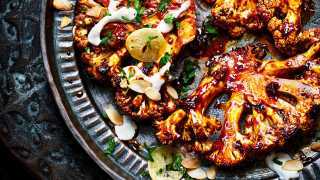 10. Quick tips for flavour-packed food
Author and columnist Mallika Basu Kitchen offers shortcuts for time-poor home cooks
Ambitious home cooking for the time-poor is basically the story of my life. I rarely ever get home from the office before 7pm, if not later, or am working from home, so easy shortcuts are absolutely integral to my life. Spices, of course, provide the most almighty shortcut for a flavour hit when time is of the essence. Combine with freshly frozen vegetables like spinach and store-cupboard ingredients such as chickpeas and tinned tomatoes for a quick-fix chana saag. Topping fish fillets generously with chilli powder and turmeric powder, lime juice and salt before grilling is another regular late-night spice hit in my home.
A well-utilised freezer is a boon. Curry leaves, fresh herbs such as coriander and mint, green chillies and fresh coconut can all be frozen for meals that transport you to more exotic climes after a long day's work. I am also a big fan of gadgets. My smoothie maker, for instance, often spends the night housing vinegar water to rid it of the aroma of whatever curry paste it has just blitzed for me. You can use this for marinades, curry sauces and even turn some of your frozen herbs and green chillies into explosive chutneys.
Mallika's book 'Masala: Indian Cooking for Busy Living' is out now
11. Hints and tricks for better bakes
Co-founder of The Sister Table and GBBO star Benjamina Ebuehi on the tricks for raising your home-baking game from the 
I love a more minimal approach to food presentation and believe you shouldn't have to add all the bells and whistles to make home bakes look impressive. A simple, stripped-back approach can be just, if not more, effective. A little dusting of icing sugar (which also hides any mishaps), a sprinkling of toasted flaked almonds or a generous pour of chocolate ganache can speak volumes.
You'd also be surprised at how switching up the shape of your tin can also take things up a notch. An intricate bundt tin comes in handy for turning even the simplest of sponges into a showstopper. Using a muffin pan without any liners gives an elegant twist (just ensure you grease and flour the cavities well).
When it comes to taste, I love taking basic trusted recipes to a new level by incorporating ingredients and spices that I'm currently obsessing over. Right now, I'm crazy for cardamom, with its fragrant, citrusy flavour. Try adding a teaspoon of crushed cardamom to your lemon drizzle for a fresh update on a classic, or play about with other spices like cinnamon which brings a welcome warmth to a chocolate cake. A dollop of tahini or any other nut butter swirled into your brownies adds an extra dose of indulgence, or try experimenting with texture by replacing some of the flour in a cake with ground almonds or ground hazelnuts. Little additions like these go a long way and can give your bakes a more professional feel with minimal effort.
Benjamina is co-founder of The Sister's Table, thesistertable.com, one of Foodism's picks for the best supperclubs in London round up.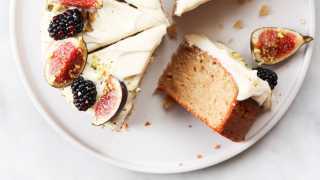 12. Why your instincts are your best culinary asset
Award-winning author Niki Segnit explains how you can become a better cook by using your instincts
For as long as I had cooked, the Italian nonna – the principle of her, anyway – had been an exasperating presence at my shoulder. That stout, impatient matron, no longer young but foremost at the stove, arms folded and breathing soft, Cynar-scented disapproval on my neck. She cooked without written instruction. Seasoned by feel. Constructed a meal around a morning's market-haul of simple, perfect produce. Her instinct for food was marrow-deep, beyond thought, neurological. I hated her because I wanted to be her (culinarily, at least).
I taught myself to cook using recipe books. An ever-growing, crazily diverse collection of other people's knowledge. And it had made me into a recipe robot. An efficient one, admittedly, and one schooled in a vast breadth of cuisines, but for all the breadth, the depth was lacking. I was a superficial cook.
What I hadn't yet realised is that you can learn to be instinctive. Pick a dish and make it over and over again – until you no longer need the recipe. Once you've got the hang of it, start adapting the dish to your own tastes. Make it without scales. Make a few tweaks and turn it into a different dish. Embrace your mistakes: they're an indispensable part of the process. It's better to be a flawed Italian granny than a perfect robot.
Niki's new book, 'Lateral Cooking', is out now
13. How to make the most of your meat
Founder of The Ginger Pig Tim Wilson suggests the best ways to store and cook meat at home
The first thing to do when you get meat home is to unwrap it before you store it in the fridge. If you have space, you ideally want to place the unwrapped meat on a plate away from cooked items and on the bottom (coldest) shelf. This allows air to circulate, preventing any bacteria from forming and prolonging shelf life. Never wrap meat in plastic (e.g. cling film), only ever use greaseproof paper if you have to wrap it.
The next key thing to remember is to take all meat out of fridge before cooking and bring it to room temperature. Not enough people do this and it's crucial to cooking and flavour as it relaxes the muscle – cold muscles are tense!
Once your meat is at room temperature, you're ready to cook, and when it comes to heat, the hotter the better. All meat, even for slow cooking, needs high heat for at least 20 minutes at the start. Heat seals the outer edges of the meat and stops the juices from running out – you want the juices in the middle of the meat to keep it succulent and full of flavour. For this reason, try to avoid grilling meat, as it just doesn't provide that hit of heat that you're after.
Don't mess around with the meat as you cook it. People tend to over-fuss and keep turning a steak or chop in the pan, but just let one side cook properly and then turn. It takes two or three minutes for a bond to form between the meat and the pan. After that time the fat will start to render and run out and then you can move the meat without tearing the surface.
Finally, don't underestimate the importance of fat in meat cooking. Never trim it off before you cook it, as it brings a wonderful depth of flavour and succulence that you otherwise won't get. If you aren't keen on eating it, you can always trim it off afterwards.
14. Family – the secret ingredient to all successful dishes?
Anastasia Miari and Iska Lupton on what we can learn from family recipes
Anastasia: Having spent the best part of this year cooking with grannies from all over the world, I've come to realise just how special it is for each of us to connect with our families through the special, time-perfected dishes of our grandmothers and their grandmothers before them.
My Greek Yiayia, the inspiration behind our cooking with granny mission, has always cooked from the heart. She'll spend hours in the kitchen, often preparing food the night before, to then welcome the children and grandchildren to devour it within minutes, before embarking on a shouty dispute across the table – pretty standard for a family dinner in Greece. For Yiayia, feeding our family is how she shows us she loves us and I have inherited this need to feed, to host and to share the special recipes that take me back to a place where I have felt most loved, at my grandmother's dining table.
Iska: Food and memory are intrinsically linked. Food has the power to stir emotion, bring great comfort and to ground us. My memories of my grandmother 'Lally' centre around food: from Marmite and cucumber on toast daily at 4pm and shiny fish and chips on Exmouth beach to the great Christmas Eve feast we have each year in tribute to my grandmother's German family. At this meal there are at least three varieties of German sausage, bratkartoffeln, sauerkraut and her famous red cabbage. It's served on a table with her own granny's white linen cloth and copious candles. The scents, sounds, textures and the anticipation associated with this meal will never leave me.
Every grandmother we've met cooks something with a history. They let us into their own memories so that we can share their stories and capture the recipes that risk being lost forever.
Pledge to the Grand Dishes' cookbook crowdfund at granddishes.com
14. Trading meat for vegetavles without losing flavour
The seasonally minded chef Anna Jones on going veggie without making it boring
For me, the focus when you are cutting down on anything should be on what you can eat and not what you can't. The vibrancy and variety of eating without meat inspires me and my cooking with every meal.
Without meat, you have to layer flavour and texture in a more thoughtful way, which results in a more exciting way to cook, in my opinion. It doesn't have to be complicated or time-consuming – it can be as easy as some lemon zest on a salad or some roasted nuts or seeds to top a soup.
Think about the pillars of flavour every time you cook: sweetness; acidity; spice or heat from chilli; earthy flavours from roots of mushrooms. Each dish should have one of those elements as well as some interesting different textures. Eating with veg at the centre of your plate allows you to cook with the seasons, too, making it cheaper and friendlier to the world.
Try one of Anna's recipes, her traffic light tomatoes with lemon-roasted feta is all about marrying simple, uncomplicated ingredients together in one dish.
15. Finding excitement in the ordinary
Food writer and blogger Ed Smith, aka Rocket & Squash, on the importance of getting excited about side dishes
It's too easy to forget about sides and leave them to the last minute – and that's a mistake, as they have the potential to be the best part of a meal. In fact, when it comes to British 'meat and two veg', the sides take up most of the plate, so it seems pretty negligent to only ever (over)cook the same, bland things.
With On the Side, I wanted to create a resource that helped people avoid this – both by showing that sides can actually be an inspiring starting point when planning dinner, and by providing an extensive directory showing which sides go with what mains. Favourite autumnal recipes from the book include things like a sweet potato, celeriac and porcini bake, and charred romanesco broccoli (and its leaves) with a piquant dressing. They're both ridiculously moreish and easily go well with loads of different things.
Often it's a case of adding an additional texture (some garlic and anchovy breadcrumbs or toasted nuts) or increasing depth of flavour (by scattering with fresh herbs, braising tough vegetables in appropriate booze, or finishing with a glug of browned butter). Sometimes it's just about taking a vegetable that you might not otherwise be drawn to and cooking it the right way. Or, if in doubt, just adding bacon.
At the end of the day, the best side dishes are 'awesome' because of the context they're served in; they will ensure the meal is greater than the sum of its parts.
16. Build the perfect spice collection
Middle Eastern food specialist John Gregory-Smith on how to build the perfect bespoke store cupboard
Having the basics is essential; ground cumin, ground coriander, turmeric and chilli powder. This feisty foursome can be used to flavour almost anything and you can buy them everywhere. For more developed tastes, ingredients like saffron, sumac, smoked paprika, allspice, cinnamon and nutmeg are fantastic.
I'm really into Middle Eastern and North African cookery, so I always have an arsenal of spice blends and pastes that I can sprinkle, stir and slather onto anything.
Harissa is an incredible Moroccan chilli paste. It's fantastic rubbed onto chicken or fish, or served at the table to add an extra kick to your dinner. Ras el hanout, a blend of 20-30 spices including cinnamon and rose petals, gives so much depth to tagines. A zesty mix of sumac, thyme or oregano and sesame seeds, za'atar is another great one to have at home. It's a wonderful rub, or mixed with oil, it's a great dip for fresh bread. Dukka is a North African blend of spices and toasted hazelnuts that's delicious sprinkled over roasted vegetables or hummus. And finally, baharat is a woody blend of paprika, cloves, nutmeg and cardamom, great with lamb.
Finally, not spices, but perfect for the larder, are tangy barberries that can be used to bejewel rice, dried limes to scent stews, pomegranate molasses to dress salads, and rose water to add perfume to creamy desserts.
17. Kit yourself out
Tim Hayward the kitchenware king on learning to love your pots and pans
If you want to understand the deep emotional importance of kitchen equipment, try having a clear-out of the cupboards. Sure, you start off with the best intentions of minimising clutter but you soon realise that every dish, bowl, burnt wooden spoon and bent fork is there for a reason.
Anyone who's graduated beyond pot noodles will have grown to love the kit they cook with, and that's not surprising: our kitchen gadgets and appliances are our most often-used creative tools, and they inspire us to do better. Sometimes it's a new gadget, a Japanese knife or a particularly gorgeous pan that makes us want to cook beautiful things, but just as often, it's the pot inherited from mum or grandma's rolling pin. Good kitchen tools either arrive loaded with emotional resonance and family history or we invest them with those things over time.
We develop a relationship with the items that function best. Boring, useless tools don't survive long in the Darwinian world of the kitchen. That egg coddler that seemed such a good idea when you bought it will become separated into its constituent parts, each of which will quietly migrate to the back of various drawers and then evaporate.
The objects that keep our passion for cooking alive are those we love, and cannot bear to throw away.
16. Quality over quantity
Monika Linton, the founder of Brindisa on finding quality continental ingredients
When I founded Brindisa on a shoestring 30 years ago, my sole aim was to salute the largely undiscovered artisan food of Spain here in Britain. Back then, most people didn't have the knowledge of other countries' native ingredients that they do now. Venturing outside of your comfort zone can be the best way to discover new flavours. I have had many a long drive to meet a supplier who makes just one cheese, but those trips have been some of the most inspiring moments for the business.
A well-sourced piece of air-dried ham or a carefully picked bottle of wine can actually remove a lot of the hard work from hosting a dinner party. Good food is universally acknowledged to spark good conversation, and the extra effort you make to seek something out in a far-flung corner of the city won't go unnoticed. Places like Neal's Yard will make sure your cheeseboard is head and shoulders above its supermarket counterpart, and Garcia & Sons on Portobello, one of our longstanding customers, will give you a sense of Spain.
Sourcing those hard-to-find foods can be time-consuming and expensive, but, by supporting these artisans, we play an important part in helping to preserve the culture, jobs and ecosystems that might otherwise be lost – and for that reason alone, it's always worth the effort.
Here's one for your next Sunday brunch: try making huevos rotos with this recipe from Brindisa Tapas Kitchens.
17. Cook authentically
Saiphin Moore, the Rosa's Thai Café founder, on cooking Asian cuisine with authenticity
I always make my own curry pastes in a large batch. It's easier than you think and will keep in the freezer for up to six months. That's why I always include paste recipes in my books. Ready-made pastes and sauces never taste the same; preservatives can change the flavours and colours quite dramatically.
Invest in ingredients like lemongrass, galangal, kaffir lime leaves, shrimp paste, palm sugar and fish sauce. All of these ingredients can be found in Chinese supermarkets and online, and most of them last for a while or can be kept in the freezer without losing flavour. You can substitute ingredients when you need to – like Thai basil for Italian basil; green Thai eggplants for purple Italian aubergine, bird's eye chillies for finger chillies; Asian pumpkin for butternut squash; or galangal for young ginger. Sometimes that's not possible, so you can leave out lesser galangal and kaffir lime leaves. If you can't find lemongrass, though, the recipe doesn't work, so I'd cook a different dish!
I always think about whether my readers can find the ingredients in the UK, as well as how to adapt the recipes to their preference. For example, in Thailand, we often use very fishy ingredients like fermented fish paste. It's definitely an acquired taste, so I mark these ingredients as optional.
For a vegetarian/vegan audience, I offer alternative ingredients such as salt instead of fish sauce or mushroom sauce instead of oyster sauce. I make it informative by explaining different types of substitute proteins such as tofu and mushrooms.
Want to learn more about authentic Thai cooking? We travelled to Trang, southern Thailand with Saiphin. Click for more.