If you're Googling 'fresh food boxes delivered in London', chances are, you're probably thinking about getting your weekly veg shop dropped direct to your front door for a number of reasons. Perhaps you've seen the posters on the Tube, have a deep-rooted urge to recreate that unreal veg-packed rice dish you had at the Thai you can't remember the name of in Brixton (let our guide to the best Thais in London help), or you simply don't have time in your day-to-day life to make that delicious looking Alexandra Dudley recipe you saw on Foodism.
Maybe you're keen to try something new in the kitchen, be that vegetables, recipes or entire meals, and have found yourself bored of the current porridge/sandwich/pasta routine your diet currently consists of or feel unduly inspired by the rise of the many organic restaurants in London to increase the ratio of organic produce in your home.
Whatever your motive, food boxes have surged in popularity over the last few years: according to stats, HelloFresh is worth around £2 billion and delivers nine million dinners across nine countries a month while Gousto sells a hefty 400,000 meals a month, some costing as little as £2.98 per portion.
So, without further ado, read Foodism's pick of the best fresh food boxes delivered in London – from ingredients rough and ready for you to prep, to dinners that only need 10 minutes in the oven, to full meals ready to be eaten. There's a dish for everyone.
Food delivery boxes for making your own creations
1. Oddbox
Price
From £9.45 a box, including six to seven varieties of seasonal vegetables
USP
Oddbox offers the cheapest variety box on the market, plus delivers fruit and veg that would otherwise have ended up as food waste.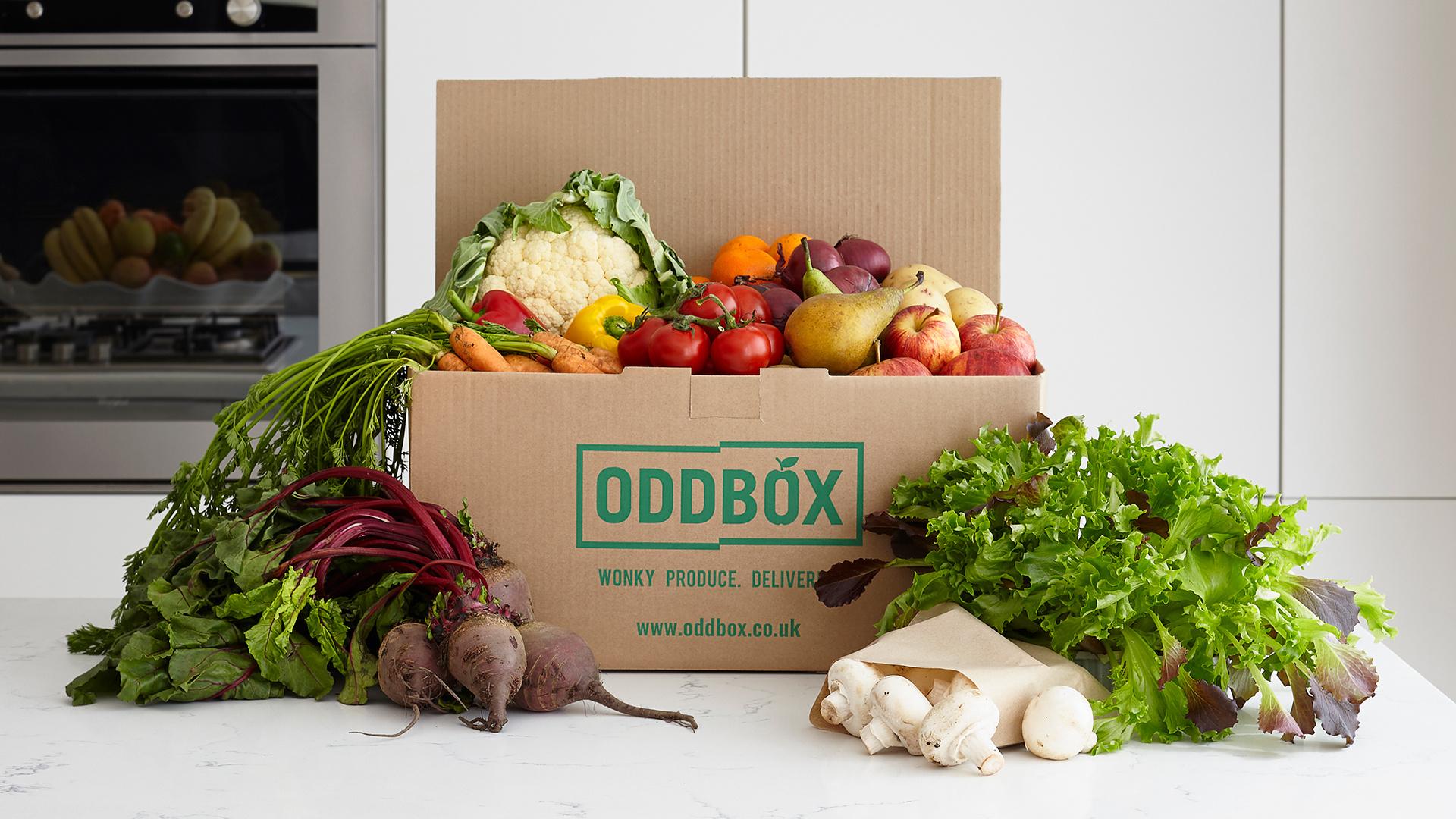 One of the original fruit and veg delivery boxes to make waves on the London food scene, the ethos of Oddbox is simple – to save wonky produce deemed 'not uniform enough' for supermarket shelves from becoming food waste. Co-founders Deepak Ravindran and Emilie Vanpoperinghe launched the business in 2016 after discovering that a third of food produced globally is wasted, which amounts to 1.3 billion tonnes per year. Choose from weekly veg, fruit or fruit and veg boxes, from just £9.45. Plus, fun fact: one large delivery box saves 8 kgs of CO2e and 1,803 litres of water.
2. Riverford
Price
From £11.75 a box, including seven varieties of seasonal veg and staples (potatoes plus carrots or onions)
USP
Longest-standing organic box, first launched in 1987. Plus founder Guy Singh-Watson has his own BBC Radio 4 Desert Island Discs episode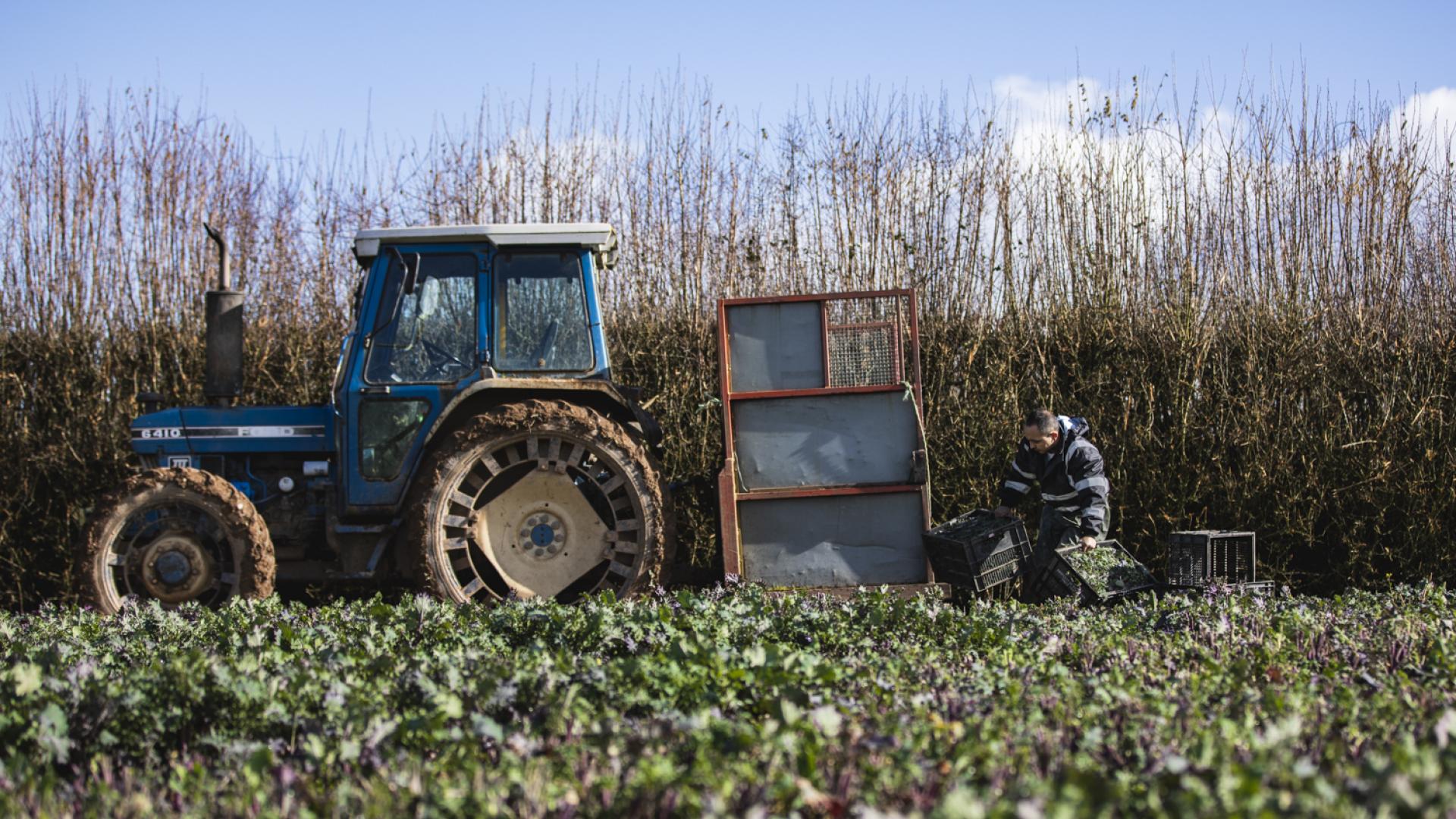 Age-old organic veg suppliers Riverford first set up shop in 1987 and have since somewhat paved the way for sustainable businesses and fruit and the veg delivery industry (read our guide to London's sustainable restaurants for more organic-centric eateries). Not only do they grow and sow all of their own produce on their family-run farm in Devon but they deliver it to your door, too. Many moons ago, their first order dropped off a mere 30 boxes to family and friends; now they deliver 45,000 boxes a week. They have a wide variety of products on offer, but their veg box is the star of the show, available from £11.75. Ready, set… veg.
3. Organic Delivery Company
Price
From £11.95 a box, including seven different types of seasonal vegetables
USP
Free delivery
Bear with us – sure, there are lots of fresh food boxes delivered in London, but each and every one has something that makes it unique. Take the Organic Delivery Company, for example, who have been supporting local farms and growers since 1999. Buy a box and not only will you be doing your bit for lowering carbon emissions, reducing your plastic wastage and eating sustainably, but you'll be saving money on delivery, too – win, win. That's if you live in Greater London or Surrey. Oh, go on then.
4. Abel & Cole
Price
From £11.50, including five seasonal vegetables and two types of fruits
USP
Abel & Cole tell you in advance exactly what will actually be arriving in your delivery, plus provide the information on where your fruit and veg came from. Neat.
Another well known success story, starting around the same time as Riverford, is Abel & Cole, which started out dropping off potatoes fresh from the farm in an old postman's van in 1988. Alongside their extensive range of boxes – at current, they have 18 for you to choose from – you can select various combinations of fruit, vegetables and salads. These range in price from £6.50 for a farmers' choice vegetable bag, to £23 for a large mixed box of fruit and vegetables.
5. Pipers Farm
Price
From £35, including four steak burgers, 250g grass fed beef, two chicken thighs, 250g chicken stir fry, six pork sausages, 250g diced pork, two duck legs and 250g duck
USP
Ethical, farm reared meat that takes no more than 19 hours to get from the farm to your door
What's that? You don't fancy a veg box but still like the idea of a subscription box with weekly goodies turning up at your door? Well, meat eaters, you're in luck: Pipers Farm is a – yep, you guessed it right – farm set on a 50-acre site in Cullompton. There, they raise pigs and poultry on the nutrient-rich red Devon soil, among 400-year-old hedgerows. It's very small scale farming, not a cage, barn or GMO-cereal in sight. All Pipers Farm produce is antibiotic, hormone and preservative-free, not to mention ethical. If you're wondering where to get your hands on said meat, it's as simple as placing an order and making sure you're in for your delivery slot. Transportation from farmer to your front door takes no more than 19 hours.
6. Planet Organic
Price
From £5.99 for 500g beetroot, 1kg carrots, 500g oranges, 150g ginger and 1kg apples
USP
As they're an online shop with thousands of products for sale, you can do the rest of your weekly food shop while ordering your delivery box, too
You've likely found yourself in a Planet Organic before ogling at the kombucha, lentil crisps and gluten free cookies with a mix of awe and confusion, but did you know they deliver organic veg boxes similar to the likes of Riverford and Oddbox? They have a wide range, from specific select fruit boxes for juicing, to organic salad boxes, to seasonal root veg deliveries. Basically, there's something for everyone, and it's as simple as ordering online or while you're in store. Result.
7. Local Greens
Price
From £8.25 for a selection of six varieties of seasonal produce, stereotypically including 500g potatoes, 300g carrots or onions, one to two leafy green vegetables like spinach, chard or savoy cabbage and one to two other seasonal vegetables such as courgettes, tomatoes, broccoli, beans or cucumber
USP
They're not-for-profit, independent and local, partnering with local venues and businesses across SE London as collection points for their weekly bag drops.
The clue is in the name, really – for lovingly grown and reared local produce, this not-for-profit organisation is a great option. Not only do they source fresh veg from small UK, organic and spray-free farms weekly, they also pack it all up for you. While they won't collect direct to your door as with the larger companies - their ethos is rooted in low food miles and a low carbon foot print - they offer a handy pick up service from local collection points around South East London. Support independent businesses and all.
8. Eversfield Organic
Price
From £10.95 including at least seven seasonal varieties per box
USP
You can get ethically reared native Aberdeen Angus cattle, fed on a 100% pasture diet, delivered with your veg. You never need to step foot in Waitrose again

Fun fact: the Eversfield family spent years transforming and rebuilding the soil and plant health in a field used for many years before that for intensive industry farming, planting over 30,000 trees in the process. As for their fresh food boxes delivered in London, they span a wide range of fruit and veg options for you to choose from, offering hundreds of combinations of fruit and veg, alongside animals fed on grass and wildflowers, so you'll never get bored. The farm is certified fully organic plus, you can buy organic dairy, charcuterie, wild fish and larder produce on their online store, too. Dreamy.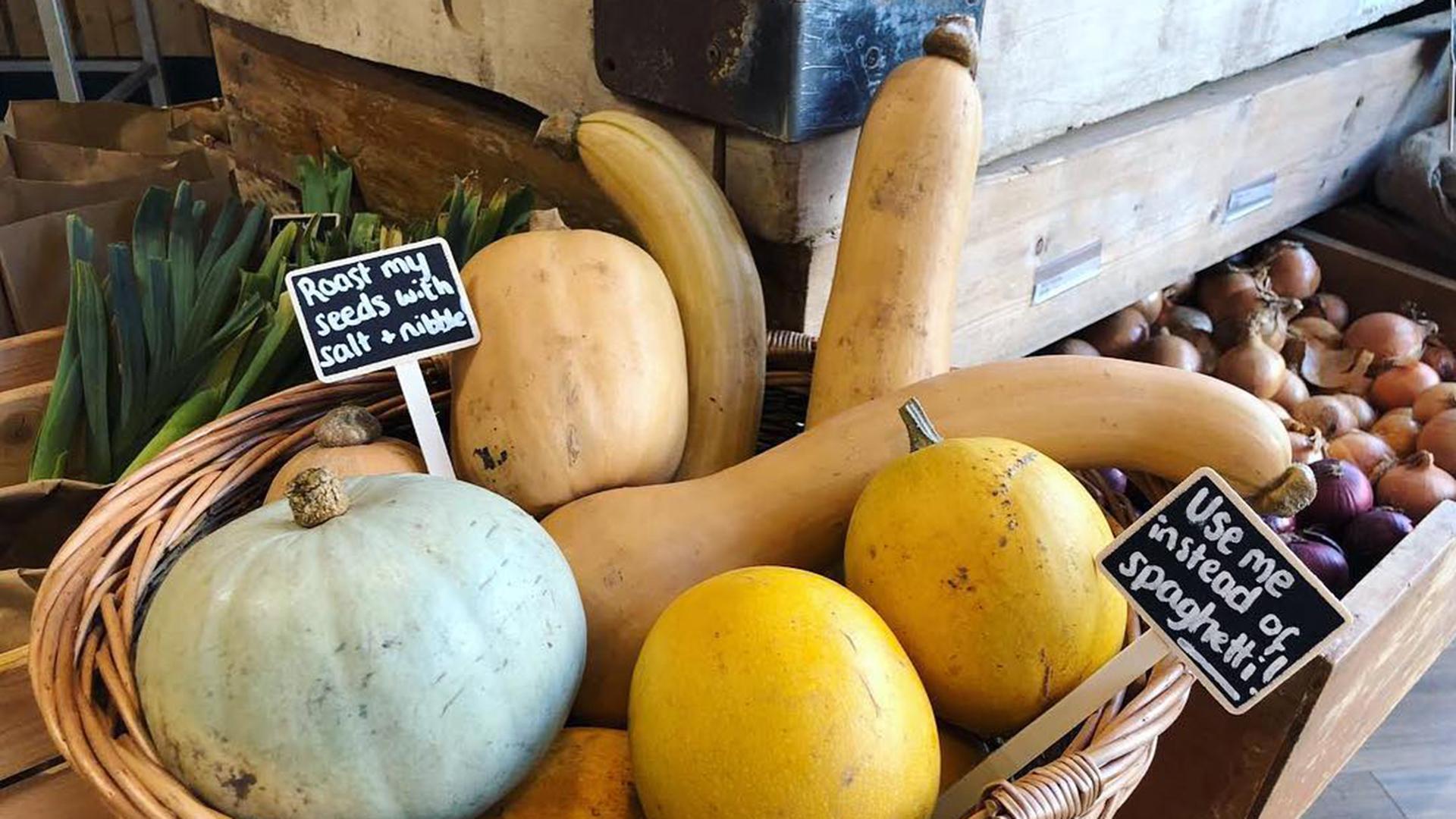 9. Northern Harvest
Price
From £6.00 including six seasonal varieties per box
USP
You can pick and choose between fruit, veg and salad boxes, in other words, pick and choose what produce you'll actually eat
One of the easiest ways to reduce your food miles and support local food heroes is by buying and eating locally-made produce – fact. With Northern Harvest, if you live in or near Cheshire, you can do exactly that. Their website offers not only a wide selection of fruit and veg boxes, but also produce from over 80 local producers, meaning you can get British cheese, meat, honey and more treats delivered with your fresh veg box. We mean...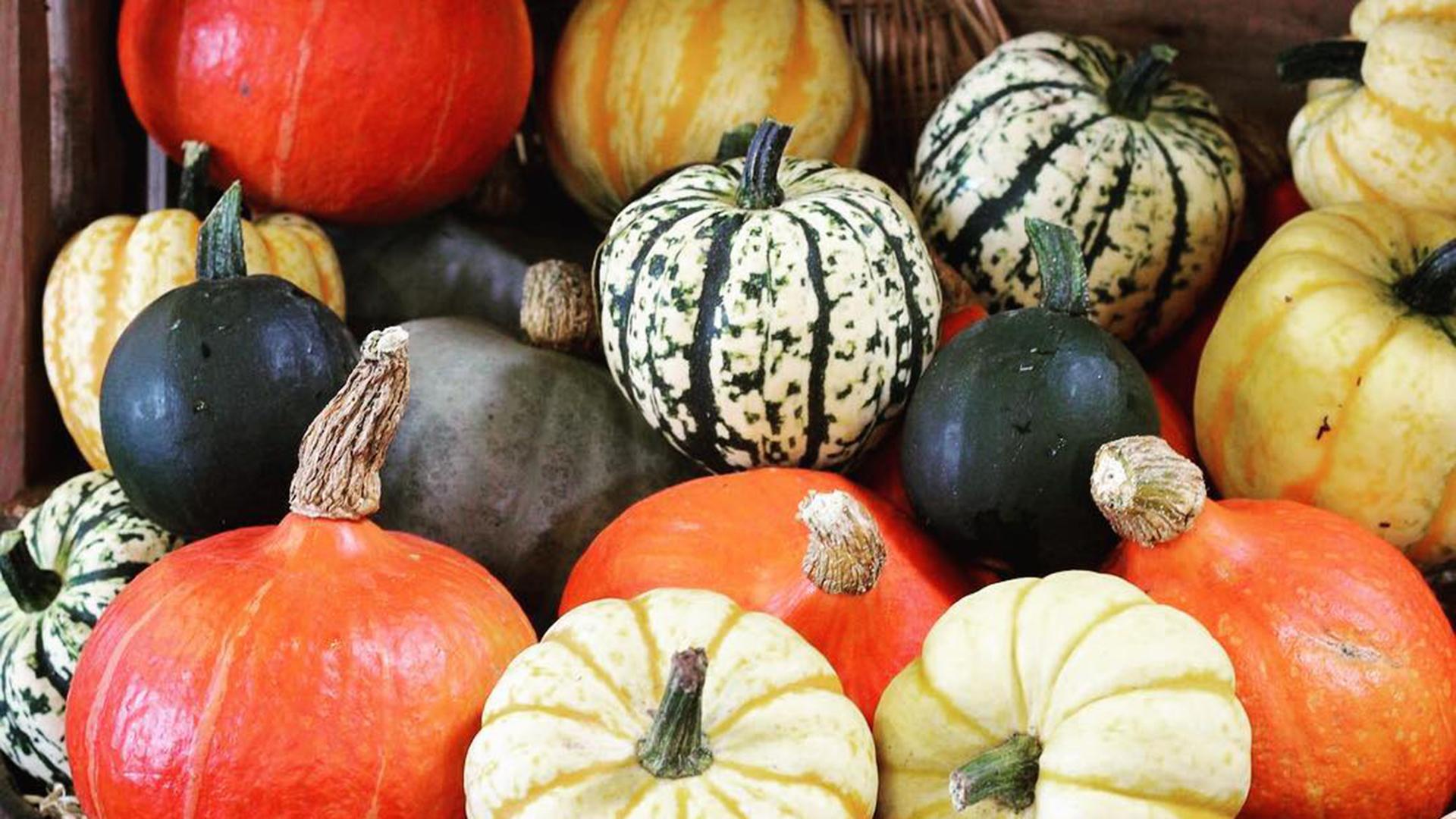 10. Farmaround
Price
From £8.80 including four types of greens, such as beans, courgette and leeks
USP
You can get a greens only box, handy for if you've already bought starchier veg or would rather steer clear of them. Plus, they were the first London-based organic delivery service
Starting business back in 1994 as London's first organic box scheme, Farmaround vegetables change weekly and come delivered with a handwritten note from founder Isobel with what's in your box, the health benefits of each vegetable, plus a few recipe suggestions, too. As well as delivering all their fresh fruit and veg in recyclable, sustainable paper sacks, Farmaround as a brand has been vocally campaigned for animal welfare for many years.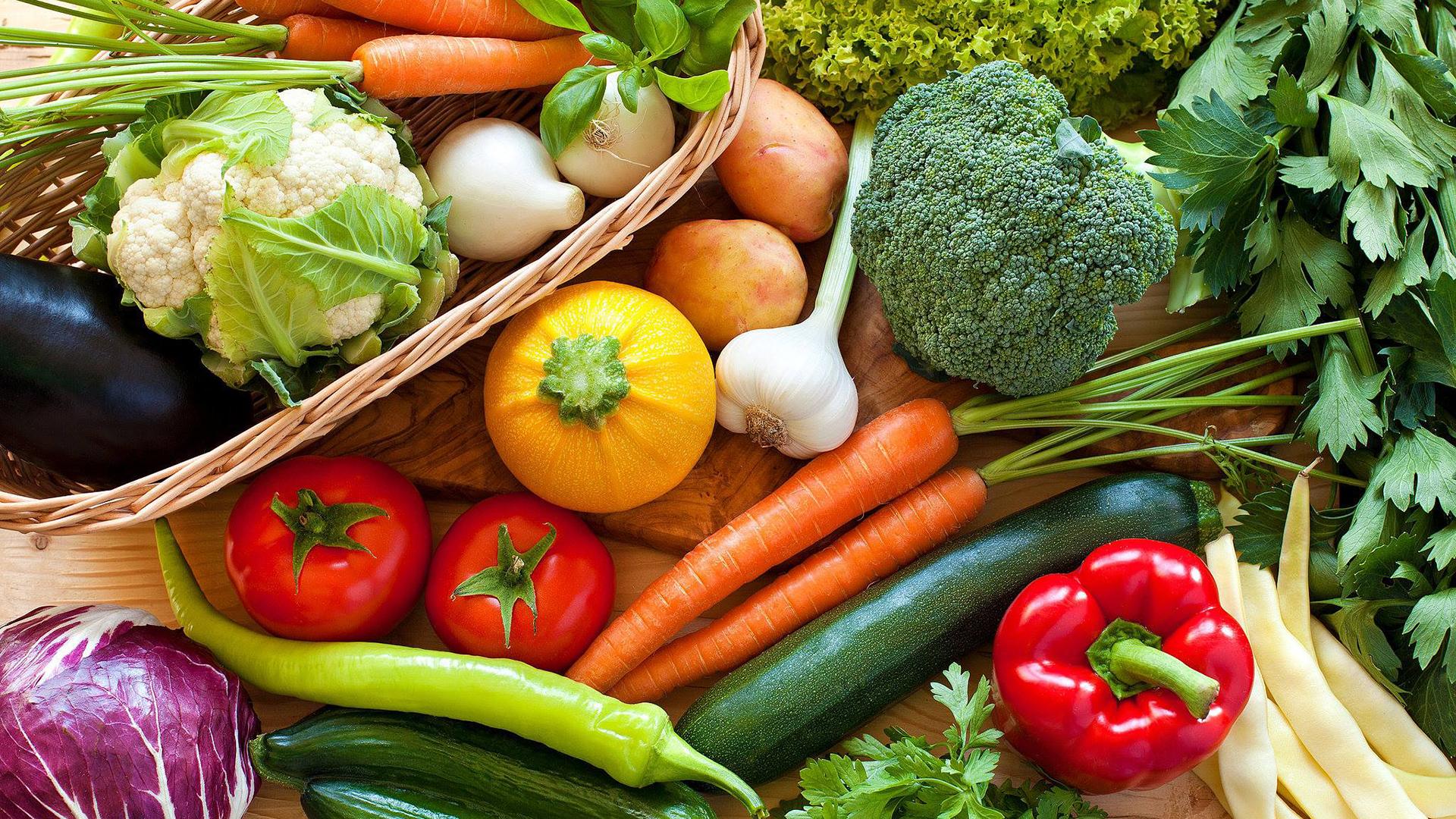 10. Growing Communities
Price
From £4.75
USP
Growing Communities has been growing their own fruit and veg in Hackney since 1999
Another community-led start up, Growing Communities, based in Hackney and Dagenham, are working to help both shoppers and farmers in reducing their carbon footprint and eat more seasonally. They run an organic fruit and veg bag scheme, where you can really personalise what products you'd like to pick up, further reducing the chance of produce going off and being chucked away. Waste not, want not. On top of that, they provide workshops for local London residents on how to grow and produce food at home, helping to educate, inform and give back to the local community. Nice.
11. Pikt Fresh
Price
Depends on what you pick – totally customisable
USP
The only delivery box service in the UK with the plastic-free trust mark
As one of the more ethical fresh food boxes delivered in London, the fruit and veg is grown by a team passionate about working with an eco-foot forward, all of Pikt's food is certified organic by the Soil Association. What's more, they're the only delivery box service in the UK marked with the plastic-free trust mark. On the fence? They also offer next day delivery, and you can choose what produce you want. Not just for the eco-conscious or those perpetually hankering for a verdant bit of courgette, but for anyone looking to up their veg intake and up the eco, in the process.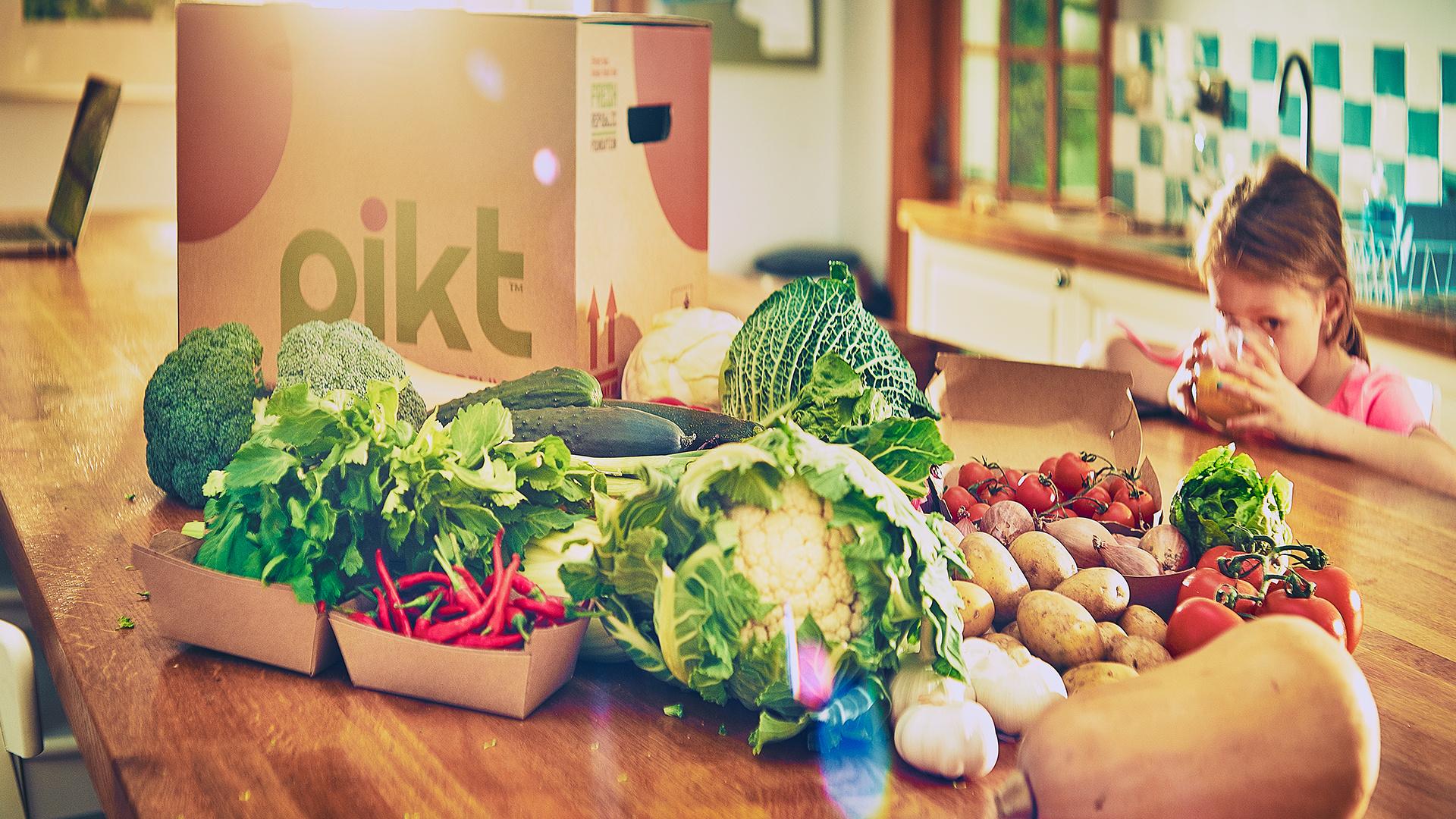 Recipe boxes for following a set recipe
12. Gousto
Price
From £2.98 per meal
USP
Exceptional value for money, meals from as little as £2.98 per portion
On to the recipe boxes. You've likely heard of Gousto – it was one of the big players when home recipe boxes first launched in the UK back in 2012. The premise was simple: deliver everything you'd need to make a delicious, nutritious meal at home to your door, ingredients weighed, ready to go. Now, you can choose from 40+ delicious, easy and inventive new recipes each week, place your order and cook up a tasty nutrient-dense meal from £2.98 per serving. Not bad. Not bad at all.
13. HelloFresh
Price
From £6 per meal
USP
Customer services are open from 8am to 10pm every day, so if you ever do have a problem with service or missing item, there will nearly always be someone at the end of the phone ready to chat and sort out the problem.
HelloFresh was first launched in 2012 by lawyer-turned-chef-turned-food-delivery-service-owner Patrick Drake, who gave up his nine to five office job to follow his passion for food. As one of the UK's leading recipe box services, Hello Fresh serves delivers of dinners a month from the weekly menu of ever-changing recipes. It's all very flexible – choose as many or as little meals as you'd like for as many or as little mouths. Yum.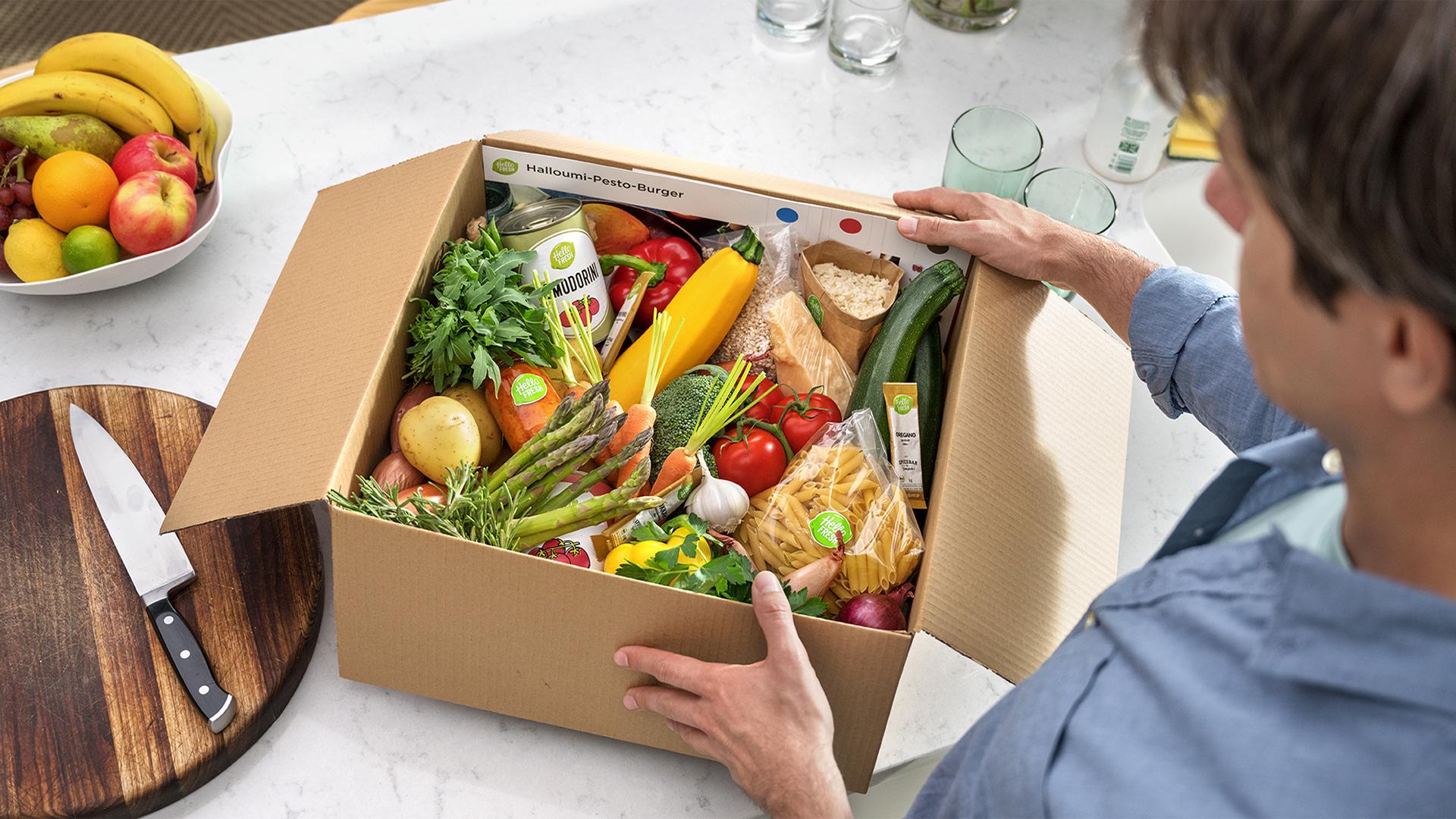 14. SimplyCook
Price
From £3 for a trial box
USP
According to their website, they're the UK's top rated delivery box service. Not bad
If you're a Foodism reader, the notion of cooking a restaurant quality meal likely not just excites you, but excites you a lot. And sometimes, to reach certain dreams, you need a little help along the way. Which is exactly where the idea for SimplyCook came from. If you're bored of eating the same food dinner in, dinner out, then SimplyCook's 15 to 20 minute recipes, focused on showcasing the best of global cuisines in simple steps, will be right up your street. Follow along with authentic spices and recipes delivered to your door, sub in a few fresh ingredients and revel in your new found skills. Cooking never looked so easy.
Ready made meals delivered direct to your office or door
15. Potage
Price
From £2.50
USP
Potage have been cycling eco-friendly, ethically sourced grub since 2012, before it was 'trendy' to do so.
And finally, fully pre-made ready meals. Not all days are born equal, and neither are ready meals. At Foodism, we're fans of cooking from scratch, spending time in the kitchen and learning new skills over a stove but also understand more than most that some days, that just isn't an option. Enter stage right Potage, a start up run by Georgia Cummings who's been delivering fresh-as-anything handmade meals daily with a sustainable foot forward since 2012. Choose what you'd like delivered, be it desk breakfast, a corporate lunch for colleagues or a hot pot to greet you at home for supper, and you're good to go. No wasteful packaging, a focus on sharing boxes to minimise even compostable packaging and locally sourced ingredients means their hot meals, salad boxes and sweet treats are eco-friendly and seriously tasty, good for the planet and good for you. If that's not enough to persuade you, their brownie bites are enough to make you order again and again. You heard it here first.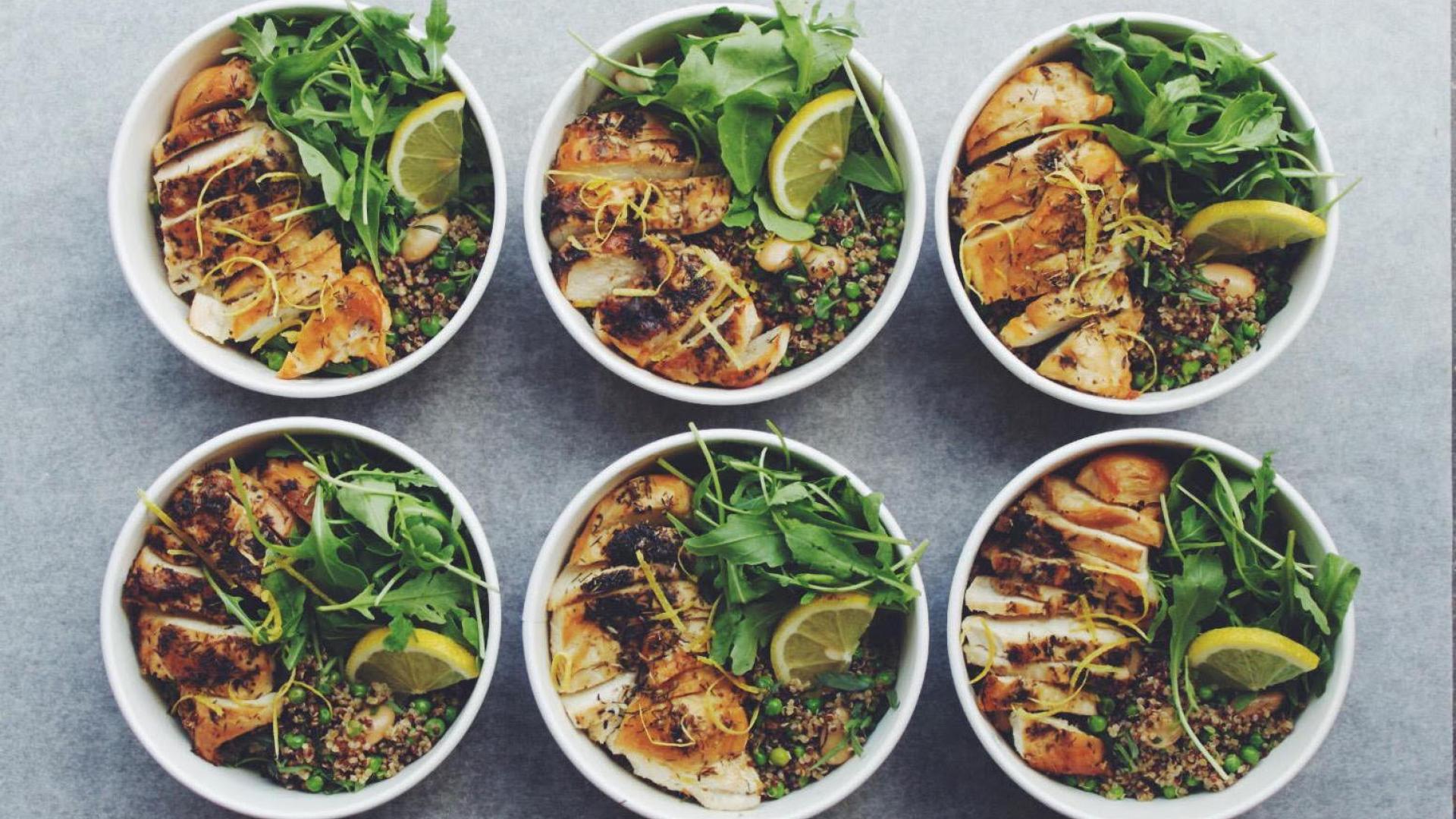 16. The Detox Kitchen
Price
From £31.45 per day for three meals, pudding, a juice and two snacks
USP
You'll get all of your food for the day delivered to your door, ideal for when you really don't have time at all to cook. Think breakfast, lunch, dinner, pudding, plus 1 juice, 1 nut pot and 1 snack every day
If you're consistently too busy or looking to introduce some nutritional structure in your diet, The Detox Kitchen offer weekly meal plan delivery services to take the stress out of cooking. Looking to up your veg intake for a week? Know you'll be manic with work and want to ensure you have healthy, brain-nourishing food at home in advance? The DK team have something for every need, from vegan packages to food to nourish new mums. They launched their biggest menu change ever recently, and Foodism can confirm that the breakfast banana bread is particularly special. As with Potage, the DK team focus on eco-friendly, sustainable business model, preparing all their food daily in their London kitchen.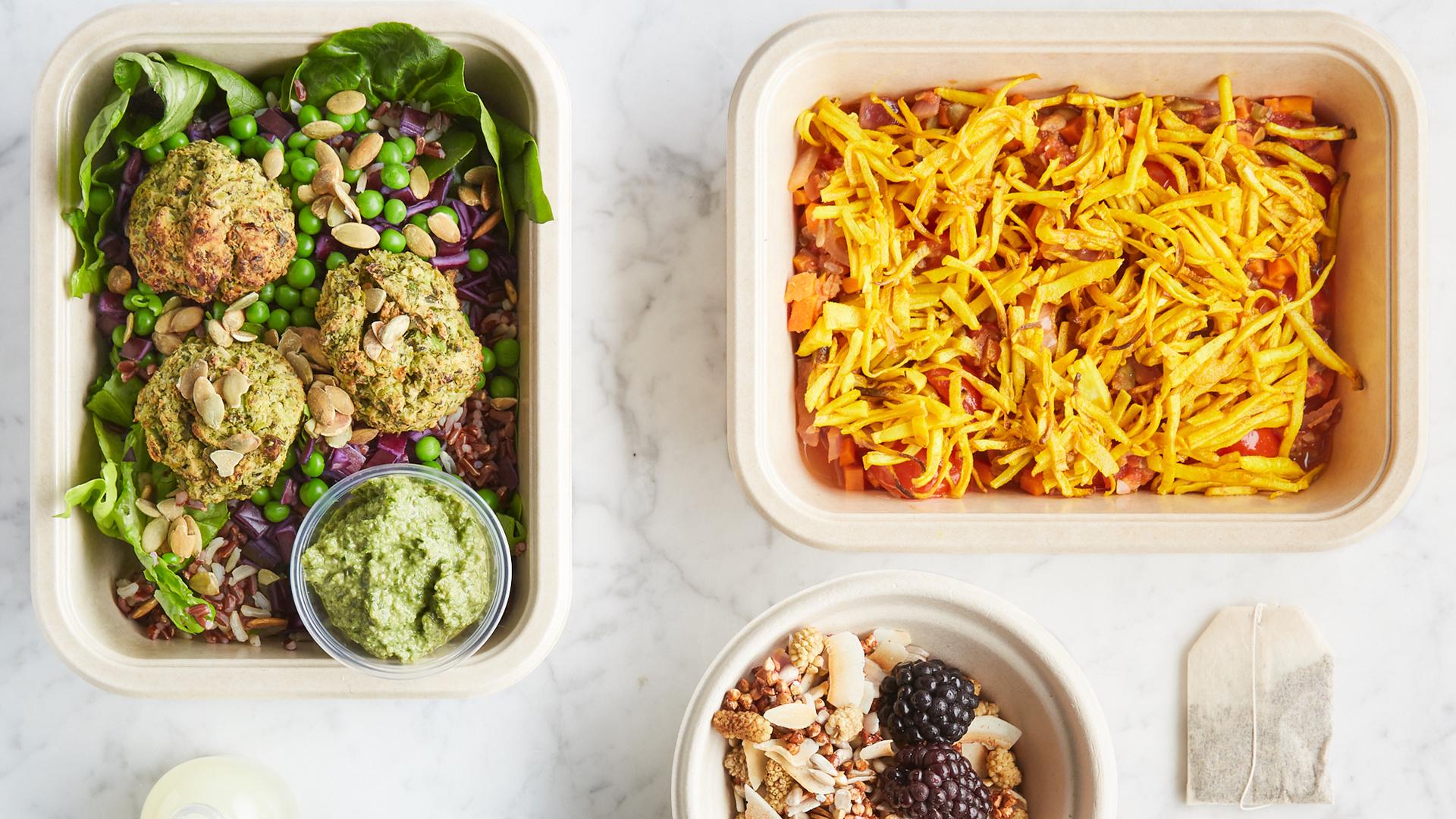 17. Farmdrop
Price
From £2 for a side
USP
All their convenience food items are packaged plastic free and in compostable and recyclable packaging. Waste not, want not
So you like the idea of ready meals but don't like the idea of dishes rammed full of additives, made with cheap ingredients and wrapped in non-biodegradable packaging. Good news then: Farmdrop offers a little bit of everything, from fresh fruit and veg delivery boxes to bakery items or its newest addition to the site, Farmdrop ready meals. All products are produced ethically, putting the farmer first, and not packaged shedloads of plastic pre-delivery, making moves to care for the planet, too. The brand works with more than 450 UK producers across the UK to provide honest ethically-sourced food, and you can taste it – the meals are delicious. Foodism's favourite is the spicy halloumi vegetable tray bake.