It's quite hard to be romantic during a national lockdown, isn't it? Either you're spending every minute of every waking day with your partner and you're sick of them; you're not with them and you can't see them; or you're single, and, well, that's not so great right now either.
No matter how you feel about it, Valentine's Day is still on its way. Even if you don't have a romantic bone in your body, it's still a marker that the days are a little bit lighter and spring is around the corner. That's why, after a long, cold, hard winter, Valentine's Day is making us a feel a little bit more buoyant, even if we can't eat in a romantic restaurant with that special someone.
These love-filled deliveries and meal kits from some of London's best restaurants and bars are bringing that romance direct to our doors. And given you'll be staying in, that means there's more time to canoodle on the couch…
We've got something for everyone: woo your boo from afar with The Umbrella Project's Be My FaceTime Valentine cocktail delivery; go all-out with Angelina's Italian-Japanese inspired tasting menu, complete with oysters and flowers; keep things low-key but no less sweet with a parcel of patisseries from French bakery PAUL.
If you're single, stop doomscrolling through Hinge, pick yourself up and have a read of these guys. After all, ordering a meal for two just means there's extra dessert for you...
Here's how to celebrate Valentine's at home, from the best takeaways to restaurant meal kits to cocktails and chocolate delivery.
Romantic meal deliveries for Valentine's Day
1. Home by Nico [pictured]
£85 for two
Home by Nico continues its quiet domination of the affordable tasting menu meal kit market with its Valentine's Day edition. Chef Nico Simeone has pulled out all the proverbial stops with a fresh lobster and prawn tortellini; aged beef fillet; and sides of a posh mac'n'cheese (it's topped with smoked pancetta), broccoli with blue cheese, and potato lyonnaise. The crowning glory? A raspberry trifle with vanilla. Bellissimo.
Available for delivery on Friday 12 or Saturday 13 February; home-x.com
2. Napoli Gang's San Valentino pink XXL pie
Pizza from £10
OK, so you've left thinking about Valentine's Day a little bit late. But there are still plenty of ways to woo your boo – and who's ever said no to totally delicious pizza? Napoli Gang is the new delivery service from Gloria Trattoria and Circolo Popolare, both known for their over-the-top atmosphere, cheeky attitude and fantastic pizzas. Now you can get all three of these things delivered to your door: pizzas with toppings like mozza, ricotta and black truffle; plates of mortadella and burrata; and that XXL lemon pie. Order on Valentine's Day and you'll get the lemon pie, turned pink in the name of luuurve; and, er, some branded Napoli Gang condoms. God loves a trier... 
Order on the day; napoligang.co.uk
3. Bar Douro
£90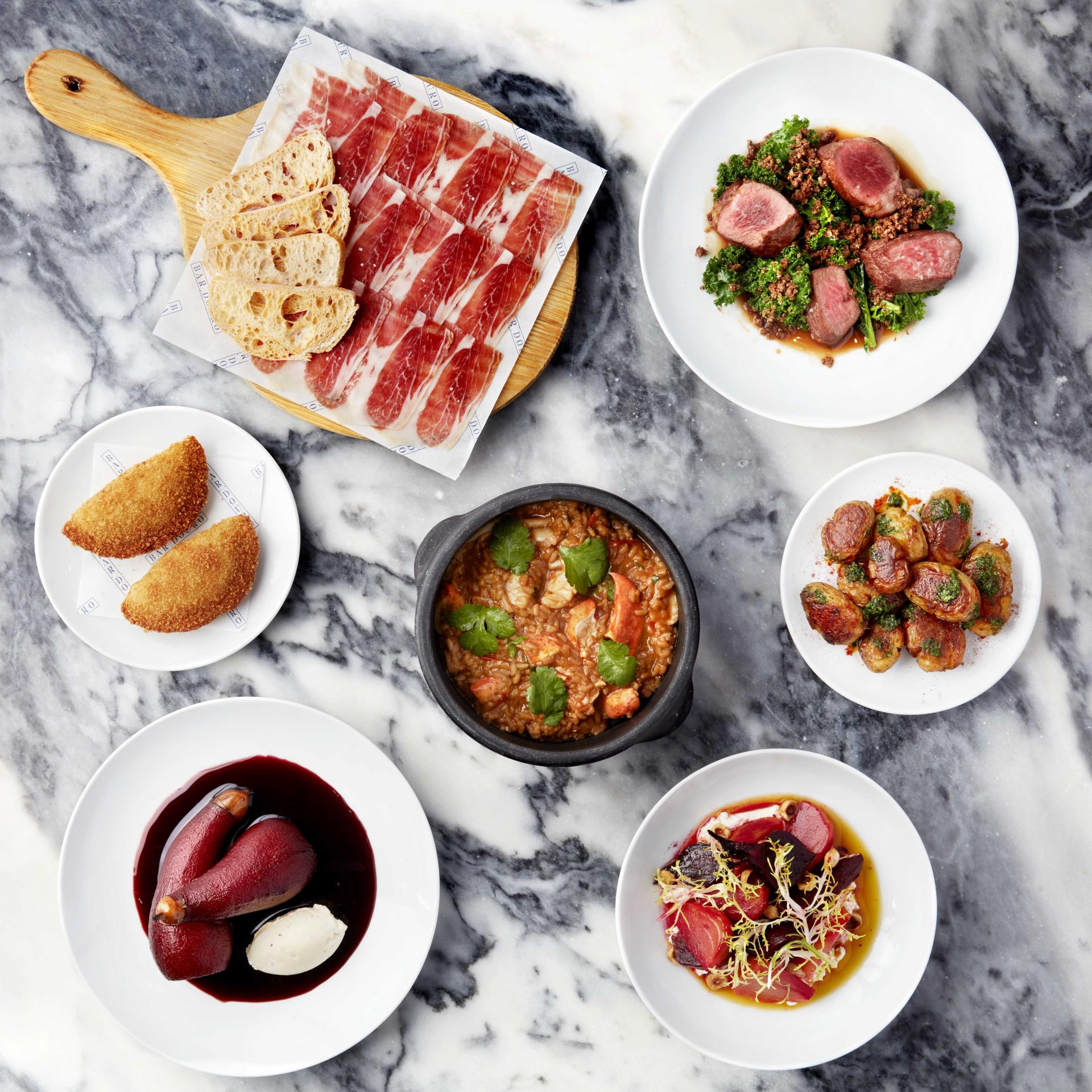 It looks like holidays to Portugal are off the cards for a while, but you can still get a taste of one of Europe's best-known food hotspots with Bar Douro's feasting kit. A selection of small plates will take you from garden to land to sea, nibbling on pata negra ham, lobster rice and the presa iberica that put food-loving Londonders in a spin. And, of course, you can supplement with a selection of classic Portuguese wines and white ports.
Order by 9pm Monday 8 February; restokit.co.uk
4. Wright Brothers' Luxury Seafood Box
£95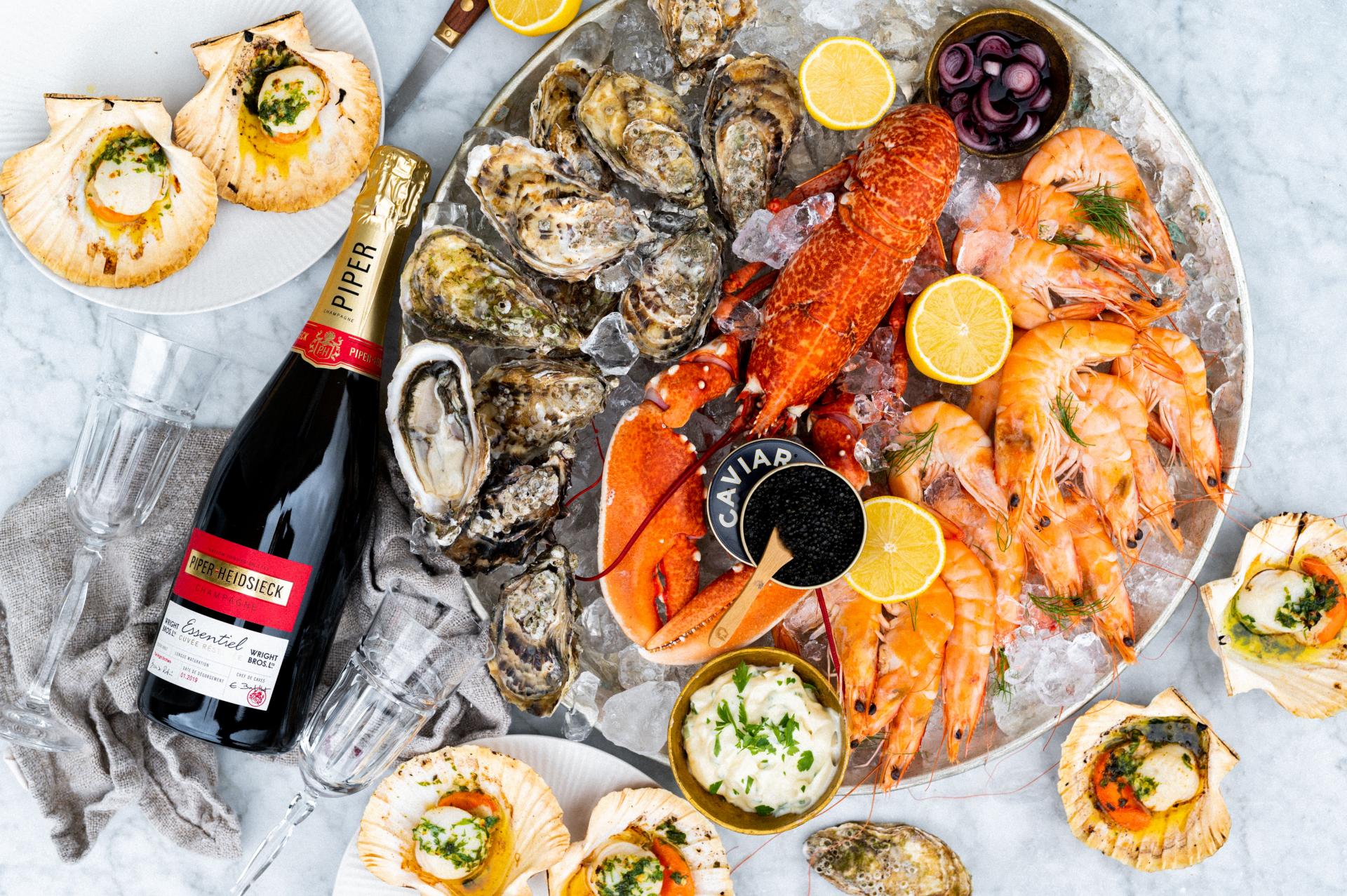 Champagne and oysters are as romantic a pairing as things come, and one of our usual first ports of call for both is iconic London stalwart Wright Brothers. So it comes as no surprise that the restaurant group is offering a selection of seafood boxes – with champagne, of course – for V Day. We're not beating around the bush here, so our vote is for the Luxury Seafood Box: a treasure chest of lobster, Carlingford oysters, king prawns, scallops and caviar. To be eaten with a bottle of Wright Brothers Piper-Heidsieck Essentiel Champagne, or Wright Brothers Half Shell Gin, distilled with Carlingford oyster shells and kelp seaweed, naturally.
Order before midnight 7 February; thewrightbrothers.co.uk
5. Chantelle Nicholson's All's Well feast
£55 for two people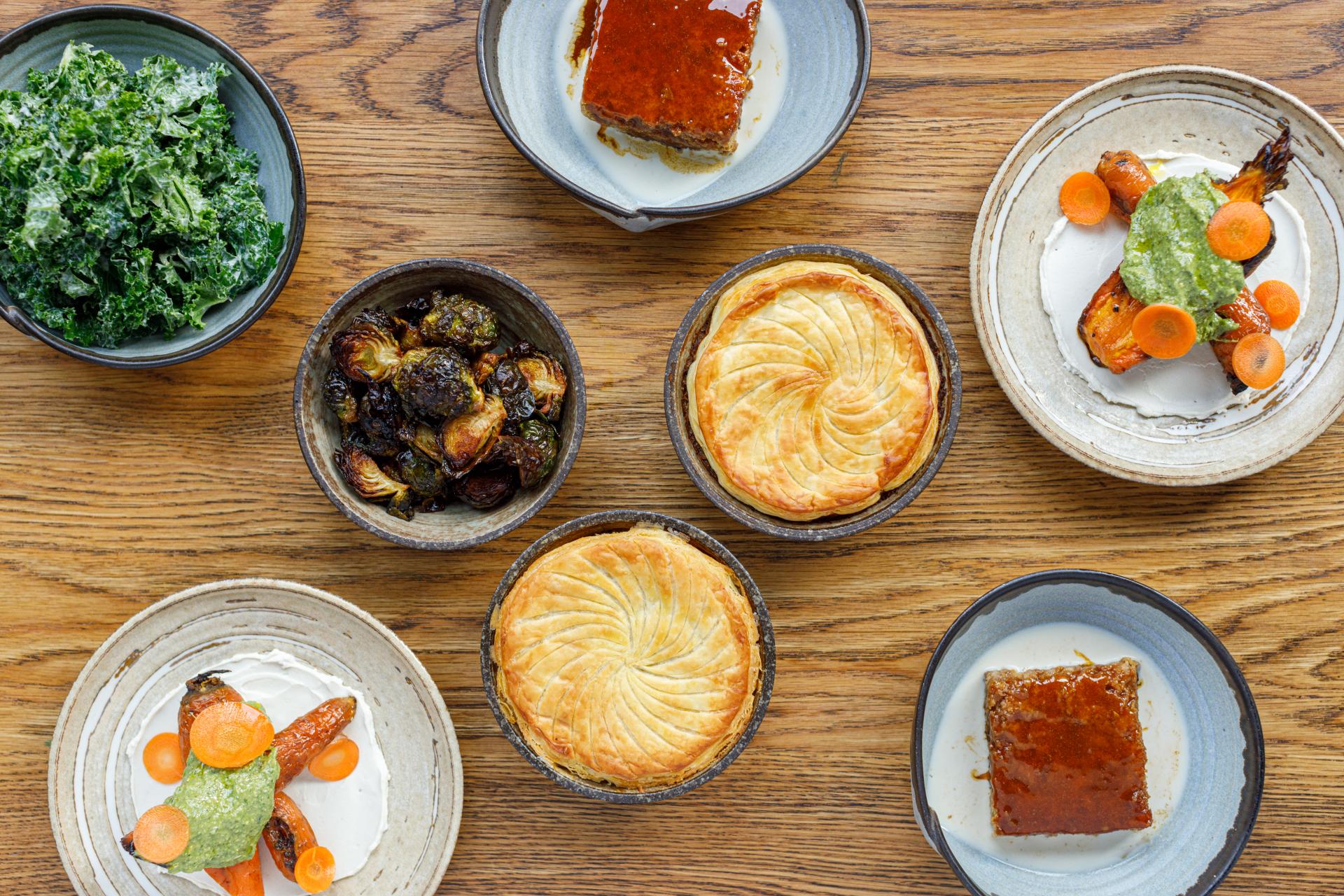 Chantelle Nicholson, chef-patron of Tredwells, was supposed to be running a side hustle in the weeks before Christmas – All's Well, a popup on Mare Street designed to celebrate locally grown British produce, organic wines and zero-waste cooking. The clue is in the name: the food served at All's Well is designed to comfort and cajole; a mood booster in this most bleak of mid-winters. Thankfully Nicholson has distilled this ethos into a date-night menu available through Dishpatch: a glazed short rib feast, with additional plates of kimchi fritters, coriander aioli, sprout slaw; braised beef short rib; roasted pink fir potatoes, wild garlic pesto; purple sprouting broccoli, kale and mustard salad; and peanut butter cake, salted caramel and chocolate custard.
Delivers nationwide on Fridays; dishpatch.co.uk
6. Bubala's Vegetarian Mezze Feast
£50 for two people
Bubala's vibrant vegetarian cooking garnered quite the following since it opened in 2019. The restaurant began life as a series of supper clubs at the hands of Marc Summers (ex-GM of Berber & Q) and head chef Helen Graham (formerly of The Palomar and Barbary) before opening in Spitalfields in 2019. Of course, it's now currently closed – but you can still get your chops around food that's been likened to that of Ottolenghi's Nopi. And what better way to spend a romantic evening? Bubala has partnered with Dishpatch for its meal kits, including a plate of pickles, labneh; confit garlic and za'atar; hummus, chilli oil and chickpeas; mushroom skewers; halloumi, black seed honey; hispi cabbage, tahini, XO, crispy chilli oil; potato latkes, and truffles.
Delivers nationwide on Fridays; dishpatch.co.uk
7. Angelina's Valentine's Feast
£70pp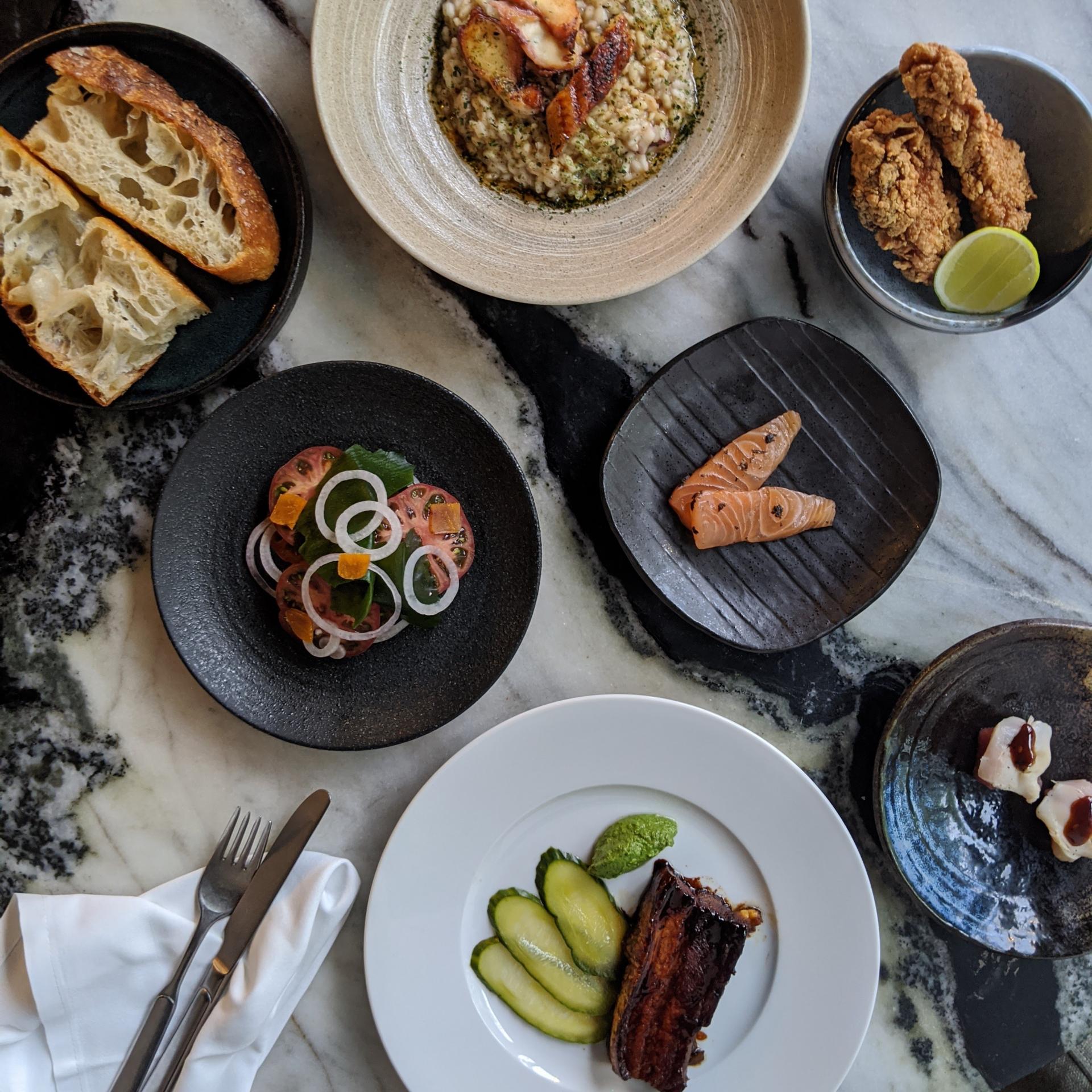 If you truly want to tick all the romance boxes, we've found a very easy way to do it: simply order Dalston favourite Angelina's Valentine's feast. Not only do you get the restaurant's characteristic excellent Italian-Japanese tasting menu, but the team has done all the hard work for you, including flowers, cocktails, oysters and cheese in its box of treats. Graze on perfect plates of focaccia with tuna 'nduja, and seabass with truffle and daikon; sip cocktails made by Angelina's new sister bar Golden Gai; and cap it all off with a formaggio bento cheese platter and soy caramel chocolates. And if you're feeling really lazy, you can pick a bottle of wine from Angelina's wine list. Job done.
Available for delivery within 2.5 miles of the Dalston-based restaurant; angelina.london
8. Bubbleshop's Ultimate Valentine's Brunch
£150
Forget date night: start the day on the romantic foot with this Ultimate Valentine's Brunch from husband and wife duo Sandia Chang and James Knappett. Chang (a sommelier) and Knappett (a Michelin-starred chef) are formerly of Bubbledogs champagne and hot dog bar and Michelin-starred Kitchen Table respectively, which together occupied one space on Charlotte Street. Their restaurants are currently undergoing a reinvention, but in the meantime Chang is running Bubbleshop, an online shop that celebrates, well, bubbles. And that's something we can wholeheartedly get on board with – it celebrates small-grower champagnes and sparkling wines from lesser-known vineyards. And for Valentine's Day, the duo have collaborated to create one helluva a brunch: a bottle of George Laval Garennes, Exmoor Caviar, Kitchen Table White Truffle Maple Syrup, Kitchen Table Crème Fraiche. If you want something a tad less boujee, opt for the scaled-down Ultimate Valentine's Snack (£120) or the Ultimate Naughty Valentine's Snack (£69, with a bottle of Olivier Horiot Soléra, Kitchen Table's crispy chicken skin, bacon jam, and rosemary mascarpone).

9. Sabor En Casa St Valentine's Menu
£220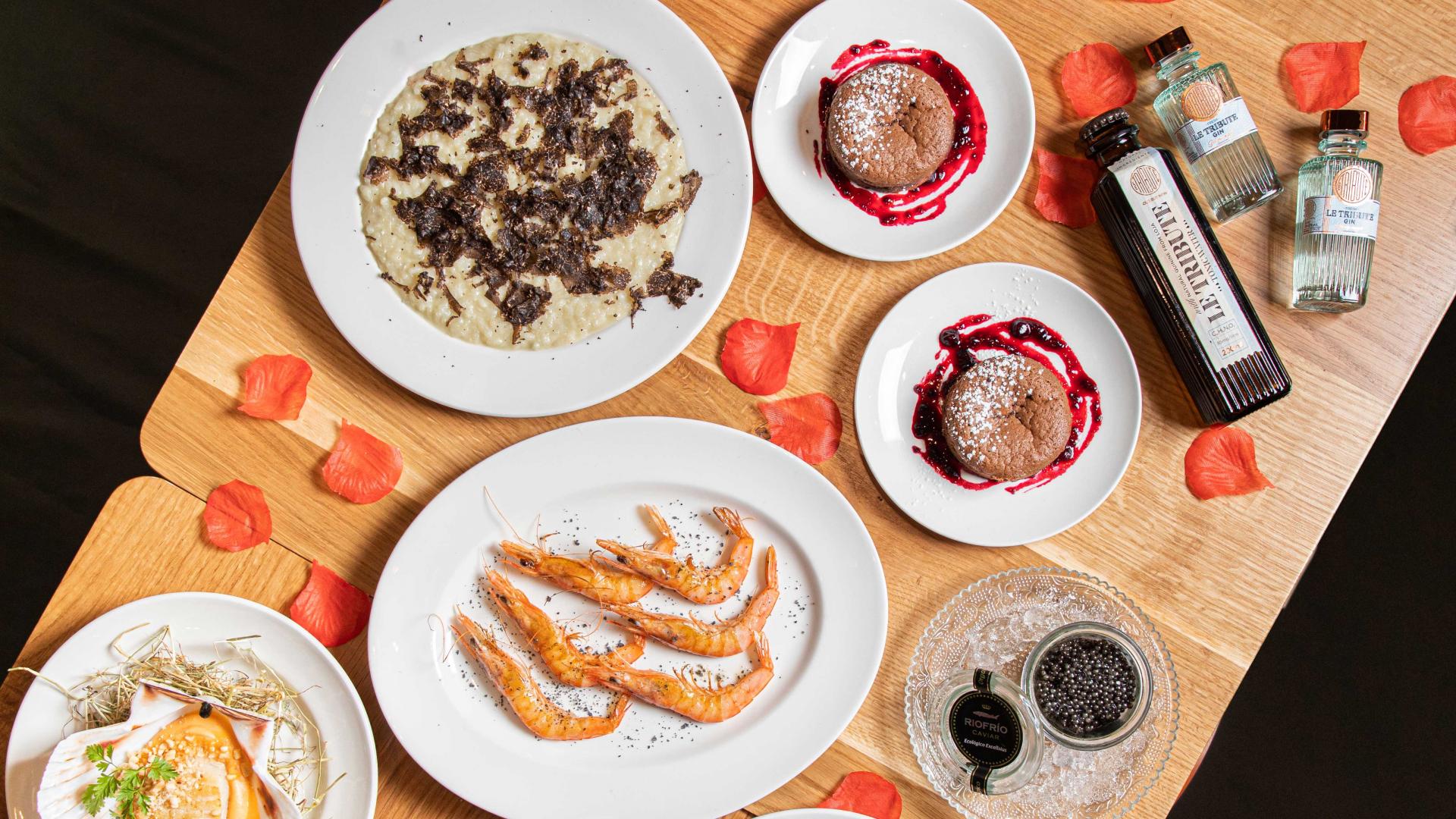 Ringing in at £220 for the full shebang, Michelin-starred Sabor's St Valentine's Menu Box sure is punchy – but what else have you been spending your money on lately? Besides, when it's Nieves Barragan behind the menu, you know the food will be worth it. You'll get organic Spanish caviar (plus a mother of pearl caviar serving spoon), Spanish foie gras, and Spanish black truffle as part of the six-course menu. And it's even more worth it because drinks are included, with a bottle of Cava Stars Brut Reserva 2016 and Le Tribute Gin & Tonics, along rose petals to scatter over the table.
Available in very limited quantities for nationwide delivery on Saturday 13 February; saborencasashop.com

10. PAUL's Valentine's Boxes
From £19.95
When you can't quite muster up the words, nothing says "I love you" like the elaborate layers of patisserie. PAUL's Valentine's Boxes will help you get heart-to-heart with two heart-shaped cakes and a box of 12 mini macarons. For extra brownie points (or is that biscuit points?), plump for the Sent with Love Box with shortbread biscuits dipped in chocolate and a handful of chocolate beignets.
Available for pre-order from 25 January. Delivery within M25 only; paul-uk.com
11. Bun House's fondue kit
From £9.90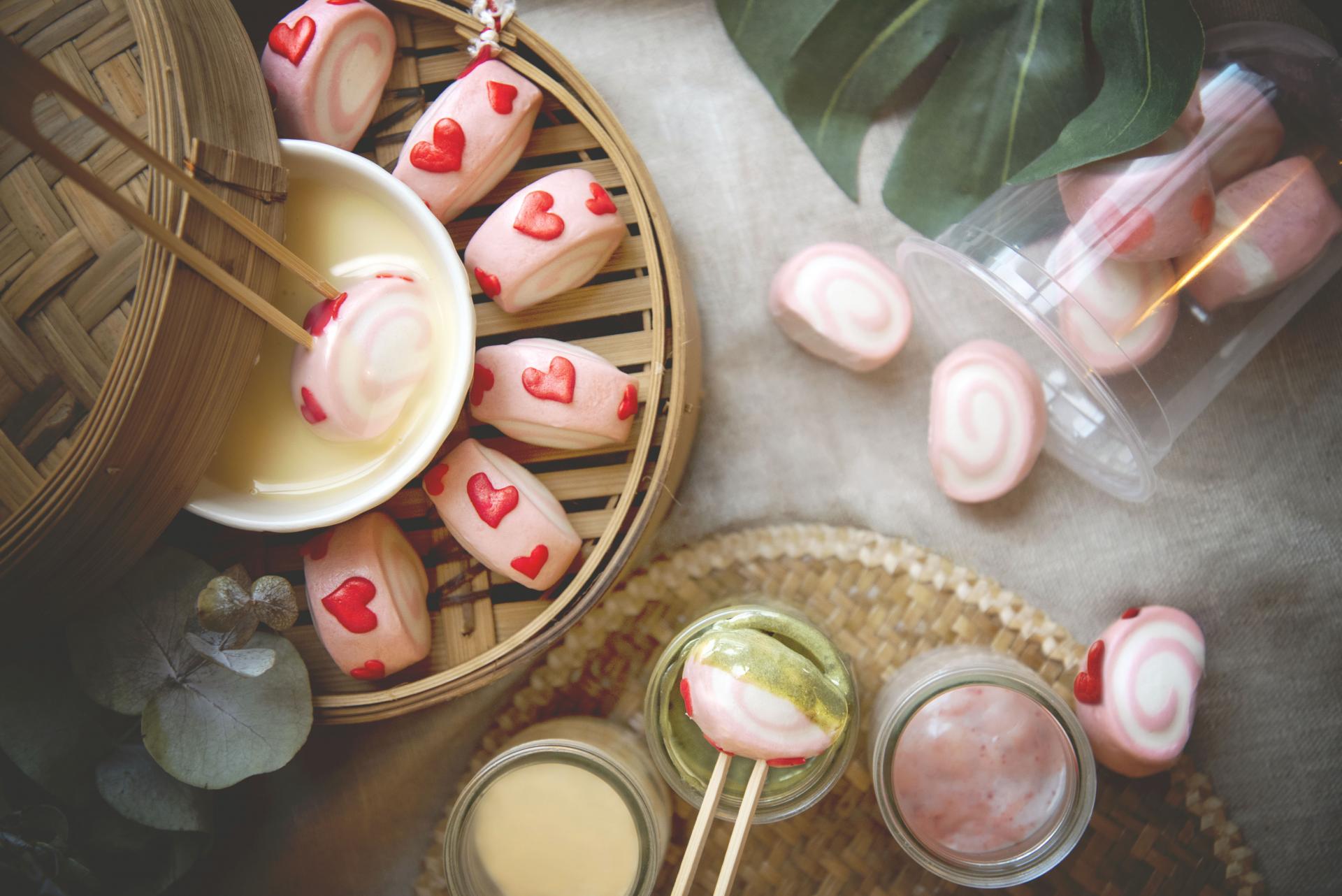 In the immortal words of Sir Mix a Lot, "We don't want none unless you've got buns, hun." Well, we've found you some buns. And what buns they are, because the Cantonese-style steamed bun specialists at Bun House is doing a special bun fondue for Valentine's day. The Sum Sum Bun mini fondue set will include pots filled with strawberry flavoured mini mantau buns, adorned with delicate pink hearts. To sweeten things up even more, they will be served with sweet 'fondue' dips for dunking including creamy matcha, white chocolate tahini and strawberry milkshake.
12. Officina 00's pasta feast
£80 for two
Forget music – the food of love is fried cacio e pepe ravioli. Oh yes, and that's just one delicious part of Shoreditch pasta restaurant Officina 00's special Valentine's Day box. The nonna-approved meal features housemade bread with whipped parmesan butter; courgette polpette with garlic and lemon mayo; mixed radicchio salad; finely sliced ceviche of Sicilian tuna; even more pasta; and wraps up with chocolate, hazelnut and chilli truffles. If you won't date the person who organises this for you, we will.
13. Homeslice's pizza and cocktail masterclass
£45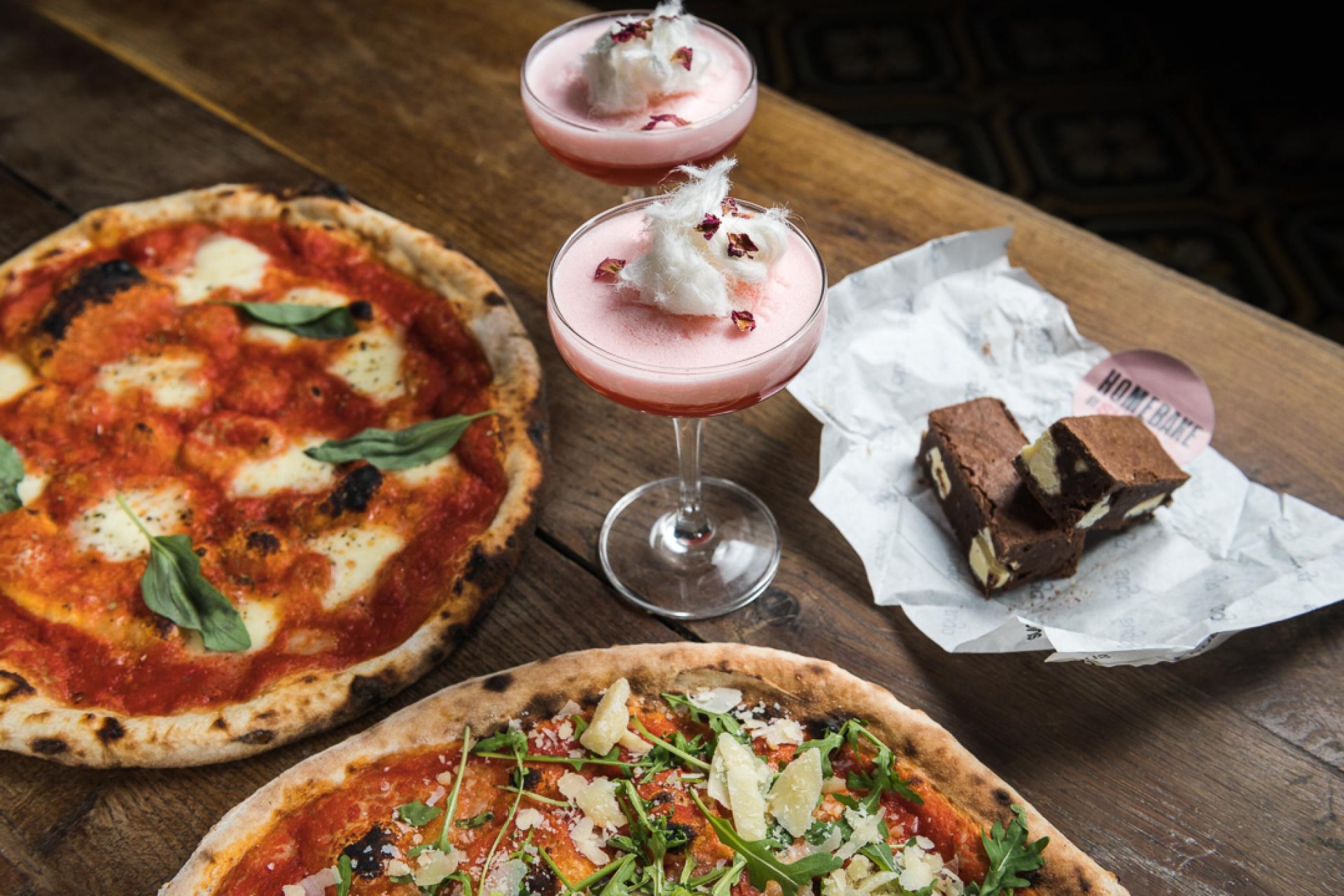 Say "I dough" with Homeslice's special Valentine's night in pizza party for two. You'll get a Zoom masterclass in both throwing pizza and making the restaurant's Turkish Delight cocktail, and everything you need to make both will be delivered direct to your door. And those are basically skills for life, so it's an investment, non?
14. Opso's Greek Valentine's feast
£130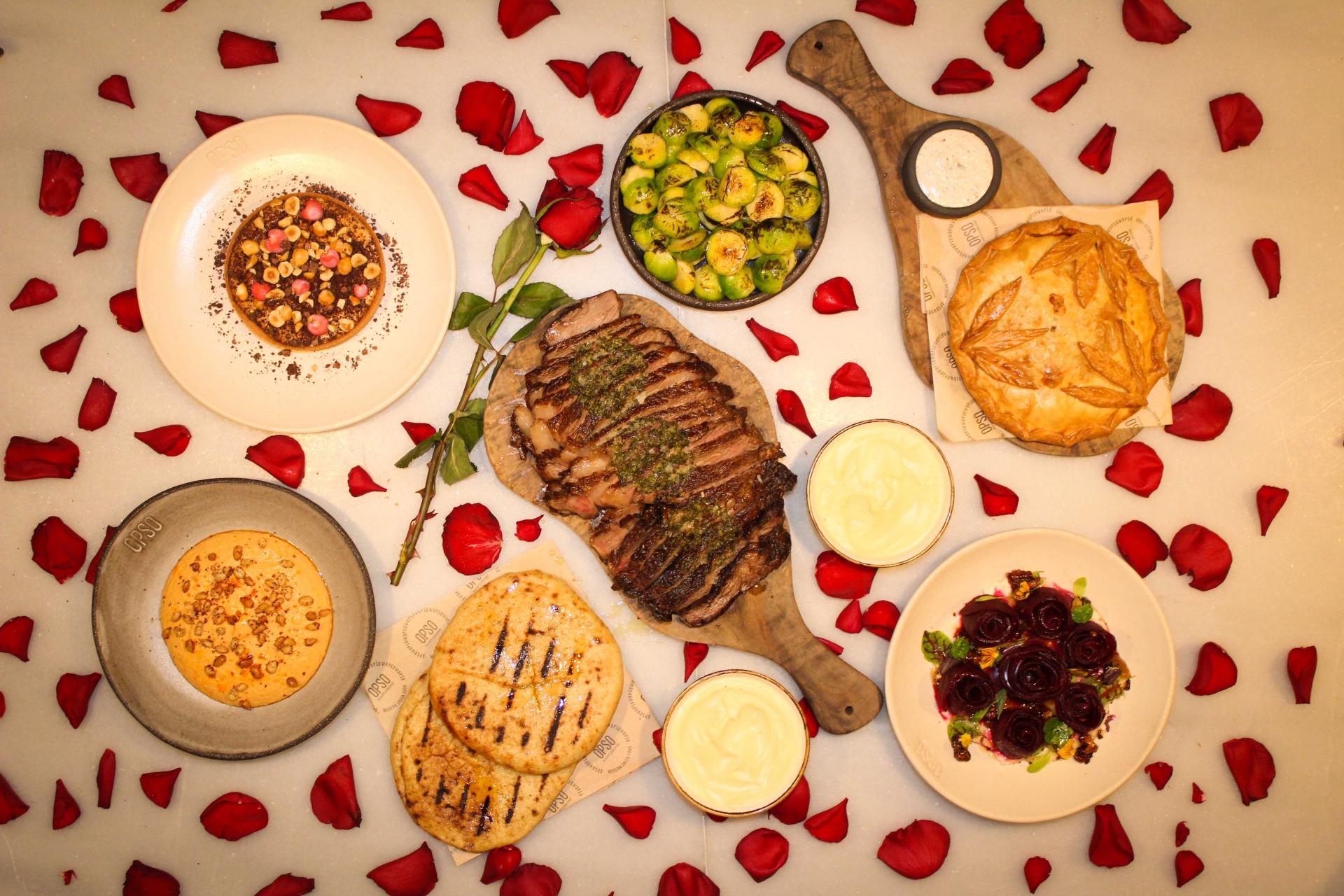 There's nothing quite like biting into flaky spanakopita, the Greek spinach, feta and mint pie, to make you dream of whitewashed walls, sparkling blue sea and vivid bougainvillea blossoms. Sadly we can't quite take you to the Greek island right now, but this Valentine's feast from Marylebone's Opso is as close as you'll come right now. Think proper hummus made with white beans and topped with hazelnut praline; 'red roses', a dish of roasted beetroot, fig jam, caramelised walnuts and barrel-matured feta cheese; and a prime ribeye 'bouquet' with herb butter and dashi-glazed brussels sprouts. Escapism in a box.
15. German Gymnasium Valentine's Day Kit
£120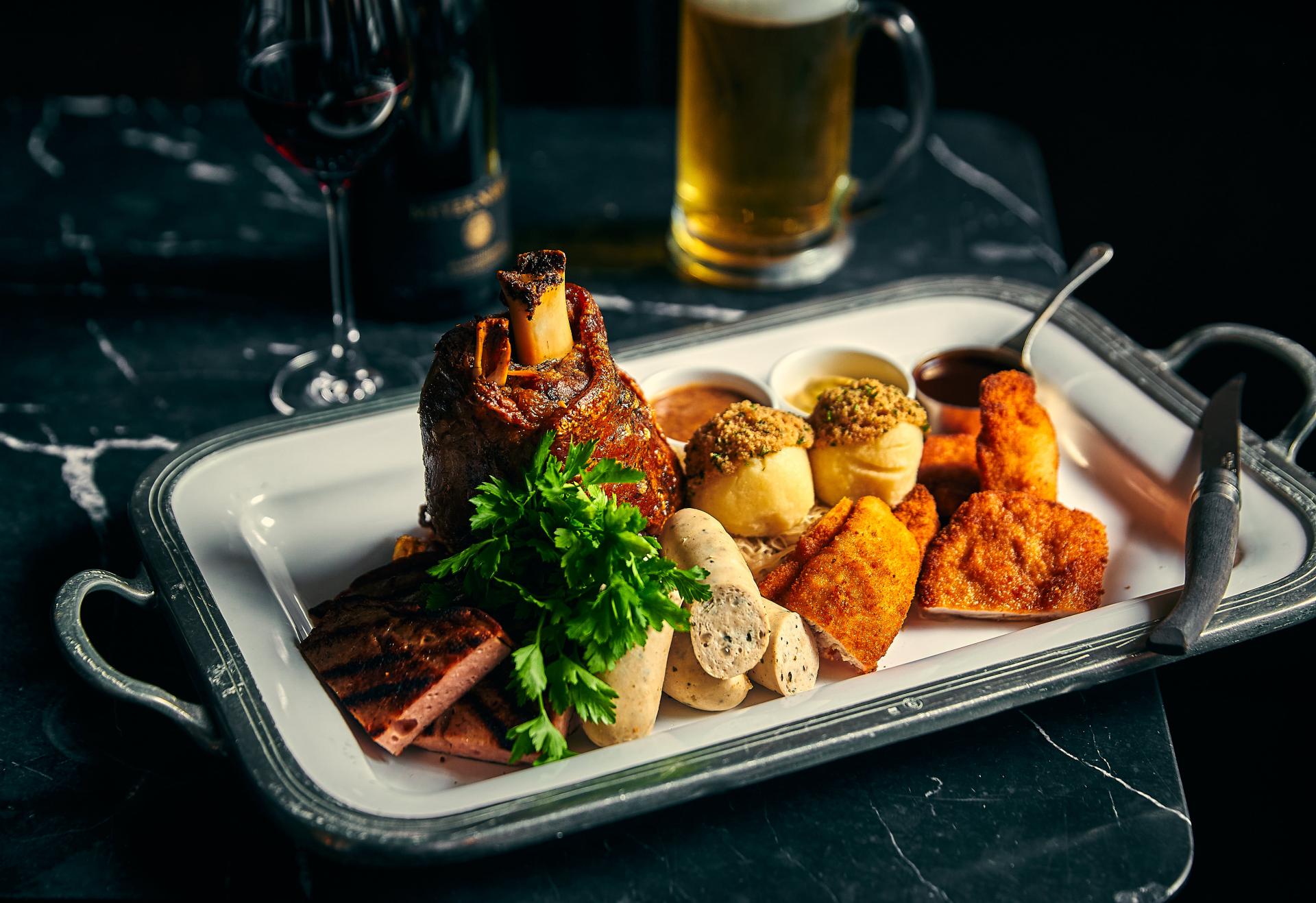 German cooking might not typically considered romantic, but it's definitely food with heart. German Gymnasium's V Day kit will warm the cockles of the coldest souls, thanks to a smoked salmon and potato rösti; whole roast duck with braised red cabbage and potato dumplings; and an apple strudel to finish. Wash everything down with a bottle of Mayerling rose crémant sparkling wine, and you've got yourself a feast. 
Order before 10 February. at-home.danddlondon.com
16. Bocca di Lupo's torte delle rose
Forget bouquets of roses, get your boo this rose-shaped cake from Bocca di Lupo instead. Made with rich yeasted dough, it's based on a traditional recipe from 15th century Italy. Bocca di Lupo has given the recipe a deliciously modern London twist, using heritage grain flour to make a buttery brioche dough. All you need to do it roll out the dough, shape it and bake.
17. Cake or Death's Valentine's letterbox brownie
£24
Bet you never knew you could fit love through your letterbox. Well, you can, and it looks something like Cake or Death's limited Valentine's brownie box. £24 will get you a postman-friendly parcel packed with three different types of handmade vegan brownie: biscoff, swirled with biscoff spread and studded with Biscoff biscuits; Oreo, with a rich Oreo crumb; and Jammie Dodger, studded with Jammie Dodgers. This is one case when three definitely isn't a crowd…

The best Valentine's Day drinks deliveries

18. The Umbrella Project's Be My Facetime Valentine Project
£45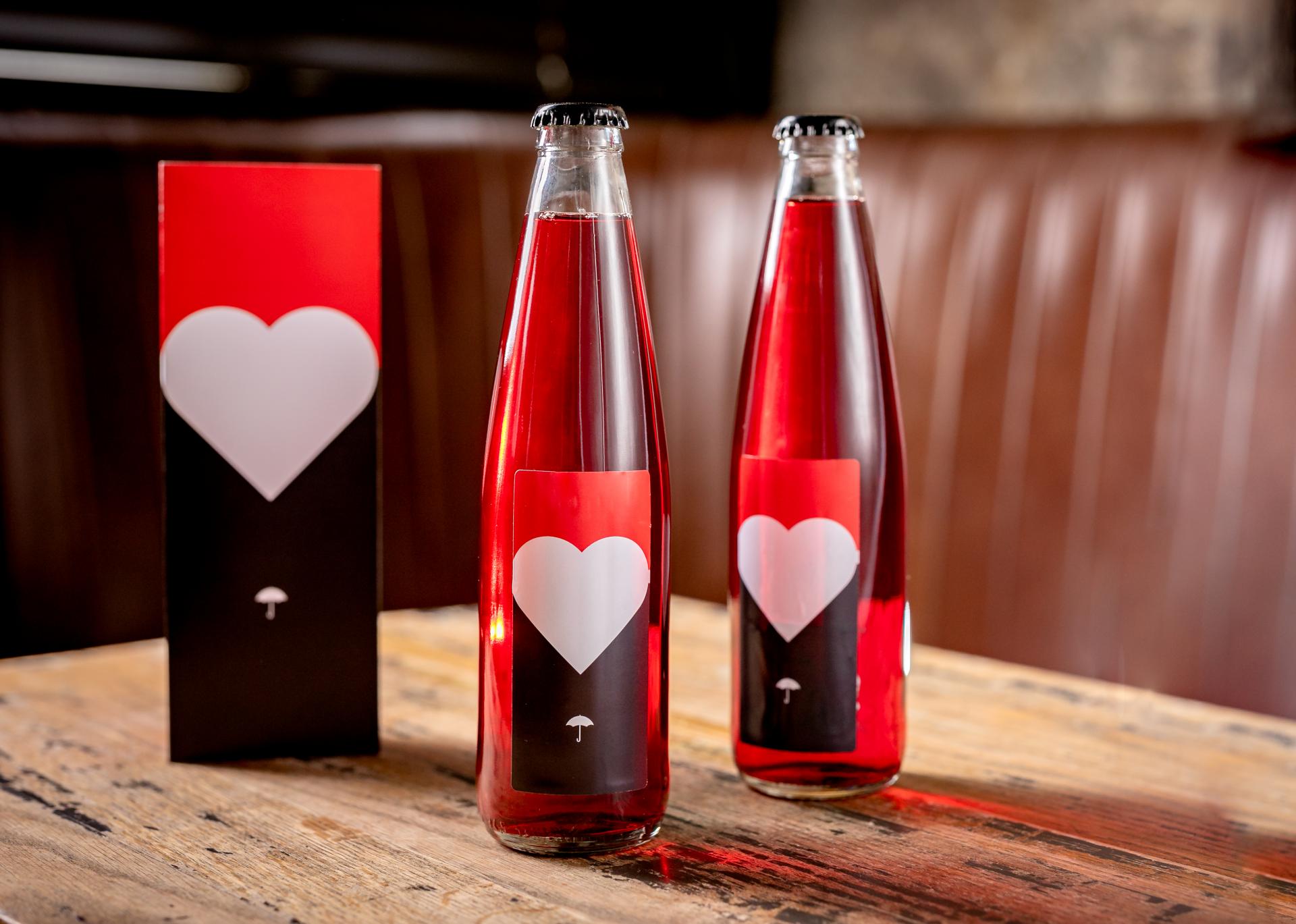 Can't muster up the courage to ask someone for a FaceTime date? Let The Umbrella Project's Be My Facetime Valentine's kits do it for you. You and your sweetheart will get a bottled cocktail, some sparkling wine to top it up, and a Valentine's card with a time and a number to call on the 14th February. How can they say no to that? And because love knows no boundaries, this service is even available for international shipping. And it's even available to order for one. Go on, treat yo'self.

19. Scarfe's Bar x Rémy Martin x William Curley chocolate and cocktails
£34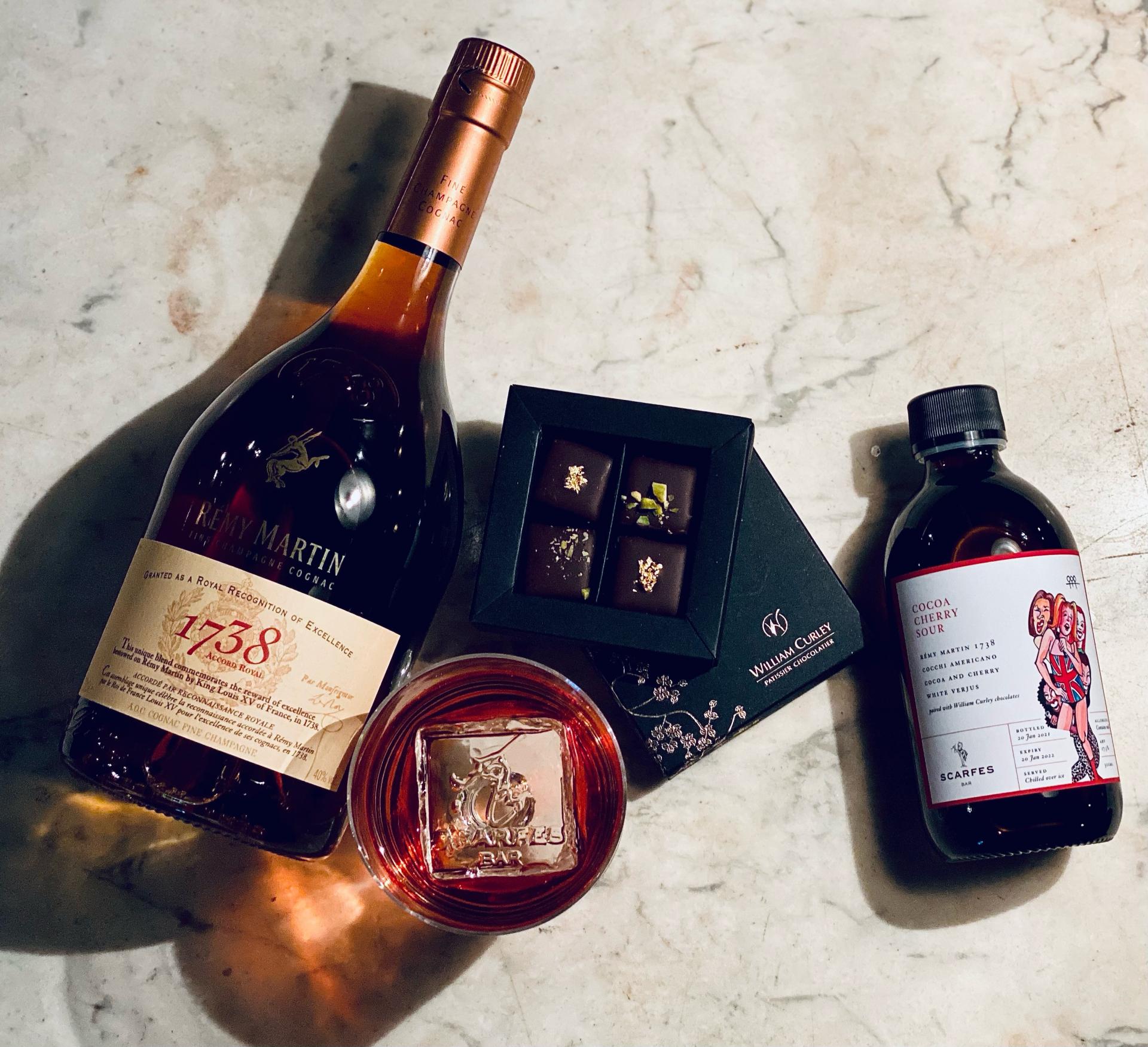 This delivery is the sweetest of treats: Rémy Martin has partnered with Martin Siska of Scarfe's Bar and chocolatier William Curley for a cocoa-laden parcel. The bottled cocktail was inspired by the love of the indulgently chocolatey black forest gateau: the result is a modern sour cocktail made using verjus instead of citrus, cocoa nibs, an infusion of Rémy Martin 1783 and cherry. The luxe chocolates come in two flavours: cherry and pistachio marzipan, and spiced blanco de crillo.
20. Bodega Rita's Valentine's Margarita Lover cocktail kit
£38
Need to spice things up a bit (nudge nudge, wink wink)? We can't help you in the romantic department, but we can help you when it comes to cocktails. Order Bodega Rita's margarita lover's kit and you'll get the House Rita mix: four serves of hibiscus margarita, freshly made to order with 100% agave tequila, fresh lime, hibiscus and triple sec. The drinks come with Sanissimo corn tostadas, Valentina hot sauce and Tajin Mexican spice mix. If you can't take the heat…
21. Silver Lining's Valentine's Date Night Boxes
From £40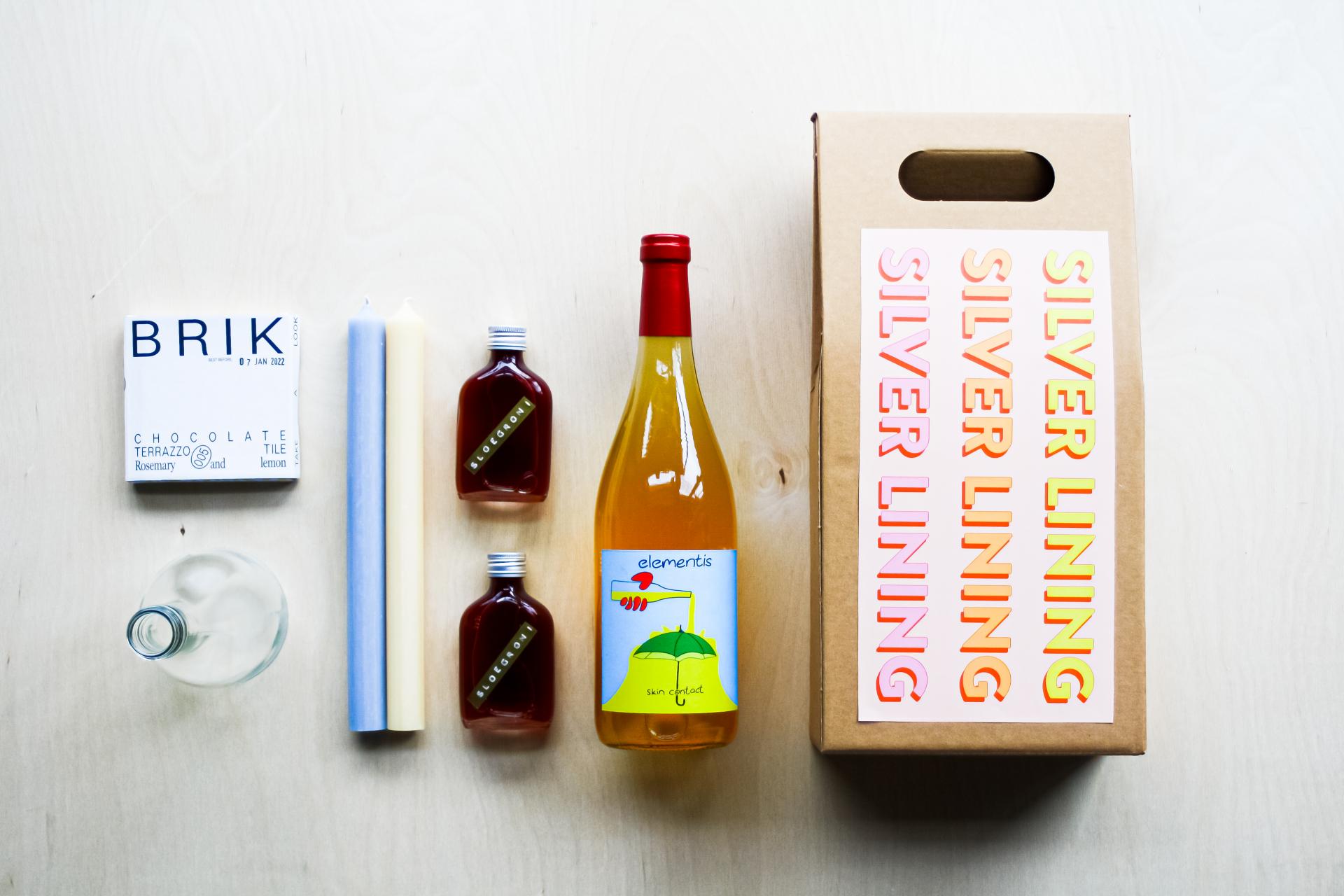 We're all hankering for a bit of skin contact these days. But while touching strangers is firmly off the agenda, you can at least still get your fix of skin-contact wine thanks to Hackney-based orange wine bar Silver Linings. It's got a whole array of wine boxes for Valentine's Day, ranging from alcohol-free to the cheekily named Down To Fuch (complete with Fuchs und Hase Austrian pét nat rosé, a candle holder and chocolate) and Legal Skin Contact, with – you guessed it – funky skin-contact orange wines. Who needs human touch when you've got wine this tasty?