Ah, Holborn. Did you know, it was once a borough in its own right (before merging with St Pancras and Hampstead to form Camden in 1965), was home to Charles Dickens and is name dropped in a Shakespeare play, Richard III? (The Duke of Gloucester says, "My lord of Ely, when I was last in Holborn / I saw good strawberries in your garden there.")
No doubt you've found yourself in humble Holborn before, wandering aimlessly between towering law buildings, office blocks and far too many Sainsbury's, aware of the abundance of must-eat sandwiches, pasta dishes and pies lurking nearby, but at a loss for where to actually bunker down. Whether you're in the mood for Insta-famous cardamom buns at Scandi-run Fabrique, made-with-love pasta bowls at Ciao Bella or some of London's very best pies at Holborn Dining Room, we've got you.
Because - hard job, we know - team foodism have been taste testing on the ground, scouting out exactly where to eat in Holborn and the surrounding areas, for every occasion, plus what to drink, too. Noble Rot, Holborn Dining Room, Fryer's Delight and Ciao Bella, we're looking at you.
Where to eat in Holborn for breakfast
1. Knockbox coffee
29 Lamb's Conduit Street, WC1N 3NG
It's every coffee shop lovers dream - exposed brickwork, dangling oh-so-trendy light bulbs and larger-than-life windows flooding the many nooks and crannies in this intimate cafe with light. Knockbox is the ideal spot for mornings working, people watching and sipping on creamy Workshop Americanos, or for grabbing their locally-loved sourdough cheese toasties for breakfast on the go. Pick up a jar of salted caramel Knead peanut butter, whilst you're there.
2. Fabrique
239 High Holborn, WC1V 7EW
Fancy adding a touch of Scandi 'hygge' to your mornings? Then you'll want to head to Fabrique on High Holborn, where it's actually quite hard to escape the cosy contentment. Picture a mellow, golden-lit bakery, filled with the smell of freshly baked sourdough and sweet fresh pink peonies. Grab a warming oat milk latte and a cinnamon bun; they're a sticky, sugar-coated delight, baked fresh every morning and simply some of the best in the City. Oh, and read up on the best coffees in London whilst you're here.
3. Ludenwic
45 Aldwych, WC2B 4DW
Ok, so it's not strictly in Holborn but it's well worth the ten minute walk. From the dynamic duo behind Crispin restaurant (read our Crispin review, here), is Ludenwic, their stripped-back, simplistic and sophisticated older sister serving really, really good coffee - think Assembly espresso and a wide range of guest filters every month. Peckish? There's coconut milk compote, granola and pistachio-topped porridge, creme fraiche-slathered banana bread and cheese toasties galore, plus salads, croissants and cakes to-go. You'll never have to Google 'where to eat in Holborn' again.
4. Redemption Roasters
84b Lamb's Conduit Street, WC1N 3LR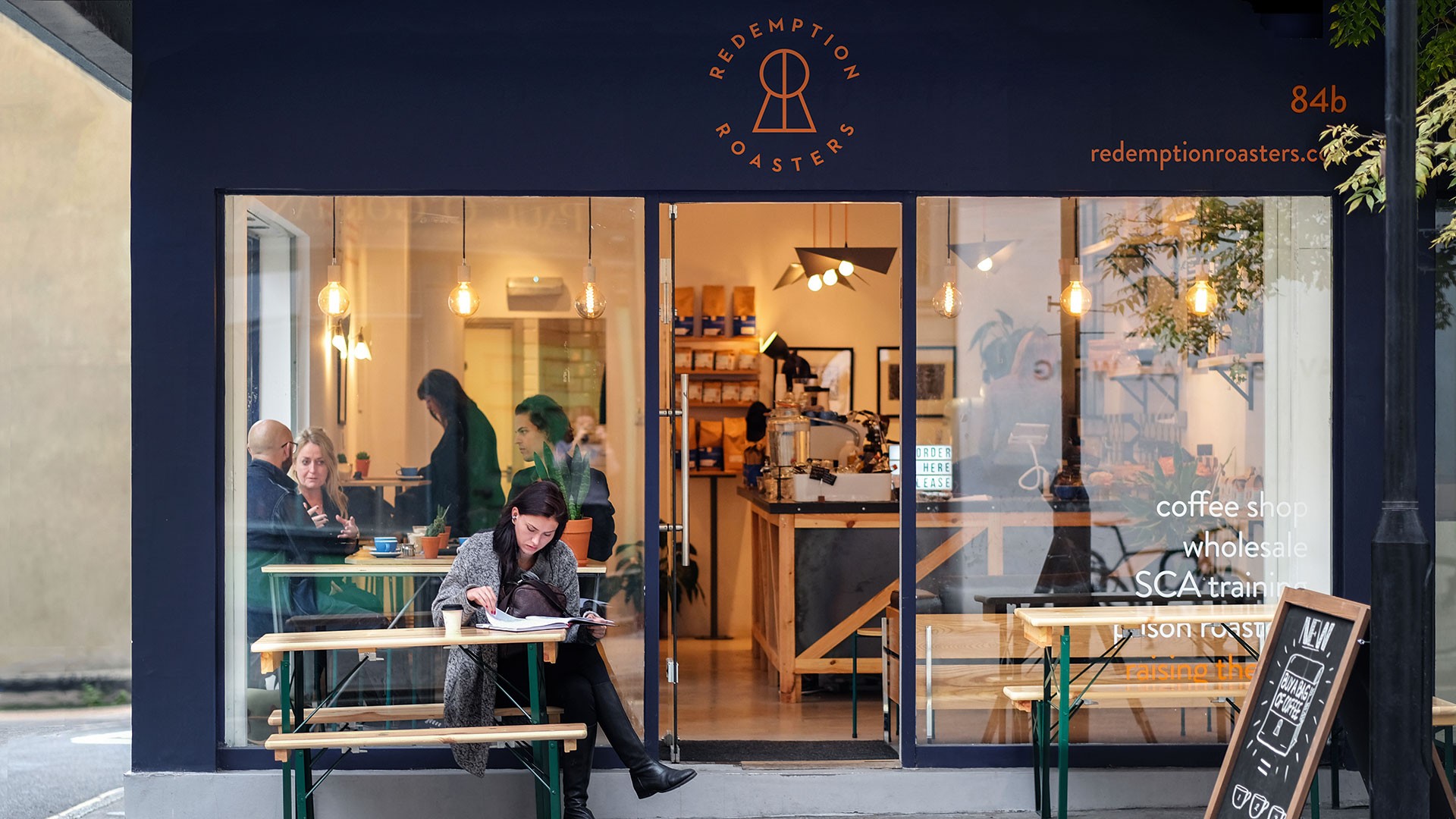 For coffee with a conscience, wander down Lamb's Conduit Street to Redemption Roasters, where, in collaboration with the Ministry of Justice, they're training young offenders to be baristas - and both changing lives and reducing reoffense rates in the process. Their mission is to prove that coffee can have a social impact, and make a delicious mug in the process. Plus, they make it in their Slayer steam EP, one of the very few in the UK, who's affectionately known as Sally. Monday through Sunday, they sell pastries, cookies, cakes and brownies, plus a brunch menu offering avo toast, chorizo beans on toast and brie and salad stuffed sourdough sandwiches. Oh, go on then.
5. Caffe Vergnano 1882
62 Charing Cross Road, WC2H 0BU
Again, not central Holborn but near enough to make the cut for this guide is Caffe Vergnano, an Italian coffee roastery serving biting coffee, flapjacks and cakes alongside a breakfast menu of Nutella, jam and honey topped toast, omelettes and porridge. It's reasonably priced for its location, plus has a certain old charm perfect for whiling away a morning working.
Where to eat in Holborn for lunch
6. The Black Penny
34 Great Queen Street, WC2B 5AA
This jazz-music loving spot is best known for its coffee; serving steaming mugs made from beans picked by farmers at 2200 metres high in the Narino hilltops of Colombia. Yep. So, we advise you to stop by for a seriously good fresh coffee and a spot of lunch. As well as bacon, sausage and egg buns and several veg-packed versions of their Instagram-famous polenta hash, they serve fresh, seasonal salads, quiches, soups and stews all day. Yum.
7. Hubbard and Bell
The Hoxton, 199-206 High Holborn, WC1V 7BD
For a slice of Williamsburg cool on your lunch break, try Hubbard and Bell, the drinking and dining space underneath Holborn's The Hoxton hotel owned by the Soho House group. For lunch, you can enjoy locally sourced and seasonal dishes such as beetroot salad, green pea ravioli and the Hox protein bowl, complete with sprouting broccoli, beetroot hummus, super seeds, bean sprouts. Pair with proper coffee, deliciously indulgent brownies and natural wines (read our guide to the best natural wine bars in London, here). Or, come Friday evening, it's one of the liveliest drinking spots in the area, serving cocktails and draught beers from the likes of Amstel, Heineken, Brewdog Punk IPA and Camden Pale Ale. Get grooving.
8. La Fromagerie
52 Lamb's Conduit Street, WC1N 3LL
So you're a cheese fan. It's time, then, to pitch up for a cosy evening of conversation at La Fromagerie on Lamb's Conduit Street, a charming little corner delicatessen-cum-cafe meeting your every cheese need. They have their own temperature-controlled cheese room, a deli filled with enough speciality cheeses, breads and condiments to sink a small ship and a kitchen cooking up seasonal jams, chutneys, marmalades, preserves and pickles. Pair with a warming glass of Italian Falanghina wine and you're in for a real lunchtime treat.
9. Banh Mi May
4-6 Theobald's Road, WC1X 8PN
For generously-portioned warming bowls of phở, light, veg-packed summer rolls and bánh mì baguettes bursting with a protein of your choice, daikon, pickled carrot, coriander and fresh chilli. It's cheap as chips and full of flavour, and there are also peanut-topped shredded veg and white cabbage and mint salads, should you so fancy. Don't have time to leave the office? There's a lunch bag delivery service that brings food straight to your office, should you so fancy. Ideal.
Where to eat in Holborn for dinner
10. Ciao Bella
86-90 Lamb's Conduit Street, WC1N 3LZ
Now, where to start with Ciao Bella. It's as much of a Holborn institution as the Hunterian Museum and the Royal Courts of Justice - aka, a real institute. First opening in 1988, it's one of the longest running restaurants in the area, and for good reason. Serving steaming bowls of pasta, topping-stacked pizzas as big as your head and generous portions of fresh seafood daily, the haunt has been in the hands of the Pollano family since 1999 and is well worth a visit - even if only to hear their resident pianist Norman Triger play over a glass of red. Where to eat in Holborn, and where to find one of best pizza slices in London, sorted.
11. Holborn Dining Room
252 High Holborn, WC1V 7EN
Now, if we told you that Jay Rayner called the pies at Holborn Dining Room some of the best in London, what would you do? Drop your half eaten sandwich and jump on the next bus there? Cancel your plans to have a solo gravy-drowned pie date? Dip into your overdraft just for a chance to try that sweet, sweet, critically-acclaimed pastry? None would be too much - quite the contrary, for the pies at Rosewood London's eatery really are quite spectacular, served in a grand old dining room decked out with red leather chairs and neo-gothic chandeliers. Making it the perfect spot for an expertly mixed cocktail, too. On your marks.
12. Cafe Murano
36 Tavistock Street, WC2E 7PB
From Michelin-star chef Angela Hartnett comes, in contrast to its name, a not-so-cafe-like-restaurant, Cafe Murano, poised to welcome in theatre-goers pre or post performance. As the little sister of award-winning Murano, the cafe has a lot to live up too, but the Northern Italian dishes do a damn good job of it. Think prosciutto, crispy shallot topped beef carpaccio and spinach, ricotta and sage butter tortellini. Yeah.
13. Cigala
54 Lamb's Conduit Street, WC1N 3LW
Ah, Cigala; another of Holborn's longest running eateries, just doors down from Ciao Bella on Lamb's Conduit Street. Except, quite unlike Ciao Bella's Italian through fare, Cigala is all about traditional Spanish tapas, and traditional Spanish tapas done well. Enjoy juicy chorizo-packed paella, salted Marcona almonds and Jamón Ibérico black foot ham, fresh-off-the-vine tomato bruschetta, Gordal green olives and crispy patatas bravas as the world passes you by. A delight - no wonder, really, as the owner and chef is Jake Hodges, co-founder of Moro.
14. The Fryers Delight
9 Theobalds Road, WC1X 8SL
Out of this world fish and chips is pretty darn hard to find unless you're by the seaside with the sand between your toes and the sea-breeze in your hair. You know, the crispy, crunchy, so good you get a bit emotional and tell all your mates about it kind. Well, The Fryer's Delight is one of those. Opened in 1962 and still serving generously portioned battered haddock, salty chips and mushy peas in a charming 60's decor. Get it to takeaway wrapped in newspaper and with a pickled egg from the jar behind the counter. A must visit if you're in the area - hence why it makes the cut for foodism's pick of London's best fish and chips.
15. Noble Rot
51 Lamb's Conduit Street, WC1N 3NB
Unlike the wave of flashy, Instagrammed hotspots you've eaten your way through this year, Noble Rot has been quietly and confidently earning its stripes since it opened back in 2016. What started out as an independently published magazine, produced by wine lovers for wine lovers, grew into something more concrete; an upstairs bar, serving wines for as little as £4 a glass and deliciously good bread and butter, and a dimly-lit downstairs dining room. The duo, situated quietly on Lamb's Conduit Street, serves some of the best wine from around the world and locally sourced, seasonal fare good enough to make the critics rave.
Where to drink in Holborn
16. The Dolphin Tavern
44 Red Lion Street, WC1R 4PF
Rich in history and craft beer is The Dolphin Tavern, which kind of feels like you've stepped into a time warp. It's cosy, only seating around twenty people, but a great spot for an after work drink and a packet of crisps. Fun history fact for you: in September 1915, a German airship dropped a bomb on the pub, burning it to the ground. The pub's original clock survived the carnage, however, hands frozen on the hour at which the strike hit - 10.40pm. You can still see this war relic if you head in for a pint.
17. The Lamb
94 Lamb's Conduit Street, WC1N 3LZ
Another spectacular old pub that'll make you feel like you've stepped on set for the next series of Sherlock Holmes is The Lamb, just a stone's throw from The Dolphin Tavern. It's a Grade II listed building that was built in the 1720s and still has an almost spookily well-preserved interior, plus 'snob screens' separating the paying customers from the working staff. Enjoy a range of cask and craft beers, wines and traditional hearty pub food. Cheers.
18. Bunghole Cellars
57 High Holborn, WC1V 6DT
A short three minute walk from Holborn station is Bunghole Cellars, a wine - yep, you guessed it - cellar from Davy's of London family-run wine merchants. It may not be the most modern of venues, but what it lacks in modernity, it makes up for in ambience. An ideal spot for date night or catching up with old friends over an extensive wine list- who'd have thought it?
19. Holborn Whippet
25-29 Sicilian Ave, WC1A 2QH
Beer lovers, rejoice: there's a spot in Holborn for proper craft beers sourced with love. Enter stage right the Holborn Whippet, a simplistic, stripped back boozer serving craft beer sourced from small craft breweries. At current, they offer ten keg beers and seven cask beers on tap, and a wide range of wines, too. Brewtiful.