We like Spain a lot. We like the weather, we like Picasso, and we like Gaudi, and above all, we like the tapas: small plates of moreish morsels that'll keep you grazing for hours. And all the better washed down with an Estrella, or some sangria.
Time for the culinary history lesson: tapas is actually a style of serving food rather than specific dishes – although there are some classic plates you can expect to find on the menu at a taperia (tapas restaurant).
'Tapa' just means a small dish, so technically anything can be tapas. Even your weird afternoon snack of a peanut butter and olive sandwich counts. 
While we don't doubt your culinary genius, that probably doesn't get served to the general public.
Nay, head into one of London's best tapas restaurants and you're more likely to find plates of patatas bravas, small chunks of fried potatoes drizzled with spicy sauce; or boquerones, fresh anchovies marinated in vinegar.
And, best of all (in our humble opinion), jamon ibérico that gets delicately sheared off the leg in wafer-thin slices in front of you.
The theory goes that tapas (which is the Spanish verb "to cover") refers to small pieces of meat or bread that were served in bars so that drinkers could cover their drinks to keep flies out.
Eventually, the snacks became just as vital as the drinks, steadily becoming more elaborate until tapas became a genre of eating in itself – and a damn well enjoyable one at that. 
In fact, it's so well-loved that you'll find excellent tapas restaurants around the world – with a healthy handful in none other than our dear old hometown. If you're wondering where to get the best tapas in London, your search is over.
BiBo Dani García [pictured]
Mondrian Shoreditch, 45 Curtain Rd, EC2A 3PT
If you're hungry, you won't want to look of photos at the food at BiBo, the restaurant in the newly opened Mondrian Shoreditch. You won't want to see plates of perfectly formed croquetas adorned with a delicate sliver of jamón, nor will you want to clap eyes on a beautiful bowl of mussels cabreaos, and you definitely won't want to look at a hunk of burnt Basque cheesecake. Nope, because then you'd have to stop what you were doing and book yourself in for dinner at Dani García's newst outpost immediately. García's culinary prowess is recognised around the world, so we're pretty chuffed he's finally landed in London. Go, go now, and eat everything. 
Barrafina
10 Adelaide Street, WC2N 4HZ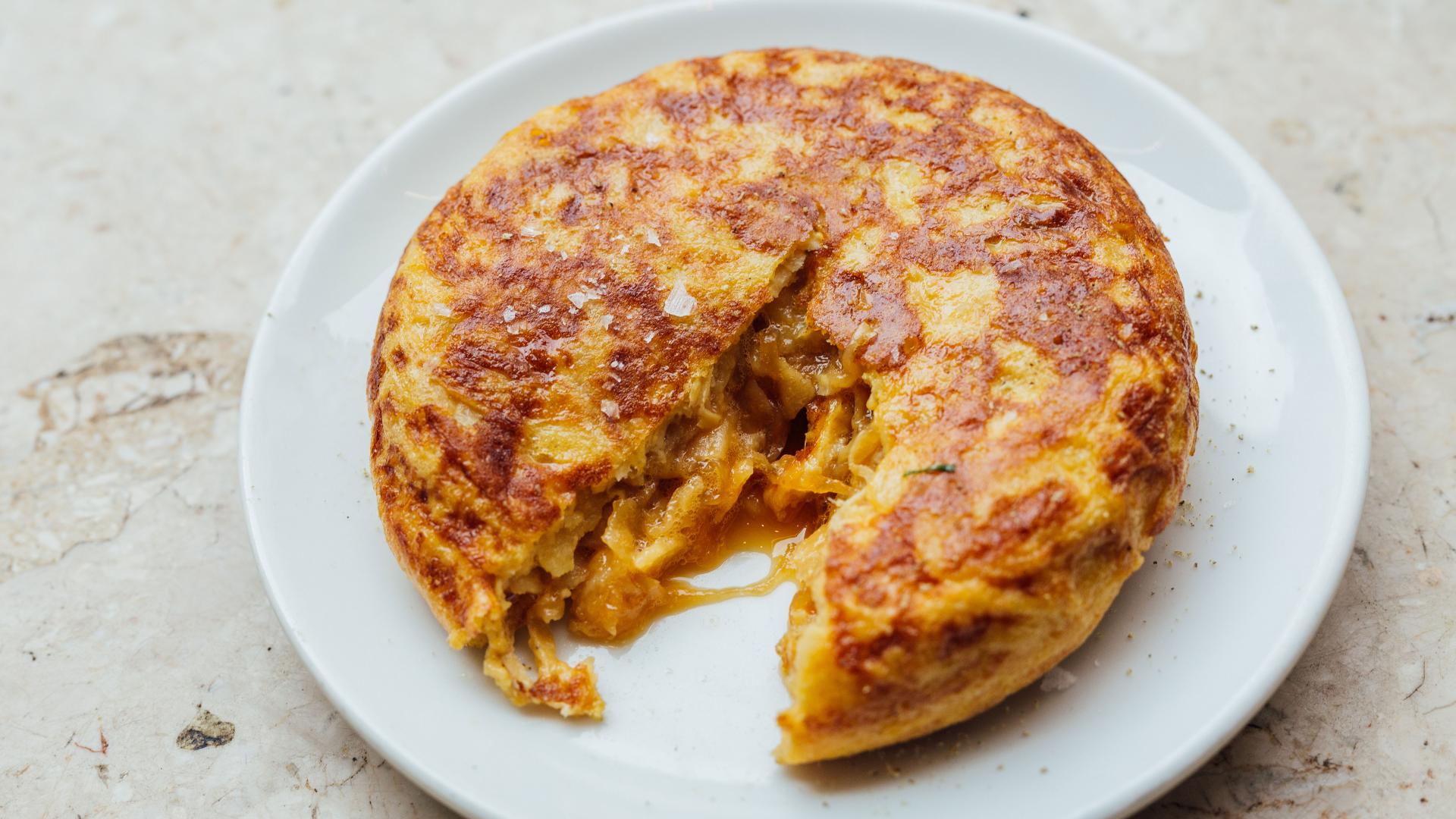 Noel Murphy for Great British Chefs
You can't talk about Spanish food or tapas in London without mentioning Barrafina. It's been awarded Michelin star, and you'll often see queues around the block to get a seat – it was one of the pioneers of the walk-ins only hype, so get here early if you want to make sure you get dinner. It also does classic Spanish-style counter dining (another one of our favourite things, especially when you're on a date), so you get up close and personal with the chefs as they recommend dishes and wine pairings to you. There are four Barrafinas in London now – the Frith Street is the original location, but our favourite is the one in Covent Garden, where the menu skews more toward unusual dishes like milk-fed lamb's brain and crispy pig's ears.

The Counter at Sabor
35-37 Heddon St, W1B 4BR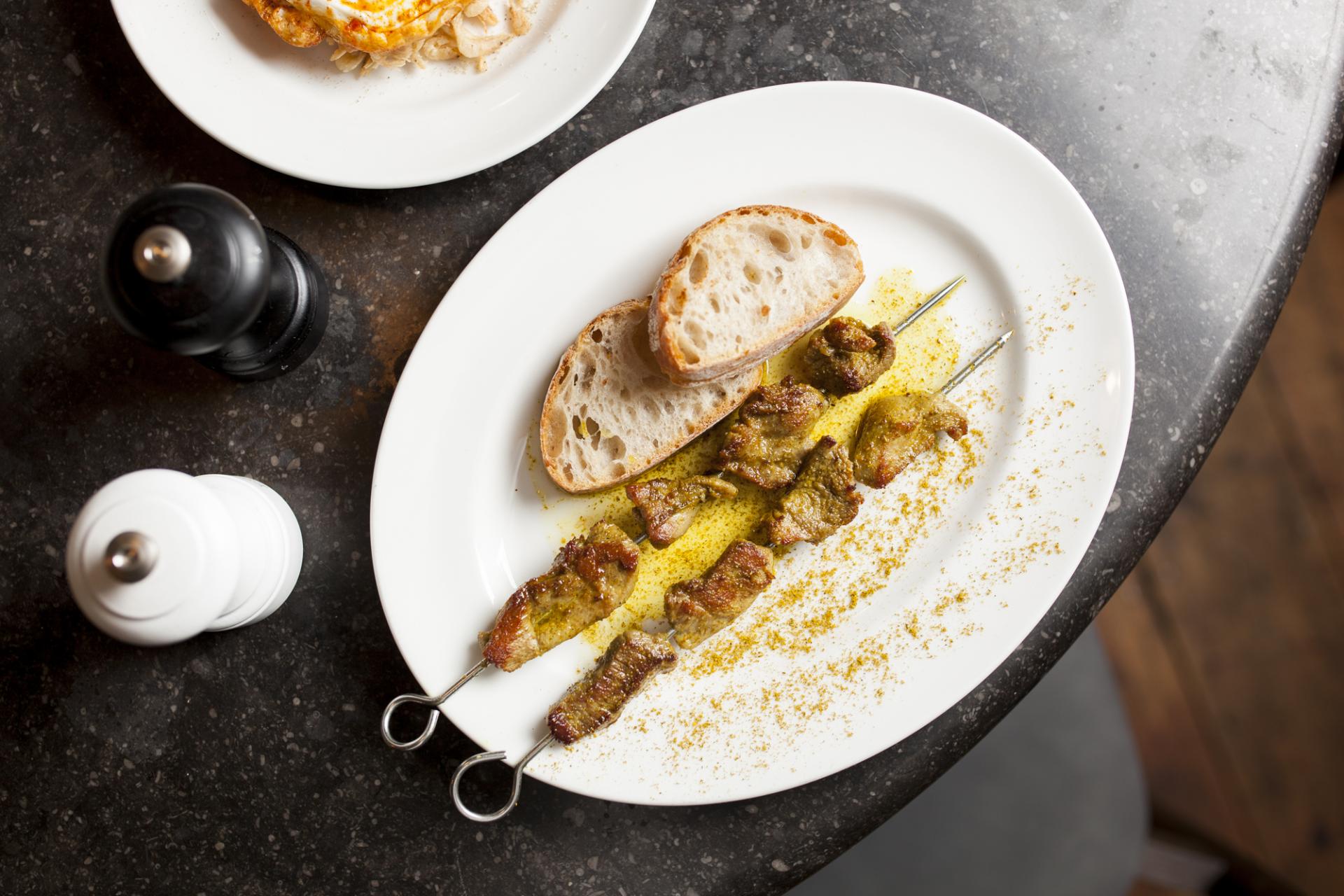 Sabor comes from Nieves Barragán and José Etura. Barragan headed up the kitchens at Barrafina, helping it earn a Michelin star, before co-founding her own restaurant, where she shifted focus slightly to serve dishes inspired by the cooking of her mother (you can read more about it in our Five Dishes interview with Barragán (her croquetas de jamon are supposed to be particularly good). It's no surprise that Sabor has already earned a Michelin star in its own right. Sit at The Counter at Sabor downstairs for Catalan-style counter dining and utterly gorgeous tapas; head upstairs to The Asador (which you can book) for wood-fired Galician seafood.
Brindisa
18-20 Southwark St, SE1 1TJ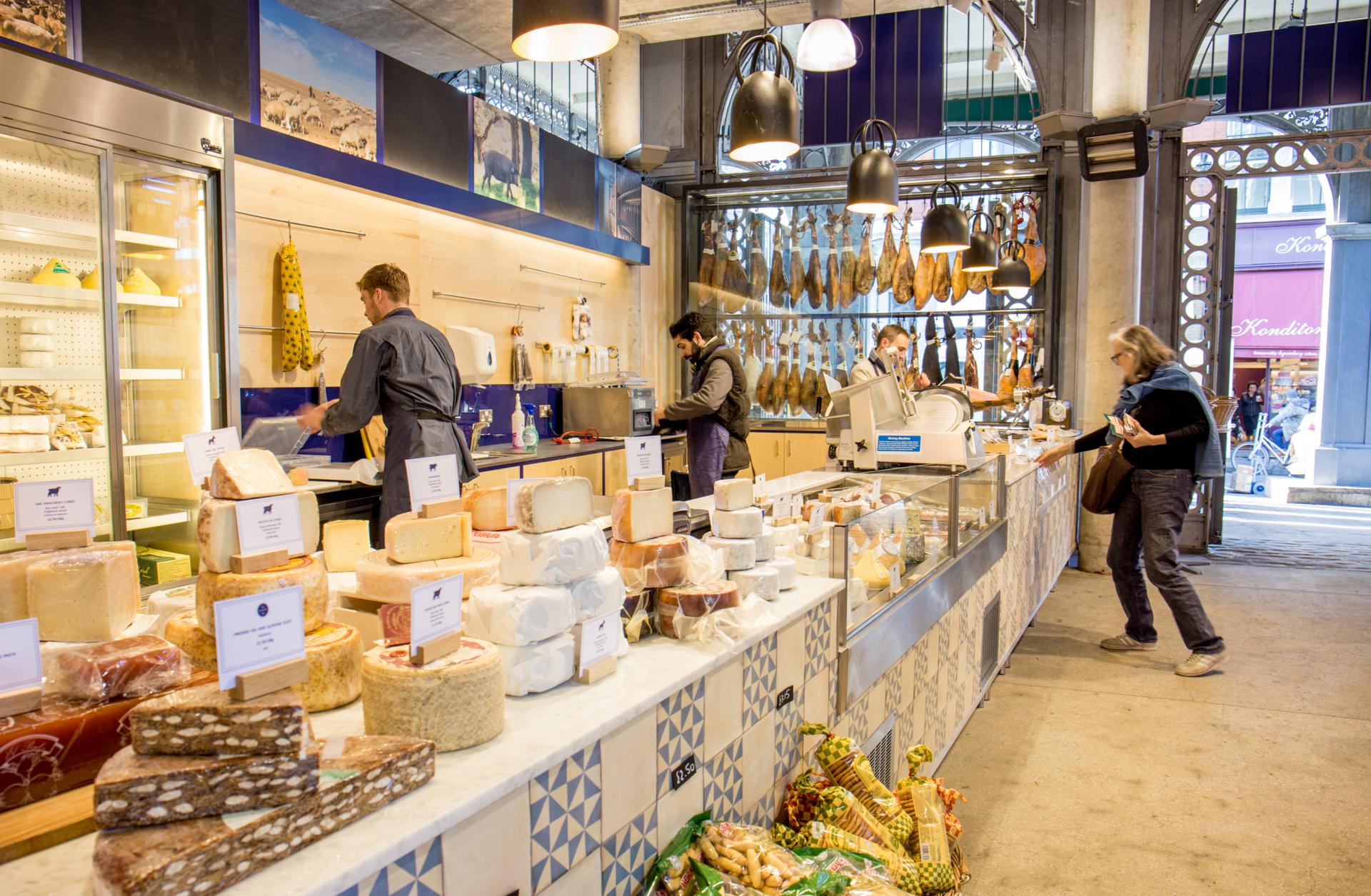 Brindisa is another name synonymous with Spanish food in London. Both a restaurant and a brilliant retailer of Spanish food, it's been around for more than 30 years, celebrating authentic cooking from around the country and setting the tone for Spanish eating London ever since. Pop in for plates of pan con tomate; juicy gordal olives; and griddled cuttlefish, and restock your pantry while you're at it.
Lobos Borough
14 Borough High Street, SE1 9QG
Tucked under the arches in Borough Market is Lobos Tapas. And we're glad it's slightly hidden, too, because otherwise it would be too damn busy – because its food is up there with the best of them. It comes from a team formerly of Brindisa (see above for their credentials) and the menu is a lineup of the tapas classics. Croquetas; garlic prawns; padron peppers; grilled octopus, all of which are packed with flavours that'll take you straight to spain. The menu leans towards mighty and meaty, with much of the produce sourced from Borough Market. Wash it all down with cava or sherry, and you've got a delightful evening on your hands. If you want to stay more central, there's a Lobos Soho, too. 
José
104 Bermondsey St, SE1 3UB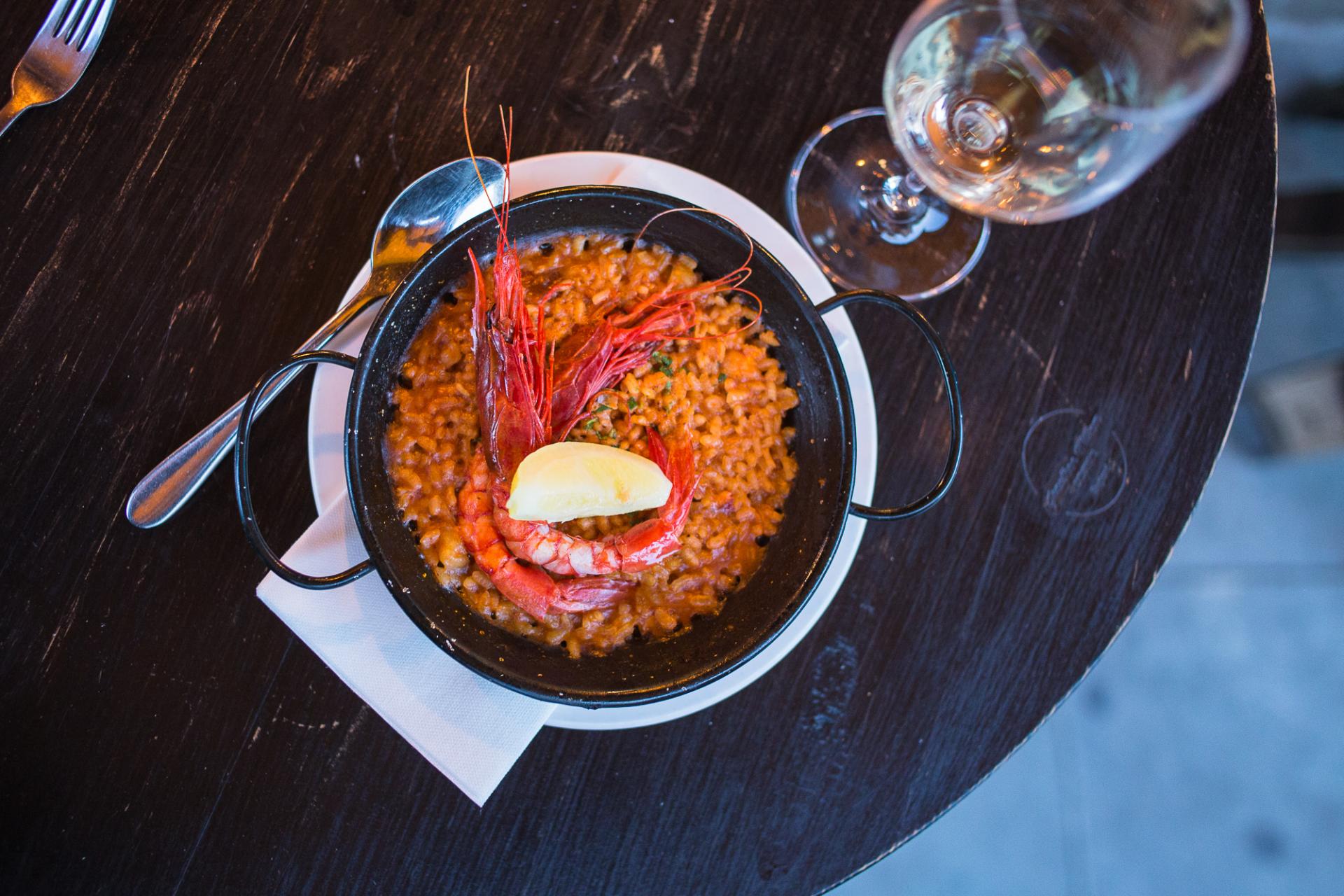 José Pizarro is one of the most influential Spanish chefs in London, but he's also a lovely man, so it's no surprise that he has a clutch of several lovely restaurants, all based around his passion for authentic Spanish cooking – and particularly tapas. Pizarro is co-founder of Brindisa, and he went on to open his first solo restaurant (José), and then another (Pizarro), and several more. José is the one to go to for tapas, and boy, what tapas it is. The whole experience at this tiny restaurant is about as authentic as you'll get: you either eat standing or sat at a bar stool and the place – in normal times, at least – is bound to be buzzing. Pizarro is also excellent, but doesn't serve tapas.
The Tapas Room
Unit 8, 133 Deptford High Street, SE8 4BX
We were pretty fond of Pop Brixton's Donostia Social Club so we were sad when it closed. But thankfully it came back stronger, with a slew of restaurants in Brixton, Tooting, Battersea, Peckham, and now a sunny little spot outside Deptford station. This latest iteration is more wine bar with small plates than straight-up restaurant. Our pick? Hake with Jerusalem artichoke and jamon purée, capers and sultanas – a dish that hits all the flavour hotspots.
Poster Bar by José
Burlington House, Piccadilly, W1J 0BD
Fill your mind with genre-pushing art; then fill your belly with tapas from none other than José Pizarro with a post-exhibition lunch at his new outpost, the Poster Bar at the RA. Pizarro has two new spaces on the site, the more informal all-day tapas spot Poster Bar, and then José Pizarro at the RA, which offers more of a full-blown meal. Truffle sandwiches, empanada gallega (a pastry stuffed with tuna, confit onion and caramelised red pepper), and spicy prawn fritters will have you refuelled and ready to go in no time.
royalacademy.org.uk/eating-and-drinking
Escocesa
67 Stoke Newington Church St, N16 0AR
"Scottish" and "tapas" aren't two words we expected to hear together, but that's exactly what you'll find at this stalwart spot on Stoke Newington High Street, which comes from former Scottish-born record producer and owner of Crouch End's Bar Esteban Stephen Lironi. The restaurant team is all Spanish, and have racked up experience at the likes of Barrafina, Moro and Morito, which they put to good use: Scottish seafood gets the Spanish treatment, alongside classics like tortilla, patatas bravas, and pan con tomate. There's an extensive sherry list, too.
Lurra
9 Seymour Pl, W1H 5BA
Lurra burst onto London's food scene in 2015, its focus on old beef garnering serious critical acclaim within weeks. In fact, the meat is supplied by one of the owners (also of equally loved Donostia), so it's no surprise it takes centre stage. The menu is short, but oh-so-sweet: alongside the beef (served simply medium rare from the grill), there's a tortilla, padron peppers, iberico ham, and lightly fried courgette flowers, stuffed with cod brandada, although the other stage of the show is wild turbot, grilled on the wood fire and served with a dressing made with Basque txacoli wine.
Salt Yard
54 Goodge Street, W1T 4NA
The Salt Yard group – which comprises Salt Yard, Ember Yard, Dehesa and Opera Tavern – takes inspiration from the food and wine of Italy and Spain: squid and sherry; pumpkin tortellini; sage butter; crispy morcilla croquetas; to name but a few of the delicious delights. All of the restaurants are located in Soho, making them the ideal meeting place to graze with a group.
L'Oculto
325 Brockley Road, SE4 2QZ
Adding to South London's not-so-secret slew of great restaurants is L'Oculto in Brockley. It's a follow up restaurant to the award-winning Little Oculto, which closed when its rental contract ended. But that's OK, because its second edition is a slightly largely space – although it still has the same lovely, low-key vibe. This is mostly down to its founders who describe themselves as "food and wine obsessives doing what they love", a passion that shines through during a meal here.
Morito
32 Exmouth Market, EC1R 4QE
Tapas plates are designed for sharing, but the food at Morito is so good that you'll want it all to yourself. There are two outposts: one on Exmouth Market (next to sibling restaurant Moro) and one on Hackney Road, and they're both as brilliant as each other. Their trademark is painstakingly sourced food (including niche items like pistachios from pistachios from Gaziantep, Turkey), so it's no surprise that this pint-sized restaurant group has cult status.