Whatever you make of Veganuary, there's no two ways about it: eating less meat is better for the planet and better for us. With this in mind, it's not really surprising that people are more often choosing not to eat meat or animal-based products.
Now don't get us wrong. We love meat. We especially love meat when it's carefully sourced and cooked. And because we know just how good it can taste, it's often very hard to resist. We also love golden, gooey cheese, and don't get us started on a fried egg on a hungover morning.
So we know it can be really hard to give it all up. But here's the thing. If you eat vegan food that's just as carefully sourced and cooked, it can be as delicious as meat – albeit in a very different way. And no, that lentil curry you've made three nights in a row doesn't count.
Give yourself the best shot at sticking with Veganuary or switching up your diet for the long haul by taking one of these vegan meal kits a spin.
Trust us when we say you should really leave it to the professionals. And because you'll partly be cooking it yourself, you might just learn a thing or two about making vegan eating more delicious along the way.
From plant-based burgers to meat-free tapas, here are some of the best vegan meal kits to order right now.
And if we still can't convince you to give them a try, read our roundup of the best restaurant meal kits that aren't vegan instead.
7 vegan meal kits and DIY boxes to try
Green Haus by HOME-X [pictured]
£55 for two people
The SIX by Nico restaurant group has not-so-quietly been garnering a foodie following with its affordably priced tasting menus that give serious bang for their buck when it comes to flavour. And while you might not be able to make it into one of the bricks-and-mortar restaurants for a while, the team has developed an e-commerce platform, HOME-X, to keep delivering creative cooking to the masses. Green Haus is HOME-X's vegan arm, promising to serve a tasting menu of eight dishes that are good for us and for the planet. The current menu is takes a trip around the globe to sample plant-based plates from near and far: Korean gochujang carrots with edamame beans, hot and sour kimchi cabbage in a sesame and ginger dressing; Levantine muhammara, butterbean, walnut and basil salad with crisp breads; and pumpkin and orange cake with coconut frosting are just a few of the things you can expect.
Dirty Vegan's Ultimate Comfort Kit
£42 for two people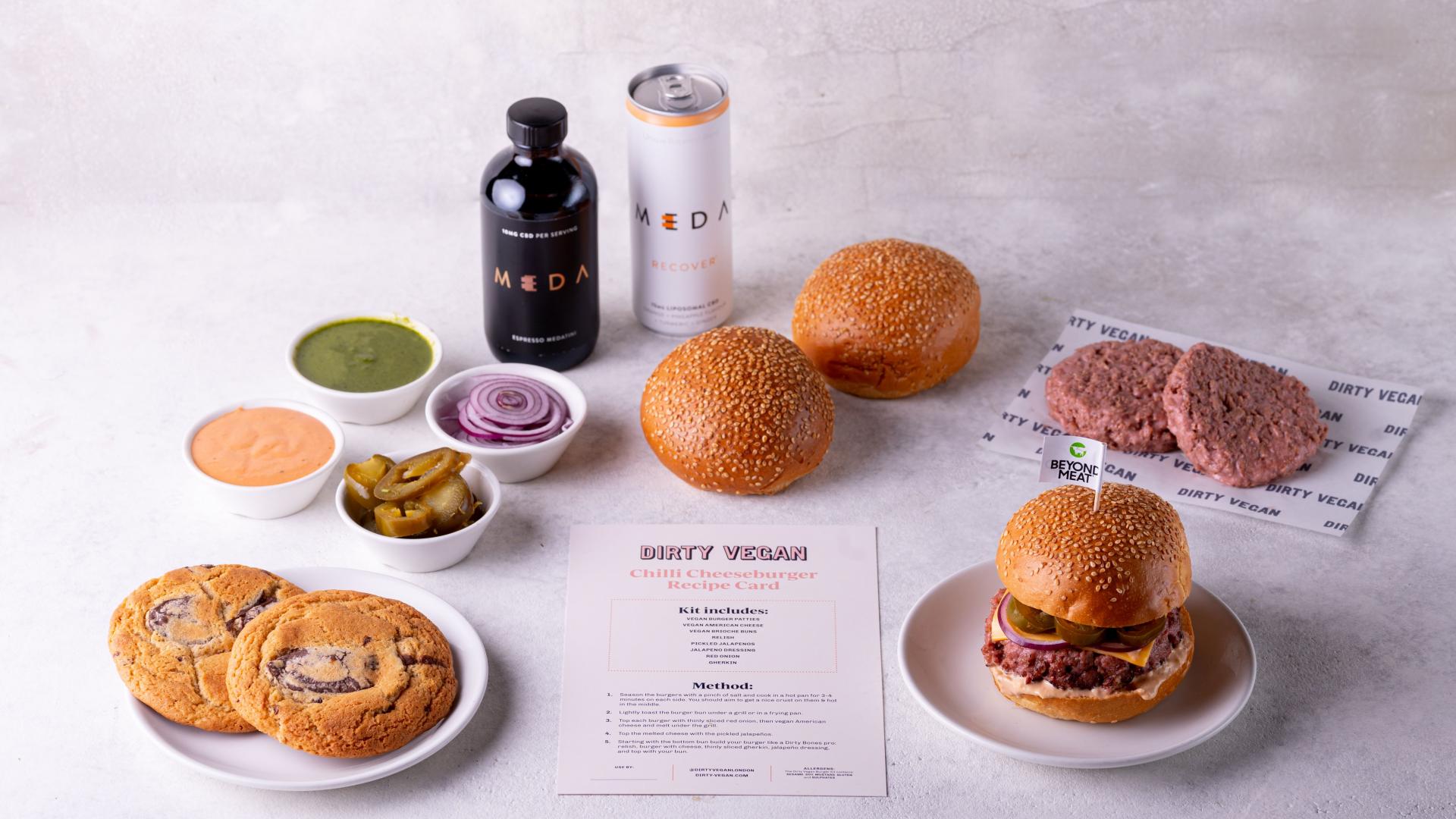 OK, so we're trying to convince you to broaden your horizons of vegan food by looking beyond burgers, but Dirty Vegan – the vegan side of Dirty Bones – is so good we had to include it. Especially as you can now order the Ultimate Vegan Comfort kit, a naughty but oh-so-nice box of everything you could possibly need to convince you to convert. You'll get two vegan chilli burgers (with Beyond Meat patties) with vegan American cheese, skinny fries, a bottle of Espresso Medatini (made with CBD drink Meda) and a pile of ready-to-bake vegan cookies from Vida Bakery.
Kolamba at Home's vegan feast
£36 for two
Sri Lankan cooking is some of the most beautifully vibrant and flavourful we've come across – and much of it is vegan by nature. New Sri Lankan hotspot Kolamba barely had to change a thing to create its rainbow-hued vegan feast, which revolves around a delicately spiced jackfruit curry. Throw in beetroot curry, coconut chilli sambol and plenty of pickles, and you've got a meal kit that'll brighten up even the dreariest of lockdown days. 
Available nationwide. kolambahome.co.uk
Jikoni's Comfort & Joy vegan meal box
£40 for two
A trip to Jikoni is as soul-soothing as they come: cockle-warming food, a delightful ambience and stylish-yet-homely interiors ft. wicker chairs and a lot of patterned cushions. Of course, you won't be able to head there any time soon – but the restaurant has managed to distill this vibe into its Comfort & Joy vegan meal boxes. There are several different kits on rotation – Punjabi, Rafijki, Desi, Farang, to name a few – but at the time of writing you can order a Zen box: a happy parcel of crispy caramel aubergine, sticky garlic rice, cold silken tofu with black vinegar and charred pakchoi with sesame dressing and crispy shallots. Comfort and joy indeed... 
Iberica's vegan tapas kit
£50 for two people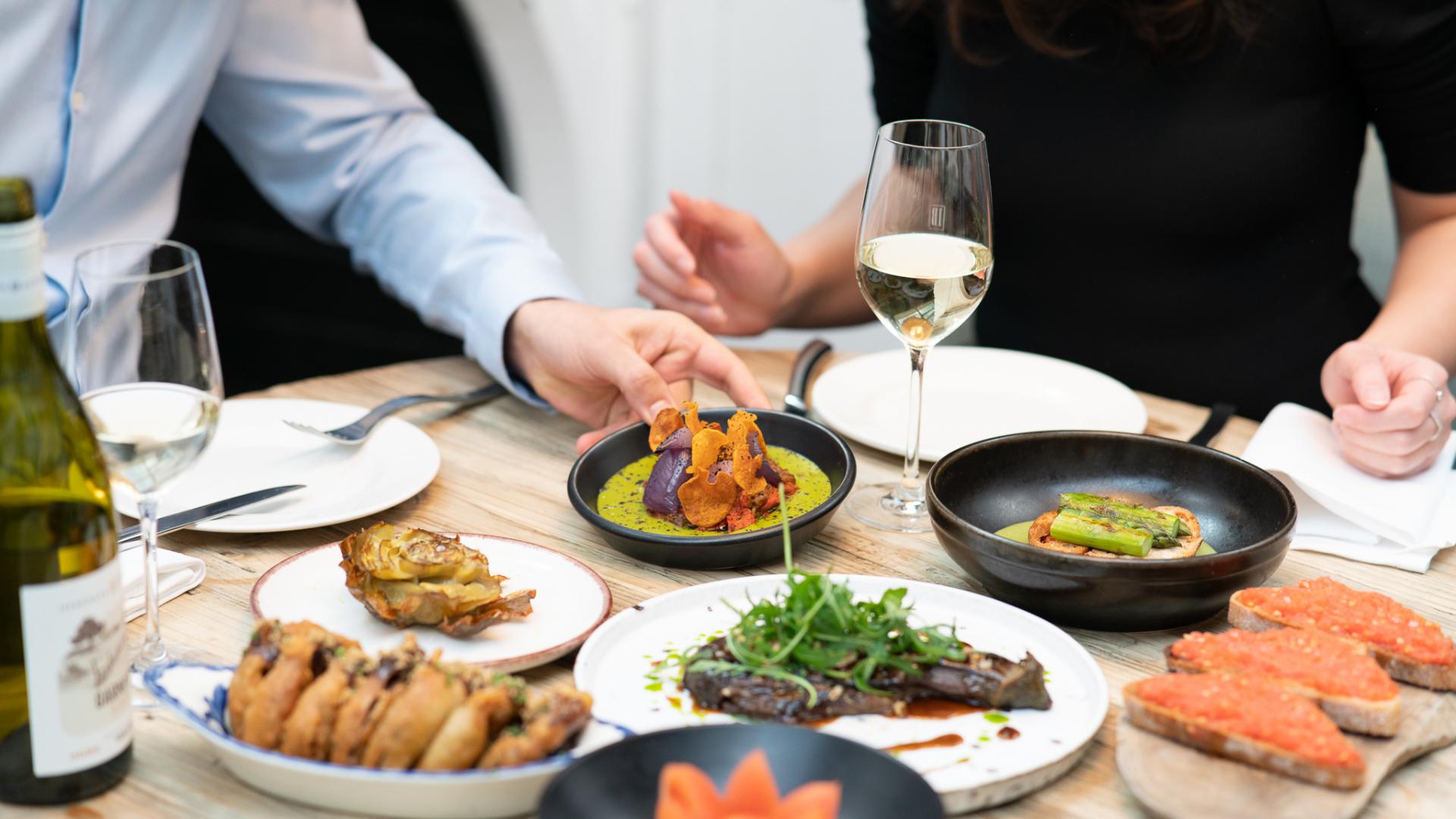 'Vegan' and 'tapas' aren't words you often hear together, but that might just change thanks to Michelin-starred restaurant Ibérica's dedicated vegan tapas recipe box. It comes with everything you need to make toasted bread rubbed with tomato, fried artichoke with lemon zest, patatas bravas and those unbelievably moreish little green padrones peppers, as well as a whole lot more. Several litres of sangria are absolutely essential.
Norma's vegan feasting box
£75 for two people
If you're just dipping a toe into vegan food, this plant-based offering from Sicilian-inspired restaurant Norma will knock your socks off. There's focaccia and olives; chickpea fritters; roasted beetroot and carrots; housemade pasta with winter tomatoes; caponata and sweet and sour pumpkin with raisins and pine nuts, paired with a berry-filled bottle of Puglian red. In fact, this is a meal so good that it proves just how special vegan cooking can be – and no tofu in sight. Who needs meat anyway?
Delivered on Fridays, orders taken until the proceeding Tuesday at 5pm.
Club Mexicana's Cheezeburger Taco Kit
£27.50 for four people
A cheeseburger in a taco sounds like our kind of party, and all the better when it's made by vegan maestros Club Mexicana. CM are basically royalty when it comes to London's vegan food scene – a title the team earned through their seriously good, seriously gooey vegan queso. Said queso features heavily in this cheeseburger/taco mash up, which is probably why we like it so much. Who's making margaritas?