Well, there's not much to say is there? Lockdown is back, and it's here to stay for a while. But thankfully we're all a bit better prepared for round three, and so are our favourite restaurants, which have been hard at work making sure we can still get the taste of their cooking inside the prison – sorry, we mean comfort – of our own homes thanks to their snazzy meal kits.
Let's face it, there's no way your cooking will beat a meal kit prepared at the hands of these chefs, so do yourself  (and them) a favour, and order one of these restaurants' home delivery boxes. They're the best way to pretend you're in your favourite spot without actually being in it, and you get to support them while you're at it. And the cooking is (almost) sorted for you. You will have to do a tiny bit of washing up, of course – but we promise it's worth it.
From Michelin-starred affairs to bacon naans to a full-on family feast, we've got you covered: here are the restaurant meal kits you need to know about.  And if you're looking for vegan recipe and meal kits, we've got those, too. And if you did want to give your own cooking a boost, try one of these brilliant online cooking classes on for size. 
Fine-dining meal kits
River Café
From £100 for two
When it comes to iconic London restaurants, The River Café is up there. Founding chefs Ruth Rogers and the late Rose Gray changed the way we eat – and much for the better, many would say. Now it brings its magic to your home with a selection of meal kits. Choose from one of six boxes, ranging from the Simple Supper (with prosciutto, mozzarella, Violetta artichokes and handmade spaghetti in a slow-cooked tomato sauce) to the Beef in Coppa (with ribollita, longhorn beef wrapped in coppa with rosemary, fennel parmigiani and more). Accessorise with a bottle of wine, additional dishes (hello, borlotti bean stew) or rich, grassy olive oil from one of The River Café's legendary suppliers.
Delivery inside the M25. shoptherivercafe.co.uk
Petersham Nurseries Café Dine at Home Boxes
£135 for two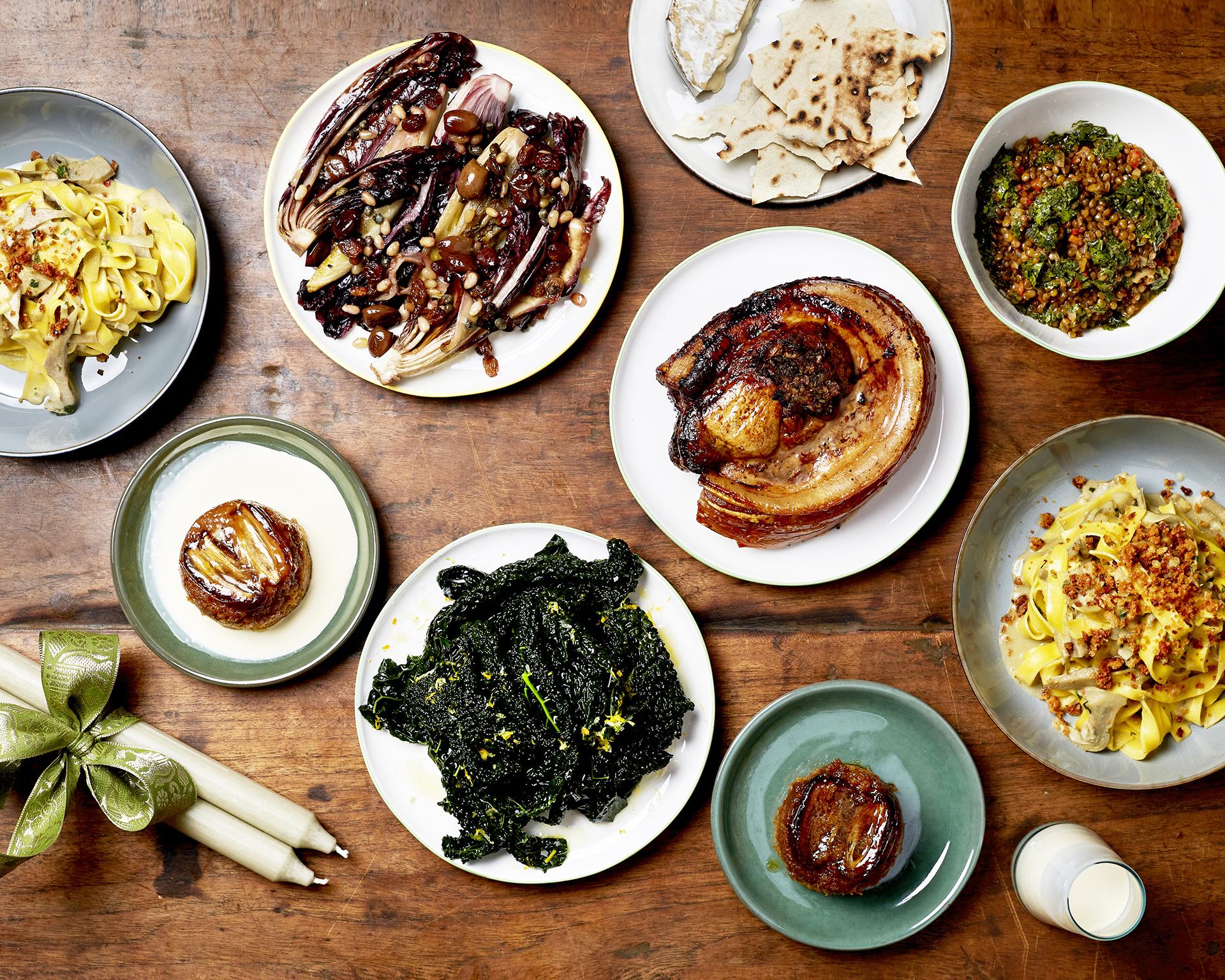 The highly Instagrammable Petersham Nurseries Café in Richmond has now launched a dine-at-home offering. Its debut four-course menu – available all February – is a luxurious line-up of seasonal comfort food. It begins with a starter of fresh tagliatelle with tema artichoke, anchovy, chilli and garlic pangrattato before the main event – either Haye Farm porchetta or a delica pumpkin, chard and goat's cheese pithivier. To end there's an indulgent steamed date pudding with pouring cream, and Winslade cheese served with pane carasau and honey from Petershams' on-site bee hives. The food is hearty and substantial, but what really elevates this particular offering is the added extras. As standard, it comes with a pair of beautiful gastro green candles to illuminate proceedings. But you can go the whole hog, with matching wine and premade cocktails – all the way up to a Petersham-inspired tablescape including Bertozzi tablecloths and napkins and Murano glassware. This is one you are going to want to share on your grid.
Petersham Nurseries Dine at Home Boxes are available for nationwide delivery in exclusive partnership with Restokit, priced at £135.
Simon Rogan at Home
£90 for two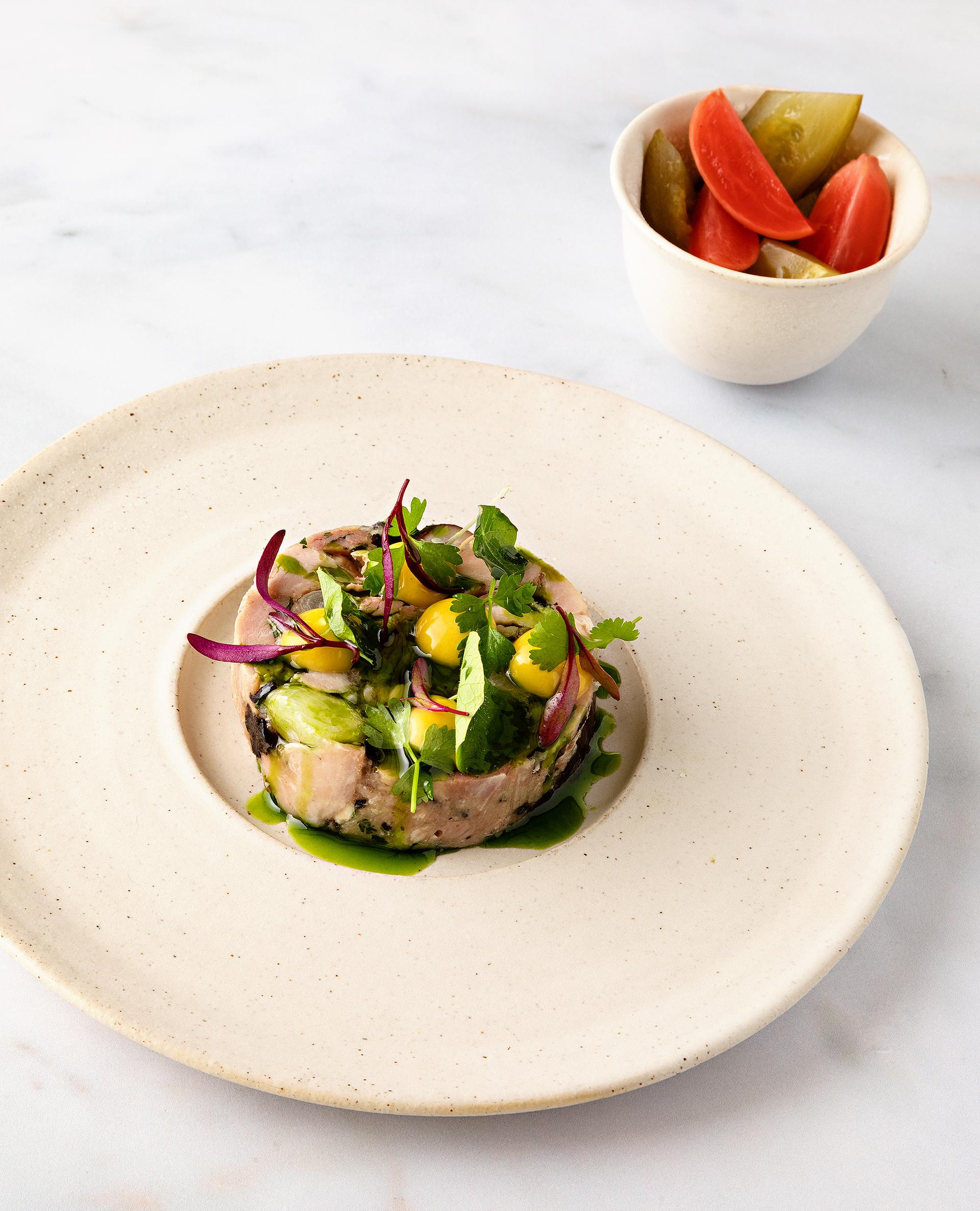 Whether your experience of Simon Rogan's cooking is from the beauty of the Cartmel countryside or the intimacy of Soho's Aulis – or you're fortunate enough to have eaten in both – you're in luck. Simon Rogan at Home is here to stay for the foreseeable future. The weekly-changing winter menus from the team behind L'Enclume and Rogan & Co are available nationwide – or if you're a Londoner you can get your hands on the bi-weekly changing, three-course meals created from Aulis, Simon Rogan chef's table experience in Soho. The first option uses produce harvested from Rogan's own farm in the Cartmel valley, as well as from loyal suppliers based across the region. The second takes inspiration from popular Aulis dishes served at the restaurant in recent times, while drawing on Rogan's signature style and love of natural ingredients. Both cost £45 per person with £10 delivery – and neither will disappoint.
Available from simonroganathome.co.uk
StarChefs X Andrew Wong Chinese New Year Feast
£165 for two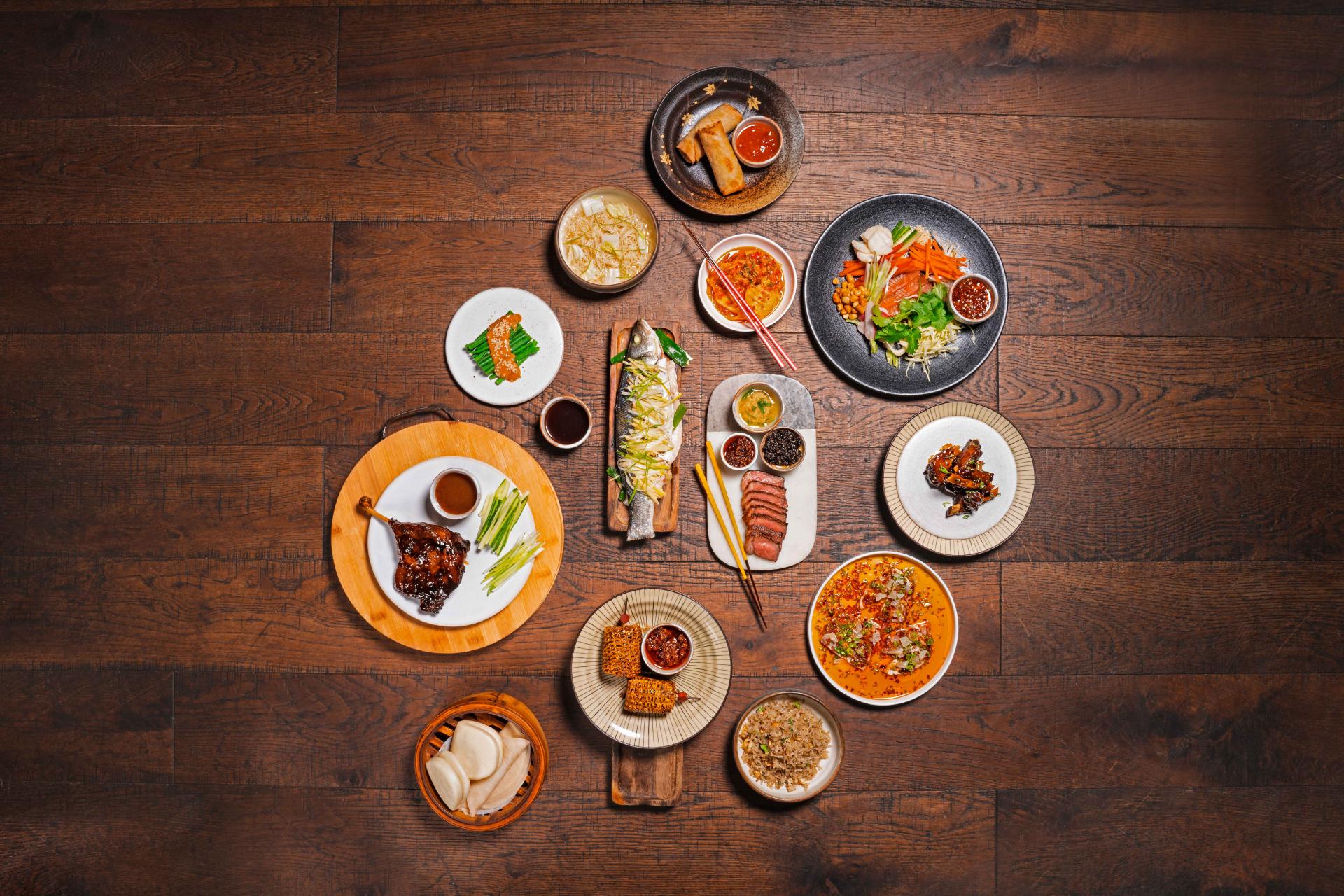 When the newly two-Michelin-starred Andrew Wong gets into the home delivery game, London sits up and takes notice. When he teams up with a brand-new, upscale meal kit platform for an exclusive Chinese New Year offering? Well, needless to say, we're very excited indeed. StarChefs is the brainchild of David Swann, who thus far in his career has worked in some of the best restaurant kitchens in the UK and is now turning his attention to a delivery service that's led by one-off, limited-edition menus from acclaimed chef partners and a focus on quality over quantity. Wong's launch menu is a doozy, too: celebrating the Year of the Ox, it includes tantalising sides like barbecued corn with XO sauce, spring rolls with sweet fish sauce dressing and longevity noodles with superior stock, alongside big-hitting dishes like Wong's iconic three treasure wagyu beef, whole seabass with ginger, and glazed crispy duck with pancakes. Not only that, but there's a Spotify playlist to set the mood, and the option of adding specially paired wines from Wanderlust Wines. A portion of the proceeds from the project will go to the Adopt a School charity, and there are already more collabs planned for the StarChefs brand – the next is a St Paddy's Day blowout with Robin Gill.
Available to book for 11-13 February; starchefs.co.uk
Le Gavroche
£125 for two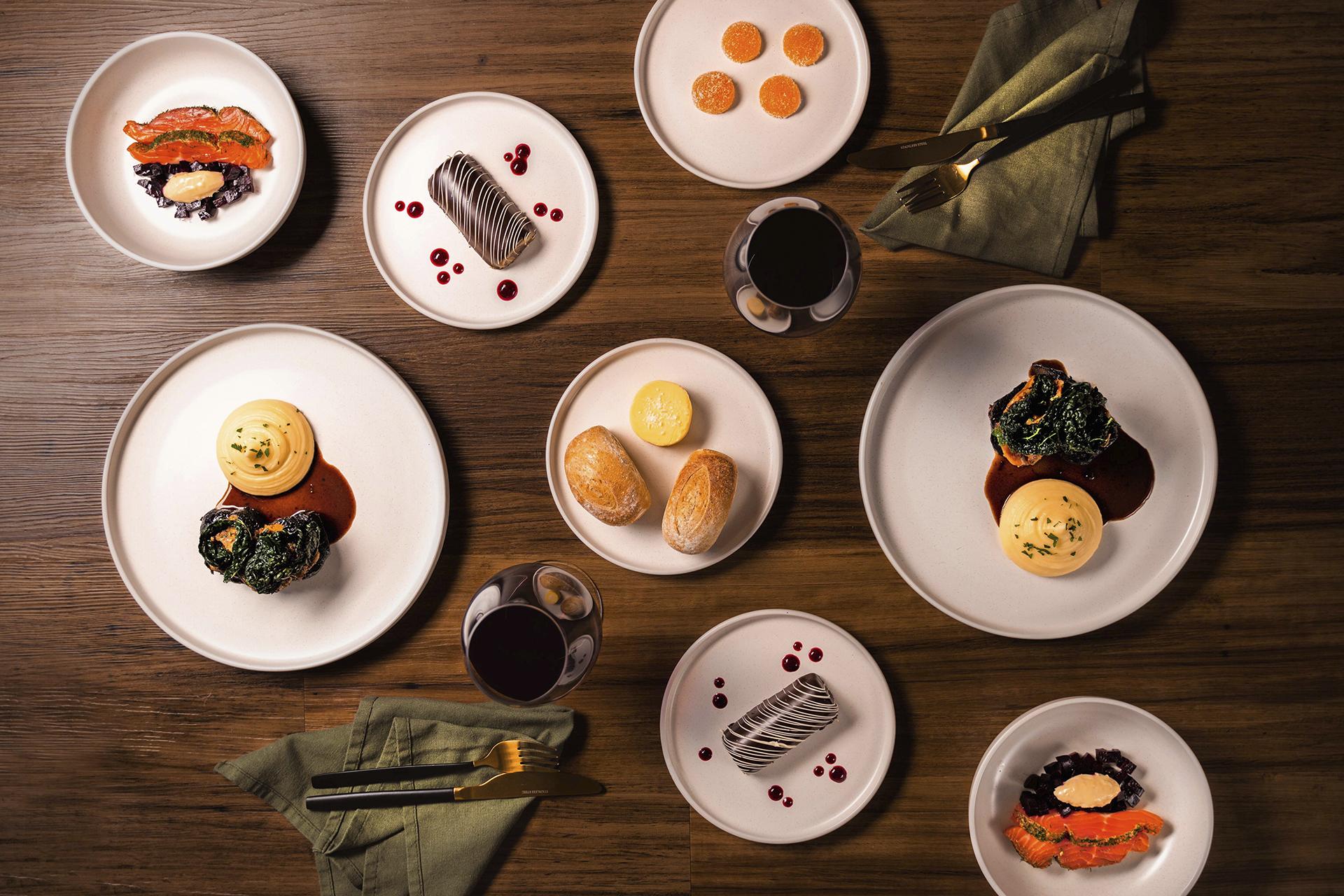 For the movers and shakers of Mayfair, Le Gavroche is like a second home. Lunch at Le Gav is a perennial favourite for those who have the means; and a full-on dinner here is a treat for those who enjoy the very best of French cuisine. So, just about everyone, then. Fortunately, Michel Roux Jr has teamed up with Lake District Farmers to make sure you don't have to go without this Lockdown. Lake District Farmers are suppliers of Michelin-starred restaurant quality meat from small-scale hill farmers in the Lake District. Working with Le Gavroche, they have created an indulgent three-course meal for two people at home, plus bread and petit fours – and are now delivering it nationwide. The boxes contain part-prepared dishes created in the chefs' Michelin-starred kitchens using top grade meat from Lake District Farmers. The menu starts with salmon gravadlax; moves on to braised venison haunch; and finishes with a dark chocolate and praline dessert.
Le Gavroche At Home menu is priced at £125 for two people; lakedistrictfarmers.co.uk/boxes
Bocca di Lupo
From £52 for two
The travel corridor to Italy remains firmly closed, but our mouths are always open for Italian food – especially when it's created at the hands of Jacob Kenedy and Soho stalwart Bocca di Lupo. Each month, the restaurant is creating meal kits with a different theme. January revolves around Tuscany, with three menus: Tartufo (truffle), Mare (sea) and Macellaio (butcher). Just to give you an idea, the veggie kit comes with ribollita, pici with black truffle and sage, a rocket, fennel and pecorino salad, and a custard torta della nonna. YUM.
Available nationwide; boccadilupoathome.com
Sketch
From £150 for two
Proving that there's more to Sketch than toilets, the restaurant of Instagram dreams has come up with a series of menus that you can make at home in just two steps. Two! You'd take more steps to get to the fridge. Choose from Menu & Wine, Vegetarian & Wine or Sunday Lunch & Wine: the menu changes all the time, but highlights at the time of writing include grilled guinea fowl, cumin polenta, mint jus, smoked yoghurt and endive salad; and pumpkin and passion fruit soup, porcini duxelle, curried popcorn. Bonus points because the containers the food comes in are made out of sugar pulp and are therefore biodegradable. (Not edible, though – unless you're really desperate.)
Available for collection and delivery. Order at least 24 hours in advance; sketch.london
Gymkhana
£170 for four
In an ingenious pivot, JKS – the group behind Gymkhana, Hoppers, Brigadiers and Trishna – have set up the Ambassador General Store, a one-stop online shop for anything and everything ranging from cocktail kits to meal boxes to spices and other top-notch ingredients from the Indian subcontinent. As you'd expect, there are an abundance of meal kits to choose from, but we suggest going straight in with the Gymkhana Food & Drink Club experience for four (£170). You'll get the restaurant's lauded classics, like the kid goat keema, the tandoori masala lamb chops and – wait for it – the wild muntjac biryani, which gets cooked in the same terracotta pot they use in the restaurant. The kit also includes gin and tonic and wine, chosen specifically for the food. And that, friends, is how a restaurant home kit is done.
Available for nationwide delivery. Order by 11pm every Sunday for delivery on Fridays between 7am-9pm, or you can select a date in the future; ambassadorgeneralstore.com
Hame
From £130 for two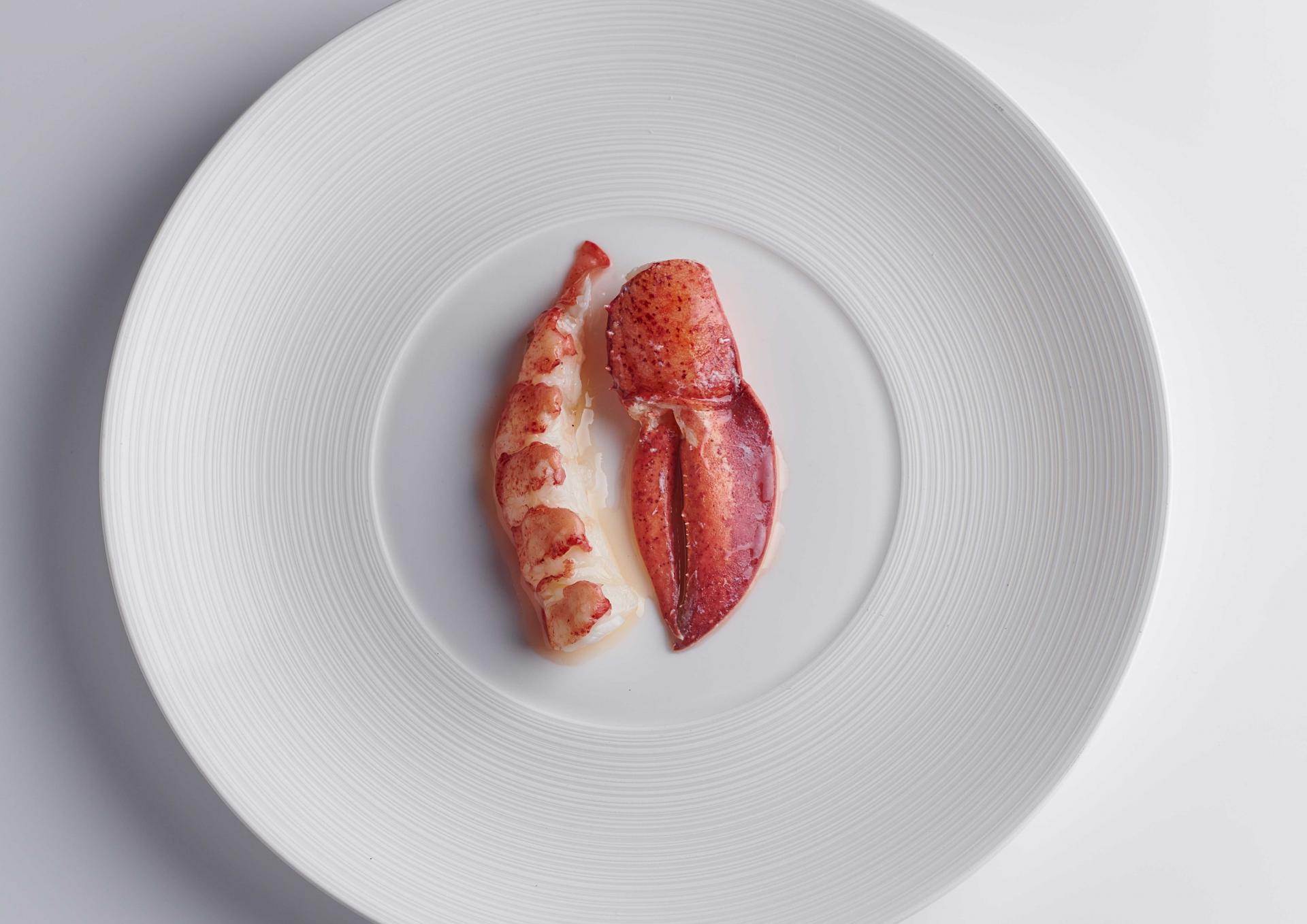 When tasting menu maestro Adam Handling launched his Hame home kits during lockdown mark one, they were focused on food you could make at home – but for round two, he's shifted his approach to recreate signature dishes you'd find at The Frog. And yes that does mean you'll be able to eat Handling's delightfully light yet indulgent cheese doughnuts; his chicken butter; and even his lobster wagyu from the comfort of your home. It's all designed to recreate The Frog experience at home, with four menus (and an à la carte offering) to choose from: Sunday Lunch (£130 for two), Dine In Style (£200 for two), Dine in Style (£110 for two), and the cheekily named Who Are You Trying to Impress? (£305 for two). Go on, get your gladrags out and order the last one.
Available nationwide; adamhandling.co.uk/hame
Lyle's Mid-Week Meal Kit
£70 for two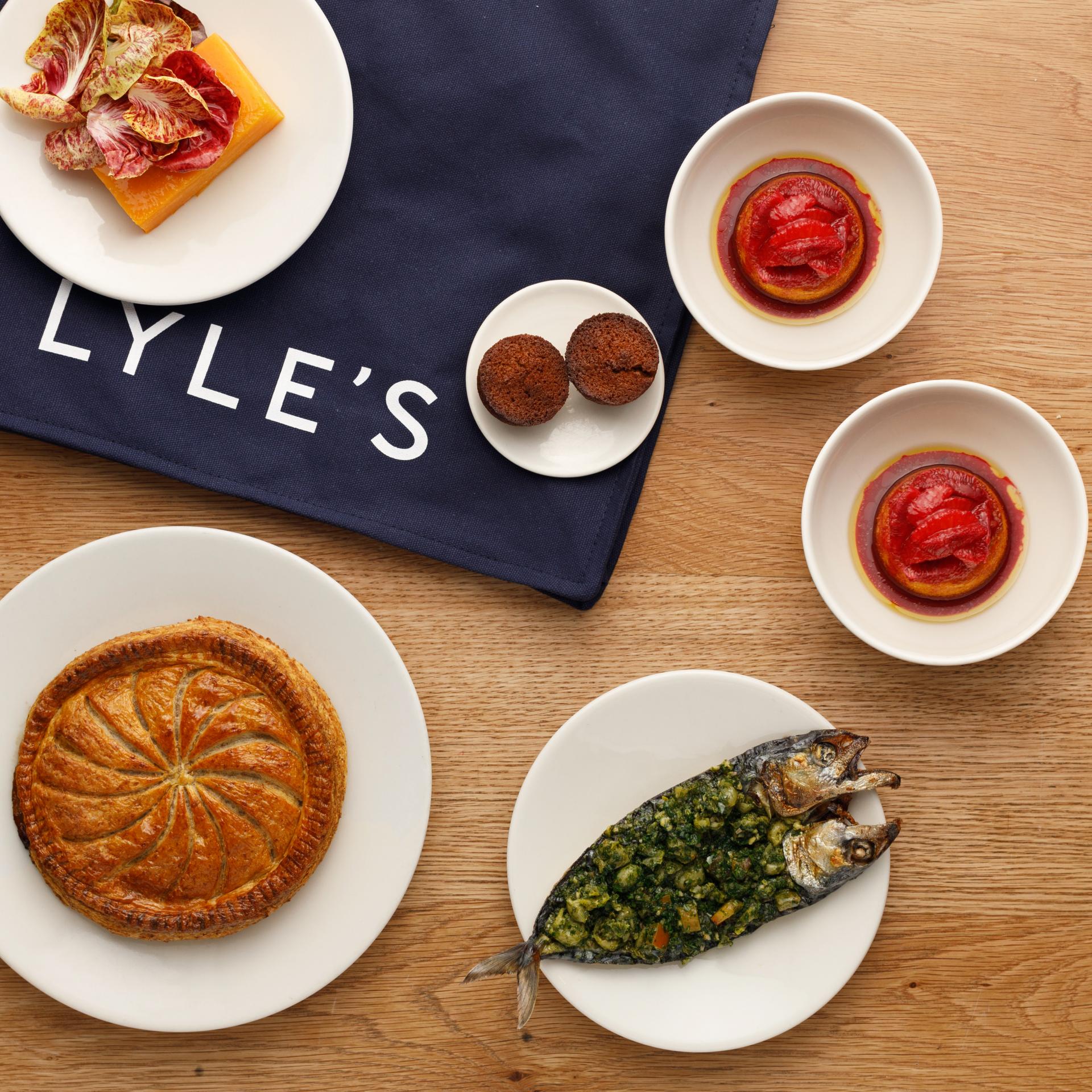 When the pandemic is getting you down, you need something seriously nice to pick yourself up. And that's exactly how we'd describe Lyle's new mid-week meal kit: a parcel of pre-prepped food that you basically just bung in the oven and put on a plate. Tart preserved gooseberries, a lovage dressing and grilled mackerel are so much more than the sum of their parts; oxtail pithivier is a parcel of pure joy: melt-in-the-mouth morsels of meat swaddled in the flakiest pastry; blood orange and olive oil cakes delicious but not too heavy. Hump day? Done.
Available inside the M25. lylesprovisions.com
Davies & Brook's C.F.C.
From £45 for one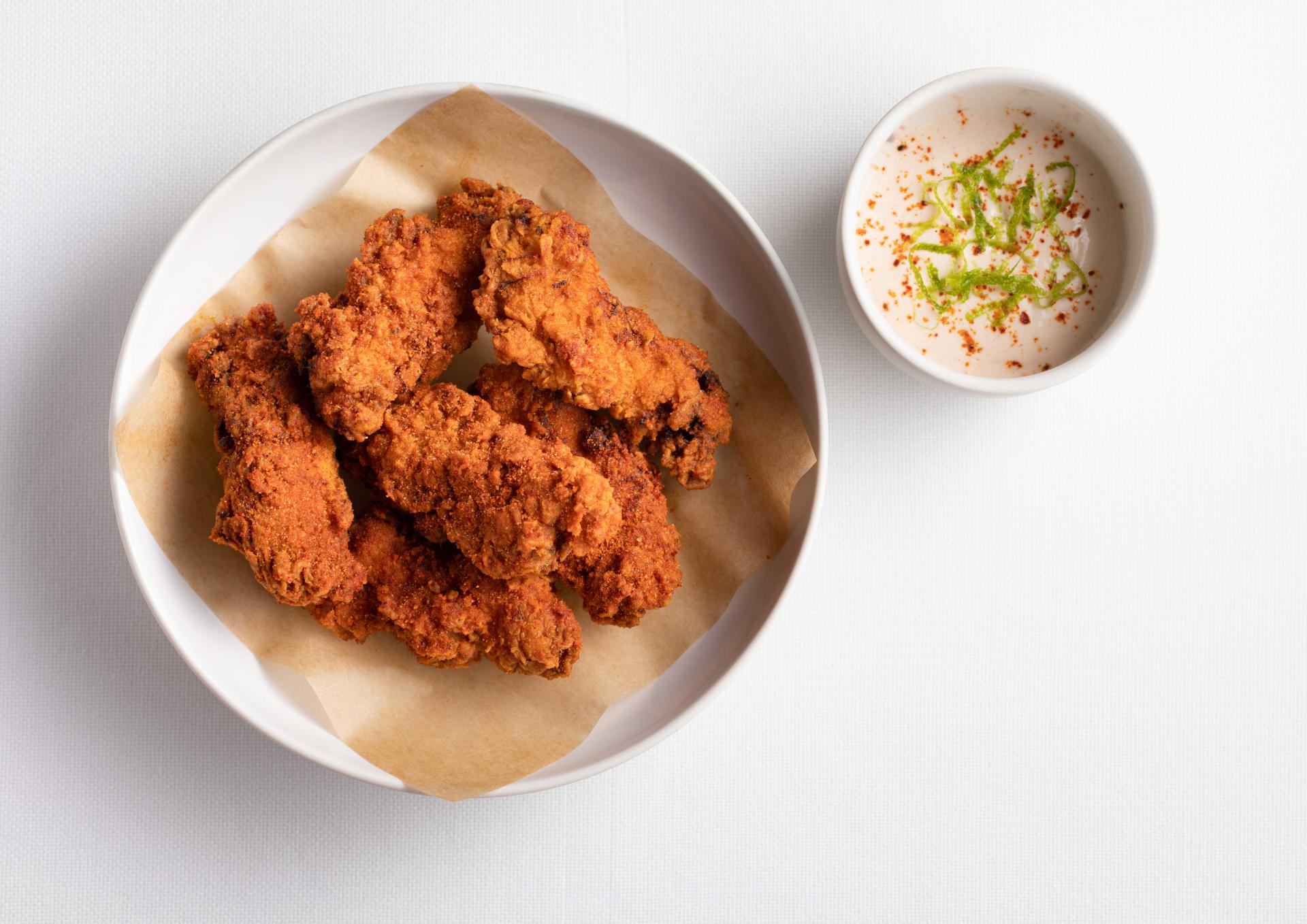 Fried chicken: so simple, so delicious, and probably not the kind of dish you'd expect from Davies & Brook, the restaurant at iconic Mayfair hotel Claridges. But that, dear reader, is exactly why you should eat it. The C.F.C. box (Claridges Fried Chicken) took lockdown round one by storm, and it's back for round two, with broad bean hummus with pickled beets, potato salad, house pickles and parker house rolls. If pieces of chicken aren't enough, go for the whole shebang with Davies & Brook's whole roast chicken with foie gras and black truffle, which comes with plenty of sides and mouthwatering apple maple tart.... Go on, you know you want to.
Available Thursday-Saturday, from 2pm-5pm for collection and delivery. daviesandbrook.co.uk
Mid-range meal kits 
The Laundry Overnighter
From £45pp
Put your phone on do not disturb, turn off your alarm, and put your nicest sheets on your bed, because Brixton favourite The Laundry has launched a meal kit designed to make you feel like you're having a little getaway, even though you're stuck inside your house. The Laundretters Overnighter cook-at-home box is packed with everything you need for a three-course dinner, as well as brunch and cocktails for Saturday morning (ft. The Laundry's signature croque madames). The kits kick off with chicken liver parfait, confit duck, winer cassoulet, chocolate ginger torte, and, of course, a bottle of wine chosen by wine wonderwoman Mel Brown).
Cut off for Friday night delivery is 9pm Wednesdays; thelaundrybrixton.com
Townsend's Town-send kits
From £36 for one
The Whitechapel Gallery is known for its forward-thinking exhibitions, so it makes sense that it would have an equally forward-thinking restaurant. Townsend got on the meal kit train early with its hugely successful Town-send recipe boxes, where you can order chef Joe Fox's modern British cooking plate by plate, or get the whole shebang with a tasting menu and paired wines. Paddock Farm pork and prune terrine? Potato dumplings with potted shrimp? Pink fir potatoes with smoked chilli and tomato chutney? Go on then, you've twisted our arm. Single during this lockdown? Get yourself Townsend's set meal for one with wine and cheese for £36 and solo dining won't feel so lonely anymore… Promise. 
Available for nationwide delivery; townsendrestaurant.co.uk
Manteca at Home
From £50 for two
Chris Leach has taken his love of Roman and Neapolitan cooking and applied them to home kits and provision boxes, all of which, we're pleased to say, are stuffed with Manteca's signature cured and fire-cooked meats and hand-rolled pastas. There's a starter and a medium hamper, but we're just going to tell you about the luxury one (£150) because, let's face it, that's what you're going to get: housemade salumi, smoked cod's roe, chicken liver parfait and date jam (pictured); grape mostarda and pear and date chutney; tortellini in brodo (in broth); porchetta and apple ketchup; all the trimmings; and even brioche buns to fill with leftover porchetta. Oh god, we're swooning.
Available nationwide from 16 November. Order before 18 December for Christmas.; mantecarestaurant.co.uk
Farang's Thai feast
£50 for two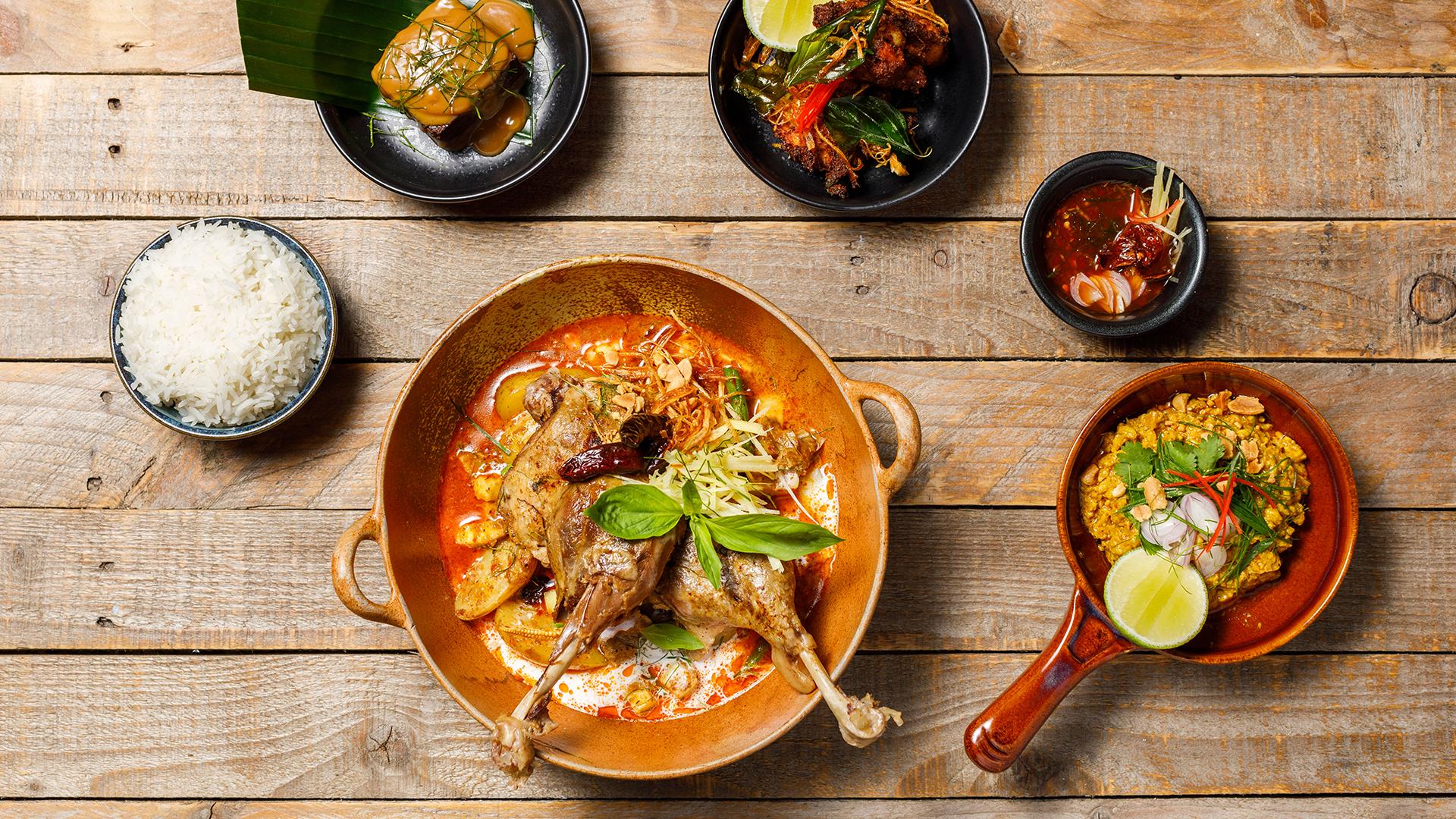 If you're looking for inspiration for a slap-up Friday night meal, head over to Dishpatch, a new meal kit delivery service that's teamed up with some of London's best restaurants. There are offerings from Crispin and Café Murano, to name but a few, but we've got our eyes on Farang's Thai feast for two. The menu changes monthly, but November's is centred on a massaman curry made with braised duck. Hubba hubba. You'll get chicken satay with cucumber ajat, and salmon and cod curried fish cakes to start; followed by said curry with pineapple, veg and rice; and then a stem galangal sticky toffee pudding with coconut and black cardamom butterscotch. Ooooh boy.
Delivers Fridays, available nationwide; dishpatch.co.uk
Top Cuvée's Take Cuvée
From £35 for two
Lockdown champions Top Cuvée continue to lead the charge into round two with their latest round of at-home kits, created by their new head chef Will Blank (formerly of Lyle's). The menus will change almost as fast as Boris's Covid strategy, but things are kicking off the cheese scones with cultured butter; celeriac and apple soup; a choice of either roast chicken and tarragon pot pie or pumpkin, lentil and Devon blue pot pie; sides; and sticky toffee pudding. It's only £35 for two, so you'd be mad not to get the recommended wine pairings, which start at £12 a bottle.
Available nationwide; shopcuvee.com
Arabica's Feast for Beirut meal kit
£45 for two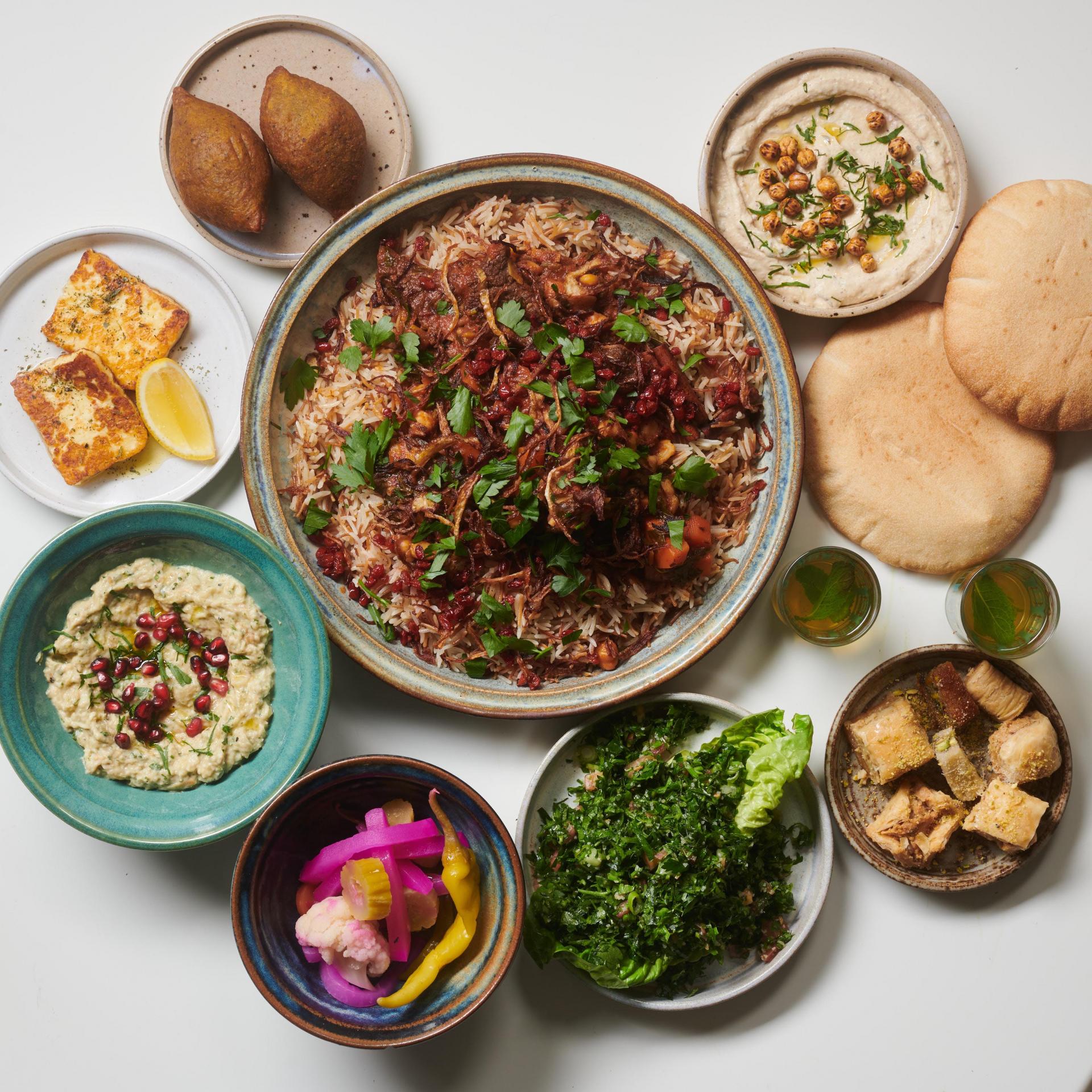 While we've included every last one of these meal kits because they're delicious, Arabica's Feast for Beirut dinner is really something special. The kits are a continuation from the hugely successful Bake for Beirut bakesale that happened earlier this year, which raised money for the 28,000 people affected by the fatal blast earlier this year. This time, you can get your hungry chops around Beirut-style classics, like beef short rib stew with pickled barberries; grilled halloumi sprinkled with Turkish dried mint; pumpkin kibbeh; and wrap it all up with flaky baklava. A vegan option is also available, and 5% of every sale goes to Red Cross Lebanon. Bonus: Arabica also does a DIY falafel kit.
Available nationwide for delivery on Tuesdays and Fridays. arabicalondon.com
Levan To Go
£59 for two
Burrata, butternut squash, pine nuts and raisin; potato, mushroom and Vacherin pie [pictured]; caramelised onion brioche: Levan's meal kit menu reads like a love letter to our very soul. The Peckham-based restaurant – sibling to beloved Brixton haunt Salon – offers à la carte or tasting menus (including a veggie option) that'll warm the cockles of your heart as we slide into the dark winter months. Ideal for dates, mates, or just eating in your pjs. 
London delivery only, also available for collection; levan.bignight.app
Gunpowder's DIY kits 
From £30 for two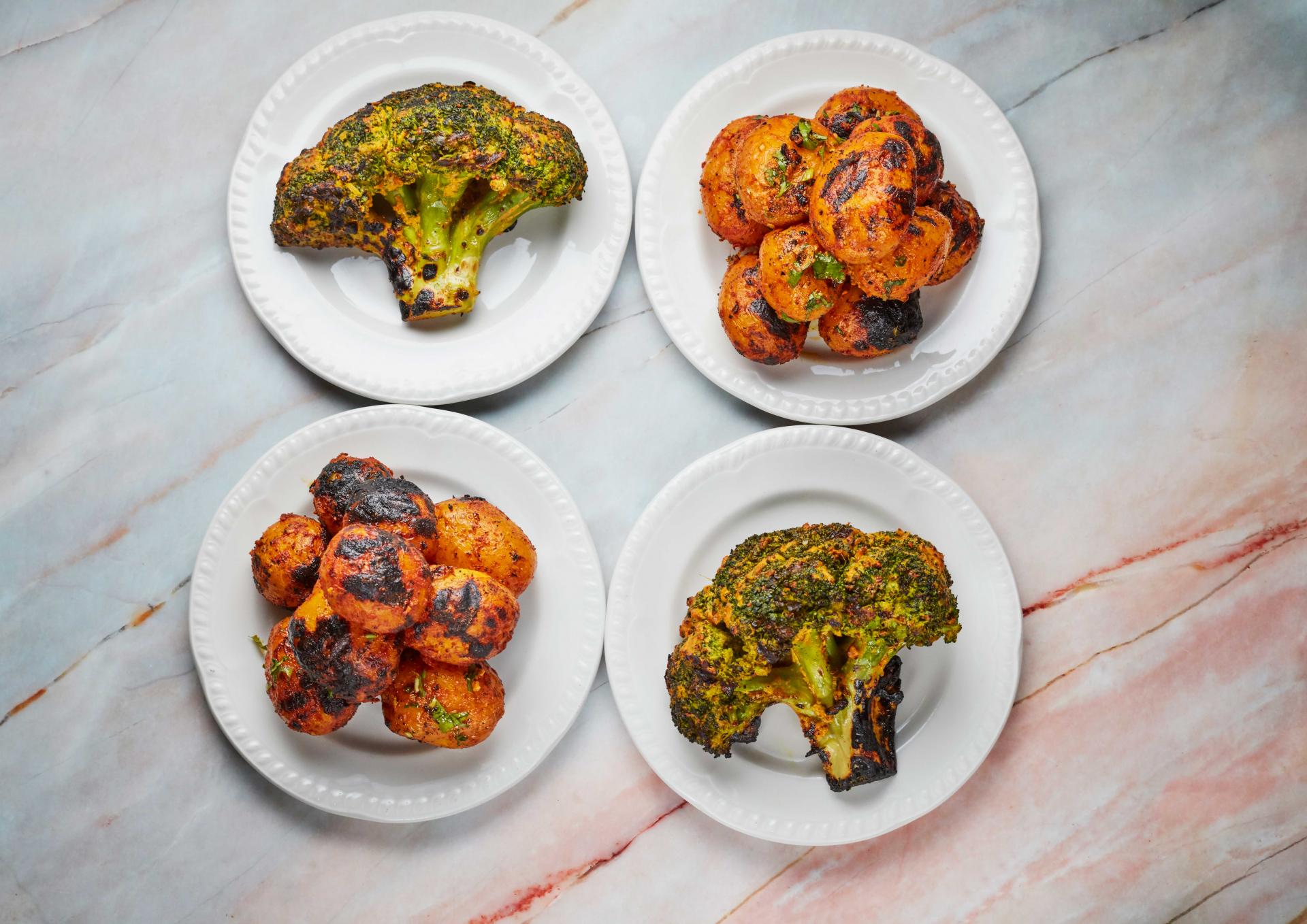 OK, so this one involves a tiny bit more cooking – but then you'll know how to make Gunpowder's smash hit tandoori new potatoes and malai broccoli, so really you're learning skills for life. Choose between the DIY bbq pork ribs, the DIY Kashmiri lamb chop and the DIY tandoori chicken kits, choose a delivery date and buckle up for the ride. Sure there's a little bit more work involved, but what were you planning to do with your Friday night anyway?
Available nationwide; greatfood2u.co.uk
Ampéli At Home
£65 for two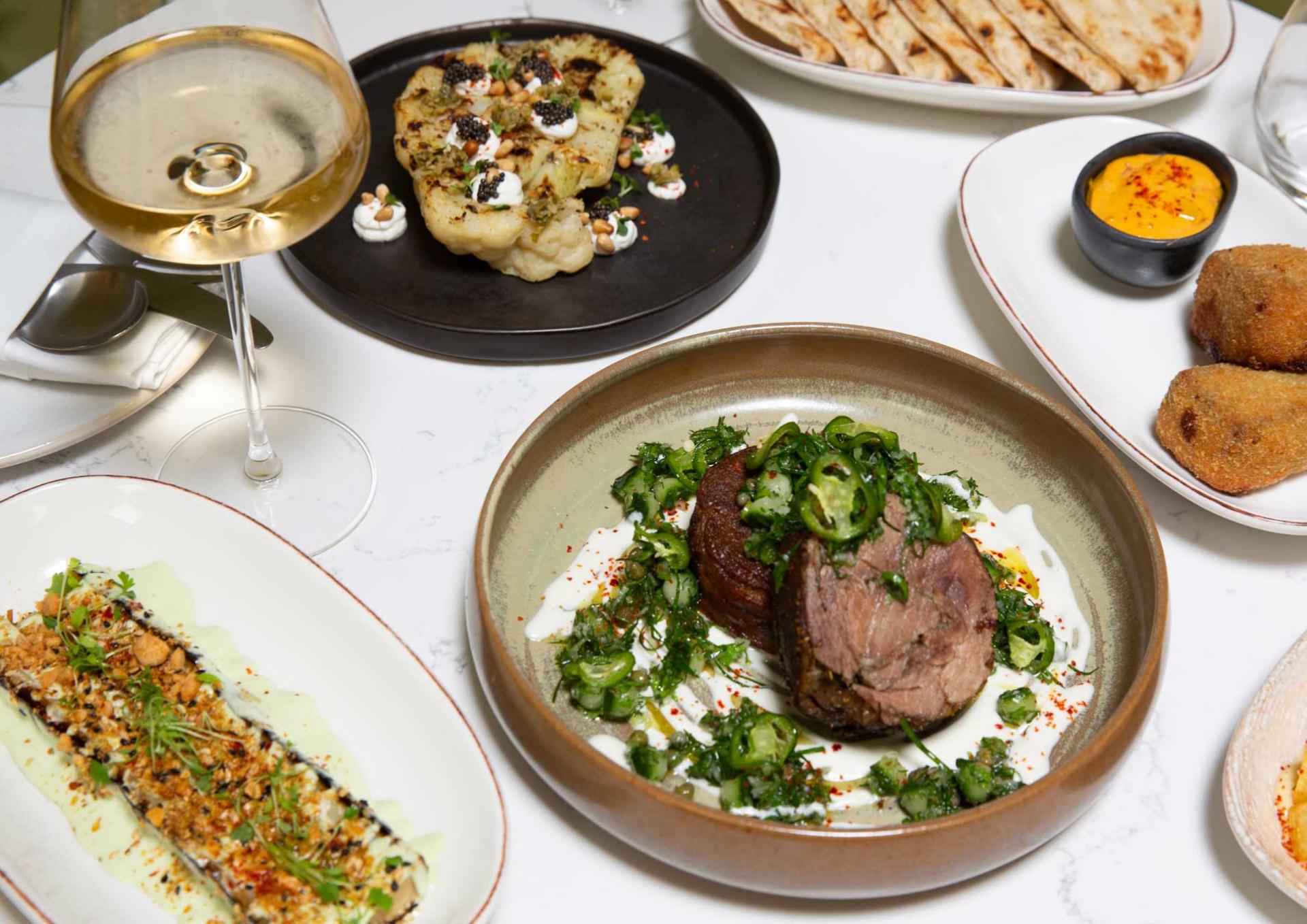 If you missed out on the white-washed houses, shimmering sea and banging souvlaki of the Greek islands this summer, you're in luck: you can recreate the exact same thing at home with Ampéli's At Home meal kits. When we say "exact same thing" we mean, you'll be in your pjs, the ocean will be replaced by your 'Life's A Beach' Yankee candle, and instead of the waves, you'll be watching repeats of Downtown Abbey. But that's OK when you've got the Grecian and Eastern Mediterranean cooking of Ampéli delivered to your door. Let salt cod croquettes; green olive tapenade and pine nuts; and slow cooked lamb shoulder souvlaki transport you to a land far, far away… Includes a selection of seasonal Greek wines, too.
Blacklock's All In kit
All in for two, £56
Blacklock's All In – a platter of its best lamb, beef and pork chops – is the stuff of London food legend. In fact, in a city bursting with restaurants, Blacklock and its steak sandwiches (£10 in the lunchtime meal deal) are some of the things we miss most. Thankfully the cult chophouse is now offering its chops to make at home. Order the All In and you'll get all the meat you can eat, plus the bread to soak up all that umami-laden meaty juice, beef dripping chips, and plenty of sauces – plus the iconic white chocolate cheesecake. Sick of your own Sunday roast? Blacklock At Home is doing Sunday roast home kits too. While this might be a way around the restaurant's two-month waiting list, make sure you order your home kits early so you don't miss out… And hats off to Blacklock, because for every Blacklock at Home sold, a tree will be planted in the Blacklock Forest.
Available nationwide. shop.theblacklock.com
Fun and filthy meal kits
Burro e Salvia x Wildfarmed Grain fresh pasta kits
From £16 pounds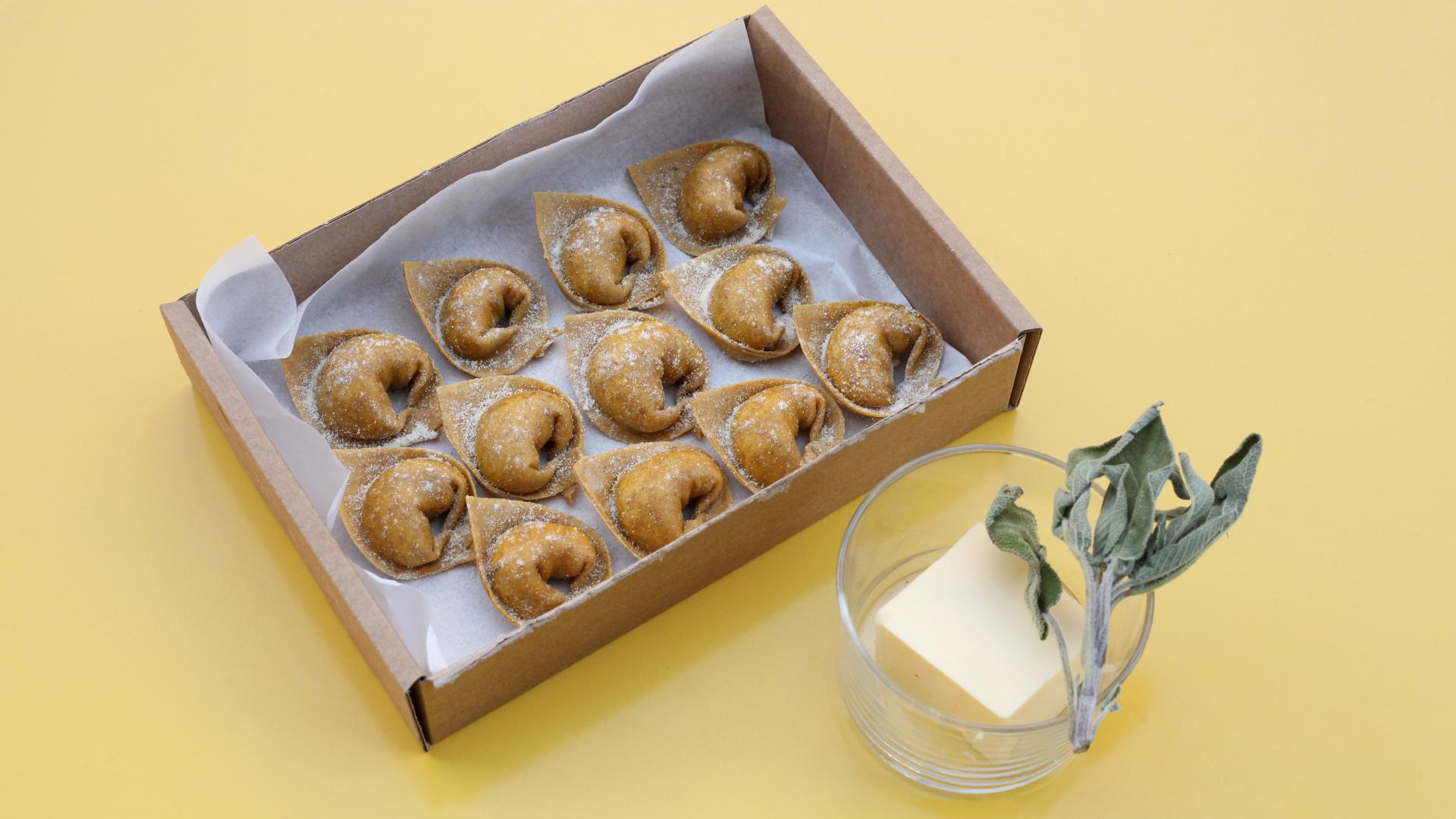 Done properly, a plate of pasta is one of life's simple pleasures. And if you want to find pasta done properly, Burro e Salvia, a pastificio on Redchurch Street, is just the place to go. Usually, this bijou restaurant turns out a short menu of delicate pastas and noodles, with just the right slick of sauce. The space is currently a shop where you can buy the fresh-made pastas for you to cook at home – but if a pasta pilgrimage is off the cards, order one of the pasta kits from Big Night. Not only do you get them delivered direct to your door, but Burro e Salvia has partnered with eco flour company Wildfarmed Grain, which practises regenerative farming and specialises in heritage grains. Strozzapreti with sausage and saffron ragu, ready in minutes? Don't mind if we do. 
Order from bignight.app
Chuku's Chop Chat Chill Meal Kits
£25 for two
Food is about way more than what's on your plate, and Nigerian 'tapas' restaurant (from brother-sister duo Ifeyinwa and Emeka Frederick, who won at the 2019 Young British Foodies awards) serves up a portion of Nigerian film, art and music along with your dinner – not bad for a box that lands at your door. You'll get the house wrapper (named for a Nigerian item of clothing), filled with jollof quinoa, a choice of beef, chicken or tofu and Chuku's signature sauces, including the fiery, scotch bonnet-laden ata din din. From there, it's on to the caramel kuli kuli chicken, soya meatballs and vegan moi moi, topped off with the densely chocolatey yam brownie. 
Available nationwide. chukuslondon.co.uk 
Koya's #KoyaMail Kits
£14 for two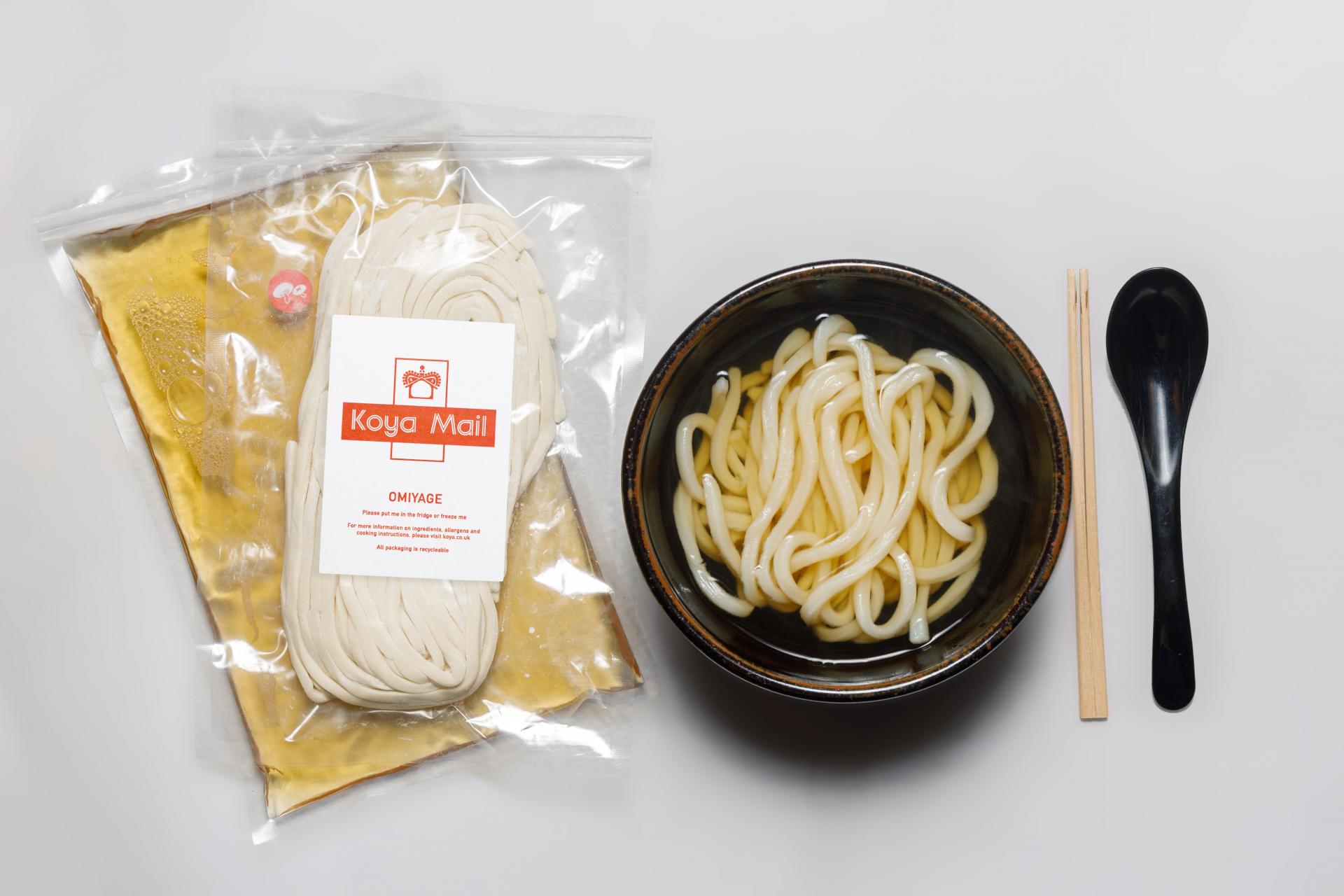 PSA: Noodle kings Koya have relaunched their meal kits, and this time they're available nationwide, and they fit through your letterbox. The #KoyaMail deliveries contain two portions of udon noodles and dashi stock – go on Koya, you can send us noods any way.
Available nationwide. koyamail.co.uk
Homeslice's Take, Bake and Jameson
£25 for two, plus cocktails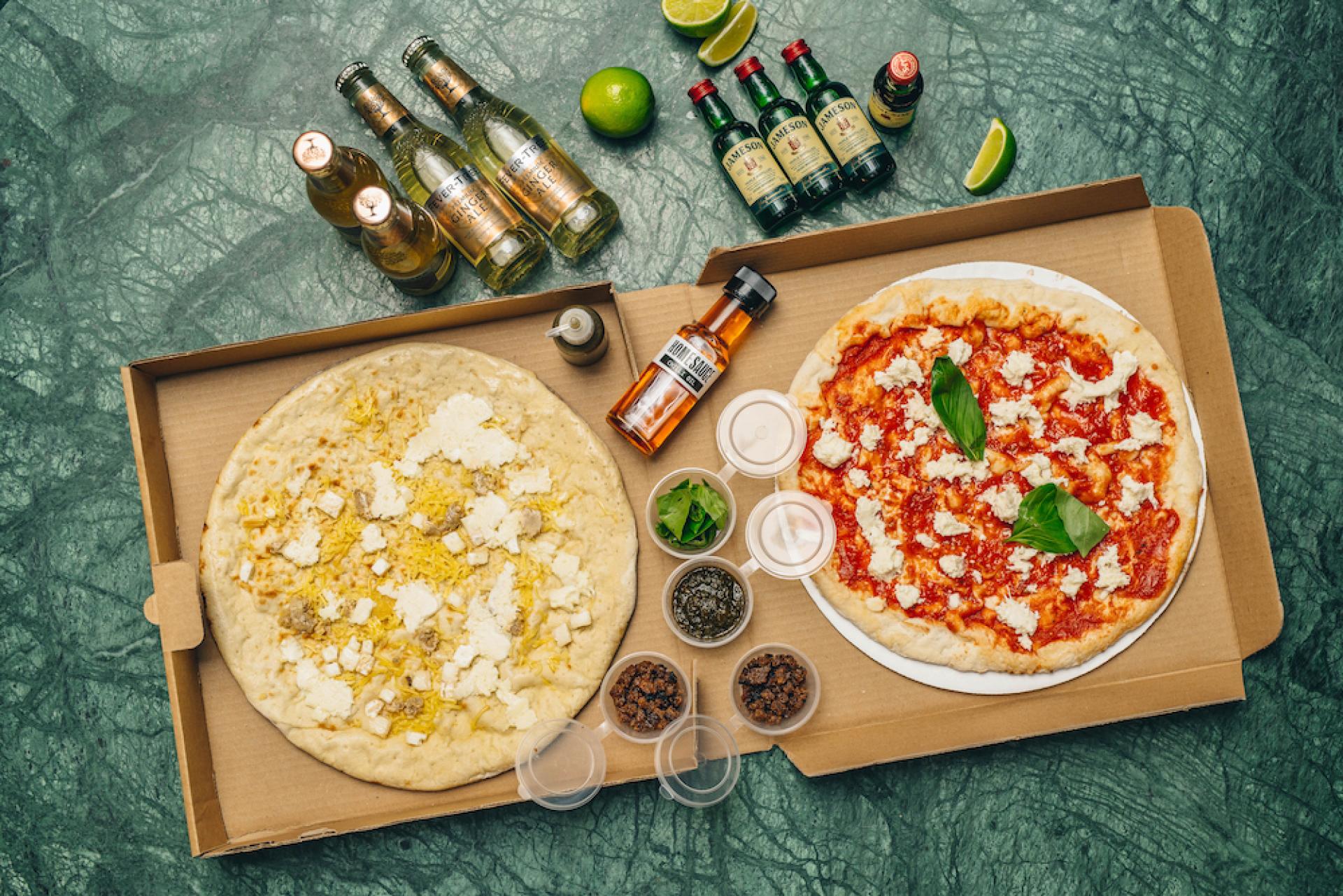 We hope you're hungry, because Homeslice is now offering its pizzas for pickup and delivery for you to bake at home, complete with all the essential ingredients for a JGL cocktail (or a Jameson, ginger and lime to you and us). Worried about how you'll fit one of Homeslice's trademark 20-inch pizzas in your oven or your belly? They've downsized their pies to a slightly more manageable 12 inches – although we'd never say no to a large, let's face it. Choose from classic margherita; chorizo, corn and coriander; and 'nduja, tenderstem broccoli, fior di latte and chilli oil (you can also swap for vegan nduja if you're that way inclined); and three more of Homeslice's creative combos.
Available nationwide. homeslicepizza.co.uk
SMOKESTAK at home
From £30 for four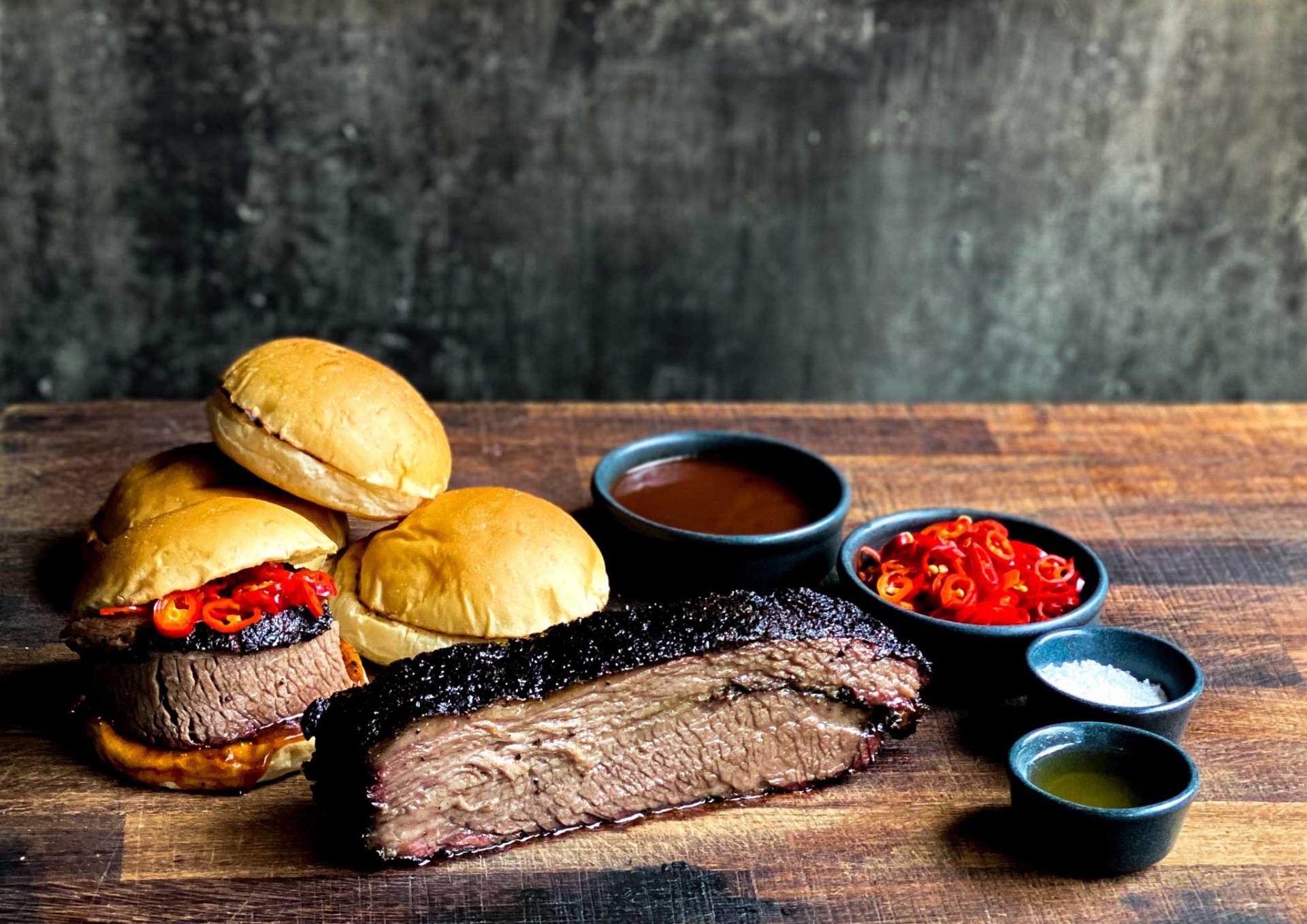 The DIY Bun Box sent carnivorous Londoners into a spin when it launched during lockdown, and it's only gone from strength to strength since: a treasure chest filled with four buns, brisket, house barbecue sauce and pickled red chilli (other choices include pork belly or pulled pork) – and a lovely touch in the form of a playlist of the restaurant's fave tunes. Special Christmas meats include a treacle-cured smoked gammon, a whole-smoked Goosnargh or a whole smoked Devonshire bronze turkey.
Available for nationwide delivery (some areas excluded, check website for details). smokestakshop.co.uk
Bao's Made by You kits
£20 for two people
Is it just us, or do bao just look so cute? They're almost too cute to eat. Almost. But when those pillowy buns swaddle melt-in-the-mouth meat and are sprinkled with sweet-but-salty peanut powder, we just can't help ourselves. You can get several different versions of Bao's Made By You kits – classic pork (goes without saying); the veggie version, stuffed with panko-breaded daikon; and then the even cuter little peach-emoji-shaped bao. The iconic London restaurant has really branched out with its home delivery service, and you can buy everything from essential ingredients to Bao's own beers, totes and t-shirts. We'll take one of everything, please.
Available nationwide. baolondon.com/shop
Honest Burgers
£30 for two
We like brioche buns, we like chuck steak and rib patties, we like cheddar cheese and we like bacon. So it makes sense that we would really, really like Honest Burgers' burger home kits, which bring together all of these things to create a juicy, munchable, freshly cooked burg in your very own home. Honest has even included its rosemary salt so that you can make those chips at home (although you need to make your own chips). You'll also get pickles and a tote bag. What more could you possibly want?
Available nationwide. honestburgers.co.uk
Tacos Padre's Taco Fiesta
£40 for two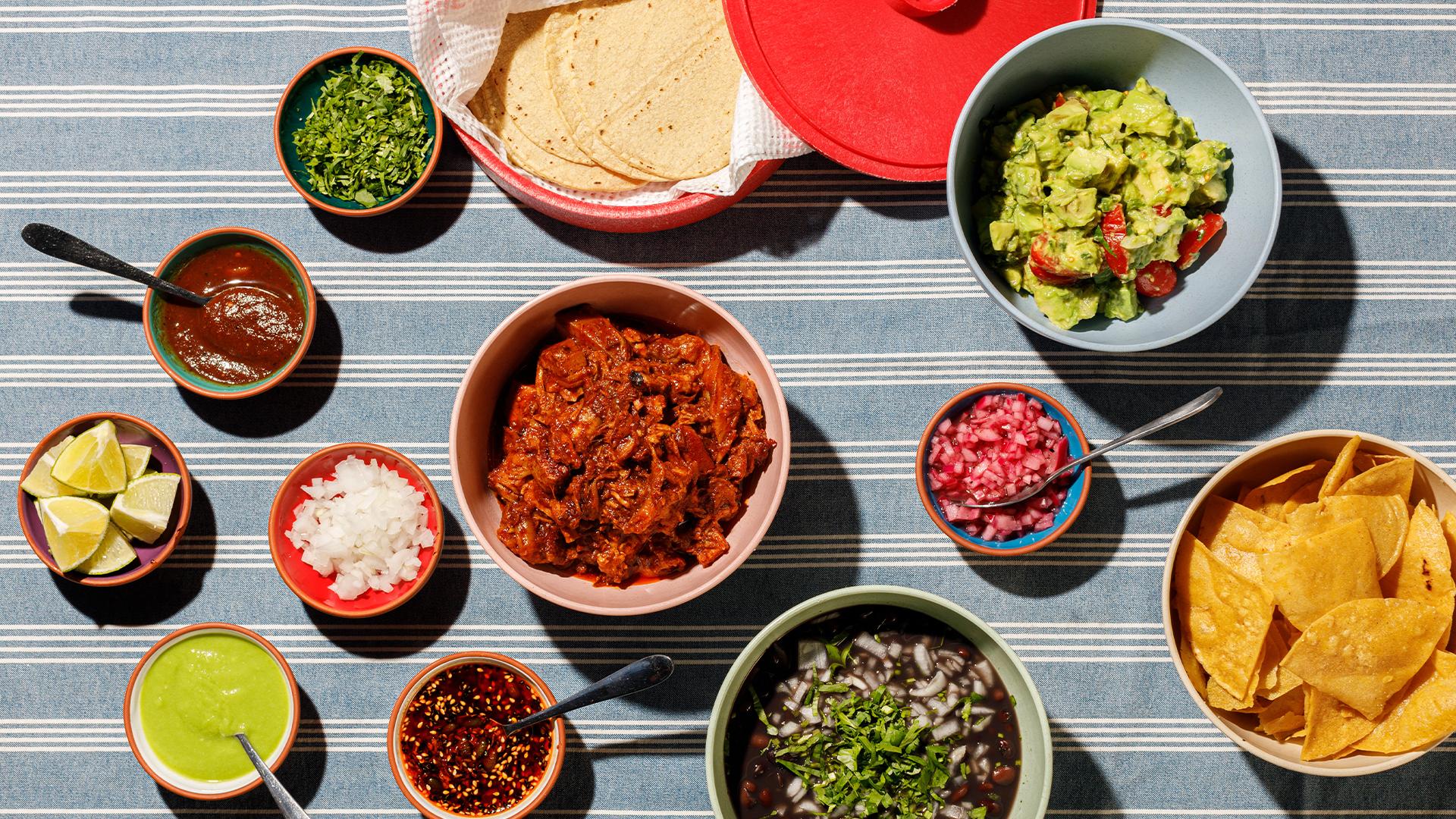 Just when you thought you were over tacos, boom, there's another totally brilliant taco restaurant to get your chops 'round. Sadly, of course, you can't actually eat in at the moment, but thanks to the ingenious new Dishpatch service you can still try there moreish morsels chez vous. Ringing in at £40 for two, Taco Padre's Cochinita Taco Feast is packed with cochinita pibil (slow-roasted pork), frijoles, habanero guacanchile, Xni-pec (a fresh tomato salsa made with habanero chillis), tortillas, fresh coriander, lime, guacamole and tortilla chips. Make sure you have ingredients for margaritas, eh?
Delivers Fridays, available nationwide. dishpatch.co.uk
Dishoom's bacon naan kit
£16 for two
We'd never say there was anything good about the pandemic, but not having to queue to get one of Dishoom's bacon naans might just be a small silver lining. Of course, you'll still need to have your clicking finger at the ready to make sure you don't miss out 'cos these babies are popular. The two-person kit contains smoked streaky bacon, naan doughballs (enough for three because, well, why not?), the tomato-chilli jam, cream cheese and fresh coriander, as well as cooking instructions and a handy video. You'll also get everything you need to make Dishoom's sweetly delicious masala chai tea. Order for the morning after a date if you're feeling lucky…
Available for nationwide delivery. dishoom.com
Dirty Bones' hero kit
£40 for two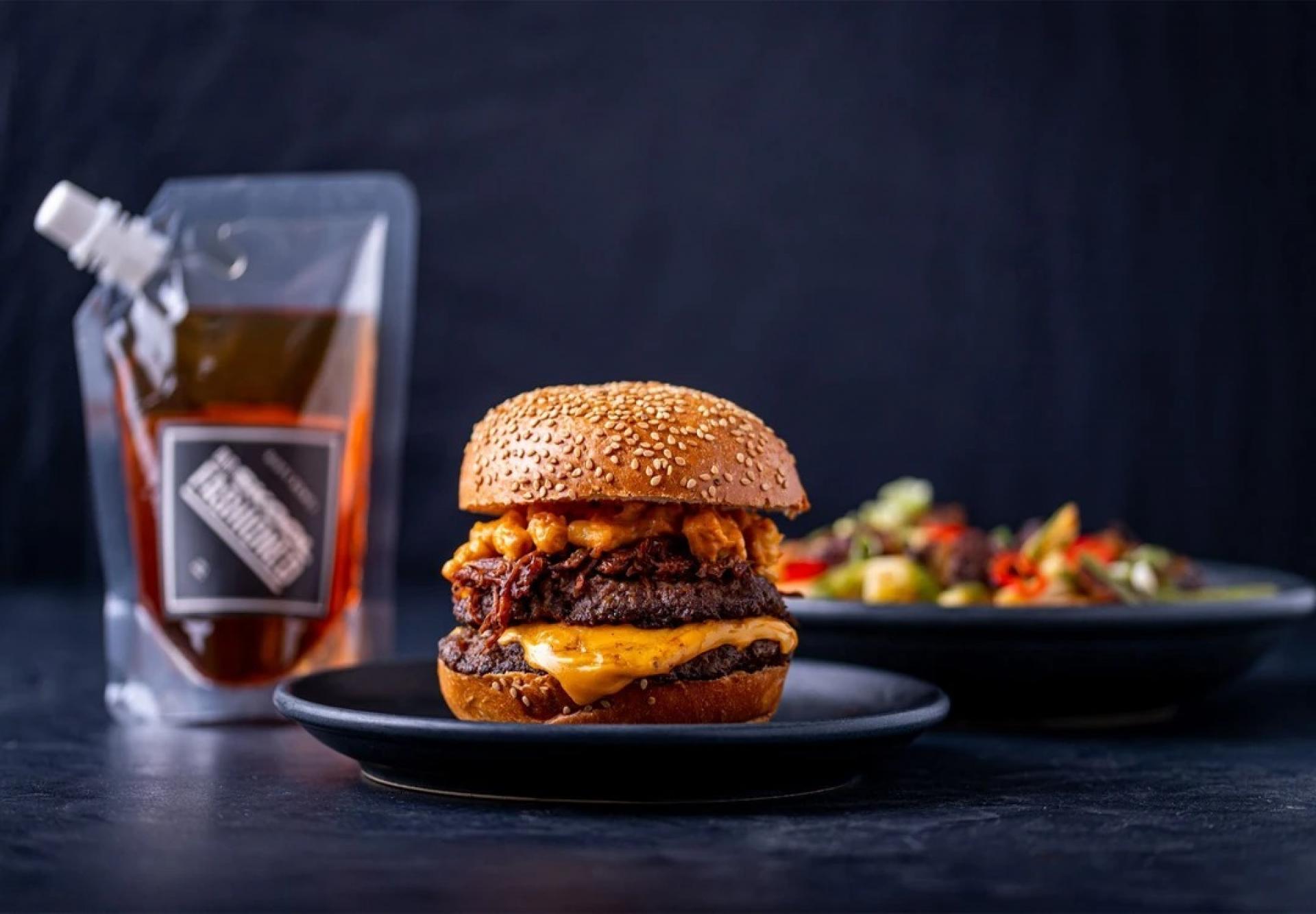 If you really want to go the whole hog, order Dirty Bones' hero kit for two, put on your stretchiest pants and get down to business. You get all the ingredients for two Mac Daddy burgers: two patties, slices of American cheese, mac'n'cheese sauce, macaroni cheese and BBQ beef short rib. Mhhhhmmm. But that's not all, because you all get everything you need to make DB's signature lamb fries, skinny fries topped with lamb belly. Yeah, really. Dessert, anyone?
Provisions' fondue and raclette kits
£29 for two
We can't think of anything more fun or filthy than a home fondue or racelette kit, particularly when it comes from Holloway Road favourite Provisions. These two-person kits come with everything you need to get seriously cheesy: the fondue kit comes with Provisions' house fondue mix, while the raclette kit comes with a mix of raclette and morbier cheese – a delicious duo that'll help your problems melt away. Pop on your ski gear, whack on the Euro pop and you've basically got the après-ski sans the slopes. 
Available nationwide. provisionslondon.co.uk
Shoryu's DIY ramen kits
£20 for two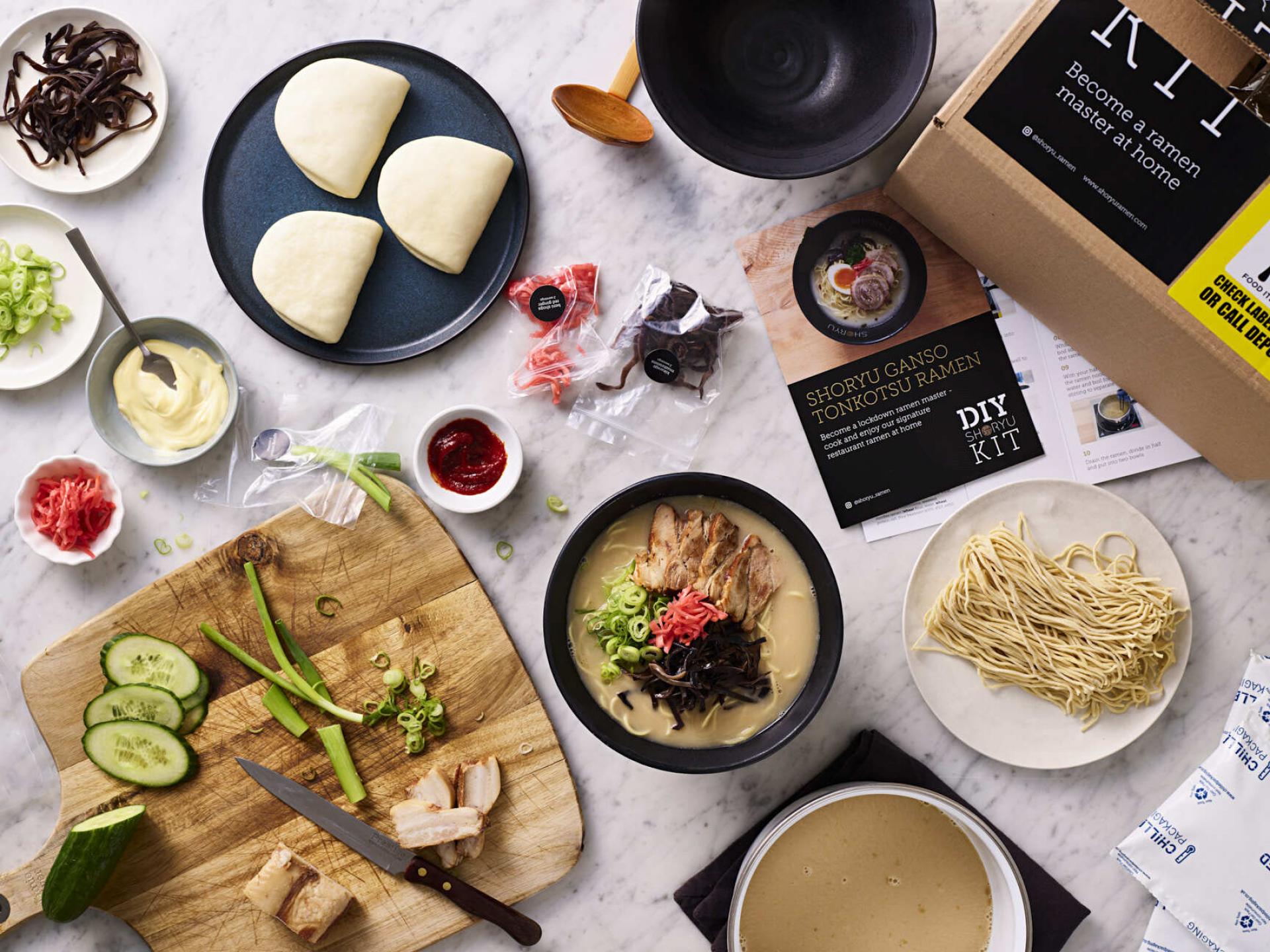 Warming broth packed with spice and umami flavour, those noodles… Is there anything more comforting in the depths of winter than a bowl of hot ramen? And while we've made several attempts to recreate seriously good ramen at home, we just can't compete with broth that's been simmering for days and hand-pulled noodz. Not to mention ramen isn't a great one to get via takeaway because of spills and, well, it gets cold. Enter the experts at Shoryu, who have whipped up a kit so you can keep slurping at home. You get 12-hour soup stock, the noodles, char siu pork belly, mushrooms and more (and there's a vegan version too).
Available nationwide. japancentre.com
Flank's Chicken Kiev Kit
£30 for two
Remember when Friends was brand-new, the Hacienda was still open and Pearl Jam were in the charts? Whether you're a Gen Xer seeking the nostalgia of your twenties or a millennial wondering what life was like before smartphones, the Chicken Kiev Kit from Tom Griffiths' Flank is a three-course dive into the food of the Nineties. Start off with a whole baked camembert complete with Frazzle crumble and apple sauce, before the main event: a ballotine of chicken stuffed with wild garlic butter, ready to double-dip and coat in crunchy breadcrumbs, and served with luxuriant mash and braised lettuce. Dessert's a doozy, too: madeleines (which you can use a muffin tray for if you've not got the right mould) with hot salted caramel sauce and popcorn. Instructions are clear and concise, meaning the only question is Oasis, Morcheeba or Deep Blue Something. Long live the Nineties.