When dining rooms first closed and The Great Pivot began, we were expecting the gourmet burgers.
We were expecting the meal kits, the boxed-up Michelin-starred curries, the high-end takes on takeaway favourites that the nation's top restaurants would need to adopt to survive this unprecedented pandemic.
What we were perhaps not anticipating was for quite so many of them to embrace a dish that not only had next-to-no place in British takeaway habits, but was more commonly front and centre of the most ceremonial of national dining traditions.
"For me it's about the memories of being around the family table on Sundays," says Patty & Bun founder Joe Grossman. "Getting stuck in, everyone ripping into it, everyone picking their favourite part."
What he's talking about is, of course, not burgers, but roast chicken. While already at the helm of a hugely successful burger chain, Grossman chose the first lockdown to launch Sidechick, a roast chicken delivery service that had been in the works for two years prior.
A roast chicken brings a sense of home and emotion you don't get with anything else
"It really is the ultimate convivial, centrepiece dining experience for me," says Grossman. "It brings a sense of home and emotion that you simply don't get with anything else."
Grossman is one of a number of London chefs and restaurateurs who recognised that the dining public probably felt the same. Not only were we yearning for good food delivered to our doors, but we were craving the ability to sit around the table with family and friends.
For world-renowned chef Daniel Humm, of previous World's 50 Best Restaurants-topping Eleven Madison Park in New York, and who opened Davies & Brook at Claridge's in 2019, roast chicken was also the dish that transported him to these happier times.
"This is really a dish of my mum's," Humm says, of his decadent foie gras and truffle-stuffed roast chicken dish.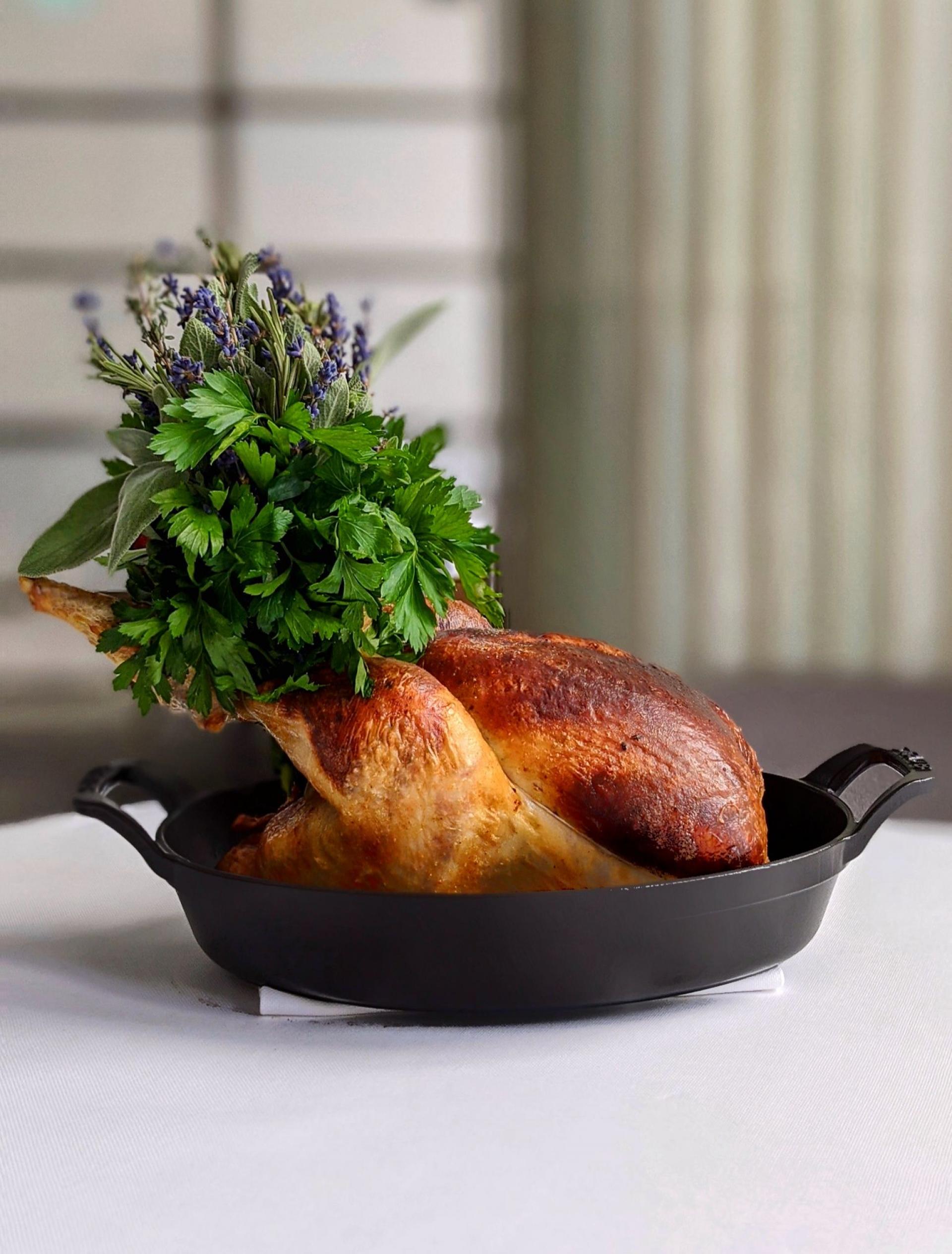 "She would make this dish only once a year, a special treat for Christmas. The nature of a whole roasted chicken is that it's not something you eat by yourself. It's a family affair, and I think that's maybe what's beautiful about it. Even in small groups, it's been important for people to come together as much as they can."
Having wowed critics for years on the menus at his New York restaurant and later Davies & Brook at Claridge's, Humm explains that the recipe is still exactly the same as his mother's, who in turn learned it from her grandmother.
In the last year, it has been at the heart of the delivery offering from both restaurants, sent as a DIY kit that customers cook themselves at home during the pandemic's many lockdowns.
"It's pretty bulletproof, but it makes you feel you did it," says Humm. "You actually cooked it, and it ends up being the best chicken you've ever had. The smell in your house is part of it too."
The dish's more luxurious ingredients may not be so familiar to your average takeaway consumer, but Humm feels the meat of the matter can serve as a comforting touchpoint for any diner.
"There's always this kind of conversation you have with the guests through the food, and it's a dialogue" says Humm. "If you have a point of reference, which everyone has with chicken, it can be very powerful."
"Most cultures, most families even, have their version of roast chicken," says Nick Bramham, head chef at Quality Wines, the deli and casual restaurant next door to The Quality Chop House in Clerkenwell.
"Most people grow up eating it in some form or another, mostly due to its affordability but also because of its deliciousness."
Humm first enjoyed his French-Italian mother's recipe while growing up in Switzerland. Sidechick's menu ranges from Portuguese-style piri piri, to a Middle Eastern-inspired za'atar and honey marinade.
For Bramham, it was the rotisseries of Italy that inspired his delivery concept Arrosto, launched with Woodhead Restaurants, the team behind The Quality Chop House and Clipstone.
"I spent a week in Naples a couple of years ago, and one thing that really stood out was a market stall that materialised down the street from my apartment every night at sundown," Bramham says.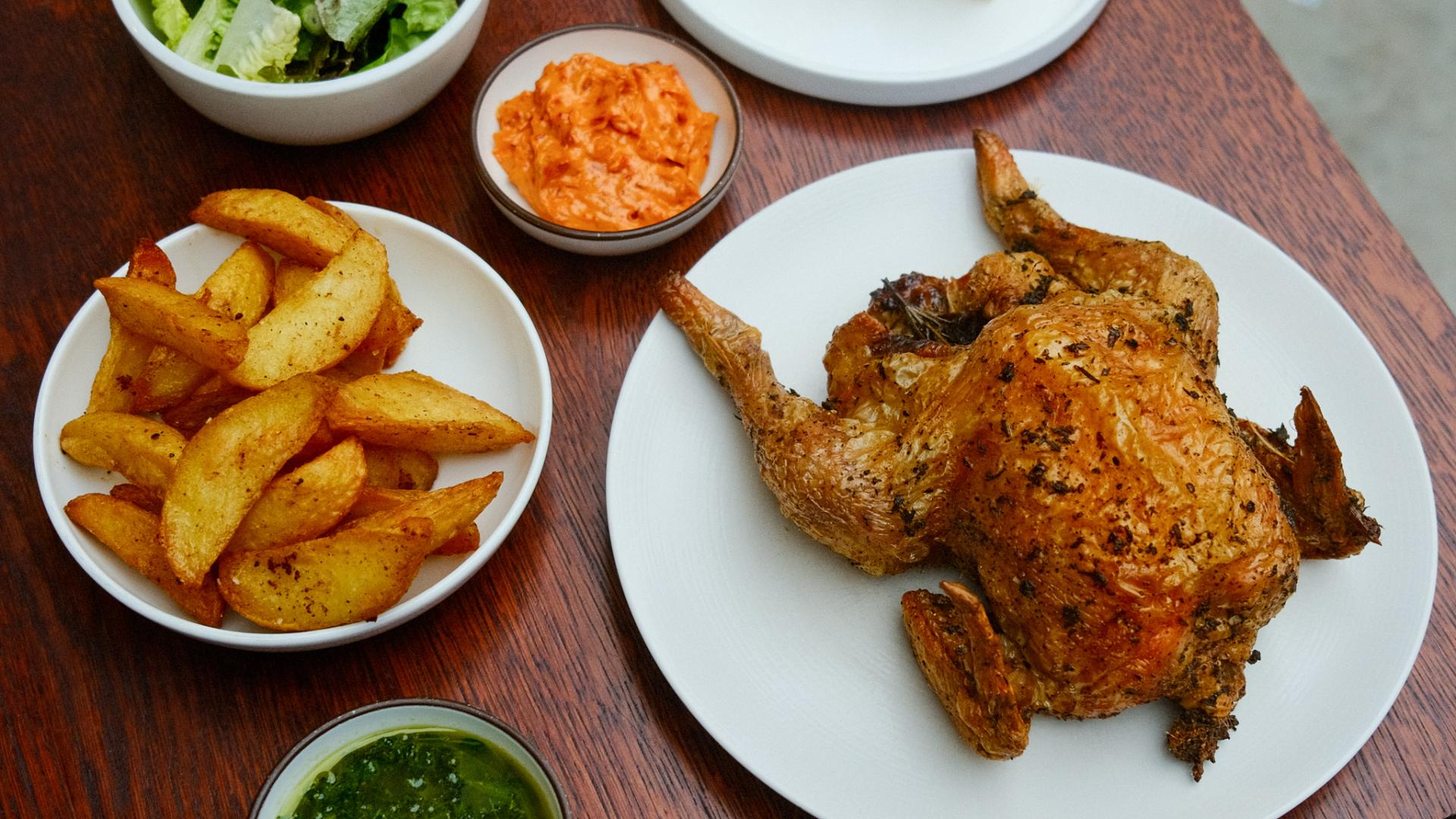 "This guy was spit-roasting dozens of chickens, while roast potatoes sat below on trays among the flames, collecting the fat and juices. It was so delicious, so dramatic, so decadent, yet so simple."
For Ed Thaw, owner of both Michelin-starred Leroy and lockdown-born, chicken-centric spinoff Royale, roast chicken's ubiquity can transport us not only to our mothers' kitchens, but to our cancelled summer jaunts.
"It's just really Proustian, in that it harks back to holiday memories," says Thaw.
"Everyone remembers rotisseries on French holidays. You pick one off and then you just smash it in the market, on a bench. That just seemed like a really nice, pleasurable thing."
Catering for the nation's decimated sense of occasion is one thing, but with all social norms out the window during lockdown, a roasted bird also appeals to a diner's more primal side.
"It can be a 'seated round the dinner table, get the silverware out' affair, but a whole roast chicken can be casual in an 'eat with your hands, dragging chunks of flesh through mayonnaise' kind of way," says Bramham.
"There is also something exciting and, I suppose, visceral about consuming a whole animal – a whole beast, as Fergus Henderson would say."
"I think it's a beautiful thing to cook something whole," says Humm, who presents the whole roasted bird to diners in his restaurants before it is carved. "I feel there's a lot of respect to it."
Thaw hopes that this "respect" will carry through into how UK diners approach the sourcing of their chicken in future.
"People aren't really prepared to pay that much for it, and that's a sad thing," says Thaw, who sources Royale's chicken from Anjou in the Loire Valley, France.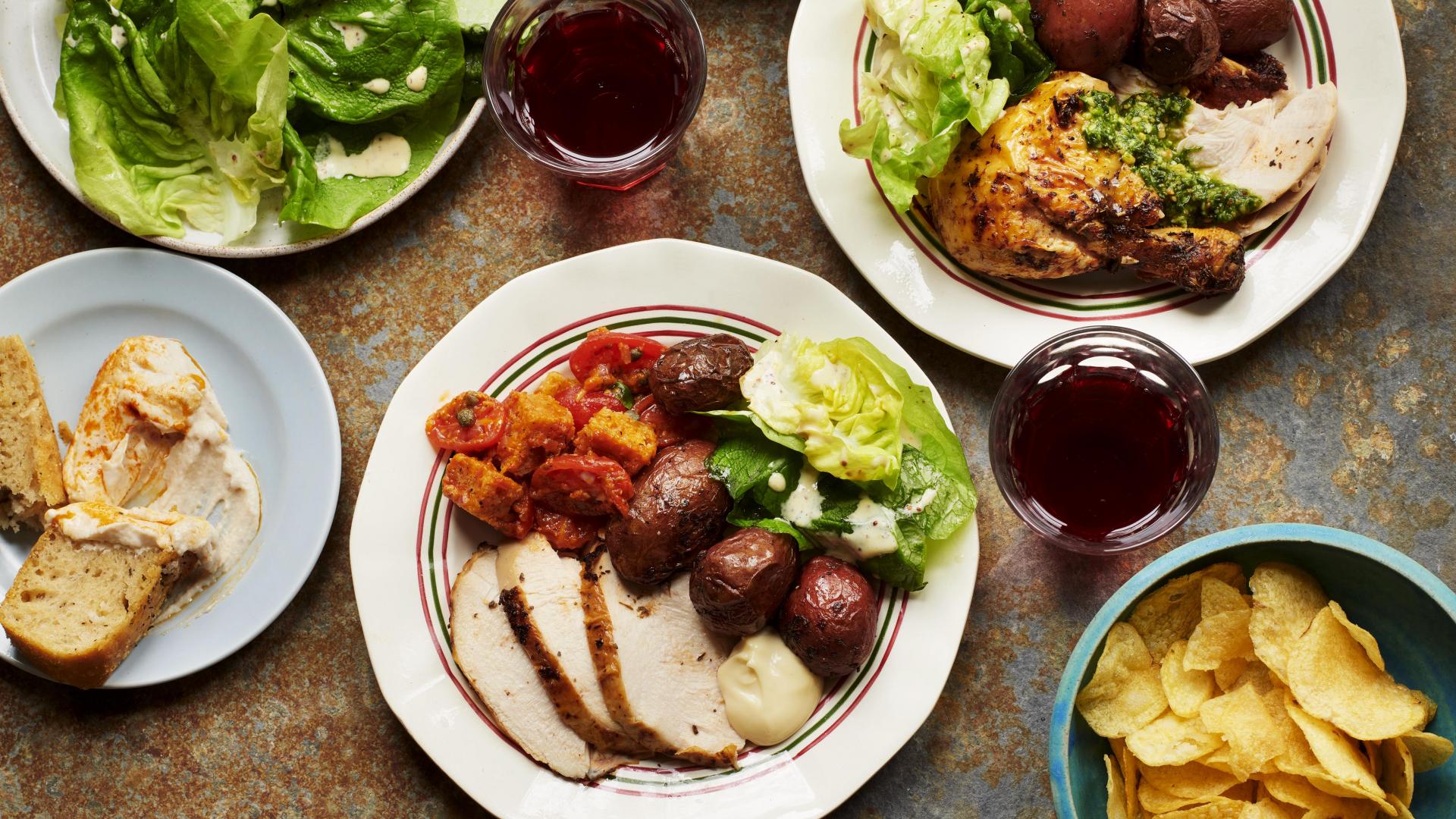 He deliberately buys smaller, rotisserie-designed birds because people aren't usually willing to pay enough to warrant the larger varieties:
"The vertical hierarchy of chicken is that you go to a supermarket and you pay £3.50 for it. That's in a supermarket, which means that bird has got to cost £1, which means there's got to be 1000s of them in the battery."
"An awful lot of people eat that kind of chicken, and they look at £11-15 birds and think 'Why would I pay that much?'"
The good news is that locked-down Brits appear to have become more conscious than ever about what they are feeding themselves.
One end-of-2020 report showed that 57% of people value food more than they did pre-Covid, and a similar proportion were more concerned about a potential rise in factory-farmed meat in the wake of Brexit.
Coupled with a revitalised national interest in shopping "local" and the opening up of restaurant suppliers to home delivery, Thaw is adamant changing attitudes will be seriously beneficial for higher-quality produce sales: "I think there'll be a lot of people who will be aware of how easy and how important it is to get better-quality produce."
People are a lot more aware of how easy and how important it is to source better chicken
While Thaw reckons these price preconceptions make it financially difficult to put high-quality roast chicken at the heart of a dine-in restaurant, he is hoping to turn Royale into a commuter-focused takeaway shop model.
Sidechick is plotting the launch of its first dine-in, bricks-and-mortar site, while Arrosto's future is currently uncertain. Humm's luxurious roast chicken is, unsurprisingly, set to return to the dine-in menu at Davies & Brook at Claridge's.
Meanwhile, the end of the current lockdown will allow loved ones to physically come together around a restaurant table once again.
That notion of togetherness, however, has never left the hospitality industry – if anything, the pandemic has made it more active than ever.
"Independently owned restaurants that were already community-minded and had strong guest relationships have just about managed to get by, building on those connections – and making them even stronger, in some cases," says Bramham.
The impact of this has even been felt well beyond the traditional parameters of the industry. Humm has spent much of the last year working with Rethink, a non-profit organisation that helped turn Eleven Madison Park into a community kitchen.
Rather than cooking fine dining cuisine for well-heeled clientele, the restaurant has been serving up to 5,000 meals a day to New Yorkers in need.
And, like Thaw, Humm is hoping that fostering closer relationships between producers and consumers will help change things for the better.
"I do think chefs have a responsibility to be part of the solution, because no one else has the connections a chef has, or the skills," says Humm.
"We can cook cheap and delicious meals, and we have access to the farmers. Food insecurity is a problem that can be solved. There is enough food for everyone – we're just not communicating."
In a year when both borders and restaurant doors were closed, half the world also found itself in the same, locked-down boat.
It only seems fitting then, that a culture-crossing, conviviality-reminiscent food should be the dish that diners not only ordered in their droves, but one that the capital's chefs so wanted to cook for them.
"Chicken is a humble thing, but it reminds people of coming together, of family, and comfort," says Humm. "I feel that over this last year, we all needed that."