It's no longer enough to just go out for dinner and drinks; these days, to really have a good time, you have to act for your supper too. Sort of. These immersive dining and food experiences ask that you arrive with an open mind and an empty stomach, ready to get stuck in to all the madcap tomfoolery you could ask for.
You could find yourself travelling the globe without leaving your seat; becoming a bootlegger in the Wild West; or sailing across an underground lagoon in Shepherd's Bush. We've done a few strange things in the name of food writing, but we'd say these are up there when it comes to unexpected adventure.
Whichever experience you decide to dive into, get ready for an evening like no other.
A word of warning, though: these aren't for the shy and retiring among you...
7 best immersive dining food experiences in London
1. Terra Mundo by The House of Gastrophonic
Where? Shoreditch
Forest, fire and ocean - that's not a reference to the anime series Avatar: The Last Airbender. It's the theme for The House of Gastrophonic's new food event launching in London.
The industry trailblazers in creating immersive dining experiences have created Terra Mundo, a feast of frequencies and flavours. During the event, you'll journey through three earthly environments, forest, fire and ocean, each course with fabulously constructed dishes and perfectly paired drinks. Previously curating immersive events for The National Gallery and Wilderness Festival, the award-winning folks behind Terra Mundo are treating diners to a fine dining plant-based menu. Or, if you want to get in touch with your primal instincts, you can opt for the 'with meat' menu.
Dishes include roast cauliflower with Jerusalem artichokes and truffle puree, caper, golden sultana and a celeriac crumb. For a more gamey dish, you could dig into the roast chart farm venison, flavoured with smoked pine kernel praline, crushed pear and game jus, great for warming your belly in the winter. To cleanse your palate, let the yuzu curd, coconut sorbet and mint meringue dessert melt onto your tongue.
There's also a specialised soundtrack to enhance the textures and flavours of your dishes, so you can taste some decadent grub and have a groove at the same time. Win, win.
2. The Invitation by the Secret Theatre Project
Where? Bethnal Green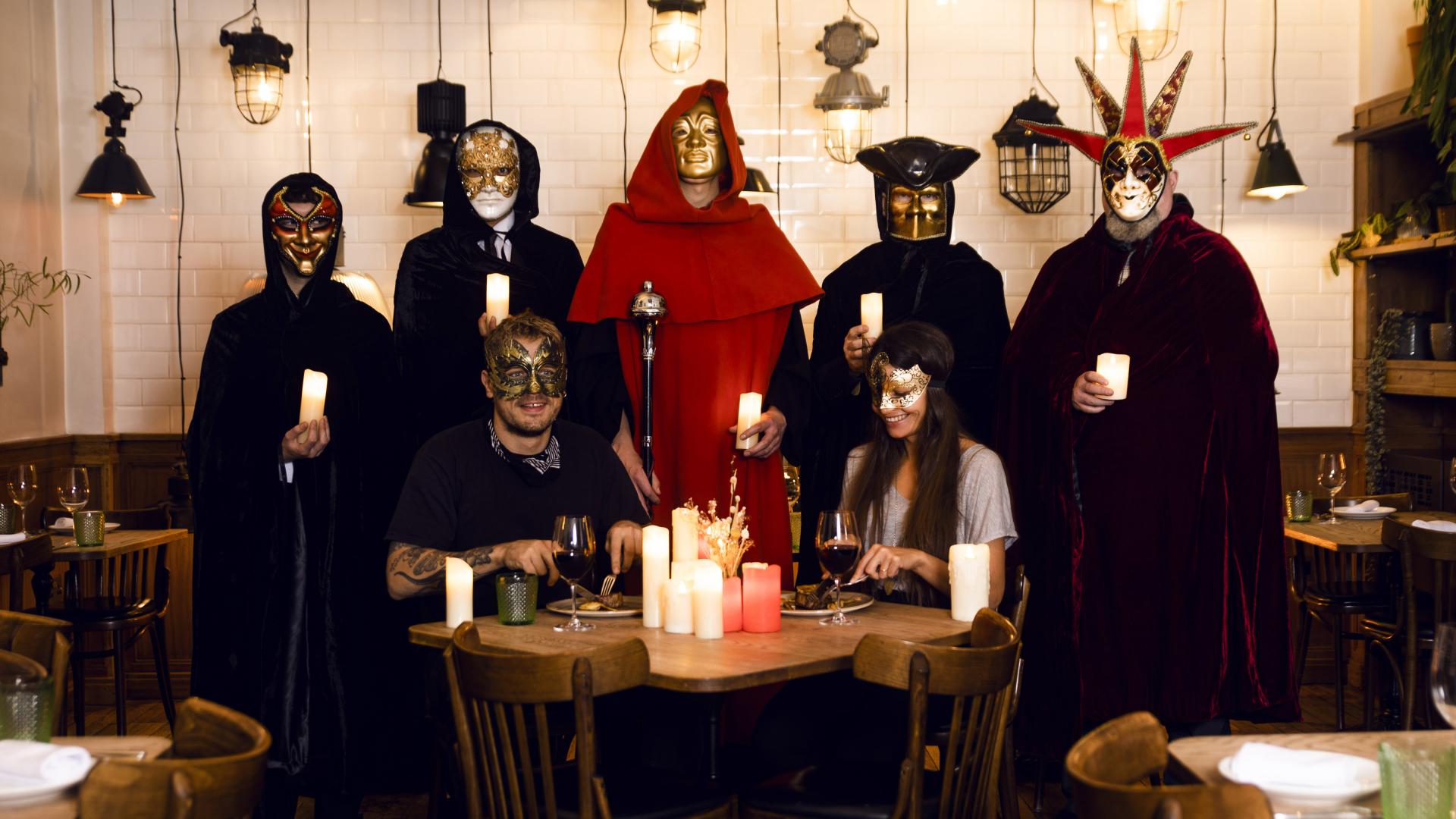 Fancy a bit of high drama, theatre and delicious food? Why not head over to the Secret Theatre Project's new London event.
Following the amazing success of their previous Code 2024, the Secret Theatre Project is bringing you The Invitation. It'll feature an immersive dining option for participants as part of the theatrical experience, taking guests to a Masquerade Party hosted at the Town Hall Hotel in Bethnal Green. Once popping on a colourful mask, you'll become part of the narrative itself, combining the perfect level of intrigue, excitement and tragedy to help you get your Shakespeare on. The food will be prepped by Simon Shand, the head chef at the Town Hall Hotel's Corner Room restaurant.
Fare on offer includes BBQ leeks, egg yolk puree and hazelnuts, duck parfait, almonds and marinated beetroots. If you'd like a dish less meaty, you could go for the flaky cod with sweet pomme puree, brown butter and briny capers. For dessert, there's warm chocolate and refreshing artichoke ice cream.
First launching in 2008, the Secret Theatre Project has travelled worldwide to a range of destinations, from Singapore to LA to New York. Tickets run out fast - so you should get on it and book ASAP.
3. Gingerline's Grand Expedition
Where? Secret location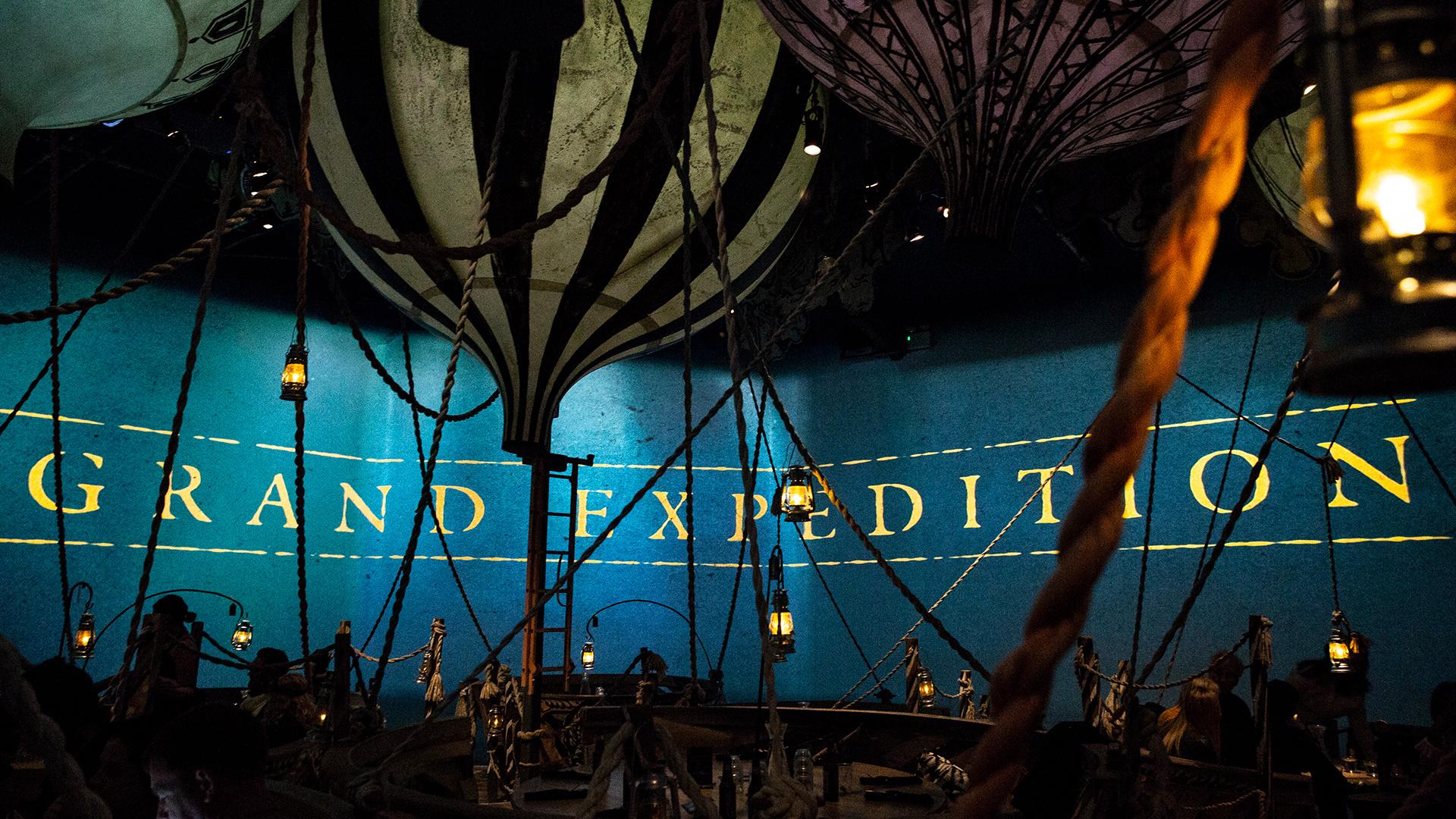 Why? More secretive than the Freemasons; better acted than Hollyoaks – Gingerline is back with a bang. As usual, we've been sworn to secrecy about exactly what you'll find at its latest incarnation, The Grand Expedition. But we can tell you to expect five courses of tasty treats as you embark on a fantastical journey that'll see you travel the globe... All without leaving your seat.
If that weren't enough, there are wine and cocktail pairings to go along with the set menu, and veggies, vegans, the dairy-free and the gluten-free alike can all be catered for, too. As with all Gingerline events, you'll be texted details of how to get there a couple of hours before you're due to arrive. Tickets can sell out in seconds, so get them before they're gone... A must-try if you're looking for immersive dining in London.
Tickets on sale now; bookings.thegrandexpedition.co.uk
4. Javabot
Where? 4 Borough High Street, SE1 9QQ
Why? Ever been so desperate for a cup of coffee that you would gladly climb inside one? Yeah, us too. Sadly an 'immersive coffee shop' doesn't mean you can actually do that, but at Javabot on Borough High Street you can get the freshest cup of joe you're like to get your grubby mitts on in London.
Feast your caffeine-hungry eyes on whirring coffee beans as they're roasted in real time, travelling around Willy Wonka-esque pneumatic tubes to reach the barista/your personal saviour who'll be turning them into coffee. You'll get to choose from nine freshly roasted speciality blends, mixing and matching to your own specification so you can get it exactly how you like it. You won't find a much better food experience in London. Get ready for your addiction to get a whole lot worse...
5. Moonshine Saloon
Where? 535 King's Road, SW10 0SZ
Why? A bar where you bring your own liquor? There's something a bit funny going on here... And no, we're not saying that because everyone's dressed like they're in the Wild West. At Moonshine Saloon you'll be working in cahoots with bootlegger Clyde Cassidy to evade the eagle-eyed Sheriff and make it all the way to the top-secret Moonshine Distillery. On entry, you'll hand over your bottle and the barkeeps will mix up a bespoke cocktail just for you, while together you try to keep it a secret. Immersive dining at its finest. Yeehaw!
6. The Candlelight Club
Where? Secret locations - shh!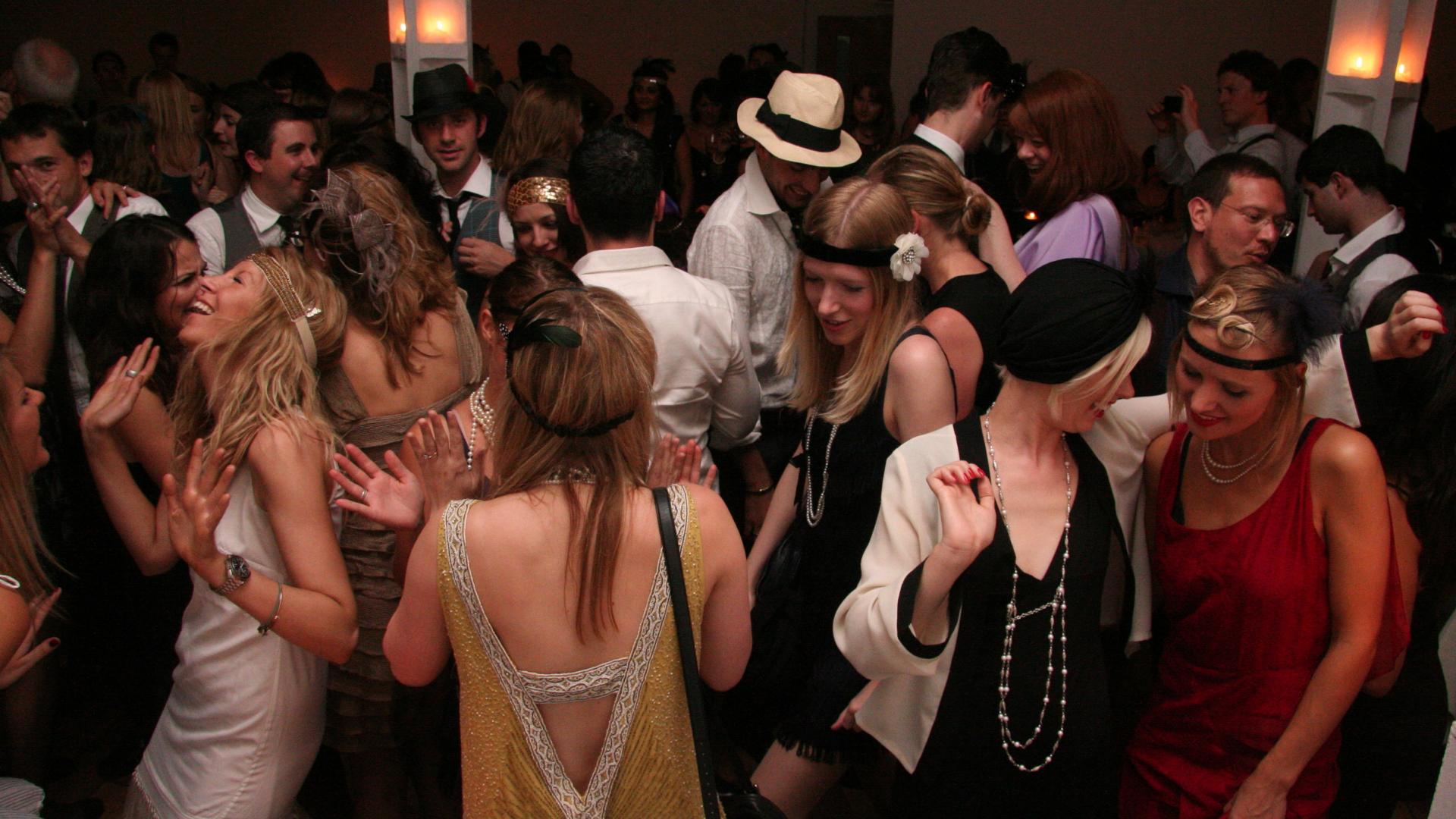 Get our your pearls and your flapper dress and be prepared to swing the night away at The Candelight Club's 1920s speakeasy. First you'll sit down to a vintage-style dinner from café and cocktail bar Knowhere Special, lit only by candlelight (the clue is evidently in the name), before getting ready to dance to live jazz. You can even buy cigars here to add to the authenticity and channel your inner Gatsby – DiCaprio's version, obviously. That's if you can even find it in the first place, as it's hidden behind a secret door that's only marked by a candle lantern. Shhhhh.
7. Stranger Things Secret Cinema
Where? Secret location to be revealed soon
Whilst the main focus of the Secret Cinemas is - yep, you guessed it - cinema (the last themed occasion was Casino Royale), the team are back this summer bigger and better than ever with an exclusive Netflix collaboration. Book tickets to see them transform a secret location into Hawkins High School, and don your best fancy dress. We don't have details of the food and drink on offer, but we're guessing it'll have a hearty dose of 80's American food, coca cola and eggo waffles. We're in.