It doesn't matter whether it's scorching hot outside or absolutely frigid, we're always the sort of people who are open to chowing down on some of the best comfort food in London. There's nothing wrong with working your way through a plate of hearty dumplings when the sun is shining down on your brow like an oppressive dictator. Just like there's nothing wrong with having a glorious and warming Sunday roast while the weather outside is as cold and nippy as Jack Frost's studio flat in Whitechapel. Yeah, it's time to put away the salads, keep your quinoa in the cupboards and indulge in some good old edible therapy.
While eating food should never be used as a genuine replacement for talking through your emotions with another human being, having a bit of comfort food can make us all feel a little better when life is bringing us down. The best comfort food in London is something that's prime for treating hearty and warm. But where to head? You can't be wasting precious energy aimlessly wandering the streets of London...
Enter: the Foodism guide to some of London's best comfort food destinations. Our handy little guide on where to find the best comfort food in London. It's a ten-point, bite-sized tour of our capital's top drinking and dining destinations serving up all the best winter warmers or warming plates of decadent food. From oozy, melty cheese toasties to fabulous plates of pasta, you want it, we've got it.
10 restaurants that serve the best comfort food in London
1. Marksman Public House
254 Hackney Road, E2 7SJ
At this East London boozer, it's pub grub, but not as you know it. In fact, last year the Marksman was named Michelin Pub of the Year, so it's really not as you know it. We very much like the sound of Tamworth belly ham with coco beans and roast onion, but if you're after some proper British comfort food then it's a pie for you. Because, trust us, not only does the Marksman serve some of the best comfort food in London, but it might just do some of the best comfort food in the entire country. Fillings come and go, but one thing is for certain: a slice of the Marksman's crisp, flaky pastry will never not taste delicious slathered in a healthy helping of gravy.
2. Baozi Inn
25 Newport Court, WC2H 7JS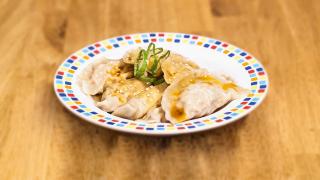 To achieve optimum comfort levels, sometimes you just need to put a little fire in your belly, and at Baozi Inn you can do just that and then some. This little restaurant in Chinatown specialises in spicy Sichuanese street food. We recommend that you order a whole table's worth of chao shou – crescent moon-shaped dumplings filled with pork and ginger and soaked in Szechuan soy sauce and chilli oil sauce – and get right down to business, no messin'. If you're a big fan of spicy satisfying plates of fodder, Baozi Inn does some of the best comfort food in London.
3. The Cheese Bar
Unit 93, 94 Camden Stables, NW1 8AP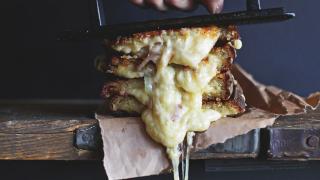 This Camden must-visit might be the only place in London where pretty much everything on the menu features that delicious creation known to most as cheese, but what we at foodism like to refer to as "little bites of ecstasy"… OK, sure, we're joking, but at The Cheese Bar, we'll tell you what is not a joke: the best comfort food in London, and there's loads of it, too. From blue cheese raclette to mozzarella sticks and gooey, truffled brie, it's the number one place to go to get your fromage fix.
4. Lina Stores' restaurant
51 Greek Street, W1D 4EH
When Autumn's cold fingers start to sneak down the back of your neck and slip through the gaps in your coat, look no further than Lina Stores' tiny Italian restaurant on Greek Street. When the sun is scorching, you don't need to look anywhere else, either. It's the place to head when all you want/crave/need is that warm, comforting hug that only a whopping great plate of pasta can provide. Grab a stool and load up on those sweet, sweet carbs, made with as much love, care and attention as your very own nonna.
5. Padella
6 Southwark Street, SE1 1TQ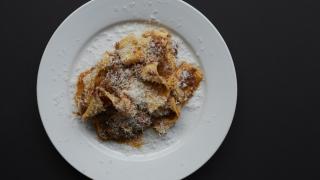 Is there anything more comforting than a plate of cacio e pepe? A hug from a loved one, perhaps. But when it comes to edible love – love that you can wolf down in a few minutes without completing leaving yourself bankrupt in the process – we're hard-pressed to find a better example than the pasta at Padella. The queues themselves are a testament to how the Borough Market pastificios have nailed the formula to creating some of the best comfort food in London. Whether you're going for pappardella, gnocchi, tagliarini or whatever other wonderful creations Padella has got coming out of its kitchen, you're in for a warm treat.
6. Yard Sale Pizza
Various locations
Pizza is pretty much the most ultimate form of comfort food on the planet. Those who've been dumped already know that it's not your best mate that you need to ring when the tears are streaming down your face and your heart's been rendered into little pieces, it's the pizza delivery person. One of the best London pizzas can be found at any of Yard Sale's four London premises. The New Porker (fresh Sicilian sausage, guindilla chillies, garlic, oregano and fresh basil) provides the simultaneous comfort of a freshly griddled bit of pig with all the satisfying slap of a pizza pie. It's like if a sausage sandwich and a pizza had a beautiful molten cheese baby. We're here for that. And seeing as you're here for the best comfort food in London – you should definitely give the people at Yard Sale a bell.
7. Mamuska!
9 Addington Street, SE1 7RY
A pierogi on a cold winter's day can be an absolute lifesaver when you're in need of something hot, delicious and hearty to warm your cockles. £4.30 at Mamuśka! gets you five cuddly Ruskie pierogi that come filled with blended white cheese, potato and onion. Nearly everything, however, at Mamuska! could easily have its own argument as to being some of the best comfort food in London. Cheesecake; potato pancakes; gulaz. Nothing at this Polish mainstay is particularly on the light of things, and we're all the more happy because of it.
8. The Fryer's Delight
19 Theobalds Road, WC1X 8SL
When you're in the mood for a bit of seaside nostalgia, a portion of fish and chips is the best comfort in London without a doubt. Chippies in the capital don't get much better than Holborn's The Fryer's Delight, which has served some of London's best fish and chips for donkeys years. The portly chips are fried in beef dripping, the fish is flaky, fresh and covered in just the right amount of batter. Working your way through a piece of that fish – all decked out in its newspaper-pashmina – offers a comforting experience we wouldn't wish upon our worst enemy. Because we never ever want them to feel that damn good. For more of London's best fish and chips, you know where to click.
9. Patty & Bun
Various locations
We don't know what it is about burgers but there's got to be some repressed animalistic urge in our brains that gets set off every time we eat one. A griddled patty in a soft brioche bun satisfies a craving that not many other foods can. Which is why we decided that Patty & Bun's juicy, perfectly charred, burgers deserved a spot on this list of the best comfort food in London. Meat? Comforting. Cheese? Comforting. Bread? Comforting. The crushable burgers at P&B are a prime example of why "less is more" doesn't always make sense when it comes to the comfort eating department. Because – let's be honest – sometimes more is more. Craving a burger? Head to one of the joints serving the best burgers in London - you won't regret it.
10. Nanban
426 Coldharbour Lane, SW9 8LF
Tim Anderson's Japanese-fusion soul food is the perfect antidote to rainy autumnal days and some of the downright best comfort food in London. Get yourself down to Brixton and bury your head in a hot bowl of slow-cooked goat leg 'ragu-men' - it's without a doubt one of the best ramens in London, and comforting beyond belief. And when you come up for air, don't forget to order the "third best scotch egg in London" – a tea-pickled egg wrapped in panko-crusted pork mince that's flavoured with scotch bonnet bamboo shoots and garlic chips – with a side of tori senbei (crispy chicken scratchings), too.
Whilst you're here, check out the Foodism pick of the best places for Sunday roast in London - comfort food, on a Yorkshire pud-topped plate.