Sartoria's recipe for panzanella
This recipe from Sartoria's Francesco Mazzei is designed for al fresco eating – perfect now that temperatures are on the up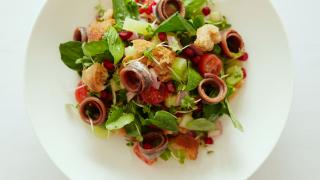 Serves 4
Preparation time 10 mins
Cooking time 5 mins
Ingredients
1/2 kg stale sourdough bread
2 cucumbers
3 celery sticks
300g datterino tomatoes
50g anchovies
1 red onion
Extra virgin olive oil
Salt and pepper
Red wine vinegar
Method
Tear the bread into small pieces, season with some olive oil and salt. Place on a tray and put for 8 minutes to grill in the oven at 180 degrees.
Dice the celery sticks and cucumbers, chop the onions and cut the tomatoes in half. Put everything in a bowl and add the toasted bread.
Add the basil and toss the mixture, stirring in the extra virgin olive oil and red wine vinegar until well combined. Add the anchovies to the Panzanella as a final touch.
Add salt and pepper to taste. Serve.