What's the draw
Opened in 2018 by the Palomar group (they of the iconic and ever-popular eponymous Israeli restaurant and sister restaurant The Barbary) Evelyn's Table's chef'- table concept beneath 250-year-old pub The Blue Posts has quietly garnered acclaim ever since. In the kitchen now, though, is Luke Selby and his brothers Nat and Theo: having cut their teeth under Ollie Dabbous at Hide and having also picked up experience in Japan, they're serving inventive set menus from the tiny underground room, with two sittings a night, all around the counter, and have turned it into one of the most longed-for reservations in the city. They have fun while they're doing it, too – cooking is backed by soul and hip-hop on the soundsystem, while the chefs serve and talk through each course personally.
What to drink
You don't have to go far for a pint, an aperitif or a nightcap – The Blue Posts offers a great selection of beers and a cosy vibe, while upstairs bar The Mulwray has concise but deftly curated lists of cocktails and wines, with plush furniture and a speakeasy atmosphere. We loved a Bourgogne Aligoté from winemaker Marthe Henri Boillot – a Burgundy chardonnay's lesser-known cousin, full of fresh melon and lemon zest. With dinner, you can go by the bottle or choose from a wine pairing at £60, put together by the group's sommelier Honey Spencer, which is balls-out from the off. A sparkling junmai daiginjo sake from Peckham sake brewer Kanpai pairs beautifully with raw scallop dish, while a Sortevera Taganan Blanco from Suertes del Marques in Tenerife pushes the island's volcanic terroir, all sulphur and salt, and beautiful with the gently steamed pollock and umami-rich dashi stock.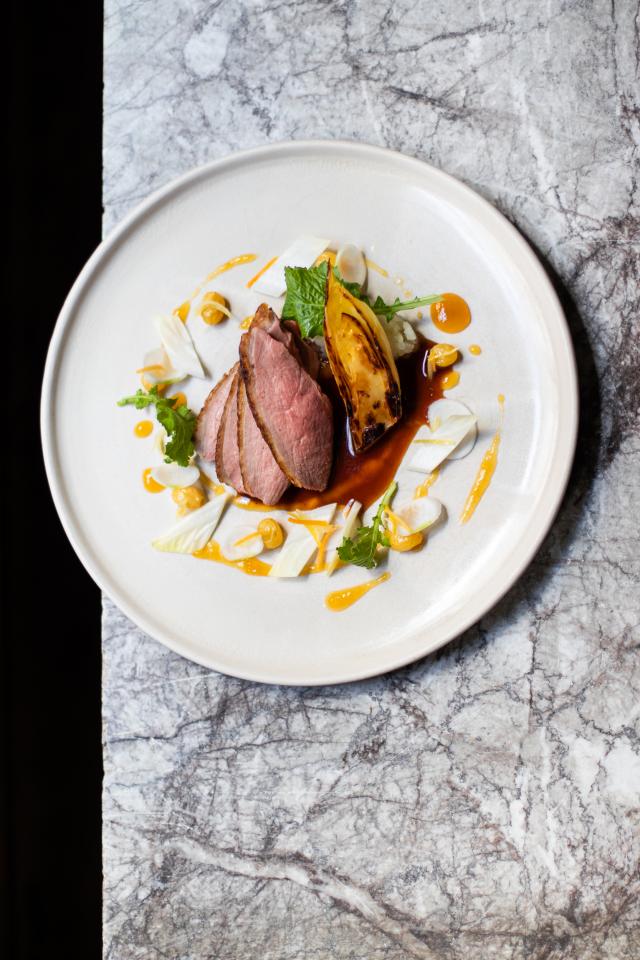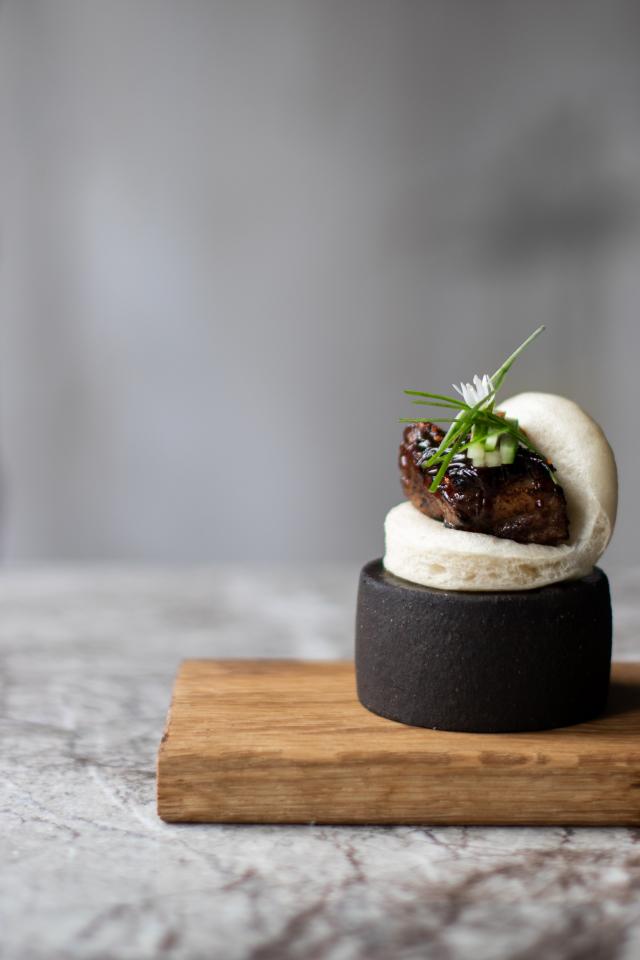 What to eat
The Selbys' menus are built around a foundation of French and Japanese technique, using British ingredients, and according to Selby, the menu format takes influence from kaiseke menus of Japan, designed to build in flavour and indulgence with each course. That raw scallop, served in a pool of acerbic gooseberry jus and split with piney olive oil, is clean enough almost to be a palate cleanser, while an aged beef tartare, served in a whole British wasabi leaf with tempura nettles and eaten with the hands, is a fun icebreaker whose appearance belies some serious flavour. Two duck dishes are standouts: both the main, a beautifully cooked and rested duck breast served on a punchy marmalade with raisins, jus and slow-cooked endive, is a masterclass, while an extra course of classic duck and hoi sin bao hits all the right notes. Lastly, a kind of sake baba and gariguette strawberries with rich custard and a beautiful rice ice cream is an absolute knockout, and had us asking if there were any cancellations for the second sitting.
Menu priced at £60, drinks pairing also at £60. The Blue Posts, 28 Rupert Street, W1D 6DJ; theblueposts.co.uk/evelyns-table