Antonio Banderas, Woody Harrelson, Kevin Bacon... It sounds like the all-star cast of a blockbuster Hollywood movie, but it's actually the menu at Lucky Chip, purveyor of Dalston's favourite burgers. Fans can now rejoice: with highly successful residencies at the Old Queen's Head and Birthdays under its belt, it's now opened its first permanent site on Ridley Road. And this is a burger joint with a difference – it'll be serving up New-World wines to go with a menu that features way more than just burgers, and will be hosting kitchen tables on Friday nights. We talk with founder Ben Denner about making the leap from van to restaurant, and pairing burgers with wine.
Lucky Chip has just launched Burgers & Wine. What's the new set-up like?
We've got a new menu, so we're doing starters, burgers, mains and desserts. We've got some of our usual burgers – nothing strange on the burger front – and for starters, we've got small dishes such as baby gem lettuce with thyme and capers; padron peppers with Maldon salt; scallops; beef tartare; rosemary and onions; tuna tartare with shrimp crackers; onion bhajis with corndogs; and taleggio and leek croquettes.
Then we've got three main courses. One of them will always be a steak, so we've got a 54-day-aged Galician prime-ribeye steak with peppercorn sauce, we're doing fish and chips and then we've got chicken parmigiana. And then we've got a few fun fries and sides, and two desserts. I think we'll be specialising in cheesecake and sorbet as our two desserts.
And then we've got wines; I think we've currently got 120 on the menu. We've got a slightly different attitude towards wine compared to most places, and we're featuring a lot of fun, new-world varieties from California and Australia, lots of reisling, Spanish wines; not so much French. Our price range starts at £22 and ends up at around £500.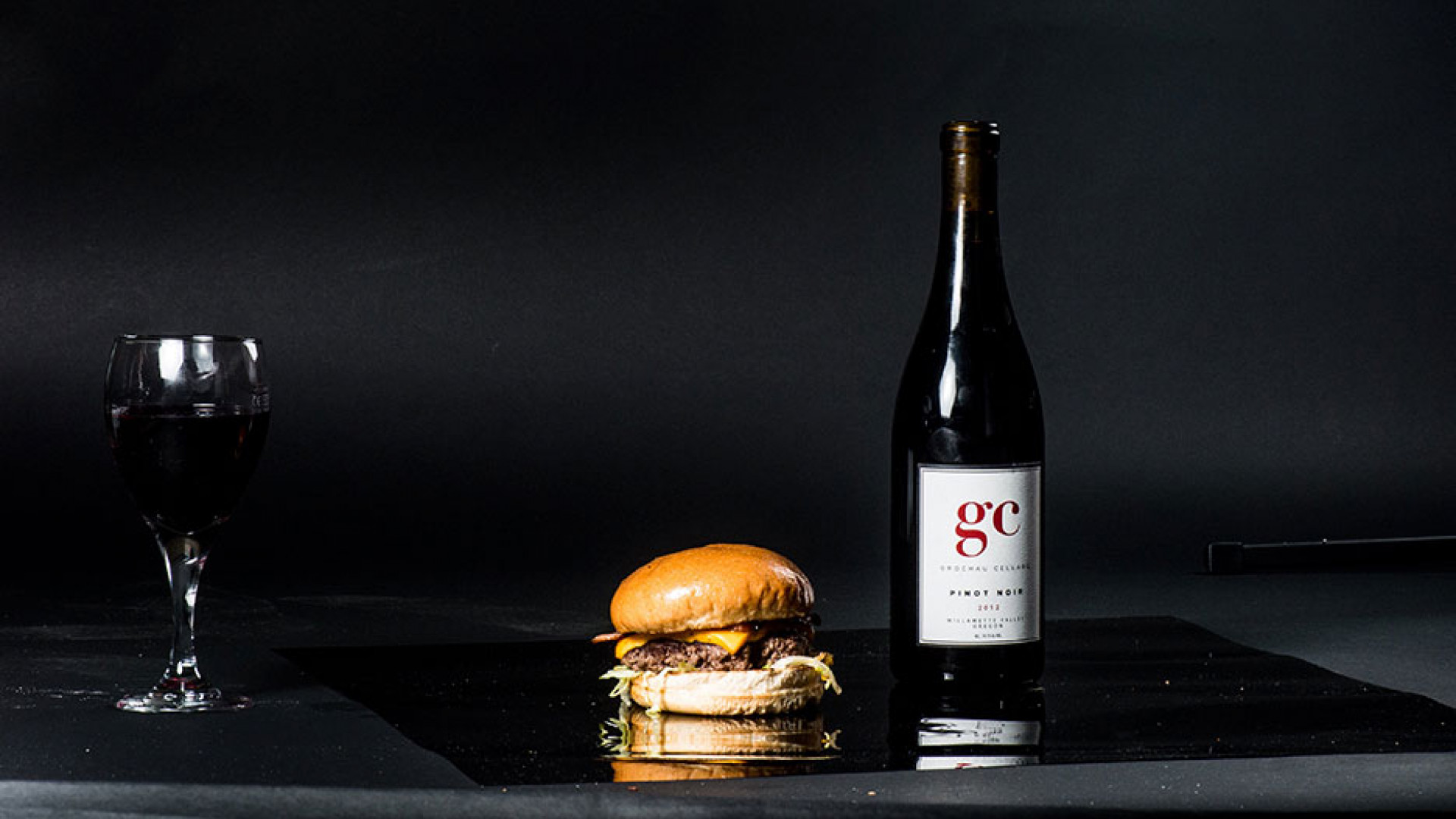 What are the main differences between running a residency and running a full restaurant?
I guess there's more of a front-of-house element to it with the restaurant. So we've got lots more staff now, doing front of house, so it's more customer-focused, rather than being in the kitchen and not having to deal with customers. I think it's nicer to be out with people and see their reactions to the food, rather than being locked away.
You're originally Australian; why did you decide to come to the UK?
I came for a six-week holiday and never went home. I think I missed my plane and I decided to stay. I don't know why. I found a job, and got stuck in it, and then I found a place, and I got a dog, and then you find yourself at home all of a sudden. It just happened by accident. That was 13 years ago now. I was a DJ in Australia and I did that up until maybe 10 years ago and then got into running bars and stuff and then this.
When did you first realise that you wanted to work in food?
I always wanted to as a kid, I nearly went to chef school. I've always loved cooking, I've been cooking since I was a kid. My parents had a restaurant in Australia, and I've always want to have my own one since then. Maybe since 15, at least.
Do you think if you hadn't decided to work in food then you'd be in music?
No. I'd had enough of that. I don't know what I would be doing if I weren't in food – I don't think of anything else, it's what I've always wanted to do. I can't answer that question. Maybe a fire engine driver? Or a fireman? Just joking!
How did you get into the industry?
I was working in a member's club in Notting Hill and the building got taken over and they turned it into apartments. I'd been speaking about doing this Lucky Chip thing for a long time, I've had the name for about 8 years now, and had the basic idea in my head, so we went out a bought a burger van, and we started trading in a church car park in Kensal Rise a couple of nights a week.
It exploded so quickly; we were just practising to go to festivals initially, and just by parking up in this car park, we had hundreds of people coming every night, without any promotion or press or anything. From there, it just snowballed, and it turned out we didn't need to go to festivals and didn't want to, and we just did the street-food thing for about a year, and then we went to the Sebright Arms. That became busier than the street-food thing, and we were getting lots of requests from people to come and do residencies. We've done a few other things in the middle, and then we came to the Queen's Head, which is going really well as well.
It exploded so quickly; initially we were just practising to go to festivals
What's your favourite burger and wine pairing?
We're going to be using Galician beef, and we did an 'Antonio Banderas' burger last month, and it's fantastic and the meat's amazing, but it goes with a 2006 Descendent Torbreck. It's an Australian 100% shiraz, and the burger is really juicy and meaty with loads of onions in it, so slightly sweet, and it goes well with the wine. Yes, we're going to be pairing a burger with a chardonnay that we've got going by the glass. I don't know what it's going to be yet!
How do you decide which wines to offer at the restaurant, do you have a very strong Australian influence?
I like Australian wines. I don't know whether it's because I'm from Australia and I'm used to those kinds of wines, but they're definitely up there as my favourite style, so we do have more Australian wines on the menu than most people. It's not a everything's-better-in-Australia kind of thing, it's just because I actually like them. I choose the wines that go on the menu – although Sean from The Waldorf Project was at the launch to help with the opening. He's helped me track down and lot of the wines and he's done a lot of the legwork.
We have wines costing £500 on the menu... If no one buys them, I'll drink them myself!
You mentioned earlier that you're going to have a wine for about £500 on the menu. Why?
We're doing low mark-ups on wines. For example, we probably won't buy a £500 bottle of wine for much less than that. We're trying to give people an opportunity to try wines that would normally cost about £2,000-£3,000 in a restaurant. We don't have a lot of them on the menu at that price, and to be honest with you, it's just a few that I had in my cellar that I thought I'd bring up, because they're amazing wines, and we'd just like to see what happens. We're making very, very small margins on them, probably less than a wine shop would. I don't think there'll be a huge amount of demand, but we'll see. If people want to drink them, that's great, and if not, I'll drink it myself one day!
What happened with the Mark Wahlberg burger?
I'm a bit of a movie person, I like my movies a lot, and I really like Mark Wahlberg, I think he's a funny dude. I'd been wanting to make this burger for ages, and when we finally put it on the menu at the Old Queen's Head, two days later, I received an email at 3am, with a cease and desist letter from Mark Wahlberg's lawyers, saying you've got to stop serving these burgers, it's not in the interests of Wahlburger [the American burger chain from the Wahlberg brothers]. We decided to keep the burger – it's one of the favourites that we've done so far – but changed the name to the Dirk Diggler, which is Mark's character in Boogie Nights. It's now been in the Evening Standard, NME and loads of others. I'm going on ITV News tonight to talk about it.
Will you be opening more branches of Lucky Chip in the future?
Yes, we are. We've got plans to open more Lucky Chip Burgers & Wine and we also want to do Lucky Chip as well, just a burger place, without the wine element.
What's your perfect burger?
It changes every day. It depends on what sort of mood I'm in. I do always think the cheese burger is a good one to come back to, and then we've got another one of our burgers, the El Chappo [aged beef patty, smoked bacon, blue cheese, roasted jalapenos and aioli], which I really like. But just the standard cheeseburger is just the main one, really. Which is a bit boring. But when you have a really good one, with good cheese and proper ketchup... It's really something special.
Lucky Chip Burgers & Wine is open now. 23-25 Ridley Rd, E8 2NP; lucky-chip.co.uk.